Have you ventured into the As-Is section at your local IKEA? It is a secret stash of projects waiting to happen. I got
my cupboard
there, for less then half of retail. And as of late, it has been the site of a couple key decorative cardboard box acquisitions. Most very recently while wandering through, I spotted this: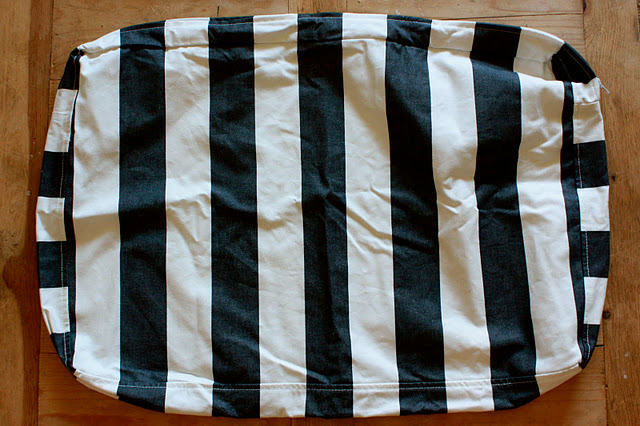 Turns out I can't seem to avoid instant infatuation with anything striped. I picked it up out of the bin, where it lay crumpled with several other mismatched linens. "I think it is a cushion cover," I thought, "How cool would this couch be?"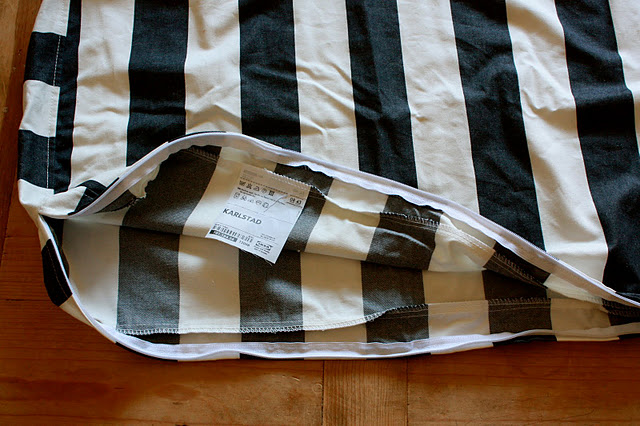 As I examined further, I noticed the large, rectangular shape, couple-inch depth, and top-only zipper made me want to stuff it full of clothes, throw it over my shoulder, and hop on a plane. Oh, wait, maybe I've had
San Francisco
on the brain.
Anyhow, the only thing this duffle-bag-at-heart-cushion lacked was straps. And I could help it out with that. It rang up at 99¢. So, of course I went back and grabbed the other two covers of this material in the bin. They are a skirt….maybe a dress…in waiting.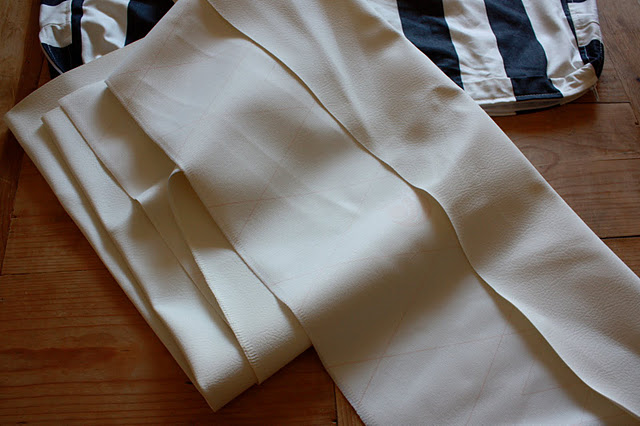 Once home, I decided upon this awesome scrap of white pleather for the straps. I used is last year for a different project, and am so so happy this chunk remained. It is the peanut butter to my jailbird cushion's jelly. The material is soft, but super strong. Perfect for duffle bag straps.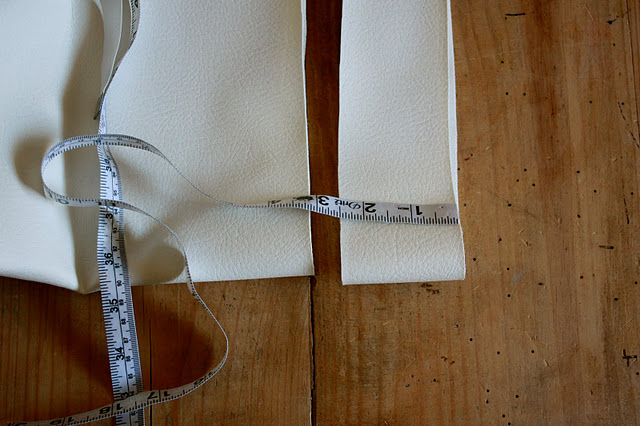 I thought I'd lay them right over the white stripes, so I made them the same width: 2.5″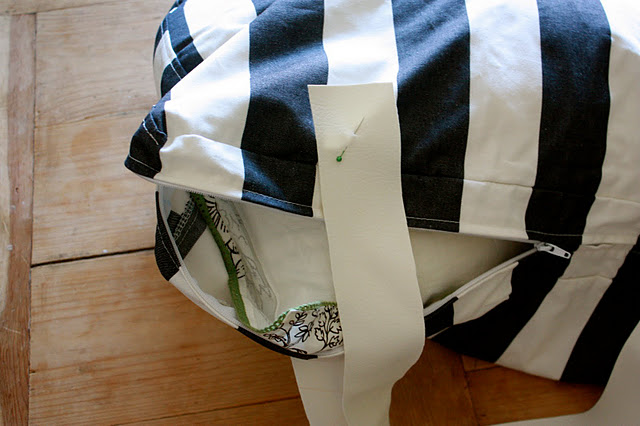 The scrap I had was 34″ long, so by default that is the length the straps began. To make sure I liked it, I stuffed the bag full of my couch pillows, pinned the straps to the stripes, and tried it out over my shoulder. Serendipitously, 34″ was perfect.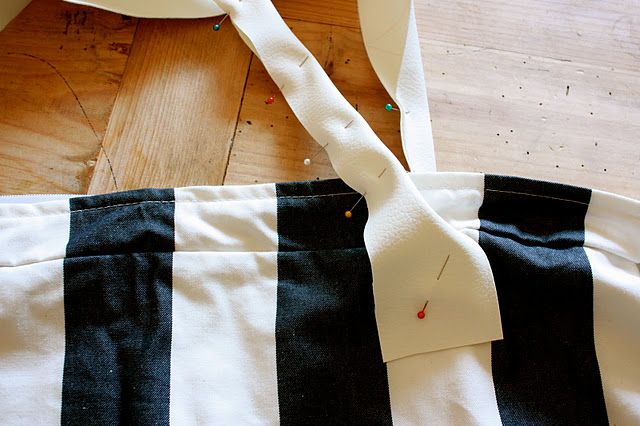 Now that the length was right and the placement on the bag seemed comfortable, I folded the strap in half and pinned along the edge. I made sure to put the lowest pin (that yellow one, there) at the point where I wanted to begin the folded strap, leaving enough at the end to fasten the strap to the bag well. Same went on the other end of each strap. That way, when I detached them from the fabric to stitch the edge together, I knew where to begin and end.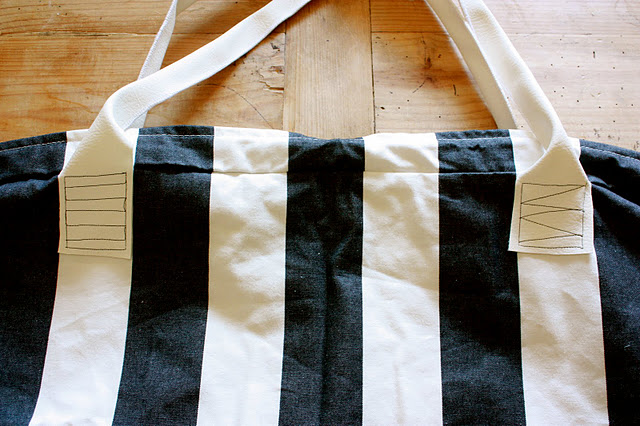 Then came sewing. I used the serger to close the folded part of the straps, though a zig zag stitch would have been fine, too. Then I simply replaced the straps onto the stripes and sewed a simple square to fasten each edge. Normally I would just sew the typical X through the square center, but I got a little creative with those strength-enhancing stitches, and I think it looks cool with the contrasting thread. What do you think?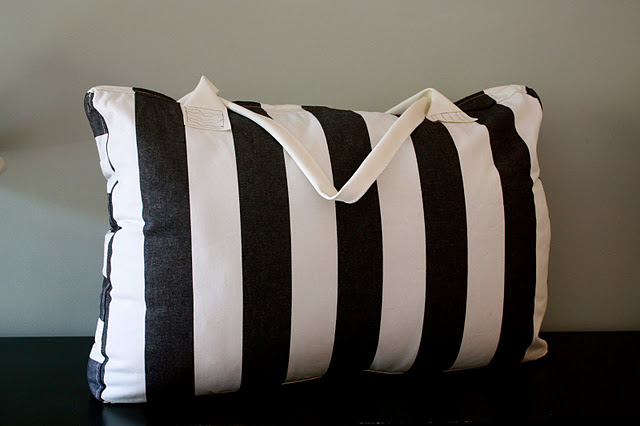 Once I finished up, I stuffed the duffle full of pillows again and carried it around for a while. You know, in preparation for packing in a day or two. I am pleased to report that it is not only super stylin', but also completely functional. A win-win dollar duffle. When I finally set it down and stepped back I thought, "Boy, that stellar duffle bag would also make a very cool cushion!"