How was your day of love? Ours ended up great after starting out a bit rocky when Milo woke me up at 5am talking about "cookies." I zipped into the kitchen to find that he had gotten my bag of grown-up Valentines down from on top of the cookbooks, on top of the cupboard, and smashed/eaten several (which is a lot when I only made a dozen or so!) I found it in my heart to forgive the little chocolate-covered rascal, and we ended up enjoying a day filled with friends, flowers, and food. Today I'm grateful he downed so many calories yesterday, because both boys are running fevers and we're quarantined with apple juice, pedialyte and Lion King on repeat.
I thought I would take a minute to show you some of the behind the scenes sewing work going on around here. I often take photos and intend to post specifically about each project, but sometimes don't find the time. So, here are a few of the fun orders I have done in the last couple months: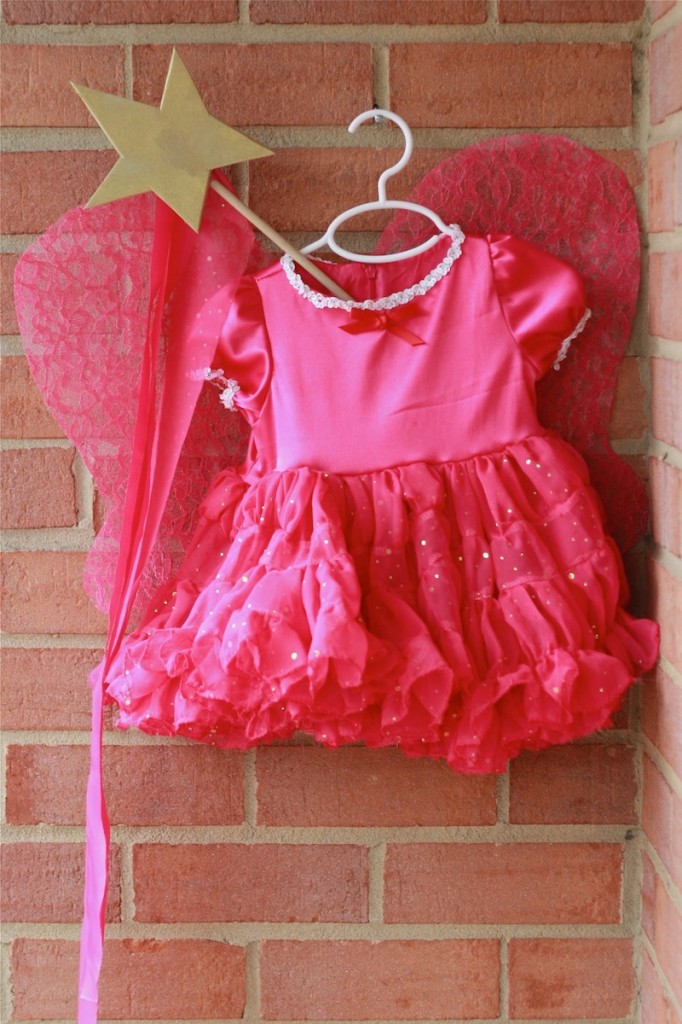 Pinkalicious Costume for a 2nd Birthday Girl: Original ideas are my very favorite for custom orders! I love being able to take my own approach to a costume/character and make it really special. This dress was super fun to make–especially the petticoat skirt, which was new for me (a skill that will come in really handy should I have a girlie one day!) I made the wings by stiffening hot pink lace with fabric stiffener, then cutting them into wing shape, securing them to arm bands and spraying them with gold glitter. Pretty adorable.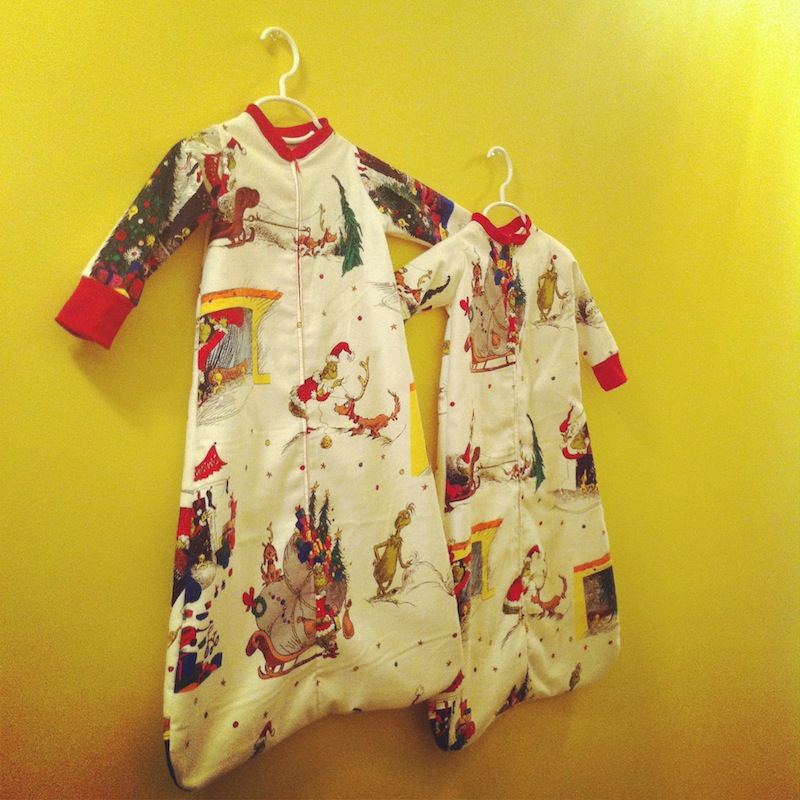 Grinch Sleep Sacks for the most darling twins ever: Another totally original idea to keep the babies matching the other grandkids on Christmas Eve. The sacks are flannel, and cuffs are edged with rib knit for comfort and stretch. I'm not normally a character-print person, but this Robert Kaufman Grinch was pretty dang cute.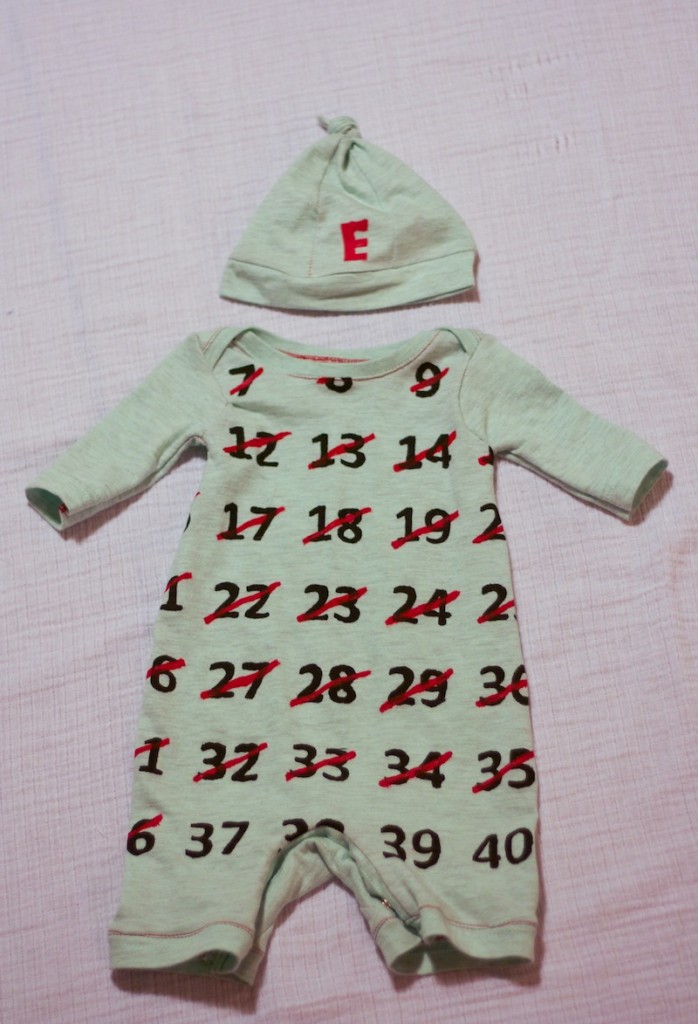 Project Baby Tee-turned-Romper for a brand-new arrival: It was really fun to get an email from a mom who had used the DIY to make her own baby tee (I love the mint color!) before I started selling them. She ordered the romper two months before her due date, then shipped me her tee once the baby came. I pulled an all-nighter to get it back to her within a couple days so that her newborn could still be newborn in the final photos of her series.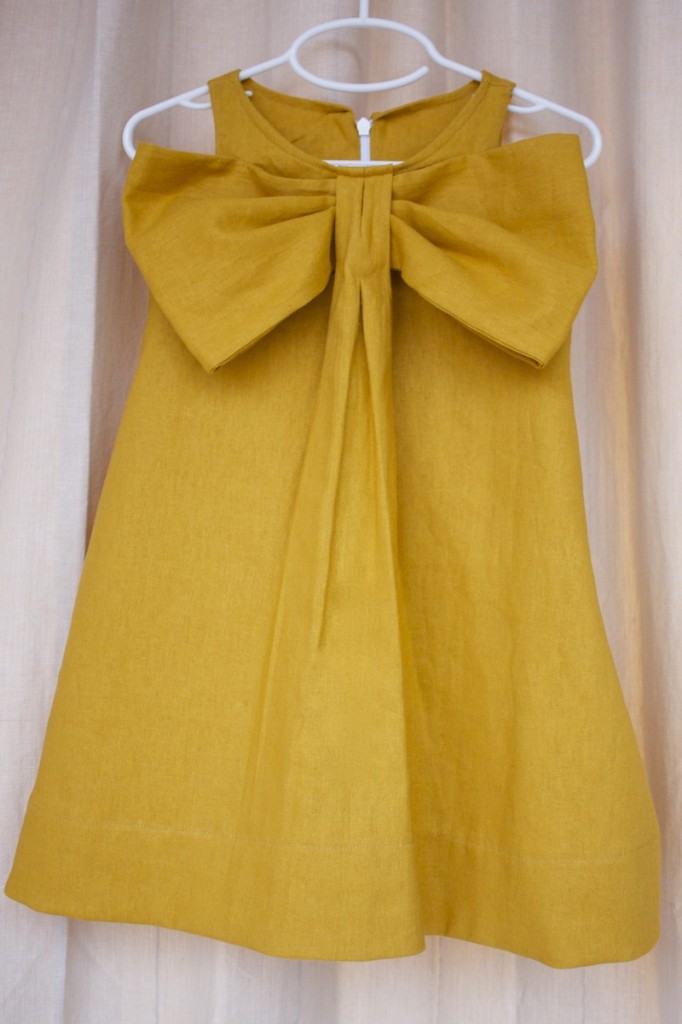 Mustard Yellow Bow Dress for a California Wedding: I will never tire of making these bow dresses. I am still totally in love with them, and they keep getting better and better. In the last month or so I've begun tweaking my pattern a bit to suit my liking, and I am happy with the results. Maybe sometime this year I will have it ready to make available as a pattern. For now, my Easter schedule is filling up:)
Contact me if you have an idea that you think I could help with! I'm about 4-5 weeks out right now, but should get back to a 2-3 week turnaround after Easter.
Have a great one, and don't forget to enter the Pretty Little Me giveaway!