Welcome to March! We celebrated the new month by taking another daycation (since the last one was such fun!) Checking out the small, Southern Virginia town of Charlottesville had been something we'd wanted to do, and since our good friends moved there for school, we had even more reason to visit.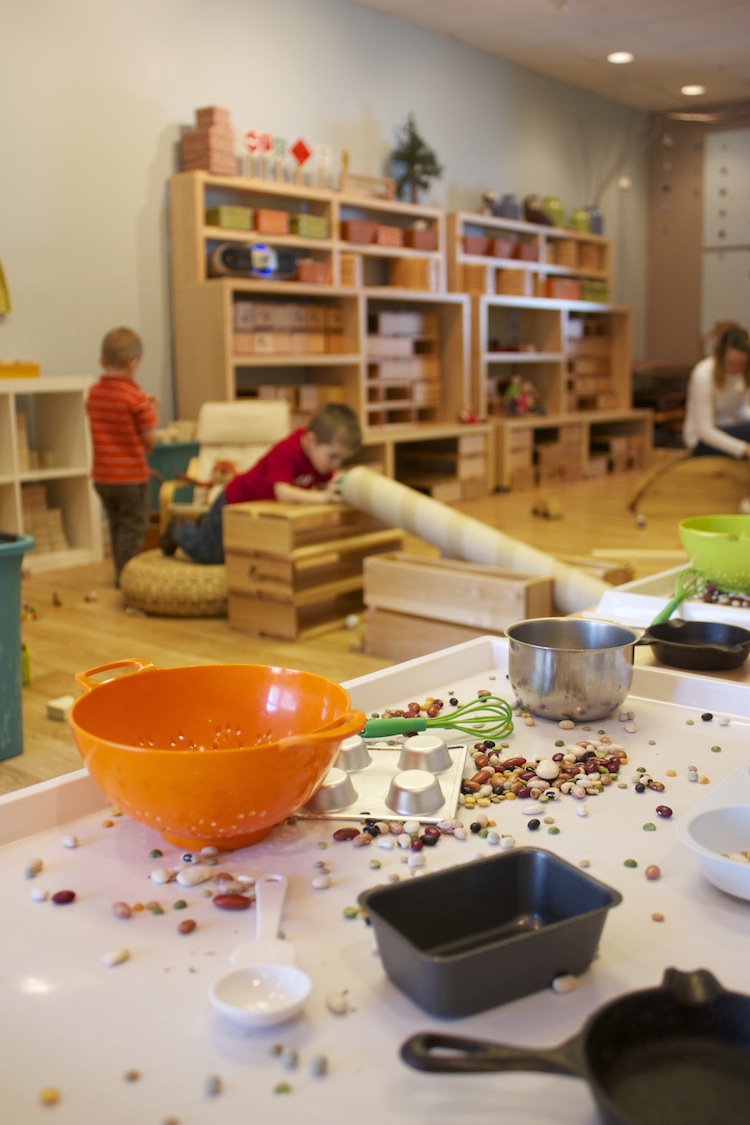 The boys and I headed down about 9 am and met our friends Erin, Liam and baby Noah at Explorations Play Studio. This is hands-down the coolest interactive play area I have ever been to. All of the toys and blocks are available for playing and building. There are zones for tactile stimulation (like this cooking area with beans). Liam and Milo are rolling balls and cars through this tunnel they built with blocks and a huge cardboard tube. It was awesome.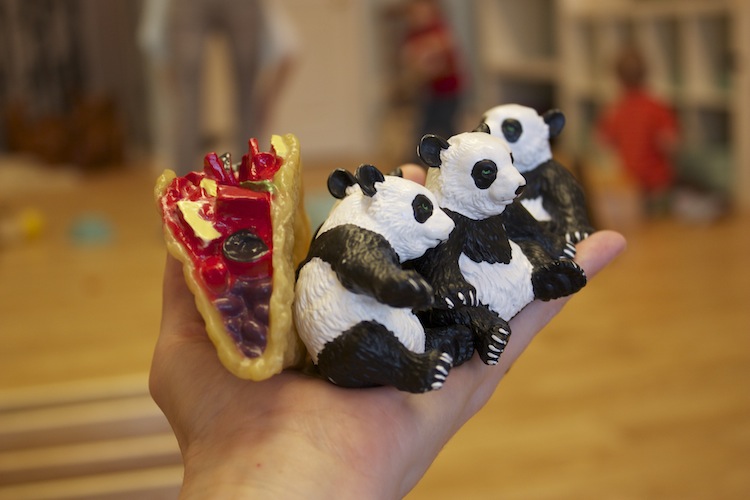 The studio is decorated whimsically, with little vignettes of animals around. Milo thought it was fun to deliver this taco and these pandas to me…all one at a time… with tongs. The play time was great, and then we cleaned up, sat in a circle and each child got a warm wash cloth to wipe off their hands and face. I've decided one day I'd like a play room modeled after this amazing studio…definitely wish there was something like this a little closer.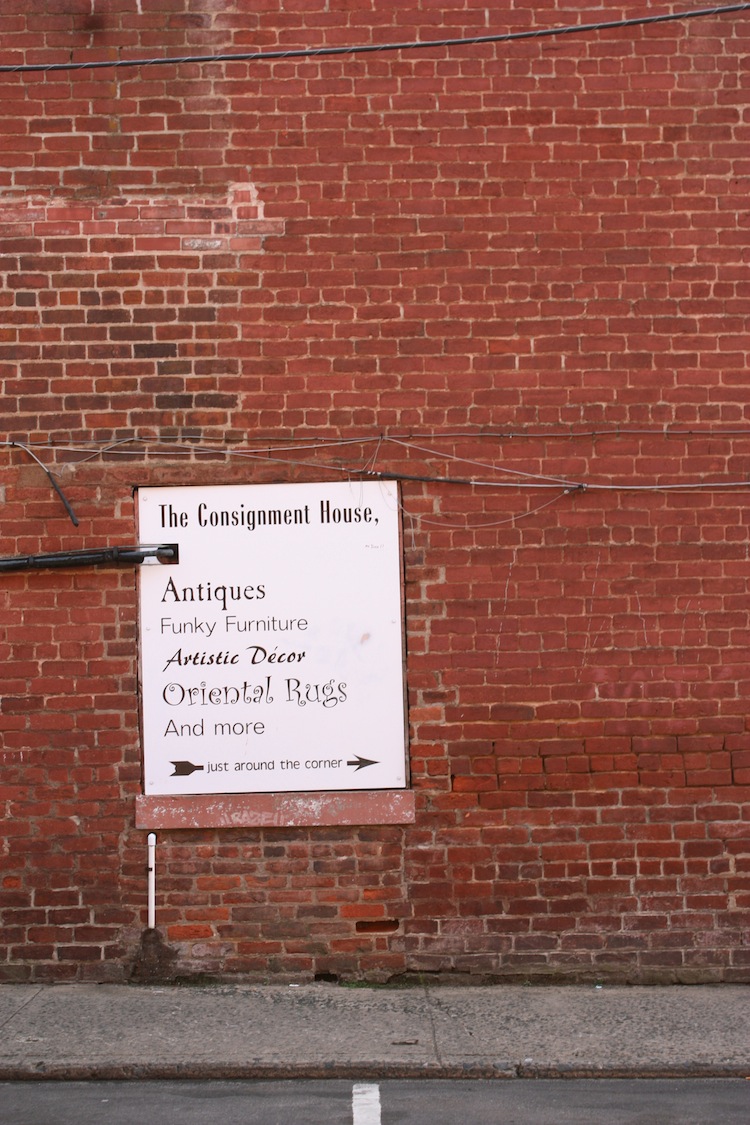 After the play time, we headed downtown to the main street. I could tell right off the bat this was my type of place. The homes and buildings are all charming, and life seemed slower.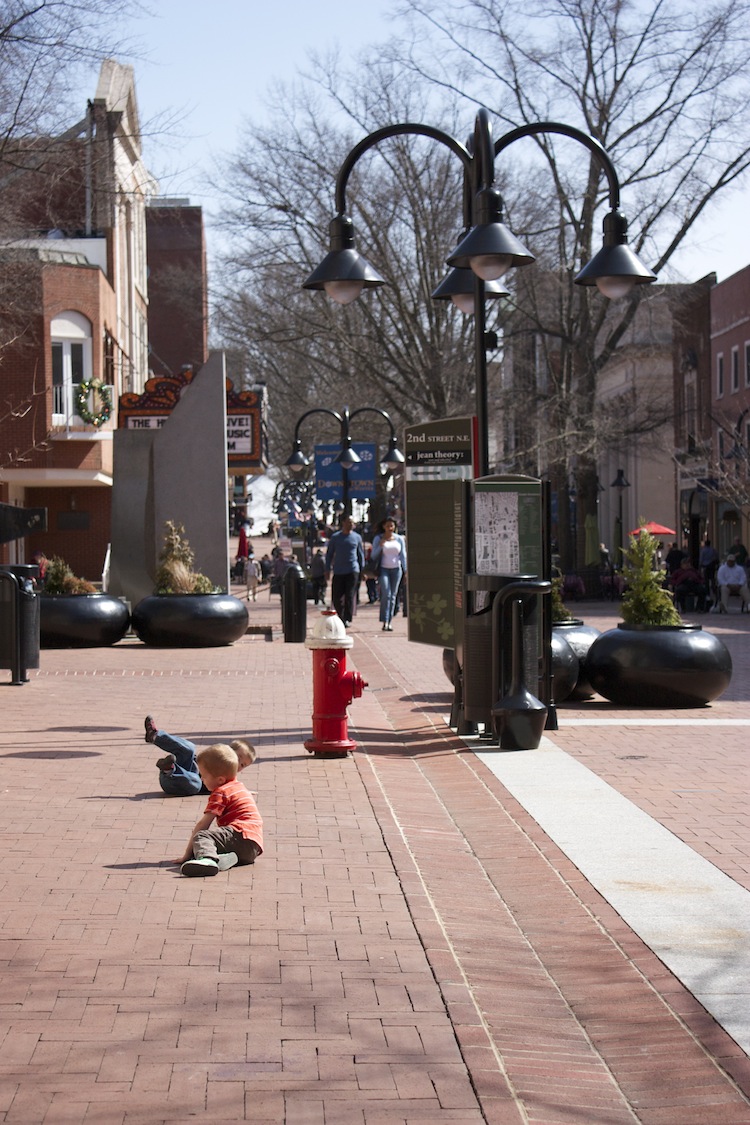 The main promenade, called the Downtown Mall , is a walking street lined with boutiques, thrift stores, and restaurants. Milo and Liam thought it was hilarious to run ahead and fake fall to the ground. Boys.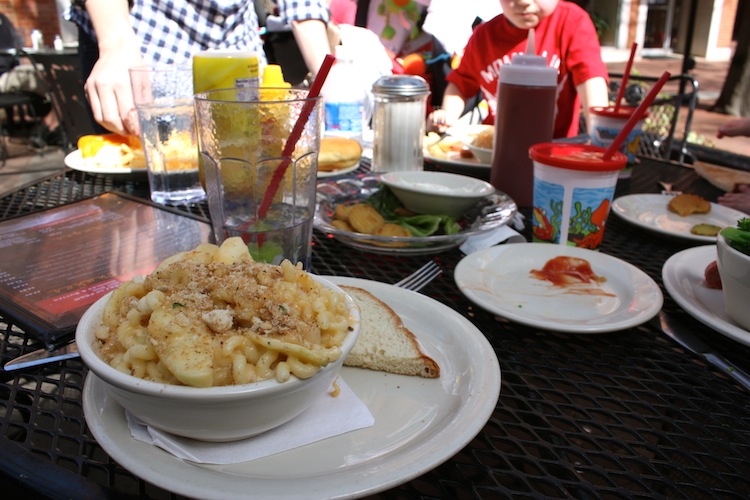 We ate lunch right on the main drag at The Nook. I'd give it 3/5 stars. The outdoor seating was great, and the server super nice, but the food was just okay. I had one of the Mac & Cheese specials: carmelized onions, Granny Smith apples and sharp cheddar. Sounded better than it tasted for me, but Eliot adored it:) Milo downed his hot dog no problem, and the chunky cinnamon applesauce that he stole from Liam was fantastic. Erin had only been for Brunch, and said the breakfast offerings are delicious, so maybe we'll try it in the am next time.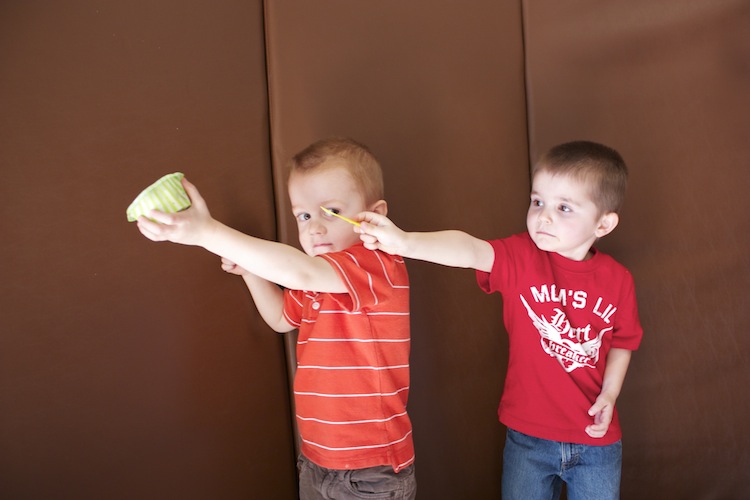 For dessert, we wandered just a little ways down the strip to Splendoras Gelato. Now this was great. I'm all over that chocolate hazelnut, and Milo seemed to love the stracciatella (as evidenced by his taking it from Liam, then um…not giving it back!)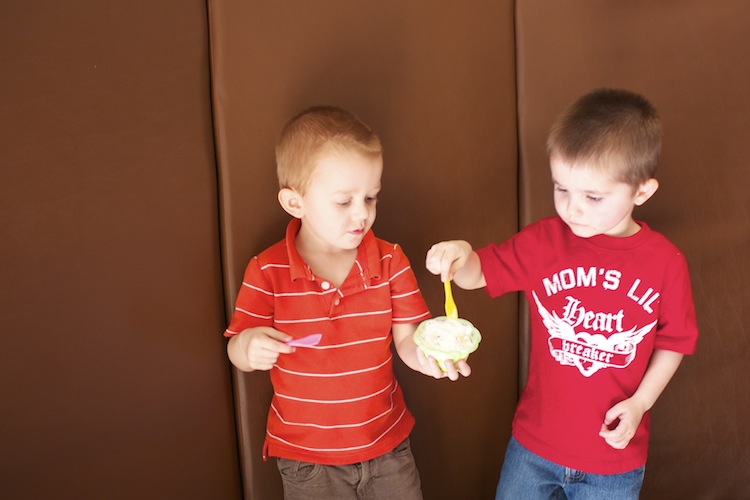 After a little prompting we were able to get Milo to share. The gelato is that good.
As we headed back towards a park, I spotted a sign for a fabric store. The arrow sent us up an alley, and then we couldn't see the store. I asked in the corner book shop (of course there was a corner book shop!) and the owner told me I must be thinking of  "The famous one. The Second Yard." and sent us in the right direction.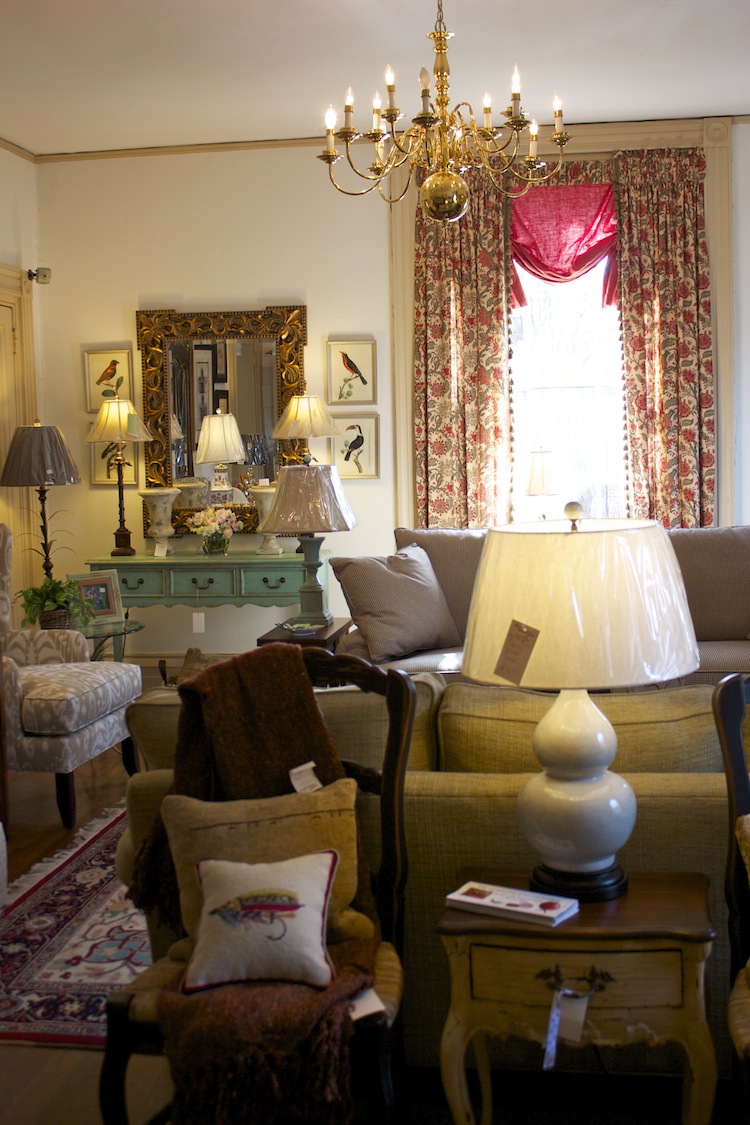 One block away, across the street, we found a darling historic old house with the sign "The Second Yard" out front. Opening the door, I assumed we were in the wrong place. All I could see was really cool old furniture. It looked like an upscale consignment store. After a minute or two, a man came in and I asked him if they had any fabric. "We've got 19 rooms of fabric." he said. "Up the stairs…" he motioned.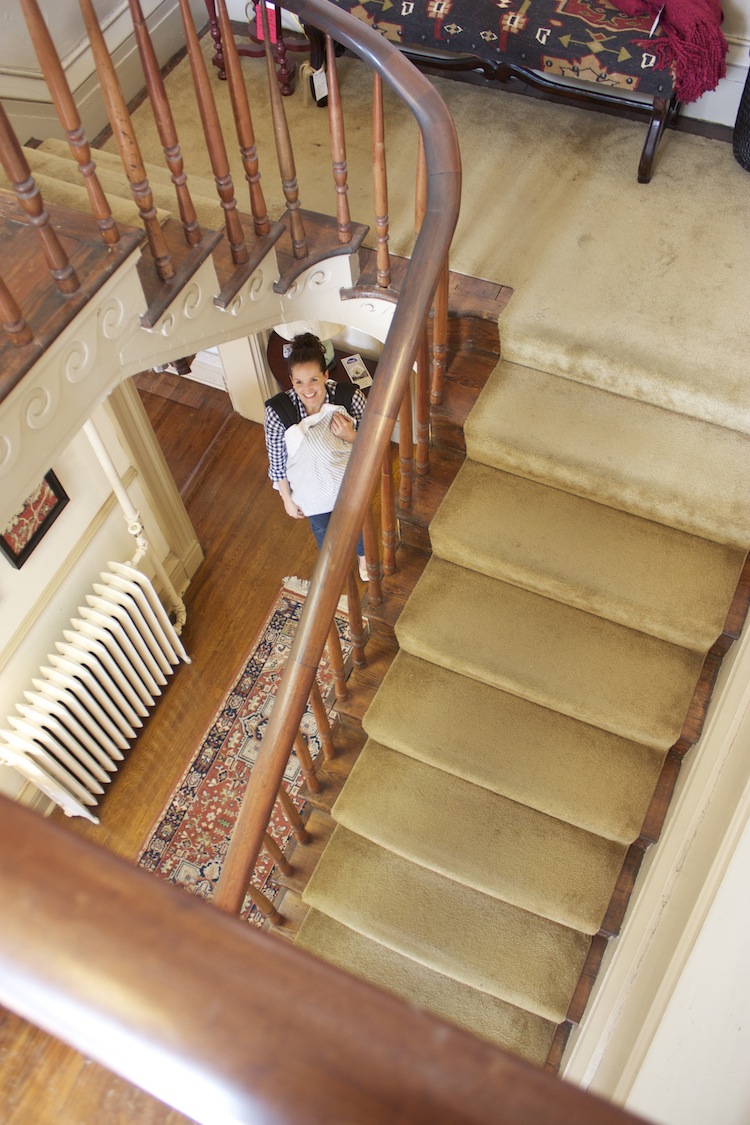 So, I climbed up two flights, stepped through a doorway, and my jaw fell off of my face.
Literally everywhere I looked were shelves with bolts and bolts of incredible material. It was in buckets and stacked on tables and hung in racks. The rooms connected with little doorways, and wandering them I felt so overwhelmed with possibilities. These weren't any JoAnn quality run-of-the-mill fabrics, but EVERYTHING you could ever imagine in the upholstery realm. I asked Erin if I could have 5 minutes (I think I took more like 15) to quickly browse. I tried to keep my head, and decided to find one or two fun things that I could use for clothes.
I grabbed a $4 linen remnant with 8″ lifeguard towers printed on it (destined to be a whimsical pencil skirt) and a yard of a cream and tan 4″ striped nice cotton weave. It's destined to become a box-pleated dress. I can't wait!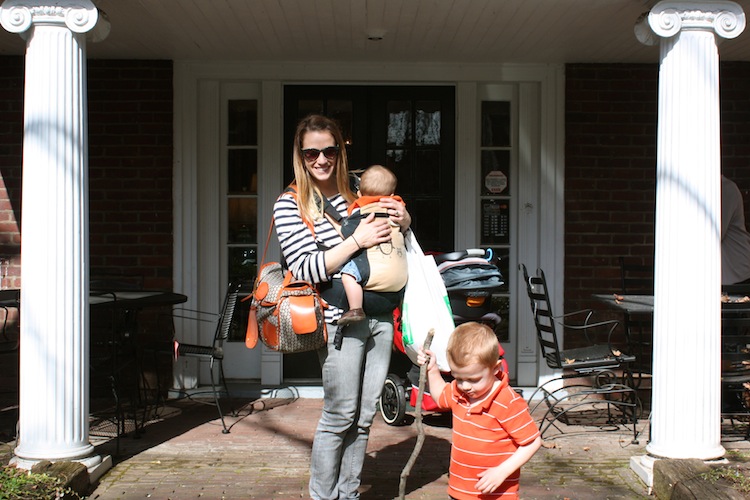 So, my day was made in those 20 minutes wandering fabric (Milo found himself a walking stick, so his day was made, too) but there was still so much fun to have!
Walking just a few more blocks got us to Mcguffy Park. It was a perfect little playground with swings and slides for the boys to play out some energy. The sun shone brightly and Erin and I enjoyed catching up while the babies slept in our front packs and the little boys entertained themselves climbing up the slide, then sliding down. I love that this park is literally three blocks from the whole main drag, so it makes a perfect afternoon break from eating/shopping!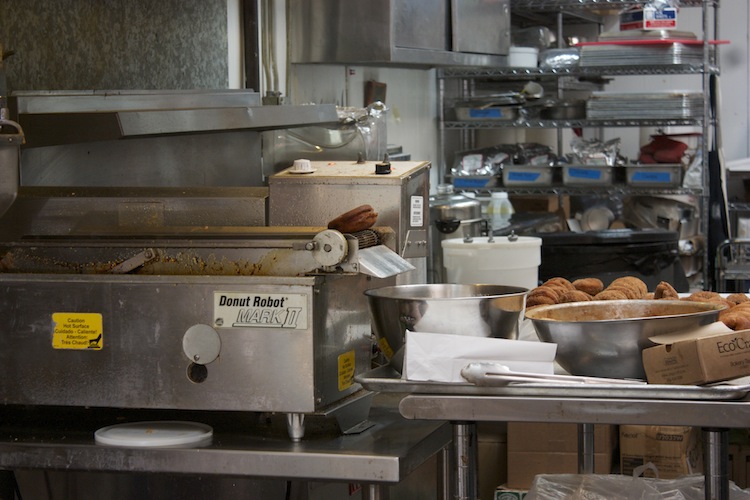 We played at the park for an hour or so, then it was time to hit one more stop before packing up and heading home. Carpe Donut is a local favorite food truck, but we stopped in at their tiny hole-in-the-wall brick and mortar location. They turned on the donut machine (see that one coming off the line?) to make us some fresh ones, which were much appreciated!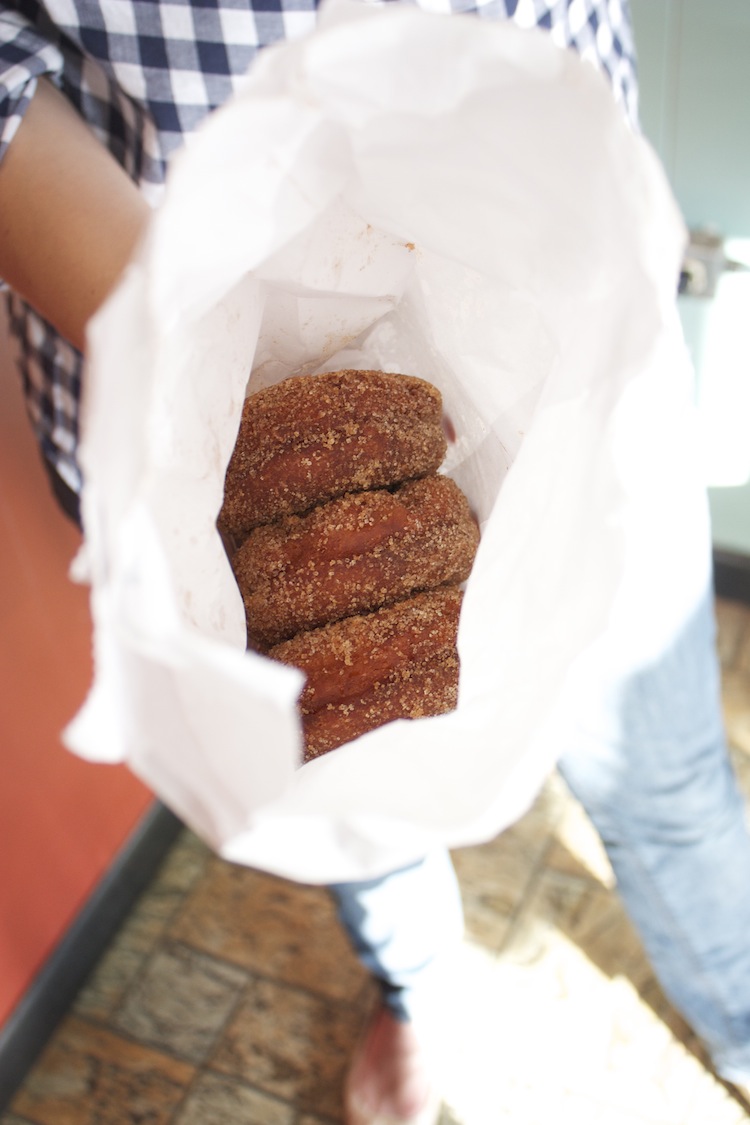 If I could give them 6 stars, I would. These donuts were spectacular. They only make one variety, an all organic apple cider donut rolled in cinnamon sugar.  Couldn't be better.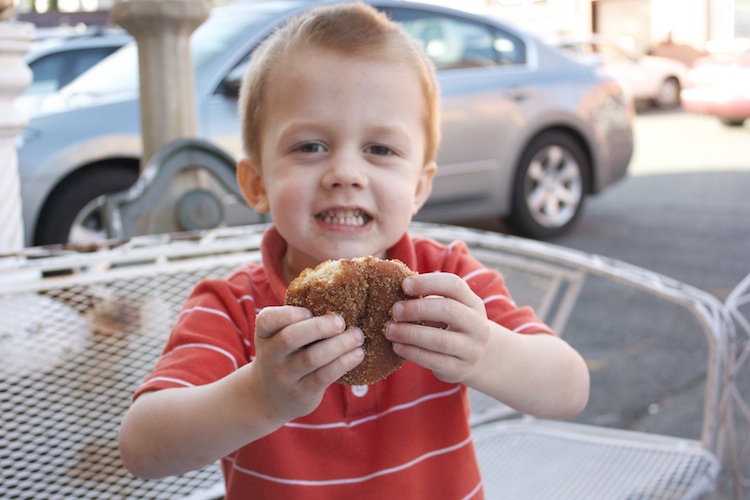 Milo approves.
We ate one hot and fresh, then brought a few home to share with daddy. They were still great later that night, and even wonderful the next morning, which is as long as they lasted. I might have to get these for Milo's birthday party (which would provide an excellent reason to visit TSY again…)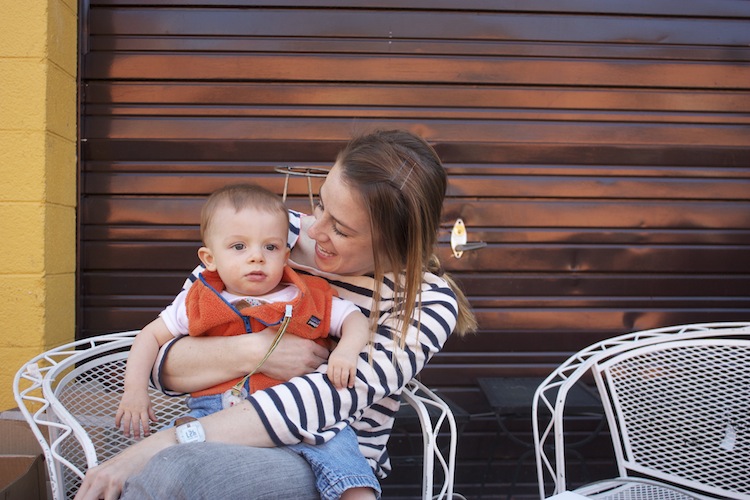 Once again I was so happy we took the two hour drive to our daycation. Amazingly, I feel truly vacationed after a whole day away. It's great for the boys to have my attention without the distractions of home, too.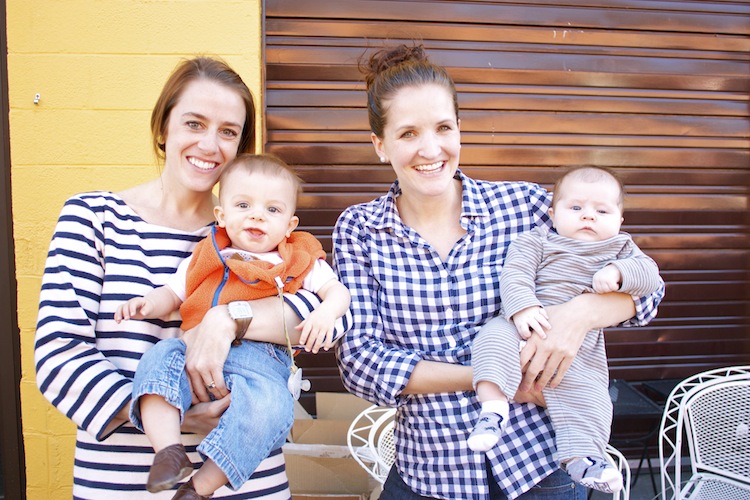 It was also so fun to visit old friends and meet little Noah for the first time. He is an absolute doll.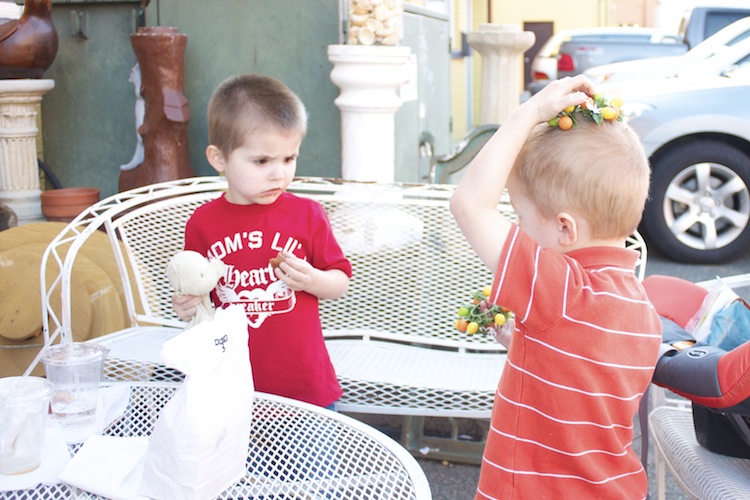 We asked the nice donut man to take some photos of us all together and he went slightly camera happy! I think I have 25 random shots of us trying to wrangle the kids into a group photo-which we actually never got:)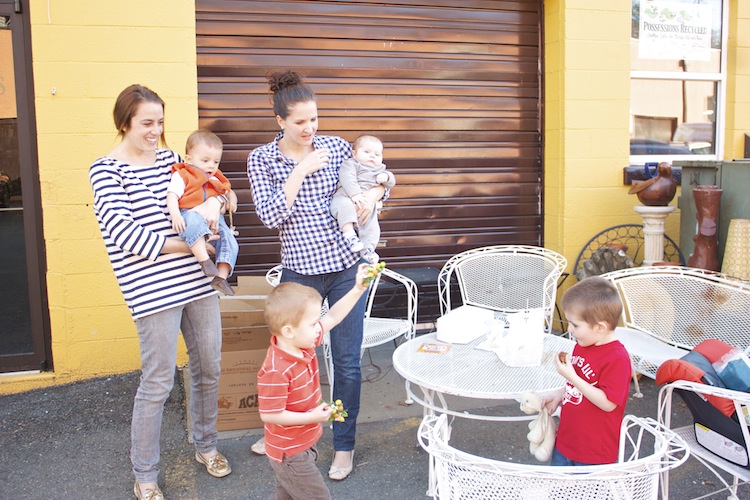 We can't wait to visit again and spend some more time with these cute guys.
C-Ville forever.