From the moment we bought this little fixer upper, I was looking forward to DEMO DAY! Of course, the idea of ripping out walls and tearing up countertops is glorified by hundreds of episodes of HDTV shows I have watched through the years. I knew that such a difference would be made by opening up the space a little bit to let the sun shine through.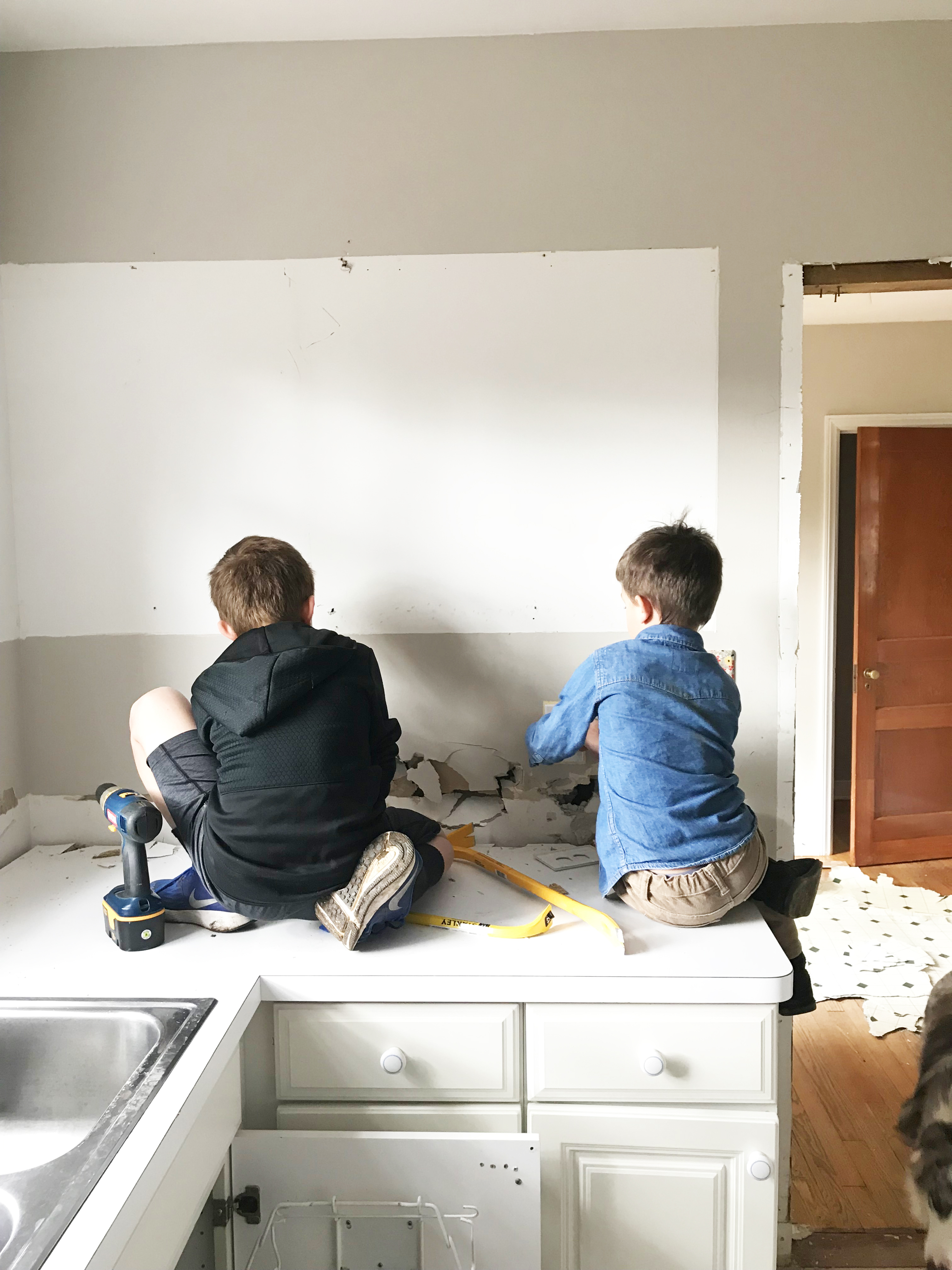 We grabbed the kids, a couple crow bars, and spent and afternoon systematically removing the entire kitchen–including the kitchen wall. The new space feels so much more light and open, and creates new possibilities for a fresh kitchen design.
We had consulted with both a general contractor and a structural engineer before buying the house, so we were aware of the load bearing walls, and which structures needed to be left alone for professionals. Luckily, this wall between the kitchen and dining room was not structural, and so we could go at it ourselves.
Doing the demo as a family both saved a little bit of money that we can put elsewhere in the renovation budget, and it also gave us a great opportunity to invest some time and sweat into this new home. The boys loved hammering on the walls, and we had a great time seeing the insides of the space as we took it apart.
The cabinets and appliances were all saved intact so they could be donated to Habitat for Humanity, who also came and hauled them away.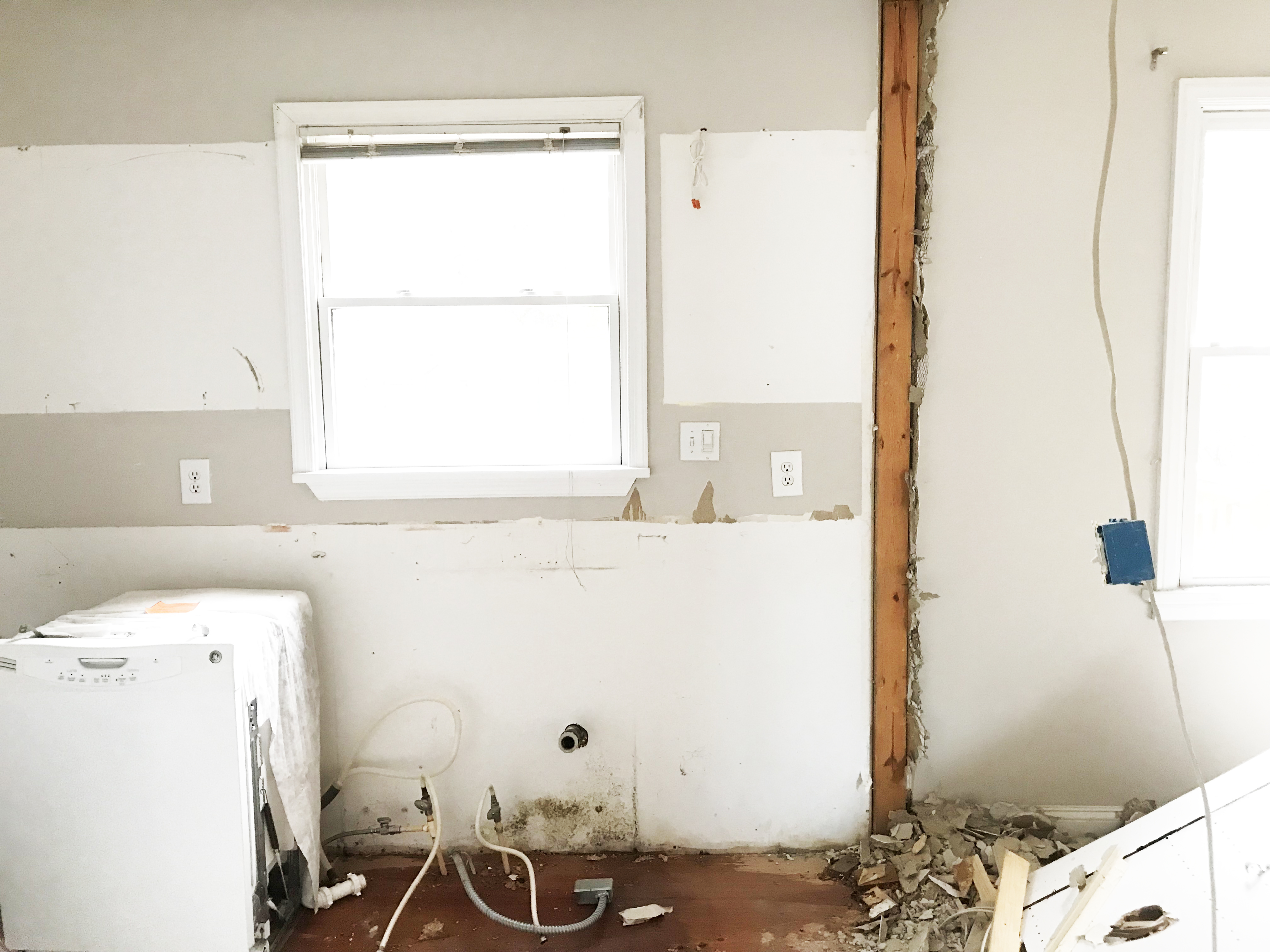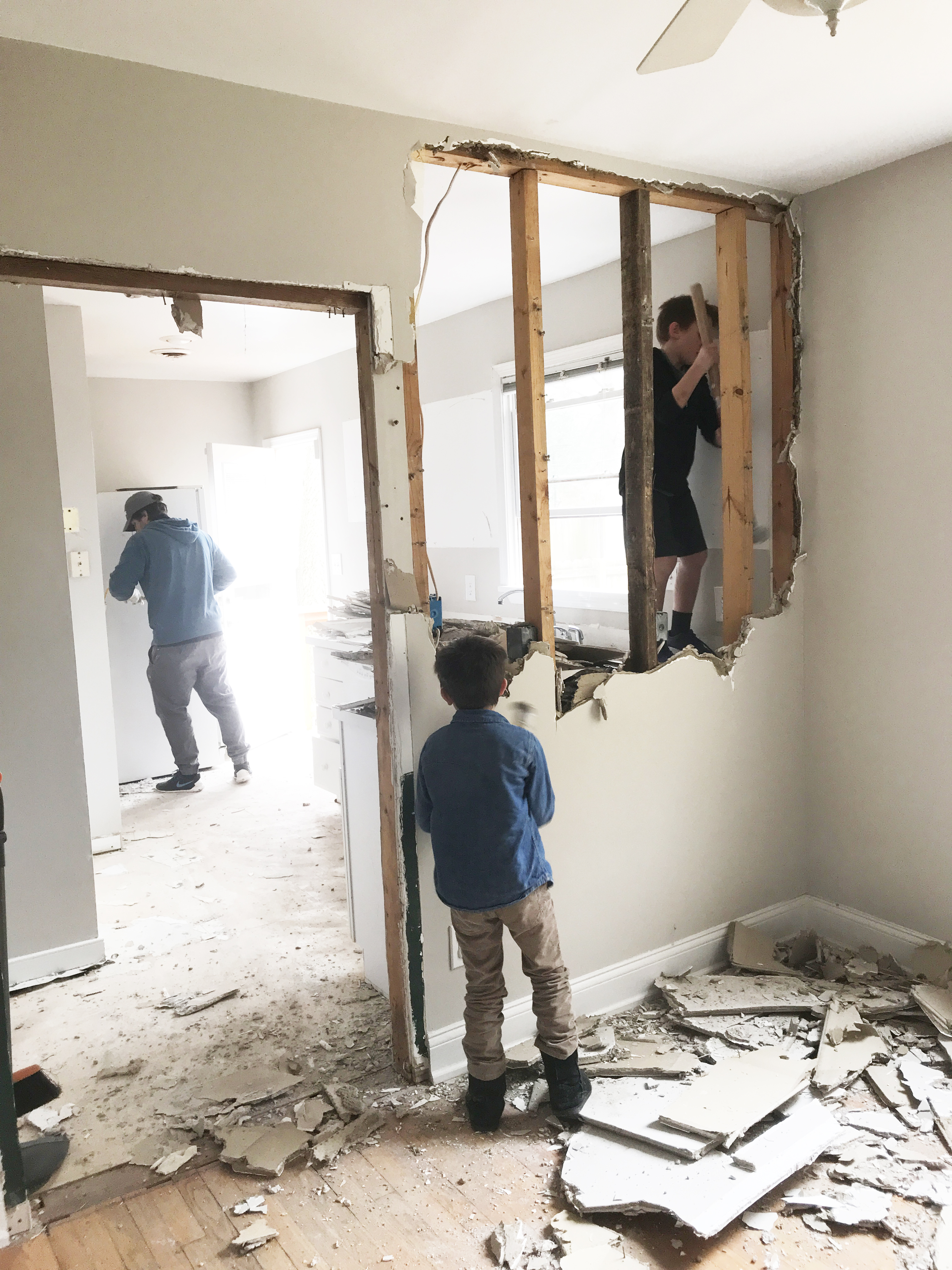 In the video, Dave asks me what my favorite part of Demo Day was, and I answer enthusiastically "Every single minute!" I honestly loved the whole process, and felt so empowered taking on this project as a family.
There is so much ownership that comes with digging into your home (whether literally with this type of demo, or simply by decorating with intention.) It felt so good to start to see the transformation of this house come to life in a small way as we opened up the kitchen.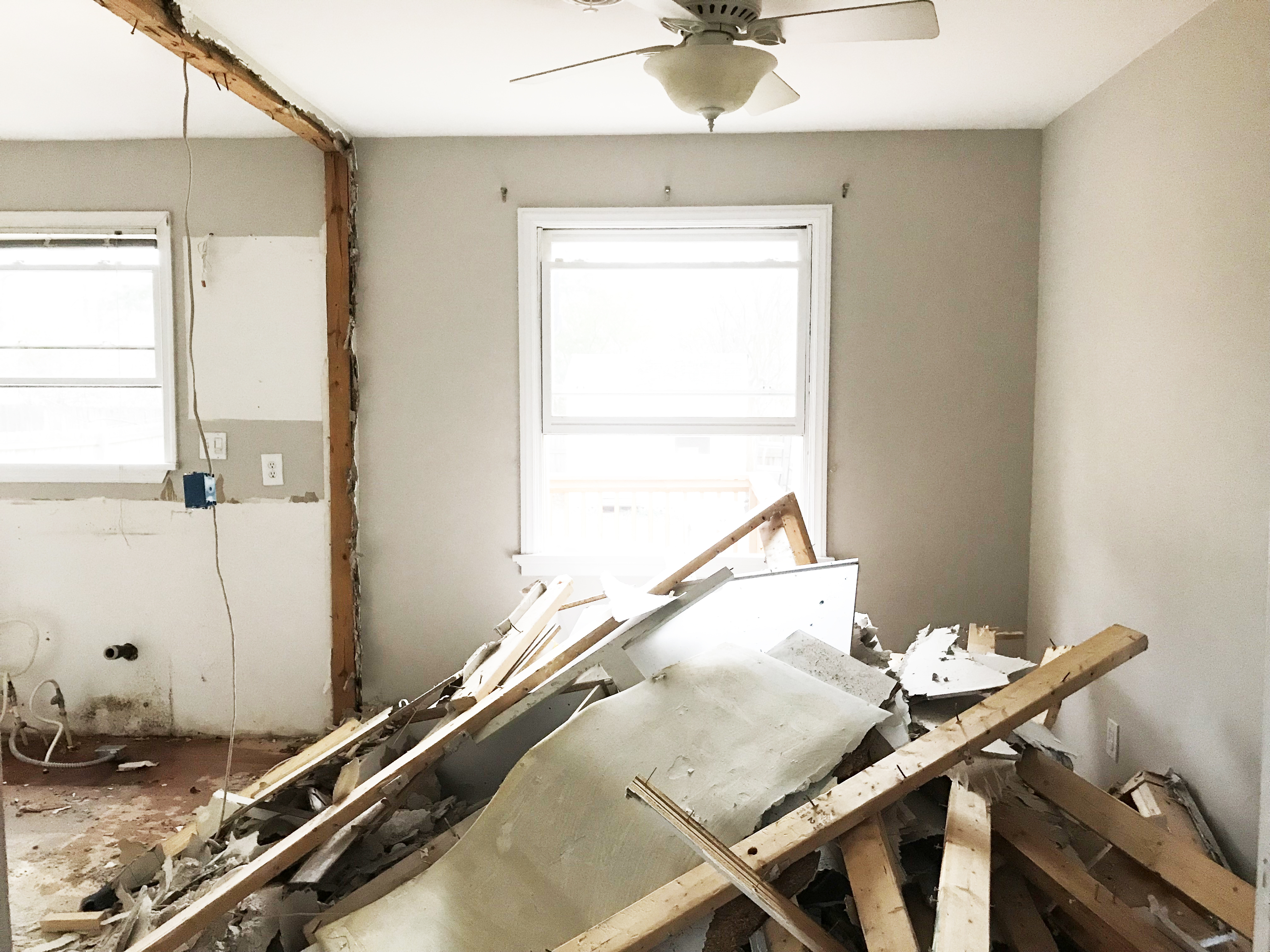 Here is a reminder of the BEFORE. The wall separating the kitchen from the dining room just had a single door frame as a pass-though.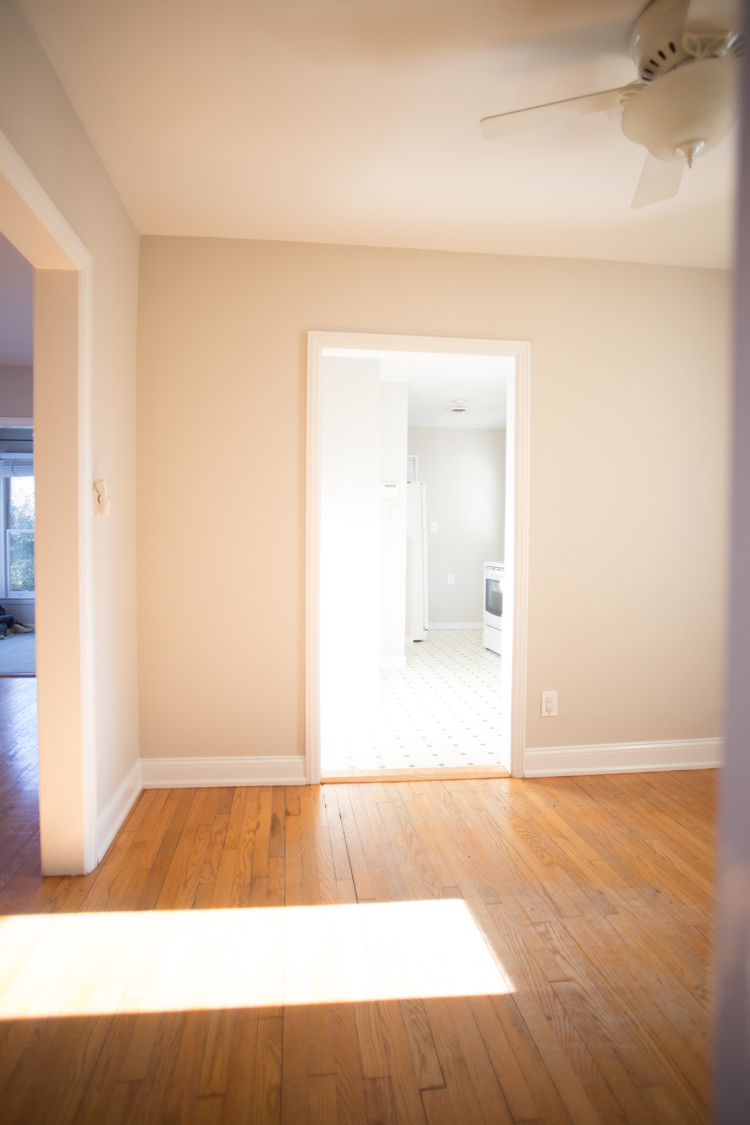 And AFTER! The whole space is opened up! That doorway is replaced by a completely open wall, allowing light from the windows to pour into the dining room, and creating a sense of continuity between the two rooms.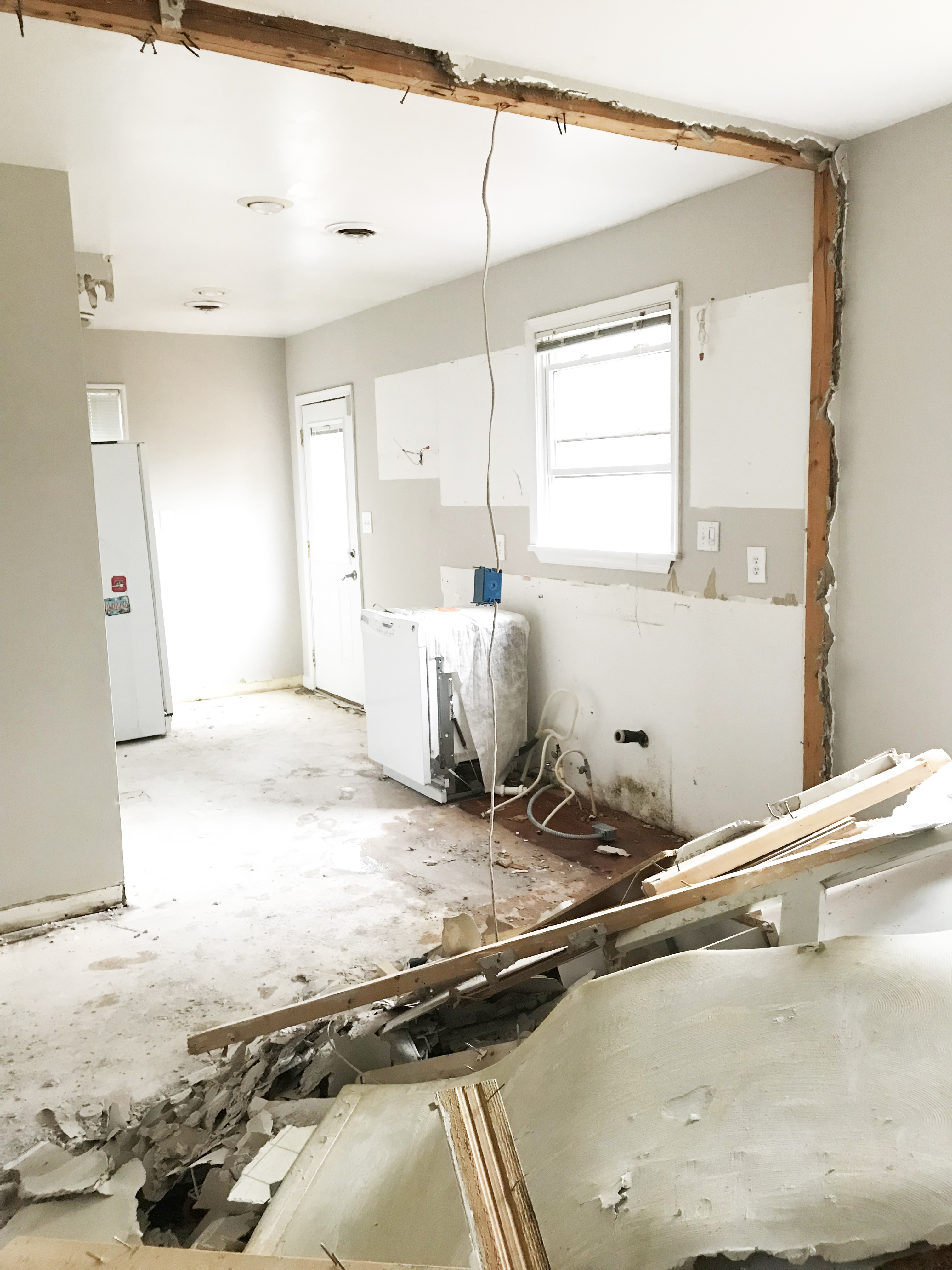 Obviously, it is still a little rough (to say the least!) and we are so looking forward to all of the next steps in the process: finalizing the kitchen design, hauling away the debris, widening the load bearing wall between the dining room and living room, ordering cabinets, hardware, flooring, and all of the other details that make an intentional, beautiful home!