Episode 14: Gratitude Practices for Daily Life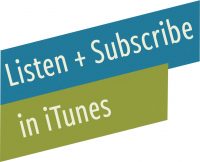 The Importance of Gratitude
Happy thanksgiving. I'm excited to be sharing an episode with you today on Thursday, the most wonderful Thursday of the year when we all gathered together and turn our thoughts and our hearts to the things in our lives that bring us the most joy and the things that we are appreciative and grateful for people and the places and the experiences and sometimes even the trials and the hard things that have brought us to where we are in these places in our lives.
Gratitude is one of those elements of a happy, intentional, abundant life that really can't be replaced. It is such a key element to all of the things that lead to more joy and to more excitement and to more contentment in my everyday life. So in today's episode, I want to share several ideas for encouraging practical gratitude in your everyday life.
To begin this episode, I want to share about a book that has been really inspiring for me. The book is called The Gratitude Diaries, and it's by Janice Kaplan.
This book was given to me by my grandfather a couple of years ago for Christmas. Now I have to tell you a little bit about Grandpa Joe. My Dad's dad, Grandpa Joe turned 100 years old this past March. He is going strong, taking his puppy on walks and eating his oatmeal for breakfast and living a really full and fulfilled life at 100 years old each Christmas.
He has given me a book for the last several years and all of the books that he's given me in the recent years have been incredibly impactful and I love that he's choosing books that are inspiring him in his life as a 100 year old grandfather. He's such an incredible person who's lived an incredible life and continues to at 100 years old, seek out self development and seek out ways to become a little more healthy, a little more happy, and a little more encouraged in his everyday life.
If it's good enough for Grandpa Joe, it's good enough for me.
The Gratitude Diaries by Janice Kaplan chronicles a year where the author Janice Kaplan focuses on gratitude and each month she chooses a specific topic or a specific area of her life where she wants to increase her gratitude and it's kind of an experiment she wants to see. Does. Looking on the bright side, does focusing on gratitude make an impact and as you read you will discover what an incredible impact it has on daily living. It has this overarching impact, but also everyday life feels a little bit brighter and lighter.
When you focus on the good and you focus on gratitude. We touched on that topic a little bit in episode 11, The Advantages Of Optimism. This book focuses that down even further to be specifically related to gratitude and the importance of gratitude in a fulfilled and happy life. I highly, highly recommend it. I've read it more than once. I continue to read it.
Mine has notes and highlights and all sorts of things in it because I felt like I was fairly grateful before I read this book and digging into some specific ways that I could increase my daily gratitude practices, made a huge impact on me and really did change my life. I want to share one quote from the book and then I'm going to go on and share some ideas. Some are from the book and some are just from my own life and experience of ways that we can incorporate more gratitude into our regular lives.
So Janice Kaplan says this:
"Gratitude isn't the same as happiness. It has a much deeper resonance. Most of us feel cheered when something nice occurs. A friend send flowers or we spend an afternoon in the park, but those moments can be fragile and fleeting and what happens when they're over because it is not dependent on specific events. Gratitude is long lasting and impervious to change or adversity. It requires an active emotional involvement. You can't be passively grateful. You actually have to stop and feel it and experience the emotion. So it creates an inner richness that sustaining in difficult times as well as in good ones."
Gratitude Is A Practice
That quote from the gratitude diaries really wraps up and sums up the reason why I feel like gratitude as a daily practice in my life has been so important. One, because you have to experience it. You can't just think about it. Gratitude has to be active. You have to do something, you have to feel it. It's an active emotion.
"Gratitude as a daily practice in my life has been so important because you have to experience it. You can't just think about it. Gratitude has to be active. You have to do something. You have to feel it. It is an active emotion."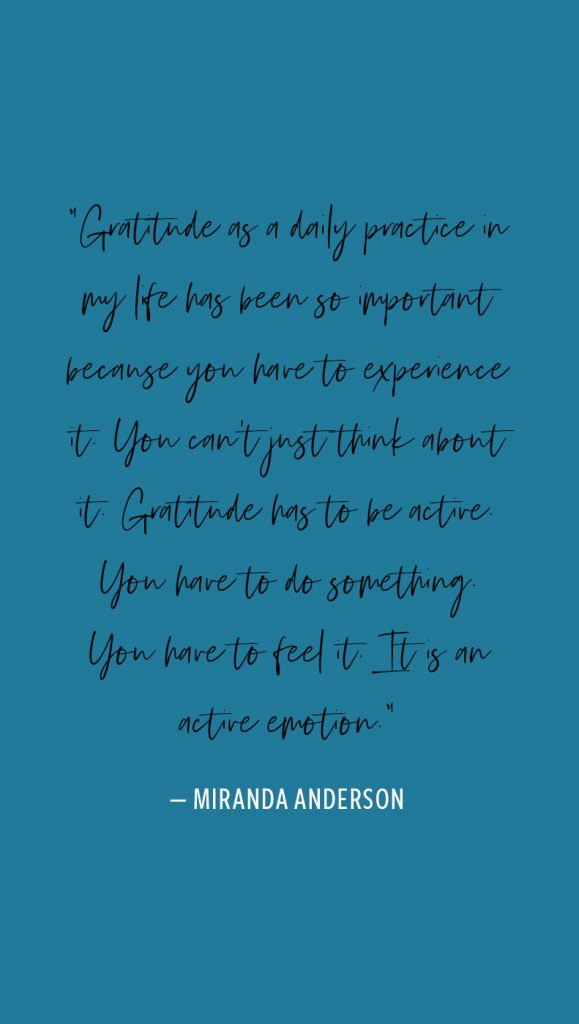 The second reason is because it is not dependent upon your circumstances. Gratitude can lighten your life regardless of what is happening. It can adjust perspective even in the middle of a difficult time. What a powerful emotion and what a powerful tool we can use in our lives if we know how to wield it. So here are 11 ways that we can include practical gratitude in our everyday life.
Simple Gratitude Practices for Daily Life
1. Say thank you more often.
We were taught all growing up as kids that the magic words were pleased and thank you that that was polite. It was courteous and I wonder how many of us as we've gotten older and especially with people who we interact on a regular basis, especially our family members and our friends who a lot of times we assume that the things that they do for us are just part of their role as our husband, our child, our neighbor.
We sort of assume that the things that they do, that we benefit from our sort of expected and do we forget sometimes to return gratitude with a simplest thing as saying, thank you. My husband did the dishes last night after we had friends over for dinner. I don't know that I specifically told him thank you for cleaning up after our friends left, but that was so kind. It was such a nice gesture and it wasn't expected. The last time someone held the door open for you, did you remember to say thank you? The last time that someone gave you a compliment? Did you say thank you or did you sort of avoid it?
Think about the hundreds of times each day that we have the opportunity to say thank you and verbally express gratitude for something that someone has done for us. I know that I can do better at this and I am encouraged and excited to remind myself that this is an important and very simple practical way to invite that emotion of gratitude into my life because as we are telling someone, thank you were that what they're doing for us is special and we're feeling that emotion of gratitude.
So number one, say thank you a little more often.
2. Count your blessings.
This is another simple thing. I don't know that I would recommend that you count them like "one, two, three, four, five." If you listened to the Alison Show podcast, and I'm sure a lot of you do. She has some episodes about gratitude and has some particular gratitude practices. Here are her Gratitude Practice Episode.
It is essentially counting your blessings she has you look around and think of all of the things that are around you in your life and be grateful for them. I'm so grateful for my bed even though I haven't made it yet today. What a comfortable place I have to sleep. I'm so grateful for my house, the roof over my head so that I didn't get wet during the torrential Virginia downs downpour that happened last night. I'm grateful for my husband.
I'm grateful for a car that runs. I'm grateful for running water where I could take a warm shower anytime I like during the day. I'm grateful for all of the tools that I have in the shed that allow me to diy projects and make things a little bit better than they were before. I'm grateful for my favorite navy blue converse that feel like home when I put them on. If you have trouble looking around and thinking of all of the simple things that you're grateful for, all of the things that become just part of your everyday life, so much that you don't pay attention to them anymore.
"Counting your blessings means to be opening your eyes up wide again to the things that exist in your life that you may not pay attention to and thinking about them specifically and being grateful for them."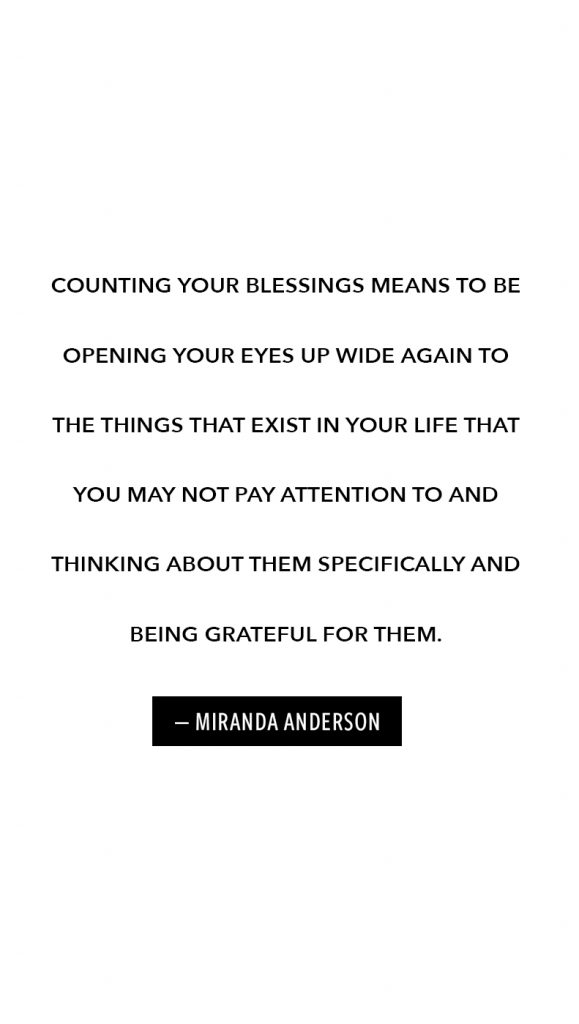 As I was thinking about this one, driving my kids to school this morning, that song where the chorus just says, "I'm still breathing. I'm still breathing. I'm alive. I'm okay". Even if it's just that simple, even if you have to bring it back to, "I am still breathing. I am alive."
How grateful can I be for the life of today?
There are so many things that we just take for granted because we're so incredibly blessed and I think taking the moment to count your blessings and to acknowledge the abundance in your life is it incredibly powerful daily practice.
3. Stop complaining.
I don't assume that all of you complain all the time. We all do a little bit here and there, right? I think some of us have more of a tendency than others, and I believe that complaining, just like gratitude is a habit that can be practiced and it can be changed. If you find yourself complaining about your circumstances, about your situation, about your kids, about your spouse, about anything, about your job, about your financial situation, all of the things that don't seem to be going right.
If you find that you often vocalize those things, I want to invite you to stop.
There's that old saying from the movie Bambi, if you don't have something nice to say, don't say anything at all. In the movie it was talking about, you know, not saying mean things to your friends, but I think that it goes for ourselves and the way that we speak about our lives as well.
"What would happen if instead of complaining, we used that same breath to reframe whatever we're about to complain about and say something positive about it, to actually say something good rather than something bad."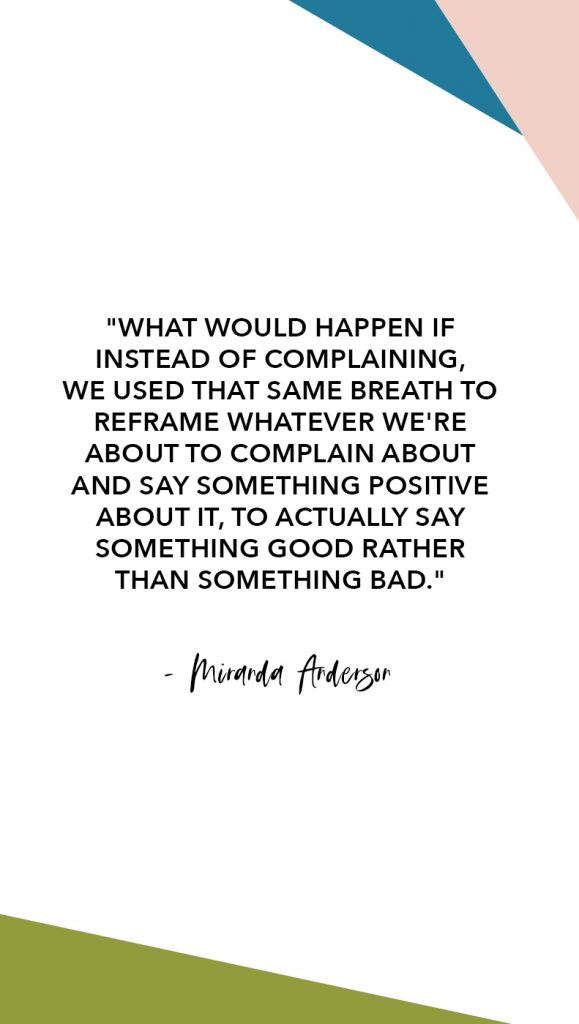 As we complain, we train our brain to recognize what is wrong with whatever situation we're facing because we are taking the time to notice it and then speak it. We're creating these pathways where we start to notice all of the things that are going wrong so that we can complain about them and the power of gratitude is if you switch that and you start to instead vocalize the things that are good, instead of saying, "Oh man, it is so cold in this building." Saying, "Wow, I'm so grateful that I have this sweater to keep me warm", or "I'm so excited to get back in the car and turn up the heat after this meeting because I have delicious seat heaters in my minivan."
What you're doing is actually teaching your brain to recognize the good of the bat and soon enough, the more practice you put on that, the less your brain will start to notice the bad and the more it will start to notice you're good and how incredible will the change be in your life when you more often recognize all of the good that surrounds you than the things that you would have complained about.
This one has to be intentional because I think especially if you're in the habit of complaining often it will happen naturally, so you have to set a daily intention. You will get up in the morning and tell yourself, "I am not going to complain today. Every time I start to complain I'm going to stop. If one escapes my mouth, I'm going to follow it up with something that that is good."
4. Play The Glad Game
Pollyanna, the happiest girl on the block, idea for not complaining is to play the glad game. When you feel a little bit down or negative about something, consider what are the positive spins that you can put on it?
In the movie when they complain about Sundays and they challenged Pollyanna to come up with something good about Sunday, the thing that she comes up with is that you have a whole six days before Sunday's going to come around again! So, even if the only thing you can think of in the glad game is that you've got a whole bunch of time before that terrible thing rolls around again. That is still something glad that you can share about it.
The glad game is also really fun to play because your kids, if you have kids, your kids will understand this one. So I have in the past and sometimes when I remember too, when my kids are complaining about something, I will stop them and tell them they need to tell me four things that are good about the thing they were complaining about. I will tell them I understand that they feel this way about this and that and I bet there's something good about it too, so let's focus on that and if there's problems that need to be solved, absolutely let's think of solutions for the problems, but idle complaining and talking about all of the problems without actively intentionally coming up with solutions and recognizing that there is some good along with the bad is is just sort of a waste of time and energy.
5. SMILE.
I'm sure you have heard those studies about smiling and how the act of smiling actually boost the hormones in your brain. The happy hormones as you smile is sort of like a fake it till you make it. You're telling your body that something good has happened. You're telling your body that, okay, I'm, I'm looking forward to what's coming next. I'm excited. I'm happy. Faking it till you make it by putting a smile on even when you don't necessarily feel super happy or enthused is one way that you can increase your ability to feel those feelings that you would like to feel.
I know this can be tricky. It can be hard. When I am grumpy, the last thing that I want to do is smile and I always noticed that when my kids or my husband are kind of teasing me about being grumpy and they tell me to put on a smile and say, "Mom, just smile" and I'll do a fake smile just to please them for a second and get them off my back. And then that fake smile turns into a giggle and that giggle turns into genuine relief and release of whatever I was feeling that was keeping me down.
"One really incredibly simple way to practice gratitude in your daily life is to just smile more. Give it a try!"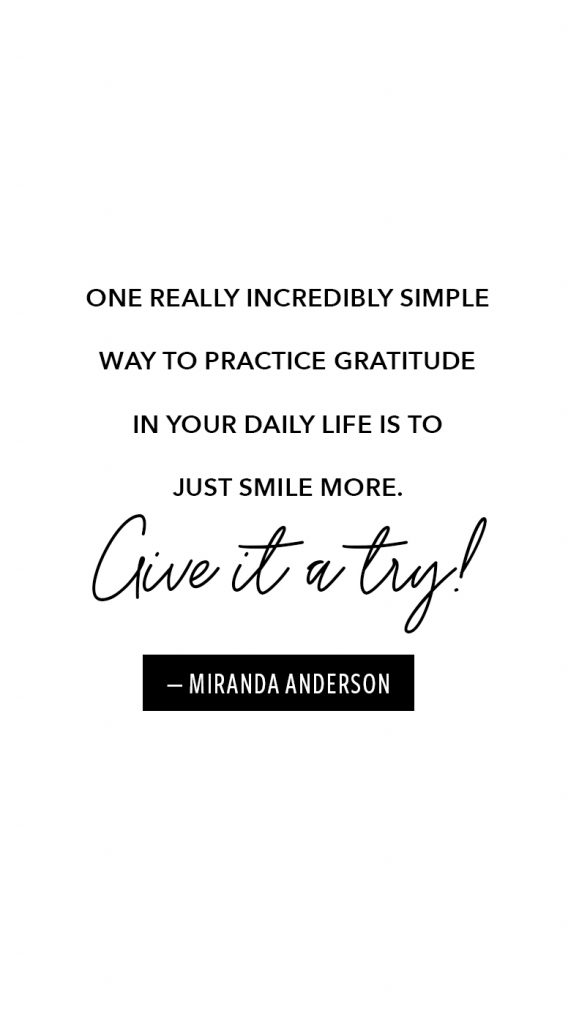 6. Speak well of others.
This kind of goes along with not complaining and with The Glad Game. It's so important to treat people well in person and to speak well of them when they are not with us. When we speak well of others in their presence and in their absence, we are naturally inviting ourselves to consider the good about those people were naturally tuning ourselves to the channel of what is positive.
What am I grateful for about that person? What do they do well? What are their talents? How do they affect us for good in this group or in this family are on that team?
There are ways to be constructive with criticism, if someone really needs it. And there is a whole lot of gossip and negative talk and badmouthing and backstabbing that happens and no good comes of it. There's no good that comes of it.
I remember a few years ago teaching a lesson to say young women in my church and sharing with them that I think of this idea of speaking well of others as wanting others to feel safe with me. That even when they're not there, that they know that their name and that they're the way that I speak of them will be encouraging and protective of them, that I won't throw them under the bus, that I won't use their name for ill and speaking well of others. Again, tunes our heart to recognize the good and to be more grateful for the people that are in our lives.
7. Write a thank you card.
Put it in the mail or drop it off on the neighbor's porch or deliver it to one of your children's teachers. Leave it on a car in the parking lot to someone you don't know. Like the quote I shared at the beginning from the gratitude diaries says, gratitude is an active emotion. That's why we talk about practicing gratitude or gratitude practices.
Training our bodies to feel grateful can happen through an act like writing a note, writing a thank you note for something simple. All of those things that you thought about in the beginning when I talked about actually saying thank you to someone. Those same things and more can be accomplished with a thank you note.
Who is someone right now that you are grateful for?
As I'm talking and sharing about this episode on gratitude, who comes to mind as someone that has been impactful in your life, someone that you are so happy that they're part of your life or that they were at one point that they did something for you that really meant a lot. Why don't you take three minutes today and write them a thank you note and deliver it or put it in the mail?
With the interconnectedness of social media and technology. I think sometimes overlook the power of a simple written note. The power of actually training our hand to write out that gratitude and to and to send it off.
"Would we feel more grateful if we wrote more thank you notes? I think we would."
I love my friend Tara from Rad And Happy has a subscription box that's called Rad Mail, and every month you get a bunch of cards and stickers and doodads and other stuff in there, but I love when you have cards on hand to write those quick thank you notes. Then it you set yourself up for success. With that, I have a drawer downstairs that's just just has empty blank note cards so that when the idea hits to say thank you to someone, I'm already ready to go. I've got something quick. I can write down a thank you note and pop it in the mail.
Those little things like writing a note, make all the difference, even write a sticky note and stick it on your mirror in your bathroom for your husband to read. Thank you so much for doing the dishes last night. That's all. Just those quick simple acts of gratitude are the daily practices that really increased the way that we feel grateful in our everyday lives.
8. Use the things that you love.
"There is no better way to show gratitude for the things that we own than to actually use them and use them well and often."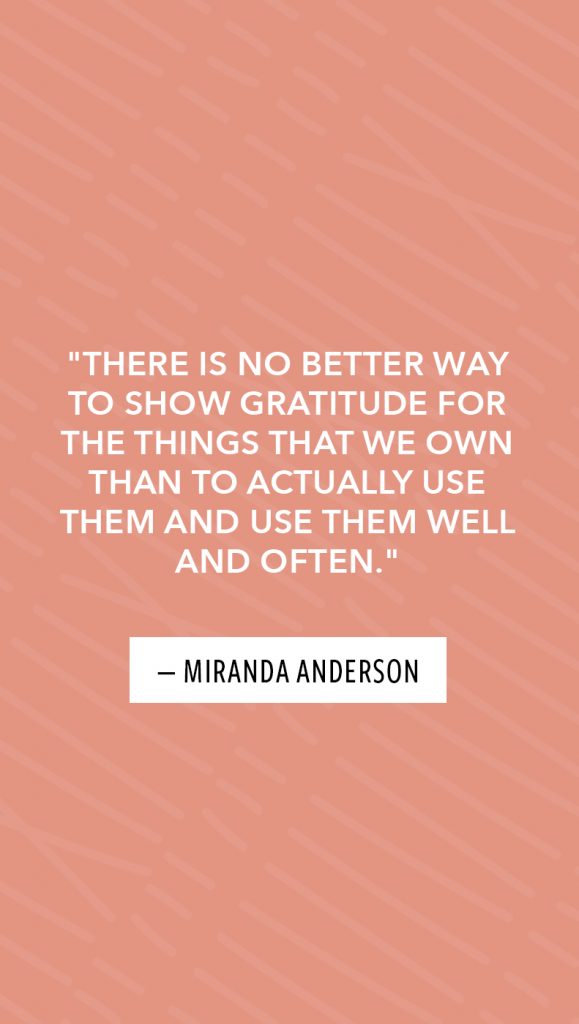 This goes back to episode four when I shared all about our year of not buying things. One of the things that we really focused on during that year was using the things that we already had rather than stashing them away in a cupboard or a cabinet. We got them out and we shook them off and we used them and we were able to feel so much more grateful for the things that we had because we were actually using them in the way they were meant to be used.
How many of you have a cabinet full of beautiful dishes that you only bring out once in a while? How many of you are saving that box full of treats for a special occasion? How many of you don't want anyone to go in that room because it's really nice and clean and so no one can go in there and you can't use it? When we use the things we have, we love them even more. We are able to feel grateful for them as we're using them, and this also helps train us to recognize what we really do love and what types of things can benefit our daily life, and so number eight is to use the things you love to show gratitude for them.
9. Write down the good things that happened to you.
I'm sure all of you have heard this advice. It is very often given advice in the realm of gratitude to write down things that you're grateful for. Keep a gratitude journal. Keep a gratitude diary. Write a running list on your phone. The act of writing down rather than just thinking about is where you are exercising the gratitude. That's where the practice comes in.
Not only that, but it's really cool to be able to look back over the weeks or months or years of a gratitude diary and recognize all the different things that you've been grateful for. They can be really simple things. They can be big things as you write down some things that you're grateful for. Every day you again, are training your mind to recognize what good things are happening to you so that you'll have something to write down, so if you want to write down three wonderful things that you're grateful for every night, you will at least notice three wonderful things that happen to you every day.
What a powerful gratitude practice. Just writing down every day some things that you're grateful for.
10. Serve Others.
of the best that we can exercise and practice gratitude in our daily lives is by serving other people. One of the lines from a favorite hymn reads, "Because I have been given much, I too must give." Recognizing gratitude inherently allows us to see the things in our lives that go beyond our needs. When we feel that gratitude and abundance, we more easily are able to turn around and share with others and actually one can come before the other.
As we share with others, we inherently recognize that we have more than enough because if we have enough to spare to share and to serve those who don't, we will begin to recognize all of the things that make our lives so full. As we're heading into this full fledged holiday season, what are some ways that you can serve others? What are some ways that you can express your gratitude for all of the many blessings and beautiful items and relationships and resources that you have in your life by giving of them to others?
Some of my favorite traditions during the holidays involve preparing and delivering gifts to all of our neighbors and not out of a sense of obligation, rather out of a sense of gratitude for the friendships that we've created. We also love choosing a family or some families each year to help provide Christmas and taking my kids shopping for Christmas gifts for kids outside of our own family has been such a special and unique experience for them to put themselves in a position of thinking, what would another kid want for Christmas? How do we make these holiday special for someone else as we turn around and give back, not only during the holidays but in our everyday lives, our abundance and our gratitude becomes even more full.
11. Prayer or meditation.
Through prayer and meditation we recognize our role as a small piece of this greater whole of the world. I am a praying person and as I pray every day, my heart is trained to express and feel and revel in the gratitude and the abundance that exists in my life.
If you aren't a praying person, meditations and feeling connected to something greater than yourself, we'll do that same thing. Spending just a quiet moment in prayer or meditation and intentional moment of acknowledging that we have a part to play and that we're connected to so many things greater than ourselves. We're connected to our families and they're connected to their families and we're connected to our communities and we're connected to our cities and our countries and we our reach as individuals extends so far beyond what we can even imagine. I am always humbled and grateful as I sit in meditation and recognize there are so many good things that I can do if I choose.
Sometimes it's in those moments of prayer and meditation that I feel the most connected. There's something really special about feeling part of something bigger than our own lives and that has allowed me to feel especially grateful for all of the circumstances that had to happen for me to be able to live the life that I'm choosing right now.
Conclusion
Happy Thanksgiving. This has been such a fun episode for me to share with you. It's definitely tuned my heart into the things that I'm more grateful for and I'm excited to dive in even deeper with some of these gratitude practices in my everyday life. I'm going to go over them one more time and just share all eleven and as I do, I want you to think for yourself, which one of these gratitude practices do you want to focus on for this next week?
I guarantee if you choose one and you make it a priority, that you will feel more grateful by the end of the week than you do right now.
1. Say thank you more often.
2. Count your blessings.
3. Stop complaining.
4. Play the glad game.
5. Smile.
6. Speak well of others.
7. Write a thank you card.
8. Use the things you love.
9. Write down the good and the things you're grateful for.
10. Serve someone else.
11. Pray and meditate on the things that you're grateful for.
Sharing Is Caring!
Thank you so much for being here. My heart is consistently full of gratitude for this community. For you who show up and listen to my podcast who follow me on instagram and we have great conversations over there. Those of you who read my blog and check out all of the work that I put into creating answers to questions and recipes and diy tutorials and all the things that happen here.
I'm grateful to you for being a supporter and a cheerleader and encourage her and I hope that some of the messages that I'm sharing with you make an impact on your everyday life.
The review I want to share today is from Ferris4, so Ferris4 send an email to michelle@livefreecreative.co and she will send a thank you package out to you for this wonderful review.
The review says this: "Live Free Creative Podcast has quickly become my favorite podcast. Every episode has a topic that hits home to me and encourages me to learn and try new things, improved my life in little ways and be more adventurous. I feel like I'm listening to a good friend, give me advice or tell me about something she has learned. Now I find myself waiting for Thursdays because that's when a new episode comes out."
Ferris, thank you so much. That means it just means the world to me. Not only that you're listening, but that the things that I'm seeing are resonating and that the messages are coming across the way that I hope to encourage you and inspire you to live a creative, adventurous, and intentional lifestyle.
I'm so happy that Thursdays have become your favorite date. They are my favorite day to. I know I said Sundays are my favorite day. Thursdays are probably a close second because it's podcast day and I love sharing this show with you every week.
Thank you so much for being here. I hope that you'll tune in next week. Remember that I always love when you share the episodes with your friends or family member as you're gathering today. With all of your family, maybe you can mention to some cousins or an aunt that this is something that you've really enjoyed listening to grab their phone, download the podcast app, and teach them how to listen. They will be so grateful when they have some errands to run or a long drive ahead and they see that there's an episodes waiting for them. I wish you a very, very happy thanksgiving. I will catch up to you next time. See you later.