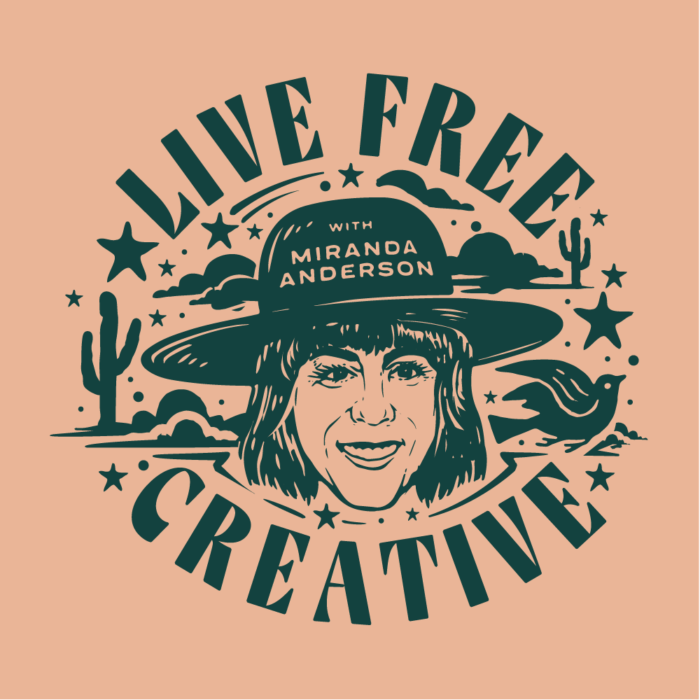 Episode 199: Awesome with Alison

Introduction
You're listening to Live Free Creative, an intentional podcast with practical tips for living your life on purpose. I'm your host Miranda Anderson. And I believe in creativity, adventure, curiosity, and the magic of small moments. I hope that every time you listen, you feel empowered and free to live the life that you want.
Welcome back to Live Free Creative. I'm your host Miranda Anderson. Today you're listening to episode number 199.
What is happening? Almost 200 episodes down.
Today, I'm so excited to share with you a conversation with my friend, Alison Faulkner from Awesome with Alison. You are going to love tuning in and hearing about what she's been up to and her new book that comes out this week.
We have a really great conversation about some of the excerpts of her book that I really loved reading. Her book is titled, You're Already Awesome. And it's real. It's a real conversation. So I can't wait for you to hear it.
Before we dive into the episode, I am going to share a quick peaks of the week.
Peaks of the Week
August always feels like the height of the summer to me, which is hilarious, because it's actually when the summer is usually slip sliding into fall. There's something about it though. It's the dog days.
I wanted to share three things that I'm obsessed with right now in my hot humid Virginia summertime.
Elin Hilderbrand
The first one is Elin Hilderbrand fiction beach reads. If you haven't yet read Elin Hilderbrand novels, you may have been living under a rock, because she has 30 of them. But also they are all very similar in such a comforting way.
Every single novel is set on or around Nantucket island, a darling little summertime island off the coast of Cape Cod, about 30 minutes out from Cape Cod by ferry.
This is somewhere that I haven't yet been. I would love to go. Although I feel like I know the island intimately because I am working my way down the list of Elin Hilderbrand novels.
I don't remember how many I've read. Actually, this is a project. This Elin Hilderbrand novel list is something that I'm working on right now. So I will let you know when it's done.
Maybe I'll make a printable for you podcast listeners. You can check off the list as you go.
They're the same comfortable formula of beach life, a little bit of romance, a little bit of intrigue, maybe a tiny bit of mystery, lots of personal development among characters–individual personal development, which I really like.
And then just beautiful descriptions of the island, spending time swimming in different areas or ponds or overlooking the ocean. I am a huge fan and it just feels like summertime to me.
So Elin Hilderbrand. Check her out if you haven't yet.
Slurpee Sodas
Number two peak of the week is a concoction that I have started really enjoying at my local 7-Eleven.
So during the summer I've always been a Slurpee girl. I grew up walking distance from a 7-Eleven. Right now we currently live walking distance from a 7-Eleven.
There's something about a summertime Slurpee. I just feel like we all can totally be on board for that.
Now combine that with my adult semi on-off relationship with Diet Coke, and you've got yourself a recipe for either disaster or genius….I'm gonna call it the latter.
I have started putting about an inch and a half of pina colada Slurpee in the bottom of my big gulp. And when I have the pina colada Slurpee mixed with my cold Diet Coke, I feel like I'm in Utah at a soda shop.
Which I don't live in Utah. And I can't go to a soda shop. So if you live in Utah, Idaho, one of the places where there's a Swig or a Sodalicious, or one of those fun, fancy soda shops to go to, that's also fun. If you live anywhere else in the country, then you've probably got a 7-Eleven nearby.
I've also tried the Cherry. I think the Cherry's good. It tastes like Cherry Coke.
The pina colada gives you that kind of dirty diet Coke flavor that you get at a soda shop. If you have a little True Lime packet in the car, I might then add that to it as well.
It feels so tropically summery, you get your little bit of caffeine kick, you get your cold, sparkly afternoon, beach time, pool, time beverage.
You're welcome. That's all I can say about that. Slurpee Diet Coke. You're welcome.
Chicken Salad
And the final is my new lunch obsession. Again, summertime. I don't feel like really making food at all in the summer.
I think everything we eat should just be straight from the garden or cold fruit that we don't have to cook.
This new two-ingredient lunchtime rescue has been one of my favorite things at Trader Joe's. Your local grocery store probably has some pre-made chicken salad in the deli, too.
Trader Joe's has two varieties that I really like.
One of them is more of a country club version with poppy seeds and cranberries and walnuts and celery. That's more like a traditional what I would think of as a traditional chicken salad.
They also have a really good curry chicken salad with raisins and that yellow curry, a little bit of cumin, a little bit of cinnamon flavor. It's so good.
I just grab a tub of each of those during my weekly trader Joe's grocery shopping trip, a soft baguette and some of those milk rolls. And that's what we're doing for lunch. Like almost every day.
I just put a couple scoops of chicken salad onto a soft baguette and put some chips on the side, a couple sweet peppers from the garden and we're good.
I also have shared, a couple years ago, I shared my very favorite chicken salad recipe, a Rosemary grape celery chicken salad recipe that I made all the time when I lived and worked at the Sundance deli. I didn't live there. I didn't live in the deli. I worked at the Sundance deli. I lived in the little cabin nearby.
That recipe is still phenomenal and I love it. I just sometimes am not in the mood to go through all the work of making the chicken salad myself, which is totally valid. And also the reason that Trader Joe's makes these two pre-made amazing chicken salads. So that is my favorite summertime hack right now for lunch.
Elin Hilderbrand, Slurpee Big Gulp and Chicken Salad with a baguette.
You're welcome. Happy summer. Those are my peaks of the week.
Main Topic: Alison Faulkner
Let me tell you a little bit about our guest today: Alison Faulkner. Alison and I go way back. We met at a blogging conference way back in 2013. She was a personality that I had stumbled into online on Instagram and was so excited to meet her. We got along really well.
At the time that we met, Alison was expecting one of her children, her second born. And I was in this big dress at a fancy party. I found a big balloon and I put it under my skirt and we took pictures together, me fake pregnant and Alison real pregnant. And we just laughed about it ever since.
Alison is a writer, a speaker, a nonsense dancer. She's a very reasonable, unreasonable human and believes in creating a life that you love leaning into your strengths and dancing inappropriately whenever possible.
Alison has been creating content online for over 10 years from essays on Instagram, cookies, courses, dance parties, and podcasts. She's used every method possible to share her passion and to show that sharing is caring.
Alison has worked for fortune 500 companies. She's been spotlighted on TV and magazines. She's grown this really incredible, highly engaged community through trial and error, a lot of love and showing up as a human.
She's obsessed with her family. She has three kids, a dog, a husband, a huge garden, and her own coop full of chickens, just like me.
In every aspect of her business, Alison has been really open about sharing some of the struggles and trials from struggling with personal insecurities and mental health issues, as well as physically being hit by a car.
And she'll share more about that, both on the show today and in her book. She has been through the ups and the downs and will tell you over and over again. In fact, she closes every podcast episode with this phrase: Only you can be you and you are already as awesome as you need to be.
Her new book out this week, called You're Already Awesome, invites you to consider 12 shifts in perspective that might help you feel a little bit more awesome.
I'm excited to share this conversation with Alison today. Beyond all of her professional success and accolades and this amazing book that has come out, she's also just a really wonderful person, a kind, smart, fierce, loyal woman who I'm so grateful to have been able to interact with over the last 10 years and feel really connected to.
Without further ado, let's jump into today's interview.
Miranda: Hey Alison, I'm so happy that you're here with me today.
Alison: Ah, this is the best Miranda we need to hang out more. I miss you. Remember when you were pregnant or was I pregnant?
Miranda: You were pregnant and I shoved a balloon underneath my dress to look pregnant.
Alison: That's really what it was? Oh, we were so naive. We were so innocent. We had so much hope and promise
Miranda: None of that has changed except for maybe the young and naive. Maybe you were a little bit wiser, a little bit older, for sure. That was 10 years ago.
Alison: Oh my gosh.
Miranda: You were pregnant with Rad.
Alison: Yeah, sometimes I have to remind myself not to be like this, like crypt keeper, like reaching a hand out of the grave. "Come young one, come listen to my life experience." A little about how I feel.
But just very grateful that you're having me on your podcast. I am a huge Miranda fan. You've been there for me so many times. You've been an integral part of a lot of the projects I've done over the years.
And not like anybody listening to your podcast needs more, further endorsement of you. I'm gonna give it.
Miranda: That's really nice. And I've talked about you. I've mentioned some of your episodes. I was on your podcast a couple years ago and talked through that when my book came out, and I know that there's a lot of people who listen to this show that already are familiar with you.
And I talk about you on the show sometimes.
Alison, for those few who don't yet know of you and your work and the things that you're doing, do you wanna give them a little introduction.
Alison: Sure. My name is Alison with one L and I have a podcast that I do with my husband here in Provo, Utah, called Awesome with Alison, and I over the years have done a lot of different things.
Events, branding, workshops. Miranda was one of the brand coaches. I do keynote speaking. Essentially, I just do whatever I feel like doing.
Miranda: That's the life right there.
Alison: That's there's some pros and cons to that. We're saying that it works out monetarily sometimes and other times, when I was ready to quit in 2020, when I was like, nevermind, I've given enough, I've spoken enough. They have all my words. I'm done. I'm gonna go in a hole and be a hermit and be done. I then got a book deal, which is what I wanted. I wrote the book and then I still decided I didn't wanna put it out.
Miranda: Yeah. I need to hear some of these juicy details because the last time we were in like close communication, you were just digging in, getting ready to go on writing and outlining and stuff.
Alison: Yeah. And I just kept thinking of you because the way that I envisioned writing a book is like how Miranda lives her life, which is like scheduled and organized and on a timeline.
And that's not really what happened for me, but through it all, I am actually very excited. The book is called You're Already Awesome. And that kind of sums up what it is. I think that's what I've been trying to say over the last like decade.
But really truly that's what I've been trying to believe about myself over the last decade. And so the book is inviting you to just realize you're all already awesome. You don't have to be different. You don't have to do anything different. You don't have to become a different person, it's already within you.
However, you might feel too drained or blocked, or like you're sick of hearing all the things you need to do to be different, to feel better.
And so the way that the book is set up is with 12 shifts and these are just thought shifts. I wanna make a bumper sticker that says shift happens. So I'm working on that, it like only makes sense then that sums it up to I think the people that get it.
Miranda: They're gonna get it.
Alison: Yeah. So you guys are all in on the inside track. We'll send you all bumper stickers.
And that's really what I think it's been, a journey for me to come to this place of, oh, the point isn't to achieve and accomplish and hustle.
And I did all that. You've done all that Miranda. We did all that. Does it bring peace? Does it bring what you actually want?
So it's been a really beautiful experience to both write the book, go through my body breaking down, a psychotic breakdown, having to completely step away from work and then come back to it and really believe in the message. Because it's what has helped me survive and live.
So I believe in it. I'm excited. It comes out on August 16th and that's me.
Miranda: That's it?
Alison: Yep.
Miranda: So thanks for listening. No, I love that though. It was really great reading the book. I think that you summed it up nicely, you really did. You've given many sermons of things that you've been talking about for the last decade.
And I have been so lucky and feel so grateful to have known you for that long and to have had, in some ways, a front row seat to a lot of the huge accomplishments and changes and shifts in your business and in your life.
With not only Rad, but then Fiona and seeing you at conferences year after year, and being able to get together in person and work together on different things.
Reading through the book felt like, in some ways, a recap of all of the most important lessons that you've taught and experienced over the last 10 years and bringing them together under this theme of you're already awesome. You're already there.
How do you believe that, how do you then start to feel that? It's so easy to say and it's so cute to say, you're already as awesome, you're doing great. You're great. The big shift really is going from thinking that you want to believe it to actually getting to that place where you can believe it.
And I think you do a really beautiful job in the book of giving those applied pieces where you're not just inspired by, but also invited to apply and to experiment with some of the tools and techniques and skills that you share.
Alison: I really wanted that. That was something I really wanted. I wanted the experience of reading the book to be refreshing and relaxing and peace giving rather than frantic action inducing, where you're like, oh, okay, I gotta go implement this and I gotta go implement this.
You just get to read. If you read or listen to the book, we're just gonna do it together. If you're crying under your desk, invite me under the desk.
If you're under your covers, I'd love to come snuggle you. So I really, I appreciate that. Thank you so much.
Miranda: Yeah, you did that really beautifully. So I pulled out a few quotes as I was reading that I, that either felt like important pieces that were–
I don't have my hard copy yet, but when it arrives, hopefully this coming week when we are recording this episode, the book is available for pre-order and if you order it right now, you'll get it in less than a week. The link will be in the show notes. Make sure that you grab that.
When I get my hard copy, I'm going to go back and highlight all of these pieces that I just screenshotted.
So the first one that I came to was a piece about freedom and I, my core value is freedom. My brand is built around it.
Live Free Miranda.
Live Free Creative.
There's a piece at the beginning where you talk about being a free agent of chaos, that you can be part of the process of creation, not just find joy or relief in the result.
So I'm going read a quote right and I want you to just explain a little bit more what it means to find joy in the process, not the result.
Okay. So this quote is:
I like to scream. I am a free agent of chaos. The miracle is now I can find joy in the process of creation, not just joy or relief in the result.
Flesh that out for me a little bit. What does it mean to find joy in the process and not the result?
Alison: I love that you latched onto the free agent of chaos. Because it really is–
I had, and this is what you and I were starting to talk about when I was like, I think we should record, and this is kind of a good tie in to hopefully give an example to this.
So there was this path that you and I–
So first off you and I got started with the blogging and the Instagram when it wasn't a thing.
Miranda: OG, we are OG internetters.
Alison: Of course there were blogs. And of course there were all these other things, but in terms of the community that you and I came up in, looking back, and especially as I'll say, I took myself out of it or I was taken out of it.
It's a little bit like a gang. I like to say you get jumped in and I got jumped out and I know that sounds like rough, but I'm just gonna say it because you get what I'm saying, right?
We're all moving and we're all building these offices and you know that you see the brands online and they're got the girl bosses and we're in our power blazers and we get the employees and we're going to Paris on vacation and we are all doing fun things at the office.
So there became this track for success. And like you were saying earlier, you look back and everybody is going through this huge transition. These people that I put on a pedestal who had these offices and created these workplaces.
And as I finished writing the book and my health started to decline. All of these markers of success that I unknowingly had achieved and hit unknowingly, meaning I didn't quite get that. Like I was making them mean so much and just by the community and the comparison that again was all really unconscious that those were markers of success.
And so those markers of success were the result. Having an office, having employees, having fun retreats or things that you do with your employees, having these photo shoots.
All of it yes is about the work, but the kind of external trappings is a lot of the validating part.
And so it's like you're gonna go maybe do a photo shoot or promote a product. And it's all well and fine when you've got a team of people and you got steady income and you're like, I'm not a crazy person taking pictures of myself.
But when you don't have all of those trappings and murders of success it's very easy to feel like a crazy person taking pictures of yourself.
Like you're this delusional. And so with this–
Miranda: Who am I to be doing this? What's the point?
Alison: Yeah. And so I think I bring that up, not to discredit or tear down anybody or online because we're all doing it. We all don't know we're doing it in different ways, in different communities.
This is not, the online, brand building community online is not any different than the corporate world. It just shows differently. It shows differently. And so I'm sure people can apply this to themselves, but focusing on the process rather than the results really invites you to let go of the external trappings, to let go of the external validation, to let go of the validation, the confirmation, the permission that those external trappings give you.
And so that free agent of chaos. I remember when my one remaining full-time employee quit. And then, within a month I'd had this office space that I built up and painted and there's murals and just really so proud of it. Five or six years having this, I think it was like seven or eight years, honestly, having this space.
And within a couple weeks it was gone. I just decided to let it go. And I'm in there and so much physical pain. I'm supposedly gonna have a book come out. And I'm painting over the mural. It just was a surreal moment of you're erasing everything that you've created.
And I wasn't posting online and I wasn't putting my podcast out. So there were really none of these external validations of, Yes, Alison, what you have to say is worthy. Yes, Alison, what you have to say, we're gonna listen to it.
All of those things floated away. And there was this brief moment when I'm sitting there and I actually fell off a ladder and broke my tailbone.
Miranda: Oh my, in the middle, just adding to injury.
Alison: I had actual bowel blockages from my internal dysfunction. And then I like fell off a ladder. So it was like a whole–I think everybody feels like they've fallen off a ladder. Like you're like, oh, this is as low as it will possibly get.
Miranda: Like collectively as humans. We've all hit that point in the world as soon as we think that–that's when the real low comes.
Alison: And I think, it's cute that we all hit it more or less together after 2020 during these last couple years.
So we're all sitting on the floor with broken tailbones and we're like, why are you not doing.
It's hard. Everybody's not okay, everybody in the best way. And in all of that, when it lifted just for a moment when all of this external validation was like pulled away, I started walking around my house being like, I'm a free agent of chaos. I'm a free agent of chaos. Like I can do whatever I wanna do. I can do anything I wanna do.
I'm gonna go paint. I'm gonna go do flowers. I'm gonna learn art. I'm gonna do YouTube tutorials on how to draw.
And I'm not sharing my progress and process along the way. Because when we're constantly creating content, you're like, oh, I'm not a professional. When you're constantly sharing your life online, when you're continuously reporting on your actions, it is about the result and not about the process.
So often–now maybe you're like Miranda, one of the very, very few people who actually–
Miranda you're like one of the few people who can navigate that and you navigate it so beautifully. I remember talking to you when you wrote your book and you liked it. I was like, what do you? how are you?
And you're like, I gave a keynote and I did this and I did a really good job. And I was like, what do you mean? You think you did a good job?
Miranda: What? I don't even know these words coming out of your mouth.
Alison: I'm like, I don't understand how you can do work. And then think it's okay after?
Truly, it was so earth shattering to me, like mind blowing to me, it was such a good example to me.
And I do think it's something that you've really exemplified throughout the years of all of the different things that you've done online, the different projects you've gone after: you show up, you do them, you have fun doing it, and it doesn't have to mean everything about you.
And so that's a really long roundabout way of delving into the results meaning everything about you rather than the process. And the thing about living in the process is it's so much more forgiving.
You're gonna get an email from somebody saying, Hey, you just suck at this and you did a terrible job and you hurt me in this way. And you were awful this way.
And rather than the response being, wow I do suck. I'm the worst. I better go change myself. I better go completely figure out how to be everything that this person says I need to be.
Instead, you sit back. And you're like, yeah. Okay. That was their experience. I'm gonna keep my heart soft and open to hear what it is I need to hear.
But I'm a work in progress and so even when your friends don't wanna be friends with you anymore, even when your mom and dad tell you they're disappointed in you, when your husband tells you he's not interested in you anymore.
These are like, like how do you actually function when these things happen? And luckily I've had experiences that help me know–
But really, I know that we can all relate to–
There's certain people or markers of success, this external validation that even if we think we're untouchable, we usually are still pretty touchable. We build up a lot of buffers. And even if we're like the most savvy self-help self-development ninja, life coach ninja, we've often–and this is me–built these structures and systems and padded houses around ourselves so things just don't touch those areas that really are your core sense of identity.
And so when those things start to come crumbling down or they don't work the way you thought they would, I think that's when we're all just taken out. And so if we're able to say, okay, I'm already awesome. I'm already awesome.
And there's a practice that I share again and again, in the book. And I just gave it the acronym tap.
Miranda: Yeah, I wanted to ask about this.
Alison: I was just riddled with anxiety at some point. And I was thinking about how to give voice and word to the system or practice that I had put in place for myself to get to a place of more compassion and a place of more softness rather than this harsh inner critic.
And it's just an acronym. It's really simple.
T is Tune In.
That's huge for me because when I go online and I tell everybody I feel like crap, or when I call my sister and I tell them, I feel like crap, that's fine. That's great. I'm expressing feelings. But then if the expectation unconsciously or consciously is that they're gonna validate why I'm not crap.
That still is a precarious situation to be in. Because you're going to run into situations where nobody says the right thing.
Miranda: They say the thing that they think, but it's not what you wanted them to say. So unless you're gonna hand everyone a script and say, This is what I need to hear right now. Could you please say these exact things? Then you're not always going to get it from other people.
And in fact, I think even the question, the seeking of validation, is an expression of that self doubt. That rather than being able to just sit in the feeling that you're having of, whether it's, I don't look good enough or my business didn't make enough money or I'm not a great mom or whatever, those like negative feelings–starting to request validation or seek validation is almost an indicator that like, oh, this is where I really do need to tune in.
Because if I'm looking for someone else to tell me that I'm doing it well, I don't believe that I am.
Alison: That's exactly it. And I also think with this tune in it's, let's say you get that feedback that wrecks you, it just wrecks you and you can tune in and say, Oh, wow. This really hurts my feelings. I'm mad, or I'm sad, or I'm in shock, I'm disappointed.
And you would be mind blown to realize how often we just don't do that one step of tuning in. And so then we immediately, we feel the physical sensation of discomfort and don't take a moment to tune into it, to acknowledge it, to even give it any space and then bypass it to whatever the solve, whatever the fix is going to be.
And so it's tune in.
A is Accept.
Okay, I got this feedback that's rocking me. Oh I have to give up my office space and I feel like a complete fraud and I don't have any team members left and I thought I built this business and I thought I was really cute. This boss babe.
I'm valid. I'm valid. I'm valid. Except. okay. Maybe. Yeah. Maybe I did need a ton of validation. Who cares? Like, why is that so horrible? Like why should I hide in so much shame over wanting to be validated. Have some compassion with that acceptance. If you can bring compassion into it, then you're actually going to be able to accept it.
Oh, it sounds like that person is really upset with me. Okay. I accept that. In this case, I'm the villain in their story. That sucks. Oh, ouch. I accept that. That sucks to feel like I'm the villain in someone's story. don't wanna be the villain in anyone's story. It feels so unfair that I worked so hard and I'm still the villain to this person or I'm still the victim to this person.
We go under those blame-inducing roles. And so the acceptance, when it can come from a place of, I tune in, so I give some awareness to it and then I accept.
And I think it was little finger tap. Oh tap. Taparoo. Tap it up. Tap, tap it out. Tap right. Tap. Tapoo.
There's sections in the book that are called prevent the spiral. And because you start to notice that like all roads go to Rome, all spirals, no matter where they start, they can start like your pants don't fit. Somebody doesn't want to work with you Your kid is doing crappy stuff.
Whatever it is, they might all start at different places, but they all end in the same place for people. So my spiral is, I'm an idiot and like it, it lands at the same place, even if it starts in a different place.
So the tapping, that exercise of tune in and accept it's to help prevent that spiral. And even if sometimes I come to I'm angry. That's huge for me. I didn't know how to be angry till a couple years ago. I didn't know that I wasn't getting angry because I ust thought it was just a waste of time.
And I could just take all the responsibility and accountability and just make it better. And then, being angry is for people who like to waste time and are like base and unkind. I didn't really think I thought that, but like and so except Ooh, I'm angry. Ooh, Ooh. I'm a, Ooh. I'm like a little fiery dragon. Wow. Look how angry I am. Oh my gosh. And seriously, like in a really compassionate way where it's whoa, I am mad.
Oh my gosh. I just said 20 f-words in a row. That is some anger. Like I just envisioned running that car off the road. Like I better pull over. Cause I'm an angry woman. Yes. Okay. So it's like this is my internal dialogue, that acceptance is nonjudgmental.
Miranda: It's curious.
Alison: It's curious.
It's observational and I loved how you said, like the different shifts in the book, the different chapters in the book are like cumulation of the different principles that I've shared over time. But I feel like the missing piece was the level of awareness that I was at at the time.
And why I'm really proud of the book is up a level of awareness from anything that I've shared before, where really focusing on that compassionate acceptance.
And so I tried to bypass from understanding to presence, understanding, to pick a new focus, tune in, pick a new focus, but there's that huge piece in the middle, which is acceptance of your inherent wholeness, acceptance that regardless of the actions you take, regardless of your outer circumstances, you are still worth something you're worth a lot.
You're divinely an inherently whole, and it's one thing to, to think it, to preach it, but to actually be put in the position with the circumstances of your life. So that kind of the only option is to believe it for yourself, regardless of what anyone else is saying. It's been rough, but I'm really grateful because you can fight me on it all day long and I don't care.
I'm just like, I know you're inherently whole, I know you're inherently whole. Fight me. Sure. Like you can tell me why you're not, you can tell me why this abusive person isn't and this person isn't and this person isn't.
Absolutely their actions, their behavior: No.
But I believe in the divinity and the greatness of the individual. I believe it. I know it.
And that practice of tune in, accept, pick your focus, come into the present, come into your power. That's what I provide throughout the book to try to get us there.
Miranda: I'm so glad that you brought up TAP because I had it written down and circled okay, tell me like about this practice.
I'm so glad you went into detail on this idea. And the book applies it to every single one of the shifts, this tap of and it gives examples. I love that there's so many different examples because a lot of the women listening probably don't relate a whole lot to building a business and doing keynote speeches and writing books, although I'm sure there's some.
But we all relate to this idea of feeling like our external validators–the amount of money that we make, the quality of dinners that we feed our family, the type of car that we drive, or the house that we live in, or the different degrees or certifications that we might have–that all of these external things contribute so much to our understanding of who we are.
Your book really addresses the idea of if all of that goes away, what do you believe about yourself? And I think that is such a crucial question. Very important question. Thank you. I am so excited about this quote that really jumped out at me. I felt a little personally attacked.
I will be honest because–
Alison: Okay, good. Tell me about it.
Miranda: I was raised as a goal setter. This is from my childhood. We would do monthly goals. I would go in my dad's office and we'd talk about what am I working on this month? And I'd write them down. He always taught me to write them down.
My father was an intense student of Steven Covey and like Franklin planners. That was the era. My dad's an entrepreneur and your dad is an entrepreneur. And so I think that they were taking all of these tools of business development, personal development, professional development, and just like piling them onto their eight year olds.
And so I learned from a very young age that if I want to accomplish anything or be worthwhile in any way in my life, I need to have decided ahead of time. I need to write it down. I need to put it on my mirror. I need to tell it to myself every day. And that's the way.
And you talk in your book about goals, not being the pathway.
For me, how can I get anywhere in my life without a goal? The quote that I really like, that kind of summed up your thoughts about it. And then I want you to share how you feel about this is:
You trade goals for intentions centered in your inherent self worth. Then when you add in a sincere practice of having faith that you are already awesome, this will always result in flow.
Tell me about this idea of goals being traded for intentions centered in my inherent self worth.
Alison: Oh, I love that. So there was a brief moment in time when I was like, I just want to name the book: Goals are overrated. Because it's a great title. I was feeling combative about it.
So I love that you brought up that feeling of I feel slightly personally attacked because I felt personally, I personally attacked myself there. And you're so incredible to be able to like, Ooh, there's a thought that makes me feel a certain way.
Miranda: I'm like, wait a second. But like I, to this day, live in a world of what is my next thing? And then I break it down into pieces so that I can do it and get there.
And I feel like I'm pretty good at abandoning a goal once it doesn't feel good anymore. I realize I don't actually want that. Then I can let it go. And cut my losses. But I very much operate in a world of goals. So I'd love to be enlightened.
Alison: Yes. And also just think of it as it is just an idea to try on. And I say this a lot throughout my book where it's like, Hey, maybe this idea is gonna help you in some way.
Maybe you just really don't like it. That's cool too.
So often I've read books where it's years and years later where I'm like, oh, this is helpful to me now. And that's not to say you're gonna come to see how Alison is correct.
Miranda: Although I'd be totally willing to do that.
Alison: Thanks. So I just spent so long creating goals and my ultimate goal was getting a book deal. I started my blog, my Instagram, all of it. I wanted a book and without really, truly realizing I wanted to write a book without really truly realizing I could have written a book at any time.
I could have written a book at any time, but back to have that idea of waiting for some sort of outside achievement or validation to help me feel worthy of this.
And the funniest part about it is the moment I let it go is when it happened. Now that is an infuriating thing because you're like, I let it go.
And it still hasn't happened. I'm like no, I get it. Yes, I have let go. And it hasn't happened. But trading goals for intention, it inherently helps you focus on process rather than results. Trading goals for intention is a much more in terms of energies, not sex or gender, but in terms of energies, it's a much more feminine energy.
It's a much more creation-oriented energy. It's a much more process energy intention than the very masculine patriarchal but really achievement oriented, goal oriented. You are a result. Your value is a result of what you contribute to the machine. Your value is a result of what you're outputting. Your value is a result of what you are deciding you can do, and then doing it.
And there's nothing like super inherently evil or wrong. It's just if that's the only side of the story, you're going to feel really stressed and you're gonna feel like nothing you do is ever enough, and you're going to do a full day of work and go to bed and just be stressed about the next full day of work.
There's an example I gave in my book, my friends, Alexis and Shante, who do Let's Talk, and they were talking about how they just like I want a full day of activities for my kids and I wanna be able to get work done.
And my husband has a stressful job, so I really need to be able to support him. Like all of these things. And then you go to bed every night just exhausted, right? Not really able to focus on the beautiful life that I'm sure you've created or the beautiful life that is just one thought shift away.
And so this idea of trading your goals for intentions is–
What I did with the book is I said, my intention is to have joy in the process. It's not a goal of how many books I'm gonna sell. It's not a goal of how much publicity I'm gonna get. There is no goal of how much money I'm going to make.
And this is something that took me years and years to really put into practice. And it was interesting to see, as I tried to shift and work in flow and invite the people who worked with me to work in flow, how hard they would fight, but I'm not working. I'm not working. I'm like, no, you are. It just feels a lot more.
And they're like, but I'm not because they want the tasks and the grind and the achievement.
Miranda: The to-do list. I love a checklist.
Alison: Yeah. It's a very tangible way to accomplish and achieve. And I think there's definitely a place for that. The focus of my book is you're already awesome and it, if I can leave people with one huge testimony, like amen hallelujah, it is that if you put the intention in and you really commit to the intention, you're gonna hit your goals in your wildest dreams.
Like absolutely. Absolutely. And you're gonna be able to do them and feel them and enjoy them. So people are asking me like, how do you feel the books coming out? How do you feel? And I'm like, Honestly, I just feel like in shock and grateful that I can go to sleep every night, not worried about it.
That's how I feel. That's how I feel. I'm shocked that I'm okay. I'm like, Emma, is this like me? Like numbing out and saying I'm okay. I even question my okay.
Miranda: Your own okayness. Like I shouldn't be okay right now. If I know myself, I know that this is probably wrong.
Alison: No, I should be freaking out. And but it's just a dedicated practice. It's a dedicated practice for turning those goals into intentions. And so a very concrete example of that would be, I wanna run five times a week. I wanna run a marathon. So that's a goal. I'm actually training for a marathon right now.
Miranda: Bless you. So I if you weren't crazy before now you've confirmed
Alison: I've already run some, it's been a long time. And so here I am, with a lot going on and my physical health was really low. So I'm like starting from just going for walks, right?
I was in bed for basically over a year. We're talking like I'm out for a walk one day and I'm like, I should totally run a marathon. I'm like, okay. Why there's never any in between. So I started thinking about it and, first I was beating myself up for trying to create this crazy goal and that like the whole thing.
And then I was like, okay, my intention–I have a lot of like anxious energy that I've worked on regulating my nervous system. And I need to process a lot of emotion and going for long format walks and runs really helps me do that.
So this contributes to an overall positive thing in my life.
Miranda: Physical wellbeing, emotional wellbeing, like as a whole.
Alison: Yeah. And so I went and I did a keynote, like in the middle of being really sick, I went and did a keynote. It was like one that I had scheduled. I was really excited to do it. And I was up there on stage still pretty sick, but like the adrenaline kicking in and I was, I was so tired after I was like, how am I gonna be like on tour for my book?
How am I gonna be able to have the physical stamina to live the life that I wanna live. And so I started to think about this, what we could call a goal of running a marathon, and comparing to what would really help me feel centered, happy, more joyful, a little bit better in life.
And when I realized that my intention was to sleep better at night, my intention was to process emotions to really give my space, give myself space on a daily basis to clear and be in nature and be by the river and be by water. This intention to do that really aligned with this goal of running a marathon.
So then enter Alison, signs up for the marathon and there's a training schedule. And in the past, when I would train for races, I was in Guatemala training. Like I ran in circles on a track because I was in Guatemala. I was not gonna skip a day of training. I was in China. Wow. That's a little nutty, right?
Like it's commitment. That's the, yeah, it's not a lot done, but my body broke down at 38. It's right, and that's just the truth of it. And so I'm looking at my training schedule and even this week I've missed a couple of runs and I can go back to.
I'm so glad that I signed up for the marathon because I love just the idea, that little bit of structure, that little bit of inspired structure so that you can free flow and be that inspired agent of chaos. Getting a little bit of organization in place so that you can flow within the organization.
So that's what training for a marathon really is about for me. Is it about the actual goal of running the marathon? Like only time will tell, because going back, looking back so many times I was forcing my body to do what it really wasn't in a place to do, like over and over.
And then I get injured over and over. So I have the intention to run this marathon and I'm working towards doing that. I'm enjoying the process of all the benefits that daily and not daily every other daily running and walking does for me.
But then I'm also giving myself permission. What if I sign up for the half marathon? What if I sign up for the 10 K. That's fine too.
And in the past that would've been unacceptable to me that would've just been completely right.
Miranda: That would've been failure or like giving up.
Alison: It would've been a huge failure. And even me publicly declaring that I was going to do it and saying that I was okay if I didn't do it, there still probably would've been a little bit of dialogue in the back of my head.
Oh man, you better do it now, are people gonna figure you're gonna be a failure? And it's so fun and free that I'm just like, Uh. I don't care.
Miranda: Yeah. I'm gonna do it if it feels good. Yeah. I think that the way that I think about goals is probably more similar, at least lately, like in the last five years, because I do think that there's a lot of value in thinking ahead, getting an idea, like some clarity around what we desire in our life, what we want our days and our weeks and our lives to feel and pointing ourselves in that direction.
And sometimes it takes something like an end result type, something like running a marathon, that's like a structured, finite time sensitive, it, everyone would say that's a smart goal, right?
Because you can measure it, you put that on the calendar. But then this idea of I'm gonna allow myself to feel all along the way. So I'm not running a marathon because I wanna become a marathon runner and have that be my profession or win the race or anything like that, or even finish it or even run that particular race.
Just that points you in the direction of being physically and emotionally well in the way that you want to, in order to live your everyday life, according to the desires that you have for how that
Alison: Absolutely. And I just wanna go, I wanna double down one step harder with you. Because I think so many people they get so–
I've coached thousands of people. They literally just get blocked where they're like, I don't know. I don't know what it is. I don't know what it is. I don't know if I wanna run a marathon. I don't know if I wanna do this. And so they continue to change the circumstances. They, maybe they move states. Maybe they change partners. Maybe they change careers.
They continue or they shut down because it's so overwhelming to try to know. And what I'm suggesting is that if you go tune in, if you tune in, if you take the time to really get–
Think of it as getting in character of your true character.
The action that arises is effortless.
So this morning I'm sitting in bed and I have an event to launch. I have all of these assets that need to be happening, like contracts that need to happen. All this kind of administrative work that is such a chore. I hate it. I don't like doing it. I don't wanna do it.
And it's all time sensitive. And rather than what I would've done before is okay, I'm gonna get a list and I'm gonna write it all down. I'm gonna make little check boxes and I'm gonna go through. I now know that if I literally just spend 10 to 20 minutes, getting myself to a place of ease, getting myself to a place of acceptance, getting myself to a place of surrender, getting myself to a place of knowing I'm inherently whole, regardless what gets done, the action arises without the effort.
Without the hustle, without the force, without the coercion, like effort. Yes. Force no. It really will blow your mind and people are like, oh, like the law of attraction, you just sit around and do nothing.
And I'm like, yeah, that's not really an understanding of the law of attraction.
I had a therapist one time tell me how stupid the law of attraction was. And I was like what's your understanding of the law of attraction? And she told me what it was. And I was like, yeah, that sounds really stupid to me too. That's not it.
Miranda: Yeah. That's not it.
Alison: And regardless of how you feel about that, if the intention becomes to feel your inherent wholeness. So in the book, I keep saying if the intention is to feel awesome now, essentially what I'm saying is to feel an awareness of your expansive consciousness now, to feel that you are this untethered soul.
Right now, to feel it.
Now, if that becomes the intention, the actions, the work, the money, that will arise from that place is infinitely more beautiful more joyful and more abundant than anything. You're gonna sit down in your day planner and figure out, and I am shocked. At the amount of details at the amount of organizational work.
And I am a non-linear thinker. There's a little bit of this is my personality. You try to get me linear. I've realized this, you try to get me linear. And it's funny because you just owned freedom as your core value from day one. And it's taken me quite some time to realize freedom might be my number one core value.
Miranda: Because you don't want anyone to tell you what you think or feel you want. That is owned by you.
Alison: Yeah. It's delightful. But it's, but even the amount of action that gets done during the day and "work" that gets done during the day, that just used to feel so unmanageable. And if I didn't write it down, we were talking about our dads. One of my dad's favorite quotes: A goal not written is only a wish. If it's to be, it's up to me.
Miranda: Yes, that could have been painted on my wall as a child.
Alison: That could have been painted on my wall, my whole career, my whole life and within the last four or five years. And because of just seriously, like I decided I would do anything to not live in that constant state of anxiety anymore, like anything.
And it took everything; it was a complete and total death, but the rebirth really is. I see the blades of grass clearer. I see individual insects and flowers. I notice things in my neighborhood. I notice the detail on my husband's face. So many of us are living in such a state of dysregulated nervous systems, trauma, PTSD, hustle, anxiety, and then we bring goals in as like this structure to corral and organize our internal chaos.
And it, I just wanna know how it's working for everybody.
Miranda: I think we can look around and see, right?
Alison: It's dire straits over here with me trying to scramble together, getting this book out and pay for things after being sick for so long.
My husband and I were both self-employed and even just a few days ago, I was like, I'm gonna scrap it. I'm not gonna do these big events. I'm not, I don't have sponsors, I don't have money to pay for it. The publishing company doesn't pay for it. And right. I'm being irresponsible.
I'm being delusional. But I have that like inner knowing that is the, that's the step to take. So even it's like that in a movie, they call it suspension of disbelief. So you, can, you continue to have that suspension of disbelief in yourself, like against all odds against the circumstances against what the books look like.
I trust this inner knowing. And the work, the goals, the accomplishments, the achievements, the results that bloom from that space are phenomenal. And I just, I believe in that for everybody.
Now there's basic needs that need to be met. So many people don't have basic needs of safety met. They don't have basic needs of food to eat met. And so you can come in and say, this is really indulgent. This is, really narcissistic or privileged and sure. Okay. Maybe it is. But if those of us who do have our basic needs met are able to have more capacity, more space to learn, to accept, to share, to serve because we're not so freaking stressed out about proving our worth and our goodness does that not help.
And that's where I land on that, where I'm like, you know what. I love to say, okay, if I believed this great, but if everyone around me believed this, how would that serve the world? And if everyone around believed that they got to go about their days and the action that they took and what they created and what they offered that day was enough.
And they went to bed and the next day they could wake up fresh and open. I think we'd be in a better spot. So I'm feeling good about it.
Miranda: Yeah, totally. I have a couple thoughts from what you said that I want to go over. So you mentioned you have these logistical things you wanna do or that you don't want to do.
You have them, they're necessar, some of the administrative things and you don't feel like doing them so you take the time to get yourself into an aligned, creative, open, lighthearted space.
What does that practice look like for you? How do you go from the resisting and the, "I don't have the motivation or energy to do all of these like little things that don't feel fun."
What does it look like to get from that place? That if you did do it, that would've been more frantic action into a more flow place of doing the things but doing them from a different energy.
Alison: That's such a good question.
Miranda: So that's a personal question, because it'll be different for everyone. I'm curious about what that looks like for you.
Alison: Absolutely. So this morning, the practice looked like me spending 20 minutes in my bed. Quiet and it wasn't it wasn't like a guided meditation. It wasn't any specific thing other than sitting back. So leaning back and absorbing where I was coming at these tasks from.
I was coming st these tasks from this place of overwhelm and a little rebellion, and I don't wanna do it. And so even just again, that the, that practice of tune and accept and pick your focus, right? So tuning into, Okay. I know from, because I'm, so like I can pull on my past, like sometimes you can get scientific about it.
I'm like, okay. Yeah, I recognize. And when you observe and things aren't so personal, you're able to observe and be more compassionate. And what I mean by personal is when every single rough thing doesn't mean that you're a failure and you're terrible. It's less personal cuz you're already awesome.
Okay. You're already awesome. So I'm already awesome. I don't have to achieve all of these things to prove myself or to make sure that I'm controlling the way my life's gonna work out. So I'm laying in bed. I know that.
How do I put that into practice? The first thing I do to put it into practice is observe. I'm tuning in. I'm observing. Well, if I come at these tasks from this place, it is gonna feel like I'm pushing a rock up a mountain. In the past that might have given me like this sense of validation and worth, because I'm a really hard worker. So like I'm showing up and I'm fighting anyway.
But instead what I did is I said, okay let's do this. I'm not gonna do any of it. I was like, I'm not gonna do any of it. I don't wanna do any of it. I'm not gonna do any of it. I'm going to do what have I committed to today. Other than all of these little administrative.
And there were things I was excited about.
I was taking my daughter to this really cute princess camp where it's like, they sing and they do crafts, but it's all about you're a princess, not because of what you wear, but you're a princess.
It's just she's so smart about it. So like empowerment. It's like feminist princess camp. So I'm taking my daughter to this princess camp. I love the woman putting it on. So I'm gonna say hi to her.
Okay, I get to do pickups. Meaning there's a few little words here and there in my audio book that I get to rerecord and that's not hard. I can sit down and record some words and that was gonna take place at 9:30 and, oh, I've got this awesome conversation that's gonna happen with my friend Miranda.
And so I'm like, okay, that's wow. That's actually that's just before noon? That's a lot to do before noon. Not a lot to do. But I've still got my two kids roaming around the house, its summer, I'm like, let's just go ahead and do that.
Okay. So here's what happens. I actually then check my email after I get into this relaxed place and get a pretty rough email and so then I take another moment to be like, yeah. Woo. That's rough.
Eric, I want a donut and a Diet Coke. Absolutely. That's good. That's gonna peak my blood sugar and that's, I'm like, I'm gonna do some emotional comfort eating sounds good.
So it's I'm even just like being compassionate in my emotional blurt, like blah, yeah. And so then I go and I do that. I come back, I do the audio pickups and then there's 45 minutes in between when I need to talk to you. And I got through half of the administrative things without even forcing myself to do it.
That window of time just popped up and I had my computer out. So do you see what I'm saying? Where I'm like, I just had like faith, honestly, I just had faith. I'm gonna do those things because they're things I've chosen to do. And I find when I really can't get something done, it's not the right time or it's not something that's right.
For me, it's not right. It's not. And so rather than back to that idea of setting the goals and I gotta hustle force. If you even just practice doing this for one day shoot me an email, let me know how it goes for you. I would love to hear it. Like your mind is just gonna be so blown.
If you don't walk through your day, like shaming yourself into doing everything. Totally. And I think that there are definitely some people out there and Miranda, I think you fall into this category where you're not necessarily operating from a place of self-induced shame and like criticism. You're like, I'm saying, like I said before, you're like, yeah, I did.
I did and it went well. And I'm like, what you mean? You don't have to rake yourself over the coals and and analyze everything you said. So this is gonna be different for different personalities, but even for your personality of go. And your, and you're kind to yourself about it.
Just giving yourself permission to have faith that those details come together. And so often what I find is all of the little things I like thought I had to get done. Like half of them either get done on their own or I didn't actually have to even do them.
Miranda: That's actually, I think such an important point with this, like acting out of alignment and just feeling, allowing yourself to feel good while you're doing things rather than always feeling like you have to muscle through them.
Yeah. That I love what you said about, I either these are things I chose to do and at some point I decided to do this, I wanted to do this. So there is that place of wanting in me and at this moment, I just don't happen to feel that, but that doesn't mean that it's not there. Yes. And if it isn't, if I don't get back to that place, that's where I abandon goals that I'm like, I wanted to do this, but now things have changed either inside me or in my circumstances.
And it doesn't feel like something I wanna do anymore. And so then that's when I'll, cut it loose and say, okay. I thought that was a good idea and turns out it's not because I hate it, so I'm not gonna do it anymore, yeah. But I think that there are like, I think it is a really interesting idea to stay present in and allow yourself to just be in tune with how you're feeling through the day, rather than feeling I think what most of us do and what we've been taught to do is shut down all of your emotions in order to get the thing done.
And I shut it all down so that you can just muscle through it.
And here's the thing. You had a front row seat and you watched me do it. You watched me do it. You watched me have an anxiety attack and get up and do a workshop. You like, you watched it, you saw it. You were there.
And I got the results. I absolutely got the results. My body freaking shut down. It stopped being able to operate and among other things, that's just like a really concise way to put it.
I see these 14 year old kids in my neighborhood. I see these 20 year old girls that will help me out with babysitting and I build relationships with, and they are just beating the crap out of themselves and shaming themselves and believing that they need to be more and do more.
And, we're all passing this on to each other and without really meaning to, and it's we've all signed up and subscribed for this program of life that isn't really serving us. And so that's so much of my book you're already awesome. Is just asking you to more compassionately look at how you feel about things.
Even right there, like where you're like, Hey, I read this and I felt personally attacked. It's awesome. That's like causing you to look out how you feel about goals and how you feel. Yeah. And you might even walk away after reading the book and still feel how you feel, but you're gonna have more peace and understanding around why maybe you feel that way.
And that would be in my book, a huge victory. And so it, it really is such a beautiful place to be able to offer this book without needing to prove myself without needing to have other people validate it. Like when you tell me you read it, I'm just so surprised. Like even the people I send it to like early and they tell me they read it.
I'm like you did. Oh my gosh. I just think I have. And so it's been so freeing rather than getting on the phone call and if the first thing you don't the first thing you say isn't, this is the best book, Allison. I'm not like sitting here. Oh my gosh, does she like my book? It's just very freeing. It just invites so much more capacity and compassion for me.
Miranda: Yeah, absolutely. That's what I hope. I think that, yeah, that plays really nicely with this, the, this next point that maybe will be the last point.
That I just love. So just like the last one, I was like felt personally attacked this one. I was like, yes, hallelujah. I feel this way. I definitely agree with this. And I think that it's, I feel like I'm preaching this often to to my audiences and to my community as well, the importance of rest.
And you touched on it even in what you did to prepare yourself from that, like resentfulness of what you had planned for the day into actually these things are gonna ease their way into my schedule because you took that time to stay in bed, to process a little bit, to go on a walk, to enjoy things.
There was a quote in from the book that I really love that says:
I now know rest is part of a cycle that makes me whole. So I reassigned all the positive self-talk I had reserved for her when I was doing awesome by getting lots done by allowing myself to believe the same as I rested and healed.
Tell me a little bit more about your new understanding of rest and its importance.
Alison: So the first time I applied that principle was at the end of 2017, I was running and I got hit by a car. And that was really in the height of achieving, accomplishing, throwing events. Everything was on this big upward trajectory for me in my business. And my body was in really good shape and I was counting all my calories, like all this kind of really like harsh I was doing great because every single goal that I had set, I was crushing.
Miranda: Yeah. Kinda like manipulation of choices.
Alison: Yeah exactly. And so I get hit and all of the ways that I was crushing it, I'm no longer crushing it because I can't do anything. Cuz I have broken ribs and fractured vertebrae and I'm in bed. And so this is where I first started to realize how harsh that internal dialogue that I thought that I had improved and I definitely had improved it, but it still was very harsh where, I'm like, okay, I got hit by an actual car and I still feel guilty for not doing.
This is insane. , it just was one of those moments where it was like, I guess it took me getting by a car to be able to see it. Okay. And everybody has been hit by whatever their car is. That's the thing you're like, oh, I don't know what it's like to hit by a car. I'm like you probably do though.
Like you probably do. We've all been hit by something.
Miranda: Yeah. Yeah. Whatever that proverbial thing is, kinda stops you in your tracks.
Alison: Yeah. Yeah. And I remember I woke up the day after and I had this like black eye and I, my whole body was so sore, the broken ribs, but like everything hurt. And I was like, oh man.
Before, like I thought about it, I was like, oh man, I feel like I got hit by a car. And I was like, I did funny. Now it wasn't funny then probably was not funny then. Yeah. It wasn't funny then I get to laugh. But you get to laugh. We get to laugh about it, but we can laugh about it now. No one else gets to laugh about it, but me and you.
Okay. So I started to have this awareness and so I would start. Verbalizing. I'm really big in verbal affirmations. wrote a book and I'd be like, I'm doing awesome. Laying in bed. I'm doing awesome. Sitting here. I'm doing so awesome. Allowing my 80 year old neighbor to bring me dinner. Oh my gosh.
That sucks watching her barely be able to walk and she's bringing me dinner, like interesting. Yeah. Yeah. And so it started there. And then last year and a half, two years when I was literally just out for the count and my business was still running, even though I had been hit, my money was still coming in.
I was still selling stuff, but over the last year and a half, there were no external markers. There was no money. There was no business. There was no online. Oh, Alison you're so great. It was just me healing with a very small circle of people and drawing from that, I'm so proud of myself because in the past when that there's not money or something needed to happen, I would have put my physical body beneath whatever other thing needed to get done.
And because of how much physical pain I was in because of how much discomfort I was in it, it was like that realization of I was hit by a car and I was still up a couple months later.
I'll be on muscle relaxers teaching a workshop and that's what I needed to do then. That's what I needed to do then so no, no shame on that girl. She did the best she could, but I'm I was like, there was no option, but to heal, there was no option. It was like, I'll have to kill myself or die, cuz I can't continue to live in this much pain.
Yeah. And and so it, I, to hit that point and realize, remember when I got hit by a car and it felt like I would never heal and it took three and a half years and different physical therapists and I thought the neck pain and the headaches would never go away. It is better.
and just it felt like in the middle of that, deep discomfort, physical pain, depression, all of it, that it would never get better. And it really did. Specialists after specialists, like nothing. Am I crazy? Being proud of myself for not putting my health at jeopardy again.
Yeah. I'm done. I'm done doing it. It's like I had written my book. I'm gonna practice what I preach and I practice self-compassion and self-compassion includes rest self-compassion includes healing. Self-compassion includes letting go of relationships that aren't serving you anymore.
Even if you value yourself as a really loyal person, self-compassion includes forgiveness and forgiveness requires self forgiveness. You, if you think you can forgive without forgiving yourself, you like that's, you can't do it. It just, it's like it's a facade.
Miranda: Yeah. That's so true.
It does, it starts with one, like we only have the capacity to have the amount of compassion and love and forgiveness for other people that we have for ourselves.
Alison: It's so true.
Miranda: That's where it begins. I'm curious. How, and when what does physical and emotional rest look like in your life right now, as you're, healing still, but also preparing to launch your book this week to go on a book tour to, I don't know exact, you could tell me what's next for you.
Yeah. How are you gonna find that kind of juggle of maintaining this rest as I loved how you say that, like the rest is as important as the productivity, like it is productive and actually I love there's so many great studies that show the actual, like scientific evidence of that, that you going to sleep and then waking up to finish a task.
You have three times the mental clarity in the morning as you do at night. So you actually are better off resting. Yes. And not pushing through all the time yet. Why do we keep, I, I think just the societal culture is to just hustle, and to not take time for rest, but rest is as, or more productive as the actual accomplishing of things.
So what are your plans or what are you currently doing to make sure that rest maintains like a position of importance in your life, even as you step back into maybe a more public space with the book coming out.
Alison: Yeah. Thank you. Cuz that was really stressful.
I'm not sure how to do that. What's it gonna look like? And so of course, what did I do? I had to just let it go and say and not try to figure it out. Not try to plan it, not try to have a system for it. Like I just think that it was gonna, what it would look like in practice and a perfect example of it was yesterday.
I had a conversation with Mallory, an executive assistant, but so much more than that. She lives in Arizona. So we speak over the phone and she had just been sick and I had been out of town and we literally have so much piling, coming up and we got on the phone and we spent two hours on the phone and she was still pretty sick.
And I had done, worked like 12 hours the day before, like just had a really, and it was really fun, but it was a really big work day, so I was pretty tired and she said, oh, I'm so sorry. I just feel like there's still so much. And I said, Hey, we are doing as much as we can do without it risking our physical, mental, emotional health.
And that's what we're doing now. That's what we signed up for now. . And so everything that doesn't get done, the editors, the people, the PR anything that people are asking for, that's not getting done. It's not getting done the bill that needs to get paid.
I don't have the money to pay it. So it's not getting paid yet.
Miranda: And it's yeah. Yeah. It's okay to put a pause on things.
Alison: Yeah. It's just Hey I, and then I got in my bed and cuddled and watched a movie with my two girls and made dinner and had so much fun making dinner cuz there's fresh herbs in my garden and it seems so small, but like I didn't do those things.
I just kept working. I just always kept working. And so what I do is I just say whatever gets done is what can get done. And if it didn't get done, it couldn't have gotten done. There's no I sat in my bed for three hours and I could have spent that time doing this and I did start to go there today for a minute this morning.
When I woke up and felt blah. Yeah. And I was like, no I needed the, I need the reset. There's a lot of emotions. There's a lot of feelings. There's a lot going on. And like what is life like? What's what is it that we want? What is it that is truly of the most importance?
And I was talking to her friend recently and she was talking about her and her business partner. And for her, her like core goal is peace and her business partner it's freedom. And, getting that, understanding, these are very high level thinking women they're psychologists, and I was like, thinking about that for myself.
And it's interesting because that idea of, I, I love the freedom I do. I love the freedom and maybe it's peace and maybe it's both, sometimes it's peace and it's freedom. But if it's gonna en at this point in the game, if it's gonna encroach on my peace and freedom, it's not worth. it's not worth it anymore.
And so does that mean that I go throughout all day, every day, just feeling flowy and awesome and good. No, I feel like an idiot. But I but I come back to the place I come back. That's the home, it's like returning home.
Miranda: Returning home. Yeah. I love that.
Alison: And it feels really good.
So I'm excited that I'm excited to share. I'm just excited to share with other people. And I'm really excited for the book to come out. Which again, that's crazy that I'm excited. , I'm not dreading it. And really I used to just sit around thinking all of the ways that people are gonna tear me down or not agree with what I have to say.
Miranda: And when you write from that place, that's defensive.
Alison: The defensiveness comes across. And so I'm really proud that when I wrote the book and as I've done everything for the book, that's not the place I wrote it from.
I'm writing it for the person who just wants to feel how awesome they are without having to change their entire self to do it.
Miranda: Yeah. I love that. I feel like I relate to this idea of I remember getting ready to books are so funny cuz you put so much things they're so front loaded.
I mean they're like years and years of work and then just this big, giant pause before it actually hits the world. And so there's a lot of space to stew. And I felt like my actual, like the day that my book was born was available was shipped out like all, the actual launch day was so anti-climactic because all of the big things had happened before.
They were like the actual writing and processing and editing and even pre-orders and talking about it. And when it was finally out, it was oh, almost like a sigh, like a relief rather than having that be the peak of the mountain. Yeah. Like I was already on my way back down just feeling like the accomplishment had happened far before the actual launch, because that what happens from here on out.
All in other people's hands that's it. Everything that you had to contribute is done. Like you've done your piece, that's it.
Alison: And there something really sweet about that. It's really funny, people, my family or other people, right? We've got a bunch of entrepreneurs. What's your goals?
How many copies do you wanna sell? How much of this? How much, this, how much money? How much this? And I'm just like, I already played that game and I'm not gonna play it anymore. You can't take me playing it. You guys can all go look at the numbers. You can all go chart it. It makes me sad. Looking at the numbers makes me sad.
So I'm not gonna do it anymore. And you've always been such an awesome example of that. And I've thought about you. I'm sitting in the same spot I was sitting when I interviewed you about your book those years ago and. Just it's been really fun, just having your really awesome example of enjoying the process, because I think that's something that you have always been exceptional at, so good job Miranda.
Miranda: Well, thank you. I appreciate that. And I wanna say too, for people who are listening, who are, maybe are long time listeners to my podcast. And we talk a lot about living life with intention and purpose in the process and self development as like a core piece of just being who we are and not needing to add all of the external things.
And even from that place where this is what I've been doing and talking about and teaching and writing about and thinking about and living for the last many years, I read your book and was uplifted and inspired. I had things to highlight. I had things that I learned, stories that I have heard before that you've told me before that I was so happy that you included because I had forgotten them or I had forgotten key pieces of them.
And I know that this is something that I'm gonna be able to go back to. And you mentioned in the beginning of the book, it's organized in a way that if you're having a bad day, I want you to be able to just flip, open to one of these chapters, one of these shifts and, have it help bring you back to who you are.
And I love you use this phrase and I don't know where it's from. If you got it from somewhere, or if you came up with it on your own, you use the phrase, the seat of the soul.
Alison: It's the inviting back of the soul. It's Gary Zov and it's an incredible book.
Miranda: It's such a good visual and you do this calling back of inviting people back into the seat of the soul. And I feel like that is where we find all truth. All of our awesomeness, all of our power and that inherent worth is in this place that's just so deep within us.
And this book and your message are such a great invitation back to that. So I just appreciate it so much, and I'm so excited for everyone else to get a chance to read it.
Alison: Thank you. Thank you for saying that. I appreciate it so much. Thank you for reading it. Thank you for having me. And I just I'm really grateful. I love how our messages are always like weaving together and growing together.
And I love the community that you have, and I'm really happy to be able to say hi to all your listeners.
Miranda: They love you. Thank you for being here. So I'll make sure that the book is linked in the show notes and and Alison's podcast, Awesome with Alison that I've talked about that is also so great and so fun. And I love Eric. You get a chance to listen to Eric. So yeah, thanks so much for being here and I will chat with you.
Alison: Okay. Thanks. Bye.
—
Conclusion
Thank you so much for tuning in today to Live Free Creative podcast. I hope you enjoyed this candid conversation with Alison Faulkner about finding the stillness and breaking through the weeds in order to discover what you might already secretly know that you're already as awesome as you need to be right now.
Check out her book. You're Already Awesome. Everywhere you can find books. I will have a link for it in the show notes. I hope that you enjoy.
And I want to just thank you for listening here for tuning in your attention to Live Free Creative, whether it's every so often or every single week, I hope that what I'm sharing here helps you feel like you can live the life of your dreams.
I'll chat with you again. Next week. It's going to be episode two freaking hundred next week. I'm so excited. I'll chat with you then. Bye. Bye.