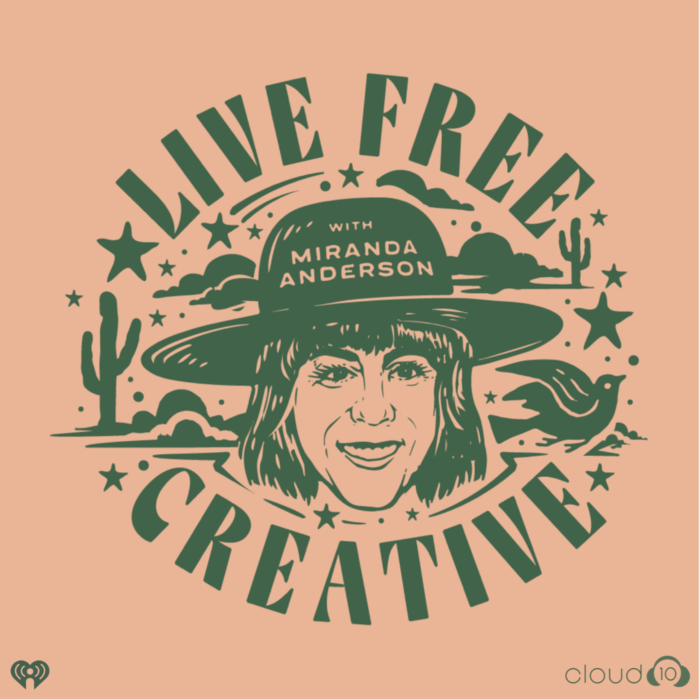 Episode 217: Optimism in Practice

NY Times Article: https://www.nytimes.com/2020/02/18/smarter-living/how-to-be-more-optimistic.html
PositivePsychology Article: https://positivepsychology.com/explanatory-styles-optimism/
Introduction
You are listening to Live Free Creative, an intentional podcast with practical tips for living your life on purpose. I'm your host Miranda Anderson, and I believe in creativity, adventure, curiosity. And the magic of small moments. I hope that every time you listen, you feel empowered and free to live the life that you want.
Hello, hello. Welcome back to Live Free Creative podcast. You are listening to episode number 217: Optimism in Practice.
Oh, everyone take a deep breath. How are you doing? We are barreling headfirst into the end of the year, the holiday season. And actually, I thought I would start us off today with a little bit of life lately.
Segment: Life Lately
I have really enjoyed decorating my new house for the holidays. This is our first Christmas in the house that we moved into in January. So it's been a little bit of an experiment to pull out my Christmas decorations and see what fits where, and to get an idea of, you know, what serves us in this season, in this new home and what doesn't.
I think I'm going to have actually quite a few Christmas decoration donations at the end of the year. One thing that's been especially fun was putting up our Christmas tree in the front room.
You can see it from the outside, and I don't know if this is typical everywhere, but in our neighborhood, when we take the dogs for a walk in the evening, we can see many, many Christmas trees through the front windows, almost as if people in the neighborhood are intentionally placing their trees so they can be seen from the outside, so you can kind of see this sweet glow of the different Christmas trees around the neighborhood.
So when we made a decision of whether to put our tree in our front room, which is sort of like an entry sitting room, or our living room, which is in the back of the house, we opted for the front room so that we can see it from the inside and the out, which is really fun.
One other note about Christmas trees and animals is that we have had the pleasure of decorating our Christmas tree about twice a day since we put it up. We have our two cats who love to climb on the tree itself.
We have an artificial Christmas tree that is pre-lit. We got that about, I don't know, six or seven years ago, and I love it. And the cats think that we basically put up a toy for them. They treat it like a cat tower.
They will kind of jump into the basket at the bottom and then climb their way all the way up the trunk and then peek out at different intervals and like try to bat at the different ornaments from the inside out.
I have some really cute videos of them doing it. I think that it's stable enough, even as heavy and big as my massive fluffy cats are, they don't seem to be in any danger of knocking things over. Most of our ornaments are not very fragile, and even just with having kids, I've learned to put all of the fragile ones that I care about near the very tippity top of the tree.
So the cats haven't gotten all the way up there, but they do frequently bat ornaments off of the tree.
We have two dogs and Quincy, who's our older dog, doesn't care much about the Christmas tree. She's kind of over it.
But the puppy certainly thinks that it's a fun toy and game as well. So he'll go and grab pine cones because of the artificial tree. I thought it'd be fun to add actual real pine cones–dried pine cones that we stick in some of the branches and it just sort of brings a more life-like feeling to the tree.
And Otis believes that the pine cones are placed there to be his personal chew toys. So he will grab a pine cone from any of the bottom four feet of the tree and promptly chew it up into pieces all over the carpet.
I think it's cute and funny. Also slightly annoying, but it hasn't been like overly obnoxious. We just are used to putting ornaments back on the tree several times a day, and maybe at some point the animals will get used to it.
Maybe this is just going to be the new Christmas decoration circus at our house. We tend to have a fairly high level of tolerance for chaos, as evidenced by having three children and 10 animals at my house. So I think for now we're good, and we'll have to make adjustments as needed in the future.
Something that is really fun about the outdoor decorations of our house, the single string light of white lights that I always put up on our previous house fits perfectly on this current house as well.
I think it looks so beautiful and just inviting and very simple. I got that all up a couple weeks ago, and I am planning to leave it up until like the end of February, March just because it brings this sort of warm, lovely glow to the wintertime.
In addition, we have big window boxes on the two front windows of the house that we currently live in. If you haven't seen a picture of our new house recently, or you don't remember what it looks like, you can head to Instagram at @livefreemiranda where I shared a picture of the outside decorated for Christmas.
Our front window boxes have things growing and then I planted some great hardy winter plants, cabbages and snap dragons and pansies things that will last all winter and also added a few faux pine branches and berries that I'll be able to collect at the end of the season and store until next year and just reuse them over and over again.
They look so fun and festive and just add a little bit more color and dimension to those window boxes. And I also made wreaths to hang on all of the front windows. There's a wreath on the front door and then on the four front windows and everything just feels sweet.
I didn't know if I was gonna get to it this year as far as doing full decorations because of how busy it's been to have school. I found that pulling out the Christmas decorations and putting them up felt like a fun, engaging, and meaningful activity for me.
It felt like a good way to rest and take a break from my schoolwork and some of my other work to do that rather than feeling stressful. So I think it was a good combination of doing something fun and festive and also taking a break from the writing and reading that I've been doing for school. It's a win-win.
The other thing that was similar to a functional working break that I did last week was paint one of the walls in my cloffice. Now remember, when we moved into this house, I recognized that the primary bedroom closet was about 10 times bigger than I actually needed for my clothing.
So in February, March, I promptly took down all of the simple hanging bars and shelves that had been in there and built in a closed front IKEA closet. So a full floor to ceiling across one wall and there's just these white doors, so it's a cloffice, a fully enclosed closet system that fits all of my clothes, summer or winter shoes, everything behind the doors, and it's really perfect.
Then I had the rest of the whole room to turn into my office. We added a window to one wall and my desk is in there and I have these two shelving units that have boxes and and DIY project stuff and books and whatever. All the stuff I use for work.
I knew that I wanted to decorate and paint in there, and I didn't really have the motivation or the energy to do that until last week I picked up a painting from the frame shop that I bought back in March. It had taken that long because the frame that I originally chose was out of stock, and then I told them there was no rush.
And so I think it kind of kept getting bumped to the end of the line. And then I finally had to go back in and choose a different frame. And anyway, it wasn't a big deal to me that it was late, but when I did finally pick it up and admire it, I realized I don't wanna hang this on a dumb white wall. I've been meaning to paint in there anyway and put up some curtains.
And so I had finished an assignment, I closed my computer, I went to Sherwin Williams, bought a quart of paint, came back and just started painting. As simple as that. And it reminded me that sometimes the ideas that we have for home improvement projects feel really big in our head and in reality, $25 and 15 minutes later, you can get started.
I just started edging around the window and around the moldings, and I painted the whole thing before dinnertime with a paintbrush. I did not even pull out a roller set. It's just one small wall and it wasn't too much mess to get the roller out. So we just painted the whole thing with a three-inch paintbrush.
By the time I went to bed that night, the wall was painted and dried. I had gone to Target and got a curtain rod and a set of curtains came back, drilled them in, put them up, and all of this before I started class on Friday. So I got to spend the whole weekend in my newly decorated and painted office.
And it is just incredible the difference that that tiny investment of time and energy made in my experience over the weekend of sitting in a space that felt lovely to me. It felt like a really good reflection of who I am and how I wanted that space to feel.
You know, in my decluttered course, one of the things that I talk about when we're talking about energy management, is that sometimes what we feel the most lack of is what we need to lean into.
So sometimes if you're feeling strapped for time, giving generously of your time to something that you really want to do or are passionate about actually helps you feel more abundant in that area.
Or if you're feeling a little bit strapped for money, sometimes giving a generous donation or leaving a generous tip feels like it tricks your brain or resets your psychology around it to have you then be able to recognize the abundance that does exist.
It sort of shifts you out of scarcity mode into abundance, and I think that this painting project, as silly as it sounds, that's what it did for me. I had been feeling a little bit strapped for time and energy and just with school and with kids and with the holiday season and I was heading into a weekend where I was gonna be on the computer from eight to six every day learning and absorbing.
And just saying, You know what? I don't feel like I have enough time to decorate my office and so I'm going to go ahead and do it was a really, paradoxical experience for me, and I am so happy that it's done now.
So between decorating my new home for Christmas and decorating my own office for schoolwork and business work, I feel like I've gotten a major upgrade over the last few weeks at home, and it feels really good.
That, my friends, is my current life lately.
Sponsors
Today's podcast is sponsored by HelloFresh. We have been big fans of HelloFresh throughout the years. We've used it several times. During different seasons and right now we, our family's in a little bit more of a busy season. We decided it was time to start again. HelloFresh is a service that will deliver farm fresh, pre-proportioned ingredients and seasonal recipes to your doorstep.
The meals are all customizable for the quantity of people living at home, the different varieties of diets that you have. If you are shorter on time like us, you can use HelloFresh quick and easy options. We have chosen the 20 minute meals and easy cleanup plan so that we have big flavor and easy effort.
You know what is so fun about these meals in our house, my 11 year old and 13 year old can make them almost independently. So not only are we getting the ease of these delicious meals delivered directly to our doorstep, we're also able to use them to help our kids get a little bit better in the. And one of our other favorite things about HelloFresh is that they're super flexible.
If you're traveling over the holidays, HelloFresh has plans that can work with your schedule. You can change your preferences, your delivery day, and your address in just a few clicks. In fact, because my family is traveling a little bit this holiday season, we made one of our deliveries arrive the day that we get home, so that rather than having to rush the grocery store after being away, we have four whole meals ready for us to make on the doorstep.
Last night for dinner, I had the HelloFresh bahn mi tacos, which are just bursting with freshness and flavor. Delicious, easy to make, easy to clean up, and enjoyable for everyone. If you are ready to give it a try, go to hellofresh.com/livefree18 and use the code live free 18 for 18 free meals plus free shipping.
Depending on the plan you choose, that can be up to 50 or $60 off. So go to hellofresh.com/livefree18 and use code livefree18 for 18 free meals plus free shipping. HelloFresh is America's number one meal kit, and when you try it, you will find out why.
This show is also brought to you by OMG yes.com.
Now, ladies, listen up. This is a website with findings from the largest ever research study into women's pleasure. In partnership with McKenzie Institute researchers, they asked tens of thousands of women what made their pleasure better solo and with their partners, and then they found the patterns in those discoveries.
Physical techniques, psychological techniques. And all of that wisdom is put together and shared on OMGyes.com. It has super honest videos, animations, and how-tos. When I started exploring this site, the first thing that came to mind was I have always had the little thought in the back of my mind. I wish that there was somewhere that I could go to find the answers to questions about physical intimacy, about pleasure, about my own body, that would be a safe and inviting learning environment.
This is it. By finding out what works for other people, you can find out new things that work for you that you didn't even know to explore. OMGyes is for women, men, and couples. It's relevant for anyone who wants to learn more about women's pleasure. You know I'm a huge advocate for women investing in intentional intimacy and getting to know their bodies, and I love that.
OMGyes is empowering and research based and can help you gain new understanding For things that you're curious about, go to omg es.com/livefree for a special discount.
Main Topic: Optimism in Practice
One of the very first episodes that I recorded for a live free creative podcast was about optimism. It's episode number 11. I titled it The Advantages of Optimism. And I've since republished that same episode as episode 124 with some additional commentary.
I think I've always been a little bit interested, passionate, obsessed, maybe with the idea of optimism because I myself have had a fairly high optimistic set point from the time I was little.
I have been a pretty optimistic person. It's not hard for me to find what's going right in a situation, sometimes to the serious annoyance of my family members and friends when times are tough. I would say that my interest in optimism along with my natural optimistic personality are some of the factors that led me into my current research and study in the field of positive psychology.
Why does optimism matter? Is it inherently good or are there some downsides to it? What is it exactly and how can we determine if we have it or if we want it? How can we improve it?
In today's episode, I want to share a little bit more about the science of optimism and share some specific ways to increase our optimistic, explanatory style, which can lead us then to feel more optimistic in our lives.
I wanna start by sharing a little bit from a New York Times article that came out in February of 2020. What an interesting time for an article about optimism to emerge, right?
One of the first things the article mentions is a quote from Martin Seligman, who is one of my current professors. He said that pessimism is one of the personality traits that's highly heritable, but also modifiable by specific exercises.
You can look at that in the opposite as well. If pessimism is highly heritable optimism is also highly heritable. It's the balance between our pessimism and optimism that determines where on that spectrum we might lie.
Also, it is really important to note that optimism and pessimism can be modified. If you are thinking right now, well, I'm not really a naturally optimistic person. I tend to see the dark side of things, or I tend to recognize what will go wrong rather than what might go right. Know that's not just a place that you are going to be if you want to be more optimistic.
If you want to feel some of the benefits of looking on the bright side, then you can go through some specific exercises. This New York Times article shares four, and I'm going to circle back around to them at the end of this episode before I get to the ways that you can increase your optimism through some specific interventions.
I want to share about optimistic and pessimistic explanatory styles. I learned this for the first time in school a few months ago, and it made so much sense, just the clarity and the concrete nature of recognizing our optimistic and pessimist dialogue.
The way that we talk about things that are happening in our lives can give us clues as to the scale of optimism and pessimism in our lives right now. Think about how important the way we talk to ourselves, the stories we tell ourselves and others, the thoughts that we allow to go through our mind, the ones that pop into our mind, and then we agree with.
So much of our world and our experiences is made up of words, language that happens even if we're just talking to ourselves inside our head and we don't actually speak anything. Those explanations matter. They form the story of our lives, how we are living. Looking into the way that people speak and the way they tell stories and explain events in their lives is a huge clue as to their optimism and pessimism.
So I want to tell you about optimistic explanatory style. Research has found that optimists tend to explain positive events in terms of personal permanent causes.
So think about this. When something good happens to an optimist, for example, you get to work on time because traffic wasn't bad and you hear a fun song on the radio. Your internal dialogue is going to explain this positive event in terms of personal and permanent causes.
So you might think to yourself, what a great morning. I popped right out of bed, got to enjoy smooth sailing on the roads, and I love how the radio is always playing one of my favorite songs when I get to the office, the explanation of the events are personal and positive.
This reflects an attitude, an underlying attitude that generally things are good in your life, and that you are one of the causes of the good things happening.
Now, I'm going to use the same example and explain it in a pessimistic explanatory style. So a pessimist gets to work on time and their favorite song is playing on the radio. The explanation may sound something like this. Wow, that was lucky that there wasn't any traffic today. Like there usually is. And I'm glad this song is on the radio that they're finally playing something that I want to listen to.
Someone with a pessimistic explanatory style tends to attribute positive events in their lives to luck and see the causes as temporary. So rather than an underlying attitude of good things generally happen to me, and I'm one of the causes, pessimistic explanatory style relies on the foundation that if good things happen, it's probably a fluke and that it has nothing to do with me.
Now let me share an example of a negative event explained with the optimistic explanatory style or the pessimistic explanatory style.
In this example, I'm late to work and the radio is playing a song that I do not like when I get to the office.
In an optimistic explanatory style, the causes of this negative event are going to be explained as external and temporary. For example, gosh, it's too bad that traffic was kind of rough today and when I got to the office. A bummer that my favorite radio station isn't playing a song that I like. That's pretty unusual.
An optimist doesn't think, oh, yay. I'm so glad that I hit traffic today and I'm late to work. But they are able to explain the events in a way that keeps them to the short term and external. This is an unusual thing that has happened. The traffic was really bad today. Expecting that in general, the traffic isn't usually pretty bad and that the radio station that you usually like happens to be playing a bad song. That's okay. It is external, it's temporary. My underlying viewpoint of the world is still good, even though bad things sometimes happen.
Let's contrast that with a pessimistic explanatory style. Ugh, I can't believe I'm late to work again, because traffic is always so terrible on that stretch of road. And of course I get here to make matters worse, this stupid song is on the dumb radio. Can't they ever play something that I actually wanna listen to?
In a pessimistic explanatory style, a negative event is explained as something that is personal, like I'm the cause of bad things happening in my life. And also these are universal or pervasive explanations. Traffic is always bad. The radio never plays a good song. If something good happens in the life of a pessimist, they see it as a fluke because life tends to be pretty crappy.
Where if something good happens in the life of an optimist, they assume that yeah, that's, you know, kind of par for the course. And if something negative pops up, it's just that: something negative popping up in an otherwise great life.
Something that I love about this explanatory style, the optimistic and pessimistic explanatory styles, is that they are so concrete, they're very clear. You can look back on conversations that you've had on things that you've written, text messages that you've written to friends, journaling if you keep a journal, or even just pay attention now that you've heard this going forward to how you are explaining the different events in your life.
How are you telling the story of your life? Are you explaining it from the point of view that good things are the fundamental and foundational framework upon which your life is built and that bad things, of course, do happen from time to time, but they are not the norm.
Or conversely, do you explain your life and tell your story in a way that negative events are sort of the the expected underlying foundation and that good things you see as a fluke?
After I learned about this in class, I went home and did a family meeting with my family and explained the difference between these two types of explanatory styles and practiced with my kids some different ways that we could shift our vocabulary to be more optimistic and that by shifting the way we tell our story, that we might believe it differently, that we might see our lives through a more optimistic lens.
Why would that matter? Why is it good to be more optimistic and is it better?
Well, research has shown that our quality of life is significantly affected by personality characteristics such as optimism explanatory. Styles that are optimistic are more significantly associated with higher quality of life than age and gender.
So optimistic people, regardless of gender and age, are more satisfied in their lives. Pessimistic explanatory style was found to be significantly associated with self-reported depressive symptoms.
In a workplace, people with optimistic explanatory styles tend to show greater productivity. This type of thinking automatically lends you to assume that situations will work out for the best in the end, and to work towards that in contrast.
People with pessimistic explanatory styles experience failure more frequently than those with optimistic styles in achievement based scenarios. They also are more likely to experience pervasive and chronic symptoms of helplessness when faced with uncontrollable negative events.
Martin Seligman, who has studied this in depth and written tons of papers about it, proposes that the explanatory style of optimism provides pessimistic people with an avenue to alter their pessimistic thinking patterns to be more optimistic.
So simply by shifting the way that we talk about the things that are happening in our lives to be more optimistic, that is that the positive events that happen to us are personal, permanent, and pervasive, and that negative things that happen to us are temporary and external. We start to actually feel more optimistic, shift our whole lives by shifting our language.
In fact, I have found as just personal anecdote, deciding to no longer use hyperbole when talking about negative events has been really important.
For example, instead of saying it always is like this or it's never good, or using those big hyperbolic permanent words to explain things that are negative and more often, using those types of words to explain things that are positive, that one simple shift can make a huge impact on the way I live.
It's the same as just recognizing in the middle of something hard that this is not going to last forever. This is temporary and that I can do something about it.
If you want to learn more about optimistic and pessimistic explanatory styles discussed in detail, head to the show notes, I will link an article in positive psychology that goes into depth and has lots of different references and things that you can learn more about.
However, to round out this episode, I told you that I would share the four interventions recommended by the New York Times about how to be more optimistic.
One thing, kind of your bonus is that optimistic explanatory style of recognizing good things in your life as permanent, personal, something that is stable and the negative things that happen to you, the negative uncontrolled experiences, as temporary and external.
The next one is to visualize your best possible self. This is an actual activity that you can do. Sit down and imagine yourself in 10 years. What does life look like? What does it feel like? Sit and write about that for a little while and then do it again next week, and for five to 10 minutes each week for the next month or two, recreate this practice.
Visualize your best possible self and write it down what it looks like, what it feels like. This is an intervention designed by Sonya Luki, who is the author of The How of Happiness. She says that this exercise helps you to strengthen your optimistic muscles by thinking about your dreams coming true as opposed to worrying about the worst possible scenario.
Now after that intervention, the next one is gonna seem a little contradictory. The activity recommended in this article is to accept the inevitability of disappointment. Now, this is really important to remember in terms of the explanatory styles that I talked about earlier in the episode, accepting that bad things are going to happen to us no matter what does not preclude us from explaining and thinking about those bad events as external and temporary.
So rather than trying to worry all the time about all the things that could possibly go wrong, simply acknowledging and accepting that we will be disappointed sometimes, no matter what can help prepare us to explain those unexpected negative events in our lives that are disappointing as things that pop up once in a while and are temporary and that they won't last.
The third activity recommended to become more optimistic is to argue against yourself. This idea dovetails really nicely with the examples earlier of rewriting your story along the lines of an optimistic explanatory style.
When you recognize you're starting to spiral, like your thoughts are telling a story that isn't very nice, you can interrupt those thoughts. You can be your own advocate. Your thoughts are not always true. So while you are thinking your thoughts, you also can be the person arguing against those thoughts and recognizing that those aren't things that you necessarily want to believe, and it's okay to argue against them.
An example used in the article is your coworker gets a promotion that you wanted and your mind starts being filled with thoughts like, I'm bad at my job. I'm never gonna move up the ladder. I might as well quit right now.
Instead of believing those thoughts and simply accepting them at face value, this is our chance to interrupt them with questions, kind questions, arguing against them like, Is that really true? Does that thought serve me?
I'm not bad at my job. My coworker has been here for longer than I have, or I'll eventually get promoted. This time wasn't the right time for me, and that's okay.
Or even if you decide that this job might not be the right fit for you, you can do that from a place of optimism and hope for the future rather than a negative spiral of pessimism.
Number four is one that I really love. This intervention invites you to put things in perspective, so this is an evidence-based approach to boost your optimism by intentionally counteracting your extremely negative predictions with extremely positive ones.
For example, if you tend to jump to the the worst case scenario. The example in the article made me laugh. They suggest that if you have a fight with your partner and she leaves the house, slamming the door on the way out, and your mind jumps to, this is the end of our relationship, I'm unlovable, I'm going to die alone. This is never gonna work out.
As a counterbalance, you're invited to jump to the other extreme where you might think, You know what? My partner's probably coming home right now with a cup of ice cream, and we'll never mention the disagreement.
It may sound laughable. Between those two extremes is probably where you will find the sweet spot, this realistic, reasonable interpretation that, you know, when she comes home, she'll probably be upset still. We can talk about it. It'll be weird for a day or two, and then we'll get back to normal.
Though not as extremely hopeful as the ice cream scenario, the outlook is definitely better somewhere in the middle than at the extreme negative extreme that your relationship is over and that nothing will ever work out again.
So to wrap up today, I just want to remind you of the different types of practices that you may decide to try to shift your stories about your life into a more optimistic experience.
The first is to choose an optimistic, explanatory style, to talk about the things that are good in your life as things that are permanent and personal, and to talk about negative events in your lives in a way that they are temporary and external.
Number two is to visualize your best possible self and write it down. It's a great time of year to do this just in reflection of the year ahead. Think about some amazing things that you would love to see in the next few years and write that down, and then practice that once a week for a couple months.
Number three is to accept that disappointment and negative events are part of life, and when they do come up, that doesn't mean that life is negative or that things are just simply wrong. Expecting some good and some bad in our lives can help prepare us for when those things happen.
Number four is to argue against yourself. Target your negative thoughts with a friendly and optimistic and curious counter-argument. You don't have to believe everything that you think.
And in the final recommendation, number five, put things in perspective. If you find yourself spiraling into the extreme, challenge yourself to the upper and opposite extreme of that. Rather than simply settling into the worst case scenario, counterbalance that with the best case scenario, and then recognize that the truth is probably somewhere in the middle.
While life is of course meant to be full of good and bad, positive and negative, having an optimistic mindset, an optimistic explanatory style, and actively exercising your optimism muscles can simply improve your life.
You can feel better, achieve more, build stronger relationships, and actually physiologically have a healthier body because of choosing optimism.
Conclusion
I know that some of these ideas can be a little bit nebulous, and that's why I wanted to get into the weeds on the optimistic explanatory style.
Hopefully you understood that well enough to be able to recognize it in your own life. How are you talking about good events and how are you talking about bad events?
And if you can shift the way that you do that, you will start retelling the story of your life from the perspective of life is good without discounting the acknowledgement that life is sometimes not good, and that's okay too.
If you're feeling like you could use a little bit of one-on-one help implementing some of these activities and more, you would like to be a little bit more optimistic or have a little bit more clarity around how to build your wellbeing muscles in your life.
I would love to invite you to look up my coaching and mentorship program. I can help work with you one-on-one to build some clarity around your goals and to help you choose some specific activities and interventions, increase your happiness and wellbeing and invite optimism into your life.
For all of the details of that, head to patreon.com/livefreecreative, or email me at Miranda@livefreecreative.co to set up a discovery call. I'm wishing all of you a wonderful optimistic week, and I will chat with you next time.
Bye-bye.