Episode 27: Beyond Kondo, Ten Ways to Declutter Your House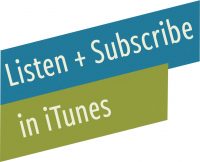 *Download The PDF Printable Guide To Decluttering And Flow Chart HERE*
Introduction
Hey there friends! Welcome back to the show. This is episode 27 of Live Free Creative and I am your host, Miranda Anderson. I'm excited to talk about today's topic, which is Ten Ways To Declutter Your Home And Your Life.
I especially love talking about this topic right now when the Marie Kondo Netflix special has been sweeping the nation and I've seen more excitement over organization and decluttering then in years. This is a topic that has been near and dear to my heart for a long time. If you've been following along with our story, either on instagram or on my blog, you've known that the last several years have been all about reducing belongings, reducing clutter, reducing unnecessary decisions, and reducing our activities in our life down to the most important, most essential and most wonderful so that we can enjoy everything that we have more fully. I'm going to talk about ten different ways that we can do that.
Marie Kondo Isn't for Everyone.
Hopefully touching on something that will apply to everyone because I know that Marie Kondo method is not interesting for everyone and even that the idea of getting rid of stuff isn't super interesting to everyone. I hope to approach it in a way that you feel connected in some way to some aspect of finding more joy in your life as you eliminate things that don't matter to you or that actually maybe annoy you or take up space that's unnecessary.
I'm going to share five methods of decluttering and I'm also going to share the five different ways to actually get those things out of your house. Once you've decided what you want to get rid of, I'm going to share five different ways to get rid of them. Hopefully there will be a little bit of something for everyone no matter what state of organization or decluttering your at in your life. First, I'm going to start with a very quick segment.
This is a recent magical adventure moment.
Segment: Magical Adventure Moment
This magical adventure moment happened just a couple of weeks ago and we didn't go very far in order to have this really incredible, magical experience. In fact, we had this adventure from walking out of our front door, so you may be aware that our family is currently displaced from our house.
Exploring Our Neighborhood
Our house that had a flood is now under reconstruction and we are living in an airbnb in a different neighborhood in Richmond. We have really loved getting the chance to explore a new neighborhood and a couple of weeks ago when it was finally sunny after being really, really cold for a while, it was about sixty-five degrees on a Sunday afternoon. We looked around and said, "Why don't we go out on a little walk? Why don't we go out and explore this new neighborhood?" So we packed up the kids, put the dog on a leash and walked out the back door and just started walking down the street.
We knew that there was a park nearby and so we thought it'd be fun to just wander down and see what it was all about. So we had the three kids skipping along the dog on the leash. We walked about five blocks and we got to a really cool city park when we had never been to and never really even known about because this is a different part of the city. Then we spend most of our time in this park is really interesting because it's set up on a hill, but then it's flat on top, so we came at it from sort of the top of the hill, so we walked straight on to the edge of the park.
There's a sidewalk that goes all the way around a playground area and a big greenfield where people were playing fetch with their dogs. As I was walking around the sidewalk, there was this view that suddenly came before my eyes up the entire city, the downtown area of Richmond all laid out in front of me and because I was up on a hill.
It was as if we had driven to a really cool view point somewhere.
You know when you're on a road trip and there's these signs that say "Beautiful Viewpoint" or whatever. So you pull over and you get out and the whole purpose is to just look over this incredible view. We had that experience.
We Are Exactly Where We Need To Be!
I turned the corner as I'm rounding the sidewalk and I had the entire skyline of the city of Richmond laid out before us. My kids were off running and playing and swinging in the beautiful sunshine. The dog was with Dave and they were doing some training and working on that and I just felt hit by gratitude and by the incredible feeling that this is exactly where we're supposed to be and that is a feeling that is sometimes hard to come by when life circumstances are not what you expect.
Would I prefer, that our house had not been flooded and that we were just living normal day to day routines back in our old neighborhood with our old neighbors where things felt a little more familiar? Yes! That would be so wonderful if that is the way that life had gone. But it isn't, and what is happening in our real life is that we are in a whole different area in a whole different home that isn't ours, and in the middle of that unexpected circumstance, we are able to have these really incredible experiences when we're looking for them.
I was struck by the idea that the experience of being at this really cool park playing in the sunshine overlooking the city would not have happened if we hadn't stepped outside of our door. If we hadn't gotten off of our little high knees sitting on the couch relaxing on the Sunday afternoon and said, "Let's go see something new. Let's go spend some time together outside. Let's get away from our phones and get away from our TVs and get outside of the house and just go do something and go see something."
The Power Of Seizing The Moment
It reminded me of the power of just seizing the moment and that's what these magical adventure moments are all about. . Those special moments that happen when you get outside of your comfort zone. When you step outside of your circle of regular routine and you allow yourself to experience something new and different with fresh eyes and with a mind and heart open to loving a new experience.
This moment made me fall even more in love with Richmond and feel even more connected to the city that is now our home and this new part of the city that we hadn't explored before that we are quickly falling in love with. I hope that through this magical adventure moment you've been inspired to find something that's nearby your house.
What is five or six blocks away that you could walk to? Maybe it's just another part of your neighborhood. Maybe it's a park, maybe it's a little cafe. Maybe there's a forest next to you or or a beach. I have no idea where you live, but I'm sure that there's something different and interesting to explore. Very close to home if you're willing to just step outside and see what you can find.
How To Declutter Your House
Let's Begin With Marie Kondo
Now let me get into talking a little bit about how to declutter our homes and our lives. Specifically, let's start with Marie Kondo because this is sort of the instigation of what has become just really an incredible viral movement. Right. Have you seen the Netflix special? Have you read Marie Kondo's book?
Her book came out about five years ago. It's a very short little paperback that is about organizing your home and she goes through her entire method of how to organize your home. The book is titled The Life Changing Magic of Tidying Up. Such an innocent way of saying overhaul your entire house, which is what Marie Kondo method really goes into.
If you haven't read the book, I think it's worth a read. And I will be totally honest. I read it five years ago when it came out and I thought this has some really good nuggets of information and overall it feels very overwhelming, really, really unattainable, like this unattainable bar for family life.
At the time the book was written, Marie Kondo didn't have any children. I think she's since had one or two children and I think that she has since written a couple books about how maybe the method might be a little different when you have children and incorporate, you know, other little people into your space.
Once You Declutter, Your Stress Is Reduced
The one incredible thing about Marie Kondo method and really just about the idea of decluttering and organizing your space, this life changing magic of tidying up, of organizing, of cleaning up is that overall, once you're finished with the process, your overwhelm is reduced. Your stress levels are reduced. Your anxiety is reduced. And the shame and guilt that you might feel surrounding owning all of the belongings that you own, whether or not you, you like them or care about them. That can be reduced as you add some purpose and intention back into your life surrounding the things that you own.
Don't Be Nervous To Declutter
I'm going to talk about five different methods of doing this, of evaluating the things that you own and reducing it to not just get rid of things, not willy nilly. Throwing things out the window or boxing up all of your favorites and sending them off to goodwill. The idea of decluttering and organizing your home and your life is for your benefit.
I think a lot of people have an initial visceral reaction to the idea of getting rid of things because they immediately think of the things that they loved the most or their very favorite or their collections or the things that feel really sentimental to them, and of course we all have some things that are like that and those are not the things that you throw out. The things that you really love are the things that you keep and the reason that you threw out other things are so you can give place and space and honor and maybe even pay more attention to and feel more grateful for those things that you do really love and value.
We can't love every single thing, right?
We can't appreciate and really revere every single item in the world. There's just too many and there's too much and it's hard sometimes to make the distinction between what we really love and what we don't because we're inundated constantly by messages about stuff and so our brain starts to just say, okay, I guess we need and love all of this stuff. Look at this, look at this. Look at this, all of these beautiful things, if we like it, we must own it.
"The wires can get crossed between liking something and appreciating it existing in the world versus liking something and believing that it will actually add value to our own personal lives."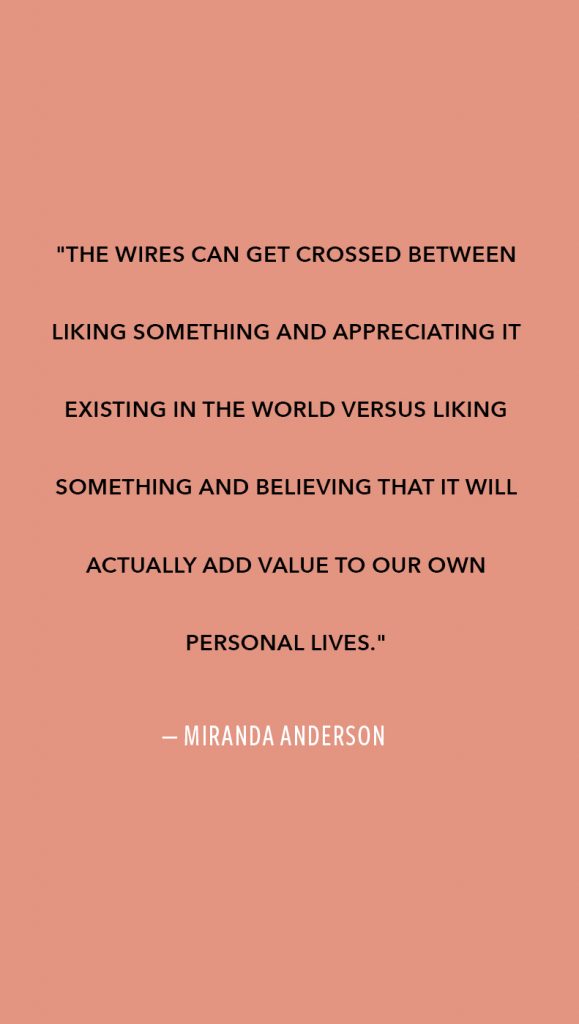 Decluttering Is A Lifelong Process
"I can tell you from personal experience that reducing and evaluating what you own is a long term process. It's actually just part of the process of regular life."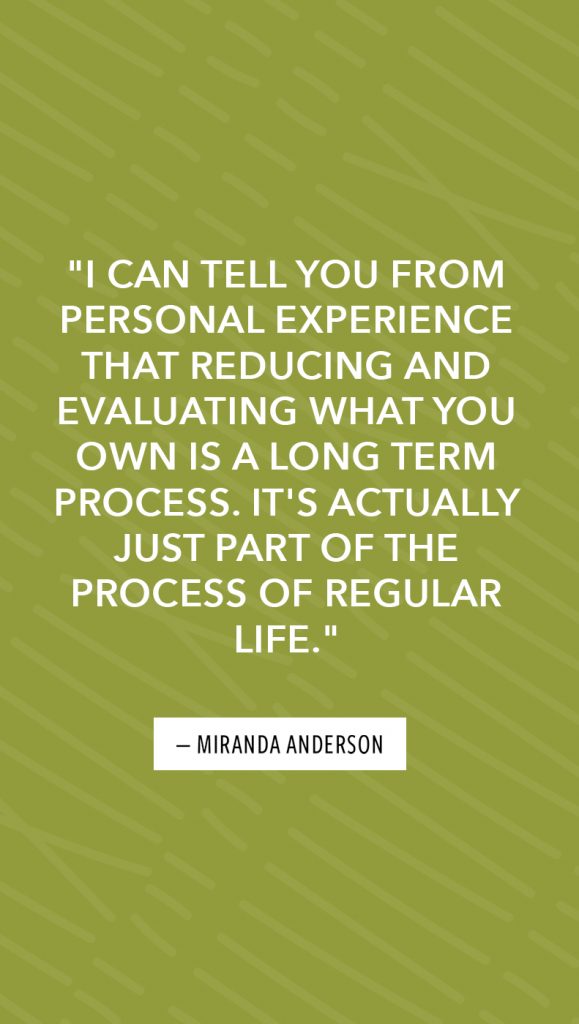 Decluttering and organizing your home isn't something that happens one time and then you're done forever. It's something that happens over and over again. It's been really interesting for me from the inside perspective of having been focused on this, on organizing, decluttering, reducing and eliminating things from our life and the life of our family over the last few years.
I still have so far to go and I don't think of that as like a negative thing like, "Oh, I'm not done yet." I think that how interesting that after multiple years and multiple moves where we touch every single thing that we own, every time we move that. I still even just this last time that we moved from our house into this airbnb and I was helping get ready to pack things up. I went through things and realized, you know, there's a bunch of clothes that don't fit my kids anymore so I can donate those to friends or to goodwill. There are some books that we haven't read and you know, we liked them for awhile but we've outgrown them so I was able to donate those.
We Must Have A System For Things To Flow Out
There is a certain cycle to belongings and there are some things that we love. Yes. And they'll stay for a long time and then there's some things that can flow in and out of our lives. The trouble comes when we don't have a system in place to let things flow out that things flow into our lives automatically.
Gifts from friends or holidays or swag from conferences or going to thrift stores. If you're a shopper and you like to thrift shop, or you like to go to target and target runs. If shopping is a regular part of your life at all and you have a system in place for things to come into your life, but you don't have an equal system for things to flow out of your life, what is going to result is an incredible, a mass of belongings, some of which are unnecessary.
If you get to a place where your belongings are causing you more stress than they're causing fulfillment or joy, then there's a problem. And so hopefully one of these next five methods I'm going to share with you for decluttering your life is going to resonate with you and you might give it a try.
"Put in place a little bit of a system that will help things flow out of your life as easily as they flow into your life."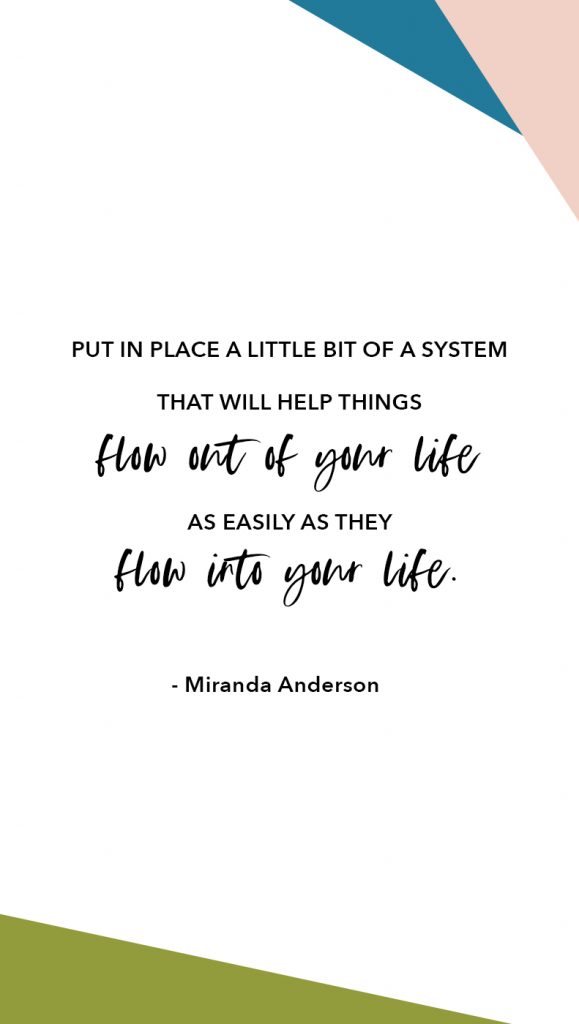 Five Methods To Declutter Your House
1. All At Once By Type
So the first method I'm going to share about is the Marie Kondo method. Because if you've watched the Netflix special or you've read the book that will, you will have already seen it and it does make a lot of sense. I think that this method also takes a lot of focus. If you have a couple of months that you want to completely devote some of your free time to organizing your entire house at once like she does in the Netflix special than this could be a good method for you.
Take Everything From One Category And Pile It Up.
The way that you do this is by organizing your belongings by type and you take. You choose a category of tight and you take all of those things from one type or one category and put them into one pile.
For example, if you're going to organize your clothes, you take all of your clothes from all of your drawers, all of your closets. Maybe you have some stashed in the back of a car. Maybe you have some in the laundry bin. You get all of your clothes at once and you put them in the middle of the room and then you touch each item and you decide, does this item in Marie Kondo's words "spark joy" or is this an item that you love?
Touch Each Item And Ask Yourself Some Questions 
I also like to, when I'm dealing with clothes, I like to think, does it fit me? Does it make me feel confident and comfortable? Is it something that's appropriate for the weather that I live in or for the lifestyle that I lead? Maybe you have a really, really beautiful formal dress and you love it and it fits you, but you're never ever going to wear it. Is it something that you should keep in that circumstance? I don't know. It's up to you.
Another category of items that you could do this way would be books. For example. This would be taking all of the books from all of the bookshelves in the entire house at once and putting them in one big pile and asking yourself, does this item spark joy? Does it add value to my life? Am I using it? Am I loving it? Is it something that I want to keep with me if we move to different houses is something I would pack in a box and pay for space on a moving truck to take to a new home. If it's not, then maybe it's something that you could get rid of.
Dedicate A Lot Of Time Upfront To This Method
So using Marie Kondo method, you go category by category through the entire house, not space by space and not little by little. You do an entire category of items at once. It could be a really, really good method if it's something that you want to dedicate a lot of time to in a short, in a short period, so give yourself a month or two and every Saturday devote three or four hours to organizing one category of items.
That could be something that would work really well for you.
2. All At Once By Area Of The House
The second method I want to share is by decluttering all at once by area. So rather than by category, choosing one area and organizing the whole thing at once. So for example, this would be like I shared in one of my earlier episodes Episode Seven, I'll put it in the show notes to how to organize your life and How To Organize Your Junk Drawer.
Choose One Space
This would be starting with one spatial area. In that episode I talked specifically about the junk drawer that you could do the same thing for your bathroom or for your living room or your bedroom. You choose one space and you take out all of the items that are in closets are on bookshelves or you go through the whole space.
Take Everything Out Of The Space
Taking things out first and then choosing what to put back. I think it's important to take to remove things from their, from where they're sitting, move all the furniture to one side of the room, for example, or even out of the room. If you have space to do that. Take all of the bookshop off the bookshelf. Take all of the toys out of the boy bands. If you're doing the playroom, for example, you have to move everything. If you're doing all this thing all at once because when things are sitting in their place, they're just where they are and so you don't really have.
Your brain doesn't tell you that you need to change anything about it because they're already there, but if you move something, even if you move all the furniture to one side of the room and then put things back one at a time, you may realize that you like the room better without one of the pieces of furniture in it or that you liked the bookshelf better without half the books on it. So giving yourself the blank space to work with as you're organizing the space.
Decide What Items To Put Back (And Which To Get Rid Of)
If you're doing a cabinet, for example, kitchen cabinet, take everything out of the cabinet and then choose what to put back when the default is that nothing is there and you're choosing what to put back. You have a very different mindset about it. Then if the default is everything's there and you're choosing what to take away, so when you're doing this method of having everything happened at once, all at once by area, take everything out and have the default be nothing, and then choose with intention what you're going to put back into that space.
3. Little By Little, By Type
The third method that I want to share, is little by little by type. This is for those of you who get really overwhelmed by the idea of doing an entire house overhaul all at once. Maybe you don't have time or mental energy to do that and you'd rather you like the idea of getting rid of things little by little or not having a bunch of junk that you don't use, but you really don't want to devote a lot of energy to it right now.
Put A Box or Bag In Each Room to Collect Donations
My suggestion for this is to put a cardboard box or a paper bag into your closet, into the corner of each room, maybe one in the hallway and one in the garage, and that as your going about your regular life, that if you're putting something away, let's say you're cleaning up toys with your kids in the toy room and you've put this cardboard box in the corner that's labeled as a donate box.
Maybe you're helping your kids put away toys and you notice that there's a few that seem to always be out on the floor, but no one ever seems to play with them. This is the time when in the rhythm of your regular systems of cleaning up in your life, you could say, Hey, do you guys want this one anymore? You could just toss that one. Instead of putting it back into the toy bin, just toss it into the box, into the corner.
As You Clean Or Put Things Away, Put Things You Don't Love Into The Donate Box
The same thing happens with the closet. I do this a lot with my closet now that my closet is really pared down and only has essential items in it, but every once in a while I still am of course moving on from some of the items that have been essential or things are a little worn out or they don't quite fit right. Maybe they've been stretched out in the washer. The fit isn't quite right anymore, so as I'm doing my laundry and putting things away I sort of evaluate is this something that I really still love? And if it's not, I don't feel bad about tossing it into the donate bag that's in the corner of the closet.
And then when the bag gets full I just take it to the donation center. That also gives you the chance of having a little rescue. Like maybe you're feeling one day like, "Oh gosh, I don't like any of this stuff." And so you put it all in the bag and then a few days go by and you realize, I really do like that green sweater and I'm going to go get it back out of the bag because I want to wear it right now and I really do like it.
Slowly Accumulate Things To Get Rid Of
So that can help maybe reduce. If you're a person that feels like you have some donation remorse, having a little bit of time to think about it where things are put into the box or the bag, but then you give yourself a little bit of time to think about it before you actually get it to the donation center.
4. Create A Half-way Point For Items
Declutter An Area, And Put The Items In The Closet Or Garage For A Month
The fourth method that I want to talk about is similar to the last. Having a halfway point. Maybe you go through an area with your kids or your husband or just by yourself. You go through an area and you pull all of the things that you don't want anymore. You don't really need them and so you put them all in a box, but you also are unsure about how you're gonna. Feel about this next week or next month, and so you put your box taped up or folded up into the garage, labeled donate and put the date on it and then give yourself a couple months.
If You Don't Need Them, Donate Them
What has happened when I've tried this before is that a couple months go by and I have not even thought once about the things in the box and so then after two months or three months, whatever timeframe I give myself, I just put the whole box in the back of my car. I don't even look to see what's in it because if I haven't needed anything in the three months that I had it sitting there, then I probably don't need those things anyway.
At that point I put it in my car and I drive it to the donation center and I don't think about it again. That is another method that could be helpful for those of you who feel a little bit of donation remorse or maybe you just don't know. Maybe you haven't done a lot of donating and so you don't know how it feels that you don't yet know how incredible it actually feels to get things out of your life that don't matter to you.
This Reduces Donation Remorse
You can use that halfway point by putting a a box sealed up, ready to go, but then letting the box sit just to make sure you're not going to have any regrets about it and after a couple months, give it away and don't think about it.
5. Seasonal Rotation Donation
The fifth method that I have for decluttering your life or your house is seasonal. There's a lot of items that we have that are seasonal. This goes for seasonal decorations. It goes for seasonal clothing. If you live somewhere that has climate change, there's sort of a natural flow to the seasonal things.
As You're In Transition, Evaluate And Donate
You bring all the decorations out and then you put all the decorations away. You bring out the summer clothes and then you fold them up and put them away. All of those things that have a natural in and out process of actually coming into our spaces and then going back away at the transition is a perfect time to evaluate and add some intention.
Don't just put all your Christmas stuff back in the boxes and put it back in the garage or in the attic. As you're putting those things away or as you're pulling them out, give yourself a chance to actually reflect and ask yourself the questions, do I still love this? Does it still fit my style or my family's vibe? Do we feel like we have space for this or is it unnecessary clutter? Is this something that I would buy again today?
Ask Yourself "Would I clean dog pooh off of this to keep it?"
I have a really funny one that I asked myself and you might think this is so gross, but a few years ago I think my kids had taken something outside and accidentally gotten dog poop on it from the dog and they brought it back inside. I'm trying to remember what it was. It might've been like a kitchen accoutrement, like a bowl or something. Maybe they were playing outside.
I just remember thinking I don't love that thing enough to clean the dog poop off of it, so I'm just going to throw it away so maybe that seems really wasteful or really silly to you, but I like to ask myself the question, "If this had dog poop on it, would I take the time to actually clean it all up?" Or ,"If one of my kids like vomited on this thing, would I clean it up and bleach it and sterilize it so that I could put it back in this box to store it or so that I can put it out on the mantle or would that be a game over for me?"
Because if I don't love something enough to actually put in the tiny amount of work that it might be to clean it up from something gross happening to it, maybe it doesn't need to exist in my life.
So as gross as that recommendation is, I like that question. "Would I cleaned dog poop off of this." If I wouldn't, I might not need to own it. If I don't have that level of commitment to a given item, I probably don't need. It probably isn't adding a lot of value to my life, so you can ask yourself that question along with all the others.
"Ask yourself: Would I clean dog poop off of this item?" If you wouldn't, you might not need to own it. If you don't have that level of commitment to a given item, it probably doesn't add much value to your life."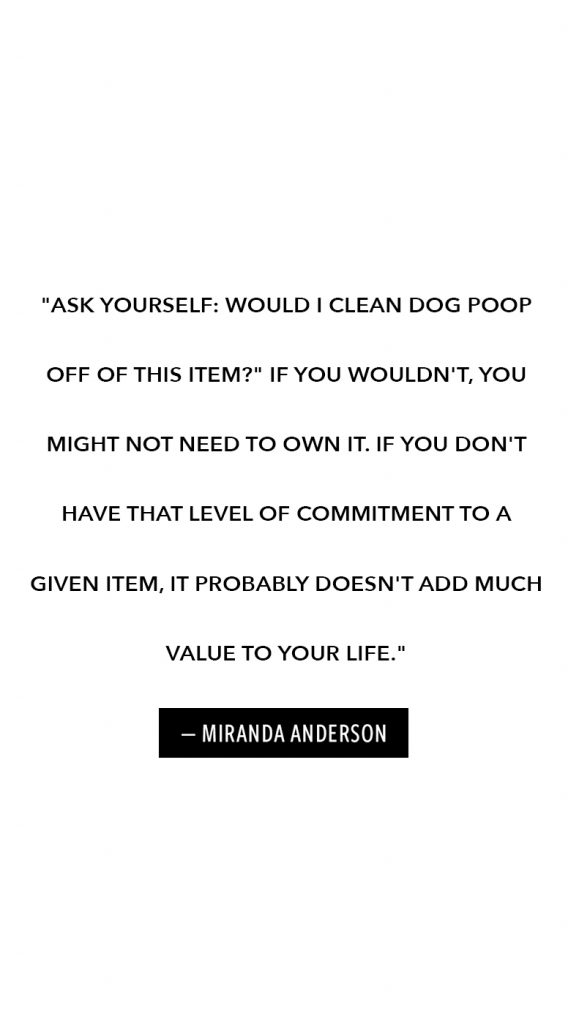 Recap Of The Five Methods For Decluttering
Okay, so those are the five methods for decluttering. Maybe one of those resonates with you more than the others and makes you feel a little bit more confident about the idea of going into an organization mode in your life.
All at once by type.
All at once by area.
Little by little by type.
Having a halfway point.
Seasonal Donation.
Five Ways To Get Rid Of Things
The next five things I want to talk about are the actual ways to get things out of your house. The actual method of getting rid of things which can be challenging for people.
1. Trash Or Recycle It.
There are some things that should not be donated. I think that anything that you would not put your children in or you would not wear, not because of style, but because of how used up it is. You probably could throw that away rather than donating it.
I think that things that go to Goodwill and the donation center should be gently used, shouldn't be stained, shouldn't have holes in them, they should be clean. They should be things with some dignity left intact, and if the dignity is gone from the item, then I think it probably needs to be thrown away or recycled.
2. Donate To A Donation Center or Specific Reuse Center
The second way is to donate and you can donate to Goodwill or whatever your donation center nearby has. I know that there's regional donation centers. When we lived in Utah, we always donate to things to Desert Industries locally. Here in Richmond, Goodwill is the only donation center that I know right off hand that accepts all types of donations.
Find A Type-Specific Donation Center
It also is really nice to look up if you have a particular type of donation. For example, I am a crafter and so I have donated, especially on this last move, I donated really like hundreds of yards of fabric and full boxes of craft supplies. A lot of cities have creative reuse centers and so the one in Richmond is called SCRAP RVA and they accept craft supplies that are gently used or you know, a half used bottle of acrylic paint or a piece of fabric that has been cut into but not used up completely.
Rather than donating those things to Goodwill or throwing them away, find a creative reuse center that can take your old craft supplies and your old fabric and these centers are really cool. They're usually nonprofit organizations. The one in Richmond offers classes they read, donate craft supplies to local schools and businesses that need them, and then they also sell them at really reduced prices so that it creates availability for crafting and creative supplies. For people in the community who can't afford to just go buy a bunch of fabric or craft supplies at a big box store.
I love the idea of finding donation centers that matched the items that you're donating. You can donate your electronics through specific centers. I know that Medela has a system to donate breast pumps. If you have been a breastfeeding mom and you have a breast pump, you can actually ship it for free back to Medela and they clean them and donate them to charities that need them, so you can find, depending on if you have some specialty items, you can find creative donation centers that accept the type of donation that you have and that's something that I would look into for your area.
3. Give Away To Friends Or Family
The third way is to give things to friends. I love this. I think I've mentioned this before in particular that I give all of Plum's gently used clothes that she's grown out of to a friend who goes to church with me because she has a daughter just a little bit behind Plum in size. I love it so much because all of these beautiful dresses and cute little pajamas and things that I love so much for plum that we don't have another little girl in our family to where those things.
I love passing them on and then I get to see them when this cute little girl comes to church. I get to see them and you know, have these beautiful clothes live on.
Think Of Who Could Use Your Items Well
It's also really great if, again, with specialty items, if you have business clothes and you have a friend who's starting a new job or if you have maternity clothes and you have a friend who is in the middle of a pregnancy or just about to get pregnant, think of friends or family that may have a use for some of these things. People love to be thought of specifically.
Another example is that we had bought a couple big packets of diapers and pull ups and now at our family is out of that, they were just in the top of a closet and rather than donate those, which I could, but I don't think goodwill takes a donation of diapers. I thought of a couple friends that have babies or toddlers who are about the right sizes and just called them and said, hey, can I drop these off at your house?
And you know, it was only 20 or $25 worth of diapers, but every little bit when you're a mom who's diapering kids helps and not only does that type of donation get the stuff out of my house, but it also creates a connection to the community, to my friends, to my family. Being able to create a positive connection is really incredible. It's a really nice byproduct of this donation process. So that's the third method. Think of a friend, friends or family who could use that item and then thoughtfully deliver it to them.
4. Sell Items On Facebook Marketplace Or Craigslist
The fourth and fifth are similar and these are ones that I've employed a lot in my life. There are items that are up higher value or that you feel more attached to or maybe you're just in a time of life when you really feel like you could use the money and it's okay for you to put a lot of work in to sell items.
The fourth and fifth methods are selling them and I've divided them into two different sections because I think the categories of items are really different. So the first one I'm going to talk about the things you should sell on facebook marketplace or craigslist and then the second are the things you should sell on poshmark or on Ebay because they're really different.
A Couple Weeks Ago I sold Three Things for $180 On Facebook Marketplace
And I, like I said, I've had lots of experience both buying and selling in these areas and so I think that there definitely is money to be made. In fact, just a couple of weeks ago as we were packing up to move out of our house, I realized this was one of those transitional, this is like a seasonal transition.
We're packing up to move and I saw a couple of things that I don't use. I really liked them but I don't use them at our current house just doesn't have quite enough space for them. There were two glass vases. These are like really big cool glass Spanish vases from World Market and then a kitchen cart that I had used for a photo shoot with the company. I really didn't have space for it in my own house.
I put it together and it had been used one time. I thought both of these things are things that I could sell easily on Facebook Marketplace. I used to sell a lot of things on Craigslist and lately I've felt like Facebook Marketplace is easier. One because the people are usually verified. They have a facebook account that means that they have like an actual address and an actual, you know, it's like a real person versus sometimes they feel like Craigslist is a little bit more scammy and also facebook has such a big user base that they notify people who are within your area.
And so that has been really helpful. So I listed these glass vases for $15 each. They retail for about $30, so you know, I wasn't gonna make a ton of money on them, but I just thought rather than donate those I could make a little bit of money and I have the time to just take a quick picture of it and put it on Facebook. Both of them sold within two days.
The kitchen cart, I, it retails for about $250. I listed it for $150. It was brand new. Literally had not been used for anything other than a photo shoot. And so I listed that and I put the dimensions and the reason that these items are good to list on facebook marketplace or Craigslist rather than Ebay is because I do not want to ship them. They're big, bulky, heavy items that are not easy to ship.
Facebook And Craigslist Are Perfect For Big Items You Don't Want To Ship
I didn't want to do any shipping. So Craigslist and Facebook are great for local pickup where you don't have to ship the item. Great for furniture, great for some types of household items. I think a great for technology. I think those are the three main places that Facebook Marketplace and that Craigslist shine are with heavier, bigger items, furniture items, household items and um, and that's mostly it.
So that kitchen cart had about 30 inquiries within a day, but I always use the method of first come first serve. And so the first person who actually set up an appointment to come look at it and then decided to buy it was the first person who got it. I felt like the price was fair. A lot of times on Craigslist I'll price things a little bit higher, maybe ten or fifteen percent higher than I actually want to get for the item because I know there's some haggling that happens.
With both of these items I felt like the prices were really fair. And so when I had people say, "I'll give you $50 bucks for the kitchen cart." And I had listed at$150. I had the confidence to say "No, I think the price is fair. If you're willing to pay a $150, it's yours."
I sold all of those things within the two days that I was waiting for the packing company to help us move out of our house and so I made $180 while I was just doing nothing. I mean just getting ready to move. So I think that selling things can be a really great option if you want to put in the time. You do have to answer inquiries, you do have to answer questions and you do have to be available for someone to actually come pick the items up.
If you have furniture pieces or household items that are easy to photograph and just toss up online with a quick description.
I have a blog post about this that I wrote a couple of years ago with lots of details and suggestions for what to include in your descriptions and stuff. If you've never done this before, I'll link that in the show notes. It gets a little more specific.
5. Sell On Poshmark Or eBay
If you're unfamiliar, poshmark is a, it's basically a clothing reuse like consignment sale, so gently used clothing that is resold online for a discount. There's a lot of other systems like this, but Poshmark is one that I know has been kind of blowing up lately.
In fact, my sister-in-law has a whole business on Poshmark. She goes thrift shopping and finds incredible, gently used designer clothing and then she resells it on Poshmark for more than she buys it for in the thrift shop. So she's making money just turning clothes from a thrift shop on Poshmark to people who want them.
Sell Designer Clothes Or Bedding On Poshmark And eBay 
She's developed quite a system and an eye for what types of things sell well. And there are very specific brand names that sell well on poshmark and on Ebay. So what I would say for both Poshmark and eBay is that they need to be brand items made well is a good brand. But then also like designer, like Chanel or Longchamps. I don't even know, like I'm obviously not super into designer stuff because I'm like, I don't know what they are, but anything that has a brand name.
You don't really want to be selling your Target sandals on Poshmark. I just don't think that it would be worth the money that you make and then having to ship them. Those are the things that just don't have enough value to try to sell them. You should just donate them.
Selling Things Takes Time And Energy
The things that I think things that are over $10 or $20 are for me are worth trying to sell them and putting in a little bit of time to actually sell them.
Sometimes I don't feel like that. Sometimes I would rather just get stuff out of my house and the peace and comfort and organization that I feel just having the space back and not having to care for that item anymore. That is worth it to me. But when I have a little bit of extra time, I do like to sell.
With Poshmark And eBay, You Will Ship
I think eBbay does really well with designer and very specific items and also with smaller things because both with Poshmark and with eBay you're going to have to ship the item so you do not want to sell something that's heavy or bulky or or fragile really, unless you have a system already set up in place to get that to the person.
Another thing that does well on eBbay I think better than Facebook Marketplace or Craigslist is brand named bedding. Pottery Barn bedding or Restoration Hardware bedding. Things that people would actually be searching for. If you have a bunch of old bedding that's still nice wash it or to have it dry, cleaned, folded up and that's fairly easy to ship, maybe sell it?
When I know after I had my babies I sold there. They had all like really nice bedding that I had bought at the outlet and I was able to sell their betting on eBay for around the same price that I had bought it for at the outlet.
If Something Isn't Getting Inquiries, Lower The Price
My gauge if something hasn't had any responses within one day, then I'll lower the price a little bit and I will continue to lower the price until someone buys it. I think that you'll find your sweet spot in selling things online. If people are responding to it quickly and getting. It's not worth it to me if it doesn't go quickly, so I would rather just donate it at that point than spend a lot of time on it because time and energy is worth money as well.
Think of the money that you could be earning doing something else rather than just selling all of these items. I just like to mention that because it is no secret that we believe that our belongings are super valuable. Once we've invested in something, we think that it's worth a lot and in fact, and in fact most people would sell something for far more than they would actually pay for it. So when you're considering selling things, be realistic about the way about the price that you put them at and about the true value of the item of once you've used it.
Your Old Stuff Isn't Worth As Much As You Believe It Is! Price To Sell.
It's really not worth as much as you think it is anymore and you need to see it as an outsider. If that whole process is too much for you, you get more fulfillment and good feelings from finding someone who will really love it and donating that. But I just like to mention selling as an option because I know that it is fun to make some quick money selling things.
On occasion when I feel like I have time to do that, I do it and I'm, you know, then I have some cash to take my kids out to ice cream or to do something else.
Download The PDF Printable Guide To Decluttering And Flow Chart HERE
I realized that we've covered a lot of different ideas and methods in this episode and so I'm going to create a printable that will include short descriptions of the five different methods of getting rid of your things and then also short descriptions of the five different ways to get rid of your things as far as actually donating them.
And I remember that a few years ago on the blog, I created a flow chart. So when you had an item and you couldn't figure out if you should trash it, donate it, sell it, where to sell it, uh, that you could follow a flow chart. And so I'm going to dig that up, rework it a little bit, and also include that as a free printable to go along with this episode.
Concluding With Kondo
"The question of what you want to own is really the question of how you want to live your life." -Marie Kondo
I think that that is such an incredible perspective.
Look around you in your house or your car or your drawers or your garage. What do these things say about you?
"What are the things you own saying about the life that you are choosing to live?"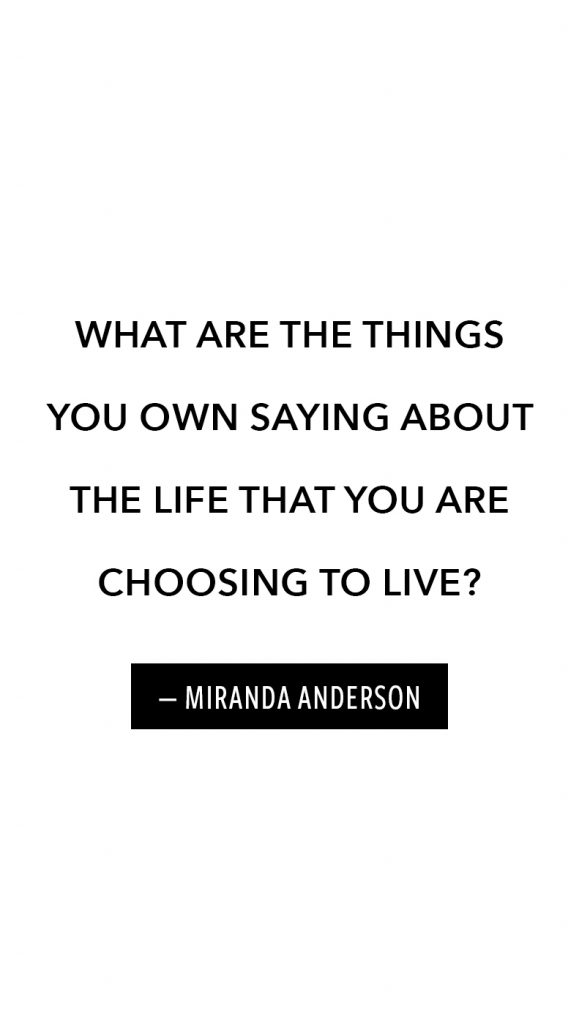 Does the collection of things that you've amassed in your life say that you feel like you're never going to have quite enough that you have to hold really tightly on to everything that you've ever owned or that you have right now because you feel like if you let it go, that something great might not come back into your life?
That mentality of scarcity really won't serve you. Invite the idea that you can open your hands up a little bit and freely released the things from your life that you're not loving, not using and that aren't adding value right now, knowing full well that at the time that you need something new or you need something to blow you up or to support you in a certain place or time in the future, that those things will be readily available to you.
That you will have the resources that you need when you need them, and you don't have to hold onto every single thing that you have right now.
I invite you to consider the Ten Ways That You Can Declutter Your Life that I've talked about today:
Getting rid of things all at once by type
Getting rid of things all at once by area
Getting rid of things little by little by typ
Having a halfway point in the garage that you can get rid of after a couple months
Seasonally as you're moving or as the seasons are changing or as the holidays are moving on
You can trash or recycle things
You can donate to a creative reuse or donation center
You can give things thoughtfully to your friends or family members
You can sell things on Facebook Marketplace or Craigslist
You can sell things on Poshmark or eBay.
The Value Of Space
I love having space in my house, in my closet, in my drawers, in my cabinets. That isn't just space that I need to fill back up with. Things that is just open space for possibility, for abundance, and for gratitude to settle in. I think that we need to as a people focus more on enjoying and relishing this underestimated value that open space has not just consider space as emptiness that needs to be filled back up, but giving a place for space in our homes and in our lives.
Thank you so much for being here. You know that I love when you listen to the show. I'd love also when you share it, and I especially love those of you who are leaving ratings and reviews. It makes such a difference for other people to be able to know what you're thinking about the show and to find it.
If you haven't yet left a review, written out a little bit about what you think about the show. I want to challenge you to do that this week. You can just head over to the apple podcast app, scroll all the way to the bottom of the show and tap on the little button that says write a review. It takes you two minutes and it makes such a difference for me. I appreciate that and all of your support and I will talk to you next time. Have a really fantastic week.