Episode 36: Home Renovation 101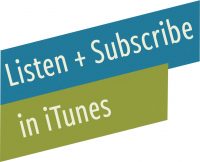 Introduction
Hey there friends! Welcome back to the show. I'm Miranda Anderson and this is Live Free Creative Episode 36: Home Renovation 101.
Who out there has experienced the joy and the tragedy of home renovation?
You know, if you have been following along with our family for any length of time that we are in it deep. We've been renovating our home in Richmond, Virginia since January of 2008 and hopefully we will be finished in the next month or two. My goal for this show today is that you might have a little bit of an insider scoop on what the home renovation process looks like and feels like when you're in the middle of it.
I'm going to share some tips for:
How I like to prepare ahead of time
What some of my design and decision making process looks like
Choosing the right contractor or helper
Order of events,
Help you manage your expectations for what it might feel like in the middle of the process all the way to the end.
Before I get started jumping into all of my tips and experiences, I want to start with a little bit of life lately.
Segment: Life Lately
Today's life lately is apropos for the episode topic because we have finally moved back into our house after months and months of renovation. Proceeded by a couple of months of living in the house, proceeded by months and months of renovation.
The short overview is that we bought our house in January, 2018 we renovated until June when we moved in and started decorating and settling in. In early November we had an unexpected accidental fled that damaged a lot of the house to the extent that we had to move out. We bounced around between hotel rooms, friends' houses, and local airbnb's during November and December and halfway through January we found a longterm airbnb that we stayed in for two months until the beginning of April, and then we missed the deadline on the house. We had to give 30 days notice to the Airbnb so they could release the dates for other people to rent out the space and we missed the mark.
Our contractor believed that he would be finished by the 11th which didn't happen. And so we moved out into another longterm hotel for two weeks and by the time this episode airs, we will have finally moved back into our house. Hooray!
That feels like a huge cause for celebration. We've been uprooted and just moving around four or five months, which was so much longer than expected. When our flood happened in November, I remember standing in the middle of my kitchen with rain coming through my light fixtures puddling up around my feet thinking to myself, okay, this is happening, but it's going to be okay. We're going to be able to work it out. We'll get everything fixed and we'll be able to enjoy Christmas back in our cozy house. Well that clearly was not the case, but now we have settled back in to the main level of our small two story house.
The flood originated in the upstairs bathroom, which is the master bedroom bathroom. We live in a cute old Cape Cod and stairs were added to finish the the attic space sometime in the eighties or nineties before we bought the house and so it's only one room and one bathroom upstairs. So you go up the stairs just to a simple loft room with dormer windows and one small bathroom.
Because of the flood, we decided to take advantage of all of the demolition that had already happened and the insurance that was going to cover the restoration of the house, putting back the pieces up into the point that it was before the flood happened and just use that momentum and the insurance payout for that to go ahead and start on a little bit more extensive renovation to the attic space, which we hadn't done before. Between January and June of 2018 we renovated the entire downstairs level, moved walls, dug out the entire kitchen.
We switched around doors and windows and just really did a very full deep renovation. We actually ended up adding a front porch and replacing all of the siding over the whole exterior of the house as well. So really at this point, very little of the original house except for the bones like the, you know, floor joists and the walls in between the walls. You know, we have replaced almost everything on the main level and because of the flood we decided to go ahead and do the same upstairs. So we moved some walls. We reorganized where the closets were oriented upstairs in order to widen the bathroom.
We took the vanity out of one small upstairs bathroom, added a pocket door so that the toilet and the shower stay separate for privacy from where the vanity is in the wider part of the bathroom. And then we added a big vanity. The tile still hasn't gone in yet. That will go in this week, but right now because we still are in the middle of having things finished upstairs, we are just living in the two bedroom, one bathroom that exist downstairs and trying to get settled in and put those back together after having all of our belongings moves back in.
So of course I'm recording this episode ahead of time and we aren't yet in that stage, but I can already tell you because I can already feel in the depth of my soul how amazingly grateful I am going to feel when this episode airs to be back in our house. We love our house, we love our neighborhood. My kids have lots of really good friends in the neighbor hood. They run outside and can ride their bikes and roller skate on the sidewalks and meet up with their buddies.
They hopped fences between everyone's backyard. I'll sometimes go outside and have six kids jumping on my trampoline. Of course, only three of them are mine and so it's not unusual to have other friends and neighbors all around us, which is something that we absolutely adore. I'm also really excited about being closer to my chickens. My four hens that live in a henhouse in our backyard stayed in the hen house in the backyard during the last several months since we were moving around. I just went daily to let them out so they could free range in the yard during the day and I'd come back in the afternoon to pick up the eggs and give them some treats. And then between Dave and I, one of us would return again in the evening after nightfall to lock the Hen House so that they're safe from predators in the evenings. So it has been quite a shift.
We've been feeling like we were a little bit in a whirlwind and being moved back into our house. Being able to settle back in for at least a little while, um, is really, really wonderful so that my friends is life lately. If you keep up on Instagram, you will be able to see as I share the spaces continue to come together. I met, super excited to share about the tile, the pattern tile that I chose that city go on the back splash and on the floor and everything is just going to start coming together in these last couple weeks before the renovation is completely finished, so feel free to follow me over there at live free Miranda to see all of the updates and the details as the house finishes up.
Home Renovation 101
Okay. Let's dive into home renovation 101.
Create an Overall Vision
Where I always liked to begin when I'm talking about renovation or thinking about it for my own life is with an overall vision. Now our experience, this last year has been very wild because we have done almost an entire complete house renovation all at once, all within a year. That's not normally the case.
Normally in the past we've done small projects here and there and that is what it seems like most people are able to do. It's a huge investment of time and energy and money and a lot of disruption to do a big full renovation and we've been lucky to not have to live in house during most of it. The first part of our renovation, we were living in a rental house and the second part of our renovation, we've been bouncing around in all different airbnbs and hotels, but we haven't actually lived in the middle of most of the construction, which is really nice when you are approaching smaller projects.
Gain Perspective for The End Project, Then Start Small
I like to have the overall vision intact in my head and sort of planned out because that really informs the decisions that I'm making about each piece individually. So an example of this might be knowing that even though you're right now just going to paint the kitchen cabinets and change the hardware, that you have an idea of what eventually the whole room will look like. Maybe the next step later will be to change out countertops. Maybe in a few years you're going to knock down a wall. Maybe at some point the lighting will all change, but if you start your renovation project with a vision, kind of your dream board of what the whole house is going to look like, or at least in one area what the whole kitchen will look like or the whole bathroom. Then you can approach each small project or smaller renovation with the end result of that piece fitting into the overall picture.
Use A Pinterest Board To Get Ideas
So what do you do if you don't know what the overall vision is or you haven't decided how you want the big picture to look? One way that I like to start formulating that is with Pinterest. I don't actually don't use Pinterest a lot. I personally on a regular basis, but I do love it as I'm approaching projects, especially when I'm starting on something with a new house or have decided that I want to start doing a project on an existing house. I like to create a board that's just for the big picture where I can start pinning images of interiors that really resonate with me and that I really like without necessarily getting lost in the details of them. I don't worry about if the layout is exactly the same as what I'm dealing with or if the number of rooms or the types of rooms are exactly what I have in my house.
The purpose of this overall vision board is just to give me some insight into what types of things I'm interested in, what colors and tones, what types of wood, what types of layouts and styles. This informs me as to my own current design ideals and visions, the things that I'm loving and it helps me when I have accumulated quite a few pins onto this vision board. It helps me then start to understand what I'm hoping for for my interior and then I can start to get specific about how to actually incorporate each specific design detailed that I find myself drawn to in the space that I have. So step one with gaining your overall vision is to just take some steps back. Not Be thinking about your space in particular, but just in general, what kinds of designs you're liking, what kinds of metals and woods and tones and feels you're enjoying.
And if you're a visual person, the best way that I found to do that is on Pinterest.
Use Design Books For Inspiration
I also have a bunch of design books that I referenced often that I love, seven that are my very top favorites and I just added the new Magnolia home by Joanna Gaines and that is really wonderful as well. So now I have eight. Here is a blog post that I wrote that references all of those design books that I really enjoy and think are beautiful as just gaining some perspective for this overall vision for yourself. Now, once I have kind of a broad scale vision for maybe what will be years down the road, but then I have at least a direction to point as I'm making design decisions within the renovation process, then I can start getting more specific about each individual room.
Two Questions To Ask Yourself
There are two questions that I ask myself every time I'm getting ready to renovate or decorate a room.
What do I want to DO in this room?
The first is what do I want to do in this room? And because I live, not alone, but with a family, I ask myself, what will my family do in this room? What is this room going to be used for?
How do I want this room to FEEL?
And the second question I ask is how do I want this room to feel? What do I want the vibe of the room or the energy of the room to feel like when I walk into it? How is it going to make me feel? In asking myself these two simple questions, what I'm doing is narrowing down so that I can make decisions on the design based on form and function. I want it to feel a specific way and I also want it to function in a certain way.
And so the design decisions that I make will be influenced by that. For example, in our current house in Richmond, we made some major design renovation changes to the layout and the actual design of the kitchen and the dining room. When we bought the house, they were very divided.
I, in fact, the house was built in 1948 and so at that time, each of the rooms was considered its own entity. There wasn't a whole lot of open format when we walked into the house the first time. What I was met with right in front of me was a wall with a doorway into the dining room and then that that small dining room had a doorway off one end to the hallway where the bedrooms were and a doorway off the other side that went into the small windy kitchen.
I knew immediately that the way that I wanted the house to feel was going to be open, welcoming, and easy to live in, easy to walk through, and that is not something that you achieved very easily with small individual rooms, with lots of doors and doorways.
"How do I want this room to feel? What do I want the vibe of the room or the energy of the room to feel like when I walk into it? How is it going to make me feel?"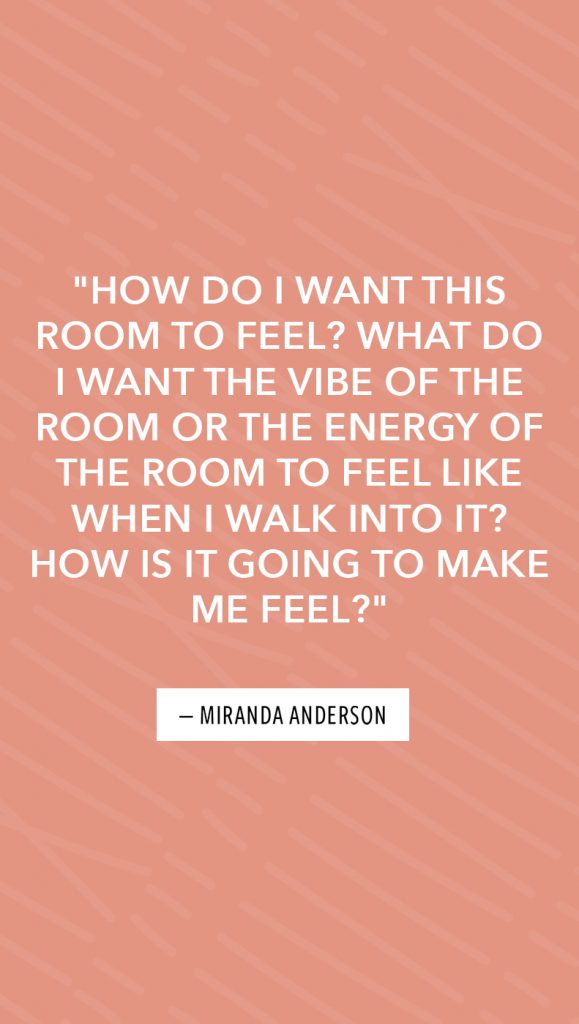 I knew that I had to open up that space, not completely into one giant room, but just open, widened the doorways. We did end up taking out the wall completely between the dining room and the kitchen because I knew that I wanted it to feel more open, more in touch. So someone sitting in the living room could talk to someone in the dining room without having to peer through a tiny narrow doorway that it would feel all a little bit more connected.
Opening Up The Kitchen
I also knew as far as function that we as a family are fairly casual and we do very well with an eat in kitchen and so I didn't need the kitchen and the dining room to be, to be separate spaces. We do really well passing back and forth between the table and the countertops and cooking something and then having kids do homework while I'm making dinner and as far as function, those spaces do really well together for us, so we decided to take out the entire wall between the kitchen and the dining room and leave that whole thing open.
We did lose some countertop space and some cabinet space when we made that decision and so I knew going in that I had to rebuild in some extra additional storage into the kitchen layout itself so that we could reclaim some of the necessary storage for this very small kitchen area by knowing both what we wanted to do in the spaces and how we want it to feel. I was able to right from the get go make some very big clear decisions about opening up spaces, taking out walls and then reformatting the way that the kitchen layout itself was so that we were able to achieve our goals of both form and function within the space. Another thing as far as how I wanted our kitchen to feel was that I knew right from the get go that I wanted it to feel welcoming, casual, and happy or joyful.
I achieved this by making some decisions surrounding having open shelving instead of closed cabinets. Choosing a simple, clean backsplash instead of something more ornate and also by choosing to paint all of the lower cabinets, this beautiful bright green that just adds so much fun to the space.
"You can't help but smile when you see those green cabinets and it feels light and it feels enthusiastic and it feels fun and that is all a reflection of our family and the way that we like to live."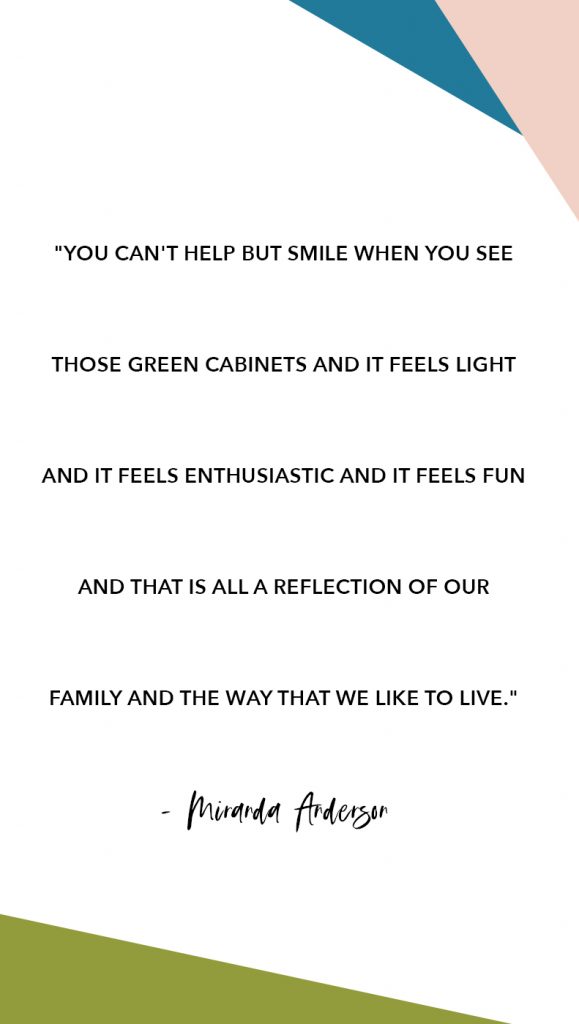 There's nothing about our kitchen that feels overly stuffy or overly traditional. It doesn't feel, ornate in any way. It feels a little bit funky, a little bit quirky and very, very happy, which is exactly the way that I wanted it to be.
On Being Decisive
Now I need to talk for a second about decisive because one place that people can really get hung up in renovation is that there are a lot of decisions to make and sometimes they all need to be made in a fairly short amount of time.
If you are not a super decisive person that might cause you a little bit of panic, but I want you to not worry and remember this as just some really great information for renovation and for life.
"Nothing is going to be perfect and that's okay."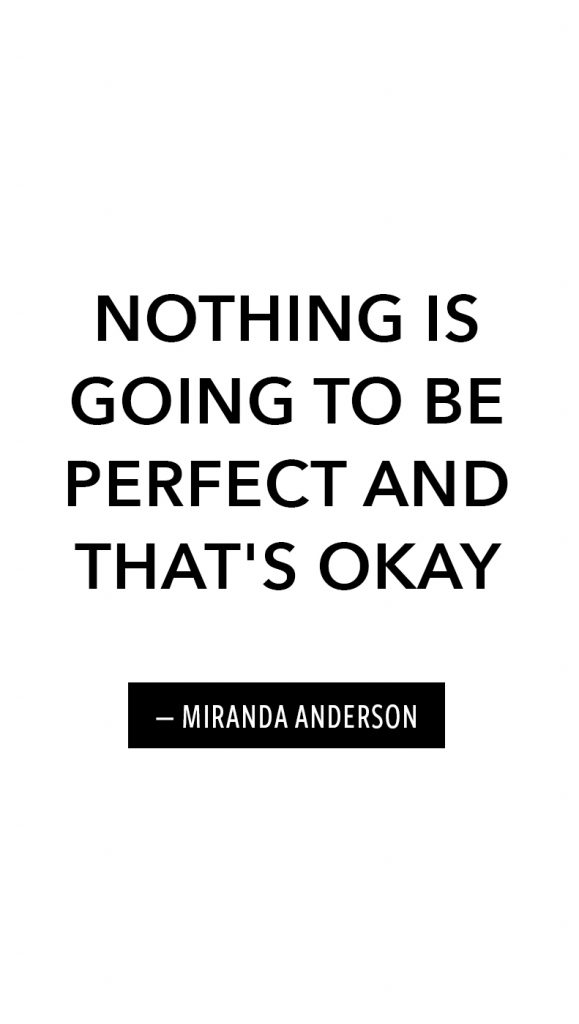 You don't always have to make the exact right most wonderful, brilliant decision. You just need to make a good one, a good informed decision. I really like to enjoy the process as well as the outcome and I found that by making good quick decisions rather than agonizing over every single detail all the time, I'm able to achieve that. Both enjoy the process and really loved the outcome. Sometimes the best thing you can do is look until you find something you like and then stop looking. You don't have to go over every single detail by seeing every available option online in every store and an every catalog.
"Just find something that you like and if you like it now, you'll probably like it later and I think that that's good enough."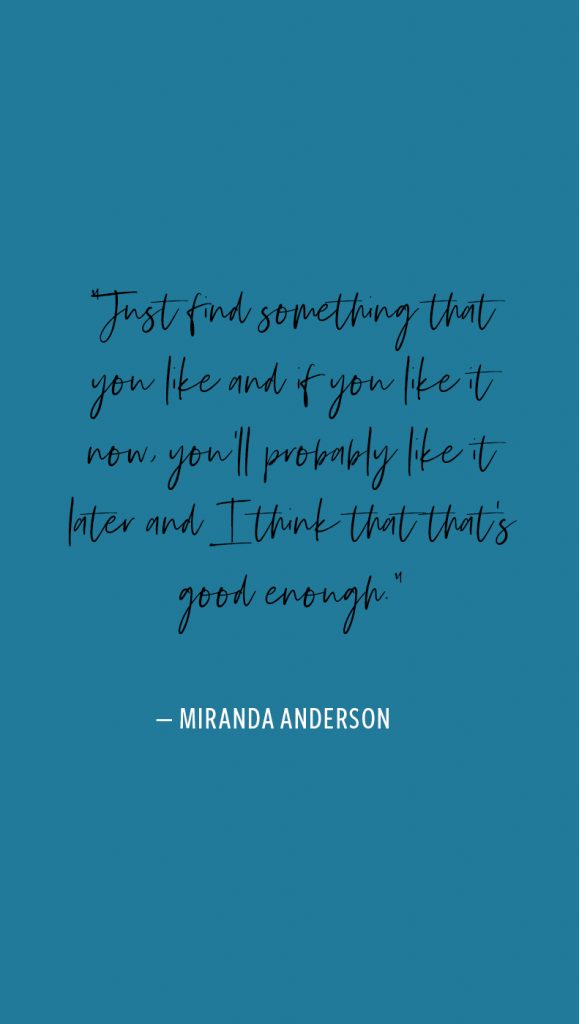 It's good enough for me and I feel like I've made some great decisions over the years through my renovations. So that is one piece of advice that you may want to hold dear. Just maintain in your mind as you're making choices. Perfection is not real, so make a good decision that you feel good about and then move on.
Okay, so we've gotten through some basics about having an overall vision and then deciding on some design based on how you want things to function and how you want them to feel. Also, perfectionism is a myth and so we can just get over that and we can make good decisions a little more quickly based on the best information that we have available at the time.
Hiring A Contractor
So now I want to move into the actual pieces of the renovation. This involves things like hiring a contractor or subcontractors, the order of events and choosing how the overall process is going to be handled. This is a big piece and so a while I'm going to share a few tips here today on the show. I also am going to direct you to the show notes where I will link a blog post that I wrote that is entirely dedicated to this idea of how to choose the right contractor, how to decide whether or not you need a general contractor or a subcontractor and a lot of the really important factors to consider when you're making those decisions. I quickly just want to talk about the order of events.
Let's say that you move into a house or you're currently living in a house and you know that you want to change a lot of things. There is room for renovation in the kitchen and in the bathroom and maybe you'd like to change the carpet out in the bedrooms and there's just a few different things that need to be done, but your time, energy, and budget only allows for small pieces at a time.
If this is your situation, then you are just like the rest of us. That's normally how things happen piece by piece by piece, so I'm going to give you just a couple tips for making the decision of where to begin. You want to do everything eventually, but you have to start small and you have to start somewhere. So there I have two thoughts about this too. Kind of varying schools of thought. You might say one would be to first base your decision on where to begin on what bothers you the most. What will bring the most change of scenery that you'll enjoy the most when that particular area has been completed?
Which Project To Begin With First
I like to think about hypothetically, if I could only ever do one thing, like maybe eventually I'll do more things, but frame it this way. If you could only ever do one small thing, what would you like it to be? Don't consider everything as a whole, but just take it piece by piece. What is the one thing that you would most like to do if you could only do one ever and start with that. This is especially the case if you live in a house that you plan on living in for a little while because there's some strategy to renovating houses that you know that you're not going to live in for very long that you're planning to sell within a few years because there's a lot of things that you can do purely for resale value on a house, but if you're planning on living in this space for a while, I recommend beginning with the thing that you would love to do the most.
The thing that is going to cause the most amount of change and upgrade in your own mental space when it's handled.
Now, if you are in a circumstance where you're not in the home that you plan on living in for a long time and you have the decision to make of one thing or another, there's a lot of research that shows what has the most resell value or what adds the most value to a house before a sale. Some of these things include kitchens and bathrooms. Curb appeal is really important when you're planning on selling a house.
This doesn't necessarily include changing flooring or changing even paint colors. On the flip side, like I mentioned flooring and pink colors, maybe some of the easiest, most simple be places to begin that make a big impact on your actual mental state living in a house. So depending on what your circumstance is, you can make that decision for what feels right for you as where to begin.
As far as choosing a contractor or deciding whether or not to do things yourself.
Should You Hire Out Or DIY?
The two things that I like to use as kind of my factors in deciding this are my budget and also my skill level, my true skill level, not my perceived skill level, which are sometimes a little bit off. I like to think that I can do everything really well and that's why I jumped into a lot of projects and I've learned that some things I do do really well when I just jumped in, even if I haven't done it before and some things don't turn out as well as I'd like and I probably would've been better off and maybe saved money and time just hiring a contractor to begin with. So everyone's skill level and confidence level with DIY is different and so I recommend that you do some real soul searching regarding your own home projects and how you feel and also know that it's okay to learn along the way.
That's wonderful. If you have a little bit more money and you want to save yourself some time and maybe a little bit of headache, choosing a contractor that vibes really well with your personality and your style can be really wonderful. I definitely do not buy into the idea that the lowest bid is always going to be the best choice when it comes to choosing a contractor.
Consider Personality Fit
In fact, I have found that sometimes it is far better of an experience to hire someone who just is a good personality fit. The personality is something that doesn't come up a lot when you're looking on tips for how to choose a great contact. Her and I having worked with recently, lots and lots of different contractors recognize that that is one of the most important things because you want to have someone that you can interact with and feel good with those interactions that you jive on, you know you're kind of on the same level as far as understanding what's happening.
They have your same vision, you can talk to them, you can text them, you can ask questions without feeling like they don't understand. This is someone or a group of someones who are going to be in your space, in your house. That can feel really personal and so it feels really important to me to have someone that works well with me as a person in addition to being really good at what they do.
I always recommend to get two or three or four estimates for each thing that you want to have completed on your house and in the act of getting the estimate. You can also feel out the style of the contractor, what things that they feel oriented to, like what details they pay attention to. I always ask about their timeline and how busy they are, especially if I'm on a little bit of a timeline and I want to make sure that things get done as quickly as possible and of course the actual budget gets factored into the decision making process, but I am not always choosing the lowest bid as the best choice.
Expectations
The last thing that I want to get into as far as Home Renovation 101 is expectations. There's just a few things that are really, really helpful to be aware of before you get started so that you can stay happy and optimistic throughout the process. You need to know that renovation even in small areas is messy. You disrupt whatever area is being renovated.
Renovation is MESSY!
If you're doing a big renovation that involves demo of actual walls and ceilings and flooring, you get dust and mud and garbage and sometimes there's paint involved and it can get really messy and so it disrupts a lot of the immediate area surrounding where the renovation is taking place. And that's just something that you have to know ahead of time and be okay with mentally prepare for whatever area is being renovated to feel like an absolute construction zone.
Because I was so naive when we started our renovation on our current house, we did the demo of the kitchen by ourselves. It's actually a funny YouTube video. We got the kids involved, we were all hammering the walls and sledge hammering things and cutting things out and I had failed to recognize that all of the walls and sheet rock and wood that we were taking out was going to end up being in a pile on the floor. And so we demoed everything.
We took out the cabinets and the appliances and those were all donated to habitat for humanity. And after all of the demo was done, we were left with all of the materials that had been walls and doors and windows and cabinets in the middle of the floor. It all just transferred to the next room. It was wild. Now, of course that was going to happen, but I just hadn't envisioned that piece of it. HGTV doesn't show you all of the mess. They show you the process, but you don't see what happens with all of the garbage and all of the construction materials.
For six months when we were renovating the major renovation portion of our house, we had a dumpster sitting on our front lawn and it was full. Almost all of the time. There was garbage and packaging and pieces of wood and nails and screws and dust everywhere, so just prepare for that because that's part of the process. It's not a bad thing. I mean that is the mess that has to happen in order for the renovation to take place, but if you're not prepared for it, then you might feel more frustrated by it than is necessary.
Renovation Takes A Long Time
Second expectation. Let's talk for a minute. About time, about timing.
"In my experience, renovation projects usually take two to three times as long as you initially expect."
Now, on rare occasion probably maybe there is a contractor who can stay right on top of schedule or who doesn't find any unexpected hiccups, but because renovation also involves a lot of other factors depending on what the project itself is, there may be things that come up that you don't know about until you're in the middle of the project that affect the timeline and so you might plan on two weeks but then find something in the middle of the project that causes an additional a week or two or three.
One example from our current renovation was the title that I mentioned at the beginning of the show. Our tile is going to be delivered on Saturday. Guess when I ordered it almost eight weeks ago on the checkout page when I bought the tile, it told me that the expected delivery date was April 1st great. That was perfect.
So I went ahead and scheduled the tile team to come in and start installing on April 15th well, I got a call a few days after April 1st telling me that the tile that I ordered because of the weight and how much I ordered had to be shipped freight. It couldn't be shipped ground and once it was delivered to the freight company, it was out of the hands of the retailer where I ordered it. So then it was between one and four weeks from the time it was delivered to freight to when it would actually arrive on my porch. That was fine. I said, okay. I guess the only other option is to cancel the order and I don't want to do that, so I'll just have to push back the tiling. So about a week later I called the freight company and asked when was the expected delivery of this tile.
I thought because of how much time had already passed. I thought that it would be sometime mid April and they told me that the expected delivery date was April 27th while friends, here we are and it hasn't yet been delivered, so who knows if it's actually going to show up on April 27th or not, but because of this unexpected delay, the entire tiling project has been pushed back more than a month.
I thought when I ordered the tile that everything would be done by now, by today and it's simply not. But knowing what I know about how time multiplies during renovation projects, I feel okay about it.
Let me give you another example from our renovation. We really loved the original Red Oak hardwood floors that had been installed in most of the downstairs of the house. When we bought it, they were original and beautiful. The problem was that they didn't go through the entire house. They stopped in the kitchen and the kitchen had this really lovely linoleum floor that was kind of yellowing from age.
We decided that we could go ahead and match the red oak flooring in the kitchen with the rest of the house and so I had a bunch of maybe three, not really a bunch, but I had three different floor teams come in to talk to me about what the process would look like and how much it would cost. Now in this case, I ended up not going with the least expensive contractor because I really liked the vibe of the contractor that I chose and I also liked that his company specialized in old floors and so there were some nuances to the actual type of old floor that he and his team would understand. I got an estimate for the flooring project and they began right on time just like they were supposed to during our demolition as a family.
We had already ripped up the the linoleum, but we haven't yet removed the plywood that we assumed went over the sub floor in the kitchen area on day two of the floor guys ripping up the plywood. I got a phone call in the middle of the day and when I answered it, my flooring guy told me that they had encountered a problem. The sub floor of the kitchen disappeared halfway across the room!
Underneath the plywood they had found what was the original edge of the house and the original concrete patio steps that went down into what is now the crawl space. We didn't realize that there had been this type of renovation done to this small house. At some point throughout the years someone had added on about five or six feet to one side of the house in order to accommodate the stairs. The ended up going up into the attic space and also to extend the kitchen by a few feet.
No sub floor beneath the plywood in that area meant that there was no possible way to late the same hardwood down. I came over to the house to take a look at it and we went round and round about different options for what we could do. The floor joists were in place so there were long beams, but there was just no sub floor on top of them and the new floor joists met the same height as the current sub floor and so if we added a layer of subfloor on top of those joists, then halfway through the kitchen there would be about an inch difference between the reno, the new wood and the old wood and that just wasn't going to work. What we finally came up with was this sort of elaborate plan to lay pieces of plywood in between the joists, even with the floor joists creating a sub floor where there hadn't been one before.
This required some extra work and time and sistering all of those floor joist together so that there was a platform for this plywood to lay down on and they also had to be really careful as they did it so that everything was even so that it all met exactly to the level of where the original sub floor was laid.
Not only did this adjust our timeframe by about a week, it also made a dramatic change into the budget because they had originally estimated for pulling up plywood and laying hardwood floors, not for creatively constructing an entirely new sub floor on half of the kitchen. It was a problem that we were able to solve, but it required a time and money and that was something that I knew going in to our renovation project.
"I knew that we would encounter difficulties, that we would encounter, challenges, that we would have those moments where everything might have to change a little bit and because I was mentally prepared with those expectations, I wasn't thrown off."

I was able to quickly make a decision about how to solve the problem and then move on. I can't even begin to tell you how many days we had during this renovation from start to finish where something went incredibly wrong. I walked in one day the where the electrician had been working in the kitchen and he was swearing and stomping around and there was water spraying everywhere because he had accidentally, when he was sweeping up after finishing the day of electrical work, he'd accidentally swept over one of the kitchen pipes.
It was sticking up from the floor waiting for when we redid the plumbing section and it had snapped because it was an old pipe and so there was just water everywhere on the floor and he was, you know, it was crying to finish up for the day and I just happened to walk in right in the middle of this kind of wild scene and because I knew that there were things like this that we're going to happen, I just laughed and helped him clean up.
I'm getting a little bit off topic. I want to tell you as far as expectations to expect a mess, to expect the time to take longer than you expect and I'm going to just recommend as a reference point to expect double the amount of time that you originally planned on.
If you think something is going to take a month and someone tells you that it's going to take a month, mentally prepare for two months and you probably will be good.
Budget 30-40% For Unexpected Expenses
And then budget is another thing that I mentioned in our flooring debacle. That's another expectation that you have to set in our experience. Things tend to go over budget for one reason or another, and so to avoid this, if you have a very firm budget, let's say of $10,000 I recommend that you actually plan on with all of your decisions made, landing somewhere around six or seven thousand to accommodate what changes will probably come up that you can't even anticipate so that you don't go beyond your firm $10,000 budget.
Assume that you're going to have 30 to 40% of extra costs happening. Maybe some of you listening think that that's crazy, that if you're not able to stick to your budget, that you've done something wrong or someone has made a bad decision somewhere along the way. But I can tell you even being fairly with making decisions, getting quotes ahead of time and choosing things that were well within our budget, there were so many things that happened that we were unable to anticipate that ended up adding cost because we were mentally and luckily financially prepared for that we were able to navigate the changes as they came along.
Mentally Prepare For Things Going Wrong
The last thing, and I've already touched on this a little bit, that you want to expect our problems. You want to go into your renovation, just knowing that there are going to be things that go wrong, things that you can't even imagine or anticipate are going to happen and you're just going to be left wondering what this wild life is that you happen to be living in.
"The beauty is that you can mentally prepare ahead of time so you know that things are going to happen that you don't expect and when they do, you're able to just roll with the punches."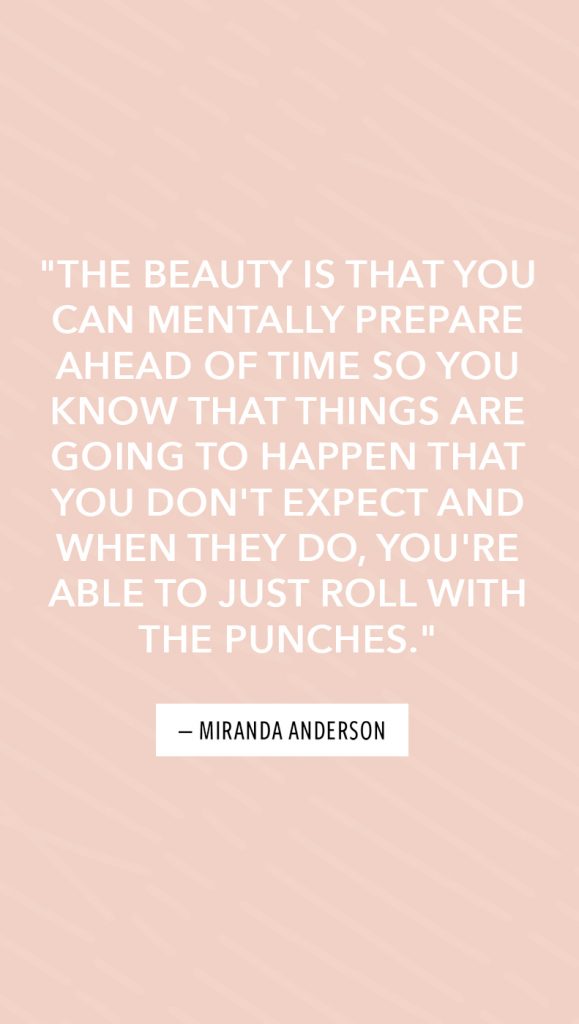 So many days when I walked in and things had gone wrong, I just thought, "Oh, this is so interesting. I didn't know that this was going to be one of the problems that we faced. Huh?"
"Almost nothing could surprise me because I had already decided that everything might go wrong and I was going to be okay with it when it did."
Now when things do go wrong, you have a lot of choices on how to react and I'd like to refer you back to my episode about Simple Solutions because very often when something goes wrong in a big project that you're mentally, emotionally and financially invested into, you get so wrapped up in the idea of what has gone wrong that it seems really, really hard and challenging to fix it and a lot of times there's a simple, easy solution that if you just take a deep breath and step back and ask yourself, if this were really easy to solve, what would that look like? The solution will become readily available to you.
Enjoy The Process
The last piece of advice that I want to give you at the end of this home renovation one o one show is to just enjoy the process as much as you can. It is really, really fun to take pictures before and during and in the middle and then when something goes wrong and then in the middle again and then the after and to look back and see how far you've come and in this real literal way that you are making actual visible, wonderful changes to your environment. It's really fun to see vision come to life in tangible ways. It's like an actual dream come true.
When you think about the way you'd like to space to look and feel and function and then you bring it to life. Gosh, it's just the coolest thing. If you can give yourself some space to feel optimistic, to be enthusiastic, to pour good energy and positive vibes into your renovation, no matter what's, no matter how long extra it's taking or how much extra money you had to spend or all the crazy unexpected things that go wrong, you're going to find that there's some real joy that can be found in the mess of a renovation.
And if you're like me, you might get a little bit addicted.
Conclusion
Thank you so much for being here. I love sharing these tips and ideas for living a creative, adventurous, and intentional lifestyle. And I can tell you that home renovation bring out the creative, adventurous, and intentional in all of us. I hope that you have a really, really wonderful week. Remember to subscribe, rate, and review the show, and I will talk to you next time. Peace.