Episode 49: Saying No To Negative Energy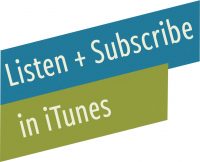 Introduction
Welcome to Live Free Creative, the podcast that provides inspiration and ideas for living a creative, adventurous, and intentional lifestyle. I'm your host Miranda Anderson, and I hope that each time you listen you feel a little bit more free to live your life exactly the way you want to live it.
Hey there. Welcome back to the show. I'm your host Miranda Anderson. This is Episode 49: Say No To Negative Energy. I'm excited to dive into this one. I'm going to start out today with a little segment I like to call peaks of the week
Segment: Peaks Of The Week
In this segment I like to share things that have been changing my life lately, things that I love that I think you should know about. This week I have a few simple things that have made a huge impact on the way that I feel lately and so I am excited to share.
Sleep Meditation Podcasts
Number one peak of the week is sleep meditation podcasts. So you're listening to a podcast. I know you're a podcast listener. If you have any trouble winding down at night or going to sleep, this is the key, at least it was for me. I really love sleeping and sometimes I get so wound up doing things during the day or even at night, like I'm excited to go to sleep. And then sometimes I lay there and just sort of close my eyes and think and I like to do my own meditations. I can close my eyes and try to just focus on my breathing and be really present.
And sometimes I need a little help. And that's where sleep meditation podcasts come in. I have been using them for myself. I also really love them for my kids. And I'm going to give you one specific suggestion. I don't know that this is the best one out there, but it's free and we have been using it and I think there's only like 10 or so free episodes. But because the whole point is that I kind of listen and focus and drift off to sleep, I don't really care if it's like new and novel every single time.
So the one that I've been using is called Guided Sleep Meditations. It's as easy as that and it is exactly what it sounds like. You turn it on, it's like a 15 minute show and it's a very calm, quiet voice that talks very slowly and invites you into a visualization: you're walking along the beach and you're listening to the waves and you see a seashell and you pick it up and turn it around in your fingers and notice the small details and the little riches and the beautiful color as you drift along the shore on your way to sleep.
Go To Sleep Easily
That's my best imitation. In fact, actually, as I've been doing these, I've had a lot of people tell me that they like my voice that to the podcast is soothing for them on some level, and so I've been thinking, gosh, that would be funny to actually try to record one of these of my own, so maybe I'll do that at some point. Leave a comment somewhere in the show notes or our DM me or something on Instagram if you'd like me to do a sleep meditation track for you, that would be kind of fun.
It's just been really nice to use instead of reading myself to sleep, which I've also done to actually close my eyes. And I like the idea of practicing meditation anyway and visualization. And so this is like a two-fer. I go to sleep really easily. I always almost always fall asleep before the track ends, and I am practicing my meditation and visualization skills, and I'm also getting calm and being able to go to sleep.
This is especially helpful if I'm trying to go to sleep early. If I want to go to sleep at 10 o'clock instead of when I might naturally be more tired a little bit later, or especially if I passed the threshold of tired–you know how sometimes you stay up a little bit too late and you're really tired and then you get your second wind and then it's really hard to wind back down the sleep. Meditation tracks have been really wonderful for that.
And you guys, they are like a golden nugget for the kids too. The first time I did it with my kids, I just laid down with them and turned it on and they just sort of giggled for the first couple of minutes because it is a little bit funny. This slow, calm voice but soon enough they started actually visualizing just without even trying to, you close your eyes and you start with thinking and imagining the scene sort of like listening to an audio book but with the intention of actually putting you to sleep and it is brilliant.
It has also helped a lot at bedtime at our house. If you have kids that have a hard time going to sleep and they are a little bit wound up at bedtime, try a sleep meditation podcast and you can stay in the room with them or you could probably even turn it on and just leave your phone on the shelf or the window sill while it plays and see if it will help them drift off to sleep. That is my first peak of the week and I'm loving that one.
Slow Summer Mornings
My second one kind of goes along with that and that is the slow summer mornings that we've been having. I just feel like I need to give them a shout out and just appreciate the beauty of a slow summer morning where my kids get up without an alarm. They just get up when their little bodies wake up, which is usually a little earlier than mine because of the way that we're doing screen time this summer. And I'll just briefly tell you about that.
My kids wake up and they go outside and play in their pajamas. They just go swing on the swing set in the backyard and they jump on the trampoline and they let the chickens out. And I come downstairs in my pajamas and call them inside and I make breakfast and we love breakfast at our house. And so I've been making bacon, egg and cheese McMuffins or I've been making you know, kind of special oatmeal with lots of toppings or French toast and we're having like really delicious, yummy breakfast together. And we slowly decide when we want to get dressed and ready and out the door to do something.
But they don't feel rushed. And I just really appreciate that. So let me quickly tell you how we're accomplishing that with screen time. Because normally in the summer I think a lot of kids wake up and immediately turn on the TV, which can be great for mom. It can be peaceful that you get to sleep in. But I also like that my kids are going outside when it's cool enough and spending that time outside.
We're doing a one-for-one earning system where my kids are able to earn two hours, up to two hours, of screen time per day by doing an hour of reading and an hour of outside play. And we do not turn on the screens until after lunch. So that means any time during the morning, they're free to go outside and play and to do an hour of reading and they can do less if they want to earn less screen time. But so far everyone has been on-board for earning their screen time in this way, and it's been really easy to keep track of and also really encouraging for them to both read.
It's so fun in the mornings to come downstairs and one of my kids will be curled up reading a book on the couch and another one will be outside swinging and I feel like our mornings just look exactly the way that in my dreams of the way that I want my life to look. That's exactly how they feel right now and that has been really fun. So just to shout out to a slow summer morning and if you have been having rushed summer mornings, if there's anything you can do to just claim back that time, I highly recommend it because it feels really beautiful.
Throwing A Dinner Party
My third peak of the week is throwing a dinner party. Now that sounds very formal, but what we actually did was just invite friends over for dinner as a family. And we do this fairly often, I'd say twice a month in our regular lives, we invite people over for a barbecue or invite a couple families over for dessert and games.
We love hosting and because of the trickiness of our housing situation over the last year since we had that big flood back in November, and then we're out of our house for months and months and we're back in, but we're still finishing up the last few repairs. This was the first time in a very long time that we had invited people over for dinner this last Sunday evening and it was so wonderful and it just reminded me of the power of inviting people into your actual home.
Even if your home doesn't feel perfect, even if there's still things that you want to finish or it's not updated or it's not decorated exactly the way that you want it to be, having people over it just builds community and it actually made me feel more in love with my home because I became the place that I'm sharing with other families. And that is something that I really love about having a home.
And so I just want to encourage all of you who have the idea that you would love to have people over, but there's something holding you back. Whether it's that your house isn't finished or you don't think that you cook well enough or you don't know if they'd want to come. If you listen back to Episode 3: How To Make Friends As An Adult, you will remember that I give you this advice. Nobody cares about the details. They just want to be invited. Everyone wants to be invited. You would love it if someone invited you over for dinner. Maybe. Maybe you wouldn't, but I do and so just remember that it's okay to be imperfect and the power of hosting people is really fun.
So those are my peaks of the week. I hope that you enjoy. Now I want to jump into our episode.
Main Topic: Say No To Negative Energy
This episode I've titled "Say No To Negative Energy" because there is such power in recognizing how much control we truly have over how we feel and how we manage the negative energy in our own life.
My First Troll
I want to tell you a story about my very first troll for my book. You guys, this happened several weeks ago. It actually happened before my book was even released. I was interviewed for an article on the website Quartz.com, which is a subsidiary of the Atlantic, and so it's kind of a big publication. It was an online article about me being a blogger and how it's a little bit of a paradox that I am a blogger and I make money through sponsorships, but I also am a minimalist and I spent a year not shopping and I wrote a book about it.
The journalist was really wonderful. The article was fantastic. I will link it in the show notes, so please check it out if you're interested in the details of it. And the day the article was released, I received an email from someone that I didn't know–from a random man–who told me that he thought that I was kind of a hypocrite and I was a little bit taken aback. I was surprised, but I also was the tiniest bit excited.
And you guys, this is so funny because I told Dave, I forwarded the email to my husband and I said, "Dave, I have made it. I have made it in the world on the Internet because I have a real life troll. A person that I don't know, sending me negative emails. That means that I am big enough for someone who doesn't know me to think that they don't like me."
Now normally what you're supposed to do with trolls is not respond, just delete, just move on. And for some reason I felt like I just want to do a quick response. And so he said something like, doesn't it seem hypocritical that you wrote a book about being a minimalist but yet you have a lot of clothes. And first of all, this person doesn't know me and I'm pretty sure he's never been in my closet. And his first interaction with me was this email like has zero idea who I am or anything about me. And so I just responded, "Nope." And that was like, no, it's not hypocritical and I don't think you even know.
So then he responded with a longer email explaining why he thought that I was a hypocrite and that he had done a quick glance through my Instagram and I didn't seem to wear the same thing very often. And so I must have a huge wardrobe even though I'm claiming to be minimalist and that I am a suburban mom who shouldn't act like I know anything about minimalism. Well, as you can imagine, this was all a little bit surprising to me and my first reaction was to go look at my Instagram feed and I have talked about since 2013 when I started using a capsule wardrobe, how much I don't mind wearing the same things over and over and over again.
In fact, a few months ago I was at a conference with my friend Ralphie from Simply On Purpose (on Instagram) and she was talking about how she was feeling this pressure to buy a new dress for every time she teaches a parenting workshop because there's a lot of pictures taken. And I said, oh, well, I don't think that you need to, I wear the same dresses at lots of events and I wear the same outfits like all the time.
And that's one of my things like, and I've told people to expect that because I have the favorites and I wear them all the time. And she said, oh gosh, that's really relieving for me that I, you know, I've been feeling like I didn't want to have to buy a new dress all the time, but I didn't know if it was like okay for me to wear the same thing. I said, yeah, of course.
So here I think like, oh, I wear the same thing all the time on Instagram and this person has gone through. And so I started to look back and I thought, well, you know, I don't know, I see a lot of the same clothes, but I do know my wardrobe and I put them together in different ways. And you know, some of the pictures I post are old and they're not like, they weren't taken like this exact timeframe.
None Of This Has Anything To Do With Me
And anyway, so I started to kind of dissect it a little bit and then I just thought, this is so silly. Like this person doesn't know me and he can't even have read the book yet because the book isn't available yet. And so none of this has anything to do with me. So I sent him back a response, which I know again, I'm not supposed to do.
I broke all the rules of trolls, but I sent him back a response and just said, "Hey, I don't think that in one internet interaction that you have enough information to make a valid assumption about me and my lifestyle. And I really hope that you get a chance to read my book because one of the purposes of my writing the book was to introduce minimalism in a real way, in a practical way, because there isn't a stringent set of guidelines or one specific set of rules to living intentionally. People's lives can look very different and still be very intentional." And I said, "To be honest, my book probably wasn't written for you. It was written for women like me, kind, generous, hopeful, hardworking, suburban moms who think that they can make some choices to affect the way that they live, to be a little bit more grateful and a little bit more intentional with their lifestyle without being perfect."
And that is my mic drop moment. The whole interaction was kind of odd and like I said, it was actually kind of funny for me on one level, but it also got me thinking about how negative interaction, negative feedback and negative energy is something that we have a lot of control over. But we often forget that we forget that we get to choose how to manage these things. We don't simply have to accept them. And this particular interaction, before I responded, I told you, I kind of went into my Instagram and I went to, I went looking for things to discredit what he was saying.
Automatically my automatic response was to feel defensive and feel like I needed to react instead of recognizing that that negative energy was not mine. It was coming from outside of me. It had nothing to do with me. And so if I had wanted to simply not respond, and that's why they say, you know, don't respond, don't read the comments, you know, whatever. With Internet trolls especially, but I think also with with lifestyle trolls, people who are going to say mean things or tell you what they think. Even if you don't ask for their opinion type of thing, you don't have to respond because that negative energy is not yours to deal with. It's theirs. And so that's where I want to start with my tips.
I'm going to give you four specific tips for saying no to negative energies in today's episode.
Negative Energy Tip: Is This Mine?
The first one is to ask yourself, is this mine? Is this my negative energy to deal with or is it coming from outside of me? Because if the negative energy is someone else's that they are trying to thrust upon you, you can simply disregard it. You do not have to think about it. You don't have to claim it. You don't have to accept it or own it.
Other Peoples Problems
You do not have to manage that negative energy. Someone else's problem, someone else's negative energy does not have to affect you. You get to choose and that's where the management starts at the door. Is this my negative energy? If it's not, you can simply leave it where it is. I love in an episode, I'm going to share two references to two podcast episodes from Awesome with Alison. I will find the particular episodes and link them in the show notes.
But she did an episode last year about other people's problems that I've thought about a lot and she shares that reference from, is it dumb and dumber where they put the flaming poop on the doorstep? I don't remember, but whatever movie [ed. the movie is Billy Madison], you know where they put the dog poop in a bag and light it on fire and put it on the doorstep and then the person who answers the door, if you stomp out the bag out the fire, then you get dog poop all over you. That's someone else's issue that you then claim by reacting to it. Where, I mean, in that case, I guess you don't want the poopy bag to burn your porch down and so you got to do something with it, but maybe you just, you know, use a shovel and fling it back at him. You know, you like, you don't have to stomp in it, you don't have to accept it. It doesn't have to become part of your life.
Cast Of Characters
The other episode that I want to reference from Awesome with Alison was recent where she talked about the Cast Of Characters and this one she echoed what I had been thinking as I was preparing for this episode, that you really get to choose whose feedback you want in your life. A lot of people will give you feedback, unsolicited advice and opinions, but you get to choose whose feedback you want to incorporate into your life. You get to choose your people.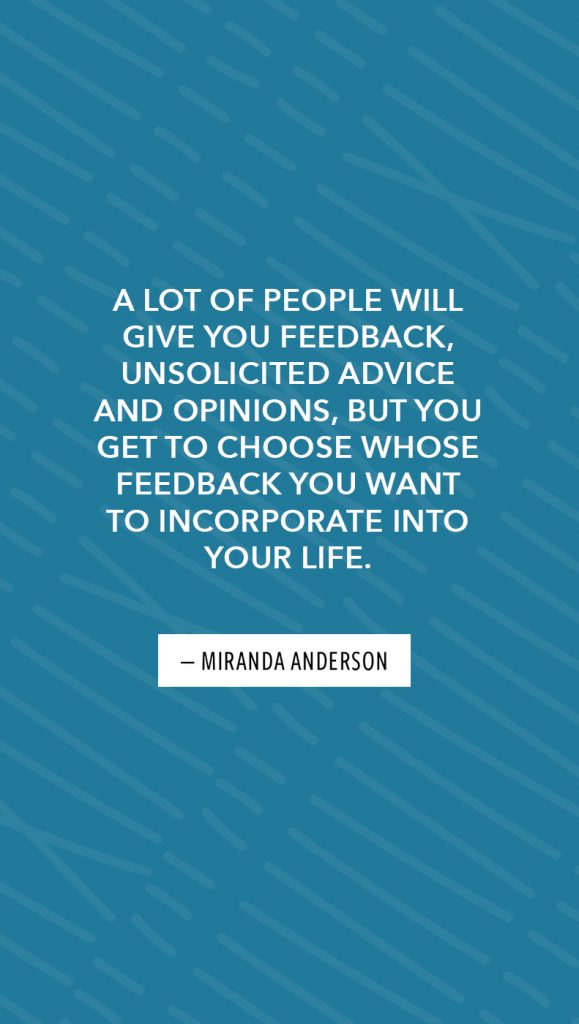 I know even within my own family, I have a very tight knit family. We're all very close and we're all very in each other's business. I have five siblings and my parents and then of course all the spouses and nieces and nephews. But even within my family, I know when people are making deliberate decisions about who to include on what type of information some decisions that I make, I choose to call one or two of my sisters and not the other ones. Or I choose to include my mom but maybe not my sisters–not because I don't want them to know or I don't love them or I don't care for them but simply because their reactions are not necessarily the ones that I need.
It's A Matter of Managing Energy
It's simply a matter of managing energy. For example, here's an example that doesn't have to do with negativity, but if you have a friend who's an expert on camping and you have a friend who's an expert on bicycles and you have a problem or an issue having to do with your camping trip, you might choose to go to one person for feedback and advice. And not to the other, not because you don't love them, but simply because the advice or information that they give you might not be applicable or useful in that particular situation.
And the same thing applies here when you're making a decision or when you have news to share and you know because of someone's lifestyle, because of the things that they're going through because of you know, whatever's happening in their life or simply because of the type of relationship that you have with them and the types of boundaries that you share that their feedback is not going to necessarily align with what you hope for.
You want them to celebrate with you, but this is something they might not celebrate. Then maybe that's not the right person to share it with. And that is exactly what Awesome with Alison goes into on her podcast about the cast of characters. Not every single person in your life has to be involved in every single decision that you make or every single experience that you have. Just like some things you choose to share on social media and some things you choose to keep to yourself. You can choose to share and invite particular people into your life at particular times.
And when people likewise step into your life and share unsolicited negative opinions or unsolicited negative advice or even solicited. Maybe you ask for advice and you say, Hey, what do you think about this? And someone tells you what they think and it's not positive. You can choose to take or leave that energy if it is not yours, you do not have to deal with it if you choose not to. That is just powerful.
So take a second to think about in your life if there are any particular areas where you are claiming other people's negative energy, someone else's problem, someone else's negative opinion. Are you incorporating that into the choices that you make in the life that you're leading? Is it inhibiting you from going for your dreams? Is it inhibiting you from feeling grateful and joyful for different aspects or areas in your own life?
If the negative energy is not coming from you, you do not have to care for it or manage it, you can simply let it go.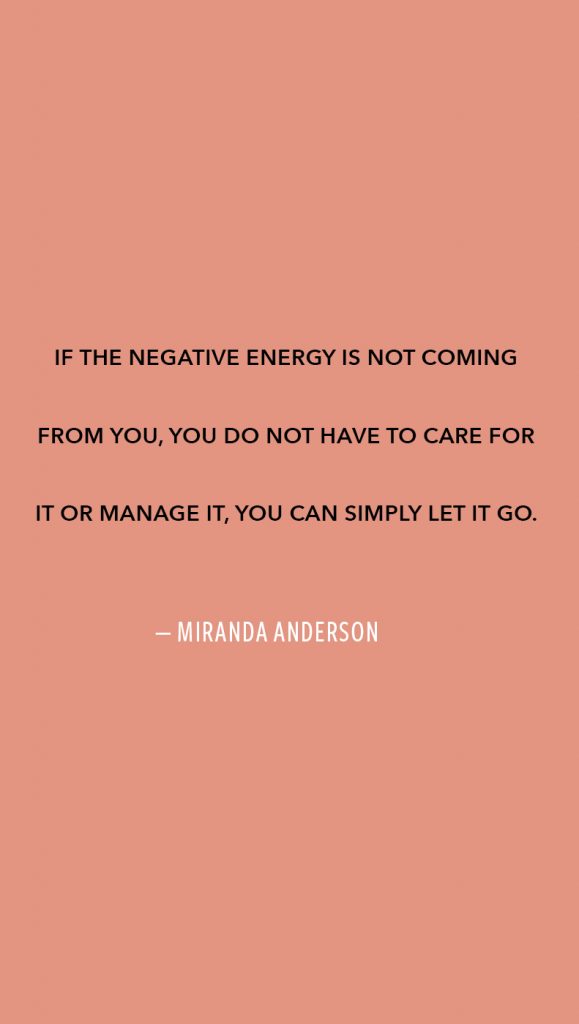 And that doesn't mean that you don't have a relationship with that person. It doesn't mean you have to be unkind. It doesn't mean you have to cut them off from your life, but you simply can disregard their negative energy and their problems and not deal with them. Now if you do start claiming other people's negative energy and you get to a place where then it is your own, then you have to start managing it and dealing with it.
When You Create The Negative Energy Yourself
Or sometimes you are the creator of the negative energy. It exists inside of you, not because of something that has happened that someone else did or said or gave it to you, but simply because of your circumstance. Your own mind creates this negative energy. And I want to give you a couple examples of that. So just today, conveniently I was planning on recording this podcast about negative energy and I had a very negative emotion creep up and I had to deal with it. So I'm going to tell you about it.
My No-Good-Very-Bad Day
We had kind of an interesting, interesting day. I took my car to the shop to have an alignment done and ended up like five hours later with a couple thousand dollars worth of repairs that were not things that I knew about or expected. And that was fine. It wasn't immediately a negative consequence. I thought, okay, we can deal with this. It's all gonna work out. That's fine. I took my kids to a movie, we had a great afternoon, but I think the after effects of, Gosh, that was a lot more money than we planned it plan to spend right now, and I just barely got a whole new transmission on my car. So now we're up to like several thousand dollars, like $8,000 that I've spent on my old minivan in the last three weeks. That's a lot of money to spend on an old car in a short amount of time.
And I love my car and I think all of the decisions surrounding this were correct. It was the right thing to do for us. We evaluated all of our options. This is a car that I want to keep. I shared this on Instagram and immediately got a lot of opinions from people about what the right thing to do in my situation is. That's fine. And that's an example of like, it wasn't all negative energy, but I was like, no, I don't need, thank you. Thank you so much. That is wonderful that you chose to share that and that we feel really good about these decisions. Like this is exactly what we need to be doing. So that kind of a thing, unexpected events, circumstances can be a little bit emotionally draining whether you are effected by them or not, you think it can be a little emotionally draining.
And so I noticed this afternoon when I got home that I started to feel kind of low, low energy, I started to feel a little bit negative and I started to do a little bit of a spiral, this thing where one thing felt wrong and then a couple things felt wrong. And then I know I've shared before that this has been an odd year for me because I decided to stop taking sponsored posts on my blog in order to make space for me to write and publish the book, which was a huge financial investment and also a huge financial detriment because I stopped working, which meant no money coming in. And then I spent a ton of money to launch the book itself. And I'm kind of in this limbo in between where I haven't made up all of the difference yet.
And I started to create some negative emotion myself about what it meant, what this meant, that I wasn't bringing in money right now. I've worked since I was 12 years old. I've shared lots of odd jobs here on the podcast. I love working and I love feeling like I'm contributing and I love making money. And so this has been an odd thing and I believe again that these are all correct decisions, that I'm making positive investments and that it's all the right thing to be doing.
But I also started to create these emotions surrounding the idea that I might not be doing enough right now that I could be doing more. And I started to kind of do a little spiral of what am I doing and how can I do better and am I not doing enough. And it was exhausting. And I realized first of all, that I needed to bake some cookies and that that was total stress cooking and it felt really good and also that I was creating these negative emotions and thoughts. They were not coming from anywhere. No one told me, you are not doing enough in your life. You are needing to make more money. Your business isn't successful. I didn't get an email from a troll saying, hey, you talk about, you know, having it all together, but sure doesn't look like you have it all together. To me, I was my own troll.
How often in our lives, if we really step back and look at it, are we trolling ourselves? How often are we the ones sending ourselves hypothetical, negative emails telling ourselves that we don't like what we're up to, that we should be doing more or better or differently, that my friends is negative emotion that I had to own because I was creating it. I wasn't simply accepting someone else's baggage. I was loading it on myself. So the first step when you recognize this is coming from me, all of the discomfort that I'm feeling, all of the sadness and overwhelm and stress that I'm feeling I'm causing by my own negative thoughts.
As soon as you acknowledge that you can separate yourself from it and that is really important. You are not your negative thoughts. You are not the person that you say you are when you're mad at yourself. If that makes sense. Separate, I'm creating negative emotion and I'm creating negative thoughts from who you actually are so you can accept and acknowledge what's happening. And the sooner you do that, the quicker that you're able to feel those emotions, whatever you need to feel or recognize that you might not be telling yourself the truth.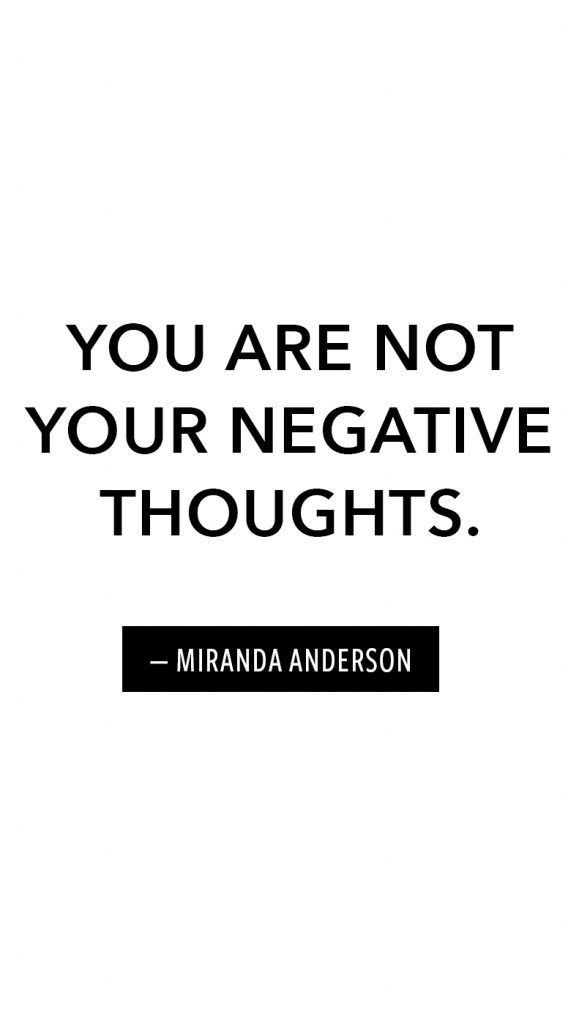 You might be creating negative emotions through your thoughts that are untrue and then you can check yourself and recognize that you might need to backpedal a little bit and you might need to make some adjustments. And this is where we manage that negative energy by by checking in with ourselves and being really honest with ourselves.
Sometimes when we're honest with ourselves, we need to be a little bit like more, more hard on ourselves. But I think more often when we're honest with ourselves is when we need to operate with more grace. And when we need to recognize that imperfect is the process and when we need to recognize and accept that we are doing our very best and that that is more than enough at any moment.
And it doesn't mean that there's not going to be more to come or that you're not going to continue to progress and develop, but that right now where you are is just right. This is your point on the map. There is no other place for you to be. And those thoughts start to create the type of positive energy that will allow us to actually make the progress. I don't know very many people who make positive changes from a space of negative energy.
We make our very best positive changes from a place of gratitude and abundance and an acknowledgement of our power and of the things that we can do.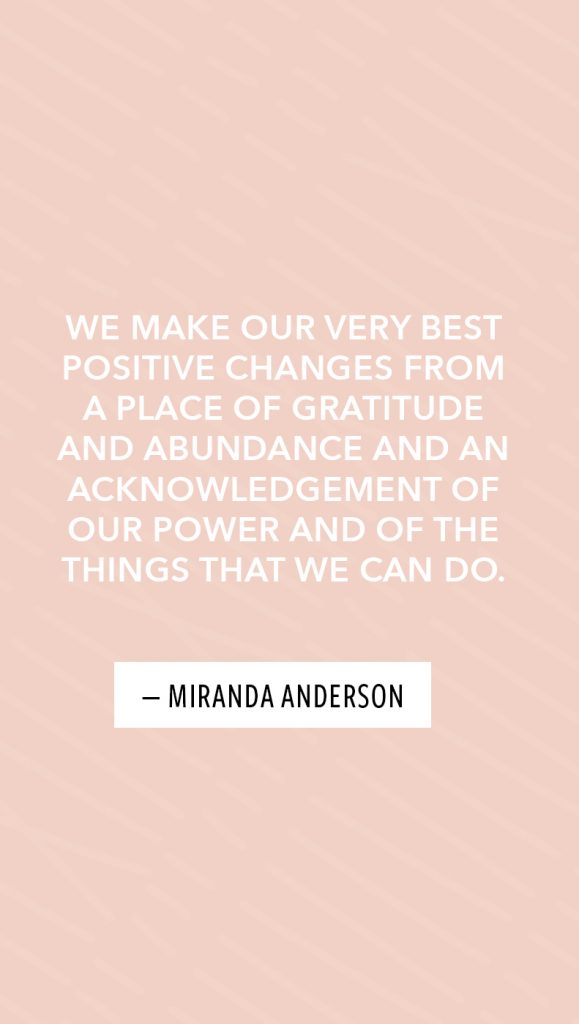 So that is where we need to get. So once you accept and acknowledge that you are owning this negative energy, you're creating it. It's not coming from somewhere else. If it comes from somewhere else, rumor that step number one, you can leave it there. You don't need to take it. But if it's coming from yourself, that's when you accept it and acknowledge it.
Negative Energy Tip: Create Some Space
And then my second tip is to get some space. When you acknowledge that you are not that negative energy, that you are whole and wonderful and valuable, and that negative energy is simply a thought that is creating these emotions, then you can separate yourself from it through going into another room, going on a walk, taking a nap, and just giving yourself some space and some time.
I know for me a lot of times when I create negative energy in my own life is when I'm hungry. You guys hanger is real. I think I've shared that on another podcast too. Sometimes I'll call Dave to vent and I'll call him and just say, oh my gosh, all of these things I need to tell you this is wrong and this is wrong and this is wrong. And I'm just not doing this well enough and I need to do better with this. And the kids are doing this and it's just everything's crazy.
And he'll say, "Hon, have you eaten something recently? Maybe you should get a little snack. Why don't you get a little snack and call me back in a little bit." And almost certainly I have not eaten anything recently and I'll get a little snack and I'll drink some water and I'll turn up a song, sing along for a little while and then I call him back and I'm like, "Hey, yeah, we're doing good. Oh it's okay. Like all that stuff that I was super frustrated about earlier. It's totally fine now." And he's like, "Yeah, blood sugar". Like that's a real thing.
Your laundry list of things that helps with your negative energy will depend a lot on the things that you love and that give you positive energy in your life. For me, like I mentioned, music, however silly it is, makes a huge impact on me. And so sometimes at night, like during the witching hour, especially when I am prone to negative thoughts to creating negative energy and especially absorbing some of the bickering and negative energy of my kids, that is my very favorite time to turn on fun dance music in the kitchen while I'm making dinner and getting ready for the evening and we just sing along and dance along. And if one of the kids isn't feeling it and they, you know, pout and go in another room, that's fine because I am having a good time. I am creating positive energy by making some space for it to bounce around within the walls of my home, singing and dancing.
Actually it's really funny, the other night, I don't remember exactly what was happening, but something had been very stressful. Maybe my kids had been especially high need and I was feeling a little bit low on energy and I started singing, I started just singing the things that I was gonna say. So it was the evening Dave was home and someone needed something and I kind of singing, "I will go get you your shoes. And just a minute, don't worry about it. I will be right there."
Just like my life is a musical style and my kids all were staring at me like, what is mom doing? And Dave said, your mom's a little bit frustrated and so she's just gonna sing it out. She's just singing it out guys. Silly enough. The singing it out helped. It was really helpful. Just like I think turning on music and dancing is helpful or whatever it is that you just really fills you up and kind of displaces the negative energy.
I think there's only room for so much to exist in our cognitive awareness and our emotional awareness. And so if you fill up, you can push out some of that negative energy by focusing on the good things and things that make you happy and so create some space for it, the positive energy to become renewed in your life.
Now I know that some of these things sound so trite and maybe some of you are dealing with really, really heavy negative emotion. I believe that no matter the cause, no matter what it is that you're dealing with, that these same steps of accepting and acknowledging it, creating some space between you and that energy and then filling yourself up with positive energy that that will work. That those same steps will start to heal whatever emotional wounds you are dealing with because simple, simple steps repeated often create huge dramatic results in your life.
Negative Energy Tip: Visualization
So (1) Ask yourself, is this negative energy mine? If it's not, leave it to the trolls. And if it is, then you move on to (2) Getting some space accepting and acknowledging it. And then (3), another suggestion that I have that I really love is to do some visualization. And there are several ways to do this and you've probably seen some of them in different conferences or even on shows physically going through the process of clearing out some of the negative emotion can be really helpful.
Wash It Off
So a couple of examples of this are to physically wash it off, take a bath, take a shower, imagine yourself washing off that negative emotion, getting it off an out.
Write It Down
Another example is to write it down. Write down what you're dealing with that feels really frustrating or that the thing that you're thinking about that you are spy that spiraling, you write it down and then rip it up and throw it away or write it onto a balloon and let it off into the air.
Visualizations
Some other ways that you can clear it off, I remember doing a visualization as a child. This was in elementary school probably during PE, now that I think about it. We were all laying down on the gym floor and someone who had been brought in probably some sort of visualization, mindfulness leader did a session with us where we closed our eyes and we imagined walking around our body.
So we imagined ourselves as little, teeny, tiny, like ant-sized people walking around on our own body. And we started down at our feet and we went in and out of our toes and kind of crawled around. And what we were looking for was sadness or anger or distraction or hurt. And I remember we were supposed to imagine those things as like rocks. And so we went around, started at our feet, and we, every time we saw a little piece of that, we would pick it up and put it in a basket. And then we kept walking and we'd collect it. And so we walked around our whole body collecting all these little emotions, all these little negative bits. And then at the end we walked down our arms and off our hands and walked away, you know, into the nearest garden or whatever. And we dumped the basket out and we just left it there.
And so all of these little things that we had picked up, we got rid of. And you know that you can see that works really well for an elementary school student. But I think it also works for us as it, as adults to actually physically visualize ourselves removing the negative energy from our space.
Physically Clear Your Energy
And then there's also the physical ways to clear up negative energy from our spaces. I know a lot of people, uh, you may have heard of like using sage to actually burn, kind of clear their space. I love to use candles. I light soy candles in my home, not only to clear negative energy, but also to invite positive energy. I love the coziness of a candle. I love the way that it dances with light and that it fills the room with a really beautiful scent. And I just love the way that it feels. And so I have candles lit in my house on a regular basis, daily one on the entry table, one in the kitchen. Sometimes I light one in one of the bathrooms or wherever I'm spending my time. If I take a bath, I always have a candle next to me when I take a bath. Um, flowers, getting fresh flowers is something that can invite positive energy into a room. So really thinking about intentionally creating spaces where that positive energy can live and where negative energy does not exist as much.
Those are things that can be really helpful. So that's number three.
Negative Energy Tip: Practice Gratitude
And then number four, just my final tip for saying no to this negative energy is to practice gratitude. And I feel like I talk about this all the time and there's a reason because gratitude is transformative.
Gratitude is the emotion that combats every other negative emotion.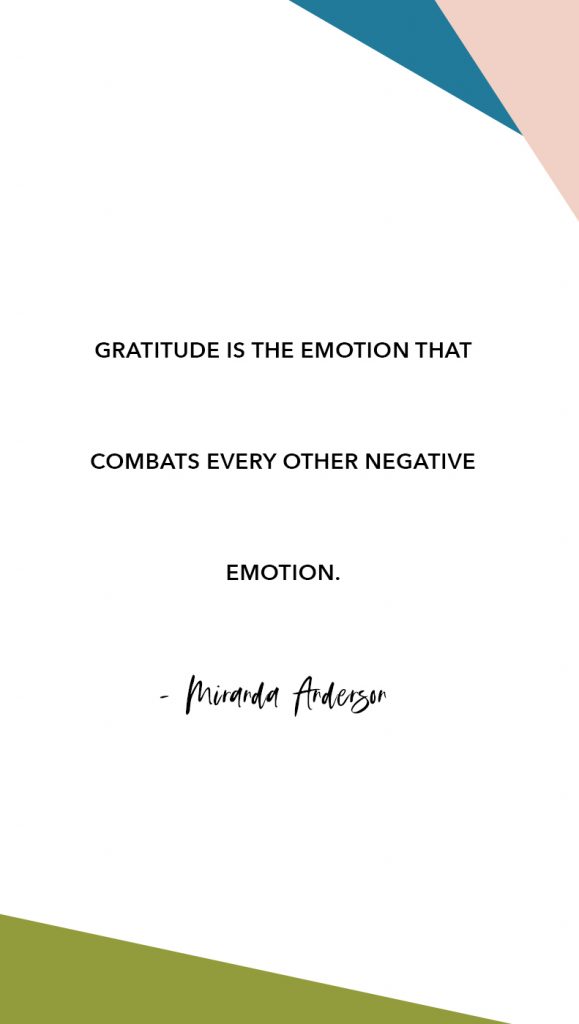 Gratitude does not coexist with anger. It doesn't coexist with frustration. It doesn't coexist with sadness.
Some of those emotions that are so draining for us can be flipped simply by switching on our gratitude and all that really is, is a change of our focus and our perspective. Rather than looking at things we lack like today, earlier, spiraling into this world of I'm not doing enough. I'm not earning enough. I'm not working hard enough. There's so many more things I could be doing. Maybe I should look for a job.
All of these negative emotions that were not me but were things I was thinking they could be combated as soon as I thought, "I am so grateful for the opportunities that I have right now today. I'm so grateful for the opportunity that I had to write a book. I'm so grateful for the time that I've taken the last six months to really focus on this thing that is a longterm investment. I'm so grateful for the opportunity to step into a new role as an author and a speaker and an educator."
These are all things that I want, that I envisioned for my life and the fact that I am on the pathway that leads me in that direction is incredible. So rather than spiraling in this space in between where I was and where I'm going, I'm going to feel all filled up for the opportunity to be right here in this limbo because it's a beautiful place to be.
Recap Tips on Negative Energy
So friends, those are my thoughts on saying no to negative energy. Let me do a quick recap:
1. Is It Yours?
First of all, and this is probably the very most important thing to ask yourself, is this negative energy yours to manage? And if it is not, then just leave it there. Don't take it personally. Don't expect everyone to like you. That is impossible. You get to live your life feeling the way you choose to feel because those emotions come from within, not from without. If you are creating your negative energy. This was mind blowing for me today that I sat there feeling so bad and I thought, I'm creating this. No one is telling me that I'm that I'm bad. No one's telling me that I'm not doing enough. I am my own troll. How sad is that? If someone was saying to me the things that I'm saying to myself today, I would be very upset at them. And here I am doing that to myself except and acknowledge the emotions that you have that you're creating and then separate yourself from them. Know that you are not your negative thoughts.
2. Create Space
And then, second, create some space. Go to another room, dance and sing. Go on a walk, take a nap. Eat something if you're hangry (because hanger is real).
3. Use Visualizations
Third, use some visualizations and set up your space for positive reenergizing. Wash it off with a shower or a bath. Visualize yourself picking off that negative energy and tossing it into the trash. Physically. Write it down somewhere and rip it up. Use candles or flowers or art prints or things that will encourage positivity in your space to help you feel the way that you hope to feel.
4. Practice Gratitude
And then fourth, practice gratitude. My number one recommendation for practicing gratitude is to write things down that you're grateful for every single day. And if you don't do it every single day, then every couple of days and at least once a week and just whenever you think about it and it doesn't matter if you have it neat and tidy in one particular little journal, I write mine down in my planner.
I have one page that it of each week that has my weekly plans and my to do list and the other page I use for gratitude practice and I just write something down every day or two that I'm grateful for that keeps me trained and focused and recentered continually on the things in my life that I love and that I'm grateful for and when I'm filled up with gratitude, it's really hard to fill that space with something else.
Conclusion
I sincerely hope that this episode has touched those of you that needed to hear it, whether you have trolls outside of yourself or trolls inside of yourself. I hope that something I've shared has helped you change your perspective a little bit and that I've given you some applicable tips to manage your negative energy, to say no and fill your life up with gratitude for the things that you love and that are wonderful.
Leave a Review on the Podcast
If something that I've shared in this podcast or any other podcast has had a positive effect on your life, I want to invite you to share a review on iTunes. If you haven't done that yet, it's very simple. Just go to the podcast app or to iTunes and scroll down to where you write a review. You can leave a rating, that's the star system. But it means so much for myself and the overall success of the show if you actually take one or two minutes and just physically write down a sentence or two, consider that your gratitude practice for today to go and leave a review on iTunes if you haven't yet, and for those of you who have read my book, if you haven't, this is my chance to tell you it's available.
Leave a Review on More Than Enough
More Than Enough is out. It's on Amazon. You can buy it hard copy, you can get a kindle version, you can get the audio book on audible. If you read it, please leave a review on Amazon. Just like the iTunes podcast reviews. Every single review on Amazon adds some positive energy to the Amazon juice of the book itself so that it comes up higher in the searches.
If someone isn't sure what book they're looking for and they don't know about me, if they're searching for something related to self development in the minimalism space, the more reviews my book has, the higher Amazon will place it in the searches so that it gets to a wider audience and that is my goal to be able to share these ideas about abundance and gratitude and practical minimalism with as many people as needed. And so I would really, really appreciate if you've read the book and you enjoyed it, that you leave a review on Amazon.
Again, it takes a couple of minutes and I know that it takes a few minutes to sign in and to go find the spot. Scroll all the way down to the bottom of the page and click on the button that says, write a review. But I want you to know that I sincerely appreciate it. I read every single one, and that means so much for me.
Have A Wonderful Week
Other than that, continue listening and sharing and subscribe to the podcast if you haven't yet, so you never miss an episode, and I will catch you back here next week for the 50th episode of Live Free Creative.
Hope you have a wonderful week. Talk to you later. Bye.