Episode 57: The Space In Between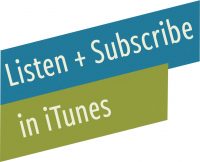 Introduction
Hello there friends. Welcome back to the show. This is Episode 57 of Live Free Creative podcast. I am your host, Miranda Anderson, and today I've got a quick show for you. More like some encouragement or a little pep talk, if you will. This is a topic that I find myself contemplating often right now in particular in my life because I feel like I am very much living the space in between and that's what I'm going to share about today.
Before I get started, I want to share a quick odd job.
Segment: Odd Jobs
Certified Nurses Assistant
I'm not sure how many of you remember this about me, but I am a registered nurse. I know I don't talk about that a lot. It feels almost like a different life. Although right now, currently, I am renewing my nursing license here in Virginia. So I'm finishing up some credits of education so that I can renew my license and maintain its currency.
Before I was a registered nurse, however, I was a certified nurses assistant or a CNA. This was one of my in between jobs. This was a job that I got in order to have a better chance of getting into nursing school, and I only worked for as a CNA for a little while, maybe for six months. It was during the time Dave and I were dating right before I was accepted to nursing school.
I took the CNA course. It took me about two weeks. I did this quick program. I did two weeks of classes. I did some hours of studying and clinical work, and then I was licensed as a CNA and I worked in a rehab unit for mostly older people, but some middle aged people. There were definitely no youngsters. It was mostly middle aged and older people who had had major surgeries, hip surgeries, knee replacements, back surgeries. Those types of things.
The patients would leave the hospital and come to the rehab unit where I worked. It was a standalone rehab unit for maybe between two and eight weeks, and the idea was that they would leave the rehab unit and go home.
Working Nights
I mostly worked nights, which I grew up with a mom who was a registered nurse and she worked nights and it works really well for her and I guess it worked really well for her.
I don't know how much she loved it–I know she loved nursing, I don't know how much you love nights. But I know that it enabled her to then be a full-time mom during the day. She was always there when we got up and she was there when we got home from school. Even if she had been sleeping all day and then she'd go to work sometimes–a couple times a week after bedtime or around dinner time.
Working as a CNA felt like a really great stepping stone. However, the whole time that I worked as a CNA, I knew that this was not the end of my career journey. I knew that this was a point in the process and that I was going somewhere else. It was really an interesting time to learn about compassion, to learn about really seeing people and understanding their needs.
Learning Compassion
Nurses do incredible work on the holistic side of medicine: caring for people, making sure they're comfortable emotionally and physically, as well as caring for their specific needs as far as dressing changes and wound care and medication and those sorts of things isn't super pleasant work.
To be honest, a lot of the CNA work that I did was grunt work and it was lots of cleaning and bathing and changing bedsheets and cleaning rooms and a little bit of assisting with wound care, which ended up being something that was very hard for me. But it all contributed towards my ability to then move on to things that I wanted to do more.
A Side Note
So I'm not going to go into this a whole lot. I was just kind of an interesting job that I had for a very short stint before I went on to actually work as a registered nurse after nursing school. During nursing school I mostly worked as a medical translator, which is something I've talked about in other episodes.
But one thing that is just kind of a funny side note, my most vivid memory of working as a CNA has nothing to do with the clinical side. It has to do with Dave and my relationship.
I was working a night shift. It was, I worked 7 am to 7 pm, and Dave and I had been talking about marriage but he hadn't yet proposed. I had these post it notes that at the nurses station, and I was drawing out different types of wedding ring designs on the post it notes at the nurse's station. And I think that I had mentioned to people that we were planning on getting married, but I hadn't necessarily mentioned that we weren't technically engaged yet.
And of course I didn't expect that he would come waltzing in at, I think it was 10 30 or 11 at night. He just came to say hello.
The nurses stood up and said, "Oh, you must be Dave, Miranda's fiancé."
A Stepping Stone
And the look on his face is like a little bit surprised and curious why these people who he had no idea who they were had heard more about our relationship status than like our own families. And then that was only compounded by the fact that he looked down to where I had been sitting and saw the table littered in post it note wedding ring designs.
I am happy to report, however, that that night of the wedding ring designing at the nurses station in my rehab unit was fruitful because we ended up using one of those designs to take to the jeweler and have my wedding ring made according to something that I had drawn. So really fun, kind of random and an interesting stepping stone in my career path.
I've obviously since stepped way beyond a nursing into a whole other field, but this was one of the stepping stones along the way.
Main Topic: The Space In Between
Now let me talk for a second about the idea of the Space In Between. What do I mean when I'm talking about that?
Well, we tend to think of things in terms of destinations, what the next milestone is. I mean from the time we're born, people are measuring us based on milestones: developmental milestones, physical milestones. Has he or she gotten to this stage yet? Has he or she done this yet? And so of course it becomes really natural to ingrain in ourselves the idea that there are steps which are these destinations: Point A, Point B, Point C, and we don't talk a whole lot about the in between about what happens in between.
We leave Point A and our focus immediately becomes on getting to Point B, but sometimes that might take a while. There may be weeks and months and years that we're sort of maybe working on the idea of getting to Point B, but it's not really until we get there that we allow ourselves to sort of celebrate and feel like we've arrived. Does this ring true for you?
We also talk about this in terms of specific moments, specific destinations, and there was a lot of time and there's a lot that happens when we are not at a specific destination or a milestone or particular achievement marker in our life. I'm sure you can think of some current milestones that you might be working on right now in your own life.
Where Is Your Space In Between
Maybe you're looking forward to finishing some type of studies. Maybe you're looking forward to a time when you'll have another child or your children get to the next point, whatever that is. Maybe it's a financial goal that you have that you are, have your sights set on some future destination. Maybe you, if you're like me, maybe you have a list of house projects that seem to be ongoing and you keep thinking as soon as we get X-Y-Z done, then I'll feel settled. Maybe you've recently had a change of job or of circumstance of relationship status or a move to a new city and you have left where you were before, but you don't quite feel at home where you are now and you find yourself in this place.
That is the space in between.
Because of the way we talk about movement from Point A to Point B, from destination to destination, and milestone to milestone, we can start to believe that there isn't a whole lot of worthwhile happening in the space in between. A lot of times we call it limbo or we say we're just sort of figuring things out. We feel like being in this space, having left one milestone and having not yet reached the next, that something might be a little bit wrong. It's a little bit uncomfortable.
I want you to think about your own life and ask yourself if this rings true for you in the areas of your life that you are firmly planted in a milestone or in a destination. Do you feel comfortable in the areas of your life that you are in between whatever the things you might be in between are? Does it feel like you want to fix it? Does it feel like something that needs to be changed as soon as possible? Because if you are like me then that might be a little bit of how you feel and this space in between can be a little bit uncomfortable.
My In Betweens
Now this is what I've been working on because I feel like we've been kind of in between for a while on a lot of different areas of our life. We had a big move across the country a couple of years ago and are still settling in. We really, really love being in Richmond. We have lots of friends and the kids are settled in school and there's lots of things going right about it and it still takes time to feel settled all the way in and that's okay.
I feel like I have an ongoing career/work transition and I've talked about it a little bit before, but kind of leaving some aspects of my business that don't feel like they're serving me or you anymore and moving into new areas. But just because I've left some things behind doesn't mean that I'm already firmly established and feeling a really up to speed in the new things. And so there's a little bit of in between.
Even with our actual specific housing situation, those of you who've been following along know that we have been in between on our house since our flood back in November. I know I keep talking about it. That's because it's not finished yet. We are almost done. The things that we have left to finish are one more quick ceiling fix in Milo's room that happened as part of a secondary flood.
And wrapping it up with the insurance has taken quite a while because, if you remember, the flood was not caused by our own family. It was a third party who was responsible for the flooding and they've assumed responsibility, but the insurance still has to transfer the claim and we have to work through that. And so it's almost a year later. It's almost a whole year that we have been a little bit in between on the house.
A couple of weeks ago, I had a couple of days that I felt what I was falling in a funk and I called my mom and I called a few friends and I talked to Dave extensively and I realized as I kind of worked through the emotions that I was feeling that what was at the root of it, of the my feeling off was simply this: I am in between and I didn't feel like that was okay. I am in a hurry to get to the next piece to get to the next phase, to get to the next milestone, and I was having a hard time recognizing the beauty and the importance of what happens in between.
A Quick Example
I want to share a quick example as a metaphor of something that happens in our family's life that may be helpful to understanding this idea of the in between. This is literal. I mean it's a literal metaphor.
So a few years ago Dave and I recognized that we were having an interesting time with vacation because traveling with young kids can be tricky and we were leaving the house, getting to the airport or going on a road trip and all of the time between Point A, which was our house, and Point B, which was where we were going, like the actual destination of the trip felt like craziness.
The kids would be stressed out. Dave and I would be a little stressed out. We were a little short. We wanted everyone to just sort of be quiet. It was like we wanted to just blink our eyes and get to point B. We didn't want to deal with the in between because it just felt like the "getting there" part–there wasn't any thing fun about about it. Like flying with a six-month old and a two-year old and a four-year old. Like what can be fun about that?
We were having such terrible attitudes about the actual travel time because it felt like in-between it felt like fluff. It felt unnecessary. It felt kind of like a drag and we had a little family meeting. I'm sure it was after a trip that had the actual trip, being at Point B, hanging out for a week at Point B had been fantastic, but the time between there and home had been kind of hard. Dave and I sat down and discussed it.
How can we enjoy the whole trip? What do we do to not make the traveling of the traveling part of the trip feels like such a drag and you can wrap into that. The packing for the trip and the packing the car for the trip and the getting ready for the trip. All of those things can feel kind of like what you have to get through in order to get to the trip rather than enjoying them.
And we decided that as a family, our vacations begin the moment we leave the house, they don't begin when we get there to wherever there is, they begin when we leave the house. What that looks like.
Vacation Mode
I'm sure you guys have all have like a vacation mode, right?
If you know my friend Alison Faulkner of The Alison Show, she is hilarious when she talks about vacation. Alison–because in a lot of her life she talks about being very perfectionistic and a little bit high strung–she said "Vacation Alison" is a different person. "Vacation Alison" is chill and she doesn't care what you eat for lunch. And she's like, just happy to be there. So I think that we all resonate with that idea a little bit.
Do you have a "vacation you"? Because I know I do. You know, I would like to think that I am "vacation me" all the time, but I know that that's not true. That there are things, there's just kind of a mode that you get into when you realize that you are supposed to be having fun, you allow yourself to feel that fun and so we decided when we leave our house that is when our vacation begins and what that looked like for us was completely transformative.
Our travel then looked like Dave and I considering what types of things can we do in the car on the way to the airport or if it's a road trip, we're in the car for awhile. What can we do to make that feel like fun for our kid?
This is vacation. We want it to be fun and exciting and so we would, you know, make sure they had extra things to play with along the way. Make sure that we had like a fun audio book or story podcast for them to listen to. We would pack snacks for the road. We would get to the airport and where previously we thought, oh my gosh, the airport food is so expensive. Even though we have a three-hour layover, we're not going to eat anything or we're going to like eat a granola bar and sort of deal with it.
But then the weird thing was we would get on vacation and let go to all these fun restaurants. And so we just decided the airport is part of the vacation and we started if we were in an airport during a meal time, we enjoyed a great meal there, some fun food at the airport. And if you're stuck there, it feels so much better to enjoy it as part of the trip. And so we just wrapped this altogether, the idea that our vacation began at the beginning and we didn't have to wait until Point B–that the space in between–we could have as much fun and enjoy it as much as the destination itself.
A Transformative Experience
And what a transformative experience that was for for us in our families. And we love to travel, we love road trips, we love flying with our kids, we love visiting other places. And I wonder how much of that has stemmed because we created a culture of travel being all good, all fun, all exciting, and the attitude that we bring to it very much supports that because we don't make our kids suffer through and you know, in ourselves to suffer through hours of, um, kind of being like, just hang on, we're gonna get there soon.
You know, we have the same thing with road trips and I have a whole episode about road trips with kids. Uh, we, if the kids need to go to the bathroom and we're on the road, we'll happily pull over and let them go to the bathroom and maybe get a snack and walk the dog around a little bit. Very rarely do we just say everyone hang on until we get there because we're going to be there in three hours. We try to allow for this space in between to be enjoyed and comfortable as much as possible.
I especially love road trips and I've talked about this a little bit, but I think part of the reason that I love road trips is because of the space in between. I have this fun idea that I've had for a few years and I've talked to a couple of friends about it and we're going to make it happen one day. You just wait. We're going to have incredible pictures from our road trip where we photograph the space in between.
Finding Beauty In Between
Driving from Texas to Utah several times during the years that we were there, I fell in love with all of the things that we would have missed if we weren't driving. I fell in love with the landscapes of West Texas and being able to stop off in small towns at really cool little gas stations and you know, get homemade pecan pie from the grandma of the person who runs the gas station. I really fell in love with driving through areas of the country that are unnoticed and unflaunted and in some ways untouched from, you know, years and years of development. They sort of maintained this historic charm and to recognize that people live not just in big cities that you've heard about, but the people live in the space in between.
And that there's so much beauty and there's so much to offer all along the way. There are beautiful, incredible things all along the road, not just at the destinations, not just when you get to the next chick-fil-a in a big city. So knowing what I know about the beauty of the space in between in actual life, like in real life and in vacation mode, I wonder how amazing how much more amazing life could be if we applied those same ideas to the space in between our own life.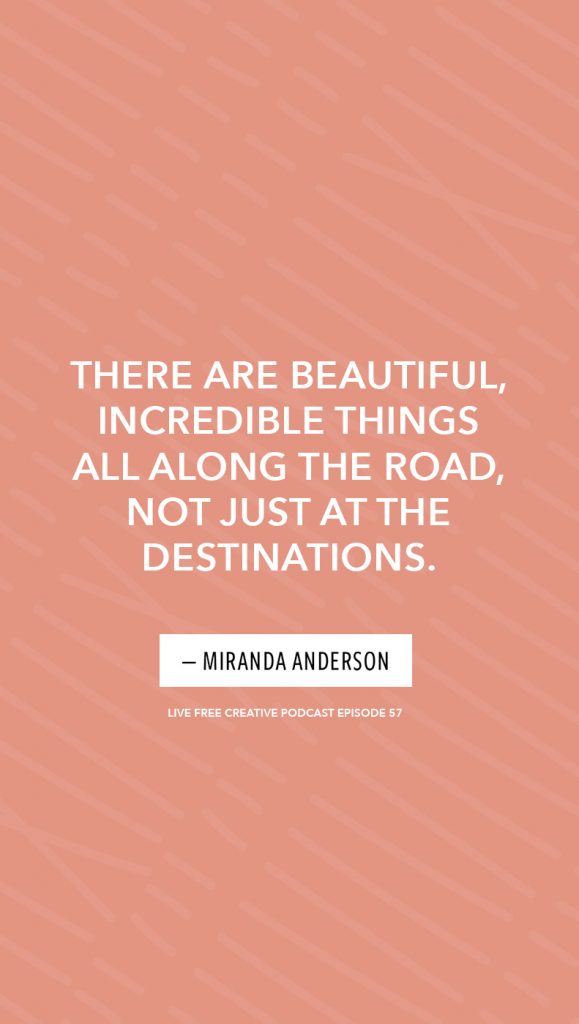 What if instead of feeling in limbo, we felt like we were exploring somewhere new? What if instead of feeling like we needed to get to the next place where we felt settled, we recognized all of the beauty of the unknown where we currently are. I think sometimes we just need people to let us know that it's okay to be where we are, that whatever we're facing in our present moment, if it feels easy or if it feels really, really hard that that's okay.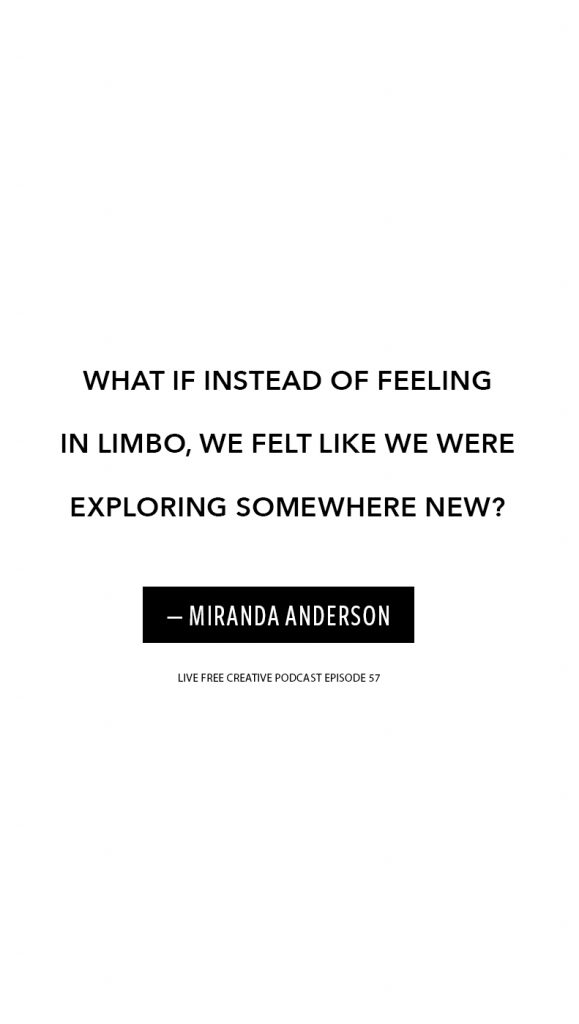 Real Life Is Found Between Milestones
It's not meant to be perfect all the time. You're not meant to meet a milestone every minute of every day in there was some work. There's some learning, there is some knowledge, there is some understanding that needs to happen. There's some skill building. The in between is where the actual life of our life lives because if you pay attention those milestones and those destinations don't last very long. In fact, almost as soon as we touch one, we have our sites shifted forward automatically to the next.
Looking forward to the next point is really natural and it's actually really what we've been trained to do–and it's great to be looking forward. It is great to set goals. It is great to be working towards things and it's really important to recognize that we can also always look inward to where we are right now and acknowledge that this place too is good. We can look outward in our own life, our present circumstance, whatever it may be, and recognize that this too is worthwhile.
Where we are right now is a part of the journey that we are meant to be on. We aren't wrong when we're in the in between. It's okay to not be to the next step. Yet in my own life recently I have felt like the in between is actually a really great time to consider something, to consider what it is you carry with you, whether you're at a destination or traveling in between.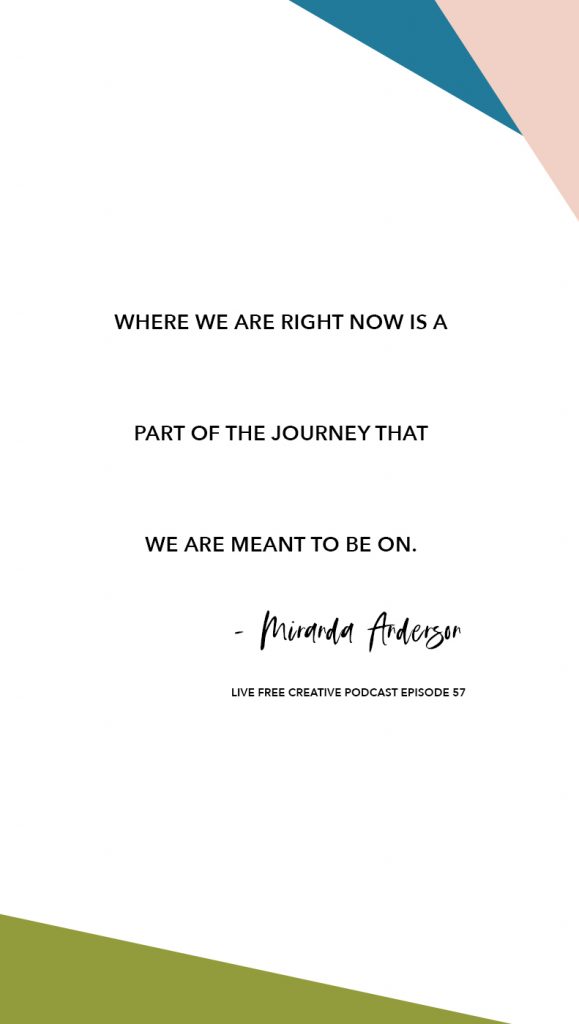 What types of thoughts do you carry with you on a daily basis? What types of emotions are you more likely to feel regularly? Are those the ones you want to be feeling? What kinds of hopes and dreams do you carry with you even when you're in between? What types of expectations do you have?
Can you release a few of those in order to understand how wonderful where you actually are is?
I want to remind you that the time passes by the same for all of us. Whether you are rushing, rushing, rushing, and hustling, busting yourself to get to the next place where you feel like you're going to feel okay for a little while. Or whether you reel it back in and look inward and find that feeling of, okay, right now today you can either spend your time feeling frustrated except for the moments where you've hit a new destination or you can try to release that frustration and replace it with acceptance for the space in between the beauty and the learning and the understanding and the power that can accompany you in that space.
Be Grateful For The Ride
The idea of this space and the journey that we're all on reminds me of one of my favorite quotes from a great man named Gordon B Hinckley. He said, "Life is like an old-time rail journey—delays, sidetracks, smoke, dust, cinders, and jolts, interspersed only occasionally by beautiful vistas and thrilling bursts of speed. The trick is to thank the Lord for letting you have the ride."
What I want to remind you today is to not only feel grateful for the moments when you feel like you know exactly where you are because you've just hit a new destination, but to try to bring that gratitude with you all along the way to recognize that even today is part of your journey and that every bit of it matters.
Conclusion
I hope that this has resonated with you and that you feel encouraged for whatever pieces of life right now don't feel like they're quite settled. You don't feel like you can pinpoint exactly where but there is something missing or there's something yet to do. I hope that you have found some peace in understanding that we all feel like that and that it's okay that we can find joy even there.
New Bonus Episode
If you love this podcast and you want to make sure that you do not miss the bonus episodes that are starting to go live this month, in fact, next week, the first bonus episode goes live complete with a printable pdf to accompany it. Head over to patreon.com/livefreecreative and make sure that you become a patron of the podcast at the $6 a month level. Just $6 a month. Consider it your gym membership for your emotional, intellectual, and creative health and become a podcast plus member so you don't miss those bonus episodes every month.
Thank You
As always, I want to thank you so much for listening and being here.
If you haven't yet, make sure you subscribe to the show. Feel free to leave a review on iTunes and to share the show on Instagram or with your favorite friend.
Also, a quick reminder that my book is still available on Amazon, and if you have not yet checked it out, I know that you're gonna love it. The title is More Than Enough: How One Family Cultivated A More Abundant Life Through A Year Of Practical Minimalism. Head of the show notes where it's linked, and I will catch you here next time. Bye.