Episode 58: Feel Alright When Things Go Wrong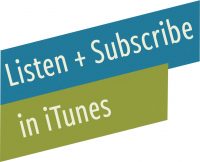 Introduction
Hello, hello there, friends! Welcome back to the show. You're listening to Episode 58 of Live Free Creative. I'm your host Miranda Anderson and today's episode is going to be all about feeling alright when things go wrong.
This is a fun topic. It's always good to talk about how to feel better despite challenges that we all face, and I hope that you're going to find something that is useful in this episode.
I have five specific tips that I'm going to share to help you feel all right when things go wrong, but first I want to share a poem. This is one of my new segments. It's called pause for a poem.
Segment: Paus For A Poem
You might see an angel anytime and anywhere. Of course you have to open your eyes to a kind of second level, but it's not really hard. The whole business of what's reality and what isn't has never been solved and probably never will be. So I don't care to be too definite about anything. I have a lot of edges called Perhaps and almost nothing you can call Certainty. For myself, but not for other people. That's a place you just can't get into, not entirely anyway, other people's heads. I'll just leave you with this. I don't care how many angels can dance on the head of a pin. It's enough to know that for some people they exist, and that they dance.
Angels by Mary Oliver.
It's enough to know that for some people they exist, and that they dance. What a beautiful line of poetry. I love it.
Main Topic: How To Feel Alright When Things Go Wrong
Okay, friends, are you ready to dive in? Let's talk today about feeling alright when things go wrong.
Topic Inspired By Young House Love
The reason that this topic got pulled to the front of my mind was because I was asked about this type of question in an interview that I did last week with Young House Love's John and Sherry. I hopped on a Skype call and talked about my book, talked about minimalism, and then John asked me the question:
How do I stay positive with our difficult renovations?
He said, "Sherry and I have watched your ceiling fall down multiple times. So what's with the laughter and being able to stay happy even through some of these tough things that have happened, specifically regarding our renovation."
In response to his question, I talked a bit about how I do a daily gratitude practice and I try to just stay focused on the things that I can control rather than the things I can't control.
I think my very first thing was to have low expectations, which Sherry agreed with. She said that's her philosophy for parenting as well. But it was really a short answer and I sort of talked for a second about it and then the interview was over.
That Question Stayed With Me
But that question stayed with me and I thought this is really worth diving into in a full episode over here because I think that this–outside of renovation, whether you're renovating a home or just living your life–there are going to be things that trip you up.
There are going to be obstacles, there's going to be challenges, there will be things that happen in your life regularly that feel like they went wrong. And it can be challenging to stay positive and to find the good and to still feel alright even when things go wrong, to feel good even when bad things happen.
And so this is something I've been asked about a lot because I think with the presence of Instagram and being able to actually share through some of the challenges our family has gone through over the last year especially, I've had people say, "I feel like you guys are cursed because you've had so many tricky things happen. You know, multiple floods and problems with renovation. And cars breaking down and Dave's car getting stolen and then getting totaled."
And I mean, we have really been through the wringer, and we also at the same time feel like we've had some of the best years, these last couple of years that we've ever had. So I want to kind of help you navigate through some steps and the thought process and also some of the practice that goes into thinking about things in a way that allows you to feel good even when sometimes life is hard.
But First, It Is Okay To Feel Bad
I want to also preempt this whole conversation by saying that it's okay to feel bad. I'm not saying that you should always want to feel good, or that if something terrible happens that the right response is to laugh or to act like it's no big deal.
There are things that are difficult and there are definitely appropriate times to feel bad. I mean, the way that you feel at any time is the way that you feel. I just want to offer the suggestion that you get to be more in control of that.
Perspective Influences Our Feelings
We sometimes think we often will think that the way that I feel is the way that my body or my mind just is and that you don't have any control over it. And I believe that the way that we think about things in our perception and the way that we've trained ourselves to view the world, that perspective really influences the way that we feel.
And so the same exact thing could happen to two people. One who has a more positive perspective and one who has a more negative or neutral perspective and the way that they feel about them, the same thing happening, could be really positive or really negative.
Think About How You Want To Feel
The other thing to ask yourself is do you want to feel positive? Do you want to be able to handle things better? Do you want to be able to sometimes make light of things that have gone wrong or do you enjoy feeling more serious about it all?
It sounds like I'm like I'm asking a leading question, but there are people who want to be serious about life, that they do not want to feel lighthearted. They want to take things and have them just feel really deep and really impactful all the time and that there is, that's not right or wrong.
I am naturally a little bit more lighthearted. I'm naturally a little bit more optimistic, and so there are elements of just my nature in the the things that I'm going to share today, but I also do a lot of work on my perspective, on my mindset and on my focus in order to maintain the type of perspective that I would like to have.
I have a whole episode about the Advantages Of Optimism, and so you can know right off the bat that I feel like there is benefit not only in my mind and in my emotions and in my soul, but that there is often financial and opportunistic benefits to having a more optimistic perspective in general.
And I also like the way I feel better when I feel happy and when I feel curious and when I feel adventurous rather than when I feel hopeless or down or sad.
Again, we aren't supposed to be happy all the time. And it's okay to have whatever feelings you have. They're okay and valid and they are something that you have at least a measure of control over.
And so the things that I share today are to help you understand that you get to choose often the way that you experience the things that happen to you, that the things that are outside of your control, you may not have any say over, but you do have some element of control over the way that you decide to interpret them and feel about them. So that's what we're going to talk about today. So let's begin with number one.
Tip 1: Manage Your Expectations
My first tip for feeling good despite the bad, is to have low or no expectations. This is something I mentioned that I had shared on the interview with John and Sherry.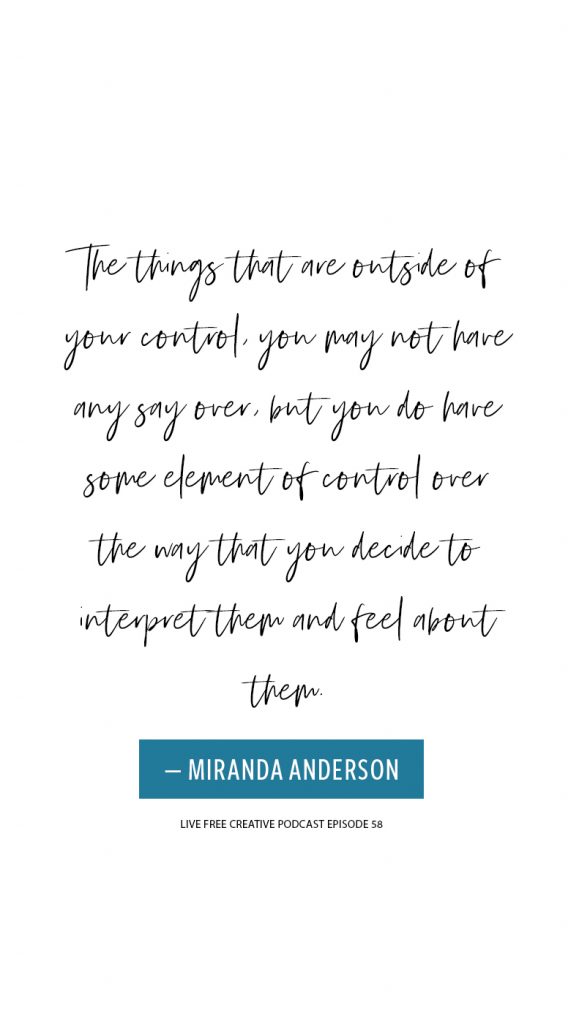 Low Expectations Is Not Being Negative
Low expectations is really different than having a negative outlook. So I want to explain the difference because you could think, "Okay, I'm supposed to have low expectations. That means I walk around thinking everything is going to be crappy in my life and I notice when all the bad things happen because I'm just expecting bad things to happen all the time."
So that is a very different way to approach this versus not being surprised when bad things happen or not expecting that everything is going to be perfect.
Sometimes we get ourselves a little bit trapped when we assume that everything is going to go perfectly. It throws us off when something does go wrong and so having low or no expectations basically means to not be surprised by things not always going right because you expect that things will not always go right.
This means that when something bad happens, rather than being completely blind-sided, you recognize that bad things happening are just part of life.
LYou also don't use a bad thing that has happened or something that you didn't expect to feel like you are alone or unique in your problems. I think sometimes we blow up the perspective that we have of a bad thing happening, thinking that we are the only ones that bad things happen to.
We look around and think, "Gosh, everyone else's life seems so good and look what has just happened in mine," and then we use that uniqueness, this sort of false sense of "Why me? I'm the only one with problems." to sort of revel in our problems. Does that make sense? Does that resonate with anyone that you feel like, "Ugh, well this just, you know, this always happens."
Be Positive But Aware That There Will Be Bumps Along The Road
But expecting bad things to happen doesn't mean assuming a negative perspective, it means not being surprised when bad things do happen that you haven't assumed that everything is going to go smoothly the whole time that you've lived. You've left a little bit of room in your perspective for things to maybe not go totally according to plan and that you've acknowledged ahead of time that that's going to be okay.
When I talked to John and Sherry about our house renovation, I mentioned that as we went into what we knew would be a really full renovation, we had planned on six months or more of renovation on our house. We weren't living in the house at the time. We were taking it down to the studs in a lot of places.
I expected that bad things were going to happen and by bad things, I want to just clarify for a second: Things are never inherently bad. Things are neutral. The circumstances of our life are neutral and something happening can be bad or good based on the way that we think about it.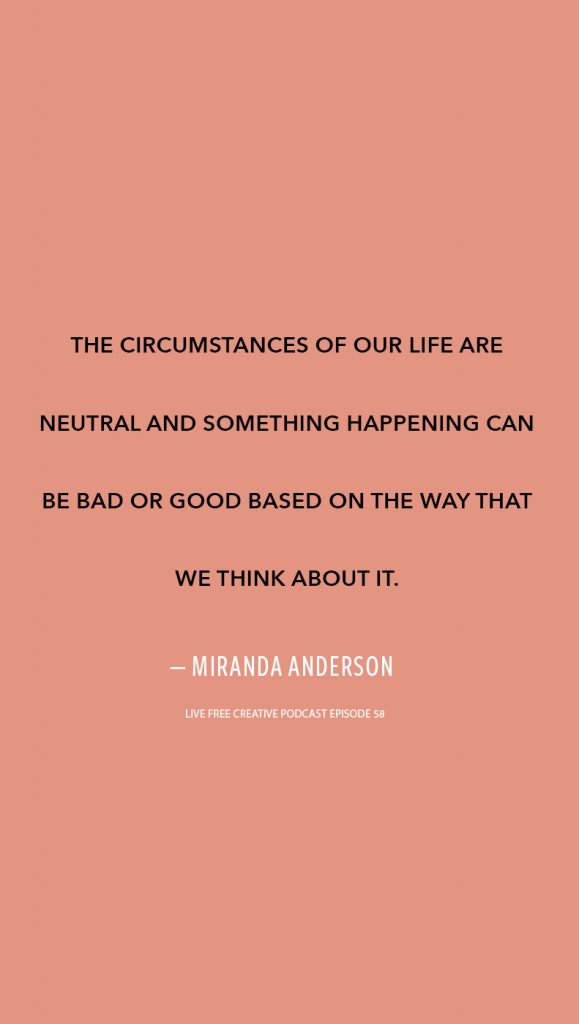 So I expected that there would be unexpected things happening during the renovation, but that doesn't mean that every time I came in I looked for all the things that could go wrong. I just assumed that there would be things that came up.
For Example, Installing Hardwood Floors
So when we began the renovation, we had a big demo day on the kitchen and then I hired people to start working on installing hardwood floors through the areas of the house that had previously had vinyl–like in the kitchen–or carpet–like in the study.
Two days into this project, the floor guy calls me and says, "We have lost the sub floor. All of the sudden we got through the middle of the kitchen, tearing up some plywood that had been underneath the vinyl and the sub floor disappeared."
So rather than just being able to lay down the new hardwood over the original sub floor, we had to figure out a solution to rebuild a sub floor from the bottom up that would be even with the rest of the house. It added $2,500 onto the flooring project.
And this is on day two of our six month renovation. But rather than feeling defeated and thinking, "Oh, already this big thing happened and our budget is blown and everything." I thought, "Oh, okay, this is the first hiccup and I know that there's going to be more, but this is the first one, let's solve the problem, let's figure out. We'll make adjustments in the budget, let's make it happen."
So the first tip is to expect that that things might not go according to plan all the time and being prepared mentally for when things, when you have obstacles, when trials come up, not thinking that you're unique, that you're the only one who ever has problems, but knowing that that's part of life.
Being able to approach adversity with a curiosity rather than feeling defeated was really helpful in a lot of ways and that leads me into number two.
Tip 2: Be Curious
Number two is to be curious. When you are alive, you get the good and the bad. Number two is approaching the bad with openness and curiosity rather than immediately shutting down and thinking, "Oh, I can't believe this happened. I don't even want to deal with it."
When you are open and curious, you invite solutions to come flowing into your life. When you think, what can I learn from this? How are we going to fix this? What is something that we can do that will make this situation a little bit better?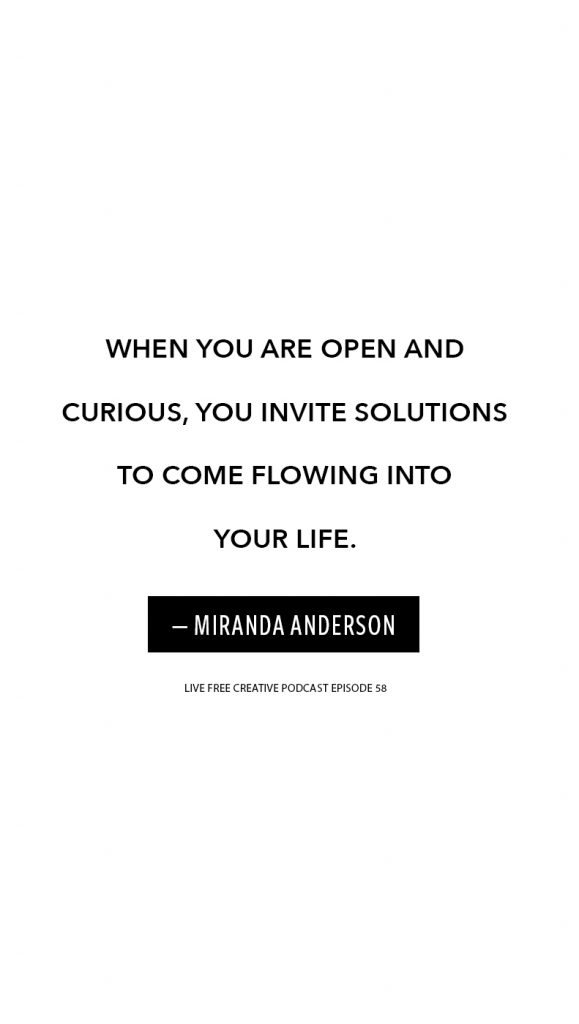 Having an open mind actually physically and physiologically keeps your capillaries and your blood vessels open and pumping blood. As soon as you're open and curious, your brain goes to work on looking at the problem from different sides. It starts to examine it and your subconscious itself starts to go to work on this problem.
Frustration Cuts Off Solutions
When you immediately get frustrated and closed off and clenched, you can think of that feeling of like, Oh and you're so mad and you were like, clench your fist and things are so frustrating.
You're just really mad and sad and, and having a hard time physically and physiologically. I think those are the same thing, right? You are constricting your blood flow. You are shutting down your brain.
So rather than inviting solutions, you are shutting off things that would aspects of your brain and your perspective that would allow you to think about it in a new way and possibly solve the problem even sooner and better.
When you react with that sort of frustration, it actually defeats your ability to solve the problem well and so you have an even harder time getting through whatever your obstacle is than if you were able to approach it with curiosity and with openness.
How To Stay Curious
How though? Some of you may be thinking, "Okay, I'd like to do that. I'd like to approach a problem with openness, but how do I do that?"
I think the very best way to practice having an open mind and a calm attitude is through focused meditation, and this might sound hokey if you haven't done any meditation, you may feel like that's crazy.
But I've been practicing meditation consistently for a couple months now and it is actual practice releasing expectation and allowing your mind to be still. And when you are able to recognize the way that that feels, breathe deeply, release expectation, stop your thoughts and just focus on breathing and feeling open, you start to learn what that feels like and that ability to find that state a state of peace, a state of harmony, a state of openness and curiosity.
Finding those states of being will already feel natural to you if you begin and keep up with some sort of regular meditation practice. Even if it's just short, even if it's you know, not. You don't have to go to any specific place.
You don't have to do anything crazy. You can even just sit and put on a timer and do two minutes of deep breathing every day. Close your eyes and just just focus on your breath.
That practice in mindfulness will enable you to the next time something difficult happens to get to that state because you already know how to get there. You already know what that feels like rather than you're only reflex being into the fight or flight frustration.
When you have consistently practiced the feeling of curiosity, openness and peace when there isn't a problem, you are able to get there when there is. Even if by nature you are short tempered and impatient, doing a regular meditation practice that allows you to find that place of openness piece and curiosity will then put into your toolbox this ability, this skill of being curious naturally, even in the face of difficult or stressful things.
Tip 3: Use Challenges to Grow
Number three is to use your challenges to grow. I think part of this is perspective, right? We are able to look back often on our lives and see how the trials and challenges that we have had in our life up to this point have shaped our perspective, have taught us things.
Oftentimes people will report that their challenging times have been also when they have had the most growth and development as humans, as parents, as teachers, as students. The things that are hard for us are also the things that help us grow.
It does not always feel like it in the minute, right? You know when something that you don't expect, that feels like a terrible thing happens. It's not automatic to think, "Gosh, this is gonna make me a really strong person." Usually we think, "Dang, I wish this hadn't happened to me. I was feeling just fine before this pile got dumped on top of me."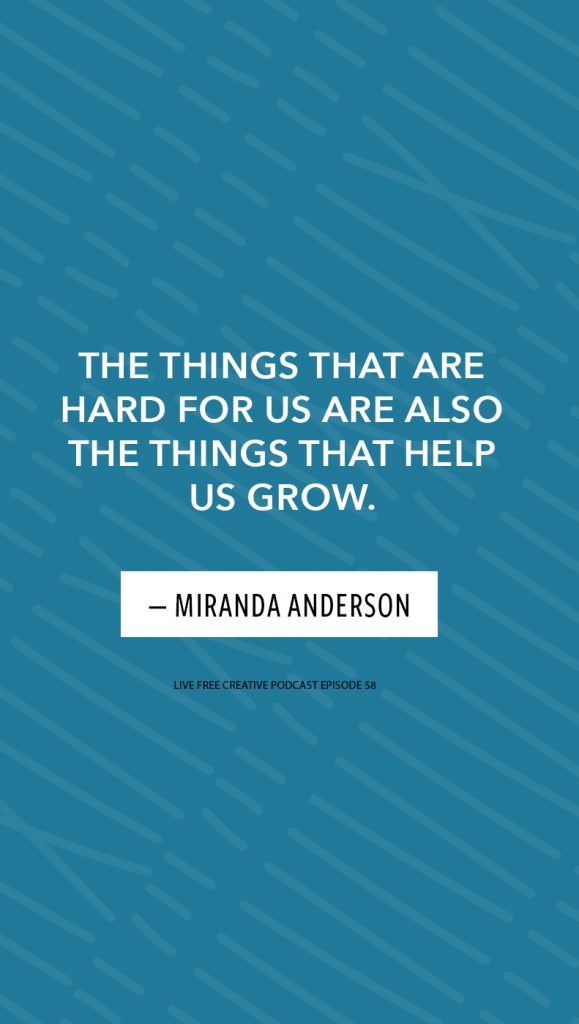 Hard Things Help Us Grow
It reminds me of something I was just reading in an article and I don't remember exactly where I saw it, so I might have to dig around to try to find it to link in the show notes. If I can't, then just forgive me. It's a great story.
Anyway, basically someone is walking down a street of fields like farm crops and fields and sees a truck that goes by and dumps piles of manure over this field and is thinking, gosh, that's a lot of poop to get dumped on top of those plants.
And of course, fast forward a couple months walking by those same fields, the field that had all the poop on it is the one that is growing the strongest, the greenest, the tallest and the most healthy. And realizing that the poop getting piled on top of the plants is what fertilized the roots and allowed them to go strong and allowed the plants themselves to get tall and the fruit to be abundant.
Knowing that hard things help us grow, contribute to our character and to the strength and progress of our development can help us. Not always wanting to wish them away, but knowing that as we work through it, that we are developing ourselves and that we are progressing.
Find The Purpose In Your Adversity
This does take a little bit of work though, to not just go through a trial or have something hard happen, but to be intentional and consider it as you're doing it. To ask yourself, what can I learn from this? How is this going to help me be a better person? I might not have chosen this bad thing or difficulty, but now that it's here and I can't do anything about it, how am I going to use it to grow? How is this going to help me be better? Or one of my favorite questions, how is this going to help me help others?
A lot of times in my life I've passed through difficult things and trials and wondered what the point was. And then a few months or a year later, I have a friend who goes through something similarly difficult and because of what I have experienced, I'm able to offer some empathy and I'm able to assist and to serve in the way that feels right because I can put myself in those shoes, because I've just been there myself and I know how to help.
So even though that seems like maybe a dumb reason to have to go through trials, oftentimes we are the angels for other people in their lives. And the more that we're able to understand what people are going through because of some of the difficulties that we have faced and using those lessons to then become more compassionate and more considerate and more generous.
I think that there is no better use for our problems than that.
Tip 4: Laugh Now, Not Just Later
Okay. I'm moving on to number four. Number four is to laugh now, not just later. So a lot of times when bad things happen, we have people say, you're going to look back on this and laugh. For example, your toddler dumps a whole gallon of milk on the kitchen floor and then rolls around in it in his diaper.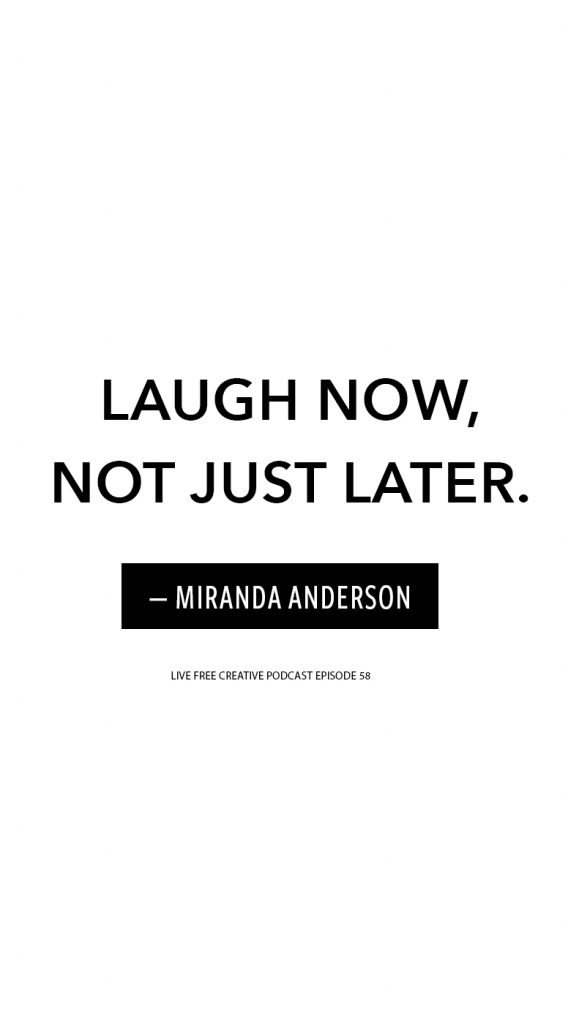 I'm laughing now because none of my children have actually done that exact scenario. Although we went through a lot of things similar to that when they were younger. The things like that.
Sometimes you just want to rage in the moment, but in an hour or two or three later or a week later or a month later or a year later, that is the kind of thing that you'd look back on and you laugh. You think you know with the disbelief how funny that that happened that that person would even consider that.
Find Humor In The Ceiling Collapsing
Or an example that I can think of is when our ceiling fell down on our heads and in that very moment I thought there is nothing that we can do right now being mad about this doesn't help. So all I could think to do is just laugh in disbelief that our ceiling had just started coming apart and falling down in chunks on top of our living room furniture.
I had so many people say, "I'm laughing, but I can't believe you're laughing." and I thought, "I want to laugh too." Why should everyone else get to think that something you know crazy and difficult that I didn't expect is funny, but I'm the one who's expected to be sitting crying about it. That doesn't make sense at all.
If I'm going to laugh later, I want to laugh now too. I want to be able to apply that same long range perspective to things that are happening right now in my life. I don't want to have to go through the anger and the frustration and the sadness and the and the hopelessness only to in a few weeks decide that, okay, now it's been long enough that I can think it's funny.
If we are going to laugh later, we should let ourselves laugh now.
All of these things play off of each other. If you sort of know that things are gonna happen in your life that you don't expect, you can be curious and open about what's happening. You know that the things that are difficult are the ones that make you grow stronger. So when they do happen, all of those release of expectations and the knowing that it's going to be fine, you're going to be okay and having that open perspective allow you this luxury of laughing even in the middle of something difficult.
Sometimes Laughter Is the Best Medicine
Now I know that there will be people who are listening to this who are thinking, but there are things that I don't want to laugh at. There are things that I don't want to laugh through and that is totally, totally true. There are situations or diagnoses or obstacles that are not that funny. There are things that you won't laugh at later that are hard and they're just hard and that's okay.
I'm not saying in this episode that you should have positive, happy, joyful feelings about every single thing that happens to you that you don't expect. I am saying that there are a good, fair number of things that happened to us that we feel really down about in the minute but that we laugh about later. Those are the things that if we're going to laugh about it later, we can laugh about it now.
If in the end, we're going to realize that I couldn't have done anything anyway and it all is going to be okay, it's all gonna work out, we can try to learn how to allow that openness into our lives and that hope of it's going to be okay. We can allow ourselves to feel that in the moment rather than expecting of ourselves a certain level of disappointment, sadness, and frustration before we allow ourselves to get to that point just as it is totally okay to react with negativity and sadness.
When something unexpected and bad happens to you, it is equally okay to react with curiosity, surprise and thinking it's funny. It is okay to be lighthearted about difficult things just because other people expect that you might feel a certain way about something happening doesn't mean that that's the way that you're going to feel.
For Example, When Our House Flooded
When our house flooded the first time, the big huge, disastrous flood catastrophic flood that had us moving out for six months and now we're almost a year later and we have not even quite finished all of the details with the insurance company.
A year later, my reaction was to be surprised and to think, "Wow, I never expected this particular thing to happen. I've never seen it rain inside." And then to sort of move on with the things that I could control.
I was actually surprised that I had a number of people reach out to me and say, "You don't have to put on a happy face about this. It's okay for you to feel sad. It's okay for you to cry. It's okay for you to be super disappointed that your whole house just got flooded."
There Is More Than One Right Way To Deal With Bad Things
And the thing that was weird was that I didn't feel sad. It was definitely inconvenient. It was definitely unexpected. But I felt fine. I felt like we were going to be okay.
I think a combination of all the things that I'm talking about is what went through my head. We're going to work it out. We had just finished a major renovation. It wasn't all that weird to see the ceiling stripped down and flooring pulled up because we had just done that before. And so it didn't feel all that unfamiliar.
I had no idea how long it would take or a lot of the other bumps along the road that would happen. But in that minute I had people telling me that they thought that the way that I was responding with positivity was not the right reaction. That the only true way to feel if your whole house gets flooded is to be disappointed and hopeless and sad.
But I very strongly felt like the way that I was able to feel wasn't the only right way to do it, but it was one right way. You don't have to be sad every time something bad happens, it's okay to feel happy and optimistic and positive and maybe that goes without saying.
But I thought it was interesting that there are, there are a few people who were sort of taken aback–and I'm not looking for any particular perspective when I share online and on Instagram about the things that I'm going through and that are happening to me and my family. I'm not doing it for to an end, to any certain end except for to share.
And so I wasn't hoping that people would say, you know, you're so positive. I'm so proud of you. And I also wasn't expecting people to say, I can't believe that you're so positive. You must be a terrible person or not have a heart.
I was just sharing openly. To be honest, I didn't have a whole lot of expectation, but it made me think, it gave me pause, that there was an expected reaction. And I want to let you know that as you're practicing or if you want to approach things that are difficult with a little bit more of a positive energy, that's also okay, and it doesn't diminish the problem to approach it with positivity.
You Get To Decide How You Feel
Approaching difficult things with positivity doesn't mean that you don't understand the gravity or the seriousness of something that has happened. If you don't have a mental breakdown, it's okay to be positive. It's okay to approach things with hope perspective rather than with distress, and it may go without saying here too.
The opposite is also true. It is okay to break down is it is okay to cry. It is okay to feel hopeless. All of those feelings are valid and that's fine.
The question that I want you to ask yourself as you're listening to this episode and considering some of the problems that you have gone through in the past or that may come up in the future, is how do you want to approach them? How would you like to feel?
If you feel like you, you like the way that you handle all of the problems in your life, then that's great. You're doing awesome. If you feel like sometimes you wish you had more positivity or a better perspective when things that you didn't expect happened or difficult times came along, then use some of these tips to help you practice so that you can find that place that makes it a more automatic reaction to turn towards the good and the positive rather than towards the sad and the bad, but it's all up to you.
I mean you get to choose and one emotion isn't necessarily more meaningful than another. You just have to decide how do you want to feel about it and then form some perspectives that help you, that helps support that feeling.
Tip 5: Practice Gratitude
Okay. The fifth and final tip that I have for you today about feeling all right when things go wrong is this practice gratitude.
I talk about this all the time because gratitude is the most transformative emotion. If you regularly practice gratitude, it becomes the forefront thought of your life that you notice when things go right that you celebrate when things are good that you are able to pick out and focus and tune in on all of the things that are right all the time.
When things go wrong in our lives, very, very rarely does every single aspect of our life go wrong at the same time, right?
Something going wrong can often trigger a sort of spiral where we start to think because that went wrong, we notice this isn't quite right about my relationship and this isn't quite right about my kids and this isn't quite right about my finances and one wrong thing triggers us into noticing something that is wrong about everything.
But the truth is if we back up and give it a little perspective, when one thing goes wrong, it doesn't necessarily mean that everything else went wrong. In fact, sometimes one thing going wrong can highlight that all of the other things are lined up and they're good and so we have the support that we need from the rest of our life to handle something being off kilter for a while.
This is what practicing gratitude enables you to do rather than a negative downward spiral when one thing goes wrong, then your whole life has gone to pot. Instead, when one thing goes wrong, your positive eyes, that gratitude, focuses on all the things that are going right and all of the situations surrounding the thing that that feels like a problem. Those positive thoughts are able to support and uplift you even though this one thing has gone wrong.
A Road Trip To Texas
So I'm going to give you an example and I keep using these examples about like times than I've stayed positive when negative things have happened in our lives and I don't want you to get the impression that I am positive all the time because I'm definitely not.
I have days and weeks that I feel down. I feel disappointment, I feel frustration, I feel overwhelmed. I feel all of the range of emotions that you feel as well. I do, however, have a focused, intentional practice on staying positive, on being optimistic, on focusing on gratitude in my life, on finding presence and peace and calm despite whatever storm is coming along.
And that is something that I'm offering as an invitation to you as well. Not that you naturally become super positive or that you never have another negative thought or feeling, but that there is a specific set of steps that can help you uphold your desire to be more optimistic and more positive in the face of negative things.
So the example that I wanted to share about developing gratitude and focusing on the good is from this summer when we drove from Richmond to Texas, we had a fantastic book launch party in Austin. Got to hang out with our friends, had a really fun time.
Then we drove up through Arizona. I got to record a the podcast with the Becky's. I'll link that in the show notes. It was really, really fun.
You Have To Replace The Transmission
Then we drove to Utah, had a fantastic book launch, spent the week spending time with family and then we were getting ready to leave and I said, "Dave, I think that something's wrong with my car." It was slipping a little bit between gears.
I dropped it off at the shop and they called me a couple of hours later and said, your minivan needs a new transmission, it will be $6,000 and I was like, what? This car has just driven 2,500 miles and it's been totally fine. It's just slipping a little bit between gears.
They said your car needs a new transmission, it will be $6000.
So I took it to get a second opinion like my dad always taught me to do and sure enough it needed a new transmission and it was around $6,000.
Unexpected and stranded in Utah for another week because it took that long to fix it. So that's a little bit of an unexpected thing that you could call a difficult situation. It was financially a lot more money than we expected to spend right at that particular moment.
It changed our travel plans. I was without a car for a week and all of that, yes was "wrong".
But I was in Utah. I had just driven across the whole country and instead of breaking down in the middle of Arizona or New Mexico or in West Texas, my car made it to Salt Lake where I had family to stay with. My kids had cousins to play with. I had friends to visit and we were able to extend our vacation and have it feel like a vacation rather than scrambling to stay in a hotel in the middle of nowhere on the side of the highway.
That one thing had gone wrong, that the car had broken down and it was a major fix, but everything else around happening in our lives was supporting and uplifting us.
I felt like even though the car had broken down, the universe had my back. It broke down at the just right time in the jest, right place. It broke down in a way that enabled us to still be safe and we got to where we needed to go and we got to spend extra time with people we love.
And Then Replace All The Tires
Here's another example. I pick up the car from the place–the transmission repair place–and I go to pick it up and he says, by the way, one of your tires is flat. And I'm like, oh, okay.
So I drive it directly over to Costco to have the tire fixed and the guy comes out to inspect the tires and he said, "Well one of your tires is flat, the other tire has a screw in it. And then because it's one on the front and one on the back, we really need to replace all four again."
Well, I was not planning on replacing my transmission and then buying four brand new tires all on this road trip. But here are the things that went right about that thing that went wrong because one tire was flat and the other tire had a screw in it. And my tires had been bought at Costco before those two tires both had the roadside protection, which made the discount on those tires–one of them was like 50% the other one was like 80% off.
So those are almost, they were brand new tires for a fraction of the cost and then I had to replace all four tires, but that week it happened to be the exact week that Costco was running a promo on tires and if you replaced all four tires you got an extra $120 off, which was basically like a free tire.
So I had to replace all four tires unexpectedly the day after replacing my transmission unexpectedly. But with that, my eyes of gratitude, what I was able to see is that because of the timing and having two damaged tires instead of just one, we were able to replace all four tires for basically the cost of two tires.
And then we had beautiful brand new high tread tires for the rest of our road trip home to Virginia. And now that will last hopefully for the next couple years. I don't know how long tires last when I drive cross country often.
But do you see how one thing wrong could have felt like everything going wrong? Oh No, the transmission and then the tires like and then it could have moved on to like what else is wrong in my life? Everything is wrong.
But instead, one thing wrong can be supported and uplifted by all of the many things that went right and being able to recognize that everything is really working together for our happiness.
Shift Your Mindset To Recognize The Good Stuff
Everything in our lives is working together for things to feel right and unexpectedly, yes, things are going to go wrong, but when something goes wrong and you have practiced gratitude, you are able to shift your mindset to recognize this one thing is going wrong, but look at all of the things that are going right in my life that are going to help me get through it or overcome it.
I talk about practicing gratitude a little bit in my book. I have a chapter on developing gratitude and one of the stories that I share is of teaching my kids when they're asking for something new to think about something that they already have that feels the same way, that gives them that same excitement or that fulfills the same purpose. I call it The Glad Game.
If you have seen Pollyanna, you know that reference from the Pollyanna where anything negative happens, Pollyanna can find the good in it and that is basically what practicing gratitude is. It is recognizing despite anything that might be negative in your life, how many amazing, good, positive, uplifting things are also there that support you and encourage you and help you along your way.
Maybe it's a fantastic relationship. Maybe it's a really cozy pair of slippers. Maybe it's a call from a good friend on the day that you need.
At most, I believe that our lives are filled with fantastic, incredible things and people and circumstances just waiting for us to have the eyes to see them.
So one way surefire way to start feeling good when things are bad is to recognize all of the things that are good that can help support that feeling.
Recap
Okay, let me do a quick recap. The five tips that I have for feeling alright when things go wrong.
Number one, have low or no expectations for everything being perfect. Do not expect perfection in your life and in your relationships. Expect that things are going to go wrong. On occasion and don't be surprised or blindsided when they do.
Number two, be curious. Stay open about the problems that you face. You will find that you have a much easier time solving them when you approach them with curiosity rather than frustration.
Number three, use your trials and problems to grow. Ask yourself, what can I learn from this? Why is this something that I'm facing? How am I going to develop further because of this, this issue? Even just asking yourselves, those questions will take you out of a place where you're just wallowing into a place of problem solving.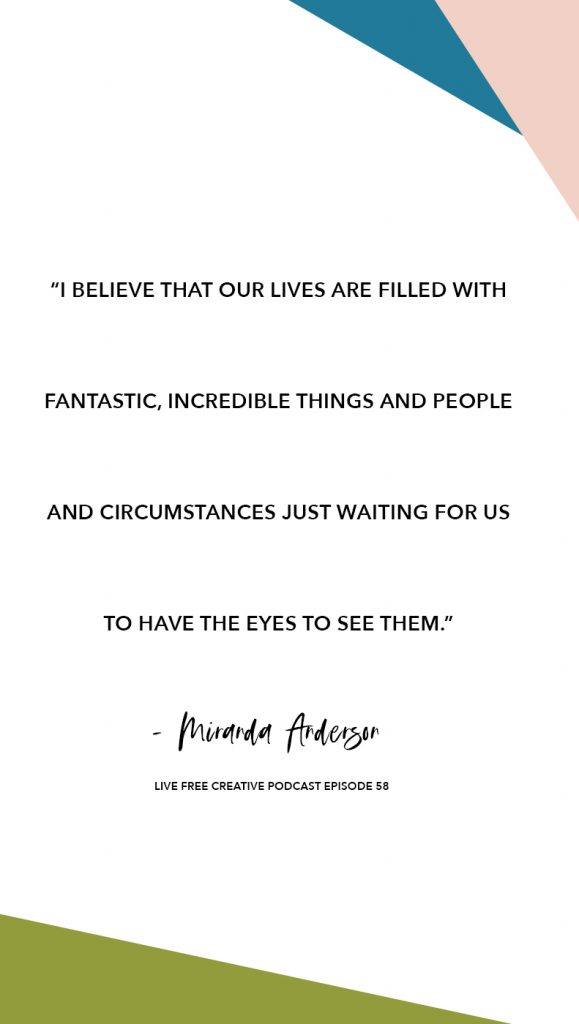 Number four, laugh now. If you think this is something that you might laugh about later, allow yourself to get into the place where you have that perspective where you take yourself out of the moment for a second look at it from a couple months or a year down the road and think this is actually hilarious. This is funny. Now this is surprising and it's inconvenient and it's wild, but it also is just part of my story.
Number five, practice gratitude. I do a daily gratitude practice where I write down in my planner a few things that I'm grateful for every day that keeps my mind trained to focus on the good. I'm consistently looking for things that are going right in my life in order to write them down and to focus on that when unexpected things happen.
Conclusion
Okay, friends, that is what I would call my long answer to the question that John Peterson asked about staying positive despite difficult renovations.
There's 40 minutes on the way that I do that and the way that I recommend that you do it regardless of what type of problem or difficulty comes into your life.
Thank you so much for being here. If you're not currently a podcast plus member, hop over to patreon.com/livefreecreative and join at one of our three membership levels.
For $6 a month you get a bonus episode every single month along with a pdf printable to help you actually apply the information that you learned. You also get to be part of our digital self development book club. The first meeting of which is happening in just a week.
Other ways to support the podcast are to subscribe. If you're already subscribed, share an honest review on iTunes and tell a friend or a family member about it. An easy way to do that is to take a screenshot as you're listening and post it to your Instagram story or to Facebook or to Twitter. Let people know that you're listening and loving the show.
You all are the best. I can't wait to talk to you soon. Same time, same place next week. Peace.