Episode 63: Climbing Out Of The Comparison Trap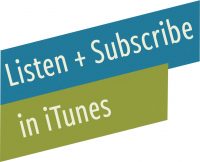 Introduction
Welcome to Live Free Creative, the podcast that provides inspiration and ideas for living a creative, adventurous, and intentional lifestyle. I'm your host Miranda Anderson, and I hope that each time you listen, you feel a little bit more free to live your life exactly the way you want to live it.
Hello. Hello my friends. How's it going? It's good to be back with you. I am thrilled to be sitting down in front of my mic. This is one of my favorite places in the world to be sharing some thoughts with you today.
I'm your host, Miranda Anderson. This is the Live Free Creative podcast, Episode 63 about comparison. I've had a hard time naming this episode. It's going to be interesting to see what I actually come up with as the formal name. I've had a few different thoughts running through my mind.
The main one has been the idea of keeping your eyes on your own paper, which I know is something we all heard growing up in elementary school and maybe even later keeping your eyes on your own paper, focusing on what's happening in your life. Other thoughts that I've had are the idea of caring instead of comparing, and I'm just trying to avoid the comparison trap.
I'm excited to see what shakes out as an official title. It might have to ask my husband and poll a friend or two, but this episode is about comparison. And to start off, I thought that we would have a great new segment. I love this new segment that is called Pause For A Poem.
Segment: Pause For A Poem
"i love myself,'
the
quietest,
simplest,
most
powerful
revolution
ever.
– Nayyirah Waheed
Main Topic: Climbing Out Of The Comparison Trap
I love it. The simplicity of that. I love myself. The quiet revolution of just knowing that we are okay, that I am okay, that I am enough. That is the goal of our life, right? To feel at home in ourselves so that we're able to then extend ourselves and to love and reach out to others.
It's really, really difficult to serve and to be of use to the world if we aren't at home, if we don't love and accept ourselves. And this show is not all about loving ourselves. This show is about comparison, which I believe is one of the fastest ways to feel badly about ourselves. It's one of the fastest ways to deny ourselves the love that we should have for ourselves.
Comparison is one of the fastest ways to feel all of the negative emotions, all of the untrue terrible stories that we tell ourselves about ourselves.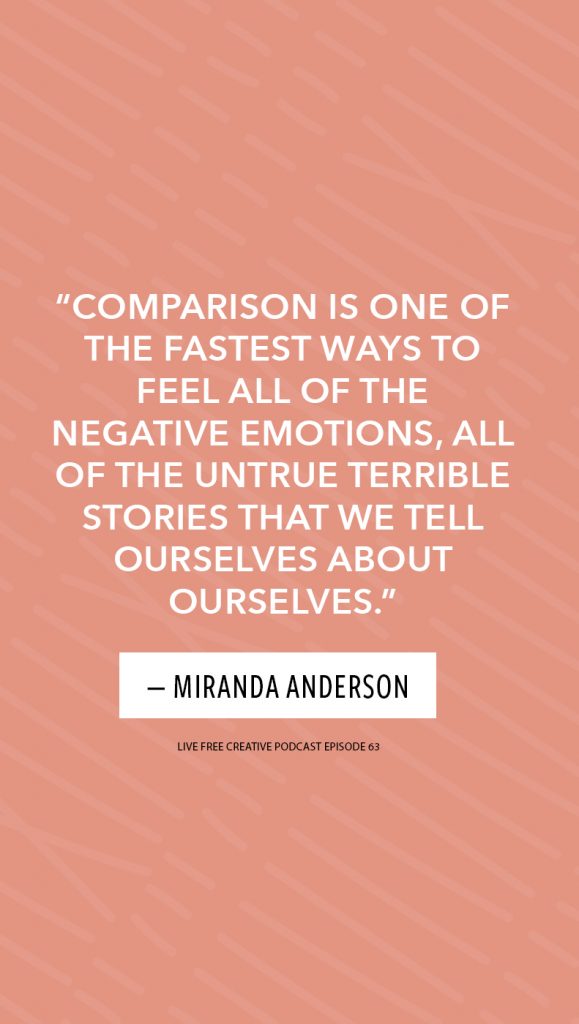 A lot of the negative emotions stem from this idea that we are not measuring up or going fast or doing it the same as someone else that we see around us. This is the trap of comparison.
Comparison is something that we all deal with on some level and I will tell you that I have done a lot of personal work around this idea. I've done a lot of personal work around the idea of staying in my own lane, of being on my own path, of focusing on the things that I'm working on and not being dissuaded or discourage by someone else's success.
I really aim for the level of emotional maturity where I automatically and reflexively feel only good feelings when I see those around me succeeding in the things that they're doing that I don't automatically feel that twinge of jealousy or of discouragement of feeling like someone else's progress is then my hindrance.
A Work In Progress
And you know what's so funny, I have been working on this–like I'm guessing most of you have–for my whole life. I remember my mom telling me as I was a young kid and my sister came home with a great report card or had done well on a test and my mom proceeded to celebrate her for how great she had done. I got a little pouty because I had also done well on my test. I was getting good grades too.
But my mom wasn't celebrating me in that minute. And I remember my mom telling me time and time again–you know, I'm sure there were many instances of this type of thing as I grew up with all of my siblings–telling me just because we're celebrating what she's doing, does not mean that what you're doing isn't also great. Jjust because right now we're going to spend some time focusing on the celebration of this success, that in no way means that you don't have successes.
I find myself now saying similar things to my kids when one of my kids does great in a soccer game and the other one's sad because we're having a big celebration for the soccer goal. Just because Milo gets a soccer goal doesn't mean that you didn't do a great job in your piano lesson, or you know, on and on.
It makes so much sense when you're talking to kids about it. It's very clear when you're looking at kids that one child's success does not mean that all the other children aren't also succeeding. Everyone can be doing a great job even if not every single person is acknowledged or celebrated at all at the same times.
It Applies To Adults As Much As To Kids
I don't know then why as adults the switch flips for us and we fail to realize that it applies to us as well. Just because someone else is doing really well does not mean that we aren't also doing really well.
A couple of weeks ago I was at a conference and–I was getting a little bit maybe arrogant or proud about this in my own mind–thinking I feel so happy for my friends when they do well and I love supporting people in my community. I've been blogging and on social media for a long time and I feel generally an overwhelming amount of good feelings and positive vibes for the people around me who are killing it.
I feel so excited for them. I feel so happy for my friends when they have great things happen in their lives. Generally I'm like feeling like I'm doing really well. Okay. And then I go to this conference, and this I have to mention is like with from intention, I was not born without, I mean I was born with a very serious comparison streak and you know, maybe that's growing up in a family with a lot of siblings.
Maybe it's just the way that we all are raised, but I definitely have a tendency to notice what's happening around me. And that's why I'm saying in the last few years I've put a lot of effort around flipping that paradigm so that my feelings towards other people and towards myself are positive that I'm supportive and encouraging.
My Reflex Was To Feel Defensive
And it was interesting then that I was at this conference and there were some really incredible people there and my reflex was to feel a little bit defensive. And this was so interesting. I didn't necessarily feel like they didn't do a good job or didn't deserve all of the support and encouragement and love that they received. But what I recognized in myself was that I was starting to feel a little bit defensive of my own, like protective of my own self worth for lack of a better way to explain it.
I was seeing these other women doing the types of things that I want to do and in fact that I am doing. I was there as a speaker and there were other speakers who I met for the first time and admired and was like, Oh my gosh, they are doing so awesome. And the funny thing is to anyone else there, they would have recognized me as doing the same things that these other speakers were doing.
We all have this platform. We all gave our presentations. We all did a great job.
And I noticed that in the comparison that I felt like I needed to protect my own self confidence as a presenter. And the way that I did that was by automatically feeling like I needed to then not be overly encouraging. Like I needed to save the encouragement for my own heart to encourage myself rather than freely giving of my encouragement and my support to these other women.
I'm being really candid here and maybe a little bit vulnerable with sharing these really true sort of emotions and feelings and thoughts that I was having that are imperfect and that are something that I'm working on. But I hope that you're able to relate on some level.
But Love Only Grows When You Share It
What I discovered though was that as soon as I recognized it, I was able to step outside of my head and realize I am withholding this encouragement and support because I am feeling like I'm not measuring up. When I compare myself to these other women, I feel like I come up short and so I'm saving some of my encouragement at some of this love for myself so that I can feel the way that I want to feel about myself.
And what I had to recognize was that as I share and encourage and support that love only grows. When I'm protecting myself by saving my love and keeping it and keeping my support inside myself, I'm denying it and I then am not even able to feel it because you know what happens when we share encouragement and when we share love and when we share a support that is when we get to actually feel those emotions.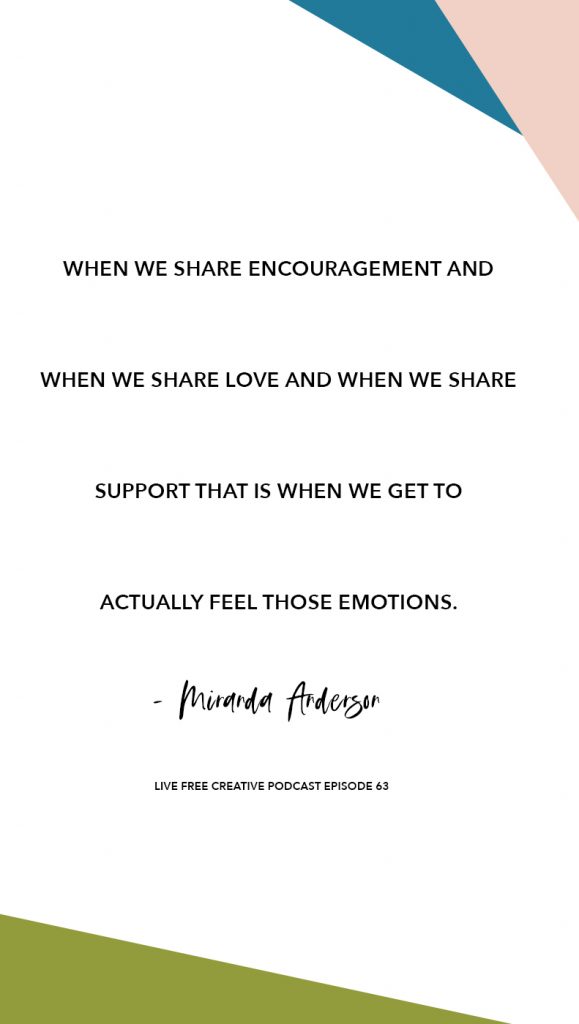 We feel them within ourselves as we share them with others. It was this whole paradigm shift that I recognize that as I share my love and support for the very people who I might feel intimidated by, that is when I am able to then become more of the person that I want to be. That's when I'm able to more fully feel love and supported myself in the very act of sharing that love, encouragement and support for others.
In that very moment, I am able to recognize that I have more than enough to give. I have enough for myself and I have enough for them and that manifests itself as I share it. This mindset shift is kind of like good for her, good for her. I'm so happy for her.
When we start to feel those feelings of, I'm not measuring up. I'm not good enough. I haven't gotten as far as that person has. She dresses amazing. She has great hair. She lives in this beautiful house. Her life looks perfect, her family looks perfect. Everything about her is perfect and everything about me is not quite.
You've all been there in one way or another. But I want to offer that it feels so much better to feel good for the other person because you're the one who gets to feel those feelings. It feels better to love and to support and to encourage and to recognize that, "Gosh, that's amazing because you get to feel the feelings that are good that you are offering to someone else."
Comparison Can Go Both Ways
Now, just another point, I'm actually going to share five ways to get yourself out of the comparison trap. I maybe skipped ahead a little bit, but I'm going to go back to some specifics, some action items, but just as I was mentioning that last little bit about how you might recognize someone else's life as looking perfect.
I want to note that some of us have a tendency, and I know that this happens online a lot, that we will say things like, no one else's life is perfect. It's not as perfect as it seems. Everyone's just sharing a highlight reel and things to that effect. Something that I've noticed that is not helpful is when I start to internalize that and actually play out the story of like all everything that person's showing or everything that person's doing, everything that I see is successful, and there must be some really crappy things happening as well.
In a way that doesn't make the person seem more human and more real, but in a way that almost makes me feel indulgent in the way that their life couldn't possibly be as perfect as it seems. Does that make sense? I may be sounding like I'm a terrible person, but I have noticed though that sometimes we start to look for the things that might be wrong. This is what I'm trying to say because we get a little bit defensive or we get caught off guard by some of these feelings of comparison and the negative spiral that we can go into.
We start to then pick apart what might actually be imperfect about others. And we think, "Well, gosh that person maybe did this cool thing, but look at all the things that she must be failing at" or "Look at all the ways that she's not measuring up." We actually emotionally–and kind of strategically with our heads; this is a defense mechanism–we start to tear down all of the amazing things that someone has done in order to justify why they've been able to get to where they are and justify to ourselves why we might not be there yet.
For example, one simple example, and I'm curious if you all relate to this or not. Or if I'm just sounding like I'm a terrible person and you all don't want to be friends with me, I know that there have been times in my life when I have seen women do an amazing thing or do some amazing things who were single and didn't yet have children.
And I remember thinking to myself–again, I'm just being honest, honest here–I remember thinking to myself, well, if I was unencumbered, I would be doing those amazing things too. But I am married and I have kids. It was one and then it was two, and now it's three, and that's the reason. Those are like my burdens. The reason that I'm not out there like doing these amazing things that I'm not like 30 under 30 or 28 or 20 or whatever, you know, that awards and acknowledgements and all of these things.
This is silly. I mean, this is ridiculous. Even as I'm seeing it, I'm like, "Ah, those are such ridiculous thoughts!" because I recognize so intensely and fully that my husband and my children are some of what make my life the most incredible. These "burdens" or the reasons that I might not have achieved whatever thing I thought I needed to achieve or the reason that I was feeling like someone else was doing it better because they didn't have these responsibilities that I have.
But these are my greatest assets. These are what is incredible about my life and more than that, this is what I choose. I am living the life that I want to live. I'm on the path that I want to be on. I have chosen it with intention and with decision and with prayer and with reflection. I'm on my way and I'm loving the process and sometimes still, even with all the work and all the focus and all the intention, I can get caught up in comparing myself to others, defending myself, to myself and mentally tearing people down so that I can justify why I haven't quite gotten there yet.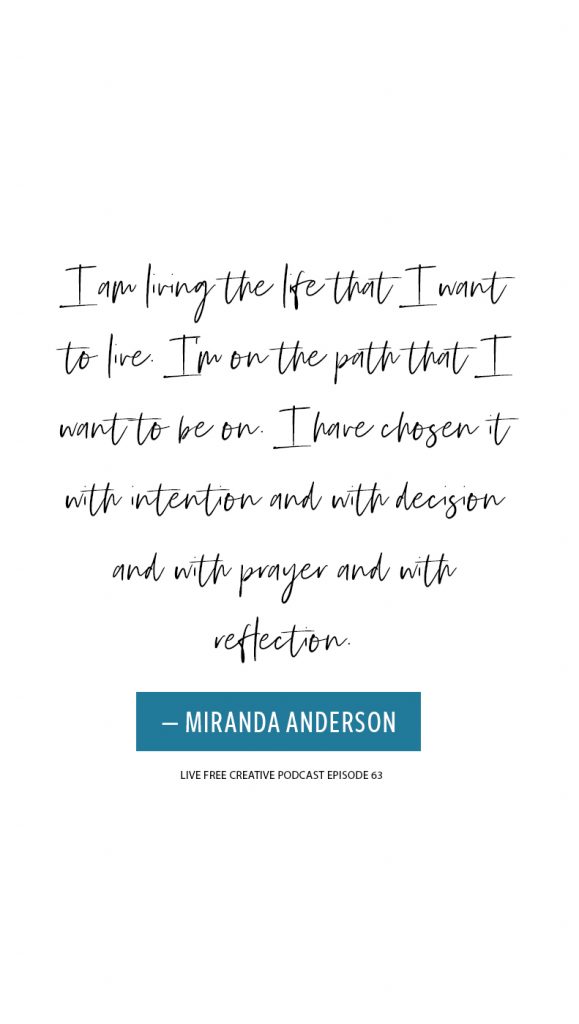 How To Escape The Comparison Trap
I think that we all have done this, we all do this from time to time and so I'm going to offer five specific ideas to help you get yourself out of it. When you get into it automatically, it's human nature, it's reflection, it's survival mechanism, it's all of these things that our brain will just do automatically.
I want to offer five specific suggestions to get out of the comparison trap. And before I do, I want to just share a quote that came to my mind. This is a quote from me. This is my own quote. I was on a run a month or two ago and I must have had something on my mind, some one that I was comparing myself to or something that was kind of had me off a little bit and I was going a run as a great place to go over those things in your head and try to clear it out, clear it out, and get focused and, and kind of understand where I'm coming from and, and separate myself from the thoughts so that I can be more clear about what is actually happening.
And I remember all of the sudden thinking that comparison was such an indulgence. Comparison can be such an excuse that we use to not live fully in our own lives.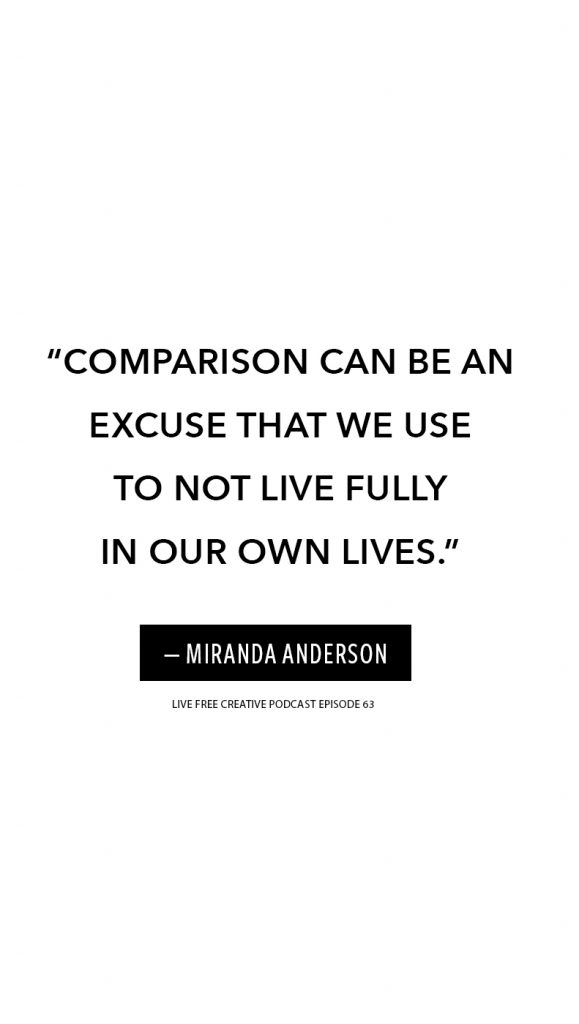 Some people have full conversations, they get together with their girlfriends and their whole conversation is about someone else rather than about the enriching things that they're each engaged in, in their own incredible lives. And this is what came to my mind:
We must sacrifice the indulgence of comparison in order to step fully into the beauty of our own unique life.
It's so interesting how comparison loses its glitz and glamour as soon as you recognize it as an indulgence, as something that we might be using and kind of reveling in–almost like a pig in the mud, feeling just like you're rolling around in it–because that means that you don't have to get off your bum or off the couch and go live your own beautiful life. You use it as an excuse to not do the things that you really want to do because you say, "Well, I'm never going to compare to that person. I'm never going to measure up. I might not do it as well. All of these people are already doing the thing that I want to do. There is no room for me."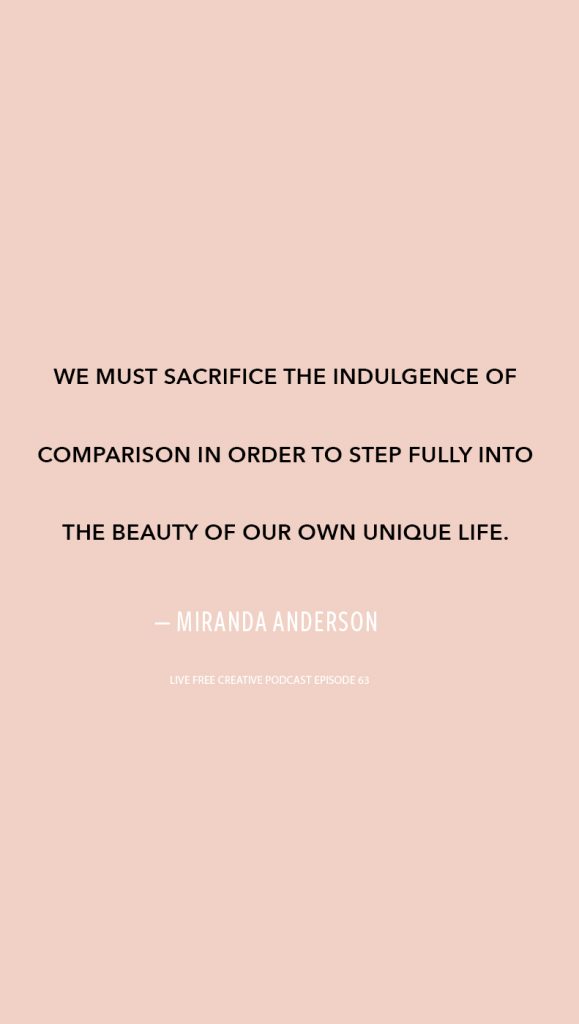 That is indulgence. That is excuses. You have to sacrifice the indulgence of comparison in order to step fully into the beauty of your own unique life. As soon as you start comparing your life to someone else's, it loses its luster. You sacrifice the beauty of your life when you compare it.
And so I'm excited to dive in to five specific tips for clawing yourself out of the comparison trap when you find yourself in it, as I know that you will because we all do.
I want you to remember these five simple steps to get yourself out and refocused on the things that matter most in your own life:
1. Turn It Off
Number one is to turn it off. Most of the time when we are comparing our lives to someone else's, we are receiving those other lives passively through something like social media, through maybe television, through gossip, through chatting with your friends about it.
You need to first turn it off wherever that input is coming from, wherever the information about someone else is coming from, you need to turn it off. For me, a lot of times that means as soon as I start to feel that little twinge in my belly, the beginning of the sick feeling of comparison when I'm on social media, that's when it's time to turn it off.
And again, remember what I was just saying about indulgence? It can feel like, Ooh, like kind of like a yucky indulgence. You want to go see more, or you're already feeling bad and then you're like, I'm just going to really feel bad. I'm just going to really get into it and just see all the incredible lives and just feel so badly about myself.
What a waste. What a waste of time. What a waste of energy. What a waste of potential. What are waste of presence. Turn it off. As soon as you start to feel it, turn it off. As soon as you start to notice it in your own head, pause your thoughts, recognize it, and maybe even speak it out loud. You could whisper if you're in a conference room or something: "This is comparison. This is not truth. This is irrelevant. Stop it and turn it off."
That's number one.
2. Check In Fully To Your Own Life
As soon as you stop it, stop the input to stop the thought, you're able to give yourself a little bit of space to separate from those thoughts, from those feelings and in that space is number two.
I want you to check in fully to your own life and the way that you do this is through your five senses. This is just like a one minute meditation. I want your eyes to be open though.
I want you to look around you to get out of your head and get into the room or the car or the park or wherever you are physically in that moment. Get there. Bring yourself back into your body, out of your brain, back into your body and see what is around you. Take in the small details.
If you're outside, notice the bugs crawling around in the grass or the leaves falling from the trees. Feel the wind coming across your face. If you're sitting inside, feel what is the temperature of the room? Is it warm? Is it cool? Does it need to be a little warmer? Notice how your body feels. If you're seated, feel the weight of your body settled into the chair or the couch or the car. If you're walking, feel your feet moving and your knees bending and all of the mechanics that happen in your body.
Taste. Maybe open your mouth. See what comes in. Are you eating? Is there gum in your mouth? Do you need to brush your teeth? Notice your taste and notice your smell. Take a deep breath and recognize where you are. What is happening? This is your life. All of those things going through your head. Those are just thoughts. This right, checking in to your life with all of your senses. This is it. This is where you are right now.
This is your one wild and precious life, in the words of Mary Oliver, and you don't get another one. As much as sometimes you might think you want to hop into someone else's life. You can't. This is where you get to experience life. This is where you get to see the things that are around you. This is where you get to look into your children's faces. This is where you get to bake cookies and smell them as they're baking in the oven. This is where you get to go on walks around your own neighborhood.
This, in your body, in your life is where every fantastic, beautiful, magnificent, wonderful experience of your life is going to happen. It's all going to happen here inside your very own life. It is not going to happen in anyone else's life, on anyone's social channels, in anyone else's dreams. This is the place that you get to live.
It is so helpful when you're stuck in comparison to check back in and remember where you actually are, who you are, what incredible things exist, what are the things in your life right now that you love? As you check back into yourself and you bring a measure of mindfulness to this moment of comparison, you're able to see how things in your life are just for you. There are things that you have in your life, experiences, resources, people, relationships. They are tailor made for who you are, and this brings us to number three.
3. Write Down Things You're Grateful For
Step number three is to write down the things that you're grateful for. Write down even the smallest things. Even if you can't think of very many because you're real deep in the hole, you can.
You can say, I am grateful for my pink nail Polish because it looks really good. I'm grateful that the sun came up today or I'm grateful that I woke up today. I'm grateful that I am breathing. I'm grateful to be alive. I'm grateful for that incredible Apple cider donut that I found at trader Joe's.
If you are walking or driving, you can just start to think of them or say them out loud even better, but as soon as you get the chance, you have to write them down. The physical act of writing down the things you're grateful for and then enabling yourself to read it and reflect on it helps you to feel it, to internalize it. Write down the things that you're grateful for. This brings you back into perspective of your own life.
Remember that poem at the beginning? I love myself. That powerful quiet revolution that we can have. That does not happen when we're loving everyone else's lives. It happens when we're loving our own and when we're recognizing our own and the beauty that exists right here.
4. Move Your Body
Number four. This one is so helpful: Move your body.
I know my friend Alison Faulkner from The Alison Show talks about this a lot. It is so true. Getting yourself up out of the chair, out of the car, out of bed and moving your body. I love to go on walks. I love to go on runs as well. That doubles as meditation and exercise and therapy and learning because I listen to podcasts usually when I'm running.
But going on a walk, I can bring the kids, I can bring the dog. Just getting out. It doesn't matter where you live. You can walk anywhere. You can walk around your block, you can walk around your house, you can walk around your backyard, you can walk to the store, you can eat. It doesn't matter. Moving your body. I mean dancing would work to turn on the music and have a dance party in the kitchen.
Lately I've been loving on Instagram, SoulSpark Movement. She shares these movement sessions that she does just by herself in her house and she puts them to music, but it's just like free. It's not like dance dancing. It's just like free flowing movement. This incredible like mindful movement of using your arms and your legs and just moving your body and the beauty and the wholeness that you can feel as you move your body. It's incredible.
So that's number four, move your body, moving your body as you're having sort of this, these feelings of gratitude and feeling present in your life. It just brings everything full circle. It allows you to just exist and it builds those positive emotions and it helps you to feel like yourself, to feel like yourself in your life.
5. Take Action Toward Your Own Goals
And then number five, and this is a big one, this is a big one and it's can be a scary one. And this is the one that we indulged in comparison to avoid. Number five is to take action toward one of your own big goals or dreams or little goals or dreams. Take action toward progressing more towards the life that you want.
That can mean going to the library and checking out a book that you've wanted to read. It can mean sending an email with a pitch to speak at a conference. It can mean going to the fabric store and picking out fabric for a line of baby dresses that you're going to make and sell on Etsy because you've wanted to start that shop.
As you take action toward your own dreams, you are unable then to focus on someone else achieving their own dreams. This is where keep your eyes on your own paper comes in handy as you are fully engaged in your own life. There's no space to worry about what anyone else is doing.
You need to use your energy and your resources and your creativity, all of that wonderful passion that you've been blessed with. You need to use that for the things that you want to do. Don't waste it worrying about what other people are doing.
This has been really helpful for me these last few months, almost a year now, as my life has gone a little bit differently than I expected in a lot of ways. The way that I thought I wanted to be building my business is changing and the things that I thought I wanted to be doing are different. And I feel like I in a lot of ways, and I've shared this a lot on the podcast recently, that I feel like I have gone back to square one and so many areas of my life where I was kind of becoming pretty good at some things and kind of like an expert in some areas and things were working really well.
And now I'm, in a lot of ways, starting over and I have to remind myself that it's okay for me to start over. It's okay to be a beginner. I can still be on my path and my path is still correct and I have a lot of new steps I need to take because there's a lot of new goals that I'm working toward. And so rather than compare where I am, which is at the beginning of something new and exciting for myself, to someone else who is at the end or in the middle or further along down the path, I can use their success as inspiration for my own roadmap.
But my work has to happen in my own life. I have to take action the next right step in the direction that I want to be going. And as I do that, as I focus on the things that are on my own plate, my life is filled up and there's no room for me to worry about what anyone else is doing. I can see it. I can think good for her. I'm so proud of them. What an awesome job they're doing.
And then I refocus on what an awesome job I'm doing and what an awesome job I want to do, and using my energy and flowing every good thing in my life, in the direction that I want to be headed. Can you see how as you take these steps out of that comparison trap, you're able to recognize it.
Replace those thoughts with thoughts of presence and gratitude and then also move forward. Because what we all want to be doing is moving forward and feeling engaged. We want to feel so in love with our lives the way that we think that we would feel if our lives looked like theirs. But guess what? You get to be in love with your life today. Not one single thing about your life has to change in order for you to feel the feelings that you want to feel, because those come from inside of you. They don't come from outside.
Feelings don't come from the things that you have or the things that you do. Feelings come from the thoughts that you have about your life and you get to choose how you think about your life. You get to bring all of your presence into your body and recognize that this is so incredible what you are doing and who you are and who is surrounding you right now.
All of the resources available to you right now. Don't worry about the lack. Don't worry about the ways that you are not measuring up in your own head. Think about all of the ways that you're succeeding, all of the things that you are doing incredibly well. All of the things that are going right. As you lean into that space, the comparison starts to melt away because you realized that you would not rather be anywhere, you would not trade that real green grass, for the green grass that you have growing right here in your own yard.
Recap
I hope that this is helpful. I know that it has been really helpful for me to break down, when I start to feel this way, how I can get myself out of it using some actual strategy. I'm going to remind you of the five steps:
Turn it off, stop the scroll, pause the mind. Recognize this is what's happening and it needs to end right now because I don't have time for this and I don't want to waste my precious resources and energy on going down that path. So number one is to turn it off.
Check into your life using those five senses.
Write your gratitude. Write everything down that you can think of that's incredible about your life.
Move your body, connect all those pieces and start to get back into yourself.
Take action in the direction of your dreams. As you focus on your own paper, you will recognize that right in front of you is every single thing that you need. As you spend time enjoying the life that you are living, rather than worrying about what anyone else is experiencing in their lives, you will be able to feel the way that you want to feel about your life.
As you sacrifice the indulgence of comparison, you will start to recognize your own life for being as unique and incredible and beautiful as you are. You don't have to maintain defense and reserve all of the love and support and encouragement and sight of you instead of giving it freely to others. Because as you give it, you will be filled up and as you support and encourage and build community. Rather than feeling the tug of comparison and jealousy, you will be able to be enriched and empowered by the support, encouragement that you lend to others. It comes right back into your own heart.
Conclusion
Thank you so much for tuning in this week. I sincerely hope that something about this episode has impacted you and helped you and that you'll use these tips as you find yourself stumbling through comparison. Even if you're trying really hard, like I am, to not ever feel comparison to anyone else ever, you might sometime, and so I hope that you'll reflect back on the things that you can do with intention to recognize the beauty of your own wonderful life.
As always, I appreciate you tuning into the podcast. There's a few ways that you can support the show.
If you're finding that the episodes are helping you in your life, I want to invite you to leave a review on iTunes. It only takes a minute or two and it makes a huge impact on the people who are able to read those reviews and know that this show is something that's going to impact their lives as well.
Also, if you haven't yet done this, check out our Patreon at patreon.com/livefreecreative. You can join as a Podcast Plus member, which means that you are going to be part of our digital self-development book club as well as getting a bonus episode with a printable PDF every single month. The Podcast Plus membership is only $6 a month and I've been calling it your $6 gym membership for your heart and your mind to help you live a more creative, adventurous, and intentional lifestyle.
And lastly, if you haven't checked out my book More Than Enough, it shares so many insights, principles, and inspiration to help you not only stop comparing yourself, but to start living more fully into the life that you want to live for yourself. If you have felt lost or you felt like you're lacking direction or purpose, or you just don't know what is your next right step, More Than Enough can help you get some clarity surrounding what it is that you really hope for, for your own life. I hope you'll check it out in the show notes.
I will talk to you next week. Have a great one.