Episode 64: Buffet Syndrome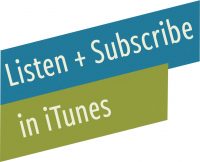 Welcome to Live Free Creative, the podcast that provides inspiration and ideas for living a creative, adventurous, and intentional lifestyle. I'm your host Miranda Anderson, and I hope that each time you listen you feel a little bit more free to live your life exactly the way you want to live it.
Hey, Hey friends. Welcome back to the show. I'm your host Miranda Anderson. You're listening to Live Free Creative, Episode 64: The Buffet Syndrome. I can't wait to explore this topic a little bit with you and explain where it came from and how it's affecting my life right now, how I think it can affect yours. But before we get started today, I want to bring you in and share a little bit about our life lately.
Segment: Life Lately
I'm so happy with my life right now. I just have to tell you that after going through quite a tumultuous year, the last few months have felt very settled. That's not to say that things haven't gone wrong here or there, but for the most part, we have been in our house. We have a great routine.
If you listen a few episodes ago, I talked all about planning your life from the inside out and it has been such a game changer for me to have all my kids in school. So I have this wide open day in front of me, and every single day I'm including things that I have to do, household duties and tasks; I'm including things that I want to do, like going on a run and getting my meditation; and I'm doing things that I simply love, like sitting on my front or back porch and reading or going for a walk in the sunshine.
Things just are in in a good rhythm and, having gone through a crazy, crazy year last year, I feel even more grateful for it because what feels abnormal is that my life feels really normal and that's amazing.
Home Repairs
As far as the house. So we're coming up on the one year anniversary of the flood, the big flood. I feel like Noah, when I talk about the flood so much, but we did have that big flood and crazy, crazy, lots of upside down things happened the whole year. And I want to report that as of this week, the last ceiling repair was finished.
So you remember we had the big, big flood, moved out for six months and the same week that we moved back in I accidentally knocked over Dave's golf clubs in the storage room and caused a secondary flood. The same pipe broke again in a different spot. And so we had like five minutes of water.
It was just panic pandemonium for a little while. We got the water turned off fairly quickly and the only room affected was Milo's room, which hilariously had been the only room unaffected by previous flood. So for the last about five months, Milo's room has had holes in the ceiling, small holes, but holes that were covered by plastic because they were able to come in and dry out his ceiling without ripping the whole thing out, which is what happened in the rest of the house.
So this last week, and this reminds me of Episode 23: Simple Solutions. If you haven't listened to that, go back and listen to it. I was going around and around and around about the repair of this ceiling because it was a second flood. We didn't use the insurance, it wasn't on the same claim as the first one and we just were planning to pay out of pocket.
But when I remembered that, you know, when my ceiling fell down before the flood–our ceiling fell down in the living room–and it had been about $1,500 out of pocket to fix. And I just wasn't mentally prepared to spend $1,500 on a ceiling. And I kept thinking it can't be quite that much because it's just a few holes. They don't have to redo the whole ceiling. But it gave me enough pause. The unknown of how much it would be just stopped me in my tracks.
And so I just did a bunch of other things. And then finally I got the card of a man who goes to church with us who does sheet rock. And I finally, I don't know why this week I was just like, I'm just gonna call him. So I was getting ready to go somewhere. It took five minutes to call and say, "Hey, would you come over and give us an estimate?"
He came over, looked at the ceiling and said, "How about 300 bucks?" And I was like, what? $300? Yes please do it yesterday. So he came two days later with this crew. I'm not kidding. They repaired the entire ceiling. I mean they did the two holes, a bunch of filler holes, primed and painted the ceiling in like two hours for 300 bucks. And it was done.
The whole time I kept thinking, this is a prime example of the simple solutions. Like why do we wait? Because we build things up to be so big in our heads when they're not that big. So if you have something like that or repair or home maintenance thing and you don't know how much it will be. At least get an estimate and find out because it might be take two hours and be 300 bucks, it'll be no big deal.
Finishing Up The Last Projects
The next thing I want to tell you about my house, just because I sometimes like telling you about my house, is that I am almost finished with what feels like one of the last projects of the interior for a while. Like after this stairway hallway, everything will be done for a while, which is a really fun feeling.
So recently I was noticing that our stairway was kind of odd. I mean it's just like, it doesn't have any natural light is just kind of a little windy staircase that gets up to the attic bedroom. And our attic bedroom has felt so fun since we renovated it. I love it. It's one of my favorite spaces to be and the hallway hadn't even been re-painted since we bought the house.
Old, old paint, lots of dings and places where like moving furniture and out. It's been scratched up and just, you know, had stains and stuff on it. And I looked at it and I thought, what it needs is a little bit of trim. I'll put some pictures in the show notes of the before and after of our bedroom where we added this thin trim to the ceiling. It's just the smallest thing like that adds such dimension and just makes it look incredible.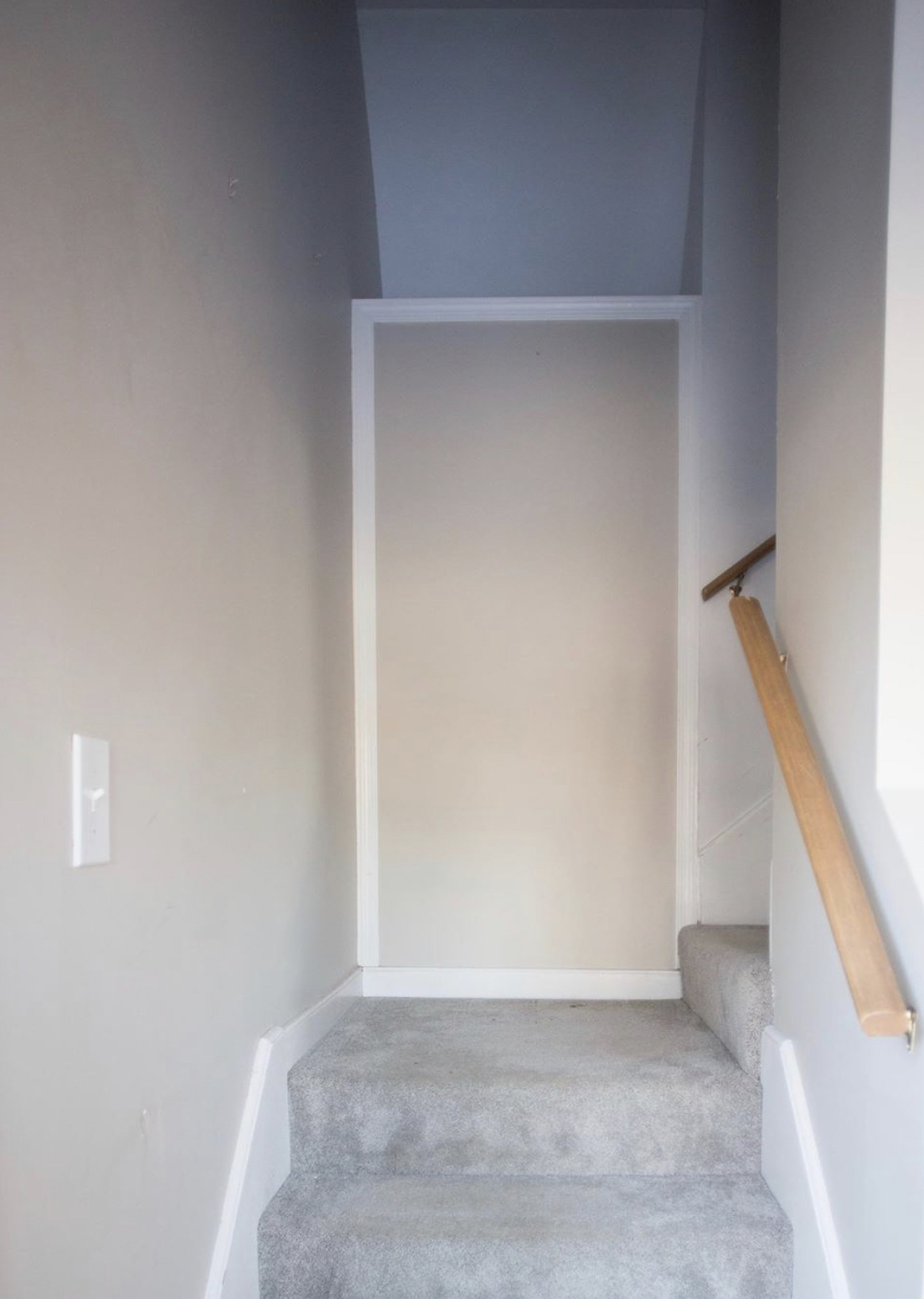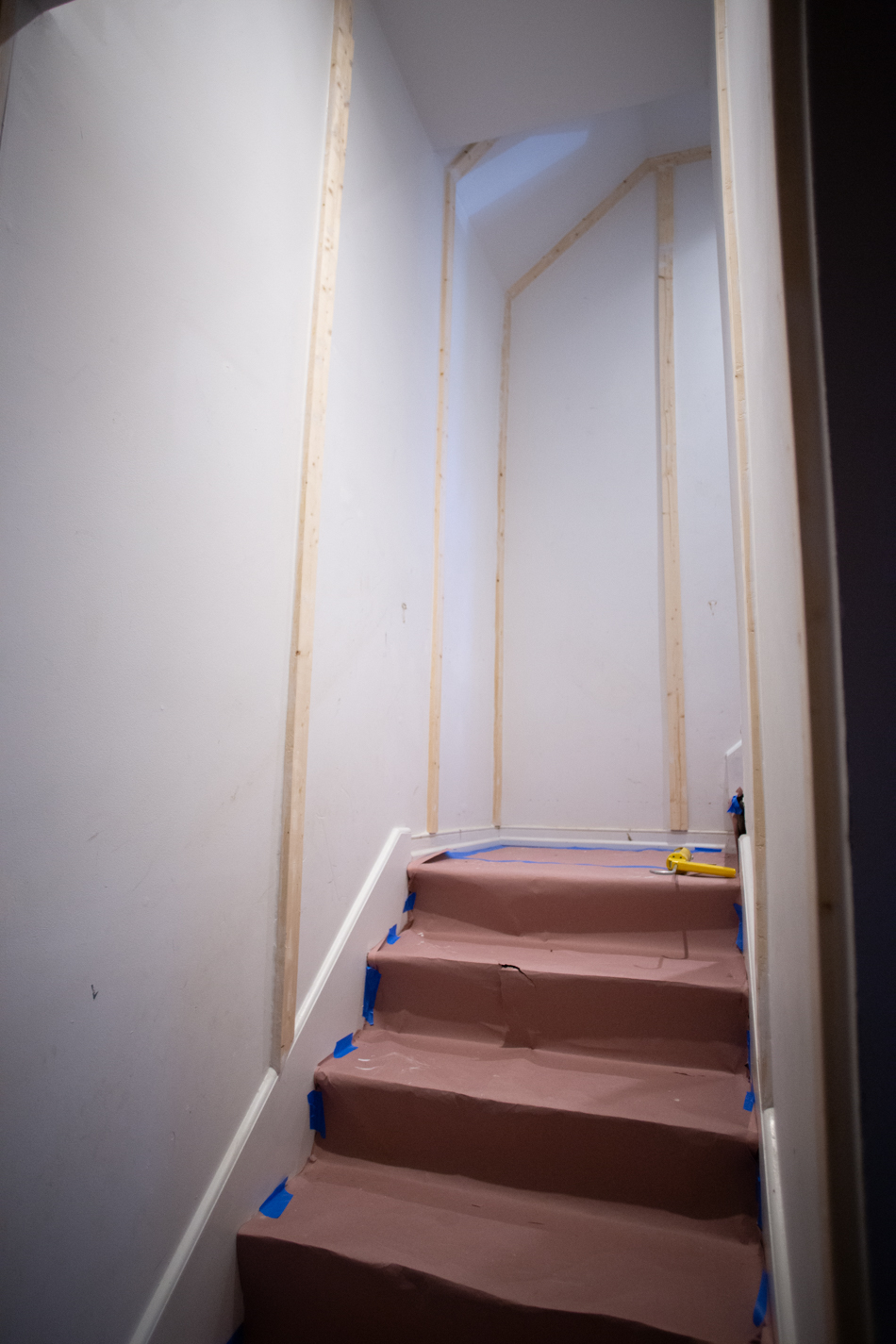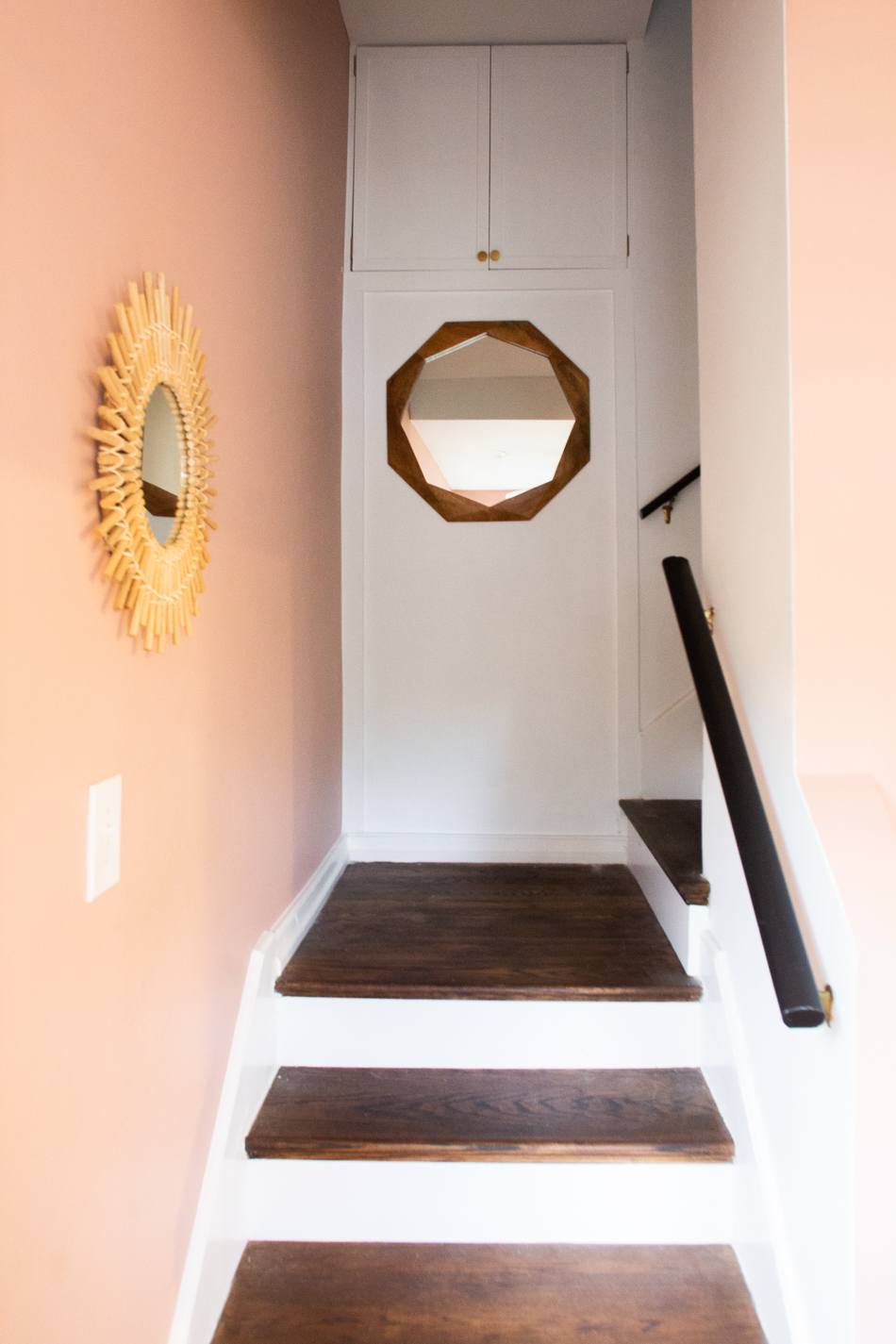 And so I thought the hallway needs some trim. But the really skinny thin trim wasn't going to cut it for how tall the ceiling is cause it's like the two levels that span the stairway. And so I decided to add a little bit thicker trim and I'll add some pictures to the show notes. This is my push to actually like get it done soon so I can take pictures of the before and after of the stairway cause I'm telling you about it now.
I added 1×3 trim boards up at three foot intervals along the whole hallway stairway. And then my favorite thing after that is going to be that the stairway is going to become our gallery. Our house is small and doesn't have a lot of wall space just because of the way that it's laid out and which I love because it's a lot of open space.
But we have a lot of art and family pictures that we really like and we haven't been able to hang because there just wasn't space on the walls and so this hallway stairway is now going to be my gallery and I'm really excited. The way that I hung the trim allows space for even the biggest picture is to be hung in between in that three foot space and so it's going to be like a little mini gallery wall going up the staircase and I can't wait to show you.
So that is what's up as far as projects around here. The kids are good. I'm good. Dave's good. Chickens are good. They finished molting and they seem happier. The dog's good. Everything's good. That's life lately.
Main Topic: The Buffet Syndrome
That could have been a lot shorter, right? Here's my life lately. Everything's good. The end.
Okay. I want to jump into the episode today. I'm going to share with you a little bit about something called buffet syndrome.
I made this up. I don't think there's a real thing called buffet syndrome, but I do believe that we all suffer from this buffet syndrome from time to time. I want to start by explaining what buffet syndrome feels like and I'll try to do that by telling you about a little bit what it looks like.
Lessons From A Hotel Breakfast Buffet
So a few months ago we were living in a hotel before we were able to move back into our repaired house. And one of the benefits of living in a hotel is that, well, I guess if you go to a hotel that has a hot buffet breakfast, then you have a hot buffet breakfast every day.
So our kids were really enjoying this. I don't know if your kids are like mine, but that they really, really like a buffet breakfast at a hotel regardless of the quality. So my kids are having a blast every single day. Going down and walking along the buffet and choosing the things that sounded good and they really loved it. It was like very novel. And really fun every day.
In fact, before we left the hotel, we talked about what are some of the things we can do to have breakfast at home, feel as fun. And we settled on choosing a few things that we could have at home all the time so that they would have some options just like they did at the hotel. But one morning–the morning that the idea for this podcast or this concept came to me–was when I was watching Plum at the buffet.
Now she's 5 years old, and she loves the buffet. And so let me tell you, I wrote down in my notes app of my phone what she had for breakfast this morning. Plum had a hot waffle–you know how the hotels have those like make your own waffles–so she made a waffle, and then spread it with Nutella and raspberry jam, and then of course topped that off with a little bit of whipped cream.
She also had a bowl of oatmeal with Brown sugar and a scoop full of raisins. She had a peach yogurt, a cranberry juice, and a mini cinnamon roll. Now, Plum did not eat all of that food, but she got all of it and was really excited about all of it. Every time she chose something, she would be really wide-eyed and think it was really great. That was just what she wanted and she bring it back to the table and then she'd go find something else that she really liked.
And I'm happy to let my kids choose their own breakfast, especially at a buffet where everything is available to them. And I tried not to micro-manage what they were choosing. And so I just kind of watched her with her waffles with Nutella and jam and oatmeal with sugars and raisins and peach yogurt and cranberry juice and cinnamon roll.
And sure enough, very soon after taking a few bites of each different thing, Plum was full. And not only that, she felt a little sick and she felt sick of everything she had been eating. She didn't want any of it anymore. She was done, more than done.
A Little Bit Of Everything
And it occurred to me as I watched her how familiar that process was. I could remember being younger myself and going to an all-you-can-eat buffet, going to a hotel breakfast bar and wanting everything that I saw, everything looked good or at least most of the things did and it was all available. So why not just have a little bit of everything.
And I also know well the feeling of eating a little bit of everything until I had had more than enough and I was now not only full, but I kind of felt sick. I'm sure that so many of you relate to that feeling whether you intend to or not. We have all gone so far as to eat a little bit of everything a little more than we should. It looks good, so let's just cram it in there and then we're not only full, but we're sick. We feel worse than before.
I recognized that at some point in my growing up, my adult years, I don't know exactly what point, but I actually do remember the idea, the light bulb sort of turning on in my head one day that even if there was an all-you-can-eat buffet available, that that didn't mean I had to choose everything.
And this, this may sound silly to you, but some of you, I think, are on my same page that you either have realized before or haven't yet realized, but can understand as I'm telling you, that just because everything is available to you does not mean that you have to have everything. Just because there are lots of options doesn't mean that you will miss out if you don't try them all.
Since that realization, I have approached buffets very differently. I look at what's available and I consider what I actually want and then I choose the things that I actually want right now, things that sound good now, recognizing that my capacity to eat a meal is not endless, and so I know that I will feel better if I make a decision rather than try everything.
I should also mention I love trying everything. I love like going to a tapas restaurant and ordering the menu with some friends and getting a little bite of everything. And that feels different to me than being at an all-you-can-eat buffet and trying to take advantage of the many opportunities for many different meals and having more than you need of any of them. Not having a small bit of each thing but really like going for it and then feeling sick.
Buffet Syndrome
So what buffet syndrome looks like is a child at an all-you-can-eat buffet that, rather than recognizing opportunities or options, taking inventory of true desires or values and then making a decision, you want to do everything all at the same time. And as a result you end up feeling worse than before. The buffet syndrome is what happens when our eyes are wider than our stomach.
Not only talking about food, which I mean you could apply this to an actual buffet, literal buffet. But what happens when our eyes for opportunities or for material goods for um, different types of achievements or goals are bigger than our capacity. Whether that's time or whether it's energy or whether it's actual desire. Buffet syndrome looks like being driven by the fear of missing out on what other people are doing rather than the clarity that comes with choosing what we want for ourselves and then enjoying it.
In Episode 42, I talk about the idea that More is better is a lie that we believe, and I think that sometimes what we fail to recognize is that not only is more not always better, but there comes a point on the curve where more actually ends up making us feel worse than before. It's not only that more doesn't improve the status quo, but that it takes away from the positive feelings that we could be having in our lives, by adding to our responsibilities, to our wardrobes, to our opportunities or our list of goals, even things that we think might even be positive.
We think, well this looks delicious too. This is a really great thing too. But when we add it in with all of the other things that we're currently doing, that it actually has a negative effect that not only does more, not equal, better, but it also isn't just neutral. Adding more, on occasion, can actually be detrimental and make us feel worse–not only about the thing that we added, but like when you're sitting down at the end of a buffet and you finish your meal, you're stuffed full and you start to feel sick and you kind of start to feel bad about everything that you ate.
Not just that last final push, not just the last slice of pie that took you over the edge, but you look at everything in front of you and think, "Gosh, why? What was I thinking? All of this makes me sick now."
Now, not everyone deals with buffet syndrome because there are some people who have a really hard time making decisions and so they don't say yes to anything. They don't move forward. They have lots of ideas and dreams and goals and they don't actually do any of them because they can't choose what to do.
Choose The Thing You Want Most And Really Enjoy It
And then there are people who have buffet syndrome, which means that instead of choosing something that they start to do everything or try to do everything or that they don't ever say no because they don't want to miss out. And so your plate get so full that you start to sort of resent the whole meal.
Contrast buffet syndrome, where you have everything and you have too much of it, and then you feel sick after, with simply choosing the thing that you want the most and then really enjoying it.
That is what it looks like when you are aware of the many, many possibilities available to you, but you recognize that your life will feel better if you simply choose the ones that you want the most and that are the most essential for you and your family. I know I've talked about the book Essentialism by Greg McCowan. I'm gonna recommend it again.
It's one of my very favorite books and something that I read at least once a year because I think that it reminds me. I come back to this place where I recognize that my no is even more powerful than my yes. When I'm faced with the buffet of all the different options of things that I could spend my time on things I could spend my money on, things that I could spend my energy on, what I say no to almost matters more than what I say yes to.
It reminds me to be really clear about what matters to me and what is going to be my highest level priority. That is the thing that I want on my plate. And if it's just one or two things, then I'm going to be able to enjoy them, to taste them, to relish them, and at the end of the meal I'm going to feel satisfied and content rather than sick.
Why Do We Have Buffet Syndrome?
So why do people pile their buffet plates? Metta, they're metaphorical plates our lives. Why do we fill them up with all of the things? I think one of the main reasons is fear of missing out, fear that if we don't try it, if our hand isn't in that pot too, if we don't say yes to that opportunity, that we a won't ever get to try it, that it will not be available the next time and that everyone else is going to enjoy it and we won't even know what it's like.
So that's fear. That's scarcity. That's feeling like it's now or never with this opportunity. Granted, on occasion there's an opportunity like that that if you don't say yes today that it won't come around again, but for the most part there is no end to the things that are available to us. Physical things, material things, opportunities, different things we can be involved in as far as projects and groups and you can find whatever it is you're looking for.
I mean look around you in the world. There is so much to spend our time, resources, energy and enthusiasm on. Are you being deliberate about what it is you put on your plate? Are you putting things on your plate because everyone else seems to like it and then you don't actually like it, but you don't want to be the odd person out.
Buffet Syndrome During The Holidays
I've been thinking a lot about this, especially as we're coming up to the holiday season, because as much as we all love the holidays, we also feel that pull and pressure of more, more, more, more is better.
Has there ever been a metaphorical buffet and all-you-can-eat buffet like what is available to us during the holiday season in terms of ways to spend money, ways to decorate, projects to take on events, to attend traditions, to uphold meals, to cook, gifts to buy, wrap and deliver? The holidays can be an endless table of offerings, all delightful and all with the potential to be more than we need in our own lives.
Remember that when you pile your plate too full, not only do you not feel good, but you actually feel bad. You feel sick. If you find yourself already feeling apprehensive about the many, many things and expectations that are upcoming for the season ahead, I want to give you a little encouragement.
You are the one who chooses what you put on your plate. You are the only one who can decide what looks delicious and wonderful and is something you're going to enjoy, and what are the things that, whether or not they're expected of you, are not what you want to be doing or spending time or energy on.
Rather than going along the buffet and taking a little bit of everything, why don't we choose a few things, leave the fear aside, leave the FOMO behind, and choose a few things that are treasured and beloved and that you know will make you feel the way you want to feel?
Choosing Everything Tastes Like Nothing
Just talking about that–feeling the way you want to feel–reminds me of another scenario just to add another layer to this metaphor.
I may have lost some of you already, but you guys, it's a good thought so just like let it roll around for a little while and you'll start to notice how you can apply it to your life.
When you take your kids to get frozen yogurt at like Sweet Frog, or one of those fro-yo places with all the toppings. What do children do when given free reign of the toppings? They choose everything. My kids have mixed like peppermint patties, brownies with like jelly gummies, the little tapioca squirt ball things and then of course maraschino cherries because love them and sometimes pineapple.
And then they'll see like the rock pebbles, those candy rocks that I don't even know why they include those because they're not good to begin with, let alone on freezing cold ice cream. So they turn into actual rocks even though they're supposed to be chocolate and then throw some fruity pebbles on for good measure.
Also sprinkles, always sprinkles. Eliot, no matter what, gets at least one giant gummy shark and we walk away with like–first of all-a $15 frozen yogurt, and second of all there is so much happening, it all just tastes like nothing. I mean it just tastes like sugar, but when you have so many different things going on in each bite, every single thing loses its specialness.
Where when we go to a regular ice cream store and they have a couple of different options for toppings, but it's not expected that you pile them all on like my kids will choose sprinkles, the sprinkles feel really special. They get like the time and acknowledgement and attention that they deserve. When I go to the frozen yogurt place, I don't even want toppings because I just want to taste the frozen yogurt.
Give Things Their Place And Their Value
So the idea of giving things their place and their value also comes into play when we're talking about buffet syndrome because when you're doing so many things or you've chosen so many things, and this I want to mention can apply to activities as well as to material objects.
When we, for example, in your closet, when you have so many different items, not only can it be overwhelming and actually make you feel worse. Since having an edited wardrobe, a capsule wardrobe, for the last five years, I have never once thought, I don't have anything to wear.
Previous to that, for the whole rest of my life when I had an unlimited amount of clothes, I had so many and half of them I didn't even like or wear very often, I would think frequently I don't have anything to wear. And then it would cause me to think, gosh, I need to go get something new. And so the cycle continues. I would go find something else. So my closet is stuffed full of clothes and I go buy something new because I feel like I don't have anything to wear.
Versus now when I have maybe 50 pieces total between tops and bottoms and dresses and shoes and I enjoy them all, they mix and match well together. I choose them with intention and I love every single piece. I would notice if something was missing because I recognize what I have because it was all chosen with intention and it's all given this certain amount of attention, respect.
Do we sometimes add too much, too many activities, too many clothes, too many gifts around a holiday, too many traditions do we pile it on so thickly that it all starts to mix together and we don't get to enjoy any of it?
That's the question because if you find yourself agreeing with some of the things that I've mentioned, you may have suffered, or be suffering, with buffet syndrome.
The Way Out Of Buffet Syndrome
Now the way out is very simple. The way out is to clear your plate.
Whether actually physically, like when I did this with my closet for example, when I went from not a capsule wardrobe to having an intentional wardrobe, I took everything out of my closet and then I chose what to put back.
You could do this with your schedule by writing everything down that you are currently doing and then you know, write it on a list, on a piece of paper and then decide what you actually want to be doing, what things matter enough that you want to give them some of your precious time and attention.
If you find yourself in a place where you have so many things going on or so many things in your life that you aren't able to enjoy any of them or that you feel worse than if you eliminated some your past full, then it's time to start making some decisions–to eliminate what isn't working, what doesn't make you feel good, and to be deliberate about what you put on your plate going forward.
I think sometimes we think we're stuck with whatever our current situation is. Like I put too many things on my plate, but I don't know how to get them off again or I bought a ton of stuff and I'm living in a house just filled with stuff that I don't need, but I don't really know how to begin and I think that just like a breakfast buffet at a hotel every day is a chance to choose a new.
If you want to choose differently, that's okay. If you wake up and decide that half of the things in your closet are not things that you need. In fact, it's contributing to your feelings of frustration and overwhelm rather than making you feel confident and comfortable. Then you can choose now to just let go of the things that are no longer serving you.
If you look at your schedule and you feel stressed rather than excited, I would venture that there's a few things on there that maybe need to wait. Maybe if you don't have time right now to give them the attention they deserve, that you're not really going to enjoy the process, that you can put them on hold. Put them back on the shelf for a little while, tuck a little note in the back of your planner for things to get to later because it's okay to not have it all right now. It's okay to not do it all right now.
You will feel better choosing with intention what exists in your life than trying to not miss out and so you fill yourself beyond overflowing.
Recap
The key takeaways from this buffet syndrome episode are these:
Don't let your eyes be bigger than your stomach. Recognize what you have the capacity for right now and what will make you feel good and content and not take you past the point of being overfull to where you feel worse than before.
A reinforcement of the idea that more is not always better, sometimes more actually is worse.
You are the one putting things on your plate. You're the one who chooses what you do and what you don't do with your time, your money, your energy, your resources. It is up to you to decide what stays and what you leave for someone else.
As you choose things, it actually makes them more special and more important. The less you do or have, the more you're able to focus on it and appreciate it. And so rather than feeling badly that you're not doing as much as other people are or that your life doesn't seem as full as everyone else, recognize how special it makes the things that you do choose. Or if your life is overflowing and you feel totally overwhelmed by it all, pair down and decide what you want to give your time and attention to and then carefully release the rest for awhile.
And the last point is just this, the buffet is available every single morning. You get to go and make those choices. They're not going to run out of waffles, they're not going to run out of cinnamon rolls. There is an abundance of what the world and this life has to offer you. And so you don't have to hurry and choose it all right this second. You can slow your pace. You can enjoy every bite and feel intentional about choosing and then loving what you chose.
This is your life, my friends, your wild and precious life and you are in charge of what it becomes filled with and what you put on your plate.
Conclusion
I hope that you found something of value in this episode. I would love to hear how listening to the podcast is helping you make decisions in your life and helping you discover what it is that you really want.
If you're loving these shows, you will love my bonus episodes available once a month for Patreon podcast plus members. You can head to patreon.com/livefreecreative and sign up at the podcast plus membership level. You will get a bonus episode once a month with a printable PDF to help you actually do the work and make some changes.
I love when you share these episodes with your friends and family, and when when you screenshot them and share them on Instagram, make sure you tag me so I can see it and tell you thank you.
I also want to continue to invite you to leave reviews for the show on iTunes. The more reviews, the more people are able to discover the show and have it affect their lives for the for the good as well.
Finally, if you haven't yet checked out my book More Than Enough, what are you waiting for? You've got to check it out. It's available on Amazon. Just search More Than Enough by Miranda Anderson. The book shares the experiences and insights that I had during a year long no shopping challenge that our family undertook during this year. We developed a deeper sense of gratitude, abundance, and patience than we had ever had before and those values continue to enrich our lives now, even years later.
It's written for you, for the person who feels like you might be running a little bit of a race without a finish line. Always looking forward to the next thing and wondering when you get a chance to just sit and contentment and success. I can't wait for you to read it and I hope you'll let me know what you think.
Have a fantastic week. I will talk to you next time. Ciao.