Thank you to DSW Shoes for sponsoring this post.
It has only sort of felt like fall for a couple weeks here in Texas, and even then mostly in the mornings and evenings. We're jumping right into the season in every way we can find, though, including busting out the boots and sweaters, and eating all the pumpkin and apple deliciousness we can find. I'm excited to partner with DSW Shoes today to share some of my favorite fall boot styles as well as a bonus recipe for a crazy good and really simple caramel apple pie.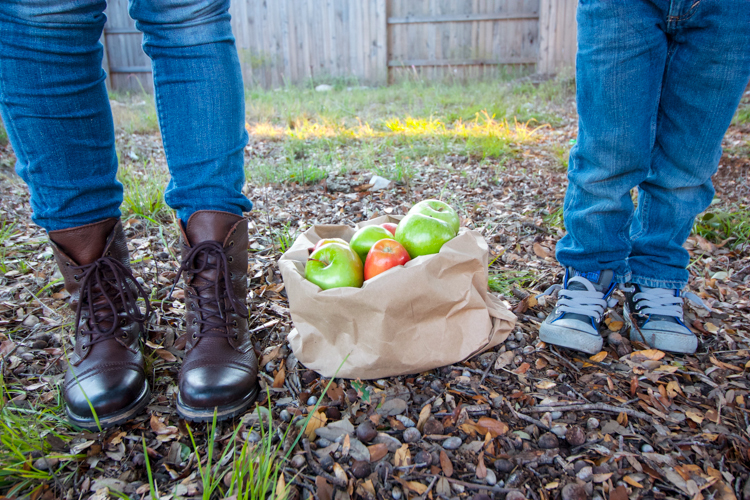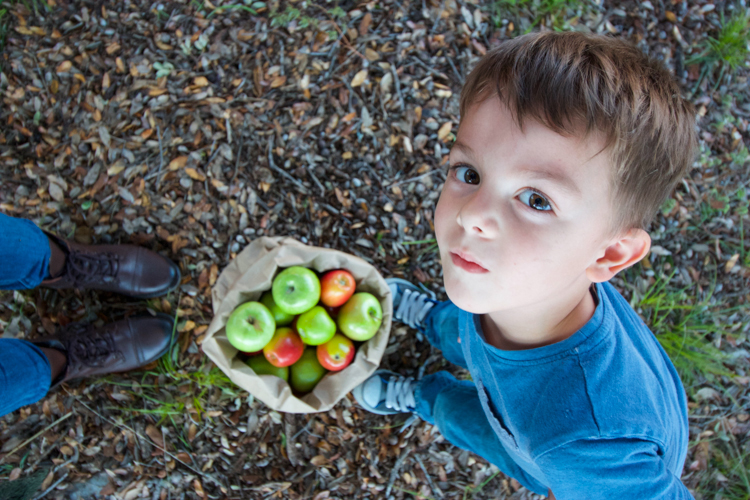 When I first dreamed up this post about fall and pie last week, what I really wanted to do was take the kids to an orchard to pick apples. In Virginia, that was an annual family tradition and felt like our way of welcoming the cooler weather and turning of seasons. When I looked up Texas apple orchards and discovered the nearest one to us was around three hours away, we did the next best thing and pulled on our boots and jeans to head to the apple aisle in our favorite local market. We picked a peck of Granny Smiths for baking and jazz Apples for crunching raw, then headed home.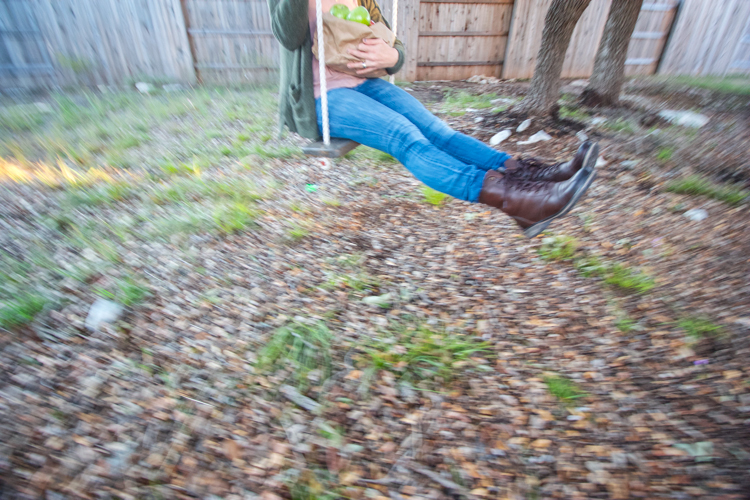 I've felt in major boot mode for a couple months, even though it has been too hot to reasonably wear them daily.
I picked up a pair of really short leather ankle boots (similar to #1) back in August and have loved transitioning them from summer with skirts and shorter dresses in addition to my momiform of denim and a loose woven tee.
These slightly higher combat-style boots (#2) have been really fun to pair with leggings and tunics. They were also warm enough to wear on the few colder days we've seen so far, and I'm already looking forward to wearing them more with skinny jeans and boot socks all winter long. I was a little unsure of how I'd like this style before I started wearing them, but now I'm hooked. They're casual and a little edgy, while still being comfortable and cool.
A pair of casual western-looking boots (#3) is another fun addition to a fall wardrobe. I really love the warm camel-colored saddle leather, and I think these would be cute with midi skirts and tights.
These cool bootie wedges (#4) look like they'd dress up any outfit just enough to make it feel pulled together. I can imagine slipping them on for a girls' night out or Saturday date night, adding a leather clutch and long necklace, and being ready to take any outfit from day to night.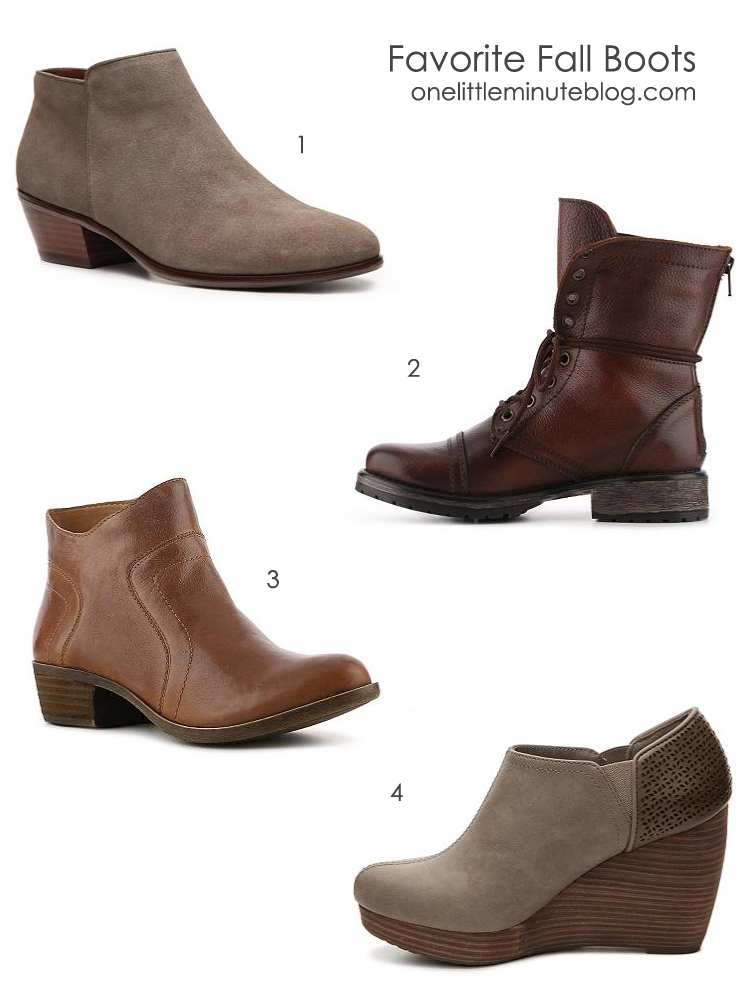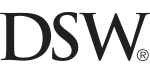 Eliot has been thrilled to lose his summer sandals for some boots of his own, in the form of cool-kid Converse high tops (with elastic so he can slip them on and off himself. Can I get an amen?!).
It's fun how we can consciously create the festive feelings of fall by dressing for the season, and looking for other ways to enjoy it all. One of my favorite fall activities is dipping caramel apples, and when I was daydreaming about that it occurred to me that I had never tried to make a caramel apple pie! We already know the combination is a proven winner, so why not make it official?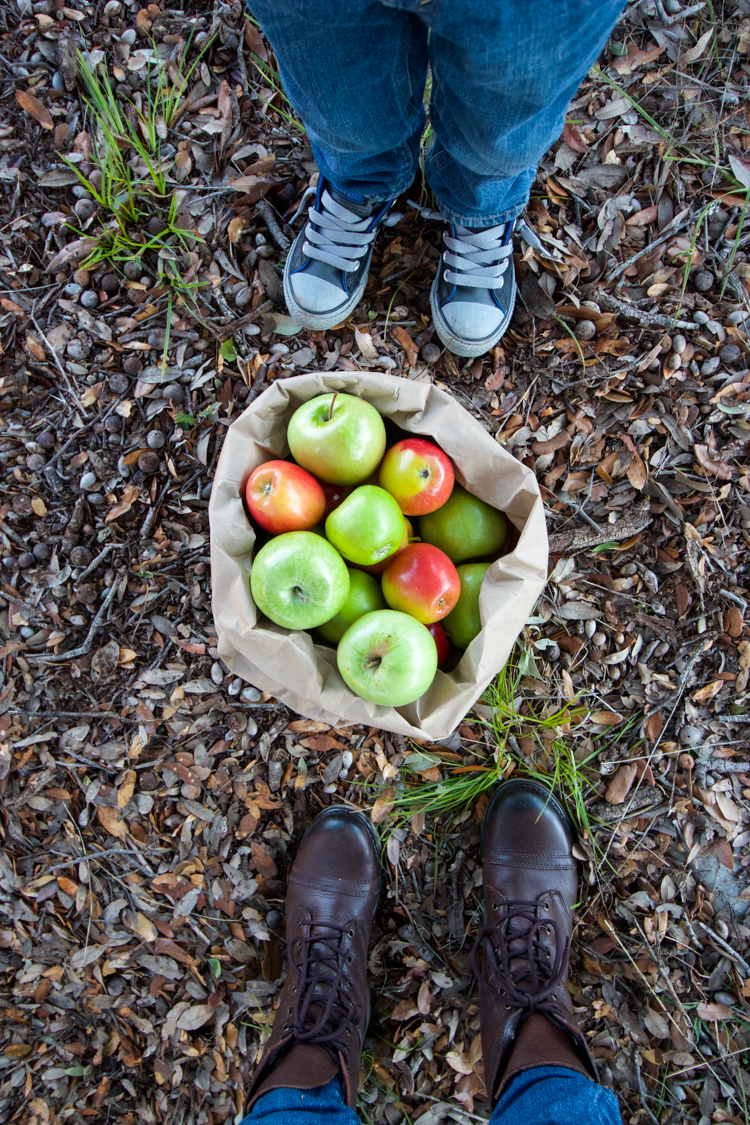 My favorite pie dough is a no-fail recipe that comes together in 10 minutes with a food processor. My go-to apple pie recipe is classic and simple as well, so the only variable here was adding in caramel. You can make the dough first, then work on peeling the apples and unwrapping the caramels while it chills in the fridge. The oven pre-heats while you roll out the dough and fill the pie, so from start to finish you're looking at around 30 minutes prep time and an hour of baking time. And your house will smell amazing for the last half of that. Baking pie is worth it for the smell alone, if you ask me.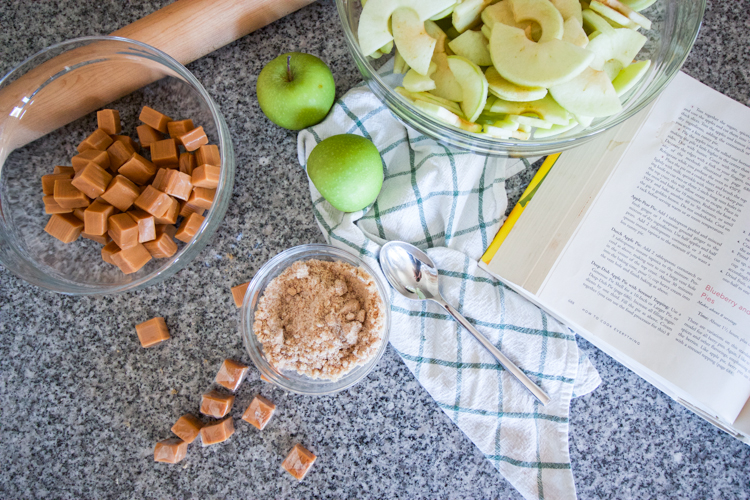 Other than the bushel of apples and pile of caramels, everything else in the recipe should be ingredients you have on hand: flour, sugar, butter, salt, brown sugar, cinnamon, nutmeg, lemon juice, and a little milk.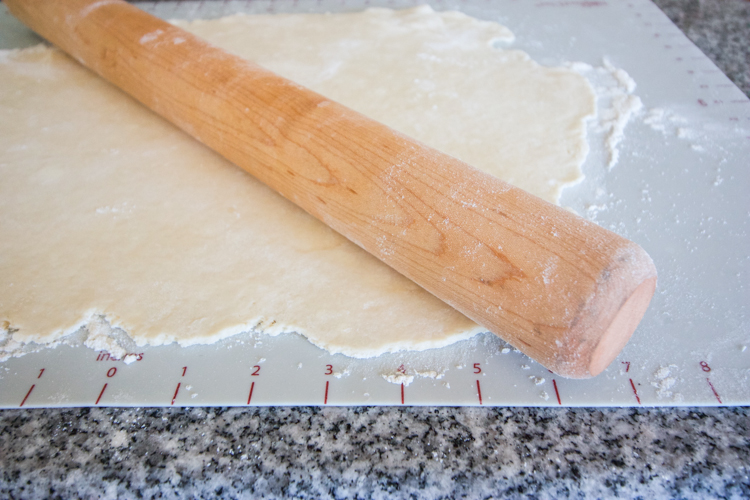 Rather than bake it in a typical round pie dish, I used a wide casserole dish, which looks super pretty in addition to increasing the size by several inches. This pie will easily serve 10 to 12 happy people.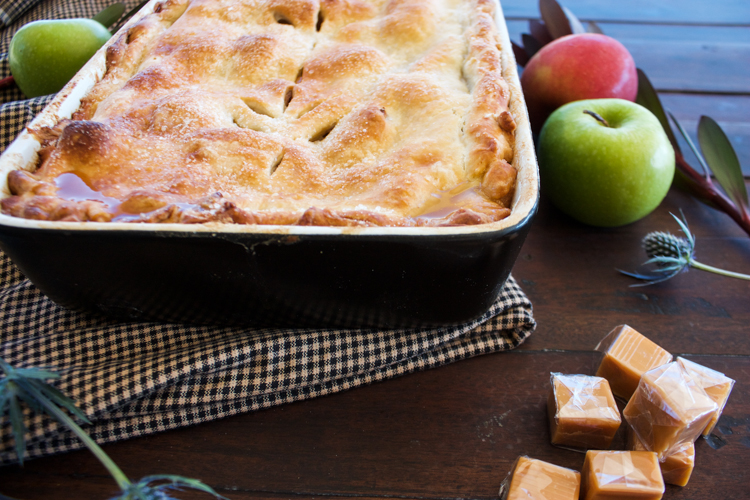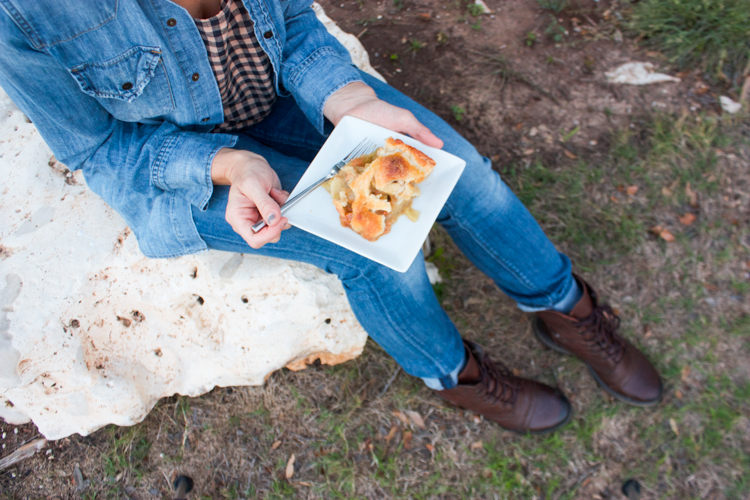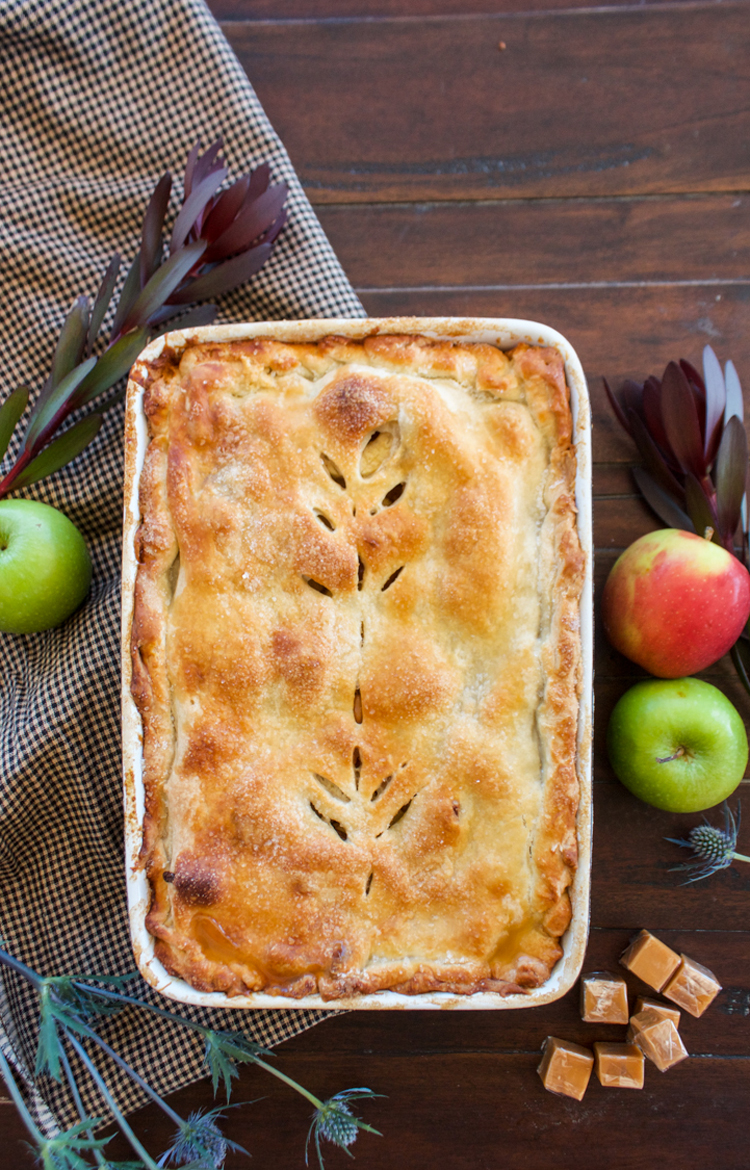 Ooh, this pie is gooey and sweet, but not too sweet. The caramel adds pockets of depth around the tart apples, and grinding sea salt on the crust makes the whole thing sing.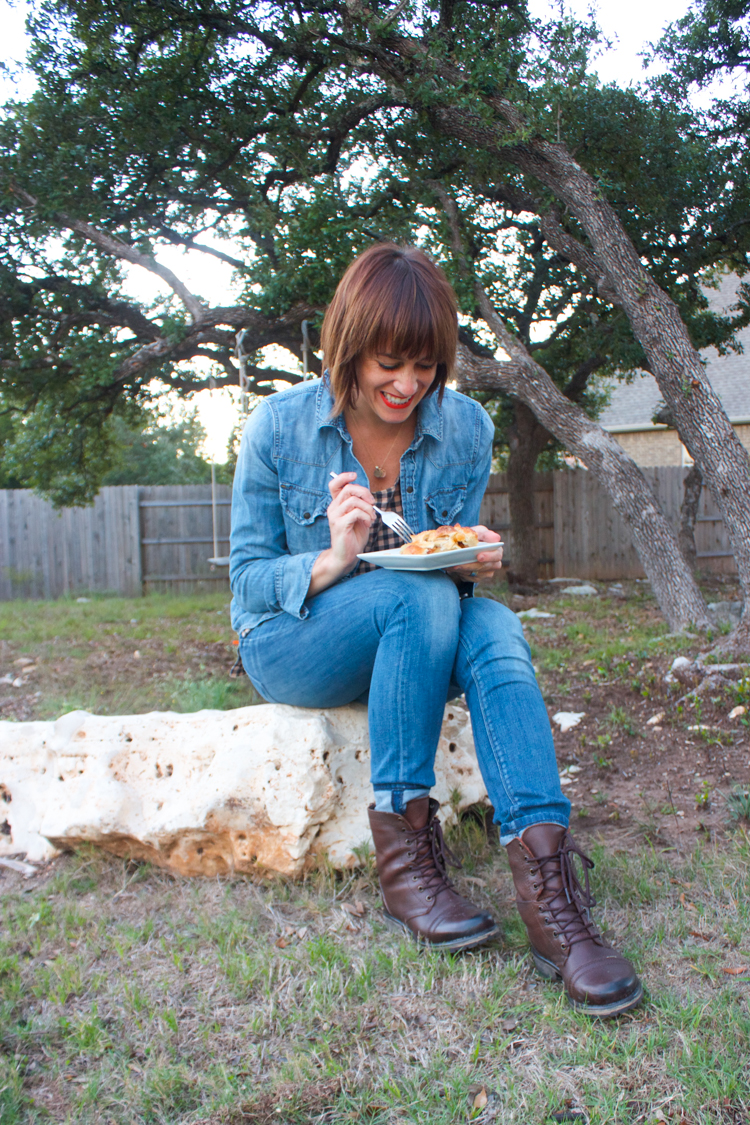 Boots and pie make for a really wonderful fall. I'd like to soak it all in.
At DSW, we believe that shoes have the power to bring out something great in everyone. So no matter who you are or how you dress, we've got just what you need. Shoes say a lot about you. Spend a little. Say a lot.
Caramel Apple Pie Recipe
No-Fail Pie Crust (adapted from Williams-Sonoma Tools and Techniques)
1 1/3 c flour
1/2 c cold butter
1 tbsp sugar
1 tsp salt
4 tbsp ice water
Add flour, sugar, and salt to a food processor. Cut butter into 1/4-inch slices and tuck into the dry ingredients. Pulse processor until the butter is chopped into pea-sized pieces, all coated with flour. Add the ice water, 1 tablespoon at a time, until the dough starts to come together in a ball in the processor. Turn onto a piece of plastic wrap and form into a disc for chilling. Make 2 discs for the apple pie.
Apple Filling (adapted from How To Cook Everything recipe Simple Apple Pie)
6 to 8 Granny Smith apples, peeled and cored (an apple peeler slicer is worth every cent!)
2 tbsp lemon juice
1/2 c sugar
1/2 c brown sugar
2 tbsp flour
1 tsp cinnamon
1/2 tsp nutmeg
1/2 tsp salt
2 cups caramel candy, unwrapped
2 tbsp milk
Preheat oven to 450. Toss peeled and sliced apples in lemon juice, and add sugars, flour, and spices. Melt the caramel and milk together in a microwave-safe container for 20 seconds, then stir until smooth. Roll out one of the chilled dough disks to fit the bottom and sides of your pie or casserole dish. Add the apples to the crust in layers, then pour the caramel over the top, letting it soak into all the crannies of the apples. Roll out the top crust and lay on top of the pie, tucking it in around the edges and making a decorative crust if you want. I usually just squeeze it a bit between my fingers. Cut a couple vent holes in the top to let steam escape. Brush a little bit of milk onto the top of the crust, and sprinkle with sugar and salt. Bake for 10 minutes, then turn the oven heat down to 350 and continue baking for 40 to 50 minutes or until brown.
Let cool on a wire rack until some of the juices soak back up a bit, then slice and serve warm. Enjoy!