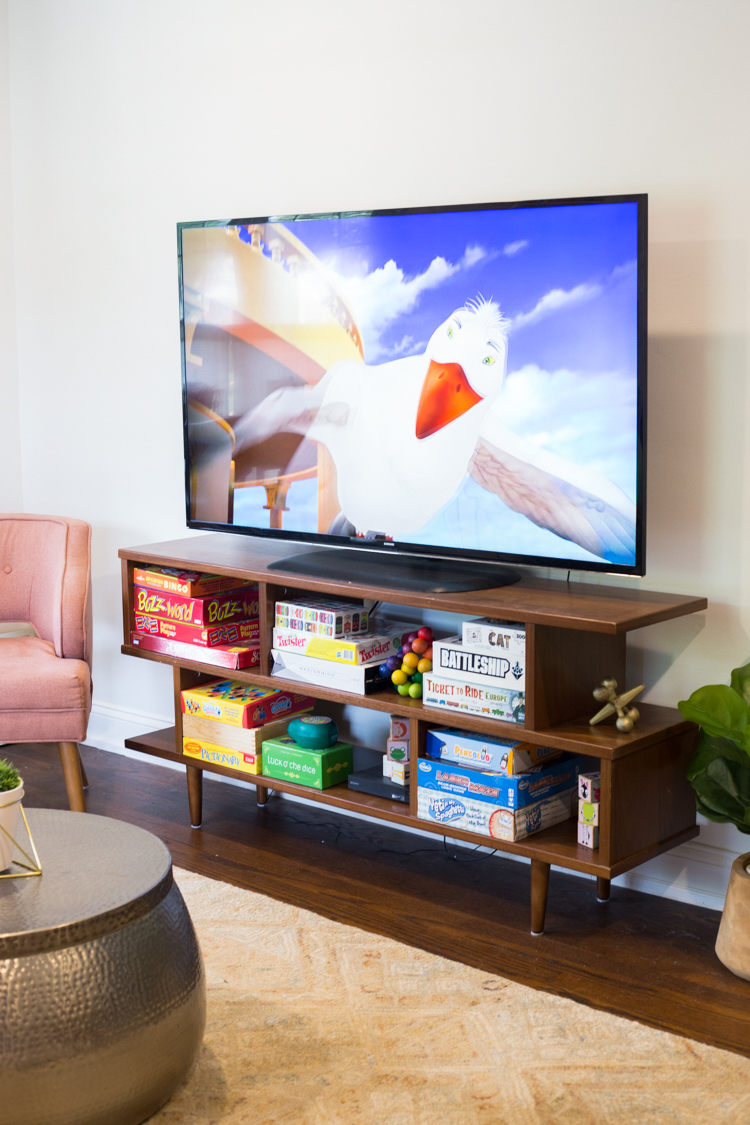 Family Games For School Aged Kids
We have always loved playing family games with our kids, and recently as they've been a little but older (five, eight, and ten) our family game nights have been even more fun! When we recently moved back into our house after being displaced by a big flood, I decided to rearrange a bit and create space for our game collection right in the living room. Here are some of our favorite family games for school aged kids.
Store Games In Easy To Access Locations
Having easy access to the games has dramatically increased how often we play! It is amazing how such a simple change can make a huge impact. I had never really wanted the game boxes to be on display until I realized I could color code their organization on our TV console/bookshelf and make them feel very intentional.
Now I love the way they add some fun and color to the room, as well as create a feeling of playfulness. We are a family with little kids at home, and it makes sense that our decor should reflect that!
I'm going to share some of our recent favorite games for our little-bit-older kids. I'll divide the list by type, to make it easier to find games that your family will enjoy!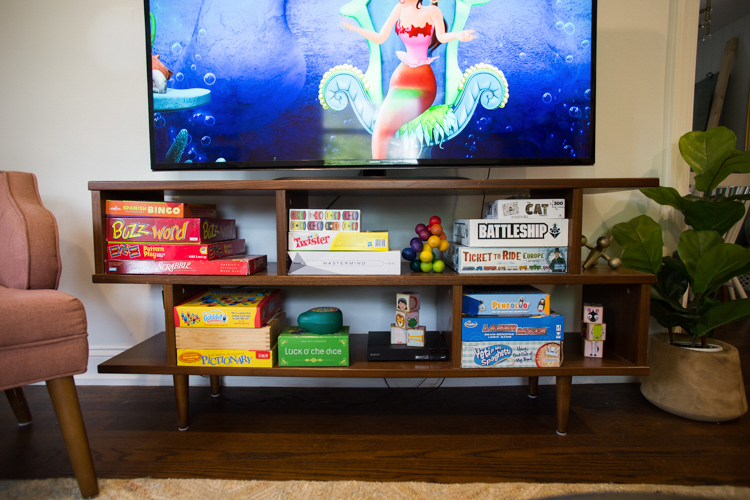 Favorite Board Games
Ticket to Ride: We love the strategy, thought, and fun of this train-building board game. My kids 8 and up play solo, and the five-year-old plays on my team. The Junior Version looks like it would be just right for her to begin playing herself.
Scrabble: An introduction isn't even necessary. This is a family favorite and so fun for beginning readers! We love helping the kids come up with new words, and using their tiles to get the most possible points.
Gobblet Gobblers: While not technically a board game, we have loved playing this cute, advanced version of tic-tac-toe. It is super well made, and fun for the kids to play by themselves, too!
Bingo (Spanish): Bingo is a fun and simple game to play in any setting, but we have this Spanish vocab version that helps reinforce some Spanish that my kids have learned at home and school while we play. Win-win!
Favorite Card Games
Taco Cat Goat Cheese Pizza: This is a new addition to our game stash and so funny! It is simple enough to play with even the little ones, and we all end up laughing.
Uno: Classic, wonderful.
Coup: One of my kids received this as a birthday gift last year and we have played it so much! They love the characters, the way you can be sneaky, and it is simple enough to enjoy without much preparation.
Avocado Smash: Another cute and funny card play game. Fast-paced and quick for shorter game times.
Exploding Kittens: If you can get past some of the silly potty humor, this game is really fun and the kids think it is hilarious. We have brought it along on road trips for playing at rest stops and laughing together.
Buzz Word: Such a fun and clever thinking game. It has been a good one for teaching the kids to think on their feet and stay focused on the turn. The junior version is perfect for school-aged kids.
Memory: It doesn't really matter what version you get. Laying out all the cards face-down and playing memory is a classic and lovely childhood game.
Things: This game was one of our favorites before having kids, and we've found we can play it down to the school-aged audience well! We avoid any cards that would elicit age inappropriate answers:)
Set: I grew up loving this game, and love helping my kids learn to recognize the sets in pattern, color, and shape. Such a great thinking game!
Favorite Interactive Games
Rumikub: This is another game that I grew up adoring. We played it at the lake every summer, and now my kids love to play it too!
Battleship: Two-player, interactive, and simple enough for the little ones. No wonder this game is still a favorite!
Twister: Not our every night game choice, but Twister is especially fun when we're feeling energetic and want to be up moving and stretching while we play. Also fun with some good music on in the background!
Jenga: We have made our own OUTDOOR version of Jenga in the past, but the classic tabletop is what we most often play in the living room or on the dining table.
Mastermind: I remember loving this game as a kid, too. One code cracked line by line. Another great 2-player game for kids.
Pattern Play: This one is more of a group or solo activity than a traditional game, but I love it so much I included it here. The patterns are beautiful, the pieces well made, and it can entertain a kid for hours.
Yeti In My Spagetti: This cute, modern version of pick-up-sticks makes us smile. The Yeti is adorable and the game is so fun!
Pengoloo: This is like an advanced version of memory, but even cuter. We love playing as a family and introducing it to new friends, too.