This is a sponsored post written by me on behalf of Synchrony Financial. All opinions are 100% mine.
Synchrony Financial recognizes that everyday purchases are a part of our ongoing story, and is awarding $500 to one winner every day for 60 days during their Instagram Contest period!To enter, simply follow @SynchronyFinancial on Instagram and add #NotJustAPurchaseContest to your Instagram entry. Easy Peasy! (See all of the Official Rules.)
Every purchase being part of our story is an idea that resonates with me, especially this past year as we have focused so intentionally on the things we choose to buy. The transition from Texas to Virginia gave us even more opportunity to be thoughtful about our purchases, and see how they fit into our everyday lives.
For example, this is not just wall putty, it is the slow and steady process of transitioning from one home to the next. The process is ongoing, and somewhat nostalgic as we fill the holes not only in the walls, but also our new life; smoothing things out, making room for this new chapter.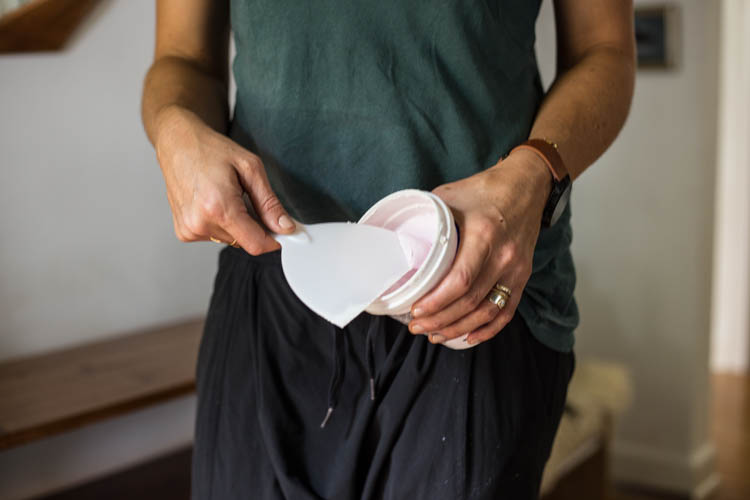 As I prepared our house in Texas for sale, one of the challenges was to remove myself from the nuances and details of the home. I felt so entwined with that house! Not only was it the first house we had bought and owned as a family, we had also built it, dreaming up the details and finishes and watching in daily fascination as it came together.
We closed on the house when I was 9+ months pregnant with Plum and moved in when she was just a week old. Our boys ran wild up and down the long hallway, shrieking with joy and excitement, their voices echoing through the mostly-empty rooms.
I got to work making the bones of our house a home. The stories of our lives, told in pictures taken, paintings collected, furniture found and borrowed went up in every room. I wasted no time in filling those perfect, new walls with nails to hang up our art. I screwed shelves in to hold sewing notions and thread. I made mistakes along the way and started over here and there.
One Christmas, we hung neat rows of clipboards up in the new playroom, to display the ongoing parade of preschool artwork that came home from our prolific artists. For an anniversary, I hung recently framed photos from when Dave and I were dating. Pieces of our past to remember as we enjoyed the present.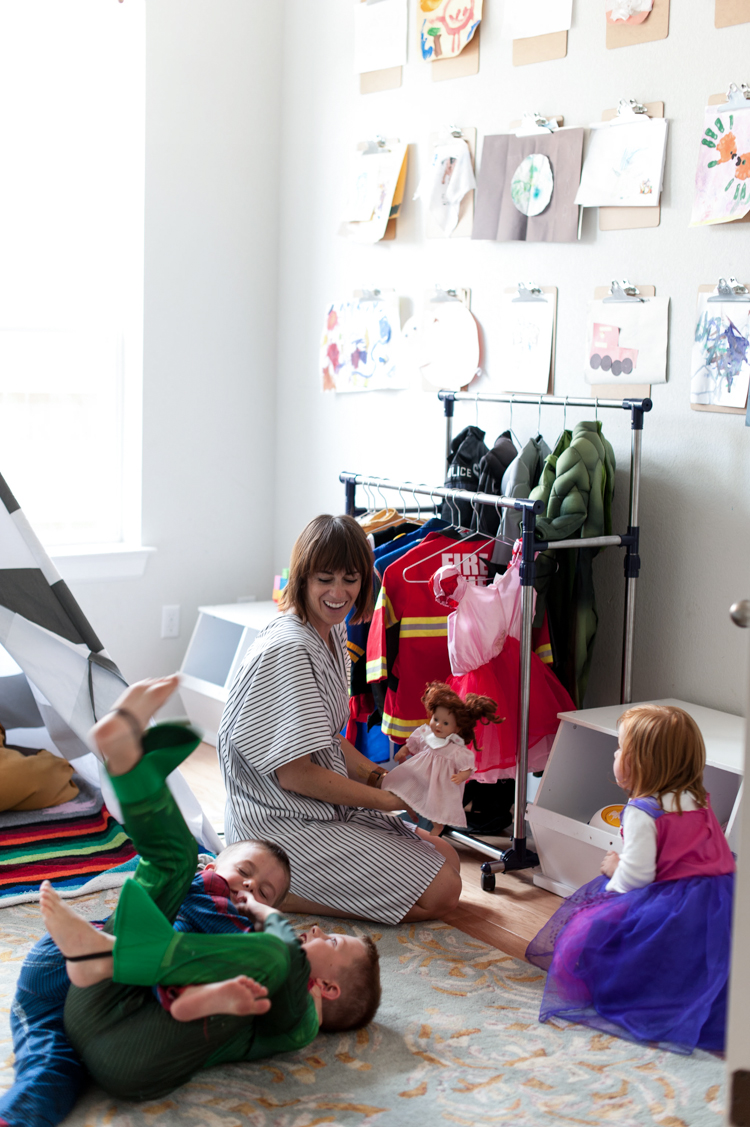 We built traditions, piled on the couch for pizza and movie nights, hosted an annual New Year's Day open house with friends and neighbors spilling outside the house on both ends. We were happy, growing, thriving.
Then, suddenly we were moving. I had to begin seeing my house objectively, as not mine at all.
Taking down the pictures was oddly therapeutic. Piece by piece, removing our story, filling those holes with putty, and a little touch up paint began to release my firm grip on this part of my life that I loved so dearly, and prepare me for the next. I unscrewed shelves, boxed up photographs, and unclipped pages and pages of drawings from the playroom.
As I filled the holes with putty, I sealed tightly the memories we had made in that house into my heart. I prepared that sacred place for new people, new memories, and a new chapter. At the same time, I prepared myself as well.
We left our house in Texas patched up, smoothed out, and better than before. And then we landed in Virginia and, once again, I began making holes in the walls. We are ready for a new chapter in our story. The memories come with us, and we will continue to make new ones.
I am still shifting things around, making sense of this new space, this new life. Some things feel so different than before, and some–the most important ones– feel just the same.
We pile on the couch for pizza and movie nights, continuing in the comfort and familiarity of family traditions made and loved. The kids run shrieking through the house, walls echoing with their laughter.
Everything is new again. And I wouldn't have it any other way.
So, that wall putty wasn't just a purchase, it was part of our story. The goodbye and the hello, and the moving forward with happiness and gratitude into each new adventure.
Every purchase we make is part of our story. Remember to enter the #NotJustAPurchaseContest mentioned above for your chance to win! Official Rules
This post shared in partnership with Synchrony Financial.