Advent begins tomorrow. Are you ready? If not, don't fret. I have the solution for you: a printable advent activity sheet and a 5 minute advent calendar idea. You in? Good.
I love celebrating the season of Advent. It's traditionally the time spent preparing for the coming of Christ to the earth (like he did as baby Jesus). Celebrating with a small activity or simple act of service each day can really invite the spirit of Christmas into your life and home, help you see the needs around you, and feel abundant love for humankind. I look forward to each day of Advent and the little extra celebration that it brings. I know it will help you and your's have a more full and exciting Holiday season! I'll start with a little story about my new advent calendar (which took a few more than 5 minutes), but hang in there, your the-day-before-December-begins-advent-calendar comes right behind!
I bought this cool ebook right after Halloween, and a felt bunting advent calendar was one of the projects I made. I have been over my old PB knock off advent calendar for a couple years (even though I got all sentimental about it last year!), and this little bunting calendar was simple, cute, and gave me an excuse to use that tiny Christmas tree-looking stitch on my sewing machine! (Seriously, does anyone use that stitch?) After I finished the bunting advent, I gave myself a pat on the back for being so motivated. Then my motivation ran out and instead of coming up with a bunch of new activities,  I looked up my printable advent activity sheet from last year to cut out and stick in the pockets.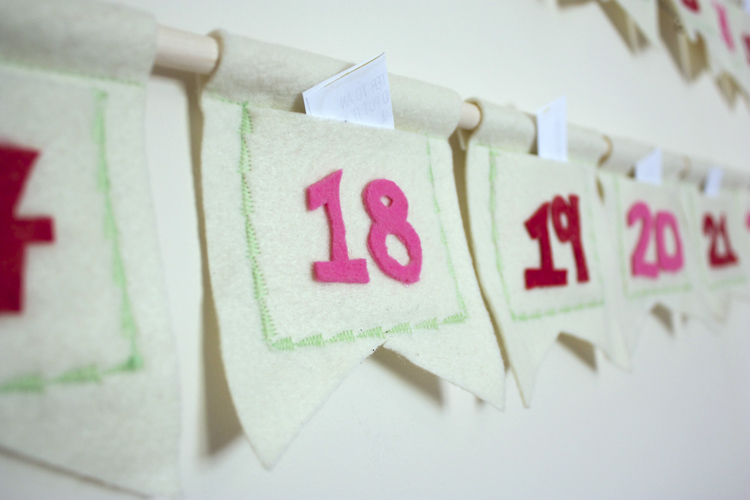 When I saw the color scheme was way off (you know, I took a non-traditional neon pink and red course with my new advent…) I regained some motivation and edited my printable advent activities to reflect a more current style. Of course, changing the actual activities would have been silly, since they are all great. I mean, haven't you always wanted to leave a $5 bill under someone's windshield wiper?
When I came up with these activities last year, I tried to ensure they were realistic. Taking the family ice skating with friends is fun and festive, but not something you can usually do the same day you pull the activity from the calendar. That's why some say things like "today set a date to go ice skating with friends this week."  I know I can write that email invitation, or make that phone call today, the the activity will be able to actually be accomplished, rather than just tossed aside as a fun thought and good intention. This year the festivities are in pink, and the small acts of service are in red.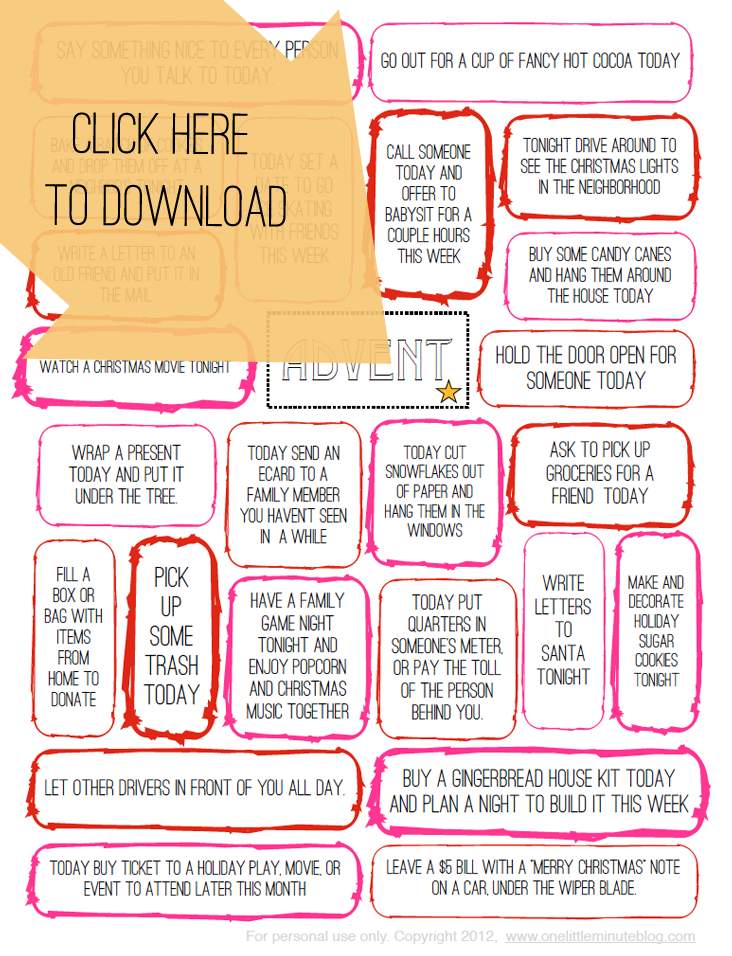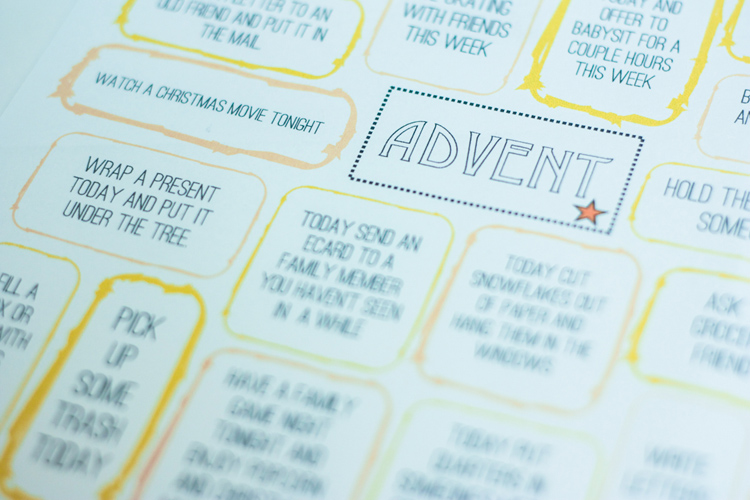 After I spent the time to change the colors (and fonts, etc.) on my printable advent, turns out my printer running low on ink! Well, this is the part where I decide that peach and yellow go great with neon pink and red, cut the thing up, and put it in my bunting calendar. Done and done.
If you decide you like these subtle hues better than the neons, call around. I'm sure one of your friends is low on printer ink, too, and you can make her feel good knowing she's helping you out!
Okay, ready for the most awesome (read: most simple) advent calendar out there?
How about a Mason Jar?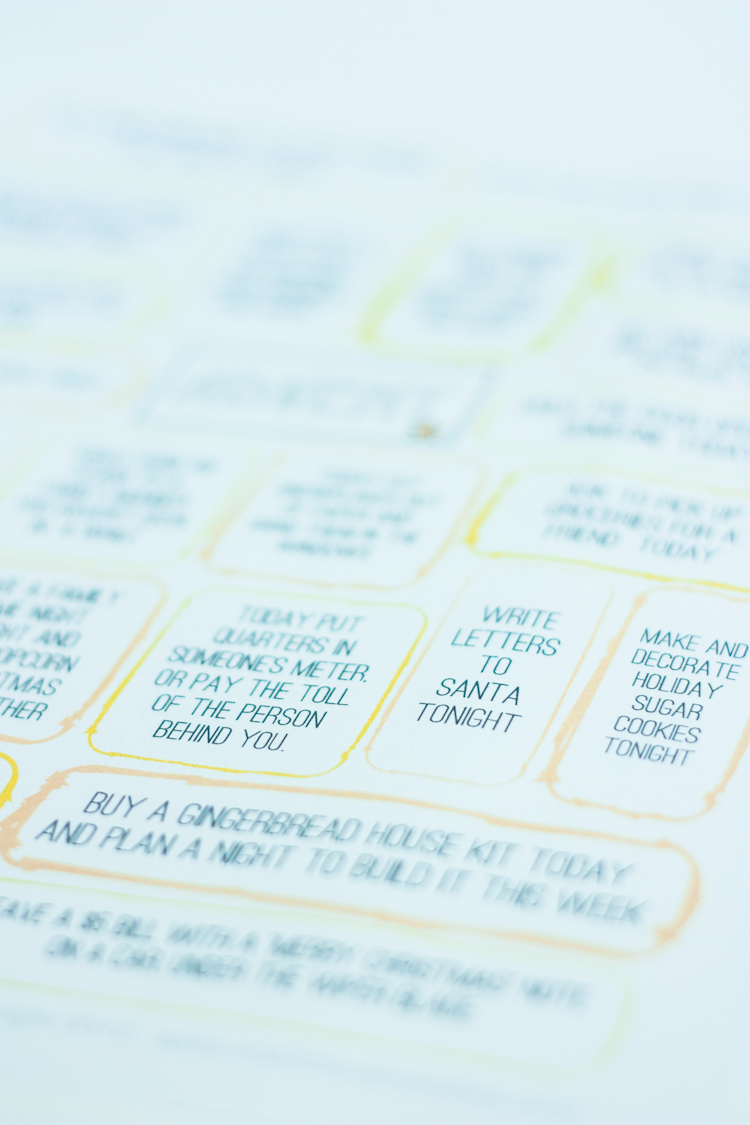 Cut out around the activities on the printable advent activity sheet.
Fold each one accordion style and stick them in your jar. You can be done now if you want!
See, best advent ever. (The accordion style fold helps each little activity take up more space and your mason jar looks more full. Aaaah, you pickin' up what I'm puttin' down?)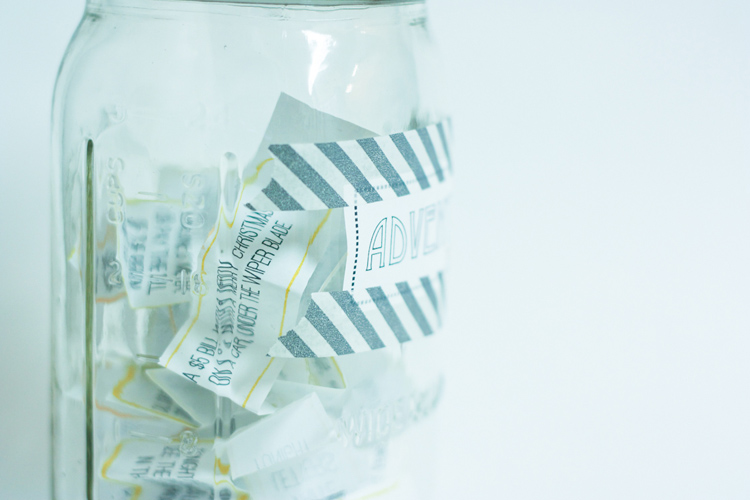 If you're the type who likes to go above and beyond (and I can tell you really are), you can stick the little ADVENT center from the printable onto the front of your jar with some tape, cute or otherwise.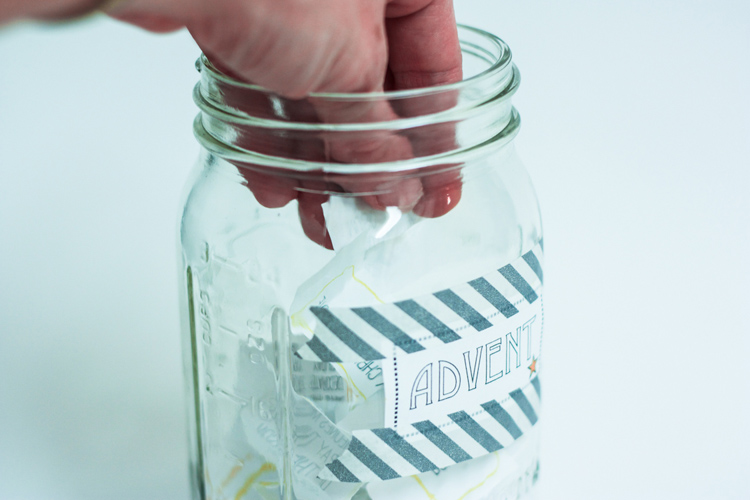 Each day of December leading up to Christmas, take one activity from the jar, do it,  and just see how joyful your Holiday Season will be!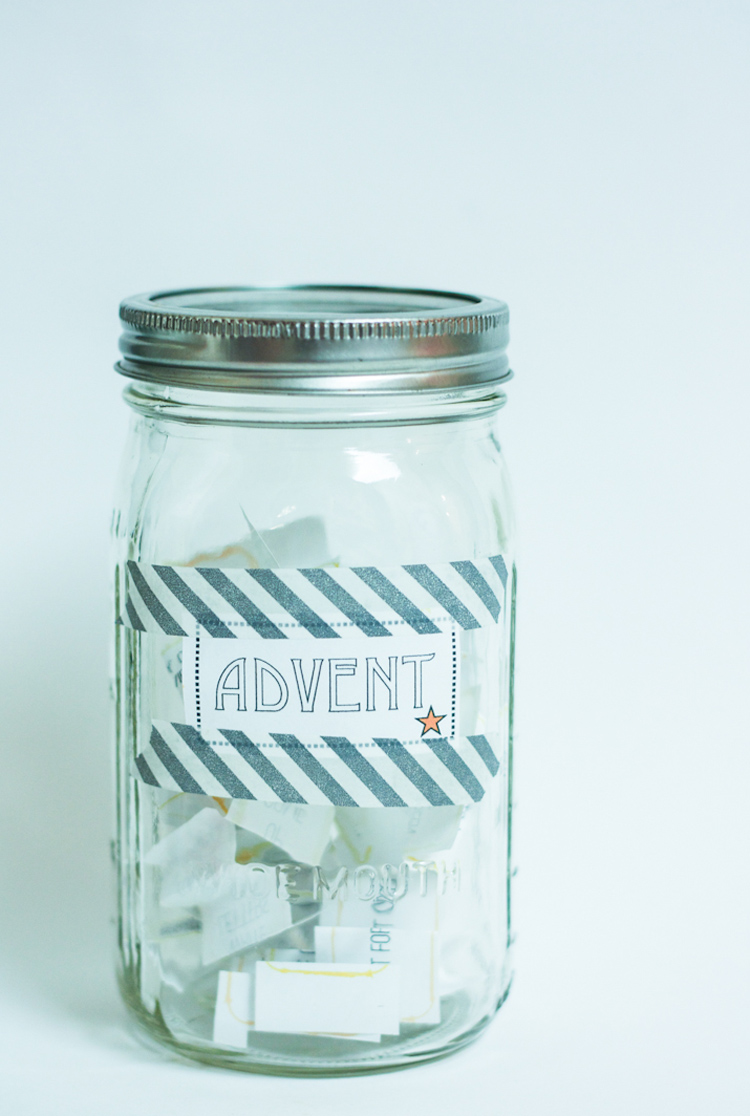 Happy Advent to you!
Now that you've got that taken care of, get out your paper, fabric, paints, sticks, clay, dye, wood, wool, twine, glitter and a diet coke. You'll need them for the fun I've got in store next week for Reindeer Week!
ps tomorrow you get a bonus Saturday post! I'm reviewing the Mary Jane Oversized Tote as part of the A Very Go To Christmas. I just finished it and am completely, totally smitten. I can't wait to share.