This shop has been compensated by Collective Bias, Inc. and its advertiser. All opinions are mine alone. #GarageCleanUp  #CollectiveBias

The kids went back to school this morning, it's raining out, and I feel like the fall might actually be on the way. It's time to pack up some of our favorite summer gear until next summer. With the goodbye to summer also comes some beautiful crisp autumn bike rides and weekend campouts. This transition of seasons and activities is a perfect time to get organized in the gear headquarters of the home: the garage.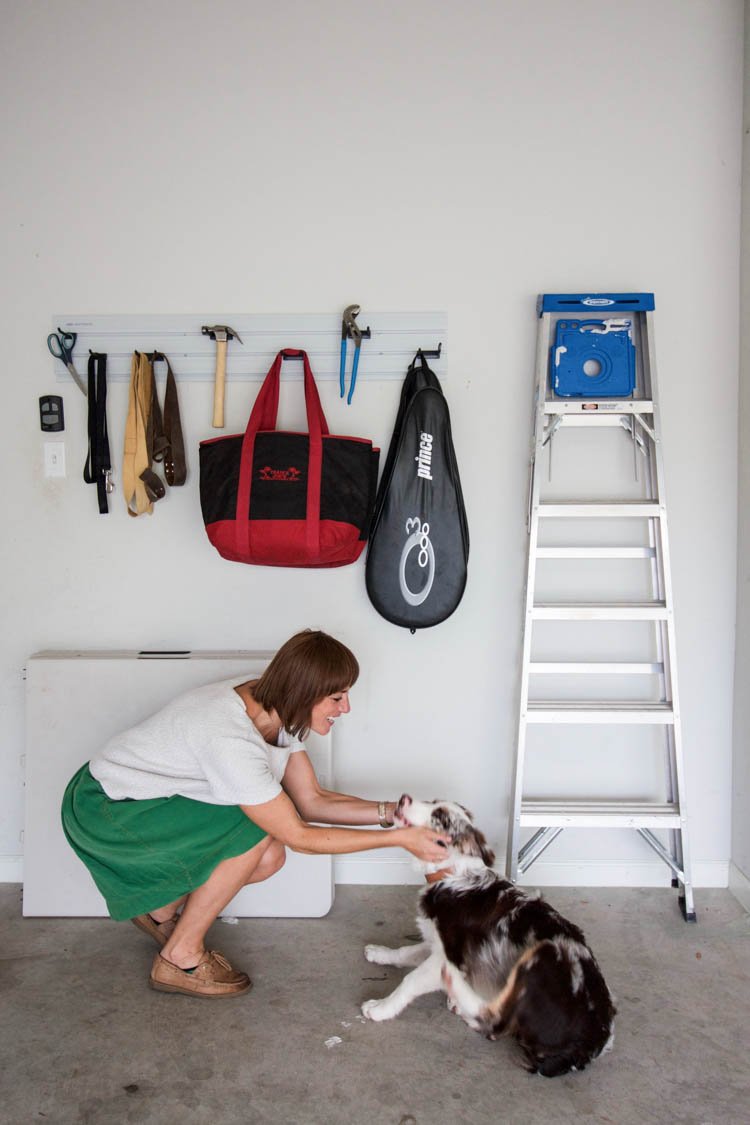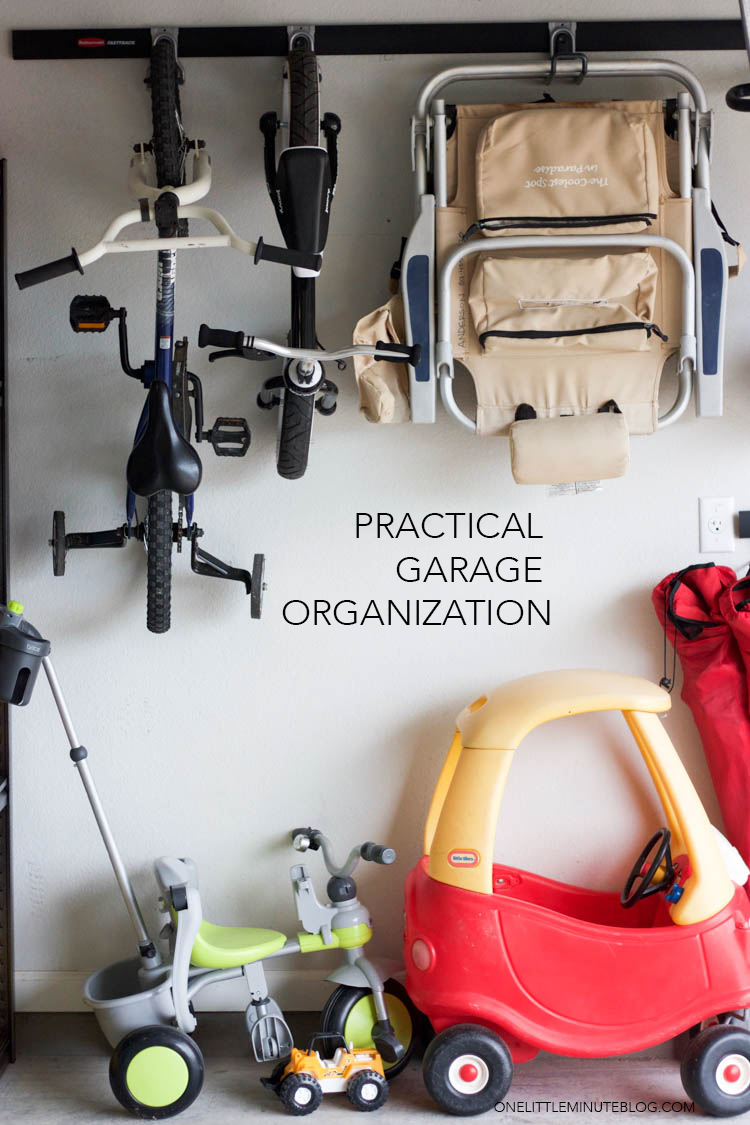 I'm really excited to share some practical garage organization tips today. Mostly because getting ready for this post was the perfect excuse to clean up and organize our own garage that was a complete disaster area.  
The garage is such a bustling place, entry and exit point, as well as storage, wood shop, tool chest, and many other things, least of all might be a place to actually park and protect the cars! The garage is my entry point of our house all day long as I run kids to and from school and go on errands in the car, and I wanted it to feel clean, nice, and intentional.
Guess what? That has been nearly impossible before now ("before" photos just ahead, be prepared!) I had great aspirations to keep everything organized, but what we really lacked was the tools and accessories that would make a lasting organization system possible. I jumped at the chance to partner with Rubbermaid® FastTrack® Garage Organization System to create a useful and practical garage system for our active young family and share a couple tips for creating a garage activity station to make sure you send more time playing and less time searching for things.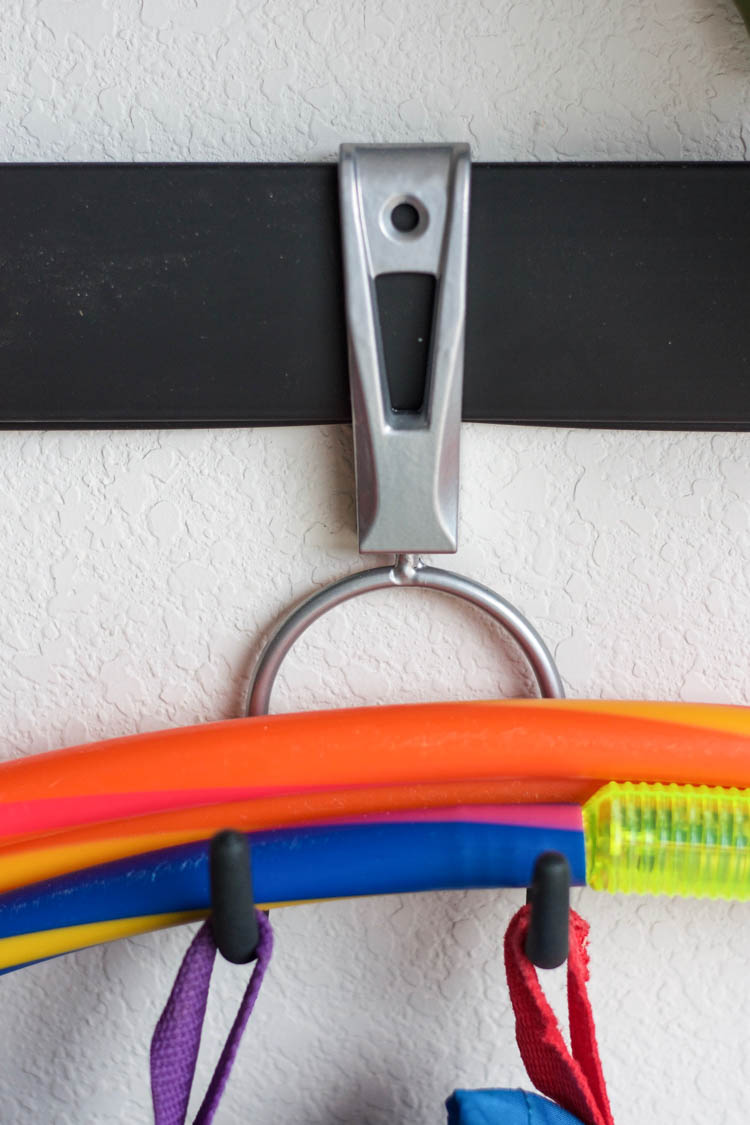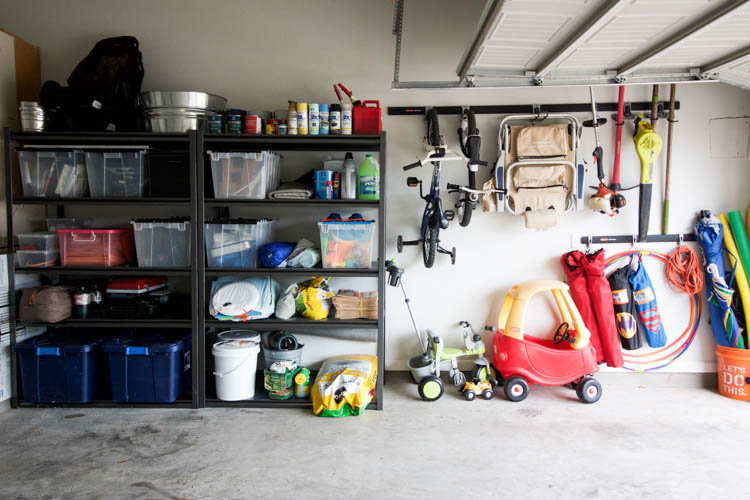 After a long day of sorting, throwing away, organizing, separating, and installing, hanging, and blowing off the floor I can actually see what we own and grab at a glance. The kids have easy access to their toys and wheels, the lake and beach toys have a specific area for loading in and our of the car, and yard tools are right where we need them (in case we ever decide to actually do some yard work…)
It looks pretty amazing now, but get ready. Here are the before shots: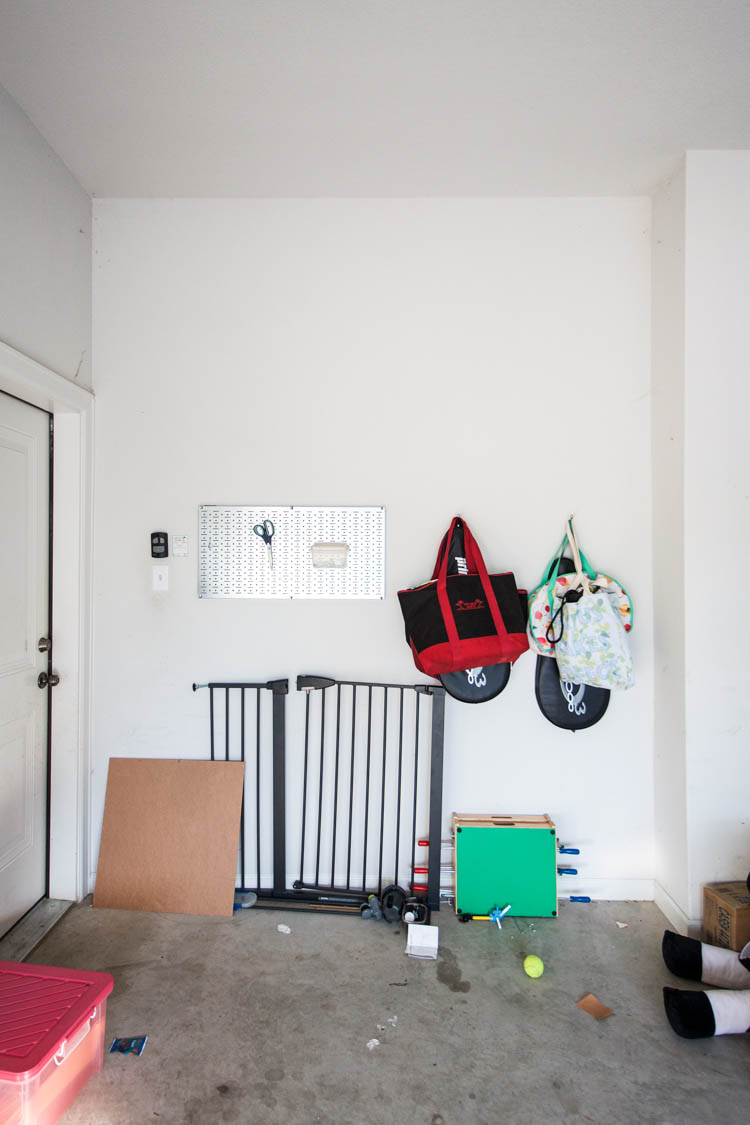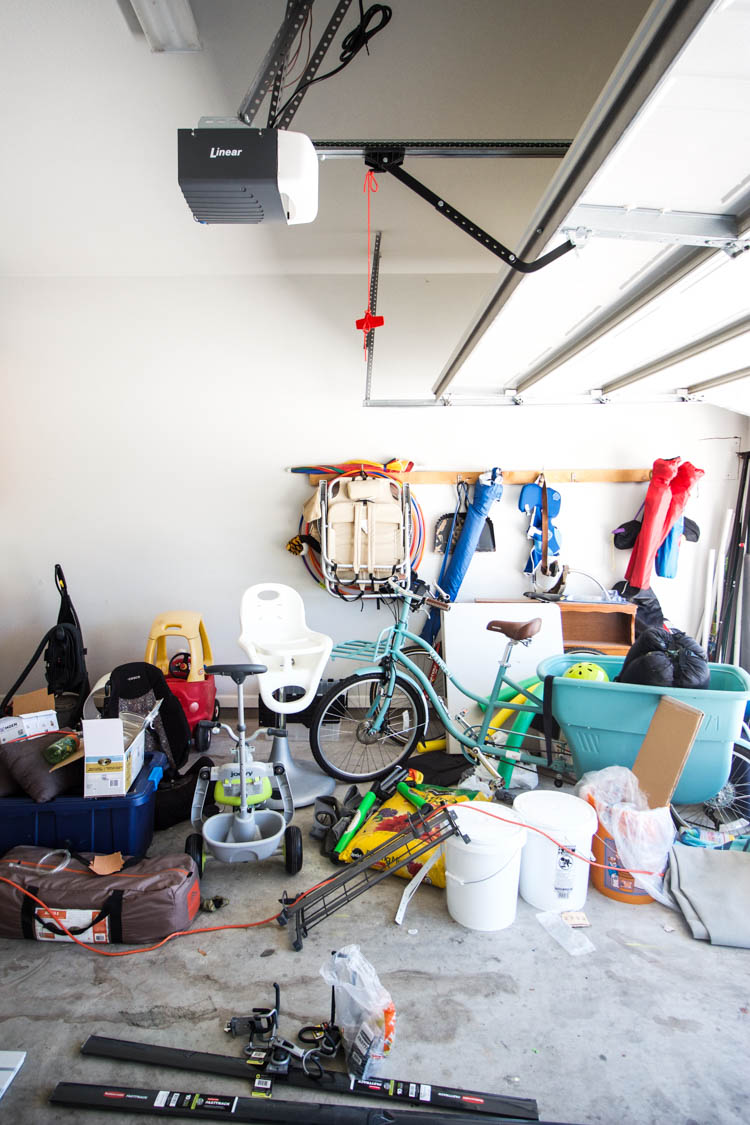 Earlier I mentioned a lot of roles a garage plays, and I failed to mention one additional major role: the dumping ground!
This is crazy to look at because I remember thinking it was sort of organized. We can spend so much time looking at our own messes that we forget how easy they can be to clean up, and how much more amazing our life will feel when we do it!
Tip 1. Get Things Off the Floor
As I prepared to organize our space, I quickly realized the number one key would be getting things off of the floor and onto the wall. FastTrack rails do just that. They are super easy to install, and once up, anchored by the wall studs, each rail holds up to 1,750 lbs, which is a lot of gear!
I headed to The Home Depot to grab a couple rails, the necessary specifically designed FastTrack hardware pack (one for a 48″ rail and two for an 84″ rail, I got one of each.) I also chose an assortment of accessories for the bikes, chairs, and yard tools that I knew needed to go up on the rails. The variety is huge, and it's a nice perk that we will be able to switch and change them out as our needs change.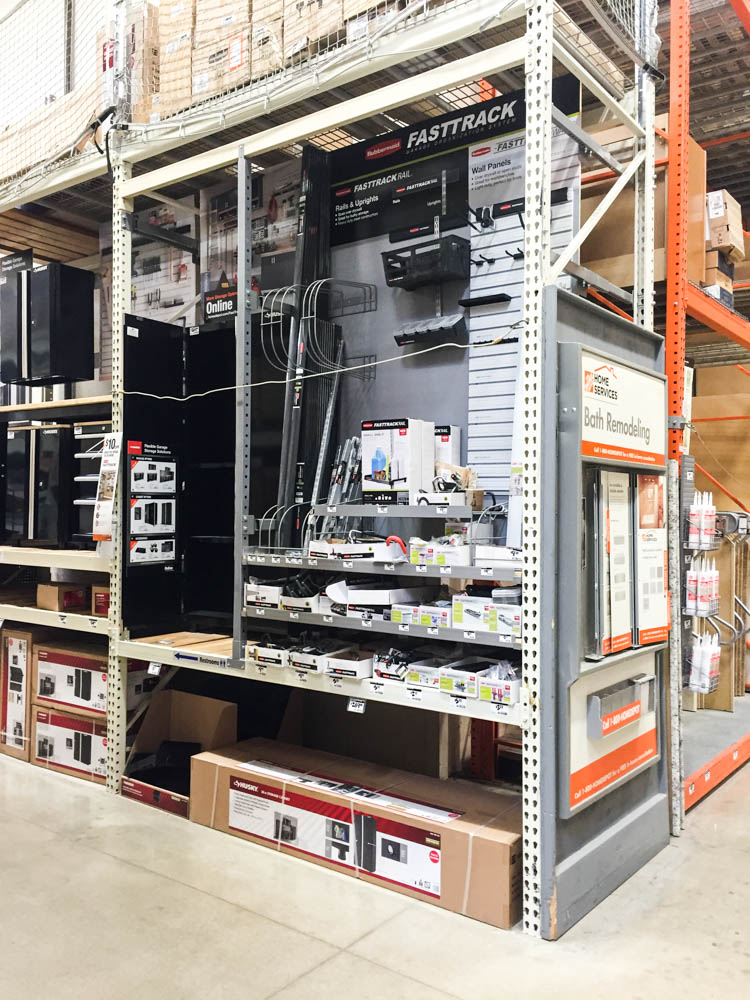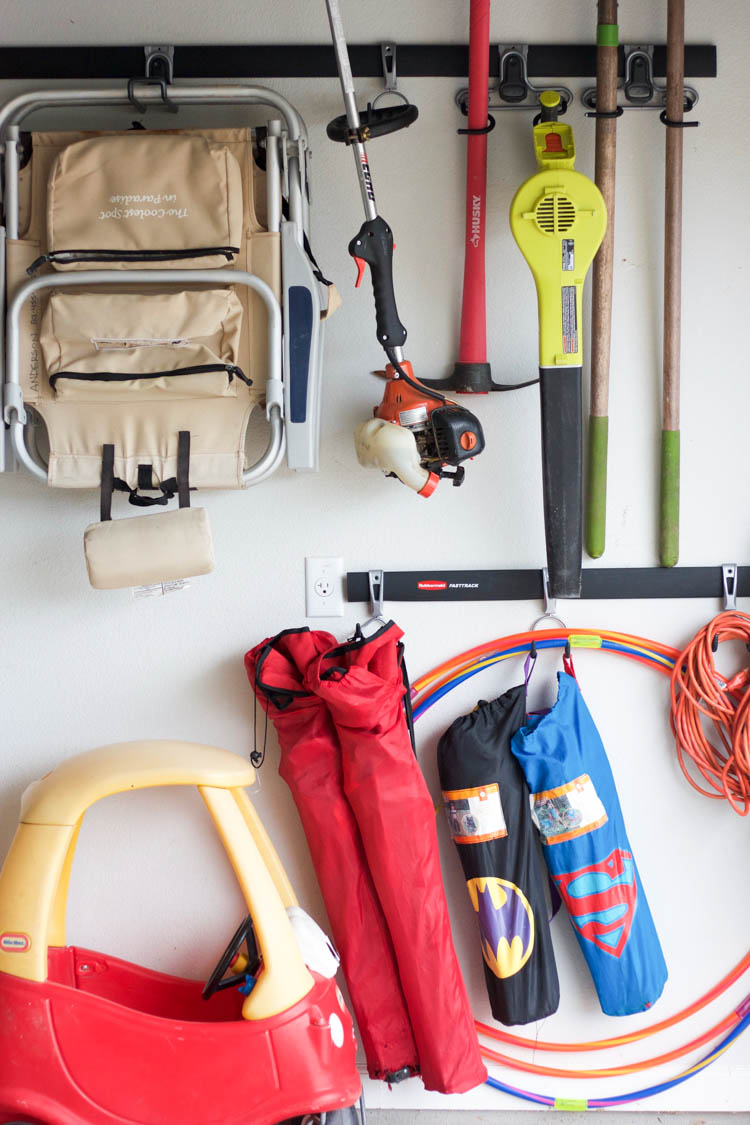 Tip 2. Create Zones
As I went through our capital-S Stuff, I sorted out the garbage, and made a big pile of things we've grown out of for donation (high chair, I'm looking at you.) Then I divided the remaining tools and gear into sections based on their purpose. Bikes in one area, yard tools in another, beach gear in a third.
I also organized our current bins of camping gear, gallons and cans of paint, and power tools onto shelves.
The kids wheels are some of our most used outdoor toys, but they've had to maneuver them around the piles on the ground. By hanging the little bikes on the Rubbermaid FastTrack Vertical Bike Hooks, I was also able to create space beneath them for the tricycle and cozy coupe.
The bikes that are hung need some parental supervision (and a reminder to put on a helmet), where those on the ground the kids can grab them and go whenever they're ready.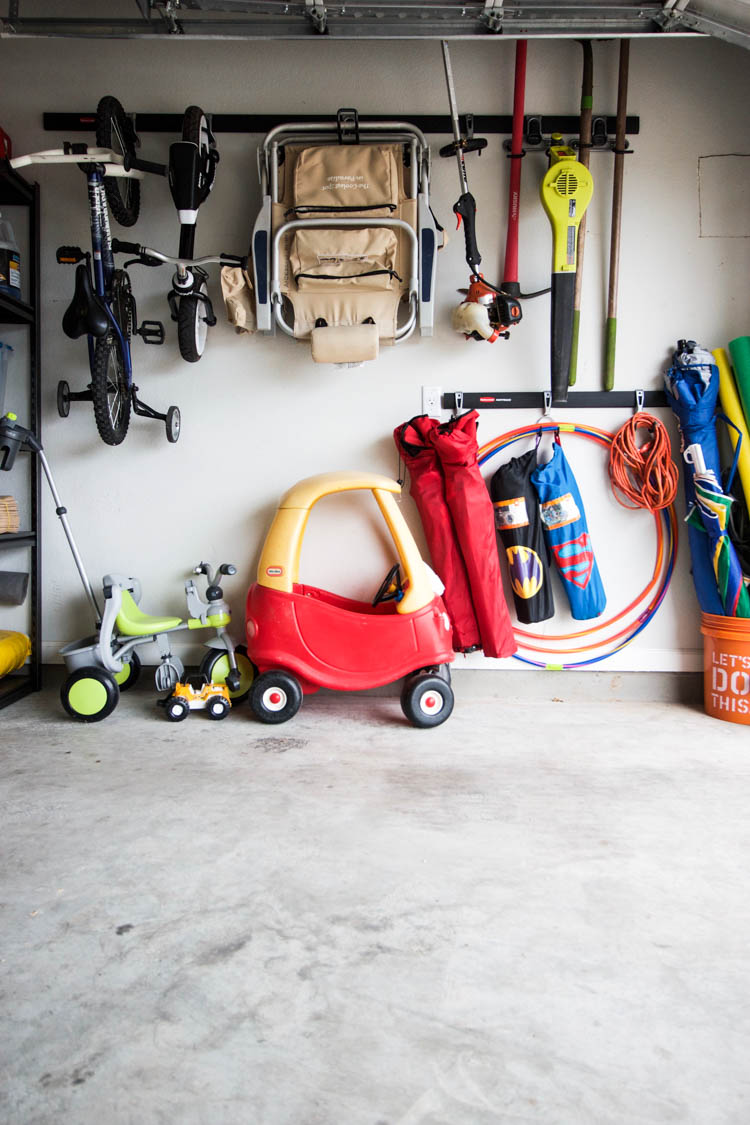 I kept the beach chairs and gear all in the center, small chairs where the kids can grab their own, and the heavier duty up for mom and dad. I also set all the beach umbrellas and pool noodles in a bucket in the corner for easy access. This felt like the best, most simple solution for those tall, lightweight items.
Finally, the yard tools are all together on the top rail, hung using the Rubbermaid FastTrack 2-Handle Hooks. These tools have literally been scattered around our backyard for the last year, so it feels really good to give them a home.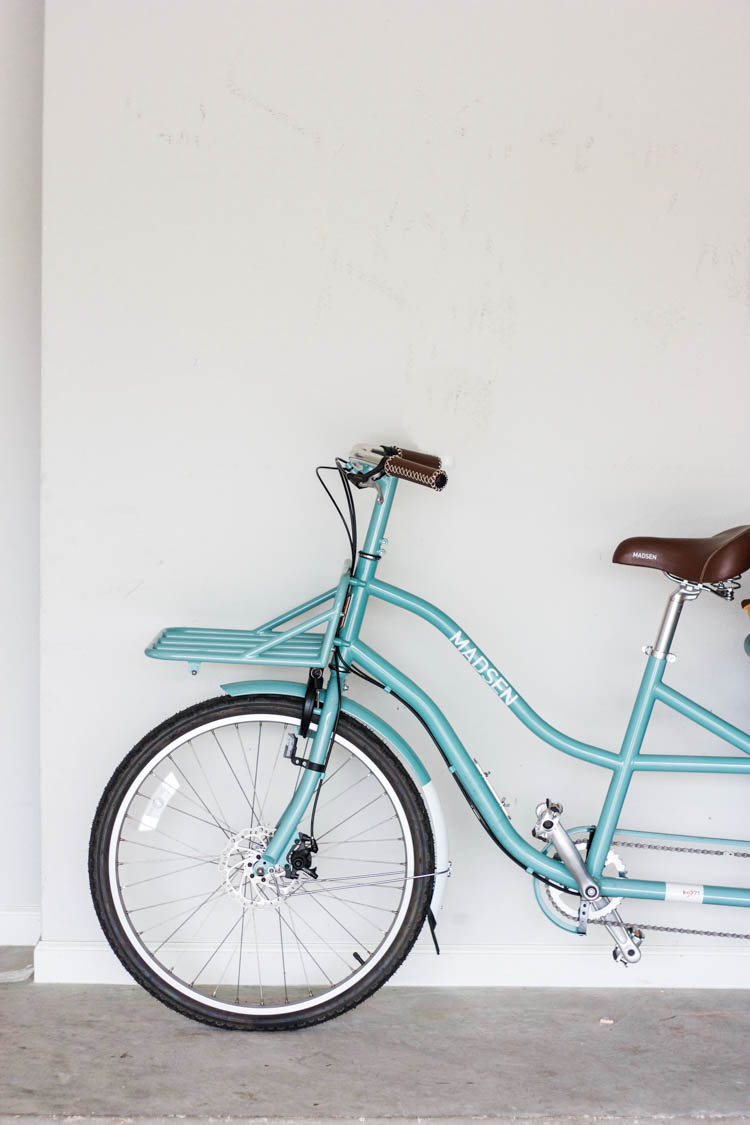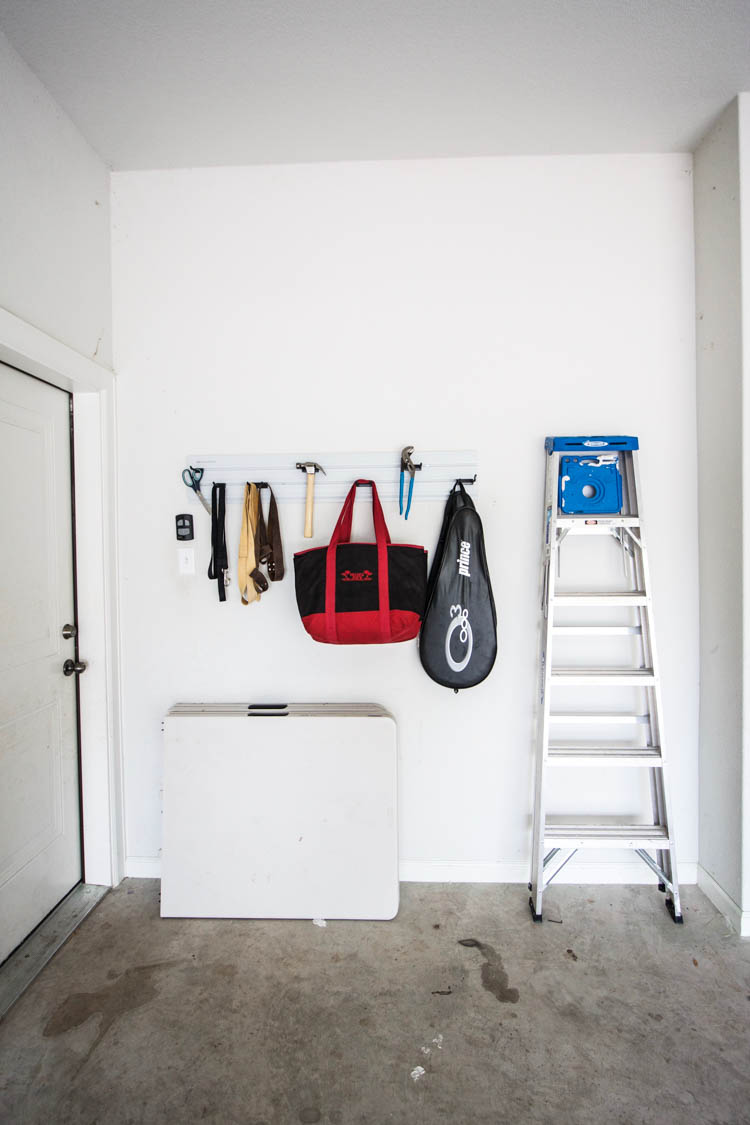 Tip 3. Create a Command Station Near the Door
There are always things that I need right as I'm heading into the garage from the house, or vice versa. For example, the ladder is almost exclusively used indoors, but I don't want to store it inside. So, it needs to live by the door!
Other things that I need next to the door are small things, like a pair of scissors (I don't know why, but I always need a pair of scissors!), the dog's leash, my reusable shopping bags (that haven't seen much use since I started with my grocery delivery), and our folding tables for entertaining.
The Rubbermaid FastTrack Wall Panel turned out to be the perfect command center for this entry point. With the same simple installation as the FastTrack Rails, I got it up on the wall securely and easily. Then adding some accessory hooks I was able to put all of the things I need often right next to the door.
I've already found myself coming into the garage, grabbing the hammer or pliers, then turing back into the house before the door behind me has even shut. Anticipating my needs ahead of time has set me up for success, and I love it.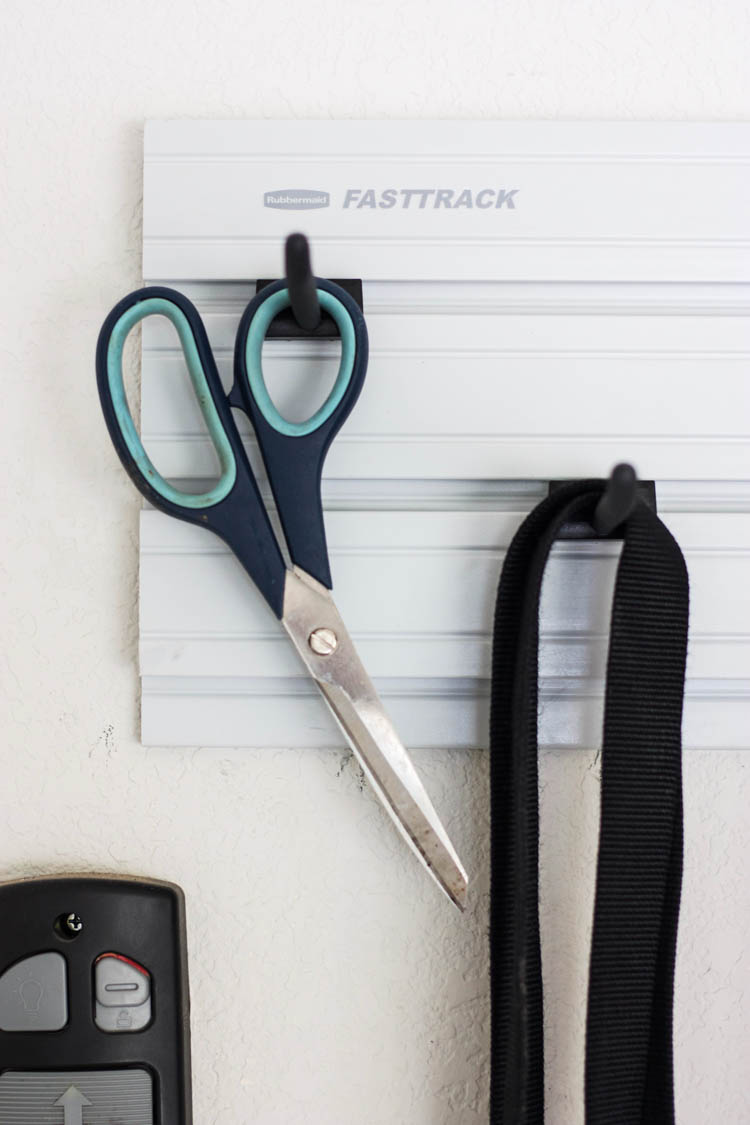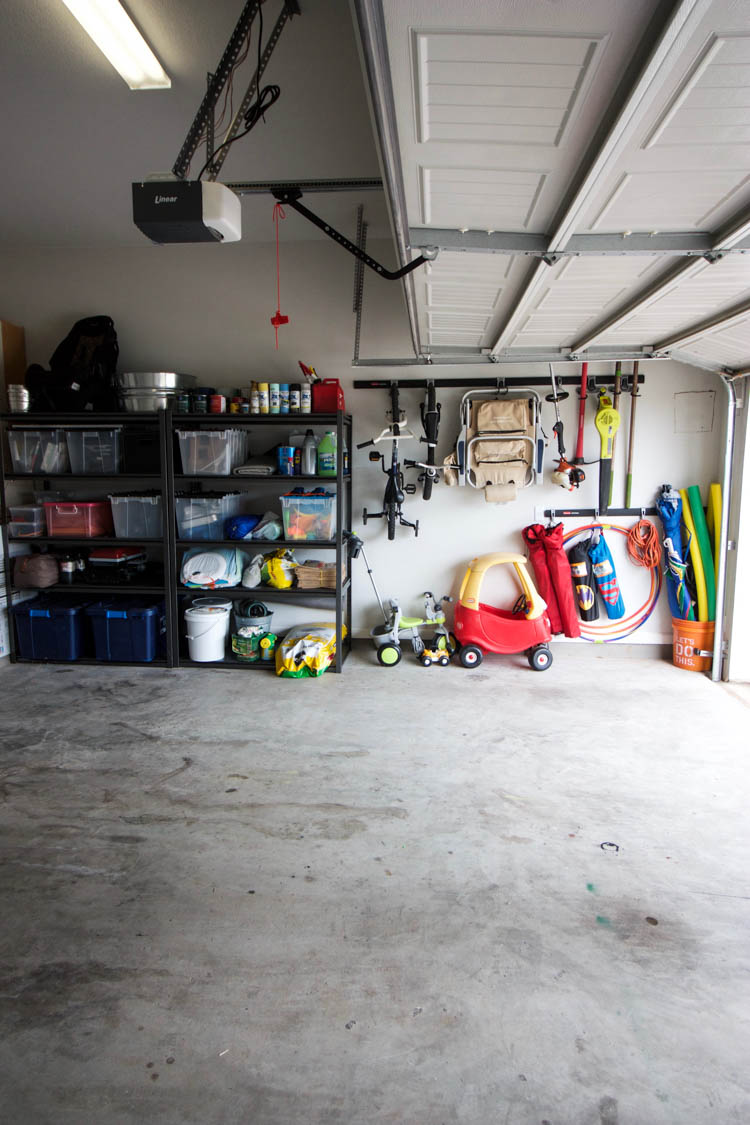 Now that everything is up off the floor, separated into zones, and I have my command station near the door, we've experienced a miracle we never thought possible. Both of our cars fit into the garage at the same time! 
And when Dave is at work, I have enough room with floor space to work on projects, paint furniture, and use the garage for it's many intended purposes. That feels so good!
Now, I can't wait for the kids to come home in a couple hours for us to grab the bikes down and go for a celebratory family ride around the neighborhood (then easily put them back before dinner and bedtime exactly where they're supposed to go.)
Do you have any additional great tips for garage organization? I'd love to hear them in the comments!