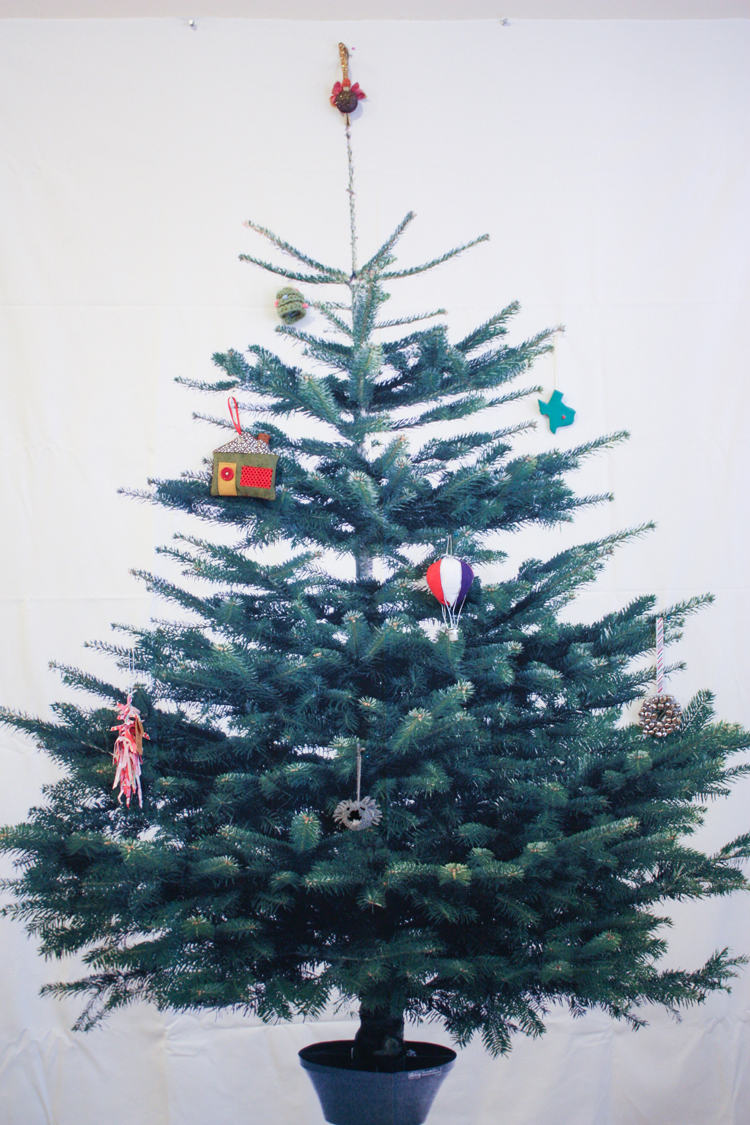 It's the most wonderful time of the year…
Truly! When Kelli emailed me a month ago about participating again in her Handmade Ornament Exchange, I was thrilled! I remember the fun I had last year thinking up and creating my ornaments, then receiving package after handmade package in the mail in the weeks leading up to Christmas.
I knew this year would be even more special. Along with having just moved across the country, this Christmastime also brings my family to the completion of our new home, and most special of all, the birth of our sweet baby girl, Plum!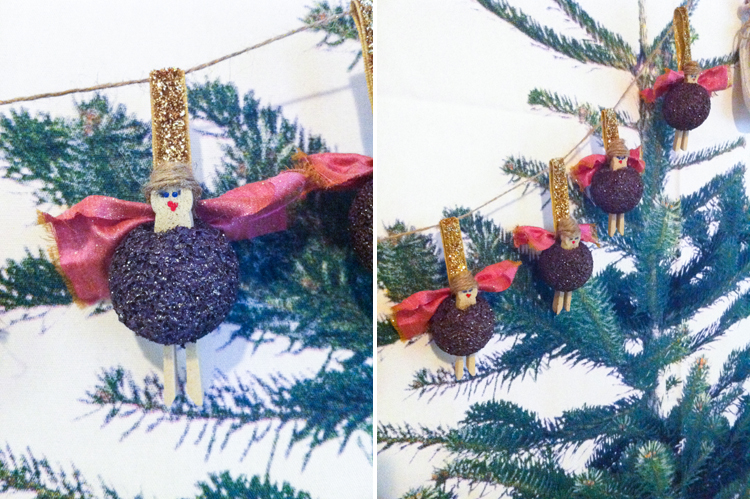 Of course my ornaments had to be Sugar Plum Fairies! What else would have been appropriate?! I had these sweet little gals dreamed up from the moment I replied "YES!" to the exchange invitation.
I wanted to keep them simple, sweet, and sparkly. Because they are very simple (and because I was whipping them out at 9 months pregnant!) I forwent a formal tutorial, but thought I could share some tips in case you'd like to make a Sugar Plum Fairy of your own! This basic idea would work for hundreds of other little characters as well, so dream away.
The plumpness of the Plum is a small styrofoam ball. I held them tight and shoved the wooden clothes pins right through, creating a perfectly sized hole for her body. Next, I painted all of the balls a nice purple and let them dry while I hot glued twine to the clothes pin head for a little bun. You know, channeling The Nutcracker. Once the paint was dry, I slid the ladies into place and secured them with a little hot glue. Then I attached the fluttery pink silk wings and sparkle ribbon hanger with glue. After adding little dot faces with the back of my paintbrush, I sprayed them each with gold glitter for some fairy vibes:) Easy as that!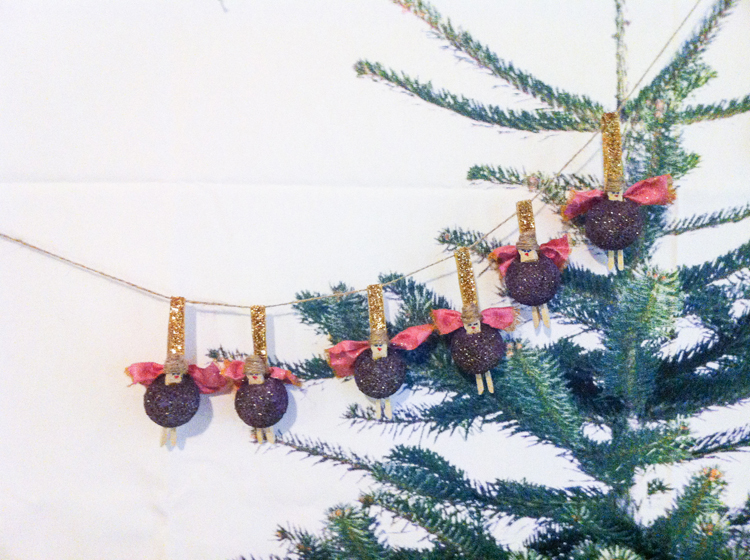 I loved them all in a row, but was excited to pack up and ship off, too. Sending a little piece of our family's Christmas cheer to each of the participants.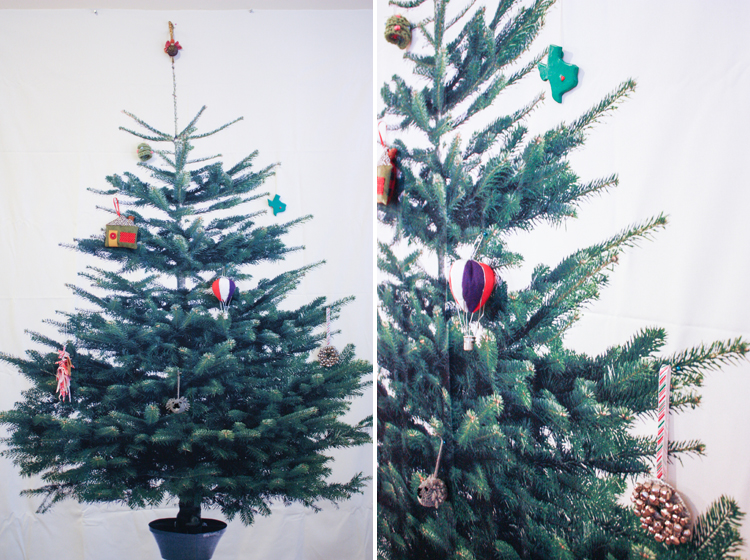 I got my ornaments finished and sent a little ahead of schedule, awaiting the arrival of my own little Sugar Plum. And I kept waiting, and waiting. Other's ornaments began to arrive to our apartment (and get pinned up on our temporary IKEA fabric Christmas Tree) and little Plum still hadn't shown up!
Each of the ornaments is unique and darling. I mean, look at these! If you hop around to each of the other participants blogs, you'll get a closer look and some tutorials for the amazing creations:
Sonja of Gingermakes
Jen of Grainline Studio
Krista of Lazy Saturdays
Jennifer of Workroom Social
Katy of Katy and Laney
Laney of Katy and Laney
Erica of Caught on a Whim
Kelli of True Bias
And then, finally on December 15th (11 days past her due date!), my own amazing creation arrived.
Introducing, Miss Plum Taylor Anderson.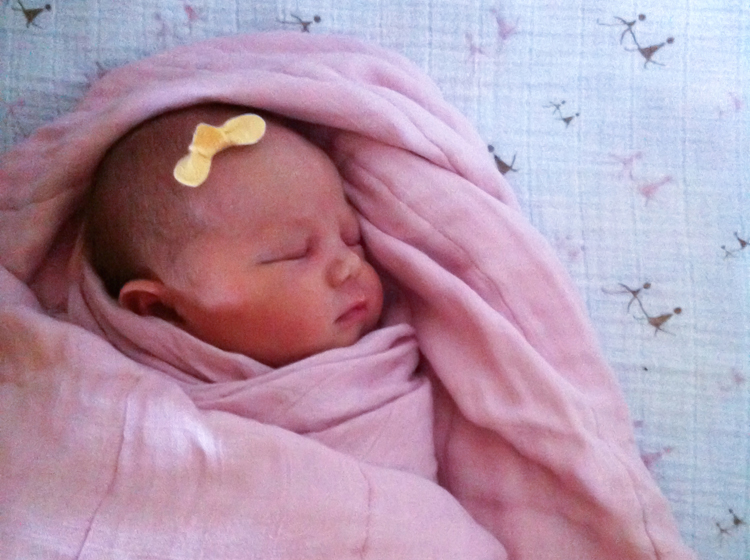 I'll tell you more about her later. For now, go enjoy your Holidays with your families, make some new handmade ornaments for you tree, and delight in the magic of this special season!
xo Miranda