It's hard to believe Milo is a preschooler! Yesterday was his first day, and we look forward to an amazing year. Mentally, emotionally, and socially, this kid was ready to go (probably even last year!) As far as clothes, I'm not fussy. He has a bunch that fit and are cute, so I didn't do any real back-to-school shopping (though I do have plans for a few handmade fall items for him.) Preschoolers don't need school supplies…so all he really needed was a backpack!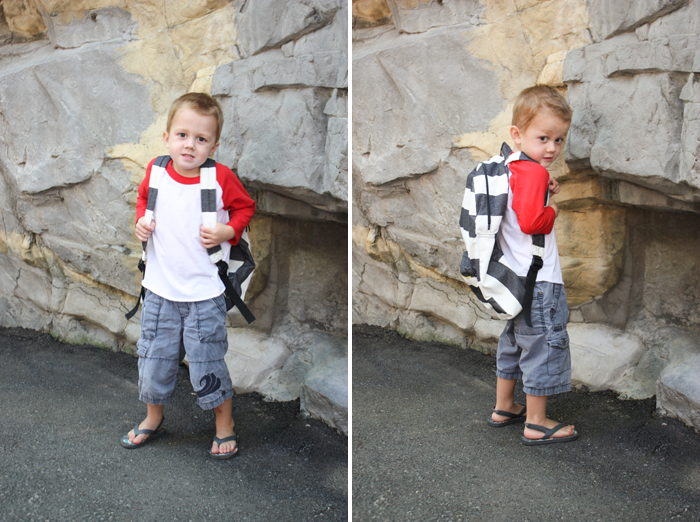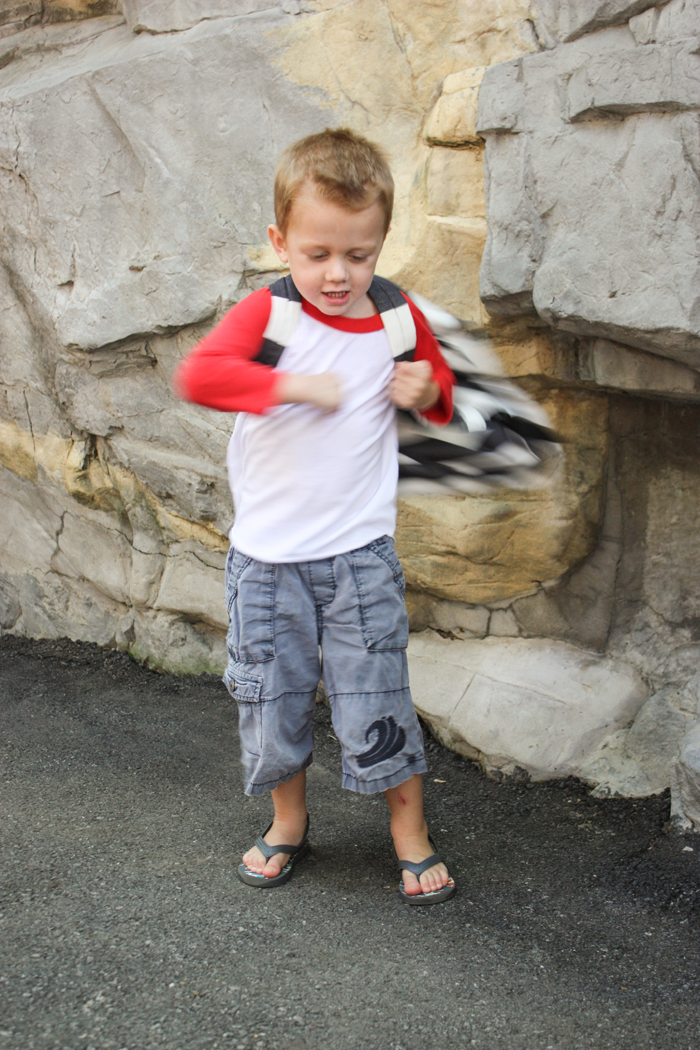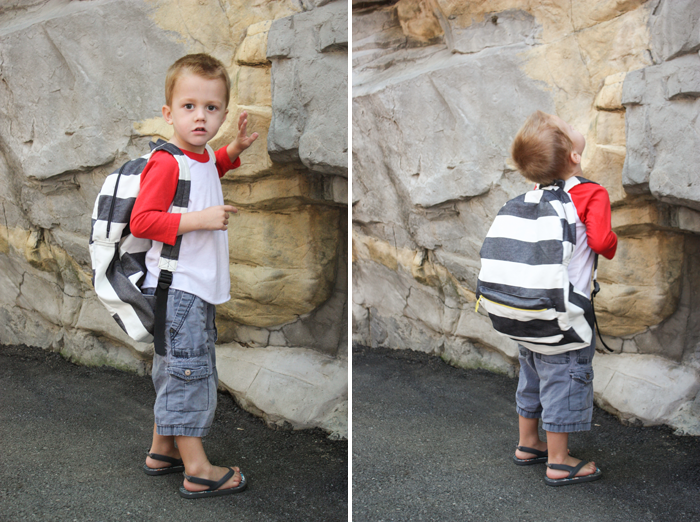 I was kind of looking forward to splurging on something awesome, since I didn't spend anything else on his new school year. I was almost set on this one for $50, and even had it in my cart–but then the $10 shipping cost made me hesitate. When I went back to get it later, my search for "striped backback" pulled up this awesome pack, at double the cost of the first. Of course.
Inspired by my good friend Miriam of Mad Mim, who made a darling floral backpack for her daughter a couple weeks ago, I decided to give handmaking Milo's pack a try. I had no idea what I was doing, but winging things is sort of my status quo. So I just went for it. I ended up having everything I needed for the entire project already in my house. So, saved myself a Benjamin and Milo has a cool, handmade pack. Win-win, I'd say.
During nap time on Saturday, I opened up my sewing closet, stared into my clear fabric boxes hoping for something awesome, and then I spotted this wide-striped cotton twill. It was actually a clearance cushion cover that I bought at Ikea back when I made this duffle bag. I had totally forgotten that I had it! Serendipity. I basically just eyeballed the design, based on the darling Herschel pack. The front and back are identical, the zippered portions are just rectangles, and the sides and bottom are one long strip. Pretty straightforward…until I tried to put it all together! I kept staring at it thinking "Uh…I have no idea how to do this." Luckily, by piecing together little lessons from a hundred other past projects (and looking at the photos every twenty seconds), I was able to figure it out.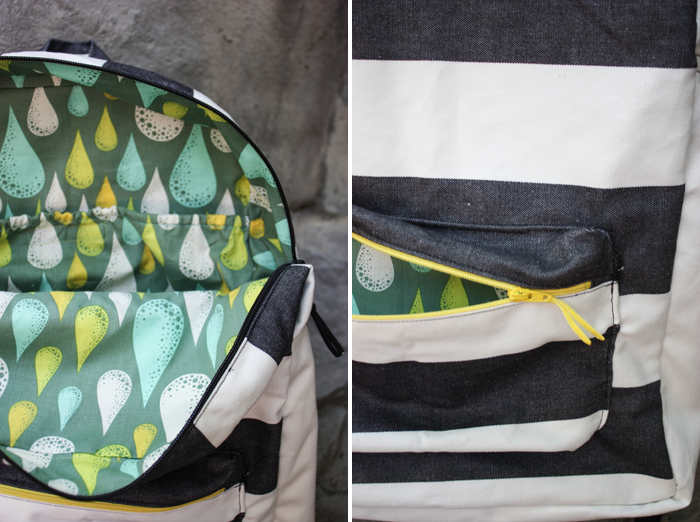 The lining fabric was left over from this rain cloud pillow. I liked it so much I got it in multiple colors. I think it fit this project just right. The laptop pocket is a little silly for a preschooler, but I'm sure it will come in handy to have a separate space. You know…like for Dad's iPad.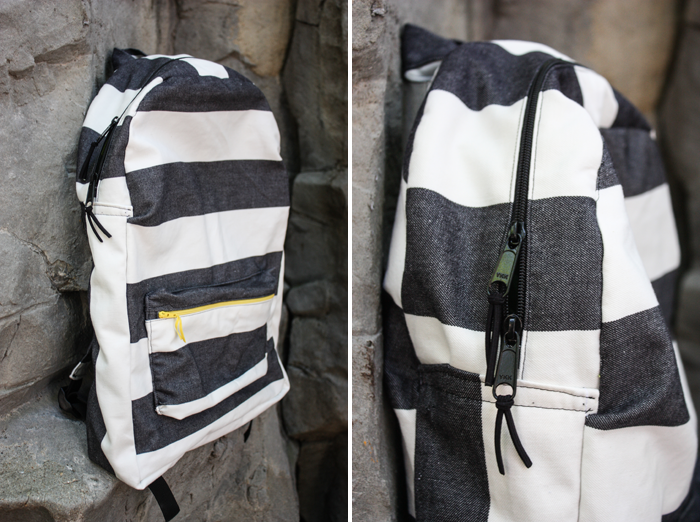 Thanks to my big win in the Sewvivor competition in the spring, I've got a healthy supply of zippers from Zipit, including this head-to-head long-pull that I used for the main pocket of the pack. I was also excited to spot this short, bright yellow zipper for a little pop of color on the front pocket. I used the zipper portion of Katies's pouch tutorial to keep the zippers cleanly inserted (I'm much more comfortable with invisible zippers!)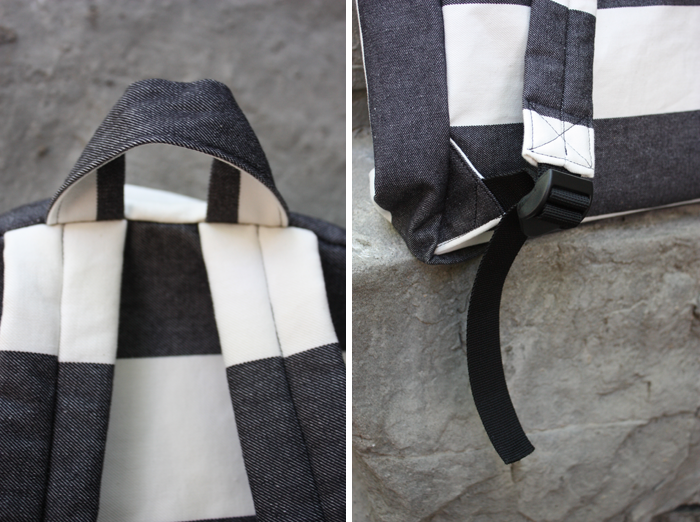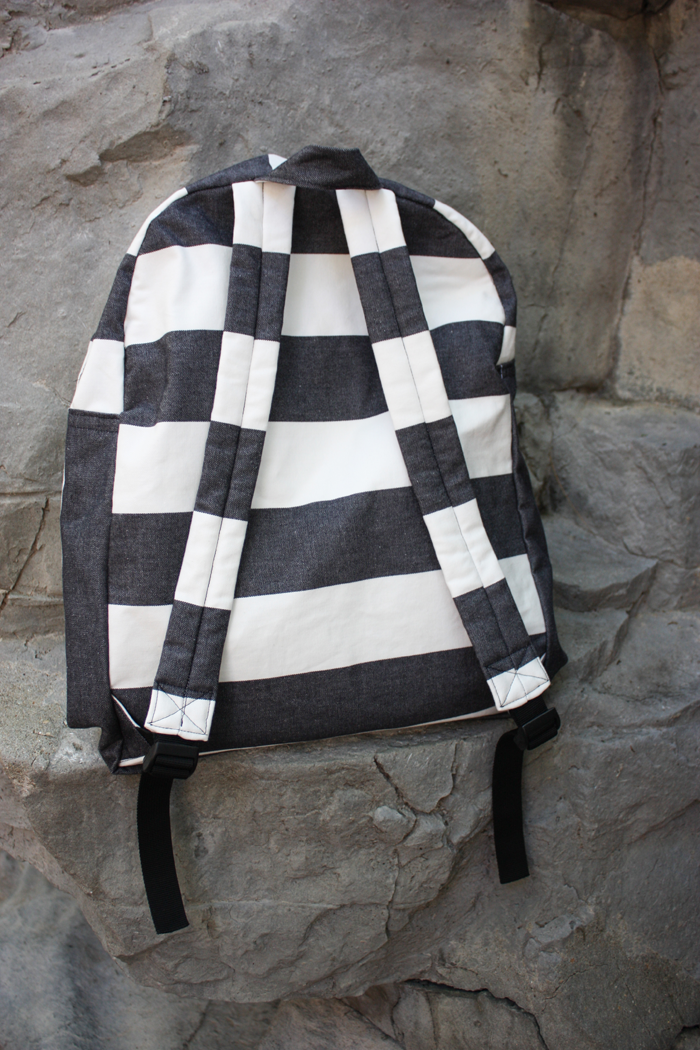 I lucked out when looking for the adjustable straps. I didn't have anything but D rings in my sewing stash, and I wanted something a little more sturdy. Luckily, my old camera bag had two! I never used them on the bag, so I just snipped them off and sewed them on here. It couldn't have worked out better. Now I'm wondering what other old bags I should dissemble for their hardware!
My favorite part of the whole bag might be the little loop on the top. That's where it will hang, low on the wall, over Milo's little labeled bag hook at preschool. It is really fun to see him growing into such a fun, energetic, and happy boy. I'm sure this year is going to go by in a flash. Spending an evening making this perfect striped backpack was a great way to begin it.