November has begun and I'm already feeling the coziness of the holidays at home.
We love entertaining regularly, and during this Thanksgiving and Christmas season we have friends coming and going all the time. I had a great time putting together five of my favorite simple holiday appetizer ideas. They're all super simple to put together, but each tastes amazing and is a great crowd pleaser. Perfect for quick get togethers or big parties.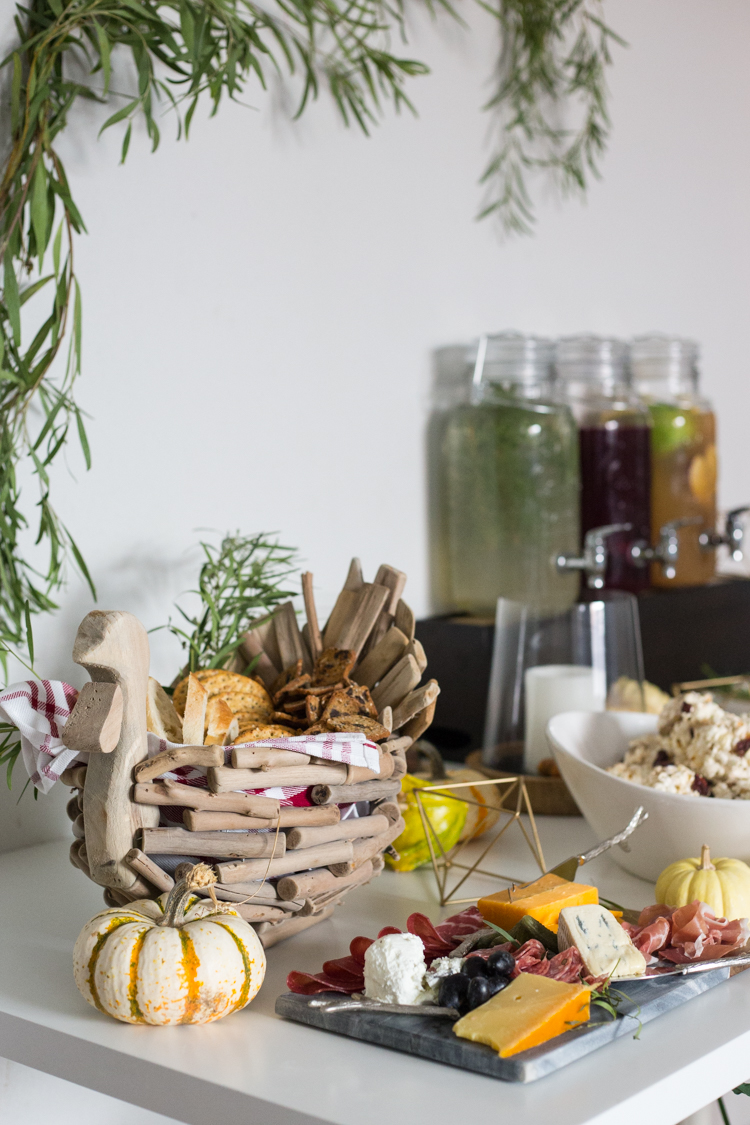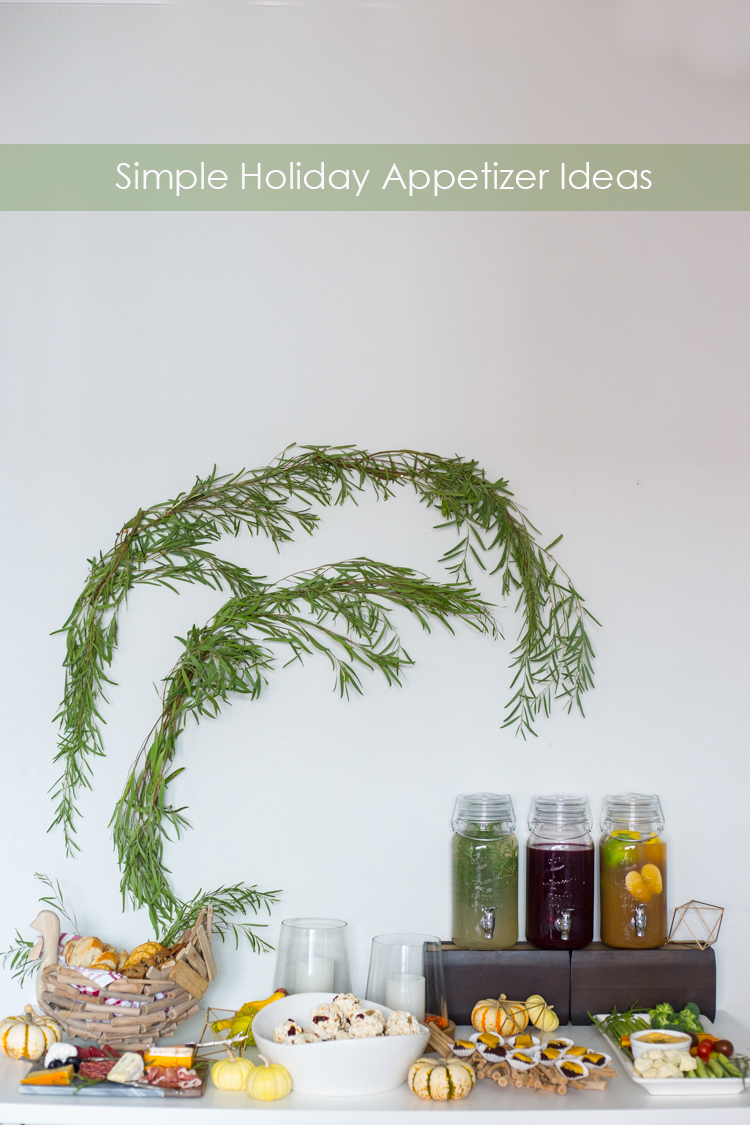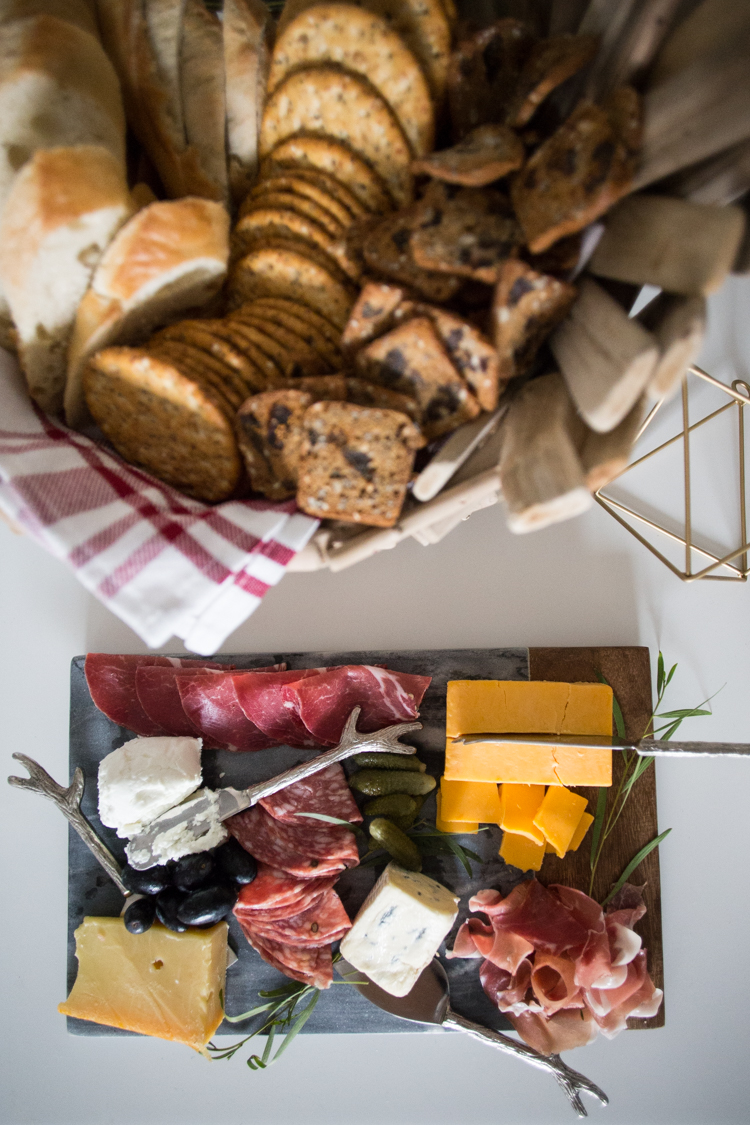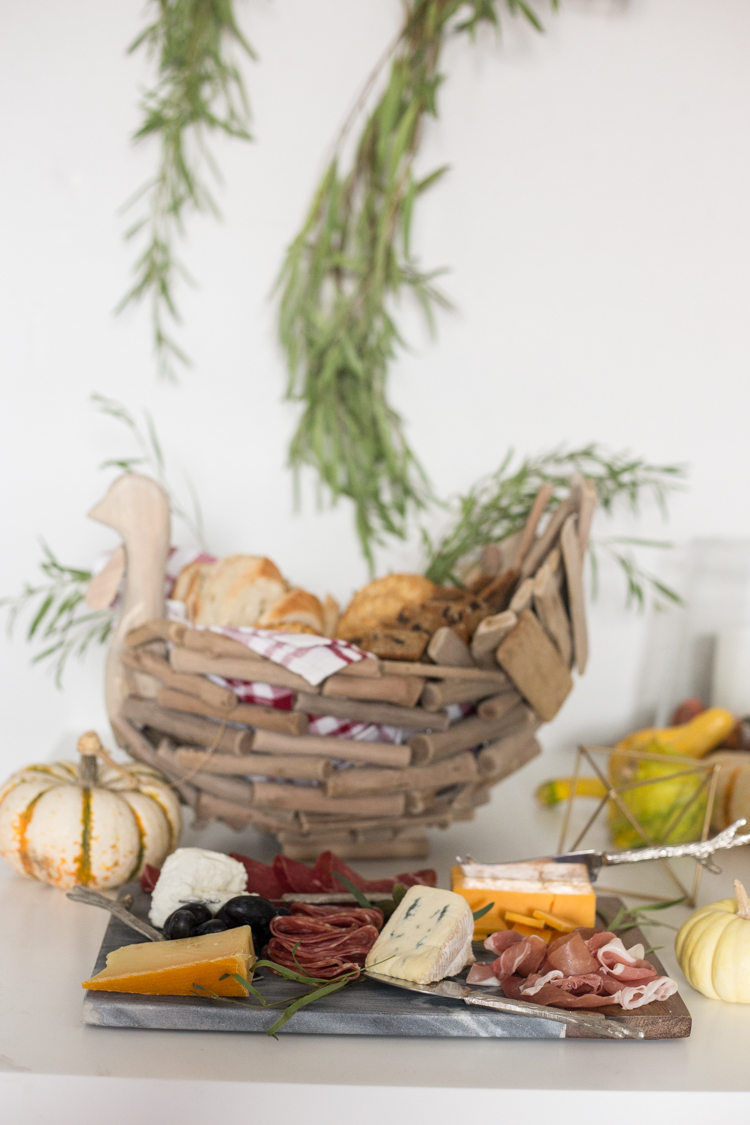 Cheese and Charcuterie
Let's begin with the cheese and charcuterie plate. A party isn't a party without some cheese and cured meats, and it's one of the most simple and impactful appetizers to put together. I like to include a basic hard cheese, familiar to everyone like a sharp cheddar. Then I add a more interesting hard cheese, like this 1000 day gouda. Next add a soft cheese like brie or chèvre. Then round out the plate with a bleu cheese, this one is a creamy roquefort.
For meats I like to include salami and prosciutto, and I found a great variety pack at Trader Joe's with these three delicious types.
I like to add some sweet and sour pairings, like purple grapes and small cornichons. Sometimes I add nuts or chocolate as well. There really isn't anything that doesn't feel at home on the smorgasbord pile. My favorite way to arrange is putting everything all onto one pretty board, and was all heart eyes when I spotted this marble and wood version during my latest stop into At Home.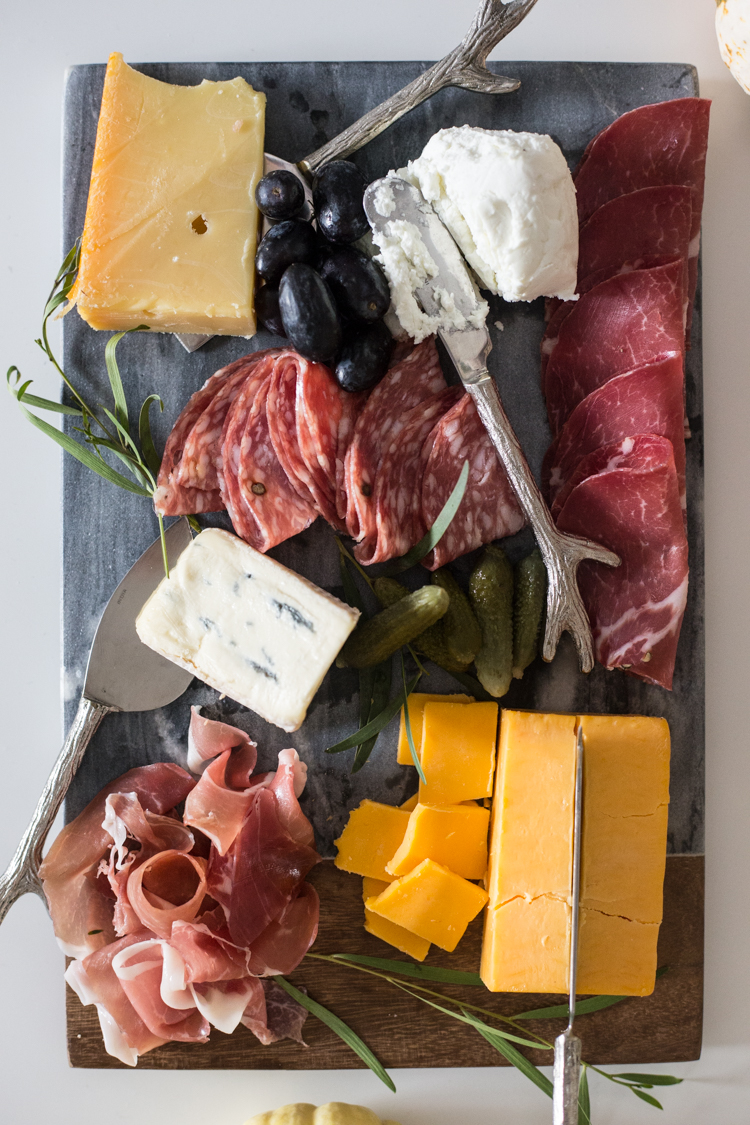 To accompany the cheese and charcuterie, I piled a variety of crackers and some sliced French baguette into this rustic turkey basket, perfect for Thanksgiving entertaining.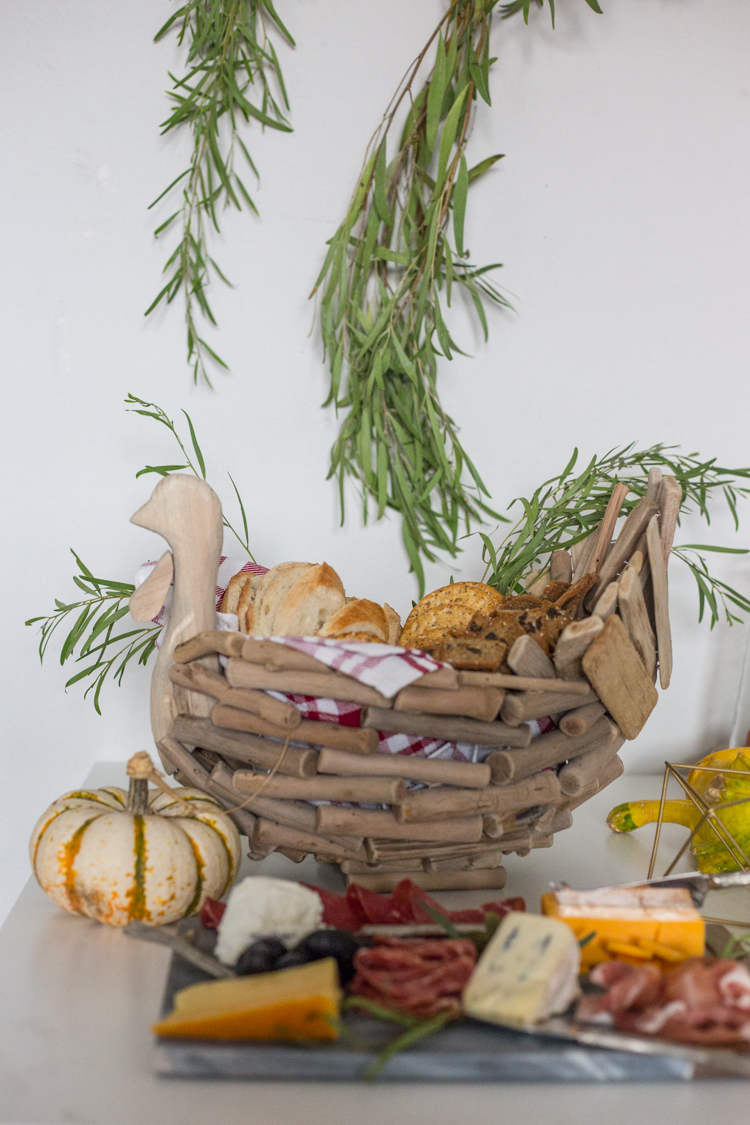 Popcorn Balls
Next up are these harvest-style popcorn balls. I had never actually made popcorn balls before, and my neighbor suggested them as a fun appetizer idea. I quickly scanned the internet for some simple ideas and turns out making popcorn balls is just like making rice crispies!
They are as simple as dumping a bag of mini marshmallows into a bowl in the microwave with 2 tsp of butter, and heating until melted and soft (around 30 seconds.) Then pour the mixture over some popped popcorn (I used 2 microwaveable bags, and tossed the unpeopled kernels first). After you mix around for a bit, you can toss in other fun goodies–I added cranberries and cinnamon spiced pumpkin seeds– then form them into balls and let them sit a bit.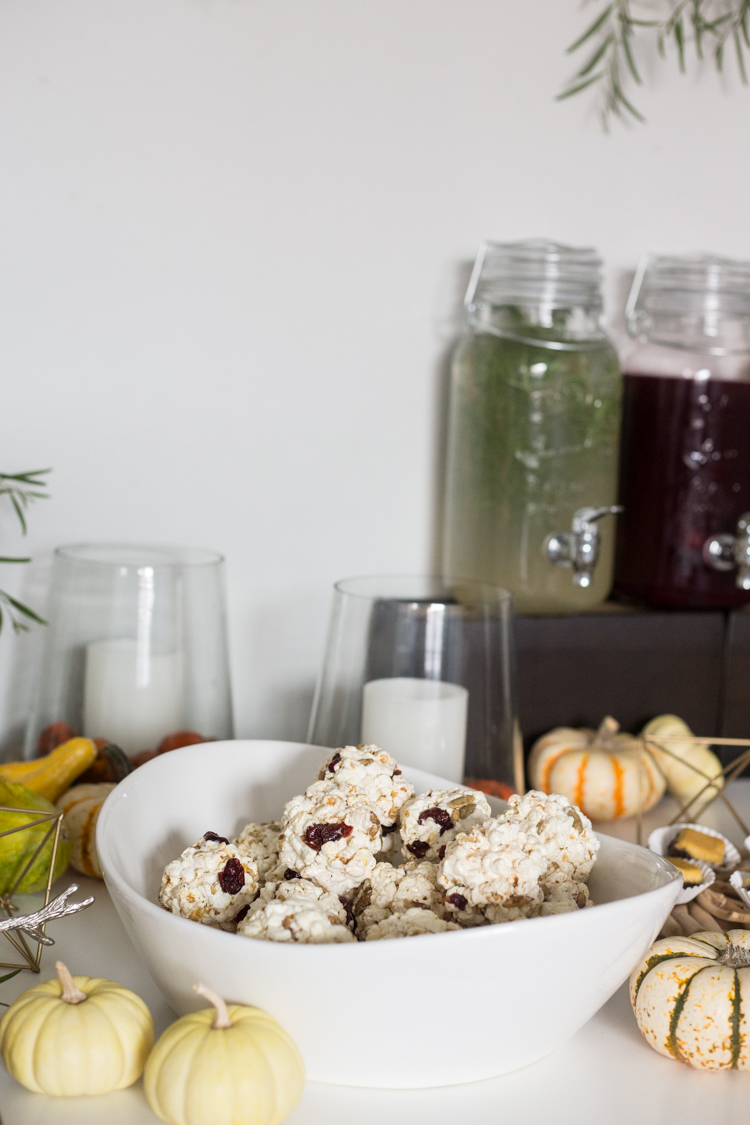 The result are these delightfully chewy and sweet, but not too sweet balls of harvest goodness. I expected them to stay sticky, but once the mallows cool down, they're pretty easy to eat without getting your hands messy. Piled up in this cool asymmetrical ceramic bowl, they're inviting and awesome. I finally had to give a bunch away so I would stop eating them myself. They're super good and super addictive.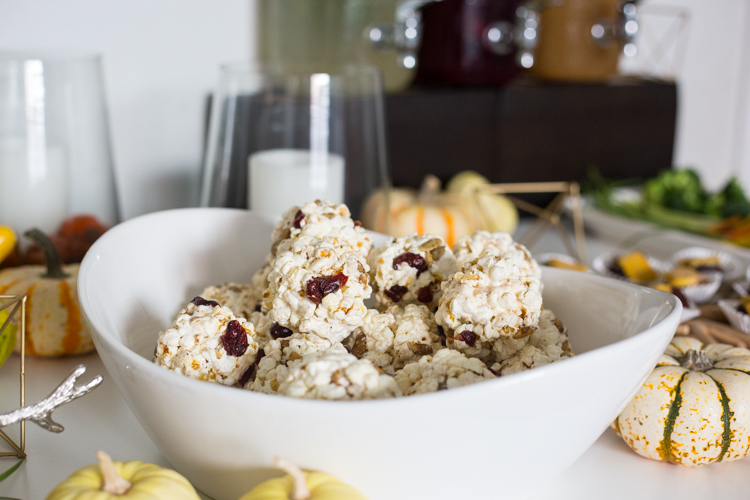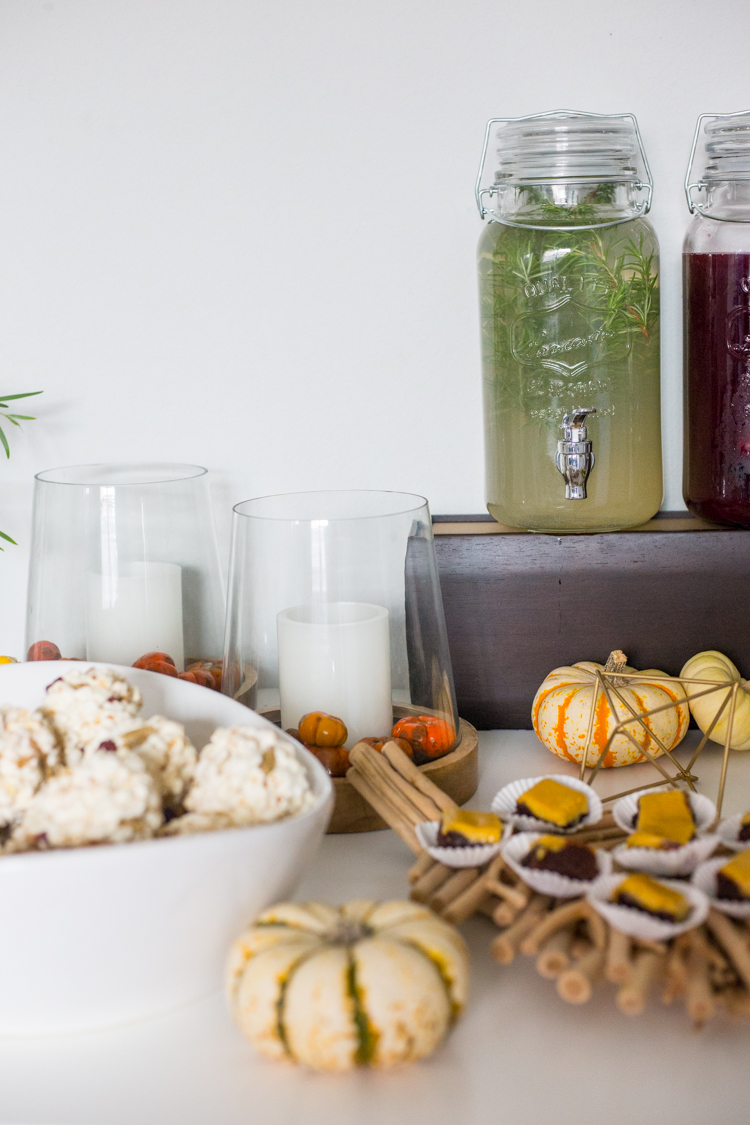 Cocoa Pumpkin Brownies
Another sweet appetizer treat are these cocoa brownies layered with a pumpkin cream cheese icing.  This cocoa brownie recipe has been my go-to since I discovered it a few years ago. I love that I can make it in one bowl, with no mixer, and they bake to the perfect gooey texture in 25 minutes flat.
To add some holiday feel, and because everything from September to November is better with pumpkin, I added a pumpkin cream cheese icing that compliments the chocolate nicely. One square of cream cheese, three cups of powdered sugar, and a half cup of pumpkin purree, heated until melted and stirred until thick, then layered on top before baking. I also sprinkled the top with cinnamon and they turned out so good.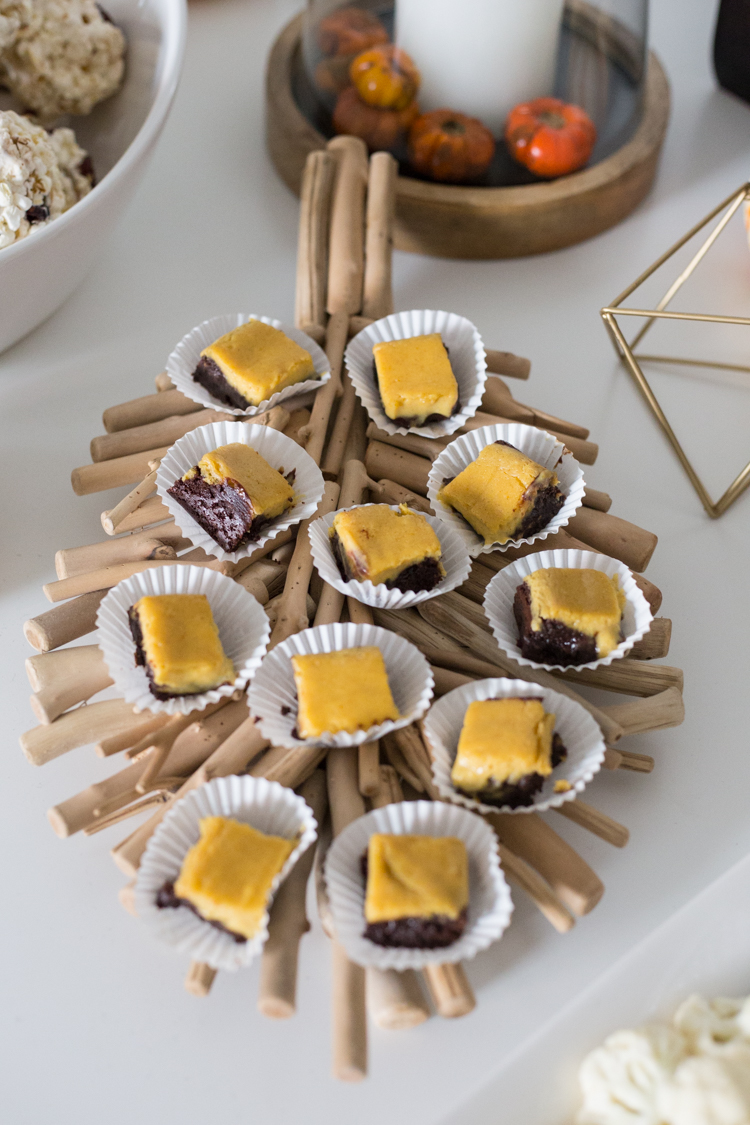 I thought they were cute and easy to access in separate cupcake liners set on the driftwood leaf tray that matches the turkey I used for the crackers. I love a little intentional tabletop design, and these two pieces are so fun together with all of the other white dishes mixed in.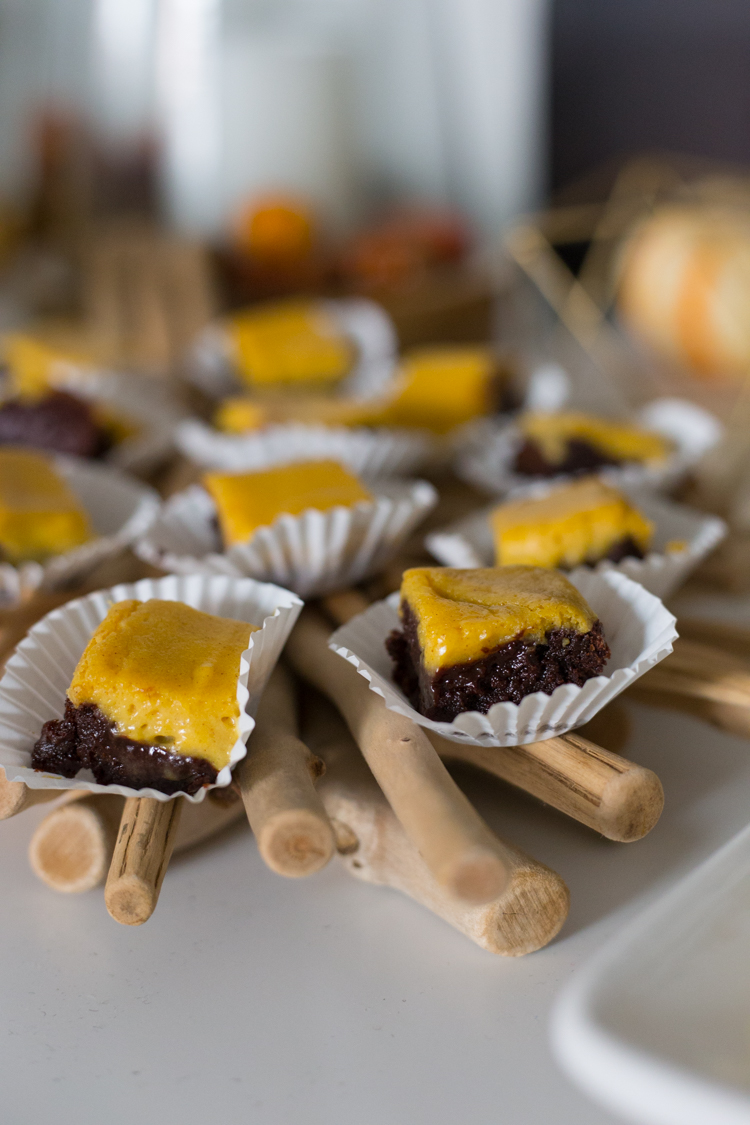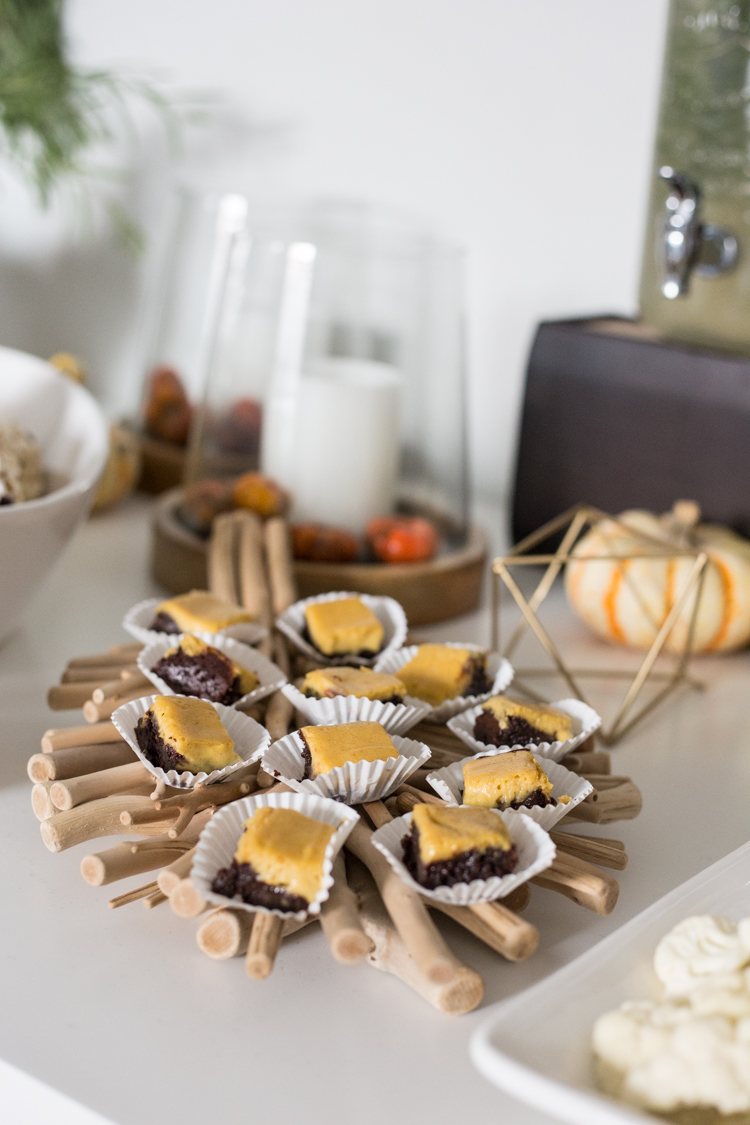 Pumpkin Hummus and Veggies
I always like to round out an appetizer table with some fresh veggies for my more health-conscious friends and those with gluten allergies, carb aversions, or just to add some fun savory color.
For the simple pumpkin hummus, I mixed in 1/2 cup of pumpkin puree to a store bought container of original hummus, then added some additional pumpkin seeds and olive oil on top. The flavor is subtle but interesting, and makes a fun variation for the harvest season.
I like to get long skinny carrots (the organic colorful variety from Trader Joe's) to cut up for veggie platters rather than using baby carrots because these are so much prettier! Alternating long, cut veggies with the short, stout broccoli, cauliflower, and tomatoes makes a pretty display on this perfect long rectangular platter.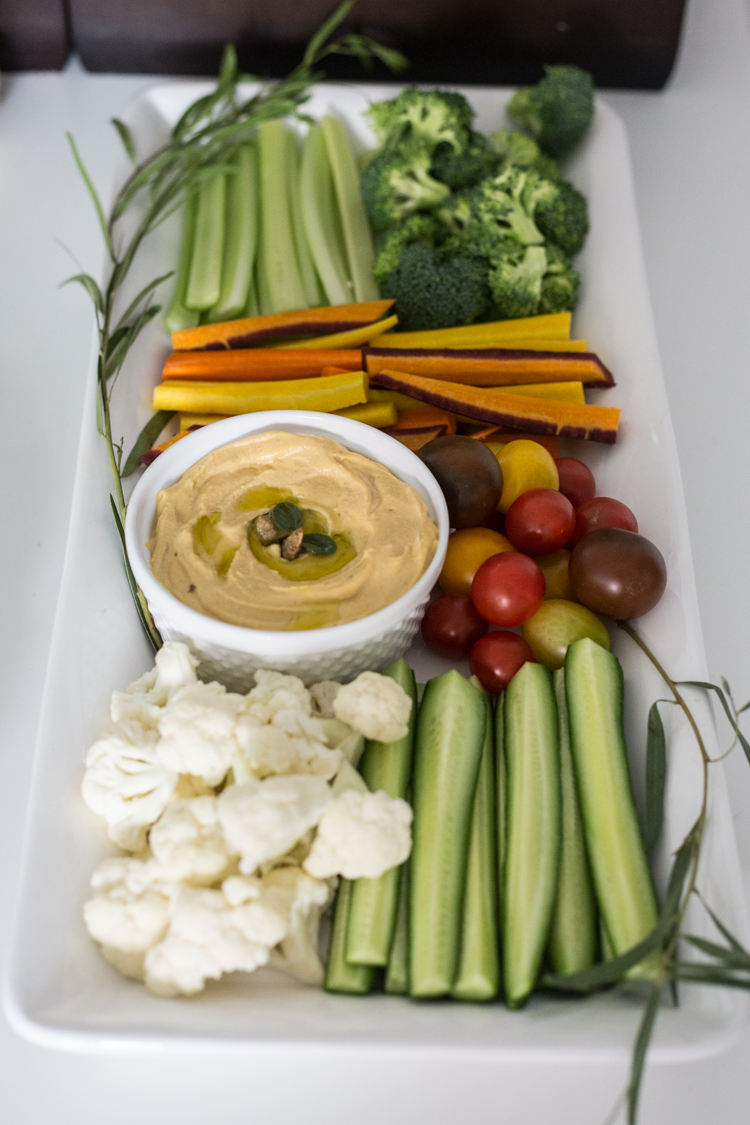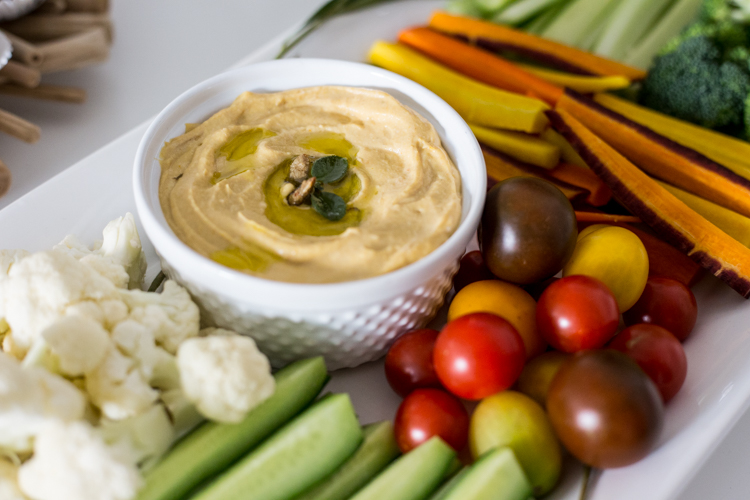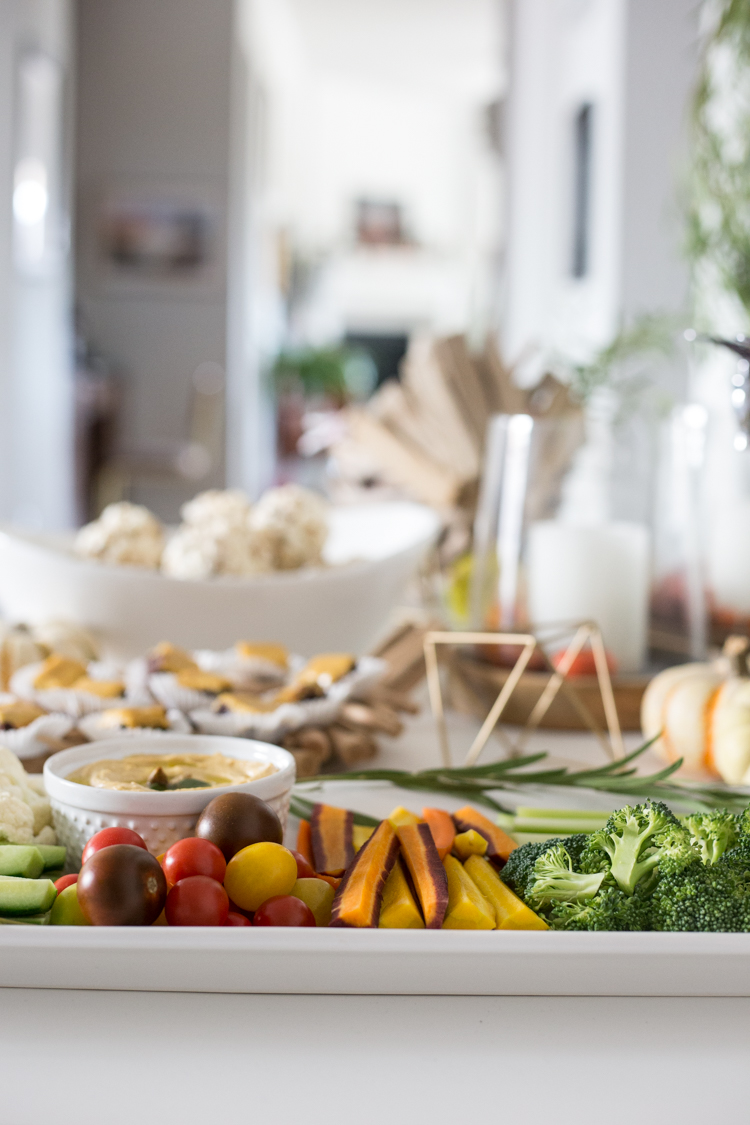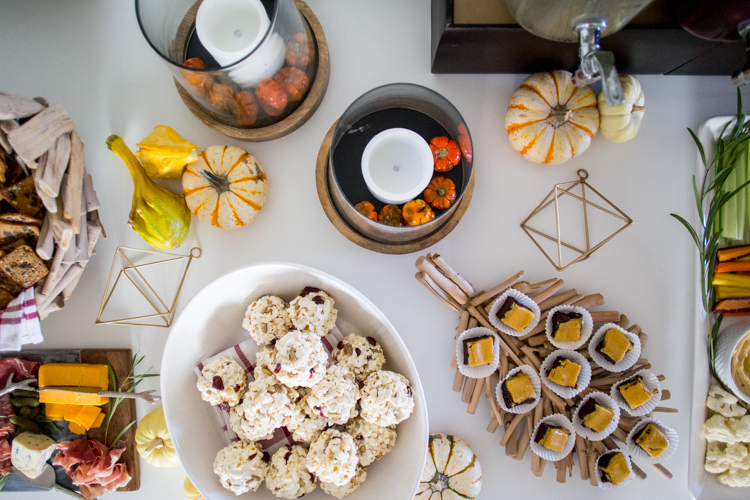 Three-Drink Mocktail Bar
Rather than put out just one or two types of beverage, I chose three that would all coordinate together for mixing custom mocktails. These jar beverage dispensers are much smaller than the usual types, so they fit well in a group and look so pretty together!
I filled one with sparkling ginger beer, one with cranberry juice, and the last with spiced apple cider. The drinks all go well on their own, or can be mixed together for any number of fun custom mocktail. Ginger beer with a splash of apple and fresh lime, or can-apple cider are two of my favorites.
In addition the the juices, I filled the jars with pretty fruit and herbs for display. Halved apples in the cider, and fresh rosemary in the ginger. I love the cozy feel of the filled jars, and they're a fun addition to any holiday gathering!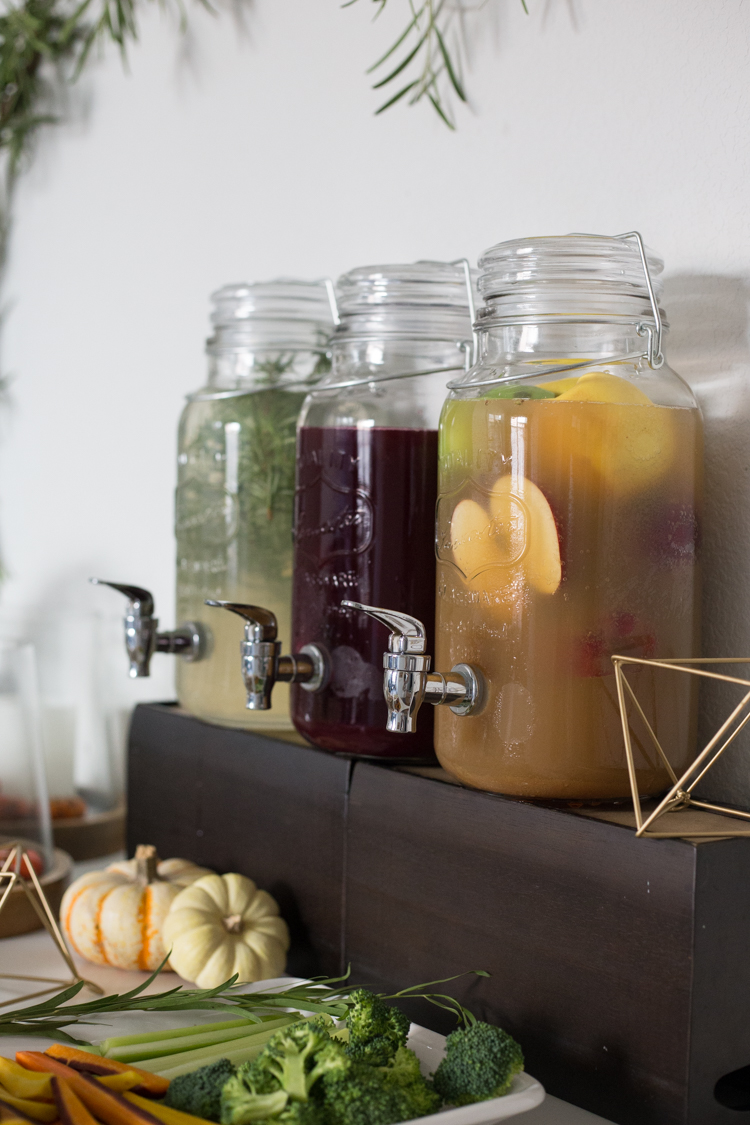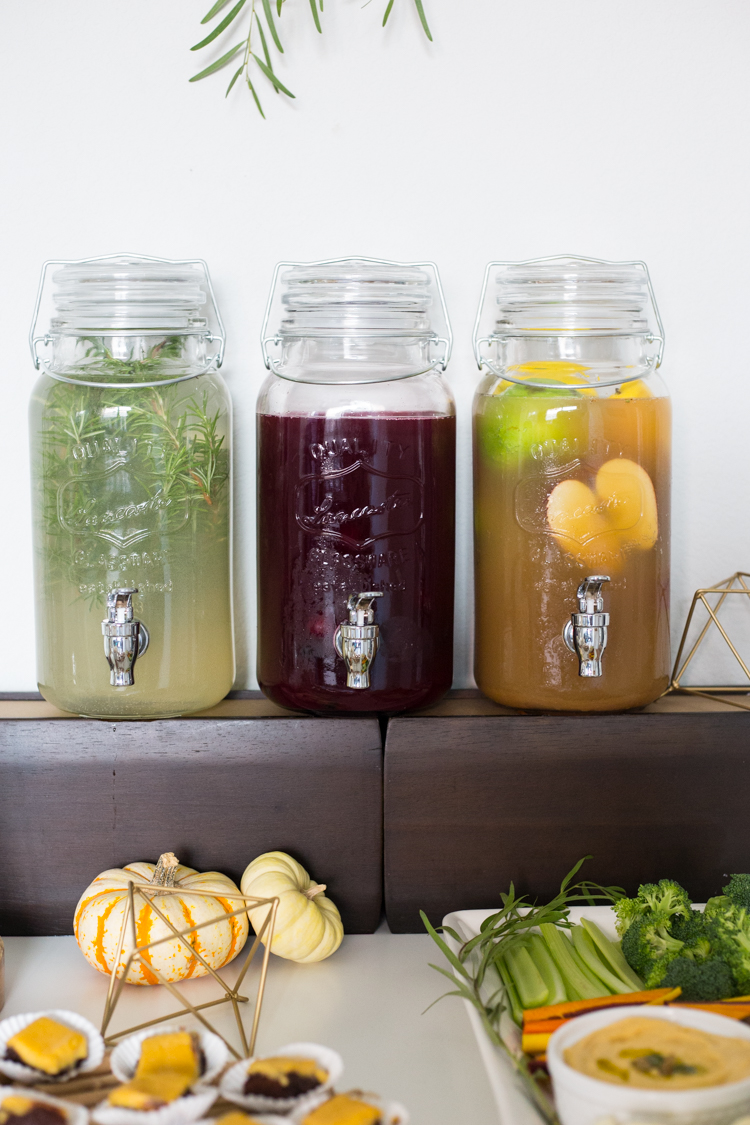 There you have it! Five fun ideas for sweet and savory holiday appetizers.
After making and plating the food, I finished decorating the table with some simple additions. These wood and glass hurricanes with led candles and mini pumpkins set a minimal and pretty tone. I loved grabbing a few of these geometric gold ornaments and using them as minimal decor. Of course, fresh striped and white pumpkins finish off the look and some simple hanging eucalyptus hanging on the wall maintains the natural feel.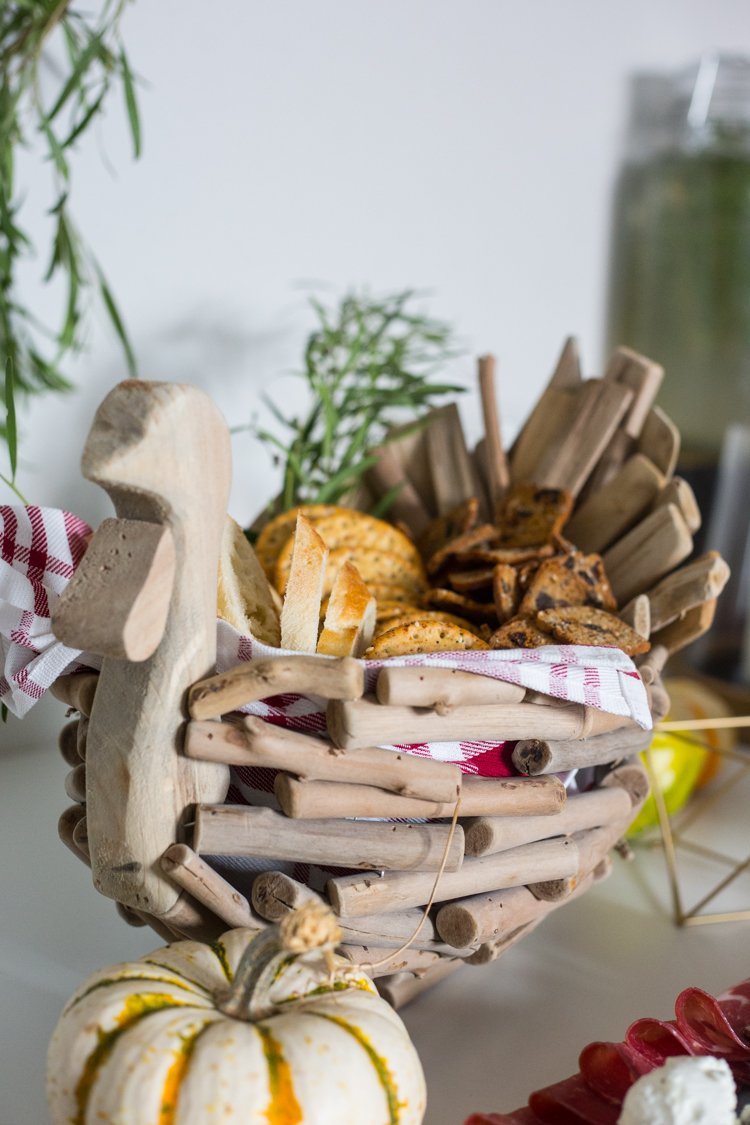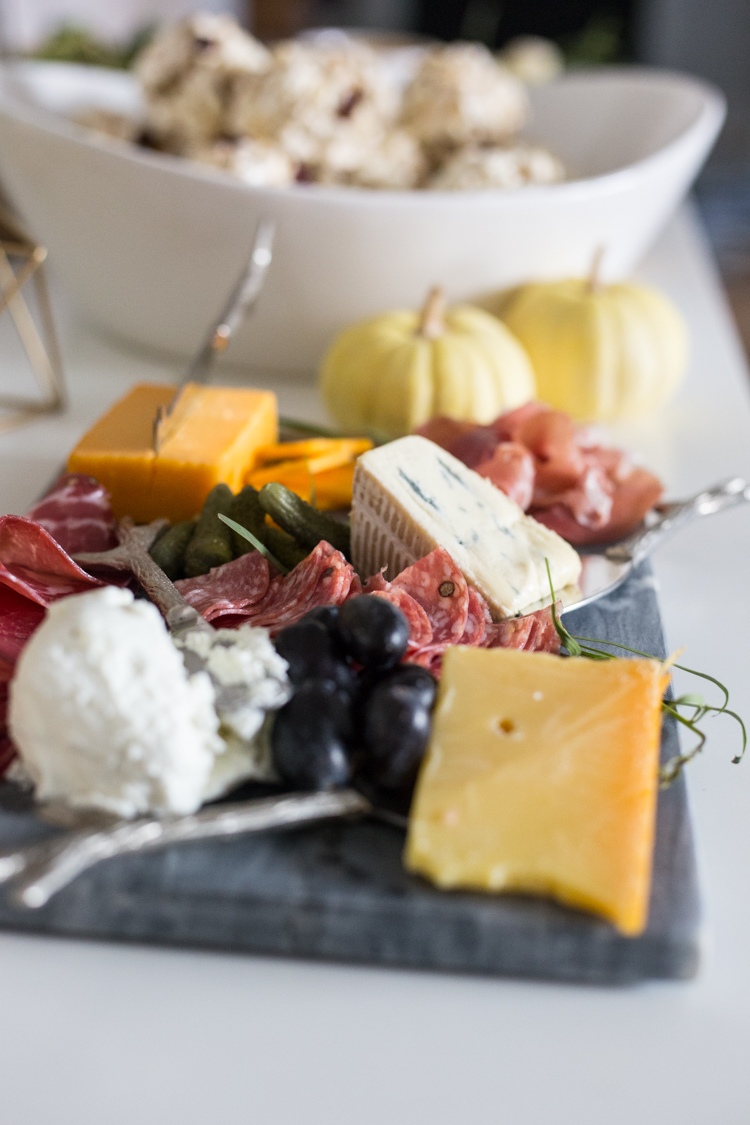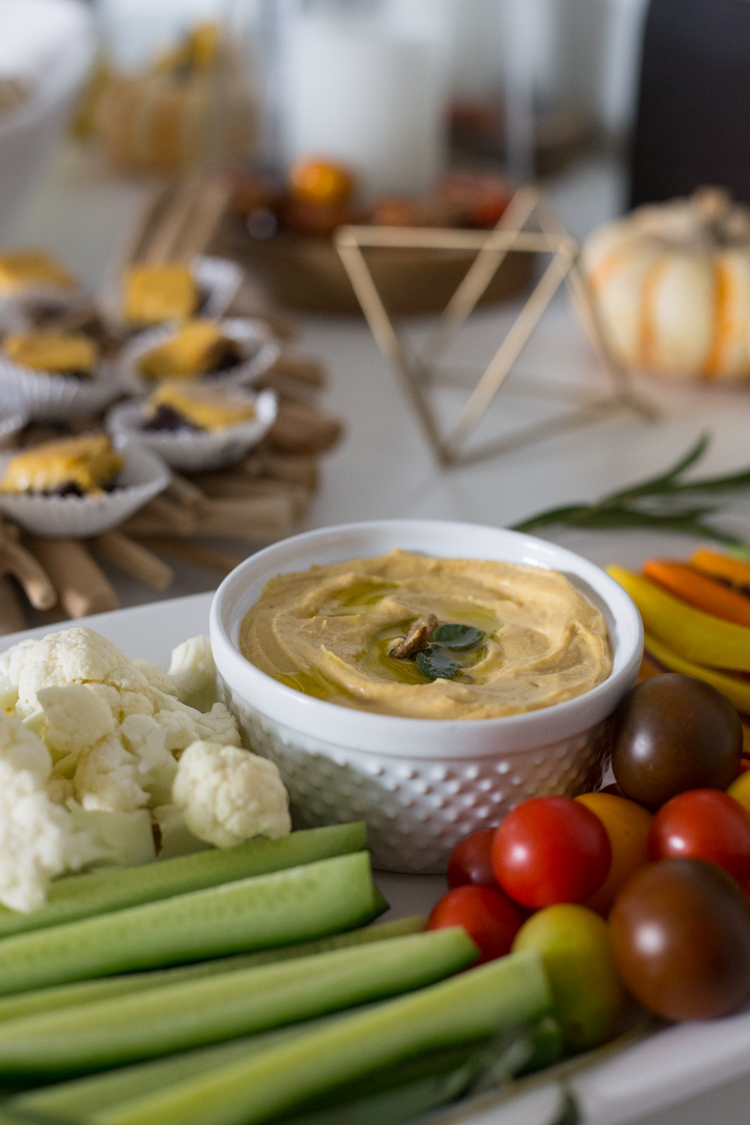 The whole spread turned out beautifully, and I'm excited to use some of these holiday appetizer ideas these next few weeks with company coming into town and friends dropping by to celebrate together.
Created in partnership with At Home and all tabletop decor items can be found now at your local At Home store! All opinions and ideas are my own.