I've been a fan and friend of Gabrielle from Design Mom for a long time. I was pregnant with Milo when she was pregnant with her youngest child June, and starting way back then I admired her clean practical style, honesty about life and motherhood, and the way she celebrates the little things. She has also been a fun supporter and has featured several of my posts on her site over the years, including Milo's birth story, Eliot's pregnancy video, and few fun crafts: felted birds, a fabric wreath, and personalized s'more sticks. In addition, she gave me the opportunity to design and sew costumes for one of her kid's amazing OliveUs videos Le Petit Chaperon Rouge, which was so much fun. I've been able to connect and chat with her in real life at the three Alt Summit conferences I've attended, and can't wait to see her again in January when I head out to speak at the conference again!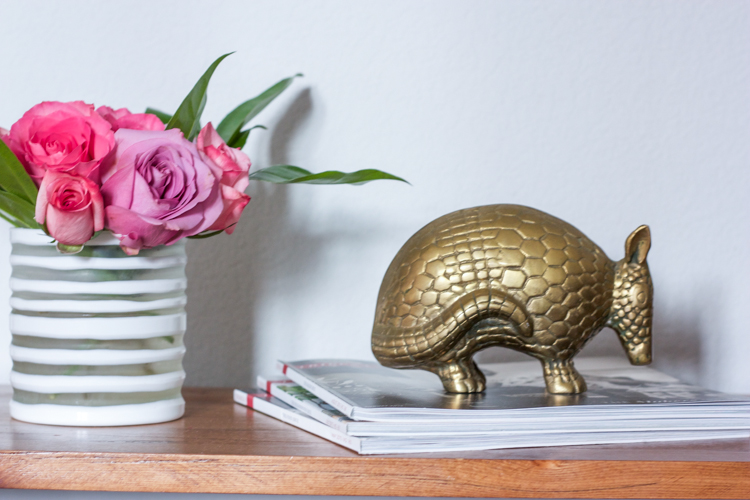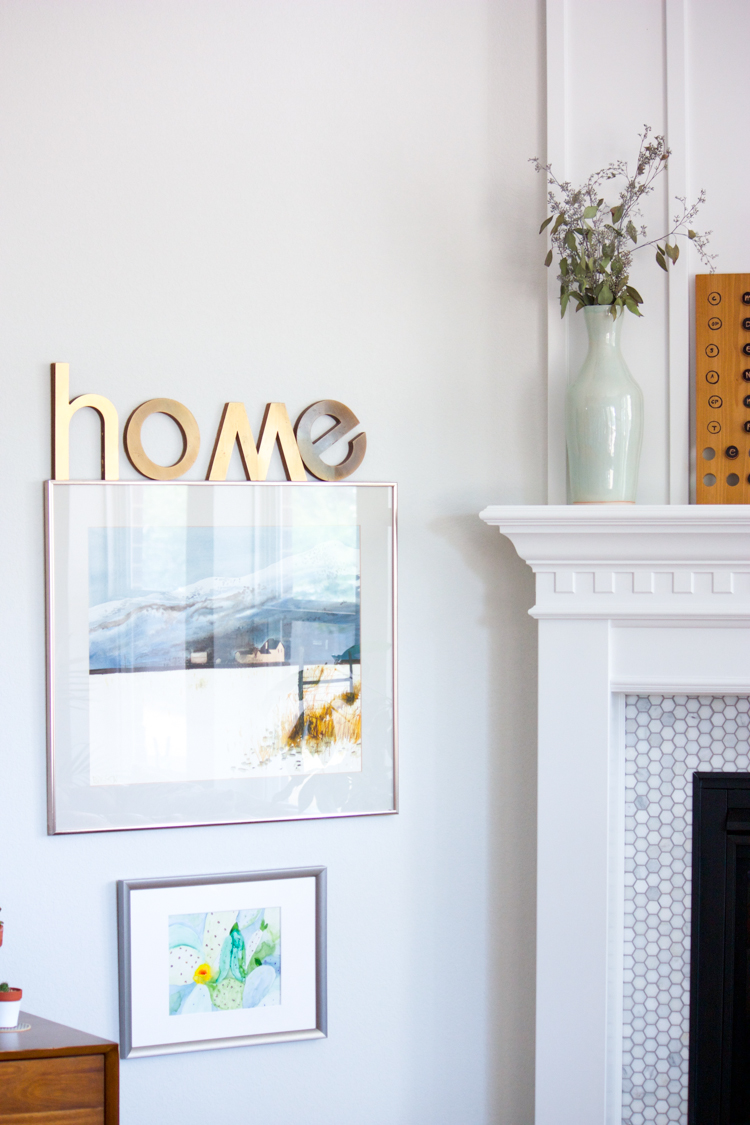 I follow and adore the Living with Kids Home Tour series at Design Mom, and always had thought it would be fun to share our space. It is such a work in progress and with every change over the last couple years it would cross my mind to reach out to her. But then I'd hesitate because there is still so much more to do! I have plans for small changes– some wallpaper here, window treatments there, paint in a few rooms, and some new shelves and cabinets and furniture there, there and there. Isn't that how it goes?
Then Gabby beat me to it and I got her email invitation to share our home. It was the push of confidence I needed to recognize that although it will always be changing, but it's good enough to share even today. We often wait for perfection without remembering that the journey is the part that matters, so cheers to the journey! So, I cleaned up, took the kids to a babysitter, and spent a couple hours taking photos of our house. For the record, it's almost never this clean, and is usually filled to the brim with kids in costume running though the halls, and the latest craft projects strewn across the counters.
My Living with Kids home tour is live now, along with an interview of sorts. The questions aren't listed, but were meant to guide the story of hour our family and home came to be, as well as some insights about my design process, things I hope my kids will remember, and advice I wish I had known. You can head over to Design Mom to read all about it!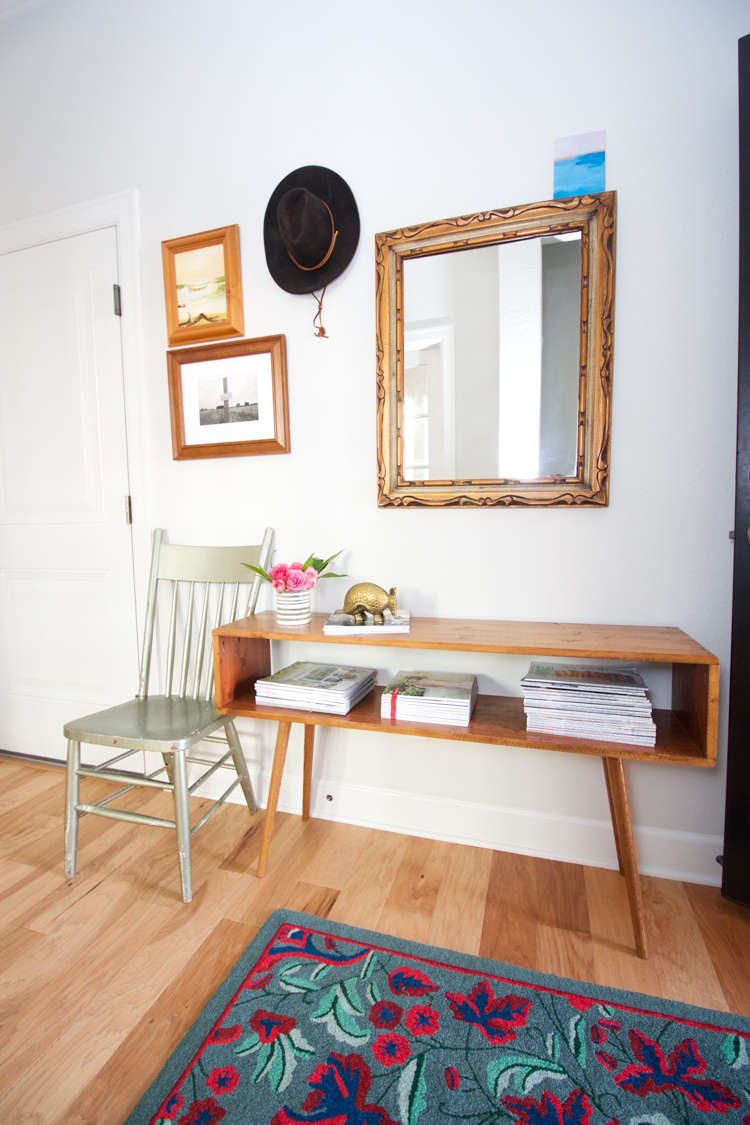 To compliment that post and interview, I thought I'd share a tour with some of the same photos plus a few more, and a walk through style sharing some of the stories and sources for the pieces I have used in here.
So come join me, step inside my home and let me show you around!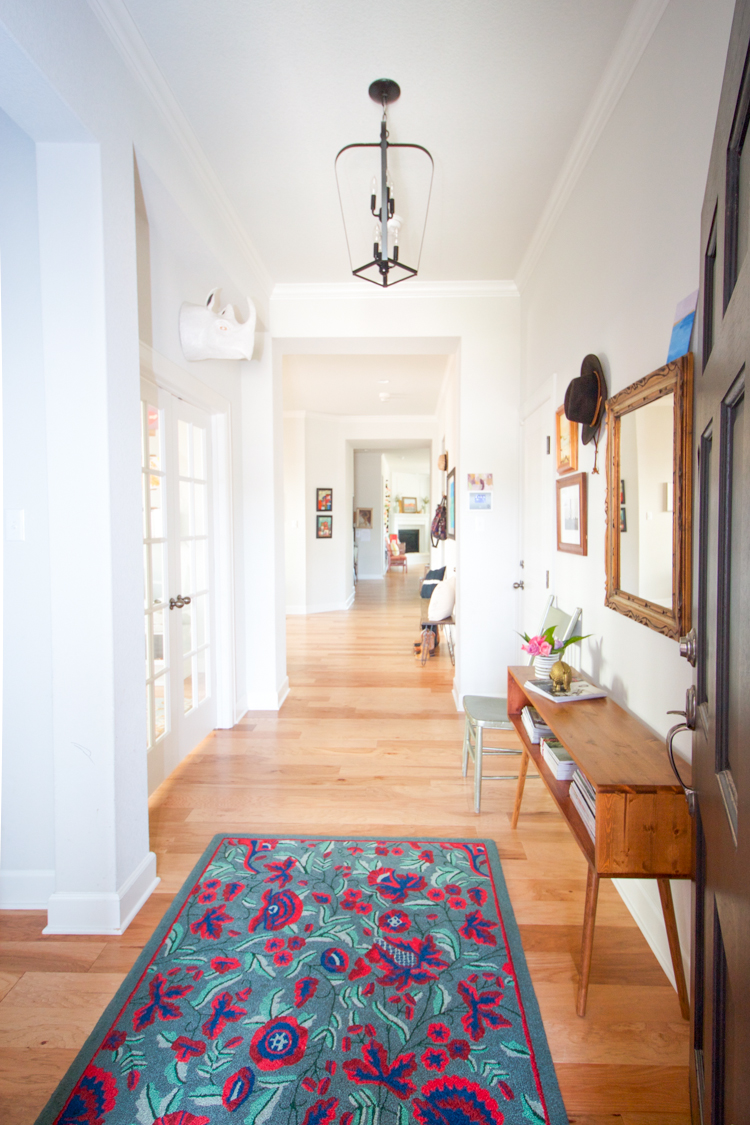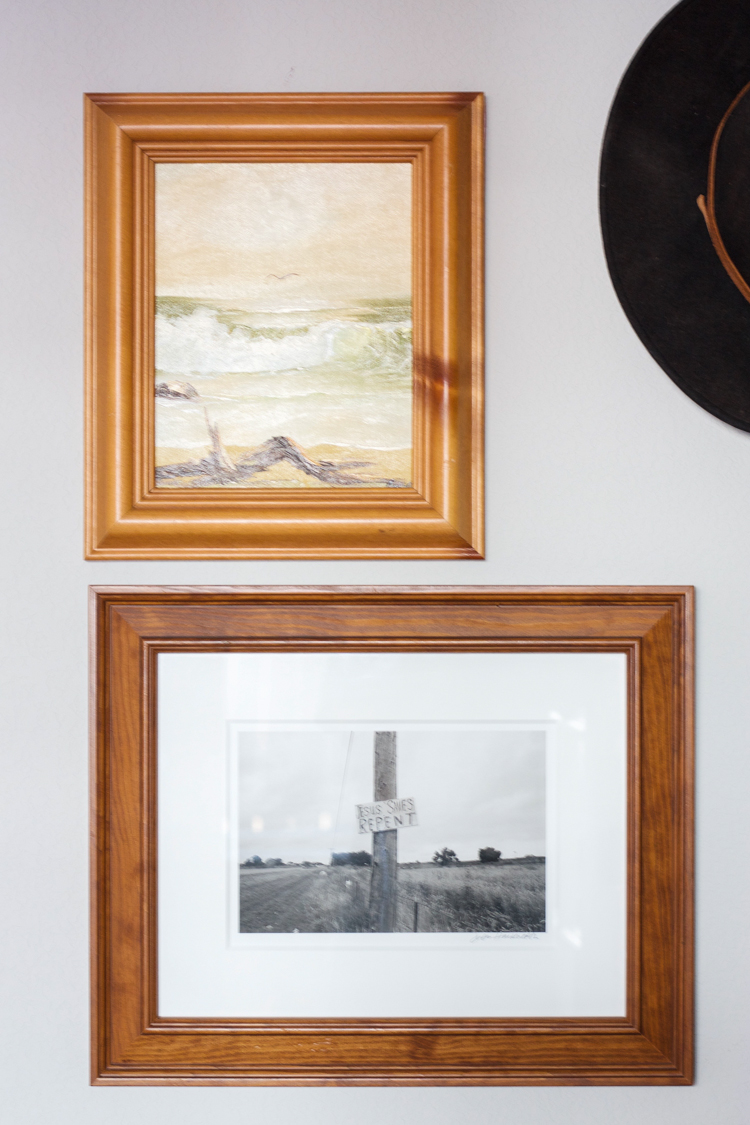 Our house is pretty simple and deceivingly small-looking from the front. It's a long, narrow rectangle, with the short end facing the street.  When you step inside, you meet the long hallway that connects all the pieces of the house together, with rooms jutting off to the right and left on the way back to the real center of the home with the kitchen and living room at the very back.
The entry is for comings and goings of friends, and I've kept it simple with a table I commissioned from Orwa Designs on Etsy (they've since started selling this style as part of their regular designs.) I read that an entry should always have a mirror, and this one has an antique frame I got at a thrift shop in Quincy, CA while visiting my grandparents. The cowboy hat was a gift from my dad when I turned 12, and I still wear it all the time. The "Jesus Saves Repent" print is by Justin Hackworth that I found downtown as part of his hide-and-find project, and the little shore oil painting from an estate sale.
The rug and silver chair are hand-me-downs my mom gave us as newlyweds, and they've always found a place in our homes. I started a small armadillo collection because of this cute little brass guy found in downtown Austin at Mockingbird Domestics, and I always have fresh flowers from Trader Joe's thoughout the house. I painted the small landscape at a girl's night, and kind of love it just perched up there, reminding me to not take myself too seriously.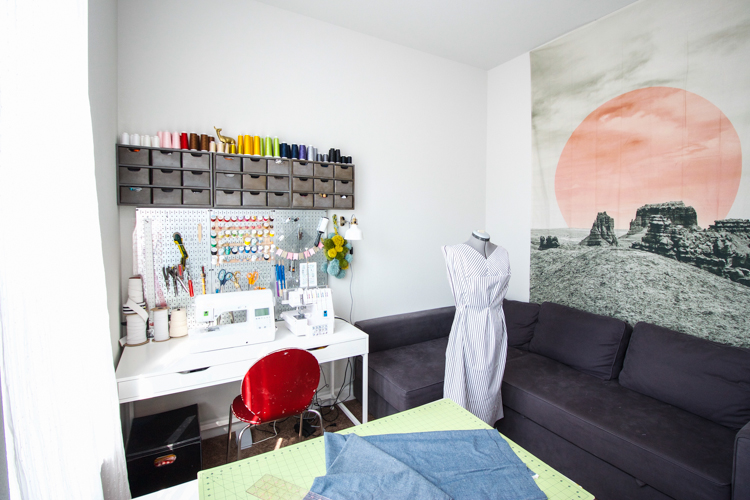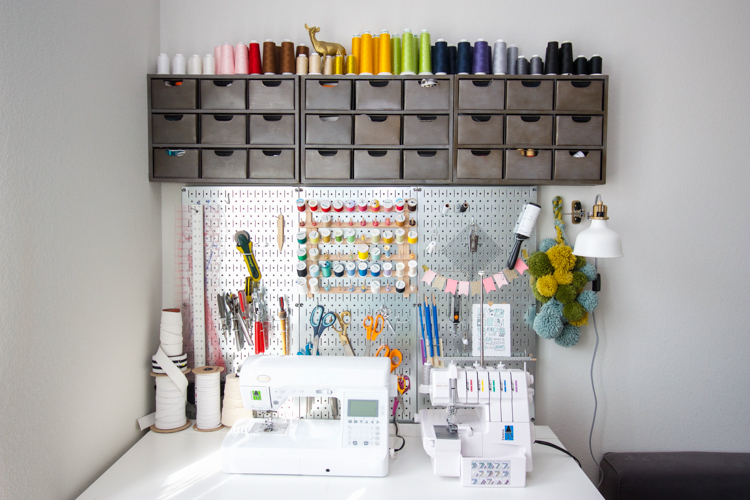 The first rooms at the very front of the house are a bedroom– converted to my studio and guest room– and the guest bathroom. Originally we planned to put Milo in here, but the boys like sharing a room, and the layout makes much more sense to leave this available as a guest room since the bathroom is next door. I love having the light from the windows when I'm working or sewing in here, and even though I haven't yet done much decorating in here, it feels open and airy, which is inspiring.
The metal shelves are from the Pottery Barn outlet, and I bought them before we moved in. I'm so glad I did, since they house most of my often used craft supplies! The metal pegboard is Wall Control from amazon, and has been the perfect backdrop for my sewing tools. The desk, table, couch and light all came IKEA, though I found the couch on craigslist used for half the original price, and the desks were both in the As-Is section. Gotta love that. The wall hanging was a recent find at Urban Outfitters and even though it was kind of pricey I loved it so much I couldn't leave it in the store. I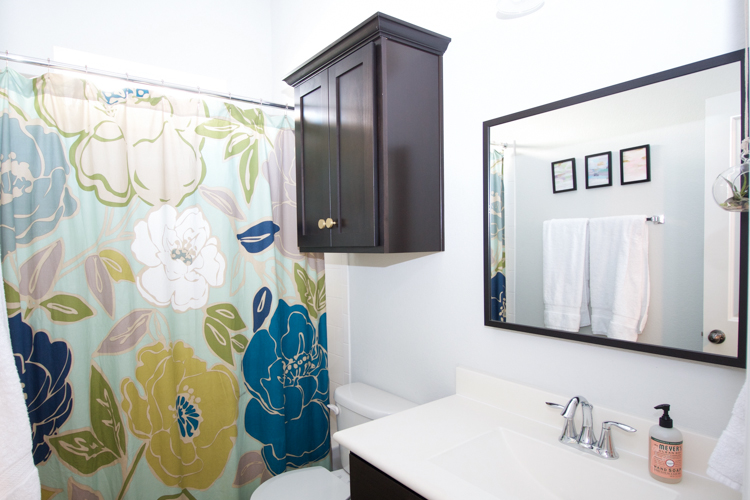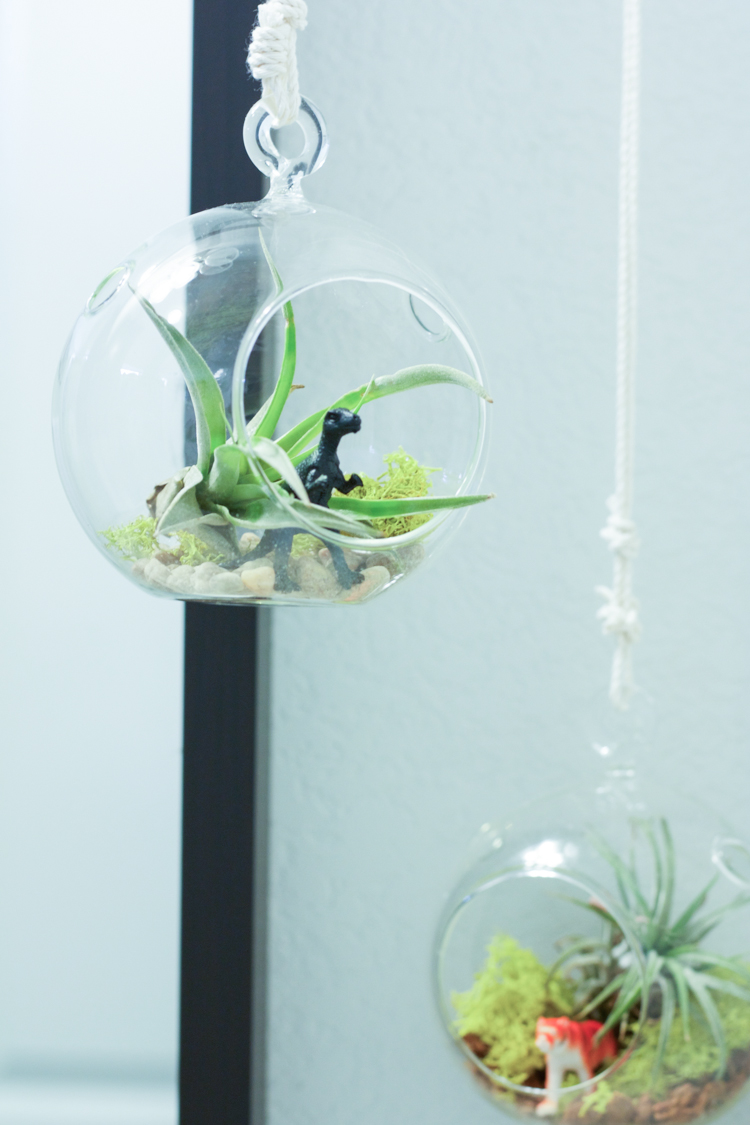 The kids bathroom and the guest bathroom are basically the same, although this one has a window so I could hang some little air plant terrariums and keep them alive. This bathroom also has a shower curtain and hardware, which are both things I've yet to add to the kids bathroom! I guess we're still in bath stage! The shower curtain is from World Market, the brass hardware is Schoolhouse Electric that my sister ordered for her house and didn't love, so I bought it from her at a discount and LOVE it. The hanging terrariums came from Maker's Kit and are the perfect touch of whimsy.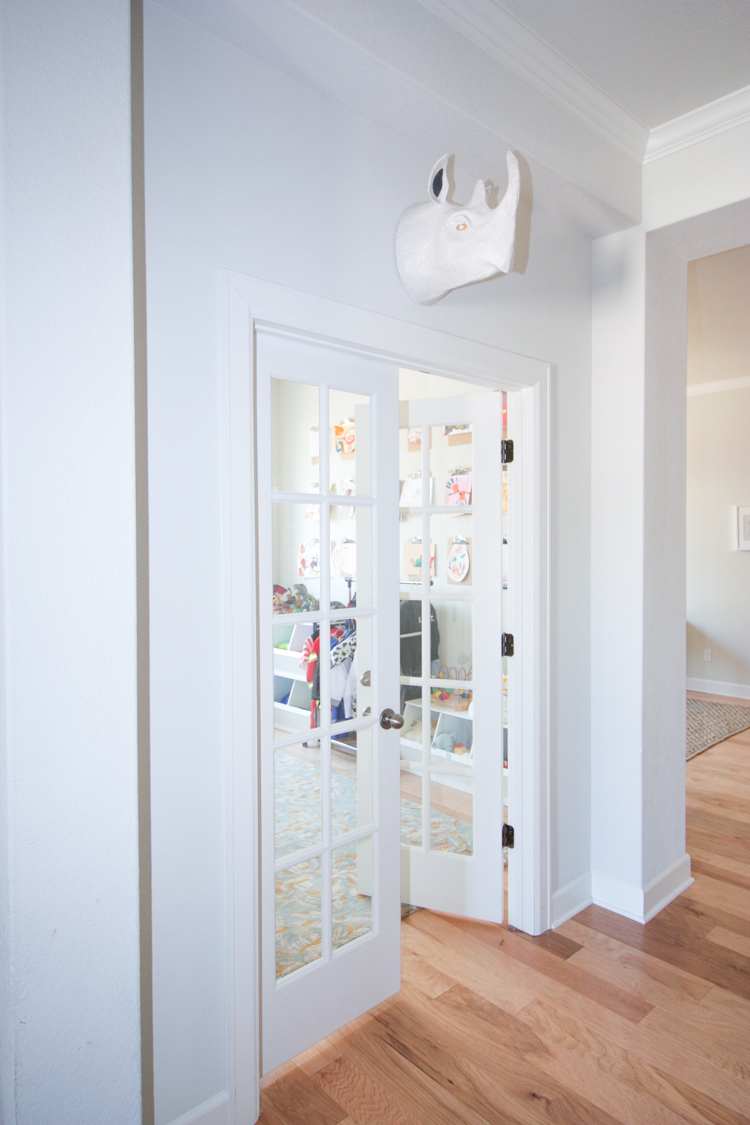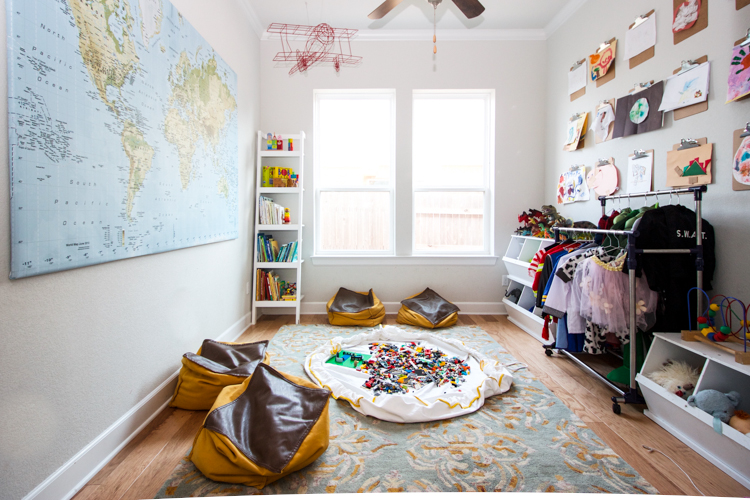 Continue down the hallway and you'll find the playroom. In the house plans it was the study, and we imagine that one day, when the kids no longer play with as many little toys that it will morph into a homework/study/hangout room for them. Right now, though, it's all play, all the time.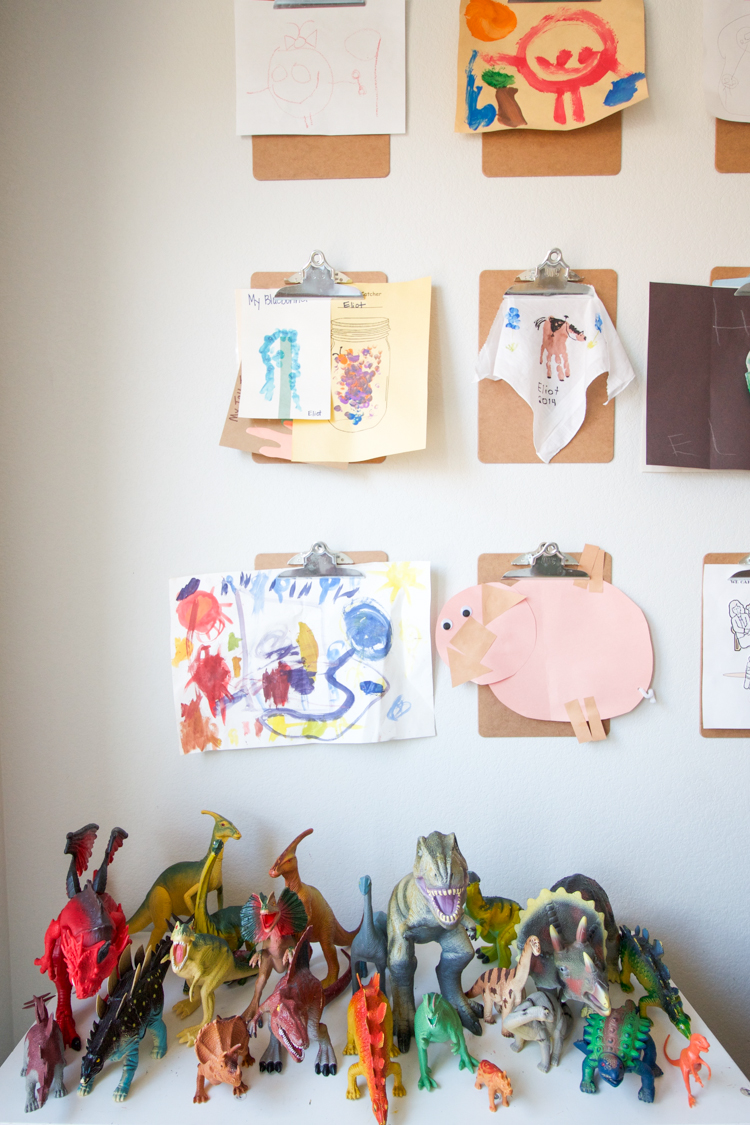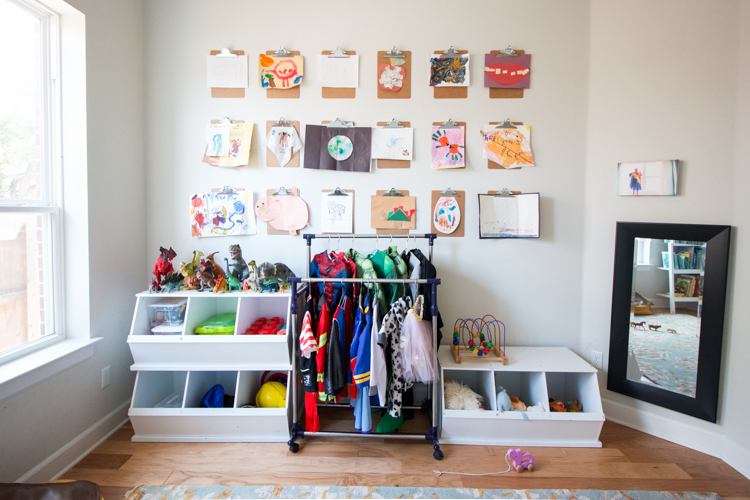 I wanted to display the kid's artwork that was coming home from preschool in piles, and clipboards hung on the wall seemed like a great, inexpensive, easy solution. I bought them in multi-packs from amazon, and measured out the grid to hang them. The kids love seeing their handiwork go up, and I love being able to switch it around so simply.
I started collecting dinosaurs at the Alameda Flea Market when I was pregnant with Milo, and have continued here or there ever since. I'm sure I love them more than the kids do, so I keep them out on display all the time.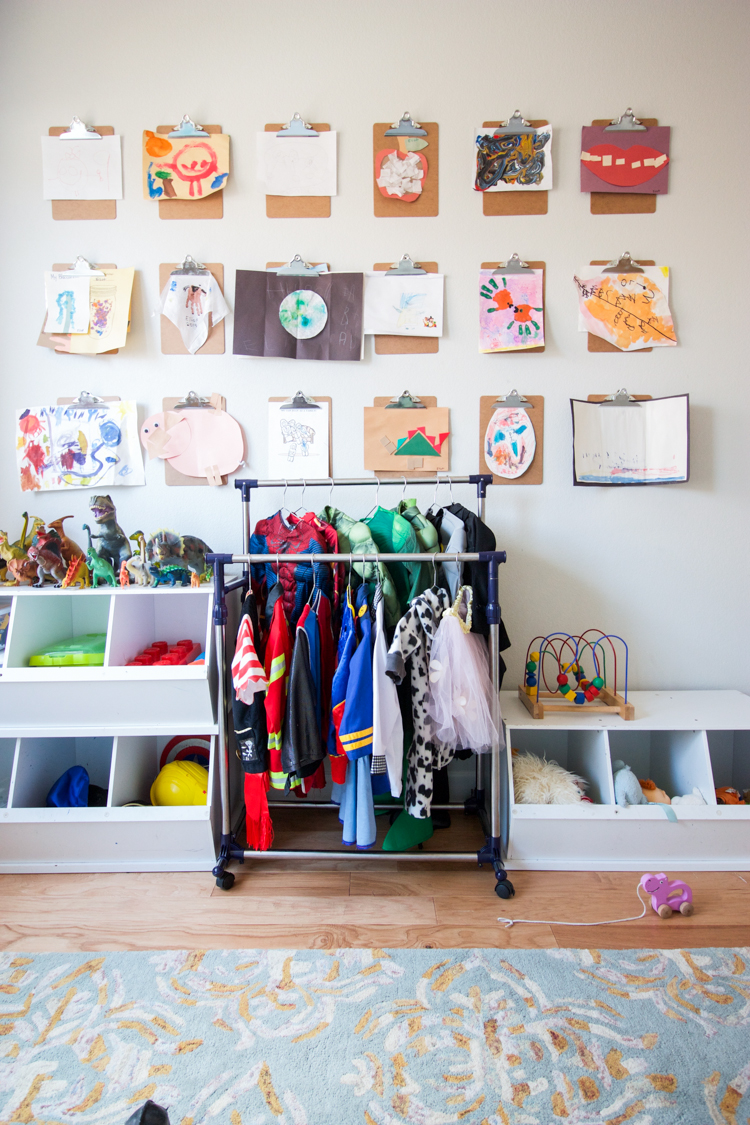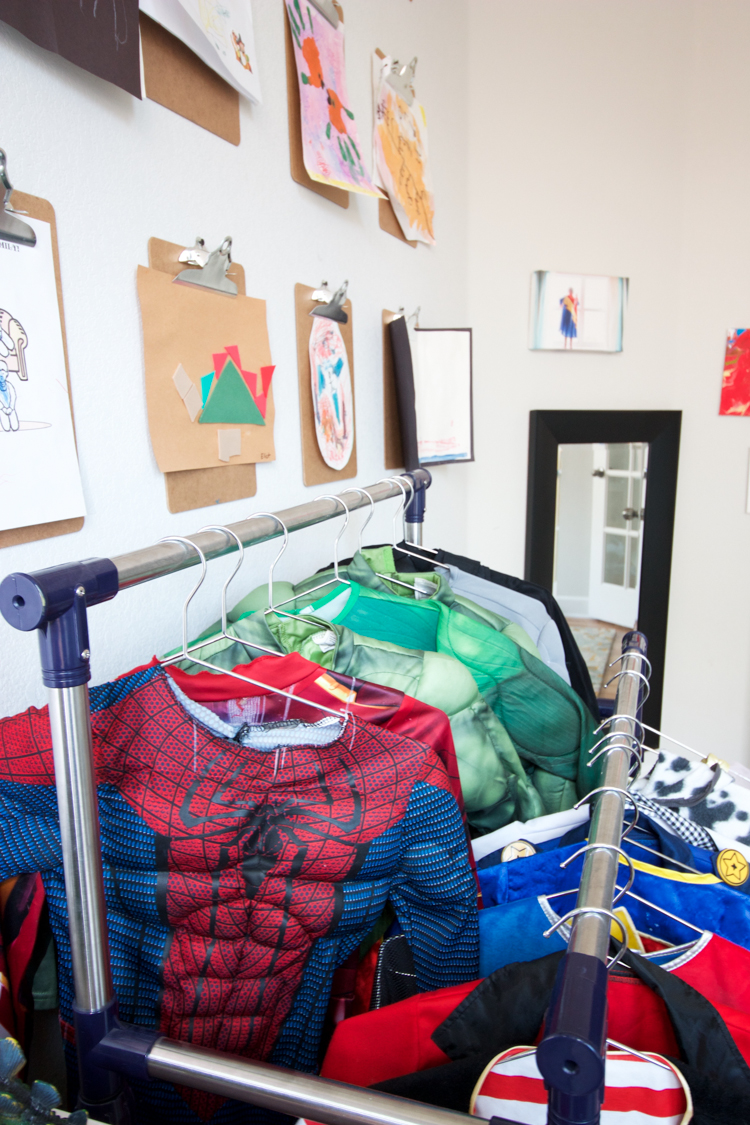 We handle costumes with a double hanging bar and they're used every day. I thought with all the dressing up, that the kids should have a mirror, so I hung one at their height and I love seeing themselves check out their dress-up looks there.  The toys are divided into type and stored in the white cubby bins, also from amazon.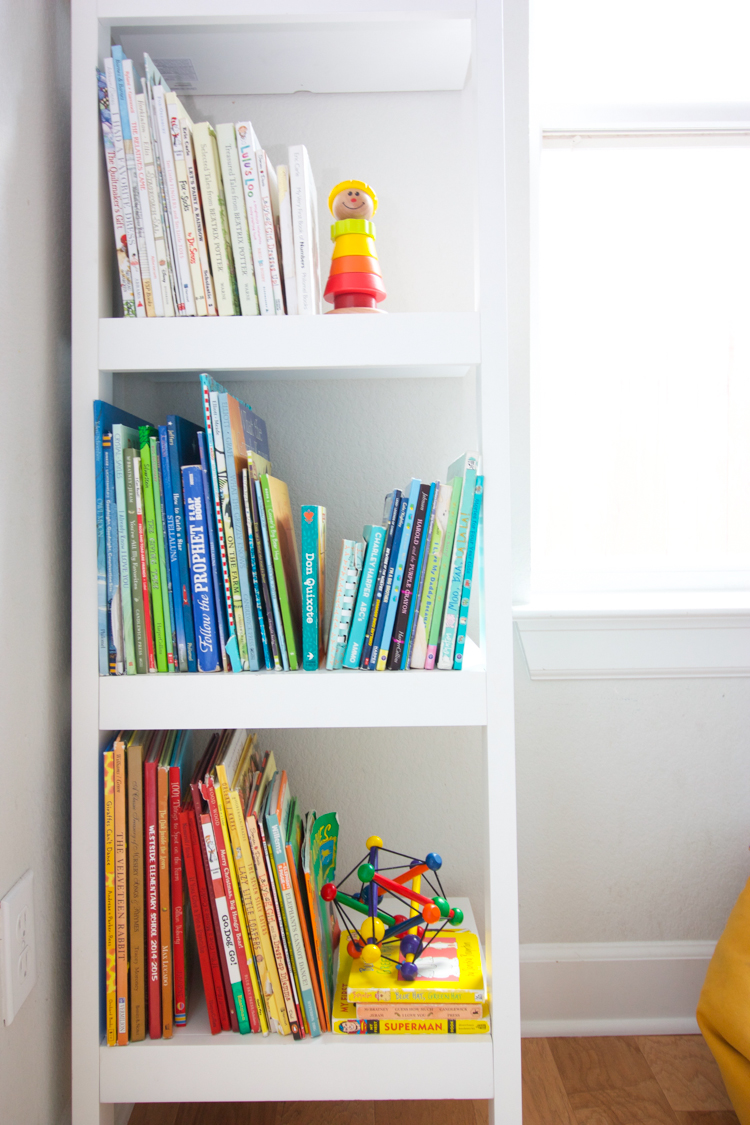 Our children's books are scattered throughout the house– in the kid's rooms and in the living room– though the majority live in here. They're only organized beautifully like this for about an hour per week, right after I take them all down and put them back up the way I like them. In between, I'm happy that they're being loved and read. The bookshelf and rug are from Crate and Barrel, and the poufs are from Target.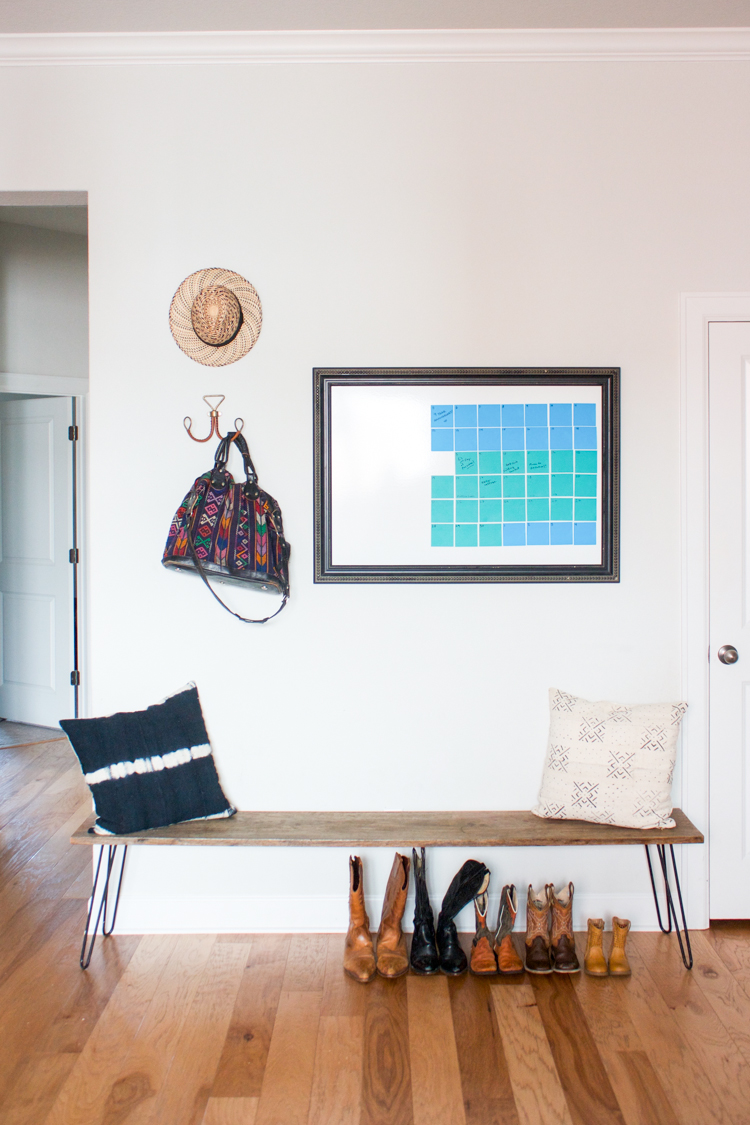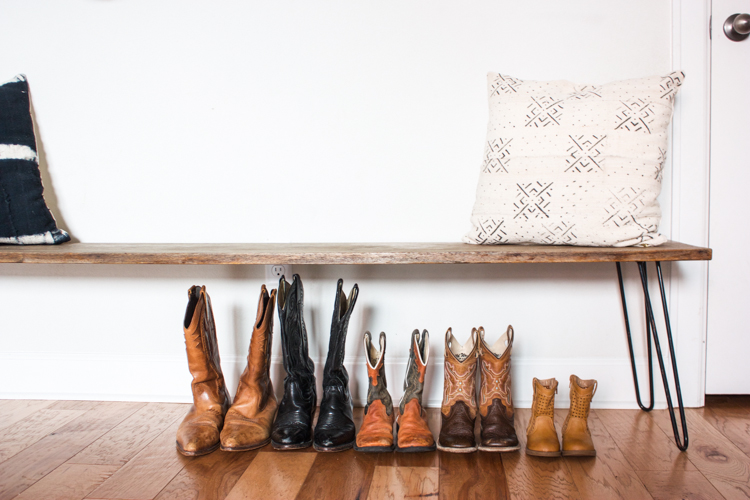 Now we head down the hallway to what is our family command center. I have just recently pulled this section of the house more together by realizing what we NEEDED was a place to sit, put stuff and shoes (aside from the coat + shoe closet right there), and see the family happenings at a glance. I got huge frame on clearance at Michaels years ago, and filled it with a white board cut to size from Home Depot. The post-it calendar idea came from the Design Mom book, which I love and would recommend to everyone. The bag hook was a girl's night splurge at Anthropologie, and my diaper bag slash everything bag is from Nena & Co.
My mom brought the hat back from her summer trip to Ecuador, and the mud cloth pillow's are from my sister's new shop Mae Woven, so I've got lots of family support in here! The  great bench was a yard sale find that I shortened and re-woked a little bit to fit just right. It was originally a DIY project using a strong board and some hairpin legs, and would be really easy to recreate. And boots. We all have boots because, Texas.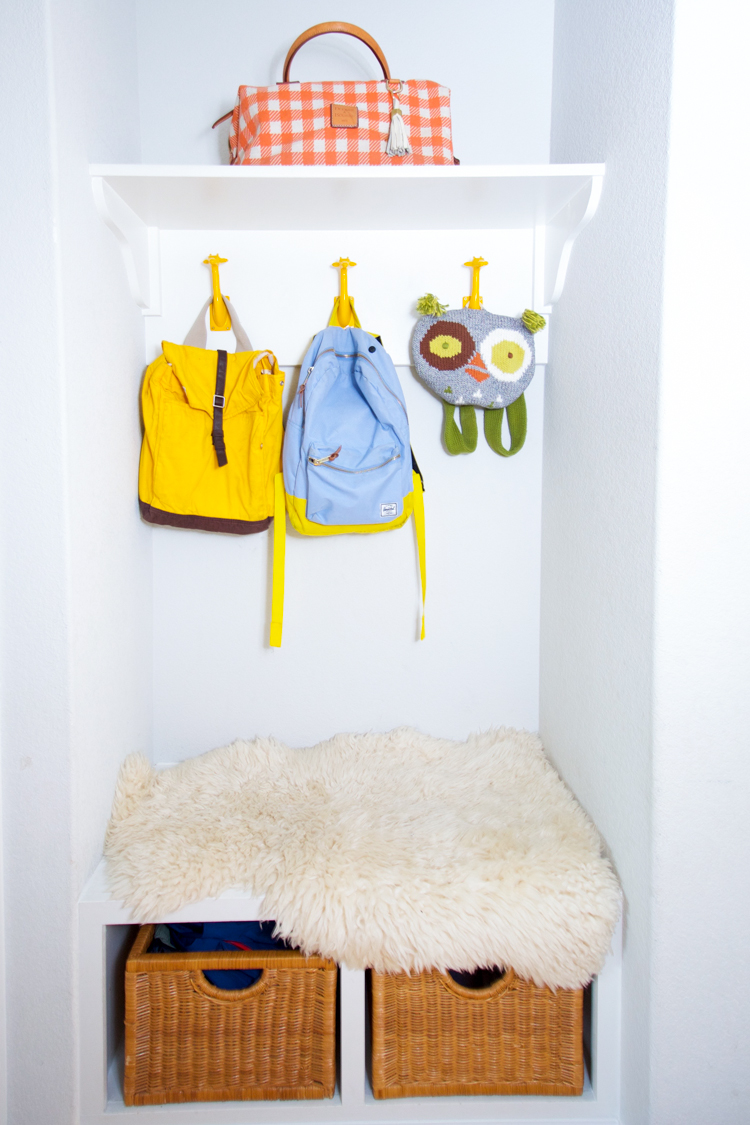 Around the corner from the family bench, you'll find the kid's backpack rack. Coats and seasonal clothing go in the baskets below, and I store my camera bag on the shelf above. The kids all know just where to put their stuff after school, which makes my life easier! The yellow giraffe hooks were from World Market years ago but there are lots of new options online for them. The baskets from Michael's, and sheepskin from IKEA.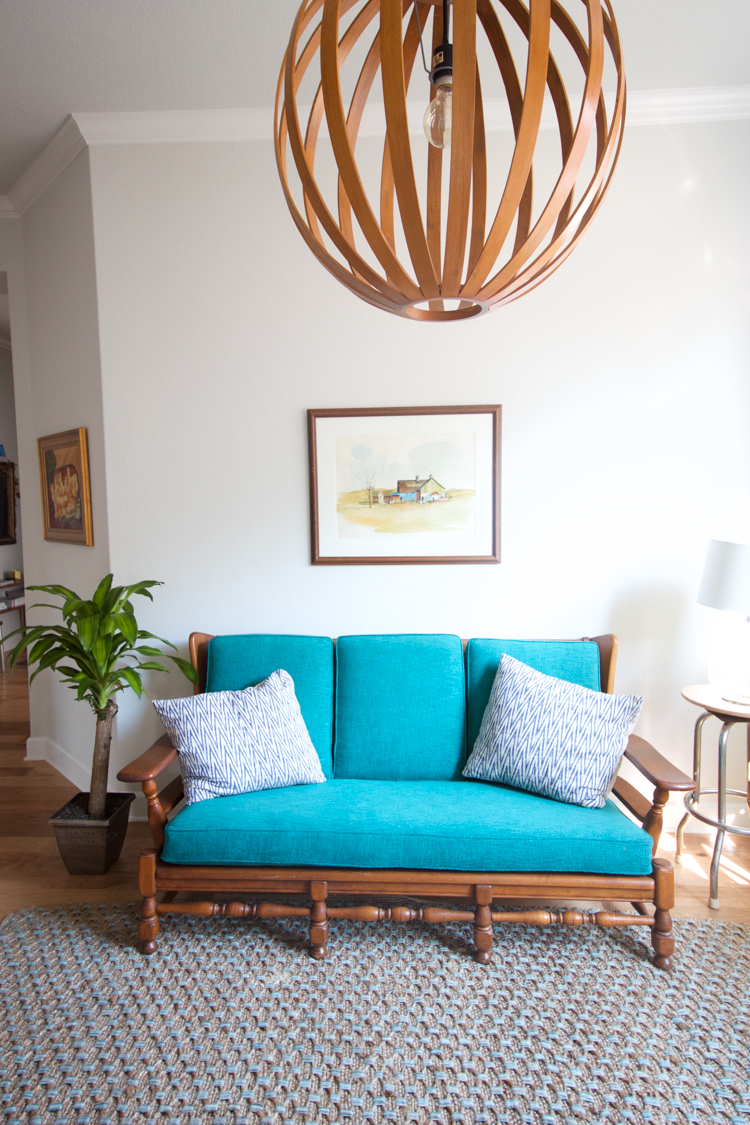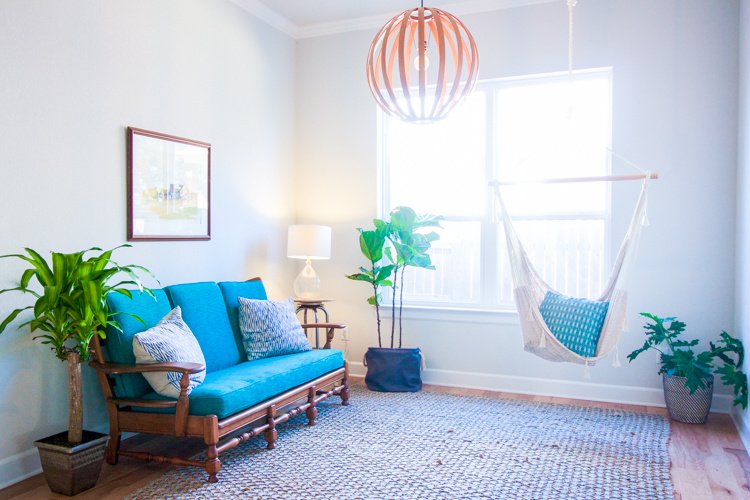 In the middle, directly across from the bench, the hallway opens up into our Patio Room. This is a very recent addition to the house, and until two weeks ago was totally empty. We originally used it as a formal dining room, but not often enough to warrant the whole room and it felt just a touch too far from the kitchen to be practical. Then for a while I had some random chairs in here as a sitting room, but it wasn't a great fit either. Inspired by this home featured on Design Sponge, I thought I'd try out a breezy, outdoor feeling space, and we love it! Even when I'm just walking by, the cool, calm look of the room relaxes me.
The hammock swing is wasn't hard to install at all, and holds all of us easily. I snuggle here with the kids to read and relax daily. I found the cool wooden couch on clearance at a local vintage shop and saw past the ugly upholstery to the good bones. After briefly considering sewing new cushions myself, I took them to Economy Upholstery in Round Rock, and they did an amazing job for a fraction of the other estimates I got. It's really nice to have a local upholsterer to trust.
I sewed the couch pillows using fabric from an old maternity dress. The hammock pillow is from Bungalo. The stool side table was a DIY using a metal stool from the sidewalk and an IKEA cutting board. I found the glass lamp at TJ Maxx.  The plants came from Home Depot, the bentwood pendant light is from West Elm (found at the outlet), and the rug is from At Home, which is a new-to-me store with hundreds of interesting things. The watercolor was found at an estate sale in Utah.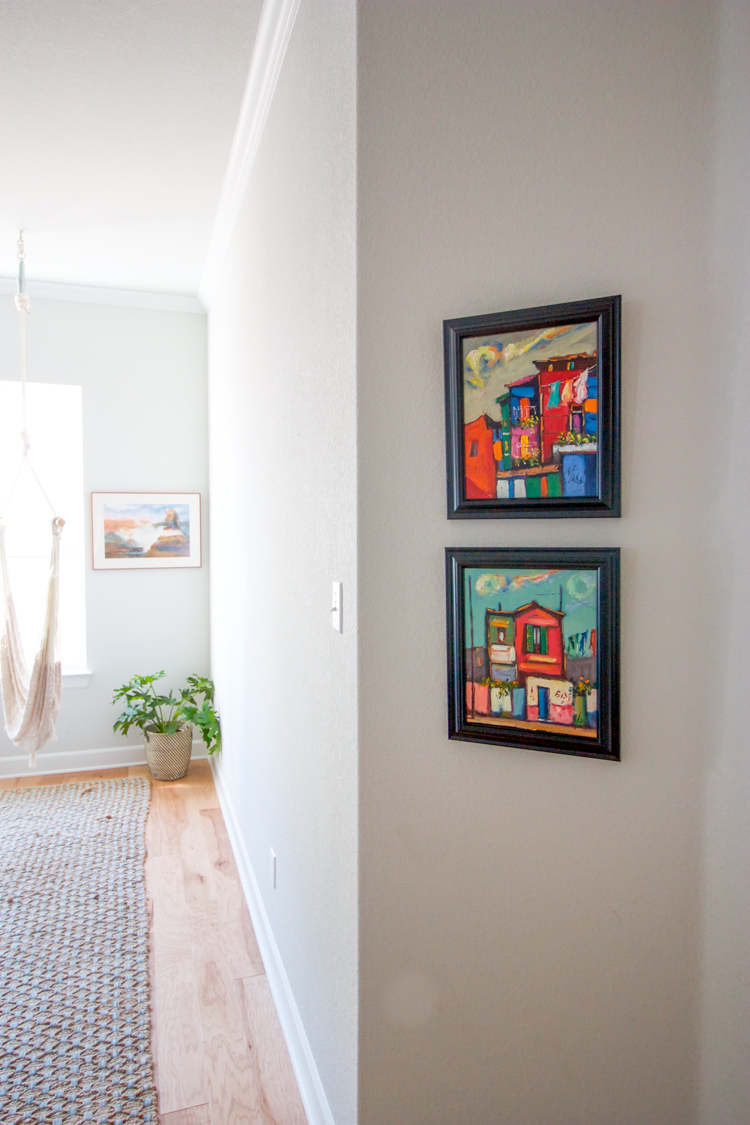 In the interview over at Design Mom, I talk a little about my love for original art, and how I've collected inexpensive originals for years. These paintings were street-art that I brought home from serving a mission for my church to Argentina, and remind me of that time every day. The paintings below hang outside of Plum's room, down the little hallway, and are by some favorite emerging artists Leslie Duke and Darci Bertelsen.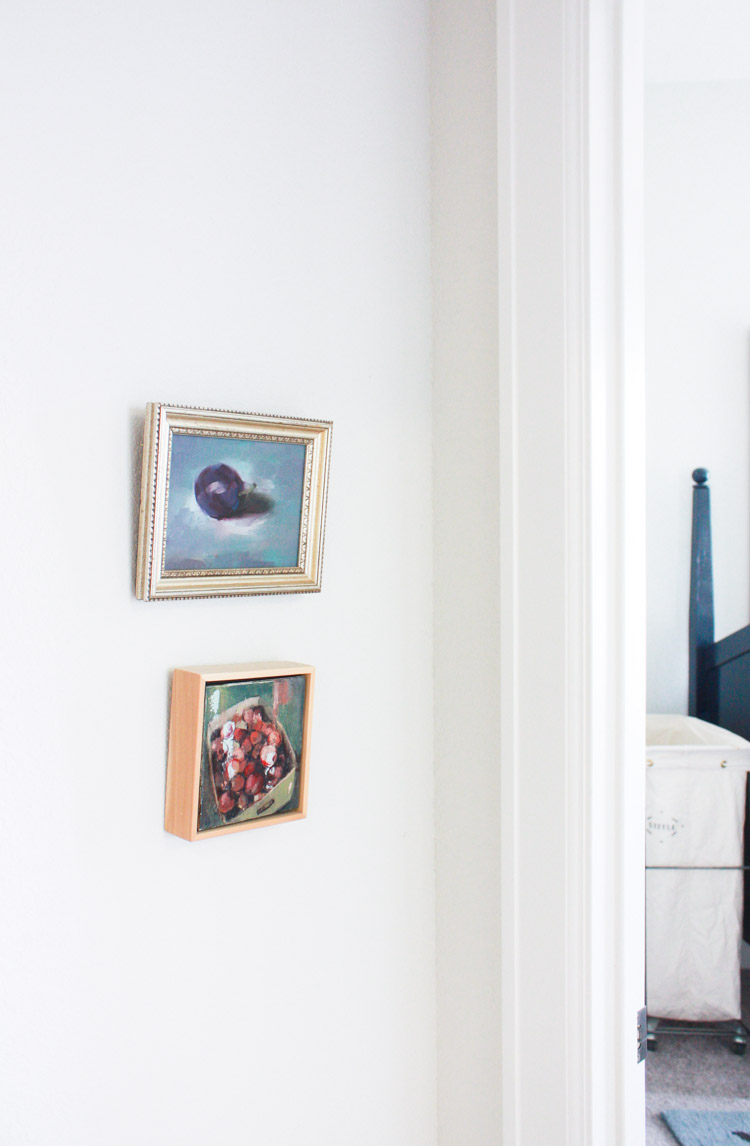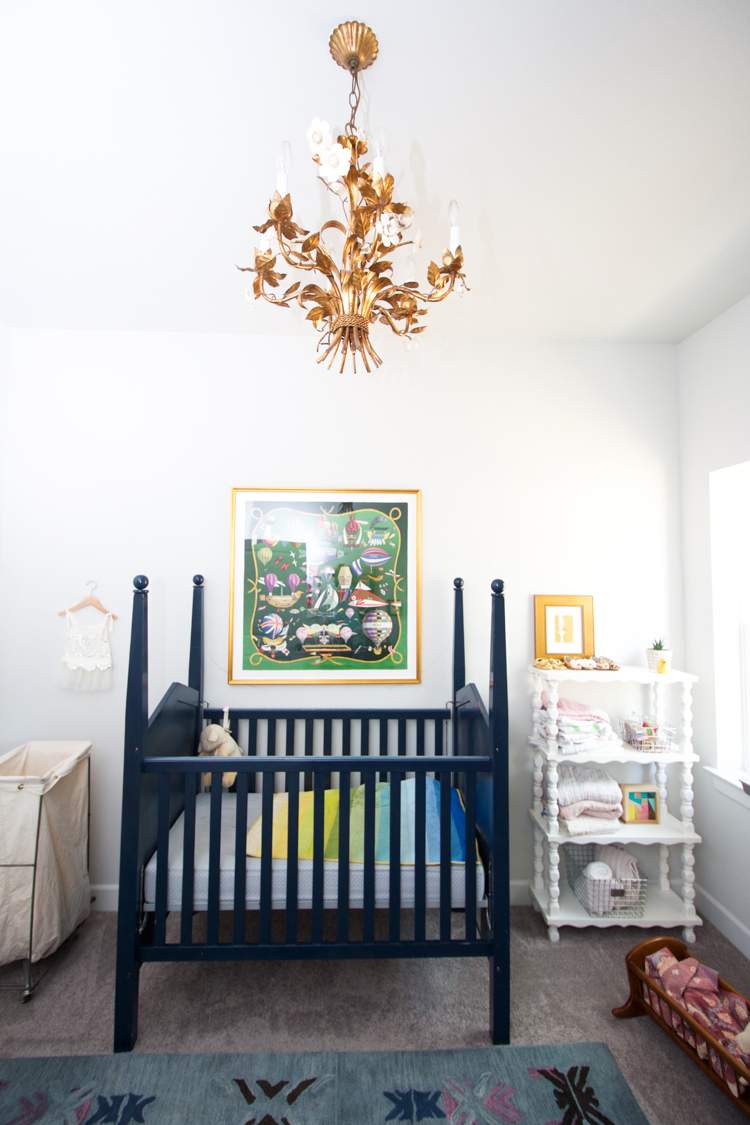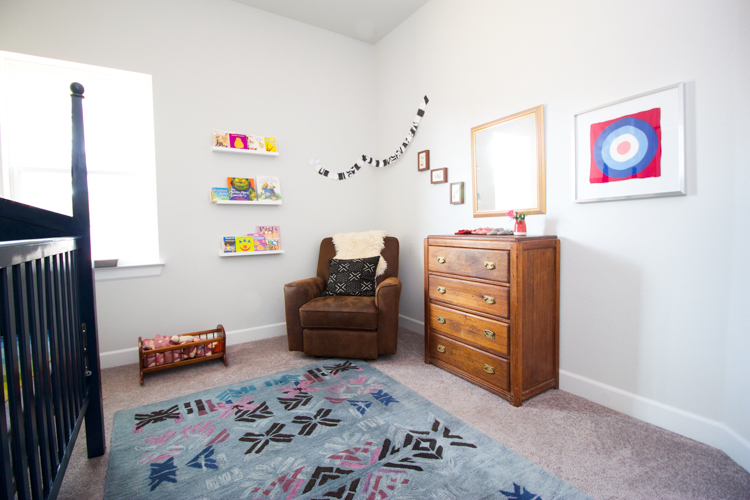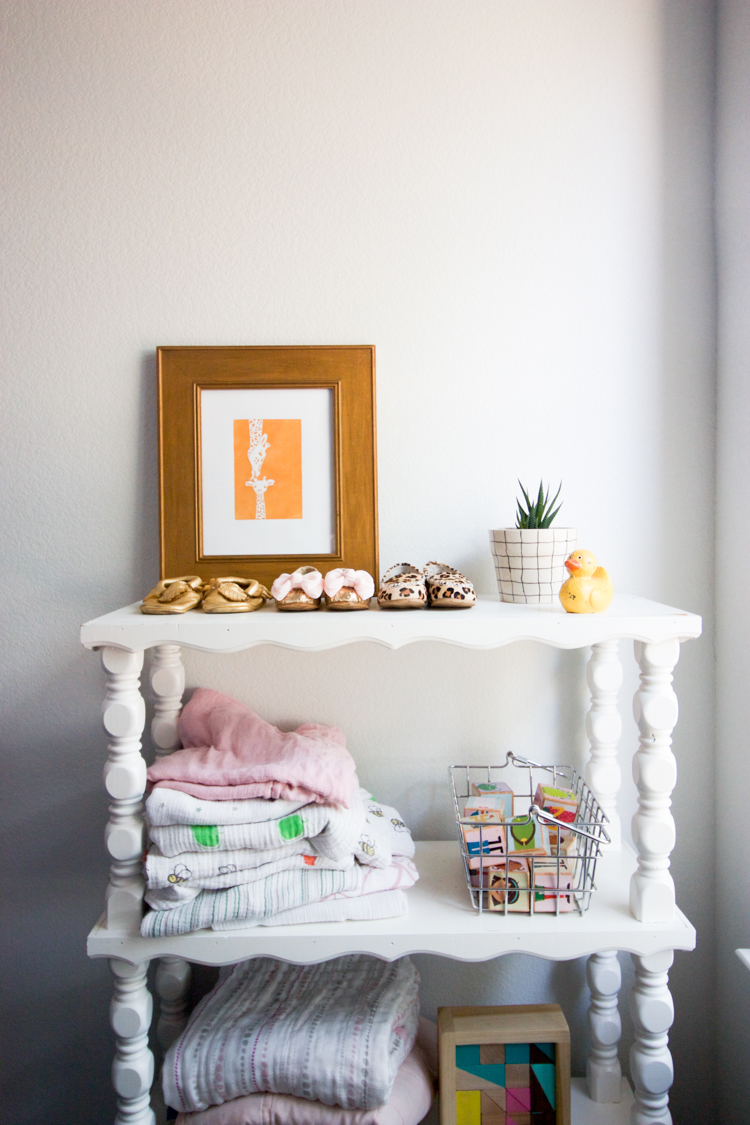 Down the little hallway past the backpacks, you'll find the kids bathroom, the laundry room, and both kid's bedrooms. These rooms have gotten most of the attention to detail as we settled into the home, and both have complete room tours on my blog. Plum's nursery is featured here. One new addition to her room are the totally adorable shoes from Fox Paw Shoes that she's finally big enough to wear! I'm dying over the leopard and the sparkle. So cute on, and great decor off.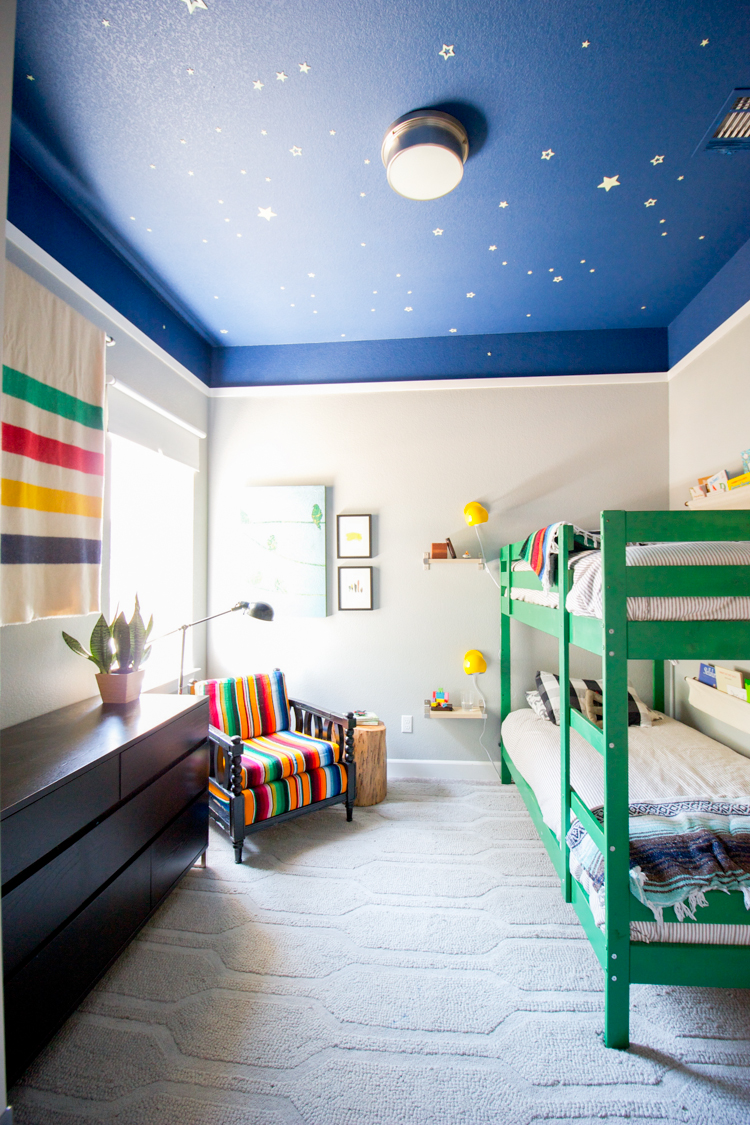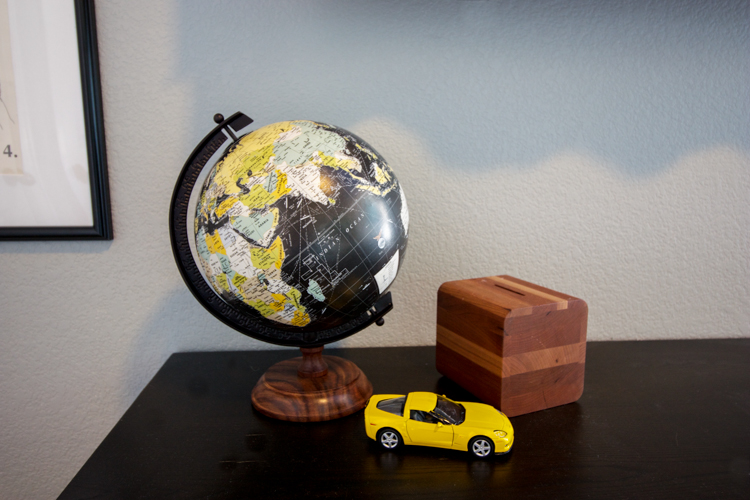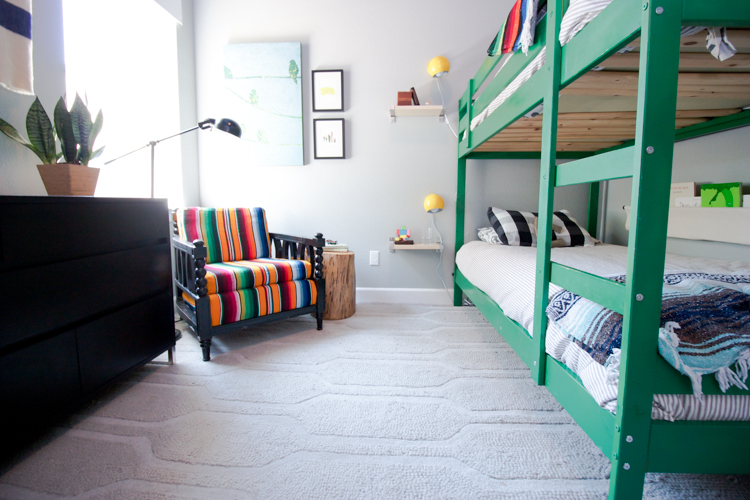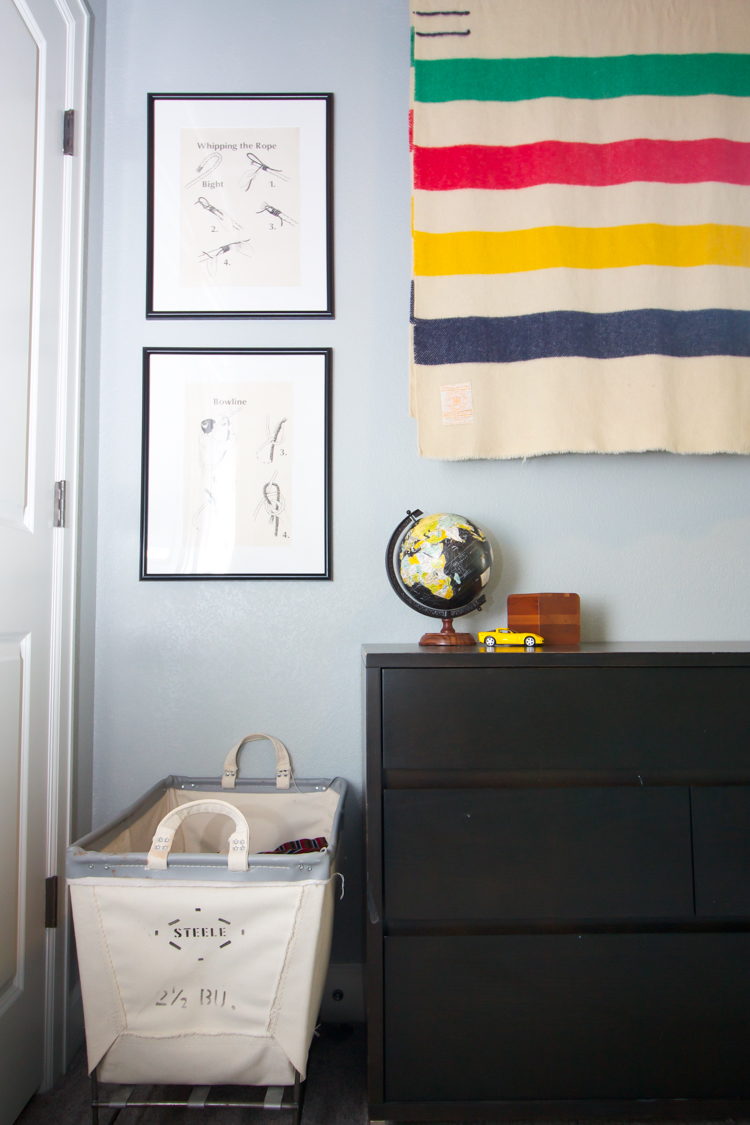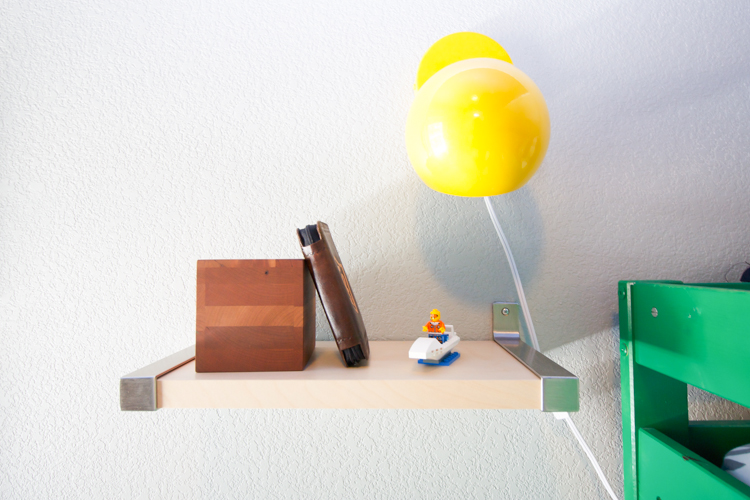 The boy's shared room was a huge labor of love, and still makes me so happy. The full room tour feature post is here.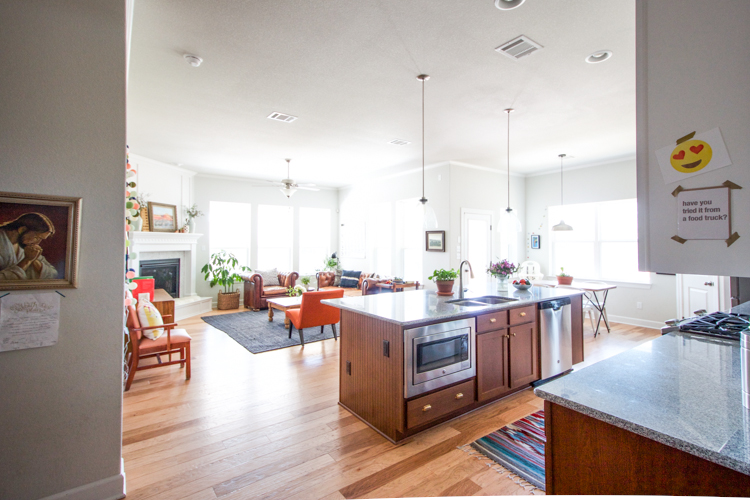 And after that long wander down the hallway of our home, you reach it's heart. The kitchen and living room where most of our daily happenings occur. The open floor plan of this house was a major selling point when we chose it for our new construction. I love being able to hang out and cook while the kids play games or watch shows in the living room. We all gather here for family scripture study in the morning over breakfast, and the night usually ends with everyone piled on the couch to read bedtime stories.
Taking notes from the kitchen I grew up in, that was designed by my mom, I put the microwave low, in the island. This makes is accessible to my kids, and they already know how to make quick oats for breakfast or melt cheese on a tortilla as a snack. That drawer just beneath it is full of kid's dishes, where they can reach them to set the table for lunch or dinner.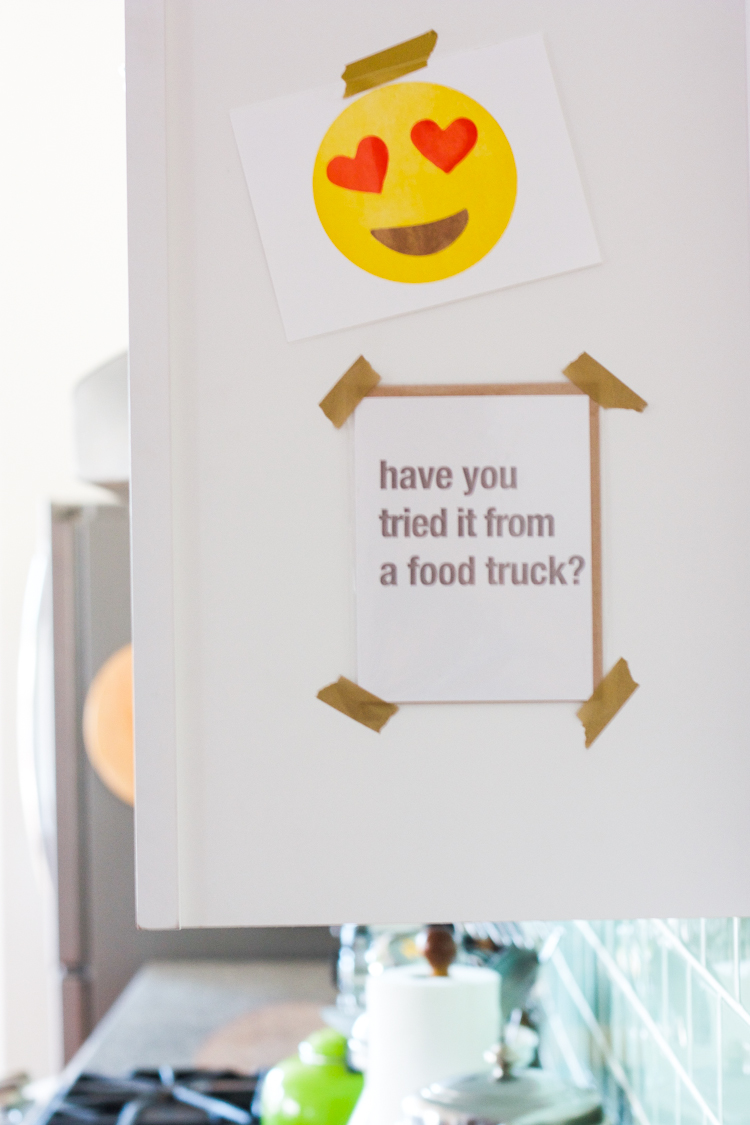 Some of my favorite little cards never make it into the mail, and I stick them up on the walls instead. This heart eyes emoji was done by Trisha Zemp, and the Food Truck card is by my good friend Melanie at Grey Moggie Press.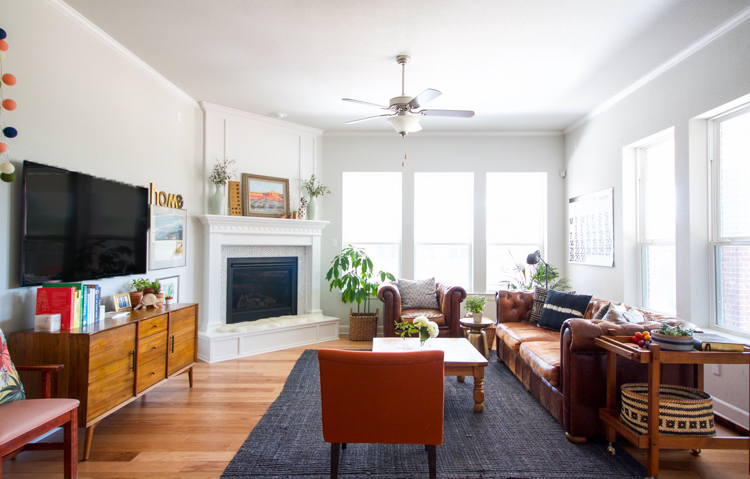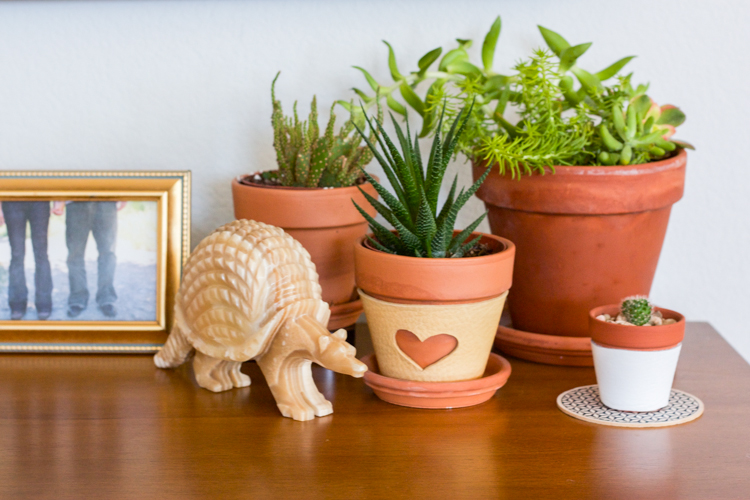 Standing behind the kitchen counter, I can enjoy the view inside and out. Our living room is looking pretty filled up after many months of collecting furniture here and there that felt just right. The vintage leather chesterfield couches were the best craigslist find of my life, and we have loved them every minute. I was on the lookout for a year before I stumbled across the post. We borrowed a truck on a Sunday afternoon and with an hour was bringing them home to live.
The orange chair is from Room&Board, but I got it at a steal during a craigslist pickup in DC. I had bought the man's couch (now sold again) and he said, "Hey, you want to take this chair too for $100?" Um, yes sir, thank you! I have great craigslist luck. The blue rug came from the Pottery Barn outlet, and the brass side table is from West Elm. The Mexican coffee table is another one piece of furniture inherited from my mom that has survived all of our moves. I still love it.
I found the wooden bar cart that I'm using as a side table last year at the Round Top antiques fair. It's been a fun addition, and useful outside when I have a dinner party, too. I use the Stending Wall Calendar every day to see the date from across the room, and the little painting on the other wall is a landscape watercolor by Joseph Alleman that I commissioned to give to Dave for our wedding. The plants came from Home Depot and IKEA. Pillows handmade or from Mae Woven.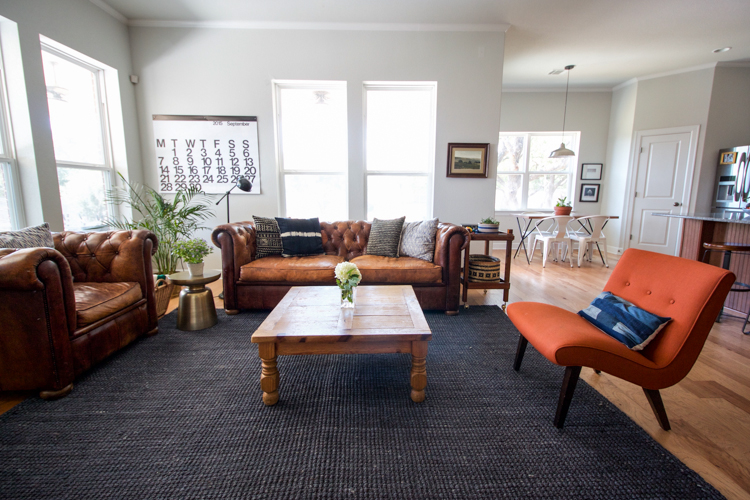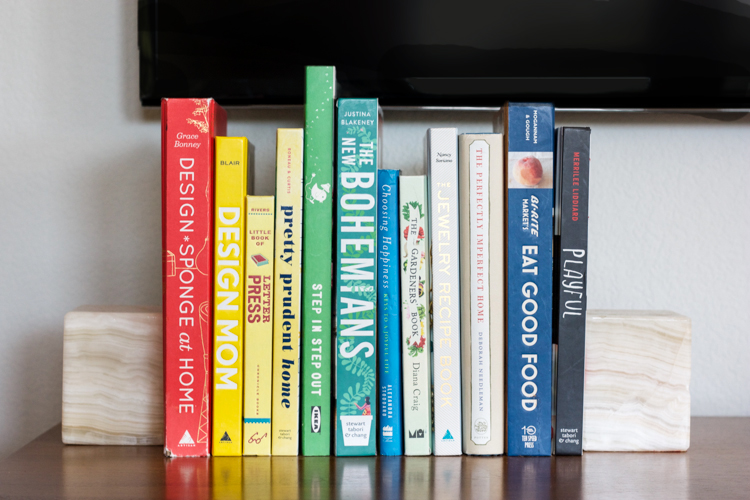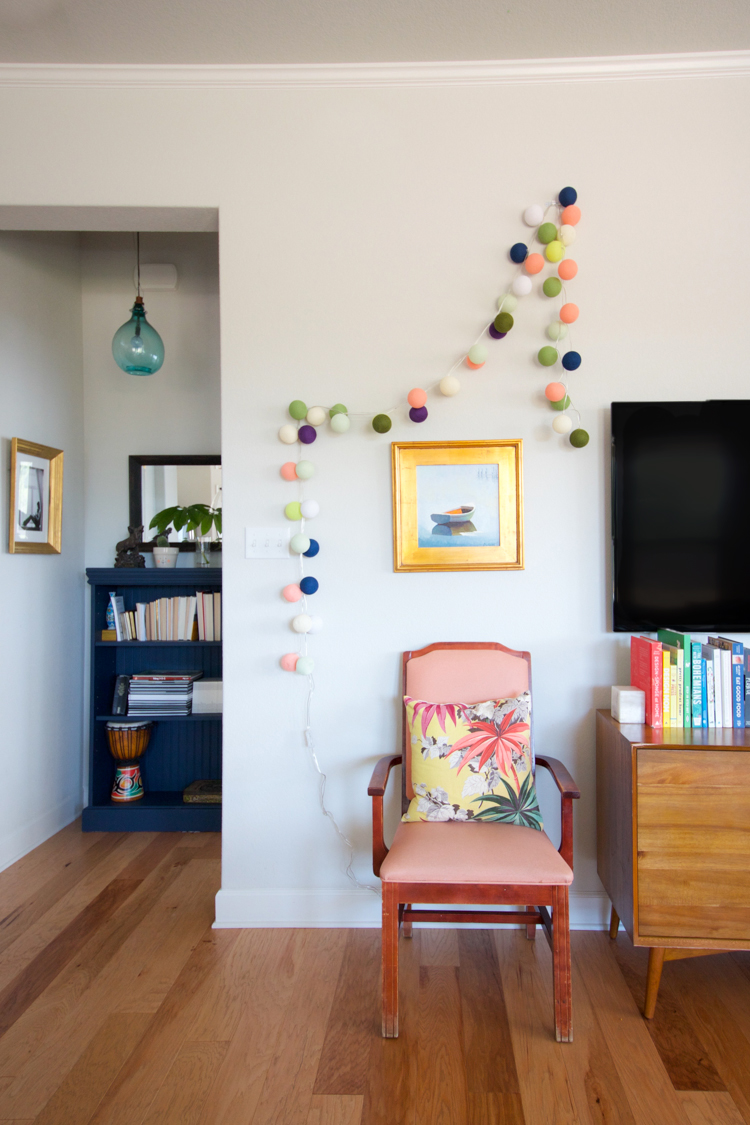 As much as I love Pinterest and Instagram, I still really love looking though books for ideas and inspiration. I keep some of my colorful favorites out on the tv console. The console itself is from West Elm, and I keep it topped with plants, statues, and flowers to keep the TV from being the center focus of the room.
I found this little chair on the sidewalk and initially thought I'd have it reupholstered, but the pink has grown on me! Styled with this vintage botanical print pillow that I made in collaboration with Oh! Fox Creative, and my BrightLab lights, I think it's just about perfect. That boat painting was one Dave and I spotted at the Park City Art Festival, then months later the same painting at the Alexandria Art Festival. A few months later he surprised me with it as a gift for our fifth wedding anniversary!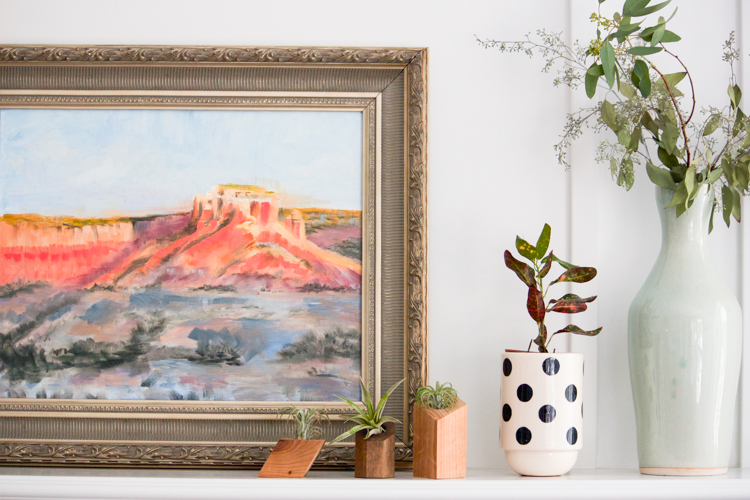 We had the fireplace surround built after the house, because I wanted to design it myself, and I love the way it turned out with a built up hearth seat that is perfect for cuddling by the fire in the winter. The mantle is on constant rotation, but some of my favorites are usually around, like these little air plant holders from Light and Ink, my ceramic vases, and this new little polka dot vase from West Elm, and the painting of Southern Utah by a friend from church here that reminds me of my childhood.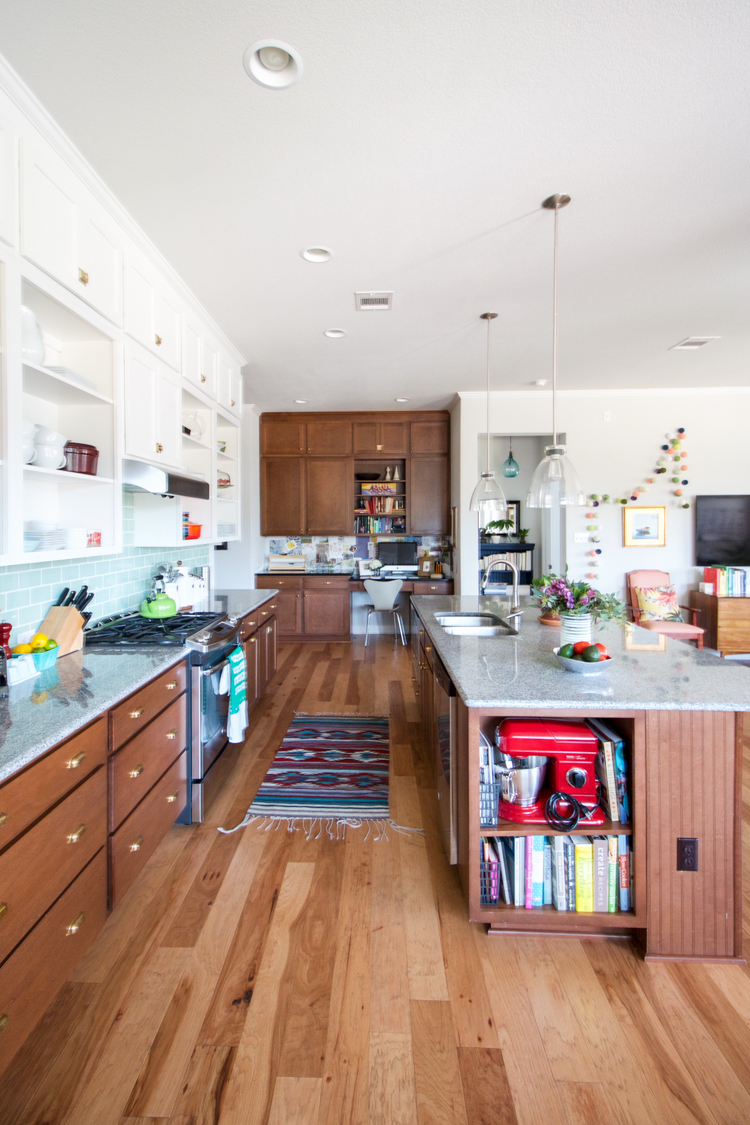 Taking another kitchen note from my mom, I had a little bookcase built into the side of the island for easy access to my cookbooks. My mixer ended up fitting there just right as well, which makes using it and putting it away a breeze. We probably bake a lot more than we otherwise would because of this set up.
I found the vintage Mexican rug at Round Top as well, and it went in several different spots around the house before I decided on here.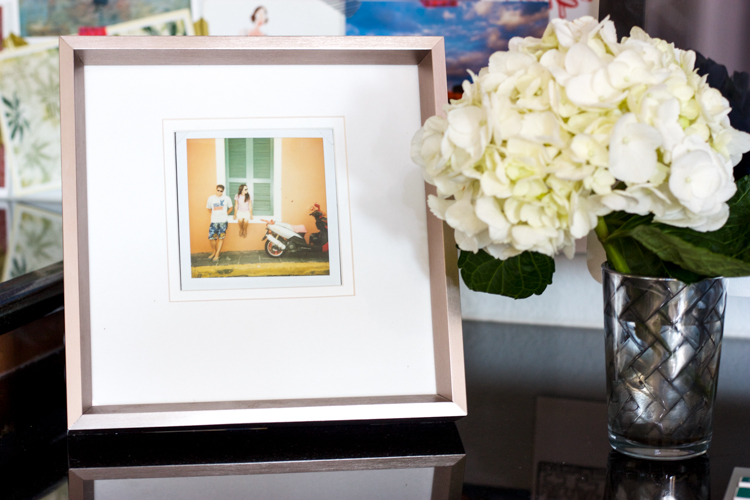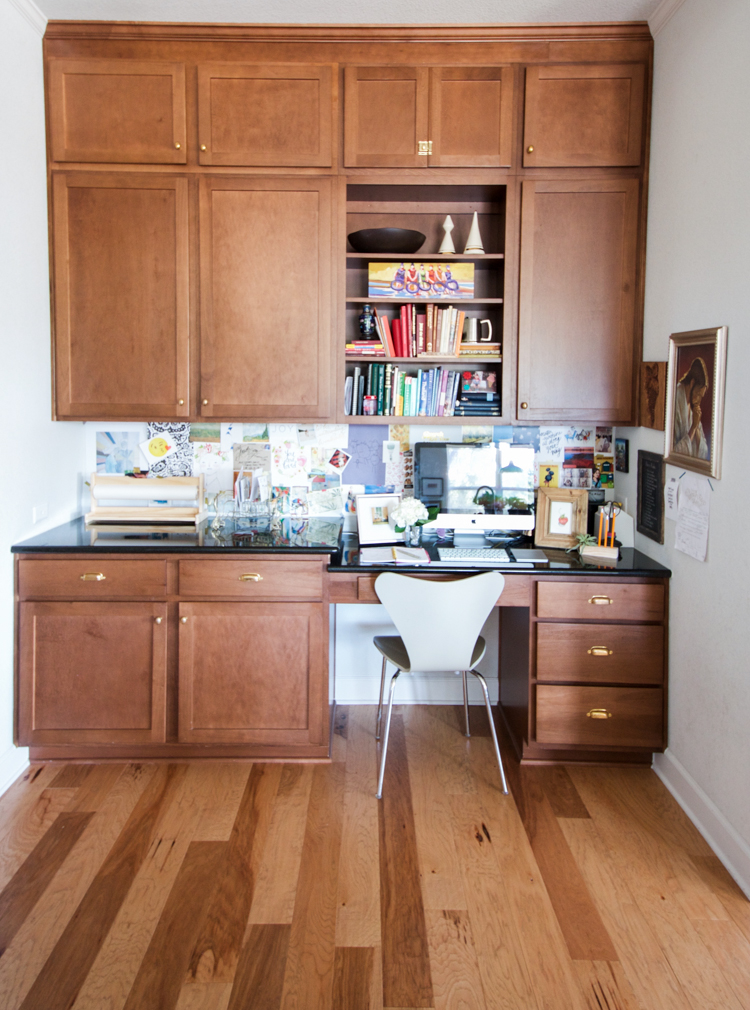 The family office as well as mail center, and bookshelf is here built in opposite the kitchen. There is so much storage space between here and the kitchen most of the upper cabinets are totally empty. It's nice to have the potential though! 
After I had quite a pile of favorite prints and photos, I decided to wallpaper them up as a backsplash for the office. It's a nice way to fill a small space, because it doesn't overwhelm, and I get to look at them all the time! We have lots of sentimental value items up over here, including some of the kid's art projects, Dave's fraternity mug, and heirlooms from my grandmother. One of my favorite things is the wire Rhino that Dave brought home from a Rugby trip to Africa when he was in High School. It used to be a CD holder (ha!) but we've repurposed it into our mail sorter, and I love it.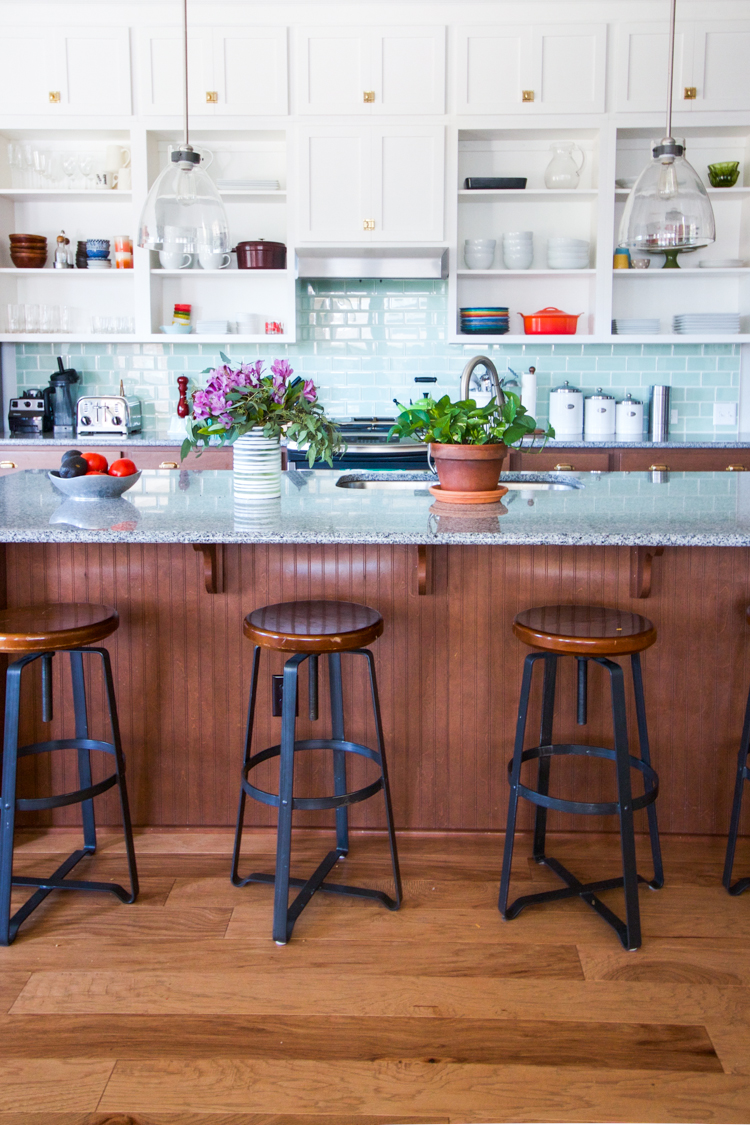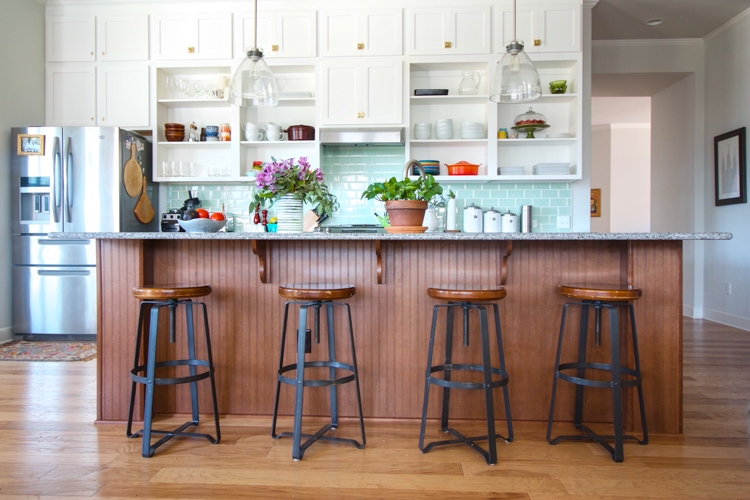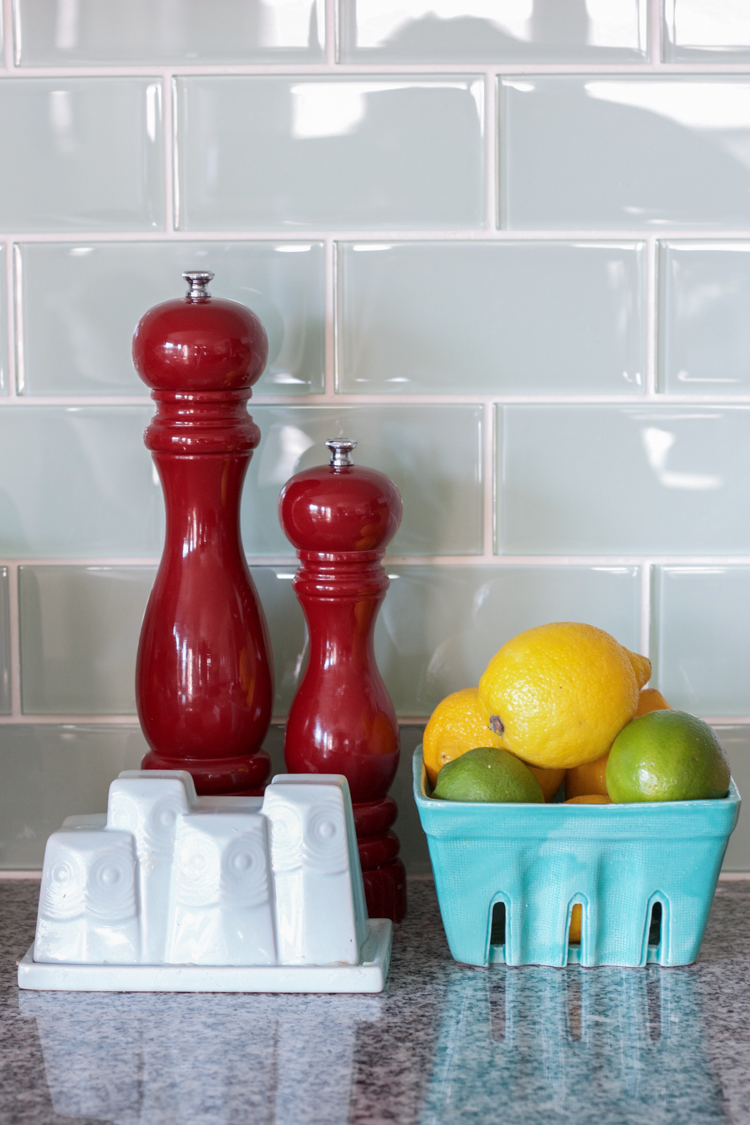 When we lived in DC, our kitchen was so small we ended up buying a big bookshelf from IKEA to put in the dining room and that's where we kept all of our dishes and pans out in the open. When it was time to design our kitchen here, I had no question about wanting open shelving, and it's been a dream. I love having my dishes and pretty things on display, and no one ever asks where to find a cup when they need a drink! The backsplash color was inspired by this pin, and I found the Seafoam tile at TileBar.com and had a contractor install it after we moved in.
Because I love to cook, I have a bit of a utilitarian approach to the countertops, and keep everything out that I use daily. I don't mind having it look lived in. The kids use the West Elm bar stools for sitting as well as to stand on to reach what they want to eat from the pantry (despite my having a step stool available for them.) I've collected dishes from all over. The basic whites were all part of our wedding registry at Pottery Barn that have lived a long, good life. The stack of colorful round plates is my collection of Nathalie Lete watercolor plates from Anthropologie. I buy one or two when I see them on sale. Each one is different, and they're such a fun addition to our kitchen.
It took me almost two years to decide on kitchen hardware, and when I finally did I went with matchbox latches and football knobs, and bin pulls all from House of Antiques Hardware. I installed them all myself using a quilting ruler to space everything correctly!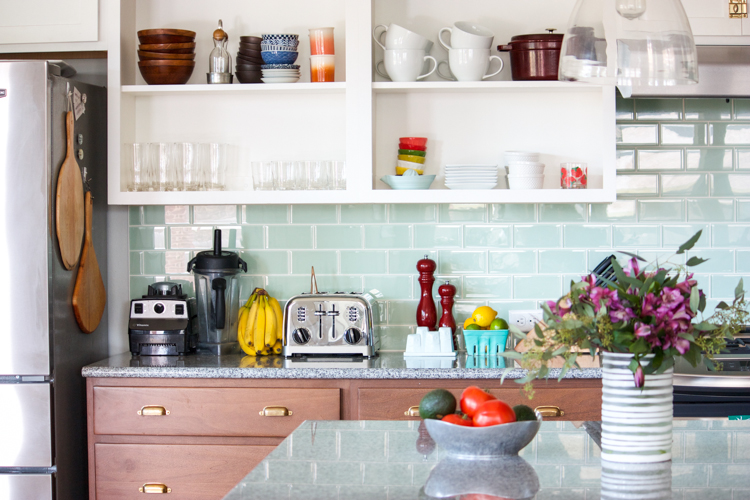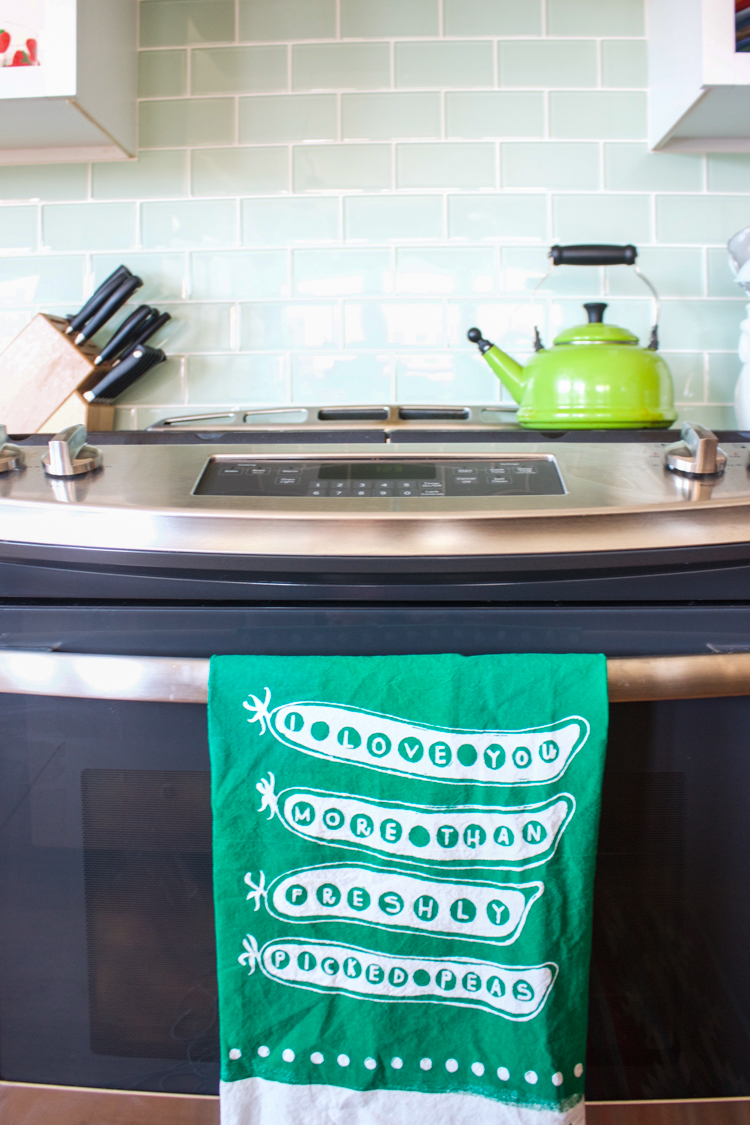 I usually have a kitchen towel hanging for drying hands, but this one by The Yellow Cabinet is so cute I kind of just leave it all the time. The Le Creuset teapot was on our wedding registry and has always lived on top of the stove for easy tea and hot cocoa year round.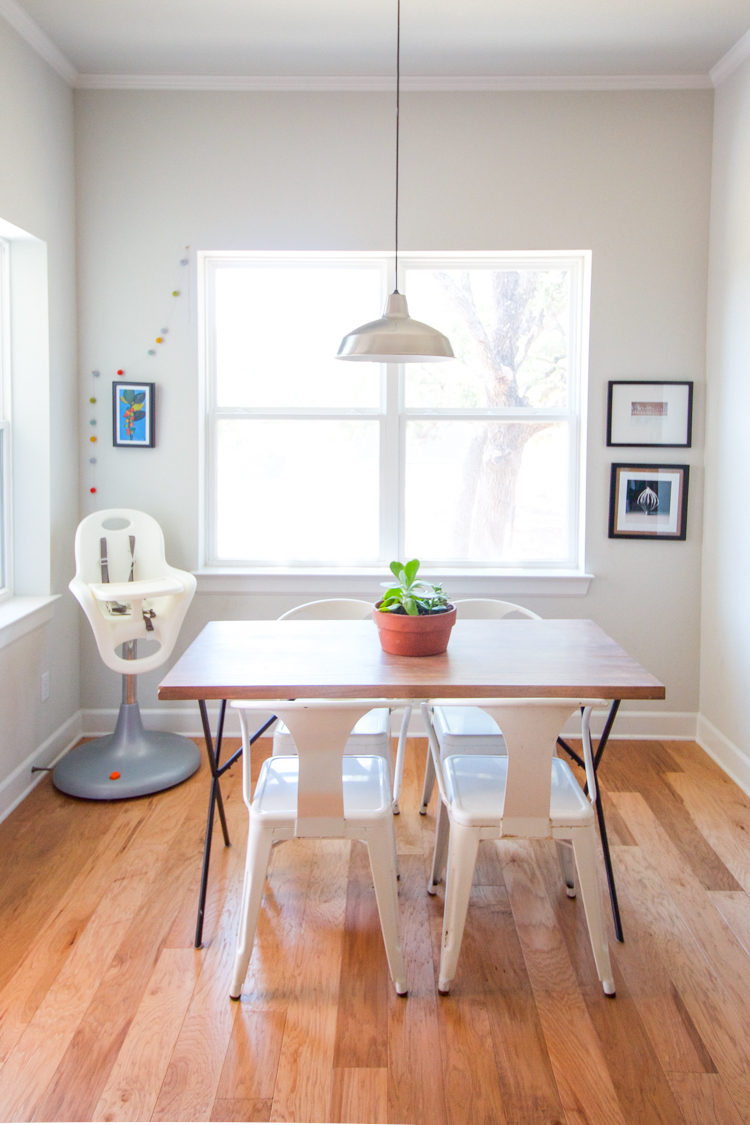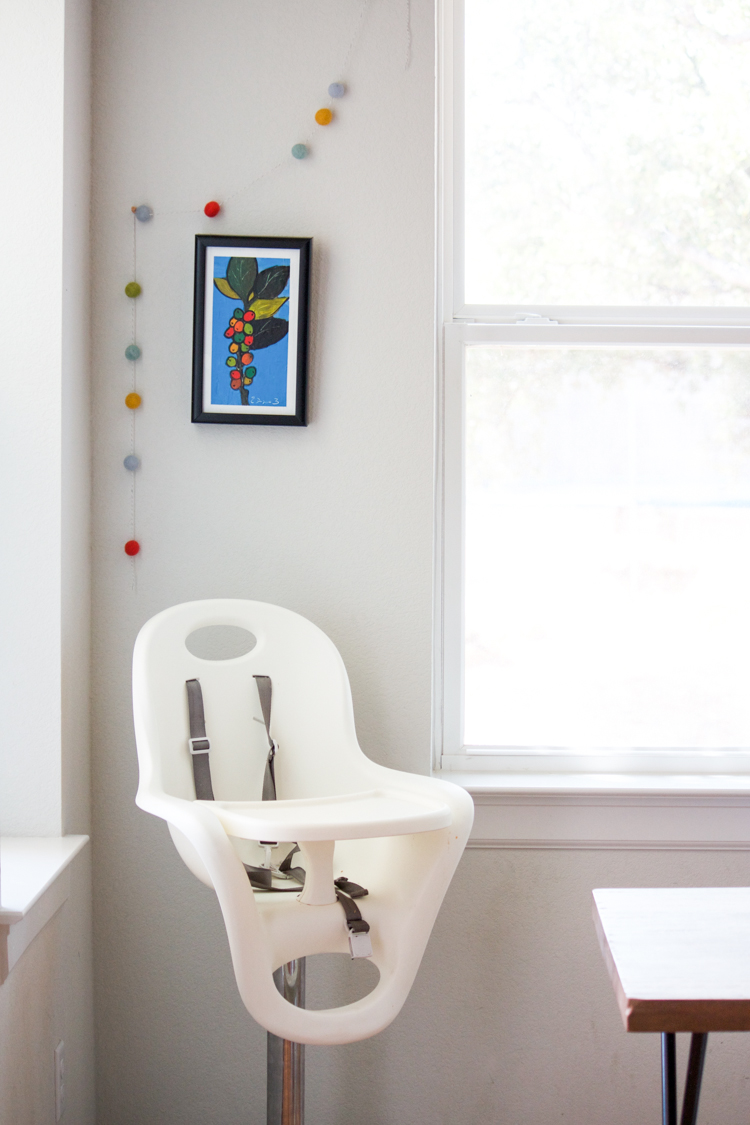 Our kitchen is eat-in, and this dining table seems much more useful than the one we had way over in the other room. We're pretty casual, but I do like to sit at the table rather than the counter to eat family dinner. This current table is was from the West Elm outlet, and I like it a lot. I have my eye out for a round table to eventually replace it so we all can fit when Plum is using a real seat. 
The white metal chairs are from Overstock, and Plum's Boon high chair is one of my most highly recommended baby items. It can be counter height to join her brothers for an after school snack, or table height for sitting at the dinner table. I don't use any of the pads, so it's easy to wipe off, and the straps come off to toss in the dishwasher with the dishes.
The little coffee bean painting in this corner was the first ever piece of original art I bought for myself. It was painted by a street artist in Costa Rica and I bought it just before I headed to the airport after spending a few months studying abroad. I still adore the style and the colors, and bring them out with this fun little strand of Hello Maypole felt balls.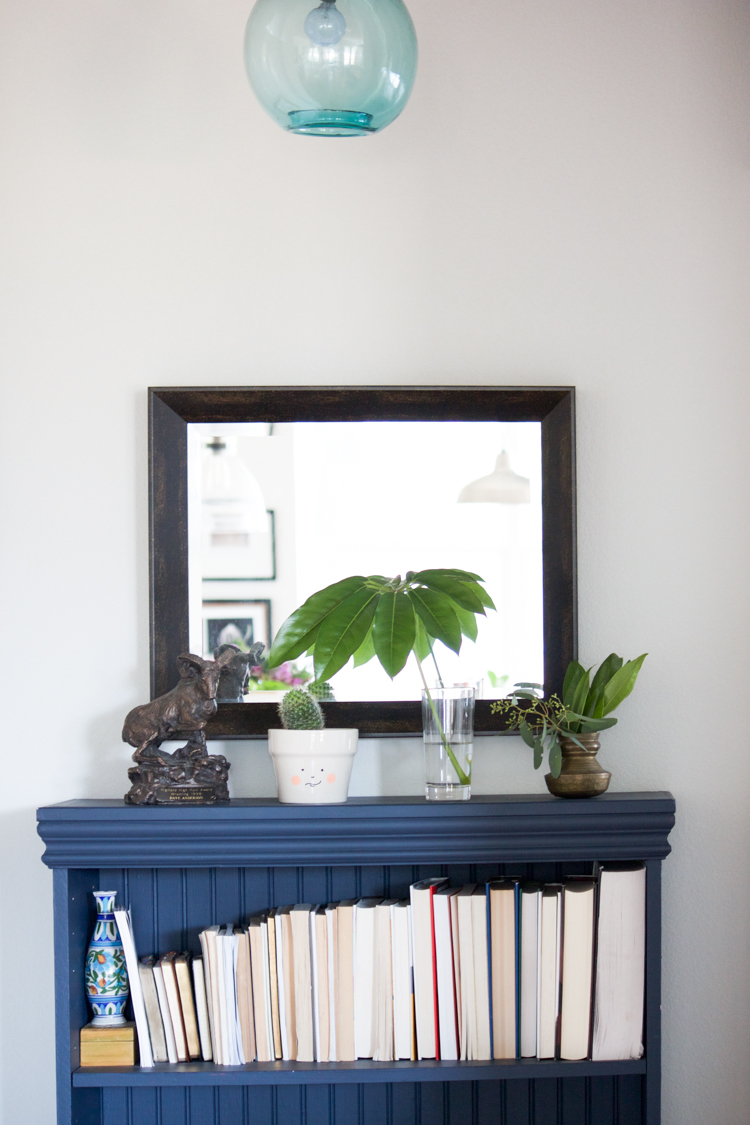 The little nook off of the living room leads to the master bedroom, and has just enough space for this bookshelf. My mom went through a furniture building stage a few years ago (am I my mother's daughter or what?! haha.) This bookshelf was leftover, and last summer when we boxed up all of our childhood boxes, and everything we had sitting in our parent's garages to ship to our house, this bookshelf made the cut. The books are all things I reference from time to time, but the covers don't go great together, so I turned them all backwards. The lower shelves have our collection of photo albums, and a bongo drum that our kids love.
One of those garage boxes had all of Dave's little league and school sports trophies, including this bronze ram, which I think is pretty awesome! The face vase was a simple DIY that makes me happy, the brass vase is one of two milk jars that I inherited from my grandparent's time living in Bombay, India, and the leaf stuck into a kitchen glass was the result of Plum pulling at my plants.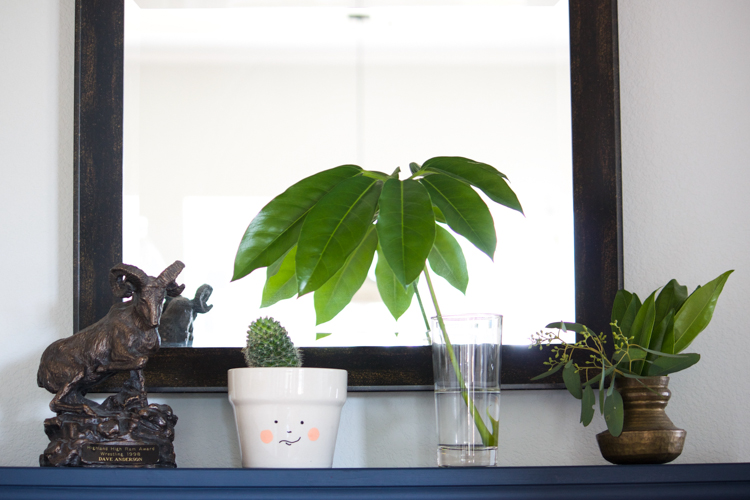 Most of my lighting was replaced from the builder grade. The blue blown glass pendant came from Sundance Catalog outlet, and even though I bought it years ago, Dave had never seen it until I pulled it out to hang! The kitchen pendants are from West Elm, and the kitchen table barn lamp is from Home Depot.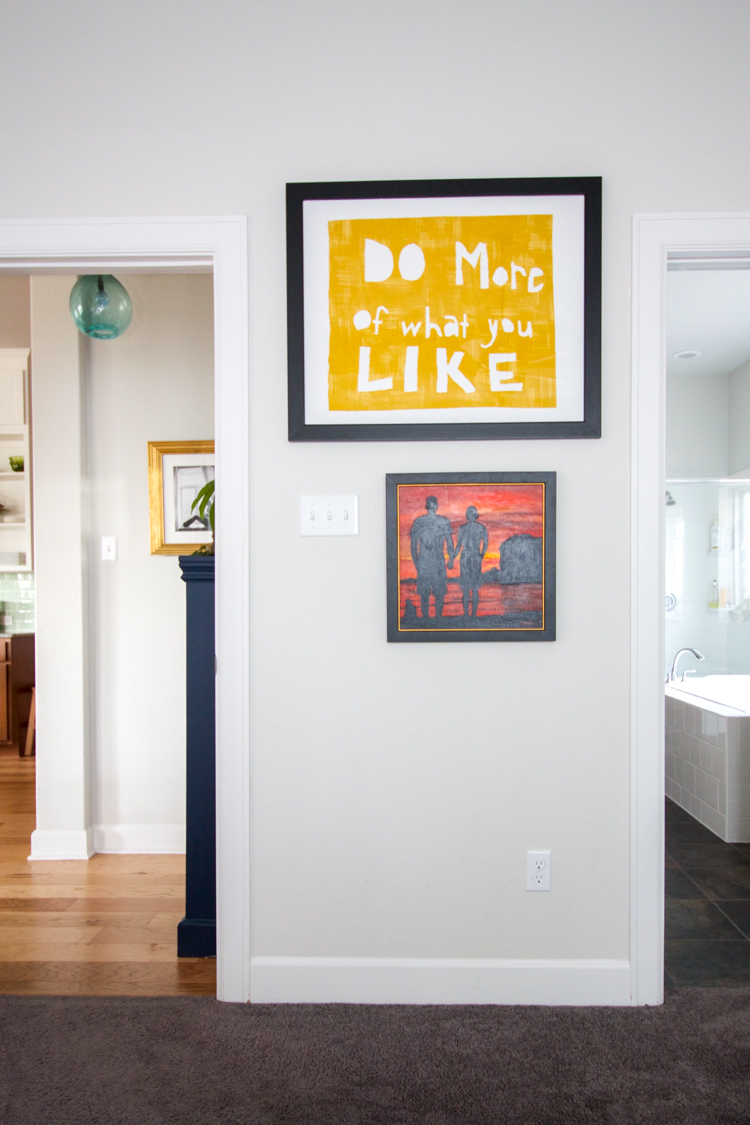 Our bedroom and bathroom have little touches of love and lots of empty space yet to fill. The art hanging here is a big fabric poster that I made after going to Alt Summit in 2013. It's a good reminder to do the things I like, rather than what I think I should do. The painting is one Dave's grandmother painted of a photo we sent her from our trip to Thailand.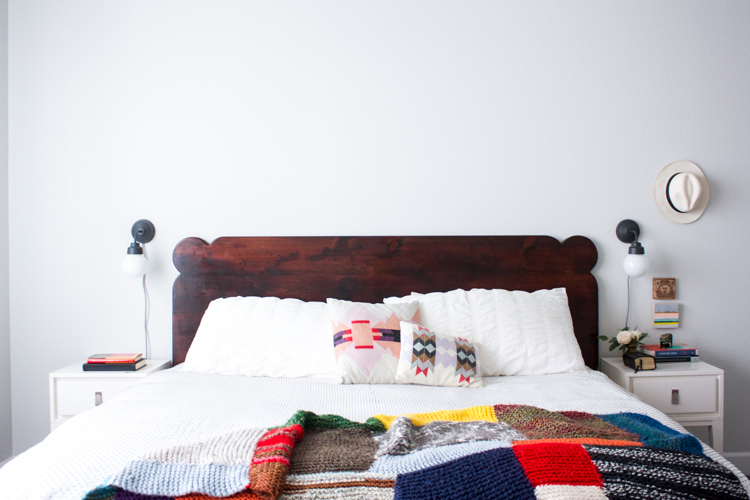 Our headboard was once a dining table top that my mom designed, then never made into a table. She gave it to me and I stained it dark, then rather than using it as a table ended up loving it as our headboard. It's not even secured to the wall, yet, but is just sitting on top of the metal bed frame.
I found the white bedside tables at the West Elm outlet (seriously, what would I do without that place?) and just recently added DIY plug in wall sconces to the sides from IKEA. I'll be sharing the DIY next week. The bedding is all from West Elm, except for the hand knit patchwork throw that my mother-in-law gave me for my birthday last year. She and my sister-in-law had spent months knitting it all together after I mentioned that I loved one like it at Christmas time. It's a real labor of love.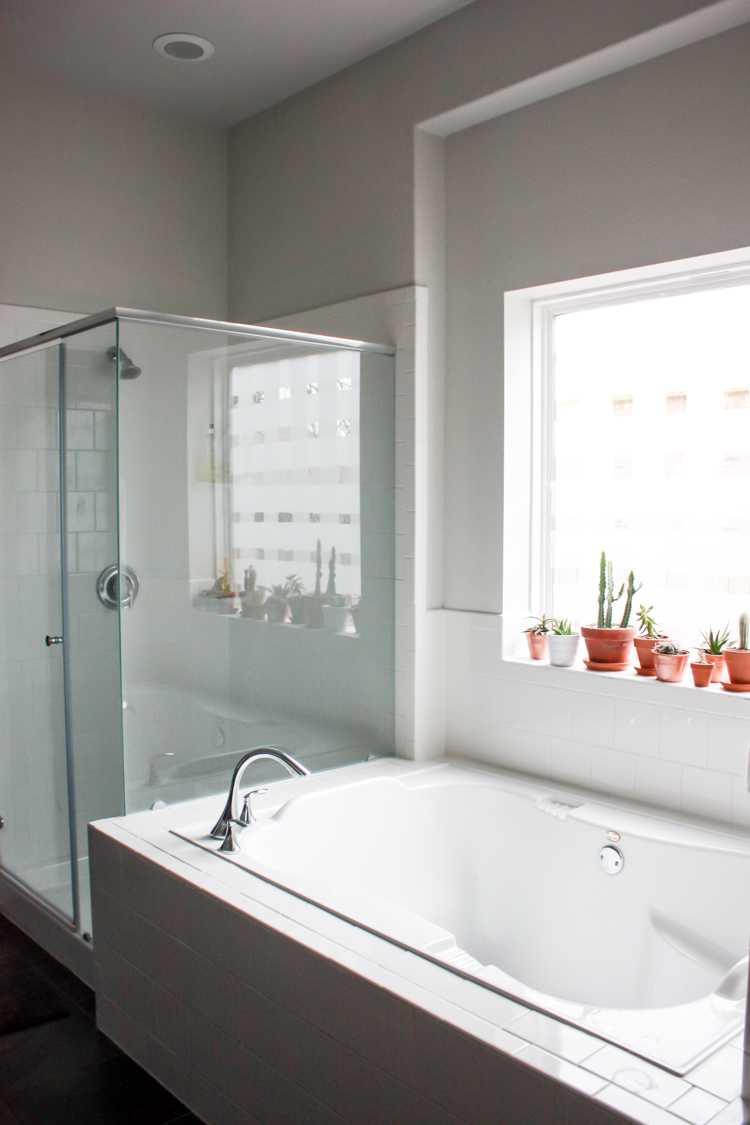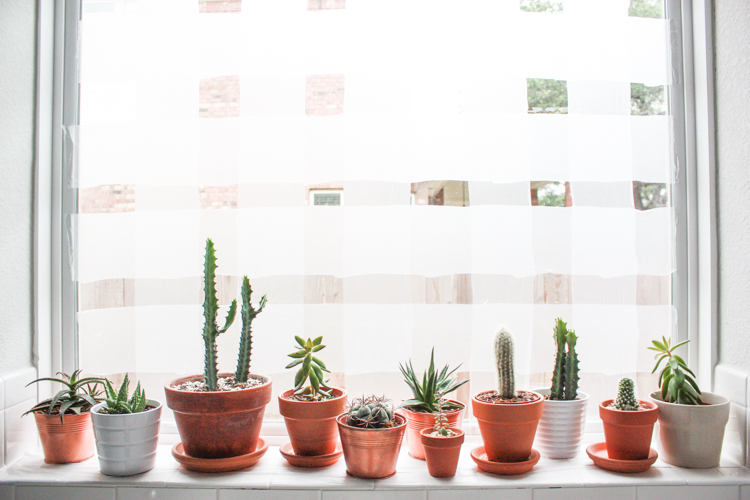 Our master bathroom feels a like total luxury after the small apartments that we've always lived in. We have a shower and separate tub, that our kids like to use as their "hot tub", just like I did in my parent's master bathroom growing up.
I hung two of our favorite watercolors in here, both bought from a street artist in Costa Rica when Dave and I were living there in our first year of marriage. I love the beachy feel that the paintings bring to the space. I lucked out and found two matching round mirrors at the outlets (surprise, surprise). The terrarium on the counter and cacti collection on the windowsill are all part of my plan to slowly turn my entire house into a nursery, one ledge at a time.
And there it is. The current stage of our home. Thank you for joining the tour! In a lot of ways it's really nice to have all of this documented as it is, because as I mentioned in the beginning of what turned out to be a very long post, things are ever evolving and the ways we use our spaces change over time. A lot of sentiment and thought went into my responses to Gabby's questions, so if you care to hear some additional insights about our life and home, make sure you check out that tour.