With the mounting uncertainty of the upcoming school year, I decided it was a great time to dive into Adventures in Homeschooling! We will be trying a creative, outdoor focused, dynamic homeschool curriculum and I wanted to share all of my homeschooling resources in one easy place for you!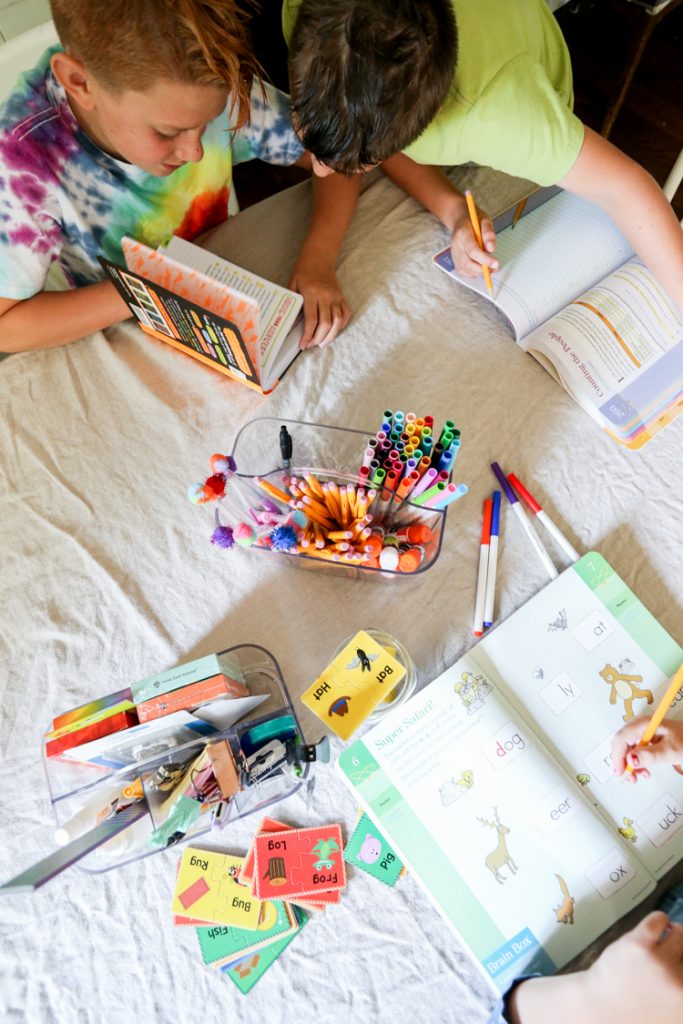 Homeschool Resources
I'll walk through each subject we will be working on this upcoming year, as well as the specific homeschooling resources, programs, books, games, or ideas I'll be using for each. There are hundreds of amazing resources out there, and after wading through a bunch, these are the resources that we either already use and love, or that we have decide will add some fun and innovation to our learning this year.
I'll create a different post with a breakdown of our daily schedule, once I have that all figured out. As a high level outline, I plan on working on reading, writing, math, and creativity each day. We will alternate science, social studies and geography, history, and art every week. The weekends will be devoted to outdoor learning including some great survival skills as we camp and backpack along the Appalachian Trail.
Reading Fluency Resources (K-1st Grade)
Plum has learned the basics of reading after emerging from most of a Kindergarten year. We will really be focusing on reading fluency and enjoyment this year. With both of my boys, first grade was when their reading really started to take off, and so that is our main focus with Plum.
ABC Mouse (Join for free using my link)
We began using ABC Mouse on the iPad last year, and have fallen in love with the program. Plum loves to play for 15-20 minutes at a time, and I love the way it keep track of her progress along an emerging reader curriculum.
Hooked On Phonics (Get your first month for just $1)
One of my favorite things about Hooked On Phonics is the combination of online and had copy resources. Plum plays on the app, but we actually spend more time on the monthly workbooks and easy reader books they send along with our subscription. It is an all-in-one resource that has been well worth the monthly cost.
Epic Reading Library (Read Free for 30 Days)
We use Epic for all the kids across all of our screens. This library of over 40,ooo titles is appropriate for 0-12 years old. It has books, audio books, and is a dynamic resource for reading. With this many books at your fingertips, it is easy to find something you love.
Some things just need to be memorized, and sight words are one of those things! The sooner my kids have picked up on the basic words, the easier it has been to put them all together and understand a story. These flash cards go from pre-k through 4th grade, and are perfect for meeting your child where they are.
We used this book with both of the boys, and are also using it for Plum to supplement her other reading activities. It has been so helpful for some of the sounds and ideas that have been harder for her to understand. I've found using a variety of resources makes the process more seamless and feel easier!
I love using simple letter tiles from Bananagrams or Scrabble to tactically reinforce reading and spelling principles. I usually set Plum up with a mess of tiles, and a notebook and pencil. She earns a nickel or an m&m for each word she can form with the letters and write in the notebook. It's a fun, hands-on way to learn!
Middle Grade Reading Resources
This quarterly publication is a beautiful, thoughtful and conscious resource. Each issue highlights a strong, female leader (which I love teaching my boys about) and includes fun, educational activities, along with introducing traits and difficult subjects in an engaging, accessible way.
Literati (Get $20 credit through link)
We joined this monthly book subscription last month for Eliot's birthday, and quickly realized how fun it will be for the whole family! I love the selection of books that show up each month, and that we can read through them for 7 days while we decide what to keep. The books we decide on are billed along (with the $10/mo subscription fee) and the rest go back in postage paid packaging. Each month also includes some fun extras to add to the excitement of reading, and we love it.
Family Book Club
One way I plan to keep us all engaged in reading is a family book club each month. We will each read the same book (I'll read aloud to Plum, or find a children's book version) and then have a monthly book club meeting including a discussion, themed dinner, and maybe even a viewing of the movie if there is one:)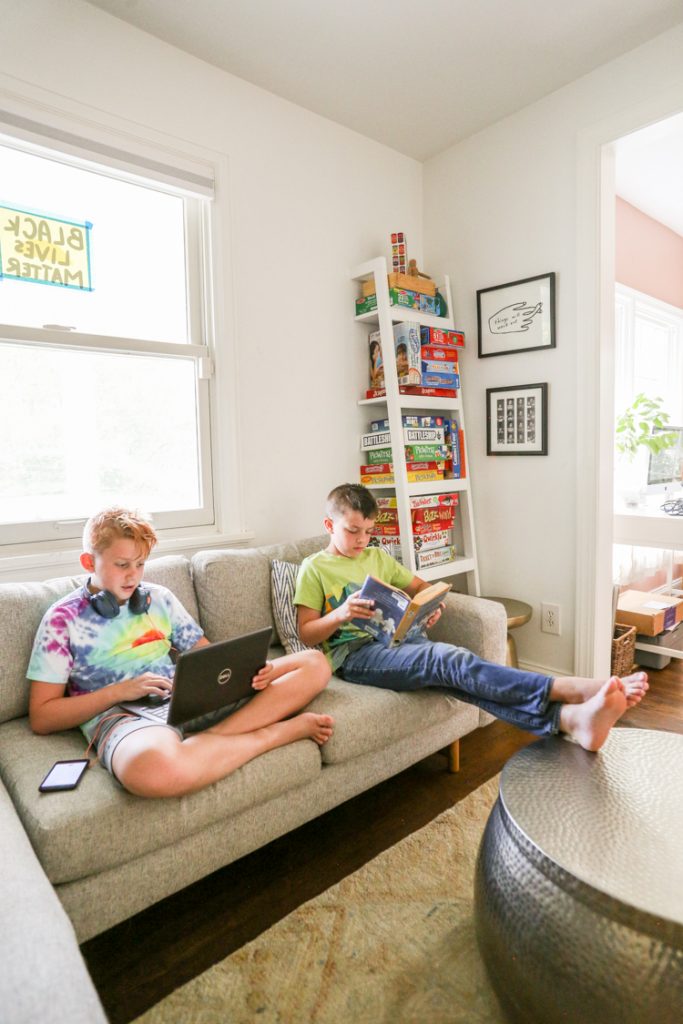 Math Resources
When Milo was in first grade he asked for a Prodigy Premium membership for his birthday! Kids can play for free, anytime, but there are some fun advantages to the membership (and for $5/month, it was worth it to me to fuel his math game love!) Now both boys play regularly, and the curriculum follows each state guideline (matching your home address). I can track their progress on my parent dashboard, and see what skills they have mastered and what they need to work on.
Adventure Academy (free trial)
Adventure Academy is the older-kids answer to ABC Mouse. My boys think it is super fun, and love feeling like they are playing a video game as they learn and complete challenges. I will use this in tandem with workbooks, and Prodigy to reinforce math skills– and it's a lot more fun than busywork.
Our whole family loves playing this game, and though the math is minimal, you end each game counting up your money, which is a fun way to stay sharp on basic skills.
I just started playing this game, and am excited to teach it to the boys. It involves a lot of recognizing patterns and layering math equations, which are both great skills for my growing boys.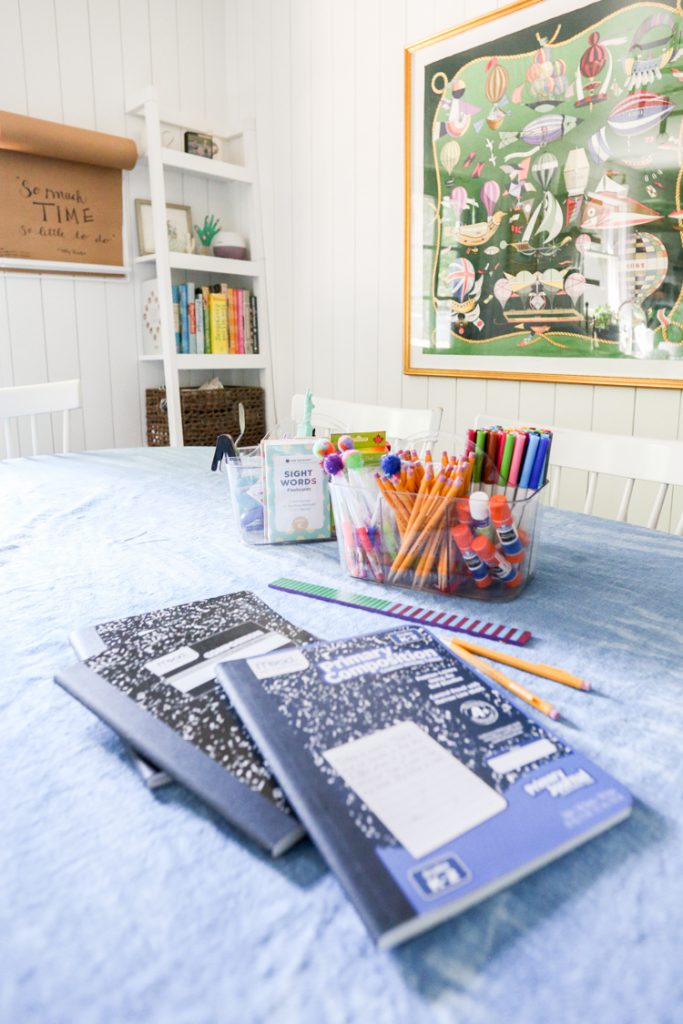 Writing Resources
Creative Core by Raising Wonder (30% Off with the code livefree30)
This comprehensive program shares 16 full weeks of creative learning including creative writing, art, STEM, movement, story time, food, and even book lists! Everything is available in a simple download and click-through format, so you can mix and match lessons and participate in as much or as little as you choose. The program is beautifully designed and creates a sense of ease and excitement, rather than overwhelm. I love the beautifully designed creative writing exercises included each week!
I am excited to use some super personal and practical tools for my kids to improve their writing skills this year, including their Loom, parent-child journals. It already includes prompts and provides a perfect framework for the boys to use creativity, thoughtfulness, and writing skills.
Pen Pals
I am so very excited about this idea for writing skills. We have found Pen Pals across the country for each of the kids! I connected with one of my friends in Utah who has kids my kids same ages, and we aligned them for writing letters 2x/month. I am creating a simple google sheet with some basic questions and prompts for each letter, so there is a little bit of sometime to begin with, then we will encourage them to get to know each other through the long lost art of letter writing. And as a bonus, we'll all be getting snail mail a lot more often!
Our whole family loves listening to Story Pirates, and at the end of each episode they give a prompt for a story idea. I plan to invite the kids to use those prompts to create a story each week, and we'll send some of them in!
I really love these little notebooks, created with space to record specific details and memories from different experiences. I plan to use Outings as part of our field trips to local parks, Museums for our museum visits, books after each book they read this semester, Hikes for our weekly hikes and backpacking trips, and National Parks to keep track of our visits to nearby parks this upcoming year! I will have the kids fill out a page during or after each outing or experience, looping in writing as part of the learning.
Along with all of the above writing PRACTICE, I also plan to do some writing TEACHING, and will begin with this much acclaimed book. As we break down writing super, effective sentences, we'll be one step closer to building super, effective stories.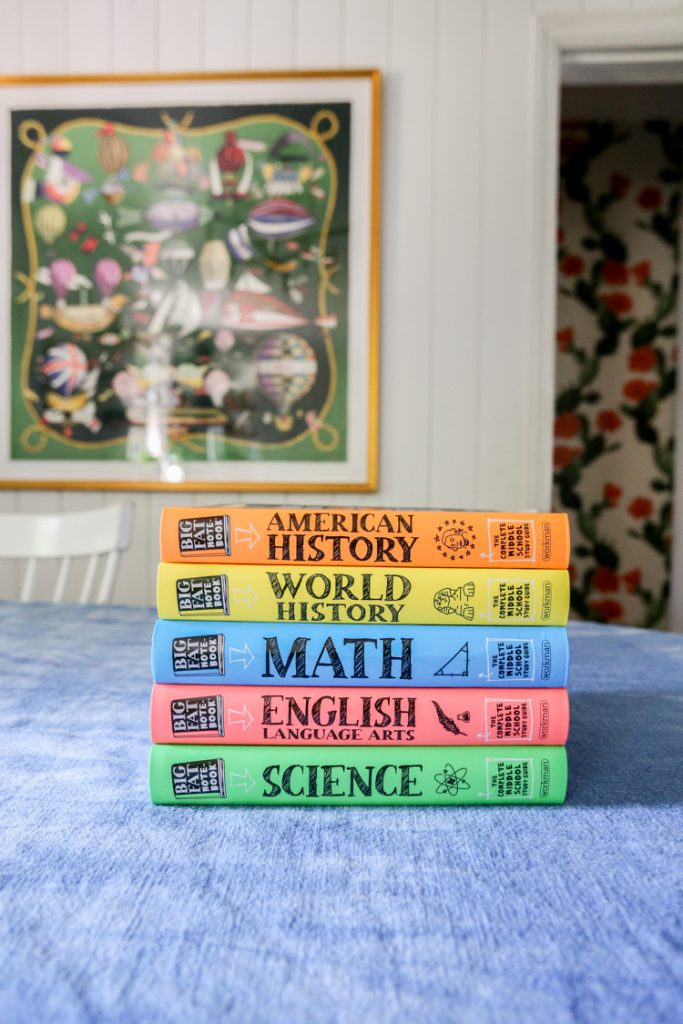 Science Resources
KiwiCo (30% off first month)
We have subscribed to KiwiCo on and off over the years, and are so excited to renew our boxes. There are options for all ages, and we'll be doing a Kiwi (for Plum), Doodle (for Eliot), and Tinker (for Milo)! Having a project arrive on the doorstep each month with materials and instructions will be such an easy way to supplement their hands-on projects!
Outings + Hikes (Letterfolk Passports)
One of our big plans for the fall semester is beginning to section-hike the Appalachian trail. There are over 500 miles of the trail here in Virginia, and the kids have been excited to learn more about backcountry hiking and backpacking. There is so much biology, ornithology, geology, and astronomy that we can easily do on the trail, and we can't wait!
Astronomy Books (this, this and this)
I love the stars. I always have! Adding astronomy and stargazing to our curriculum is driving home how fun homeschooling can be! I read hundreds of reviews and these three books for astronomy basics and constellation hopping seemed to be widely known as great resources.
A few months ago the kids and I discovered Geocaching, and it has been a great pastime! The idea is using GPS coordinates and locational clues to find hidden objects left by other geocachers. I think the directional and problem-solving components are both really great learning activities.
Creative Core by Raising Wonder (30% off with the code livefree30)
This comprehensive program shares 16 full weeks of creative learning including creative writing, art, STEM, movement, story time, food, and even book lists! Everything is available in a simple download and click-through format, so you can mix and match lessons and participate in as much or as little as you choose. The program is beautifully designed and creates a sense of ease and excitement, rather than overwhelm. The STEM included each week in the curriculum is pretty amazing.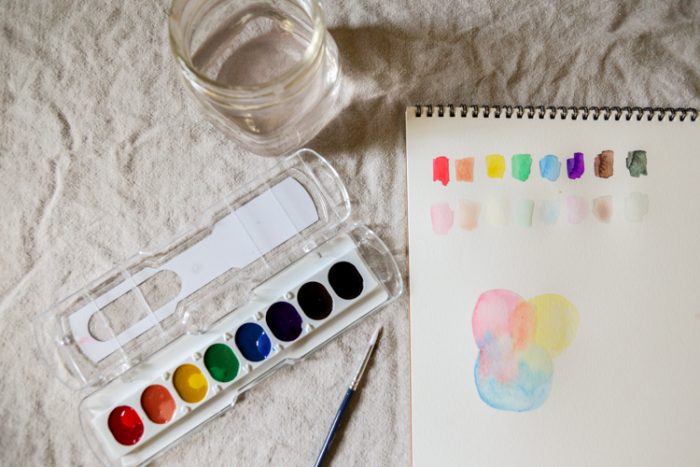 Art Resources
Watercolor Class for Kids (MIRANDA15 is good for 15% off all classes and gift certificates)
My friend Janssen has raved about this watercolor class she gave her 10-year-old daughter for her birthday, so I decided to try it! I already watched the first few (of 13) short lessons and have decided to use it as an art lesson for homeschool! We will watch the beginning lessons in one sitting, about supplies and preparation. Once we get into the projects, each lesson will be one art class! It's only $25, and even less with my discount! Such a great investment for 9 weeks of watercolor classes.
As I was preparing curriculum ideas, I realized how perfect my indigo dyeing class is for online learning! It is an amazing hands-on art project, but my lessons include both the history and the chemistry of the process. I have discounted it 15% with this special code in case you'd like to try it, as well!
Creative Core by Raising Wonder (30% off with code livefree30)
This comprehensive program shares 16 full weeks of creative learning including creative writing, art, STEM, movement, story time, food, and even book lists! Everything is available in a simple download and click-through format, so you can mix and match lessons and participate in as much or as little as you choose. The program is beautifully designed and creates a sense of ease and excitement, rather than overwhelm.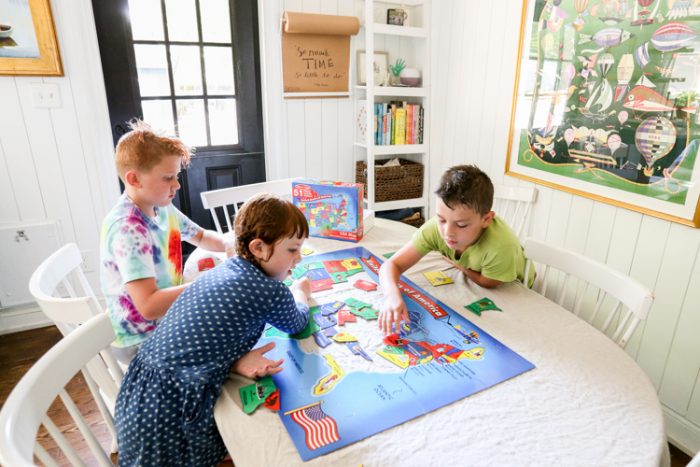 Geography and History Resources
Map Puzzles of the USA and WORLD
I love maps, and as my kids learn basic geography, these two are a simple and straightforward way to learn in a very hands on way. We can use the pieces separately to talk about different regions, and once the puzzle is all assembled, use it as a jumping-off place for quizzes and questions.
Global Book Club by Local Passport Family
My friend Preethi from Local Passport Family is a mom of 5 and avid world traveler. Not only that, but she learns the history, culture, and customs of the places she travels–and has shared so many of them with the internet (for free!!) in this Global Book Club, where each day (we'll use one or two each WEEK) she "transports" you to a country with a picture book, some history, and maybe a recipe or craft as well.
I am so excited about this! The other day while scrolling Instagram, I saw this subscription pop up for a monthly box of curated snacks from another country. Savory and sweet treats complete with a little brochure with information, history, and facts about the country being highlighted! I realized I easily spend $25/month on snacks for the kids, and this curated box will be a fun, interactive lesson that we can look forward to each month! (I love the idea even if we weren't homeschooling!)
Anti-Racism Education
This comprehensive history of racism is appropriate for elementary-aged kids, and written for middle and high schoolers. I learned a lot as I read it, and am excited to incorporate it into our weekly discussions.
Written for elementary-aged kids, this great fictional novel addresses a lot of racism issues while also telling a humorous and engaging story. It's a fun read-aloud.
I have been blown away by the depth, consistency, and relevancy of the daily emails from Nicole Cardoza and her team. This free email newsletter has incredible talking points, perspectives, research, and thoughtful applications. I plan to pull ideas from the emails to prompt discussions with the kiddos.
Jasmine Bradshaw shares important inclusion, diversity, and anti-racism topics in an approachable way. It is really nice to have her break down some of these big ideas into meaningful discussion points that can build a more clear understanding and create empathy. Every episode I have listened to is also kid-friendly and great for listening to together.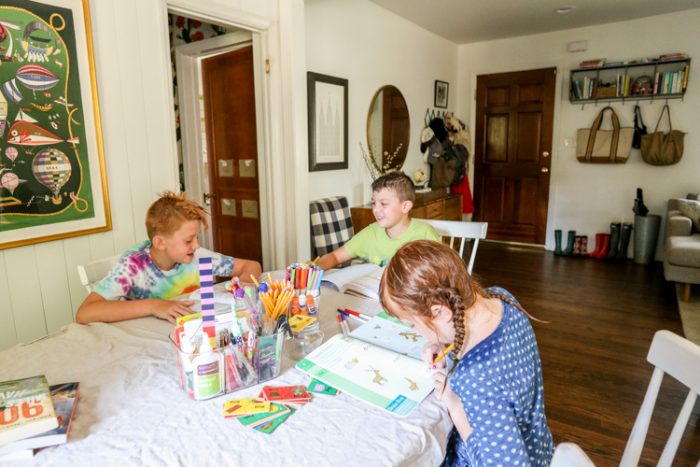 All-In-One Elementary School Workbooks
For some basic frameworks, I grabbed a couple all-in-one workbooks. These are developed by experienced educators and follow a standard curriculum through all of the standard school system subjects. The workbooks are meant to be a supplement to classroom education, and I plan to use them as sort of a basic outline for ensuring we hit most of the standard principles and topics, if in our own way!
All-In-One Middle School Workbooks
Once kids hit middle and high school, the curriculums start to vary a lot more, depending on the student level and interests. I gathered these inexpensive workbooks for each of the major subjects to use as offline supplements for Milo in his 6th grade learning. The books are meant to cover the subjects across 6-8th grade, so we will plan to work through the first third or so this year, or further depending on how interested Milo is in each topic.
Homeschool Setup
Of course, since we are going to be learning together in our house, I am trying to create a basic homeschool setup without transforming an entire space. Our house is intentionally small, with intentionally multi-purpose spaces. We plan to do morning work all around the kitchen table, and for personal reading time or special projects, the kids can find their own special nook.
Here are a couple of the supplies I have grabbed just to have a basic homeschool setup.
Paper Roller (paper refill)
I love this sturdy, simple paper roller. I mounted it in the kitchen near the table, and plan to use it for our weekly schedule.
These personalized pencils seem like a really fun way to personalize the homeschool classroom. There are a few different companies that offer personalization, but these were specifically recommended by a friend who has used them and vouches for their quality. I'm going to invite the kids to choose a line to add–maybe our family theme for the school year?
Nothing says classroom like a great pencil sharpener.
I actually prefer mechanical pencils for myself, and these ones are my favorite. I bought a bunch to have on hand (and am sure we'll need more…)
Years ago I found these clear, plastic caddies and have used them for art supplies, and more recently homework supplies. They transition perfectly for homeschooling. I have them filled with: pencils, a ruler, scissors, glue sticks, a calculator, markers, white out, post-its, flash cards, and note cards. Just basic supplies to put in the center of the table each day.
These are our favorites.
One of the benefits of homeschool is the flexibility, including snacks! I always work better when I have some healthy snacks on hand, and love this easy snack tray. I'll use it for trail mix, cut up fruit, veggies, and different types of crackers or chips. It's great for regular days, and for making different activities extra fun.