Inside Out Cereal Pops
Between the ages of about twelve and twenty I worked as a nanny for a family in my neighborhood. The two girls who I watched were creative, bright, hilarious, and fun to be with. Some of my memories include making daisy flower crowns, crafting cards and signs, and going on outdoor adventure walks. One of the most clear and consistent memories I have was making what we called "Special Dessert". My babysitting responsibilities didn't usually include cooking, but the girls often asked for a treat at the end of the day and I would round up unusual ingredients from the pantry and whip together something special for them. Looking back, the whole experience was perfect preparation for creatively mothering my own children, and I still love making special desserts, now for my own little ones.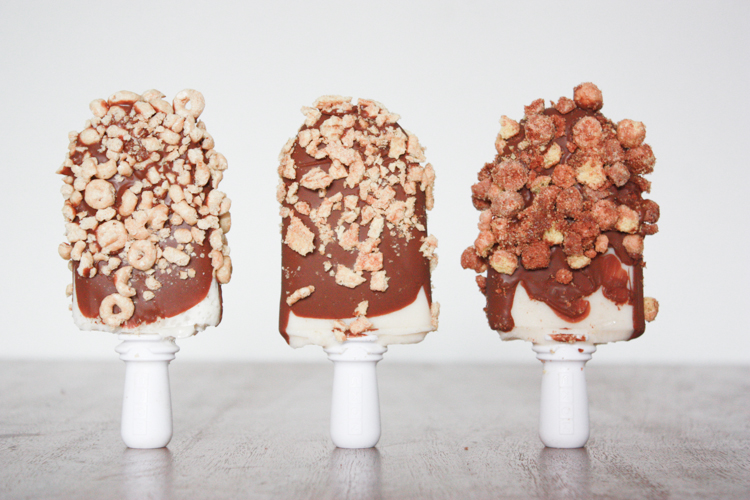 Special Dessert
For this special dessert, we took a traditional bowl of cereal and turned it inside out. The simple homemade popsicles are simply milk, banana, and a little scoop of sugar, then we dipped them in homemade quickset chocolate and rolled them in crushed cereal. YUM.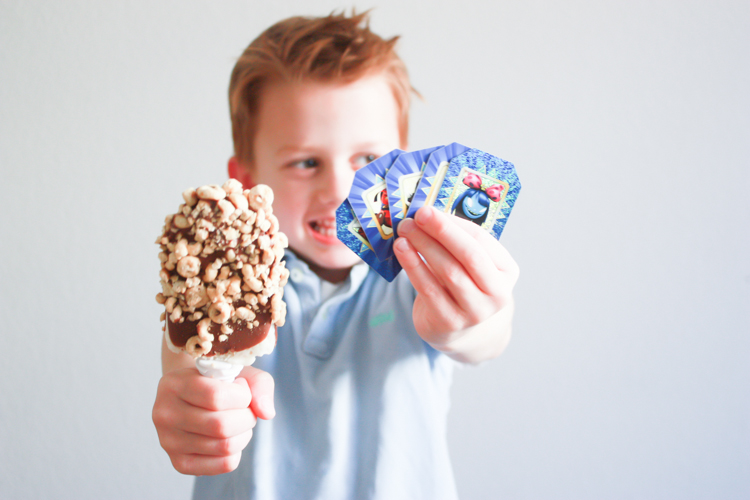 This special dessert was especially fun to make, because my kids love to "help me" in the kitchen, and for this they were actually able to help with all of it. They were also over the moon to find the Skylanders Skystone card game in the boxes of GM cereal we used to make these fun inside-out cereal pops! Serious mom win.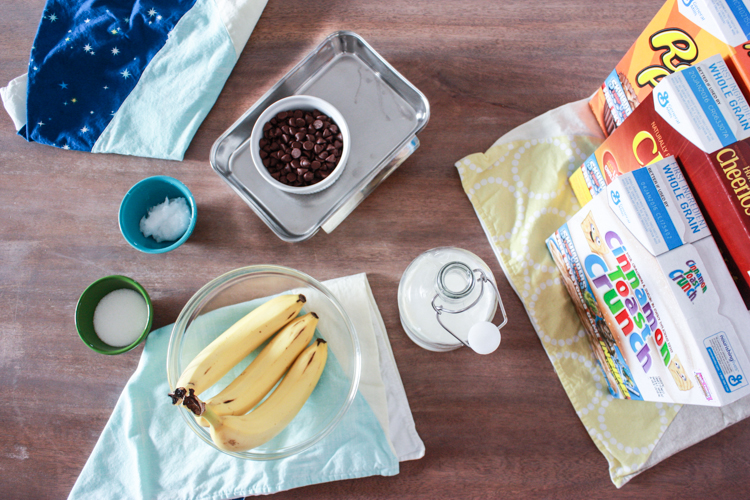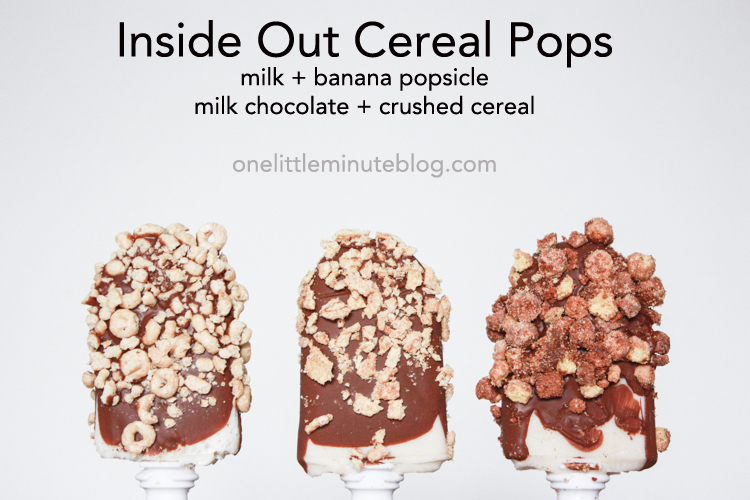 Ingredients
For the Inside Out Cereal Pops you will need:
1 cup milk (almond or soy will work as well)
1 banana
1 Tbsp sugar (*optional, I used it because we need the pops to have sugar to use our popsicle maker)
2 cups milk chocolate chips
2 Tbsp coconut oil
3-4 cups of your favorite Big G cereal (we used Honey Nut Cheerios, Reese's Puffs, and Cinnamon Toast Crunch)
You might have all of these things in your fridge and pantry right now!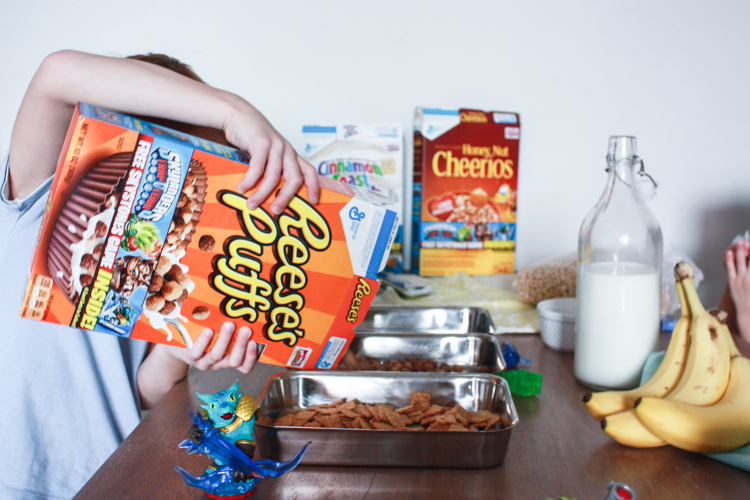 Make Your Own!
For the pops:
Blend the milk, banana, and sugar in a blender until smooth. Pour into your favorite popsicle molds, or small paper cups with popsicle sticks, and let freeze.
For the quickset chocolate:
Put the chocolate chips and coconut oil into a microwave safe container and heat for 45 seconds. Stir until smooth and melted thoroughly. Then put the chocolate into the fridge to cool. It needs to be room temperature or cooler to set properly onto the popsicles.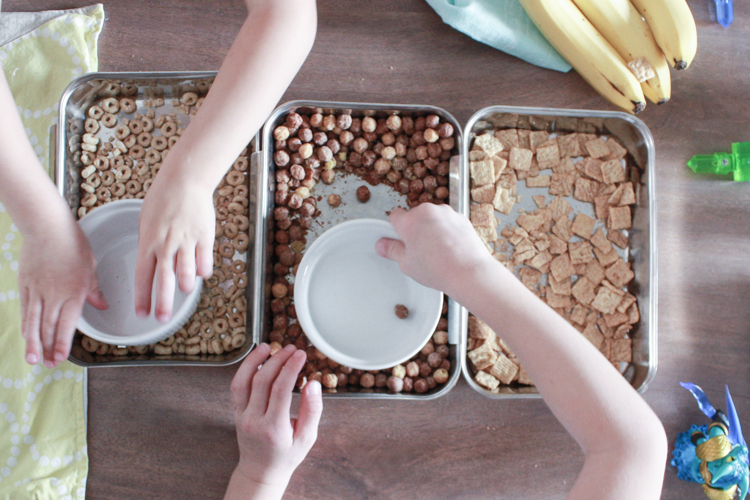 Pour a cup or two of cereal onto a plate or shallow bowl and crunch it into small pieces. My boys loved helping with this part (and eating about as much cereal as they crunched!)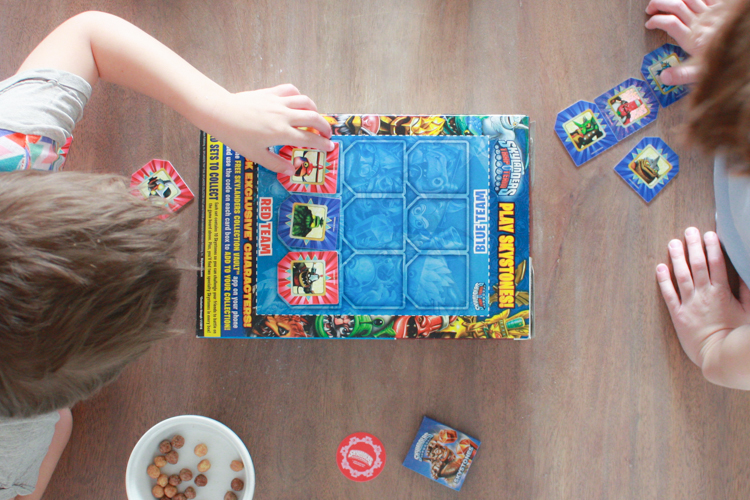 While I melted chocolate and let it cool down in the fridge, my boys broke out the Skystones game. General Mills and Skylanders teamed up and are offering four exclusive sets of Skystone cards inside specially marked Big G cereal boxes. The playing board is on the back of the boxes, so with a single box the game is complete and ready to be played, (there are secret codes that unlock players in the video game as well). I'll admit to not totally understanding all of the Skylanders game (or any video game for that matter!), but this Skystones card game is really simple and fun. The characters have different power values and my boys are learning to count the power with each move they make to determine if they won or lost each battle. I've been surprised by how easy and interactive it is, even for Eliot who is only three-years-old. It is also really nice to have them get to interact off-screen with these characters that they think are so cool.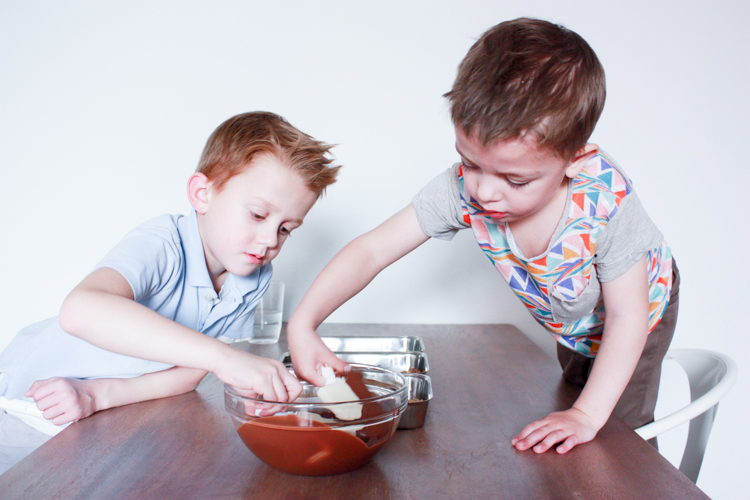 When the chocolate was ready came the most fun part of the special dessert, dipping each popsicle into the chocolate, then quickly rolling it in crushed cereal as it hardened, trapping the cereal in place on the chocolate crust. Looking back, it may have been easier to put the chocolate into a wide cup for dipping, rather than in the bowl, but the boys didn't mind their chocolate being a little off-centered, and it sure tasted good.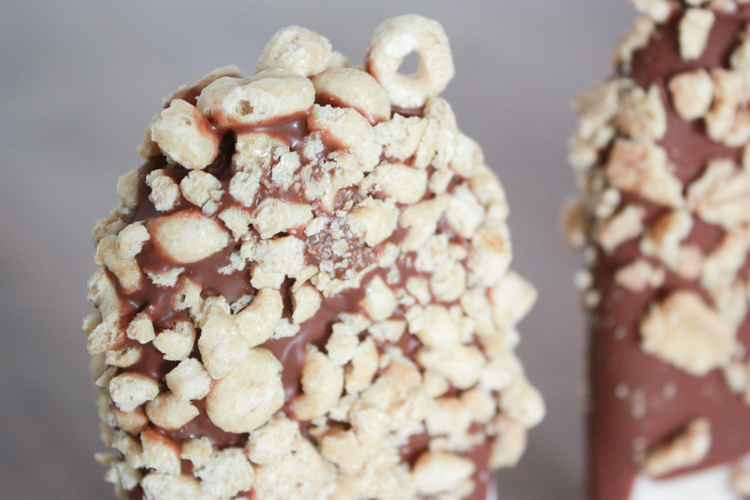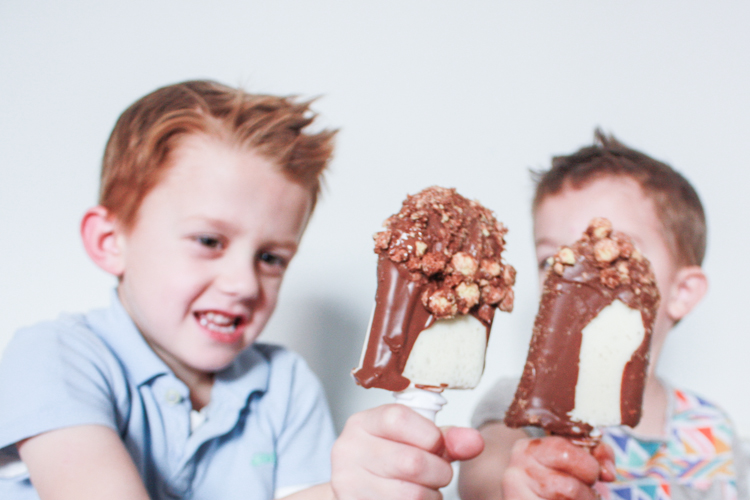 Choose a Favorite
My favorite pop was the cinnamon toast crunch variety. Something about cinnamon AND chocolate AND banana just hit the spot. Really, though, there is nothing but good things to say about honey and nuts and chocolate and banana, or peanut butter with chocolate and banana. I mean, it's all delicious and fun. I think these would be a really great activity at a slumber party, or dessert option for a brunch. We all love breakfast for dinner, and I'm now thinking breakfast for dessert is a pretty spot-on idea, too.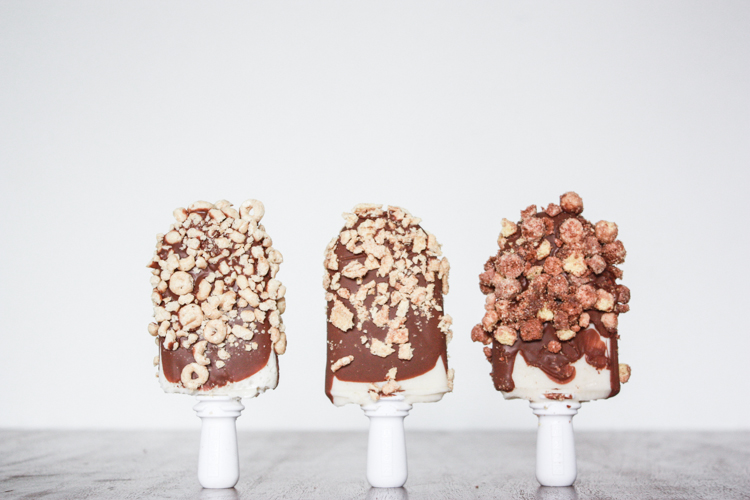 I was selected for this opportunity as a member of Clever Girls and the content and opinions expressed here are all my own.