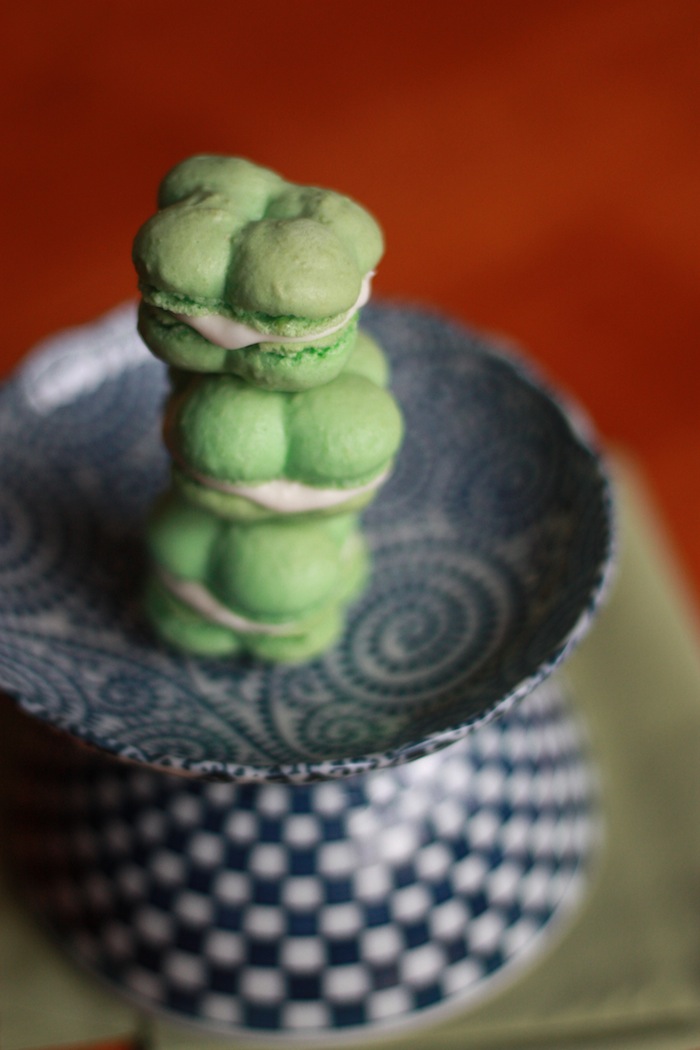 When I was a kid, I would walk home from school past the local 7-11. During the winter I loved getting a hot chocolate at "sev" and filling the top inch of the steaming cup with Irish Cream creamer. I could easily use 3-4 of those individual serving packets, and usually stuck a couple in my pocket for a swiss miss at home. Ah, the good old days.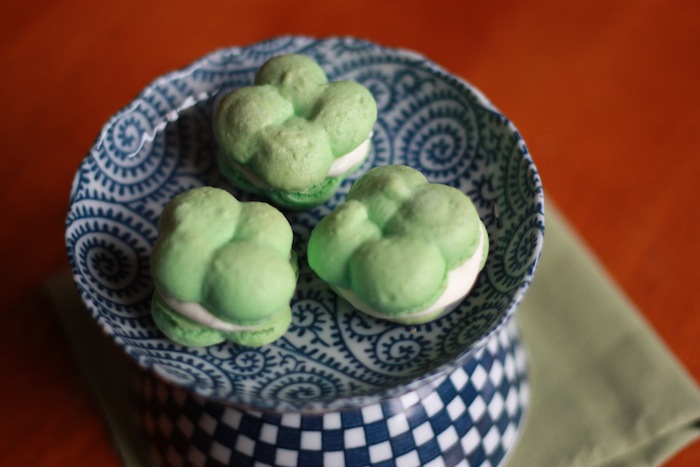 To celebrate the upcoming holiday, I thought I'd put a little twist on the classic macaron by filling it with Irish Cream Buttercream. This was only my second time making French macarons (I followed these steps) and I thought they turned out great! Maybe a little tiny but lumpy on the top because I omit the sifting step for lack of a sieve. But they are light, airy, crispy, chewy and delicious. I added about half a bottle of green food coloring to the egg whites before adding the dry mixture, and rather than piping single circles I piped four smaller circles to make a lucky clover.
The cookies are cute, but the buttercream really steals the show this time. I wasn't sure how it would turn out, because I invented the recipe as I stood in front of the dairy case. I was planning on simply making the shamrock cookies, but spotted the Bailey's Irish Cream coffee creamer and thought I'd give it a try in the filling. It's delicious (and non-alcoholic, which I wouldn't have even known to mention except in googling for this post realized that Irish Cream is, in fact a liqueur–not just a hot chocolate flavor.)
You won't be sad if you spend an hour and a half making these, and then eat them all the same day. I would know.
Irish Cream Buttercream
1 Tbs butter, softened
2 cups powdered sugar
2-3 Tbs Irish Cream coffee creamer
Beat butter and sugar with an electric mixer. Add creamer in a slow stream until frosting is fluffy and thick. Sandwich between macarons. (Or spread on chocolate cupcakes. Or eat with a spoon.)