There's nothing quite like a family weekend to get away from the the daily grind. We have made nearby weekend trips a regular part of the culture of our family, and feel so renewed by going on adventures and experiencing new places together. This last weekend we drove a quick hour and a half south to visit Yogi Bear's Jellystone Park™ Hill Country near San Marcos, Texas. From start to finish the weekend was packed with fun, family-friendly activities, outdoor playtime, and festive fall events. It was just what we needed to reconnect to each other and make new memories.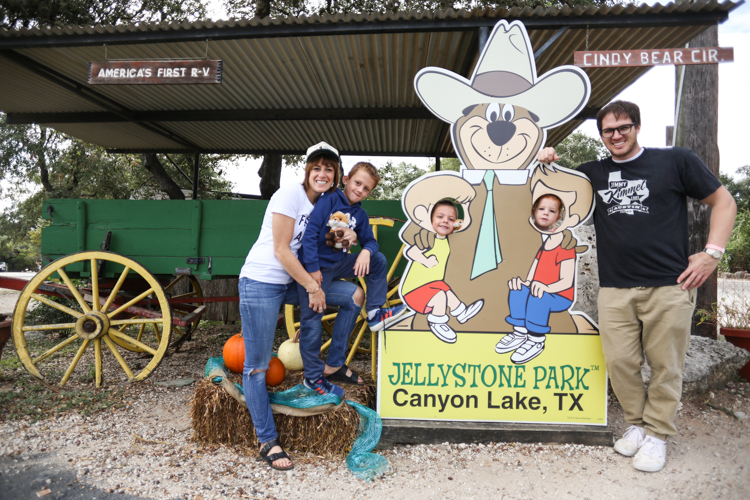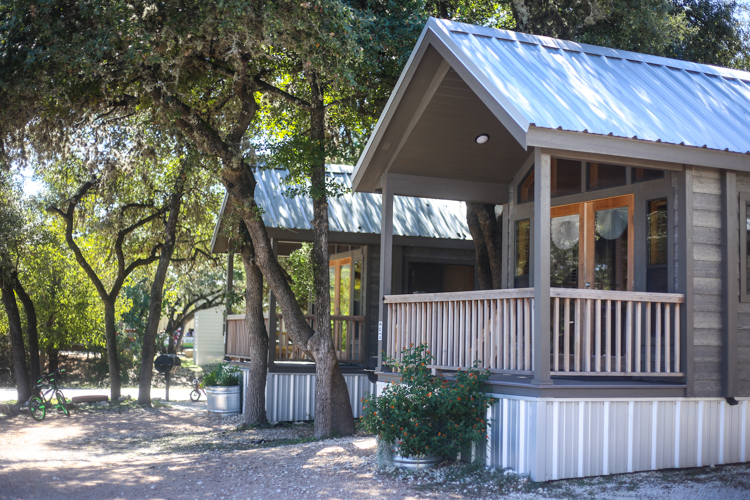 When we moved away from Utah years ago, I realized that elsewhere in the country people talk about "camping" in a whole different way that I knew. Going camping for me had always included sleeping in tents and cooking over a fire. Turns out there are all sorts of ways to camp, and these darling camp cabins are definitely a new favorite! This Hill Country Jellystone Park™ also includes tent and RV sites, as well as a whole variety of different types of cabins, so there's something for every comfort level and price point.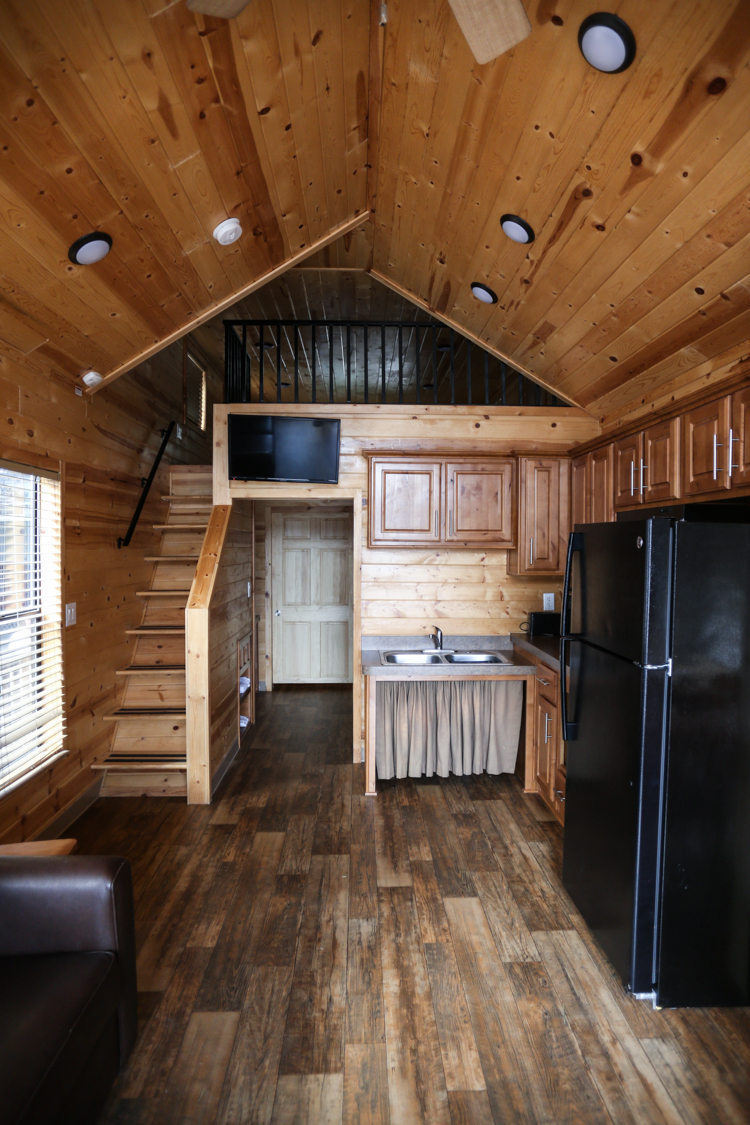 We left Austin after work on Friday and arrived just in time to join the pizza and movie night at the Hill Country Hall. Our kids think eating anything but pizza on a Friday is blasphemy (since we've been holding our own family pizza nights since Milo was a baby) and they loved getting their own personal pizza, a soda, and popcorn for the film.
Our cabin was pet-friendly, so we brought Quincy Jean along. The layout included a bedroom with a queen bed in the back, bathroom, kitchen, eating/living area, and a fun loft for the kids. We easily fit comfortably and could have even shared (using the pull-out couch bed) with some close family friends or cousins. The beds were comfortable and clean, and the ac/heating made it easy to adjust for the crazy Texas fall weather that feels like summer in the daytime and winter at night.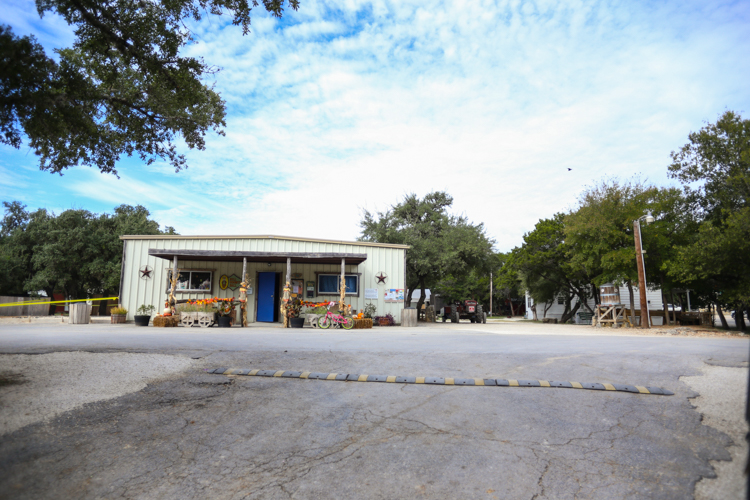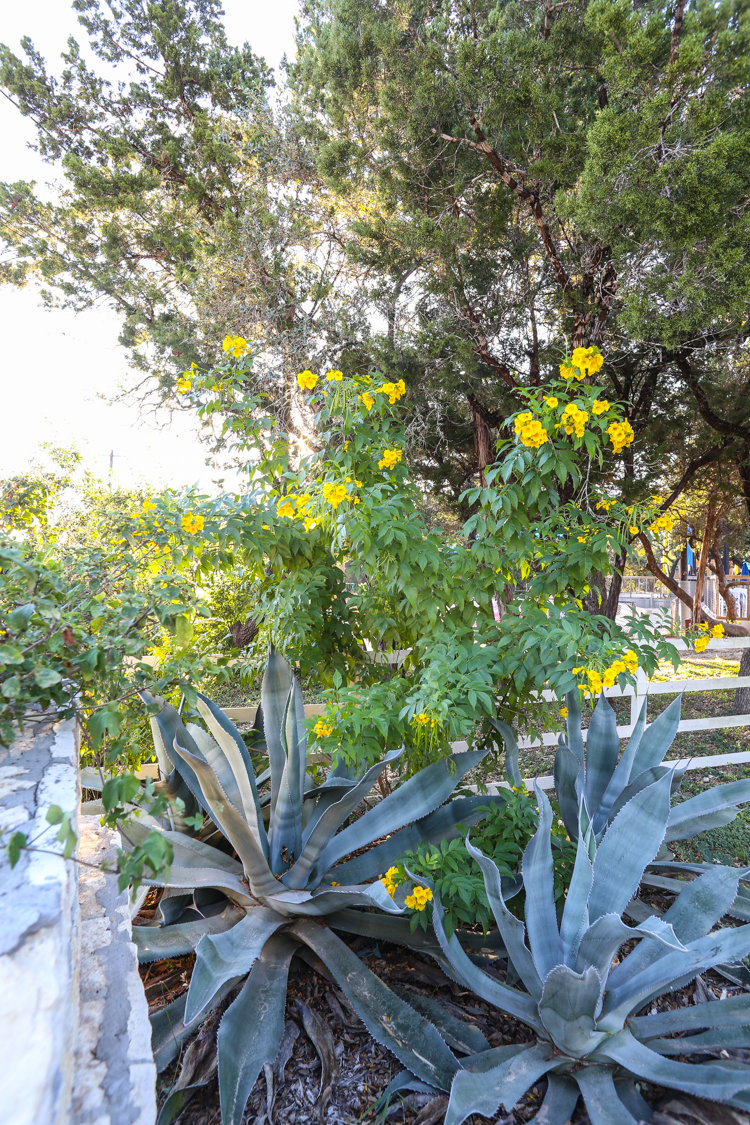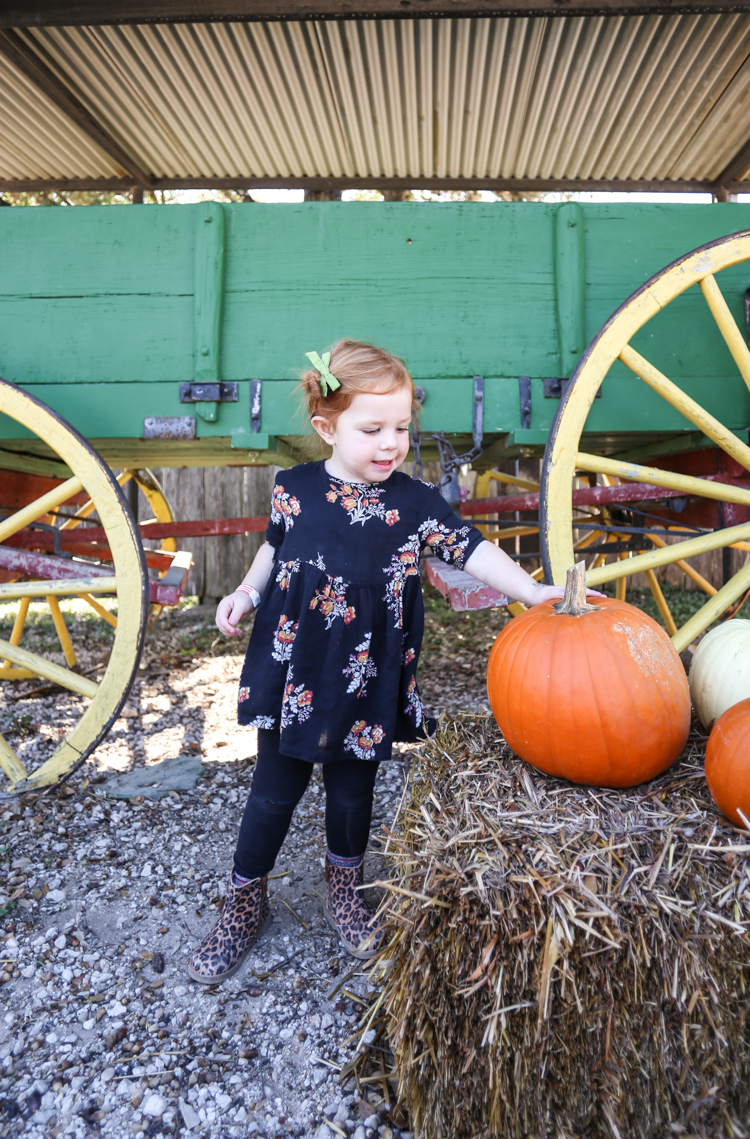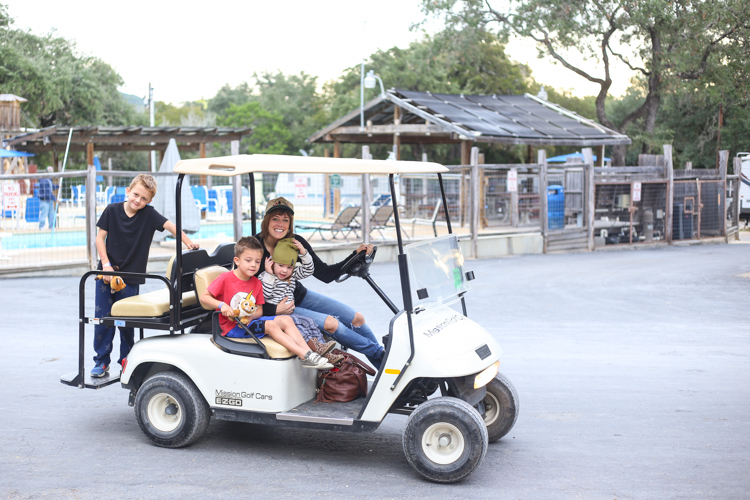 I didn't expect the park area to be so big! There were several different neighborhood-feeling areas of cabins and sites along a few main roadways. I loved the Texas landscaping, with native flowers and succulents along the roads and in the planters. The main gathering buildings were all decorated for Halloween, along with some fun fall photo ops, like this cute pumpkin patch wagon.
Although everything was near-enough to get to on foot, most of the campers were traveling on bike or on the golf carts available for rent. My boys were over the moon when they heard we'd be driving a golf cart all weekend and Eliot asked if we could please bring it home?! I feel the same way, buddy!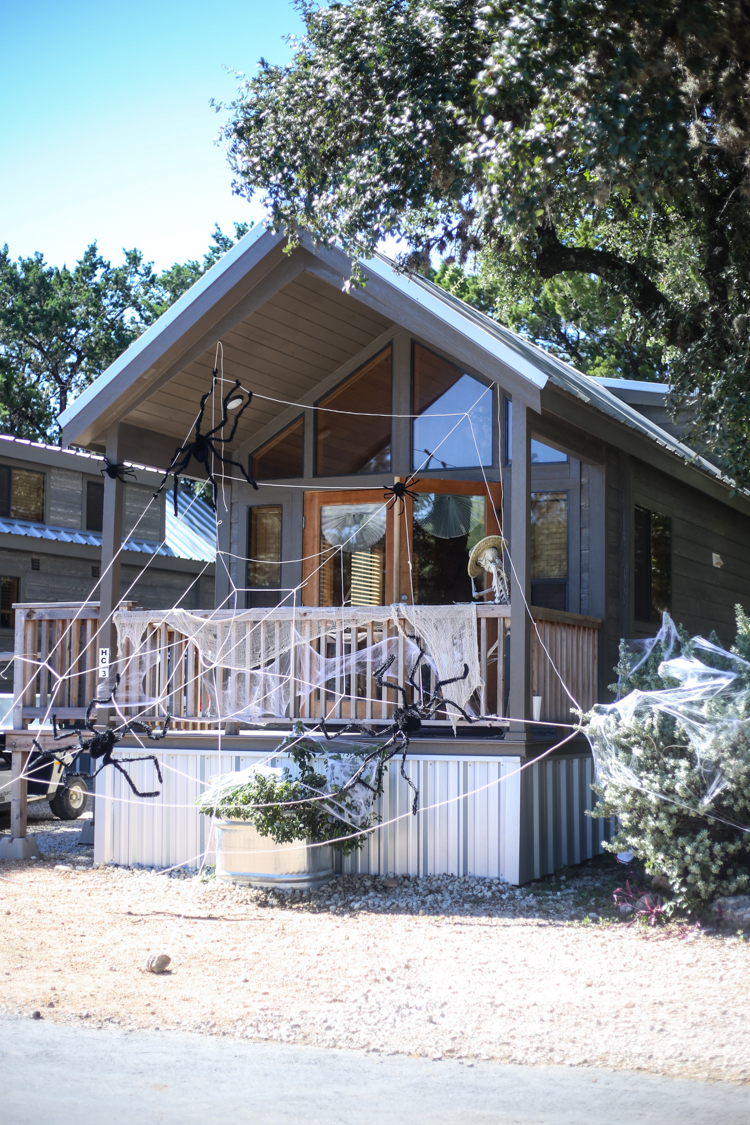 I read up on the weekend's activities ahead of time, and came prepared to enter the site decorating contest. Not having any idea what the level of involvement would be, I talked it over with the kids and we planned to create a giant spider web with some spiders for the front of the cabin. I tied the web from simple cotton rope, grabbed a few huge spiders, and then added a life-sized skeleton with a cowboy had for good measure. It turned out so cute!
There wasn't a chance for it winning we realized, once we saw the other sites that had come ready. From multiple blow-up halloween characters to a full projection of Ghostbusters on the side of an RV, these campers weren't messing around! The decorated sites made camp-or-treating so fun, and we loved participating.
First up on Saturday morning was the pumpkin seed planting tractor ride. I had never seen a patch activity like this before!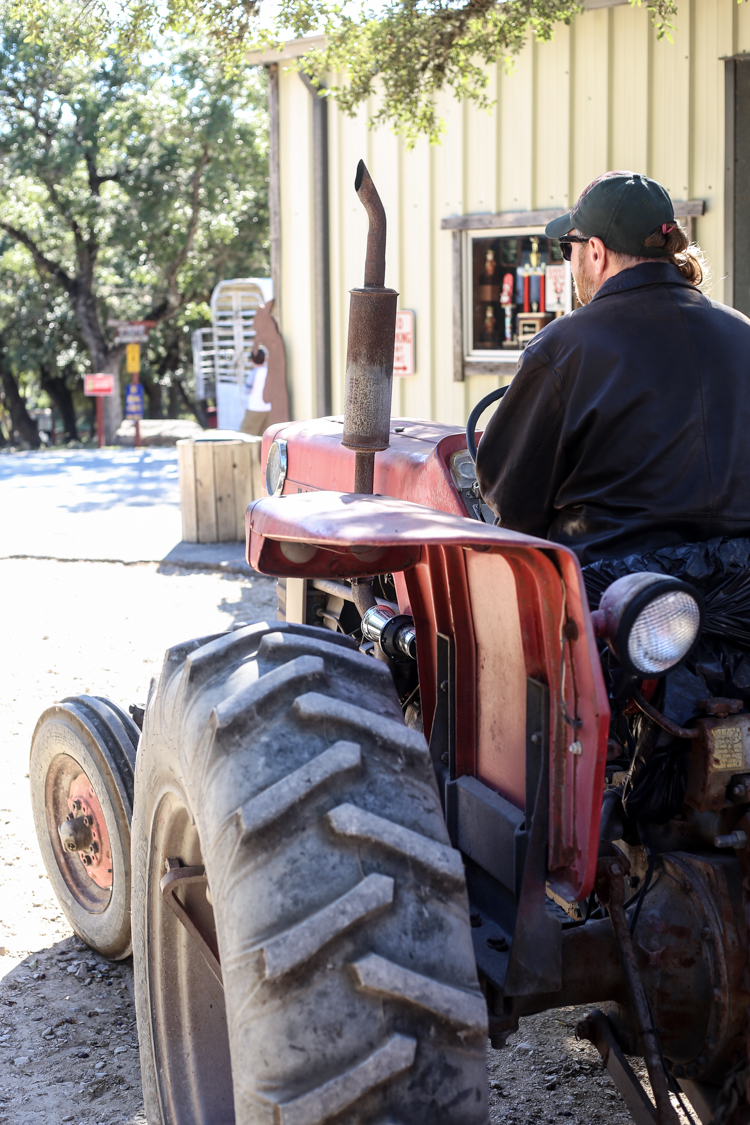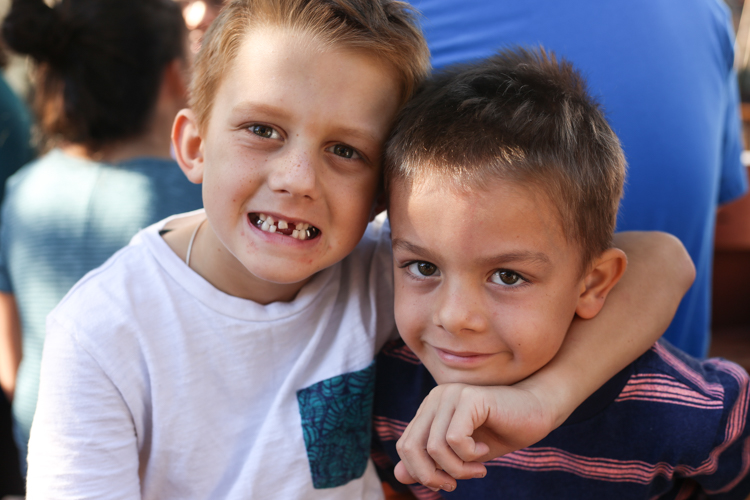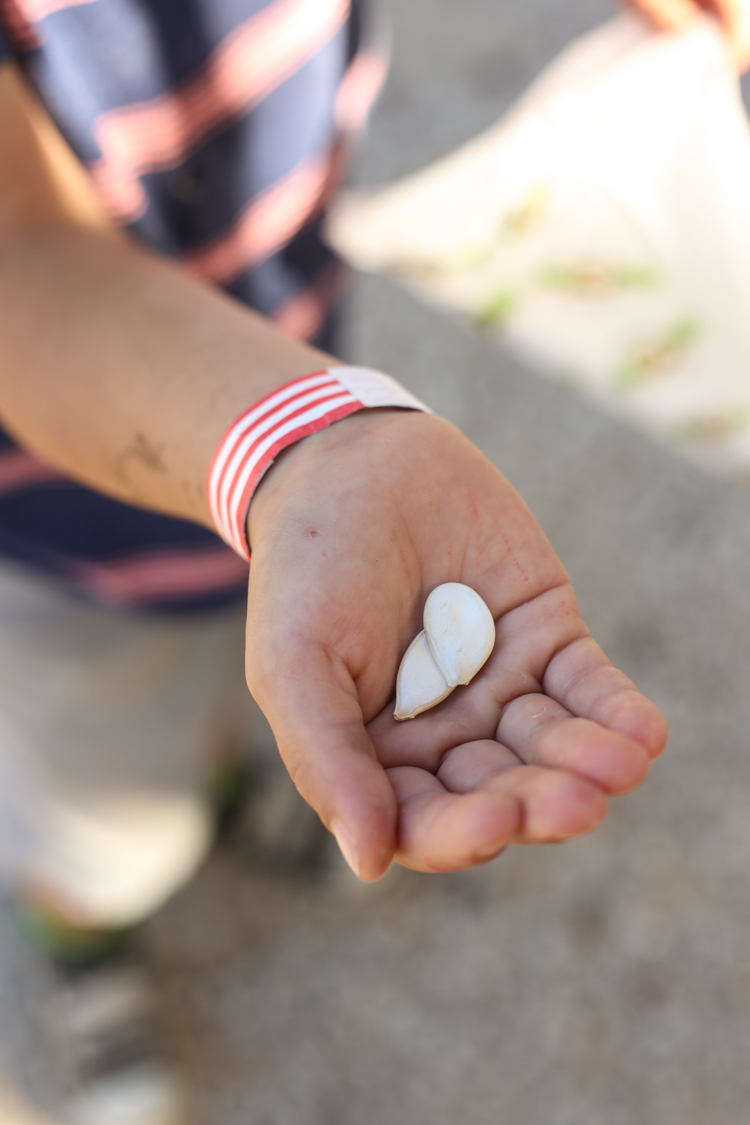 Each of us got a pumpkin seed and a stake with our names on it to plant in the field. We loaded onto the camp tractor and took a ride over to an open field lined with flags to "plant" our seeds. Then, after lunch the tractor took loads of campers back over to pick their pumpkin that had grown!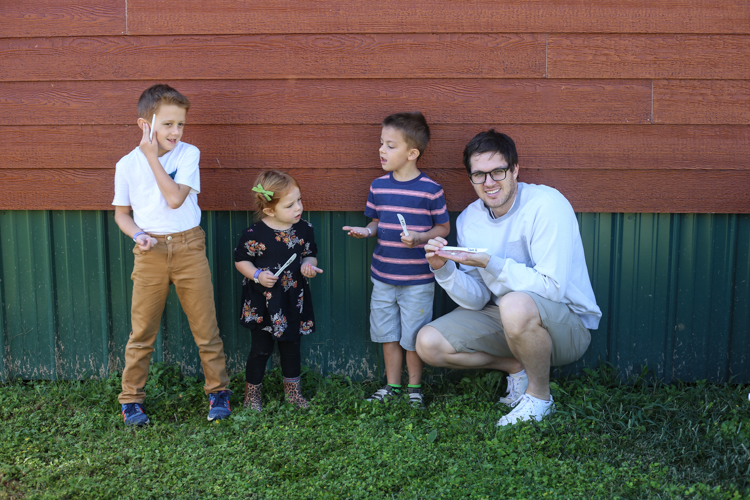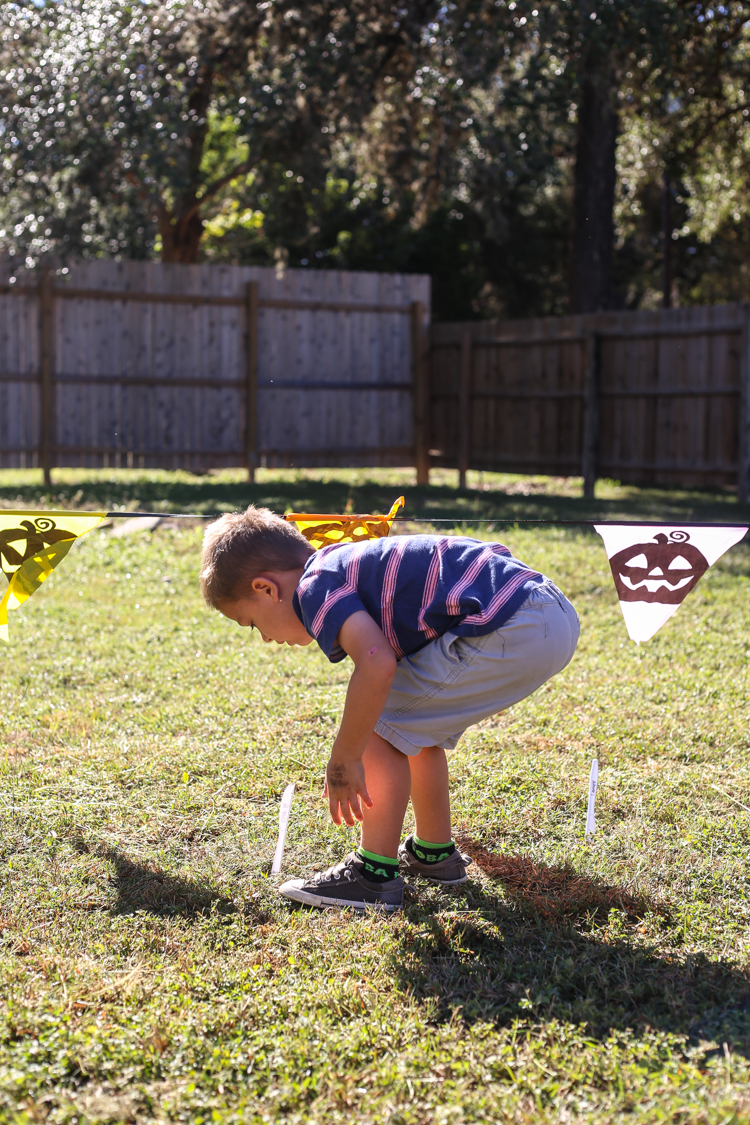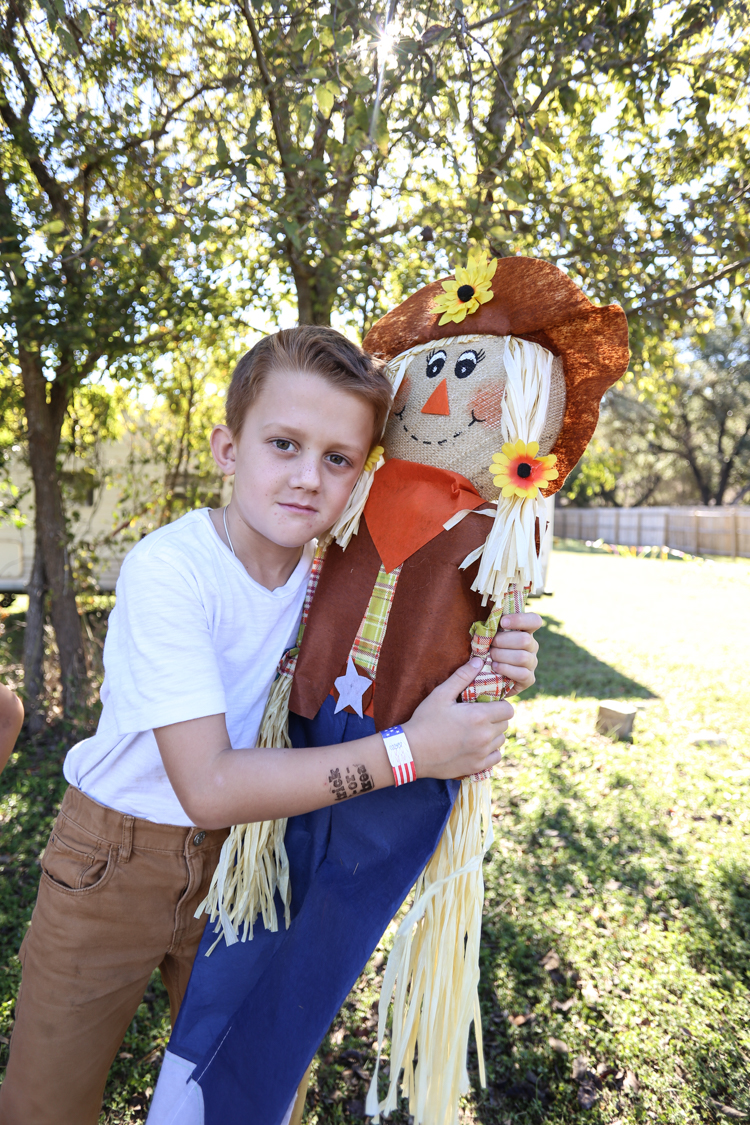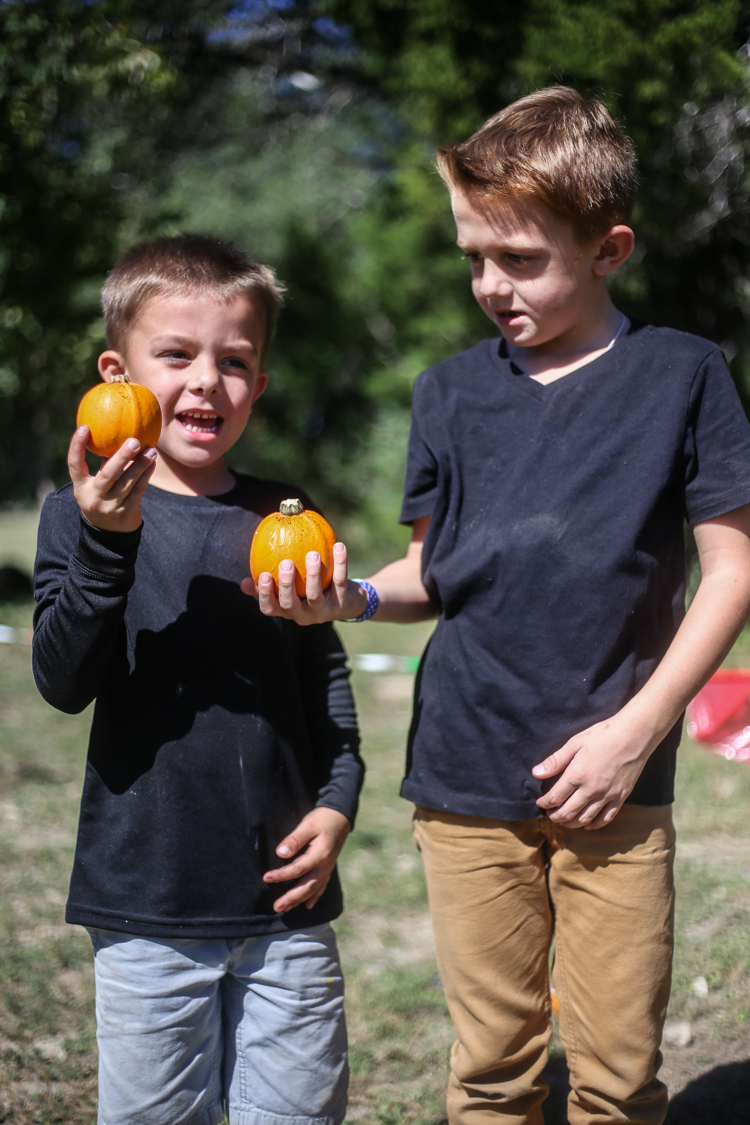 I had't ever heard of this type of two-part pumpkin patch activity and loved how creative it was! The kids looked forward to going back to find their pumpkins in the afternoon. Cute, skeptical seven-year-old Milo dug up his seed and told me "Mom, it did't really grow, they just put the pumpkins here." Ha! That didn't stop him from thinking they were pretty awesome though.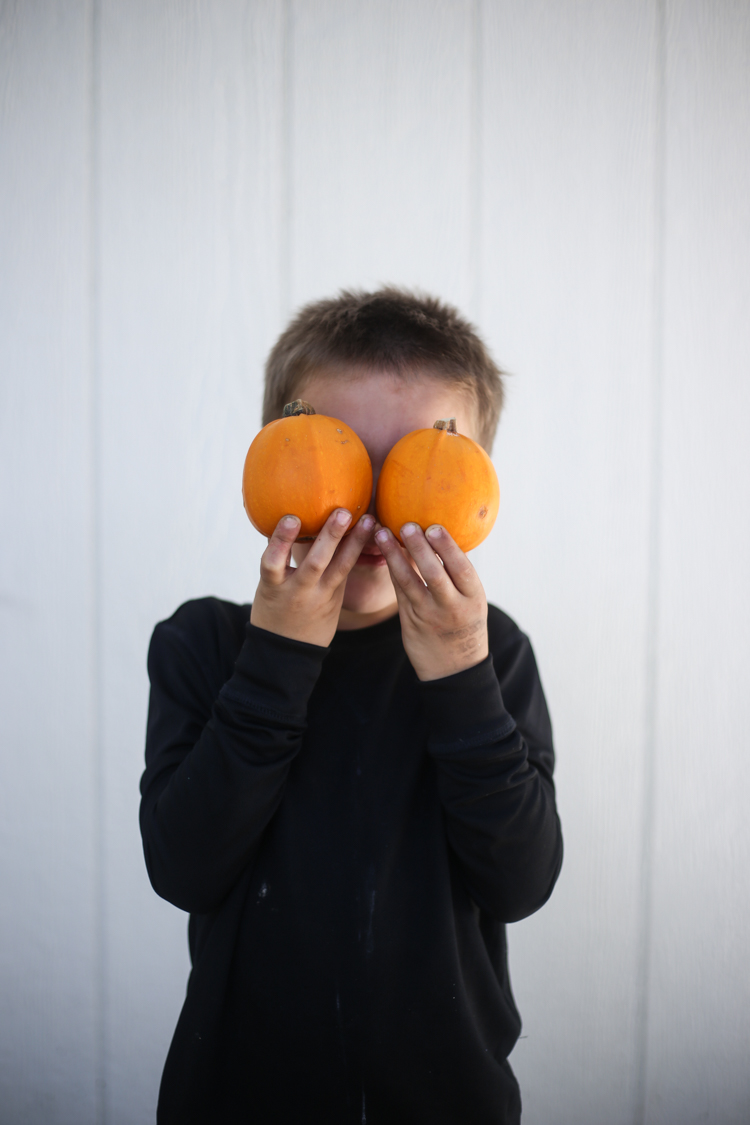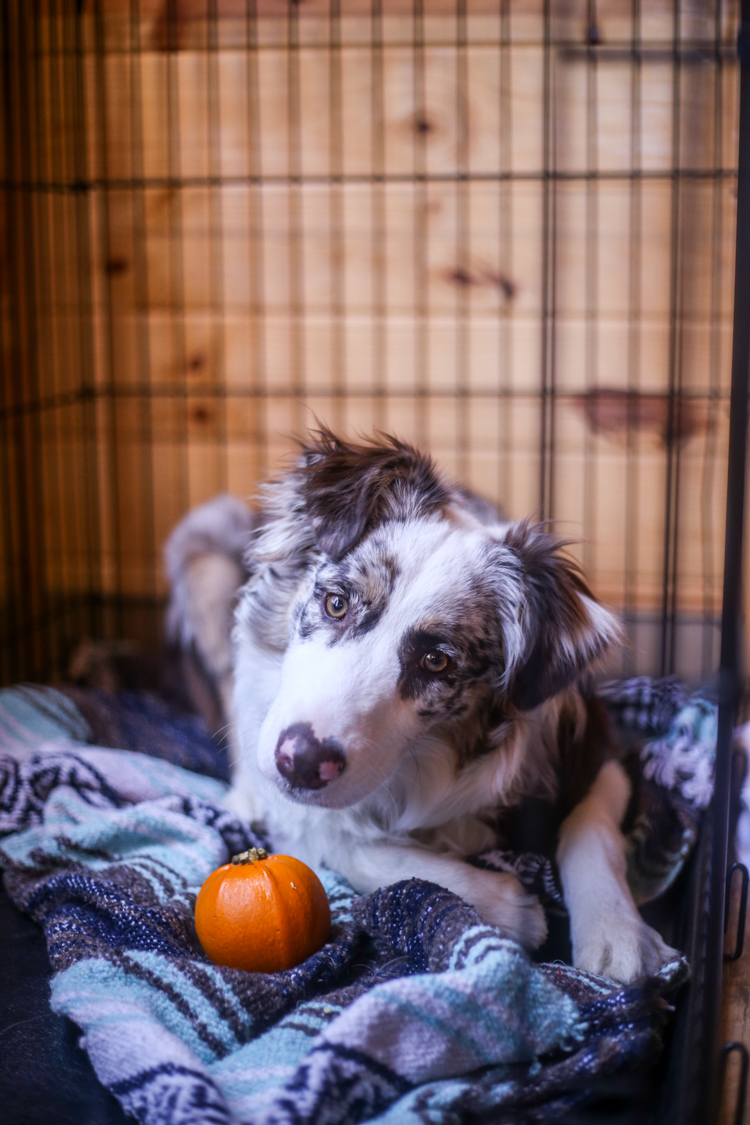 Of course, back at the cabin, Quincy Jean got a hold of one and it became her chew toy for the weekend. We've had her since May and I've still yet to remember all of her puppy accessories when we travel! This time we remembered the leash and crate, but not the food or toys. We'll get there.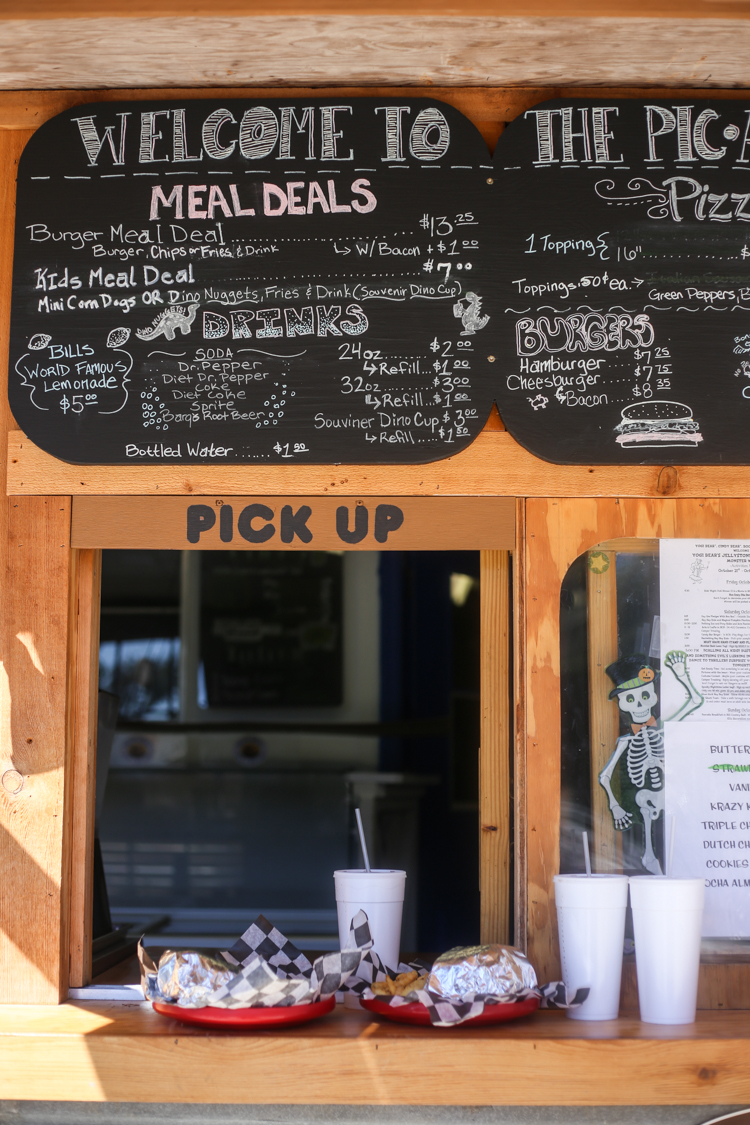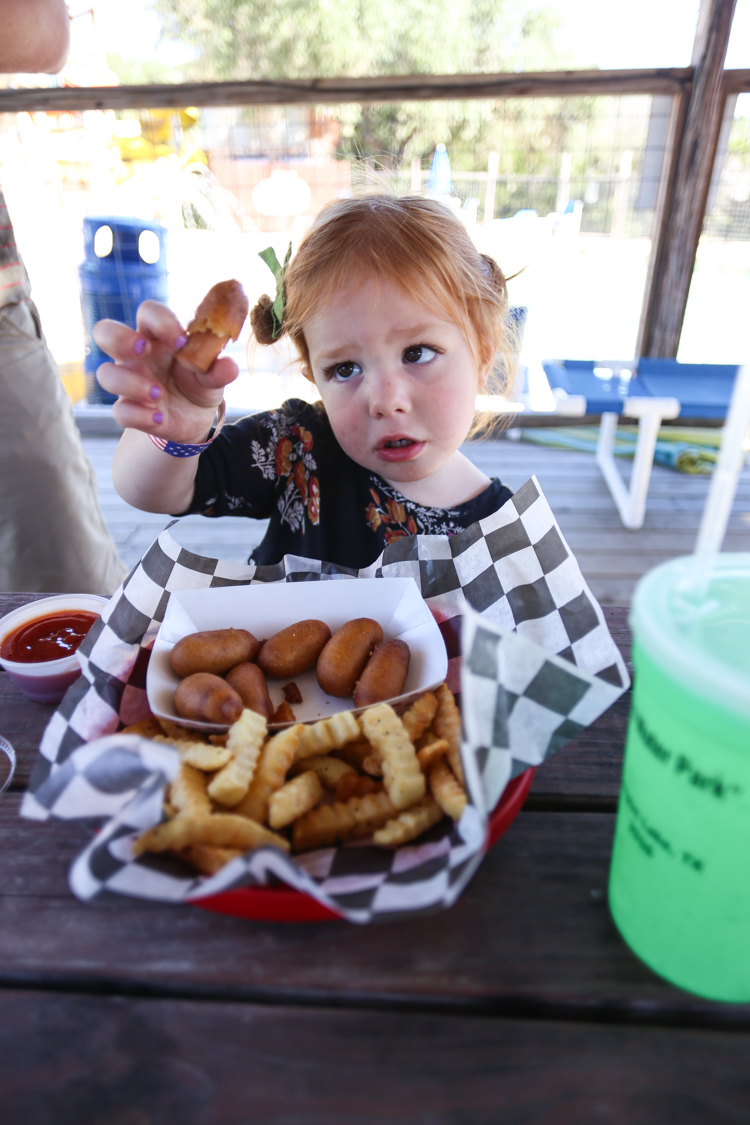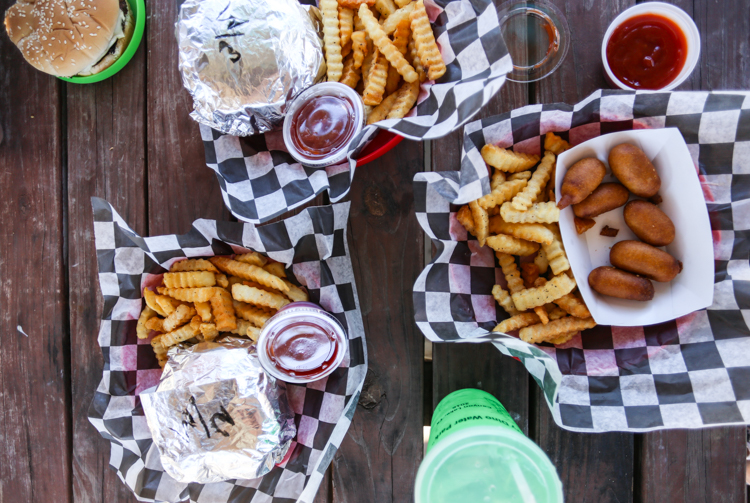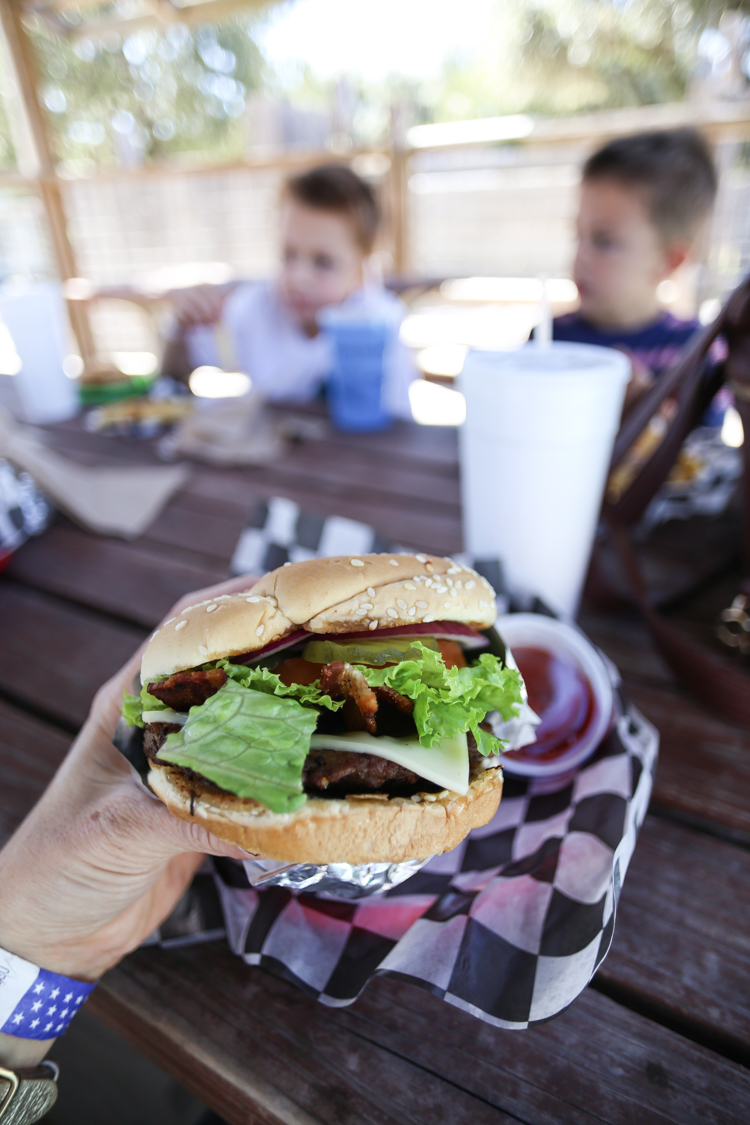 We packed food to eat about half of our meals at the cabin, and planned to try some of the camp food for the others. I heard the Pic-A-Nic Basket snack bar had great burgers, so for lunch we gave them a go. They were really good! I ordered mine with bacon, cheese, and everything on it and it was fresh, juicy, and delicious. The kids all ate their meals happily, we finished almost all of those thick, crinkle fries, and as a bonus all of the meals came served on Jellystone Park™ frisbees! Such a perfect idea for camp food, especially considering there is a frisbee golf course on site. Thumbs up!
Now, this next part seems silly, because there really is SO MUCH TO DO it's almost ridiculous. With every new activity we tried, the kids would say it was their new favorite! I shared all about our stay on my Instagram Story and had friends and and family members responding with comments of "What is this place!" and "That looks so amazing!"
It really was.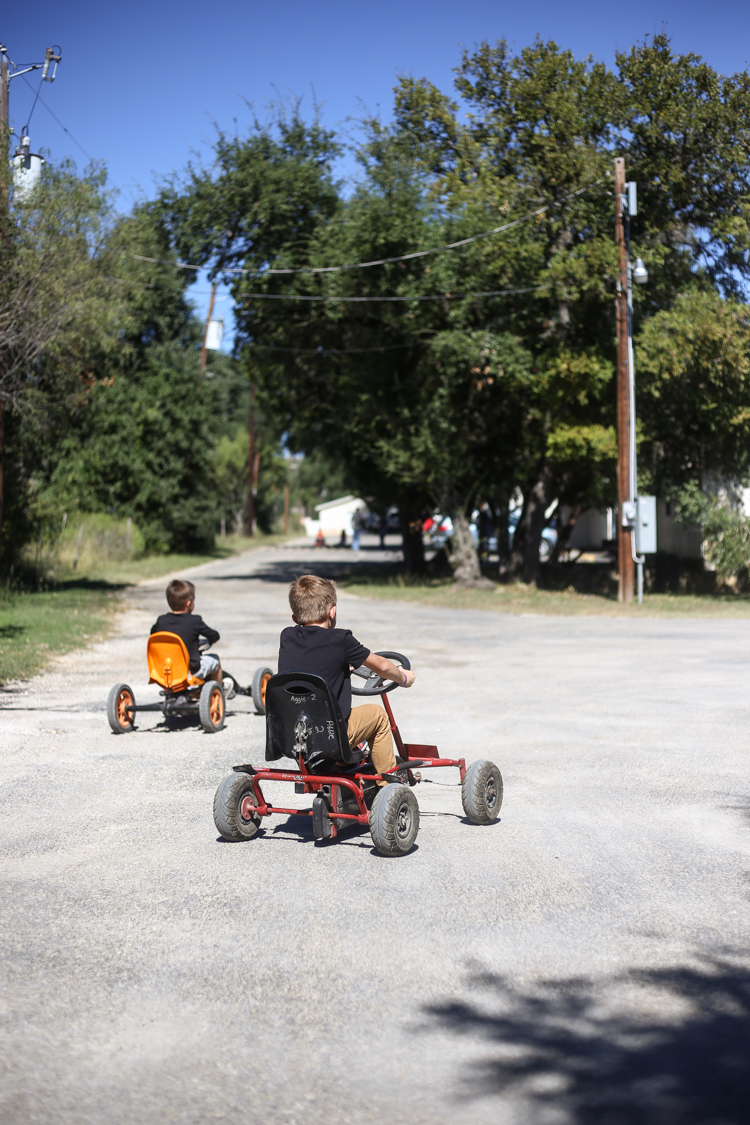 Pedal Carts are like go-carts with bicycle pedals. The boys and I cruised around the park on them for a half hour and laughed so hard we were crying. We raced, challenged each other to an uphill battle, and might have even played a little accidental bumper cars. They are so cool, I really do want some for home!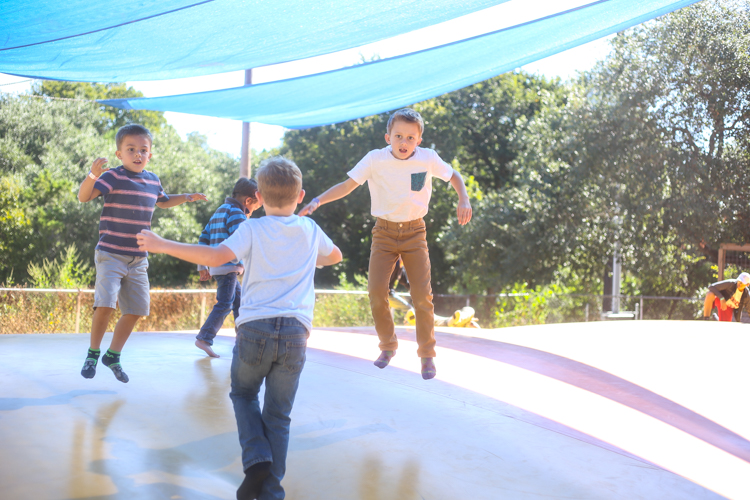 This jumping pillow is like an inflatable bounce house, but even easier and more fun to use because it's enormous. It bubbles up from the sandy ground, making it super easy for kids of all ages to get on and play. There were all sorts of ages running and jumping along, and my boys were entertained for a solid half-hour while we waited for lunch.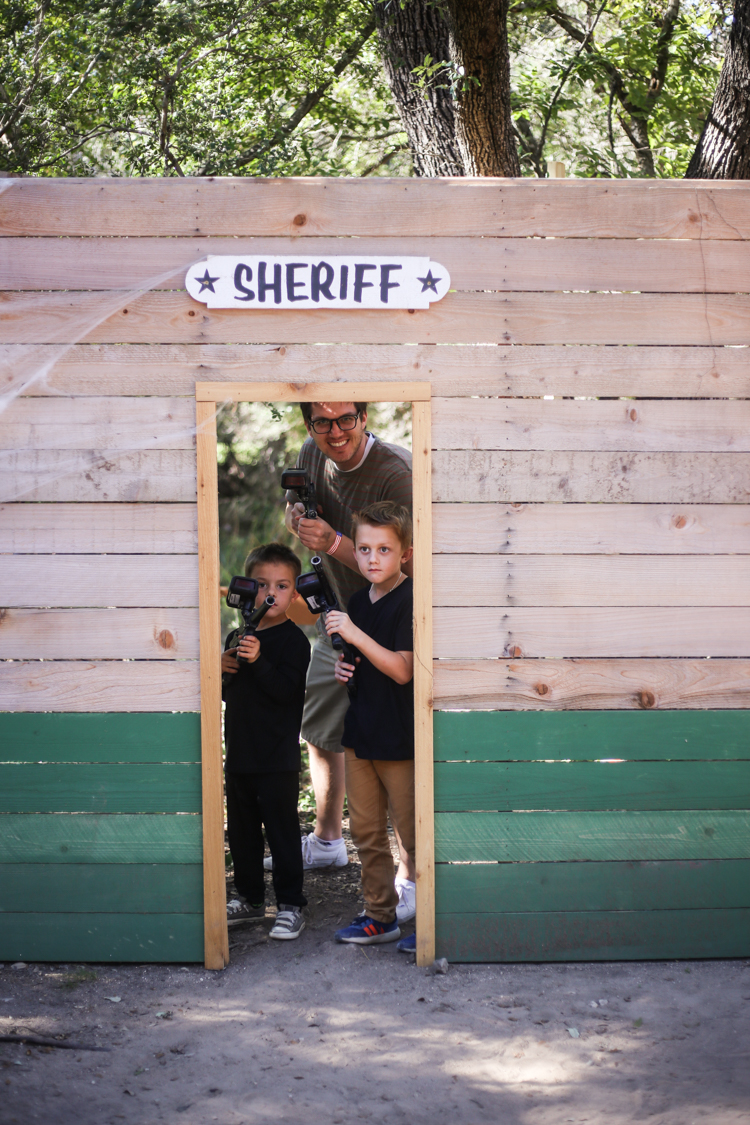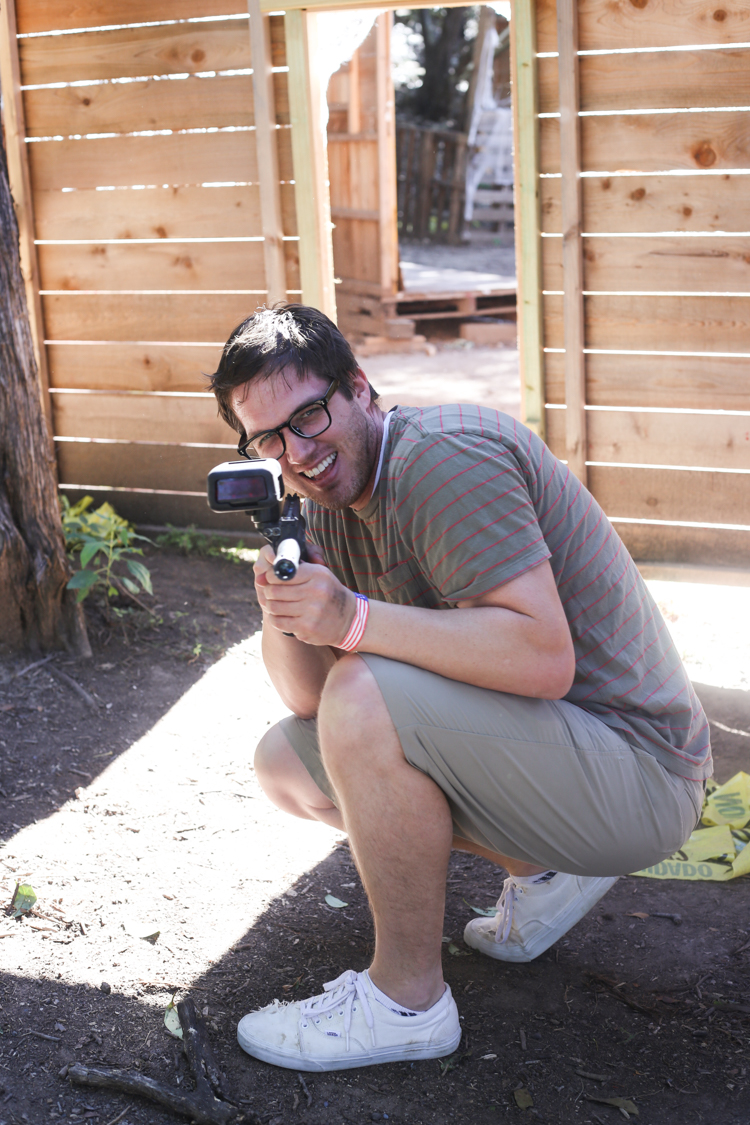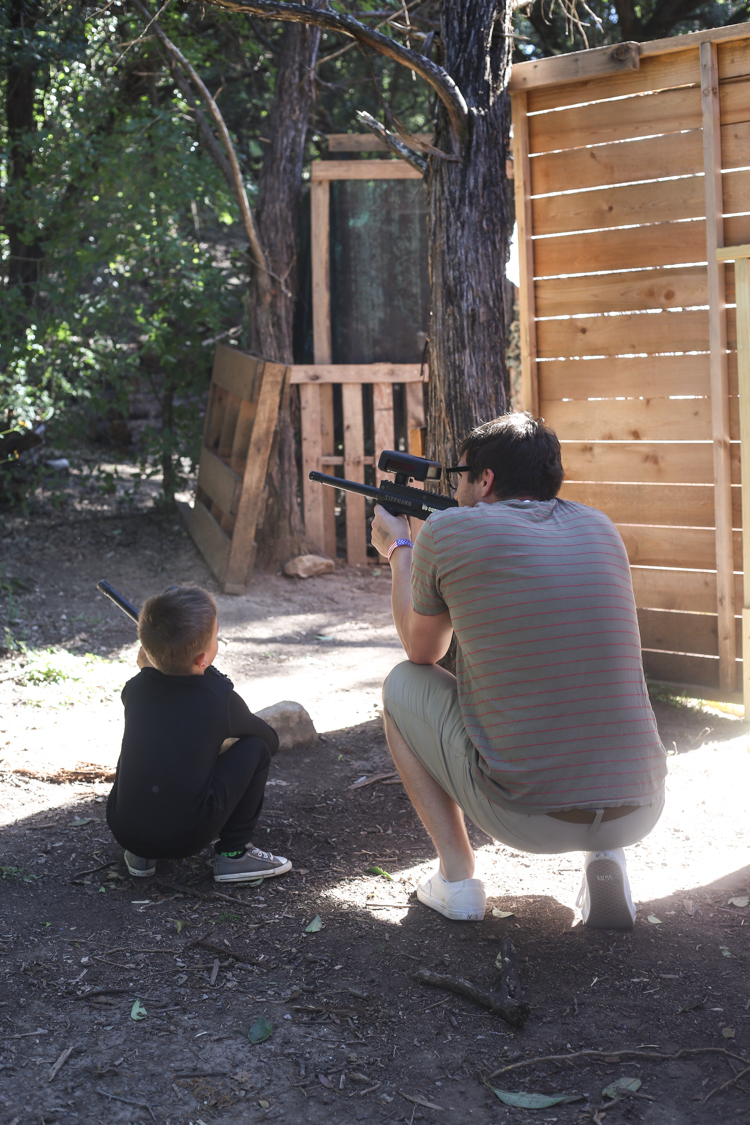 These boys looked forward all day to playing laser tag. The course was set up outdoors, and was designed like a cool, old, ghost town. With the trees and shelters for hiding, the game could be super strategic! The game was a free-for-all with every man for himself, which meant that Eliot spent a lot of time shooting at his Dad (who had just as much fun as the kids!)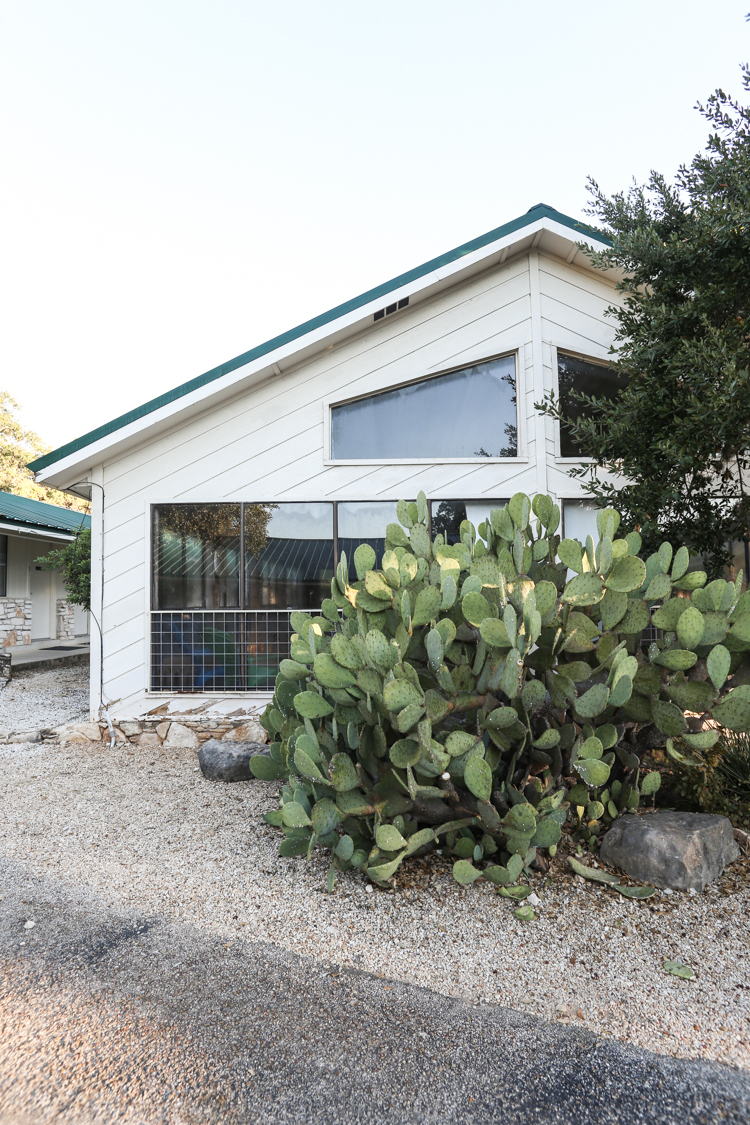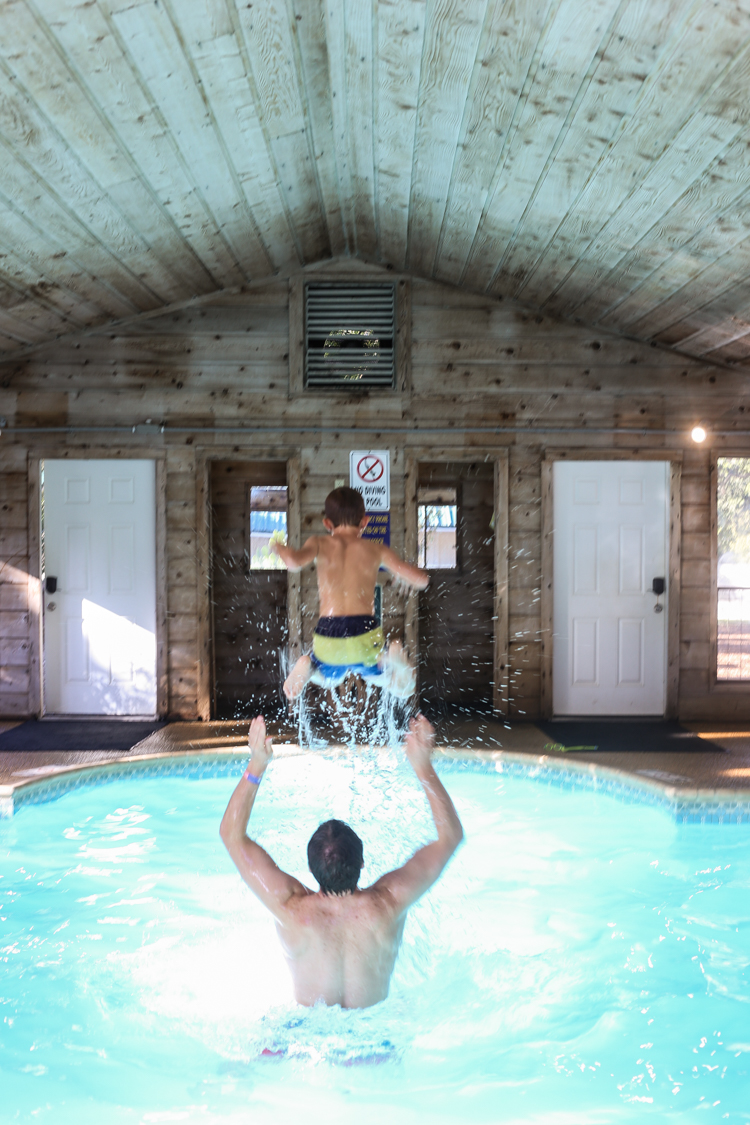 The indoor swimming pool was a welcome treat for my water-loving babies. We've missed being in the pool, even though ours just closed a couple weeks ago, and this was a fun chance to get wet and practice those kicks. It was also such a treat to swim with dad, who is working most of the time we go to the pool in the summertime. He throws higher than mom can, no question.
Also, of all the buildings, the indoor pool was my very favorite design. And that giant cactus out front? Perfection.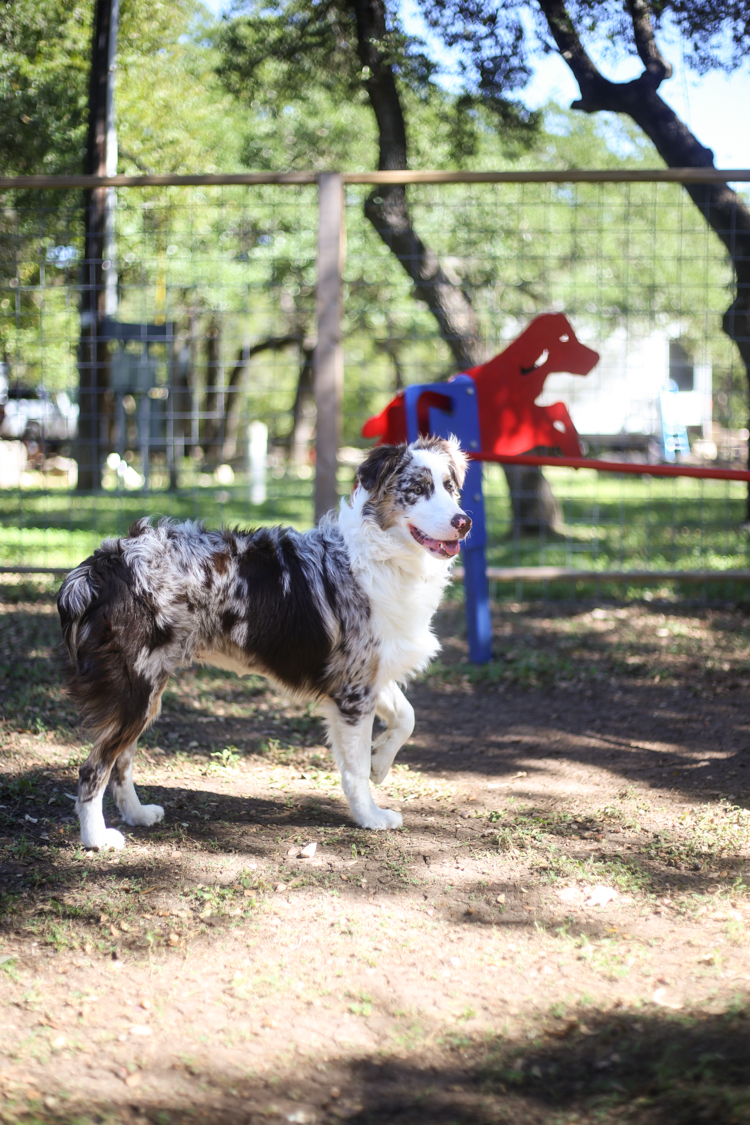 Of course Quincy Jean wasn't left out! She loved running free in the bark park area, and checking out the dog agility toys, although she wasn't sure how to jump over or through any of them, yet. We also were able to take her on the leash walking between all of the other sites and activities.
Whew! This was all one day!
I loved being able to do a little bit of everything, spend time outside, and really get some quality time with the kids playing. Sometimes I think we need to use both hands and feet to PLAY the way kids play, without distractions or trying to get something done while they're entertained. This weekend wasn't for relaxing and renewing, it was for reconnecting and renewing. The best way for that to happen is by getting really present, looking into those kid's eyes and seeing things the way they see them.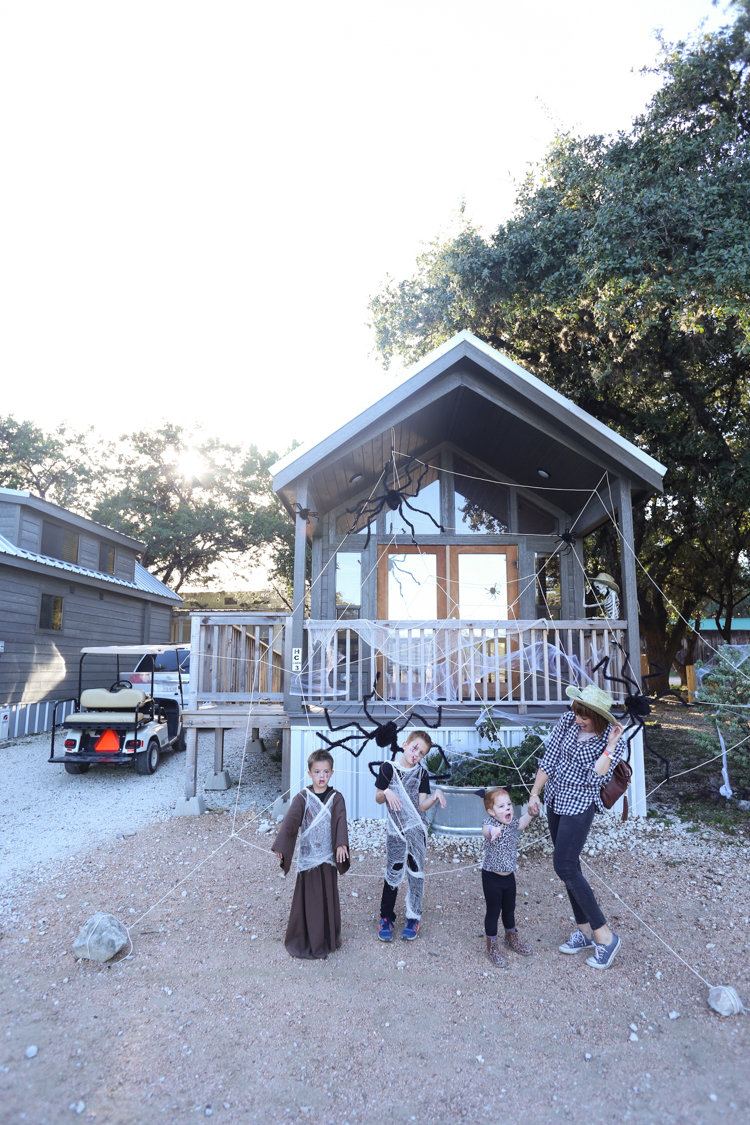 After all that, we pulled together some costumes since my kids haven't yet decided what they want to dress up as this year. I brought Plum her cheetah shirt and some felt ears, Eliot had the DIY Jedi Robe I made him a few months ago, and Milo just wrapped himself in spider gauze to be a zombie. At the last minute, I pulled on this cowboy hat and my plaid shirt, and ended up winning third place (out of three) in the adult contest! Ha!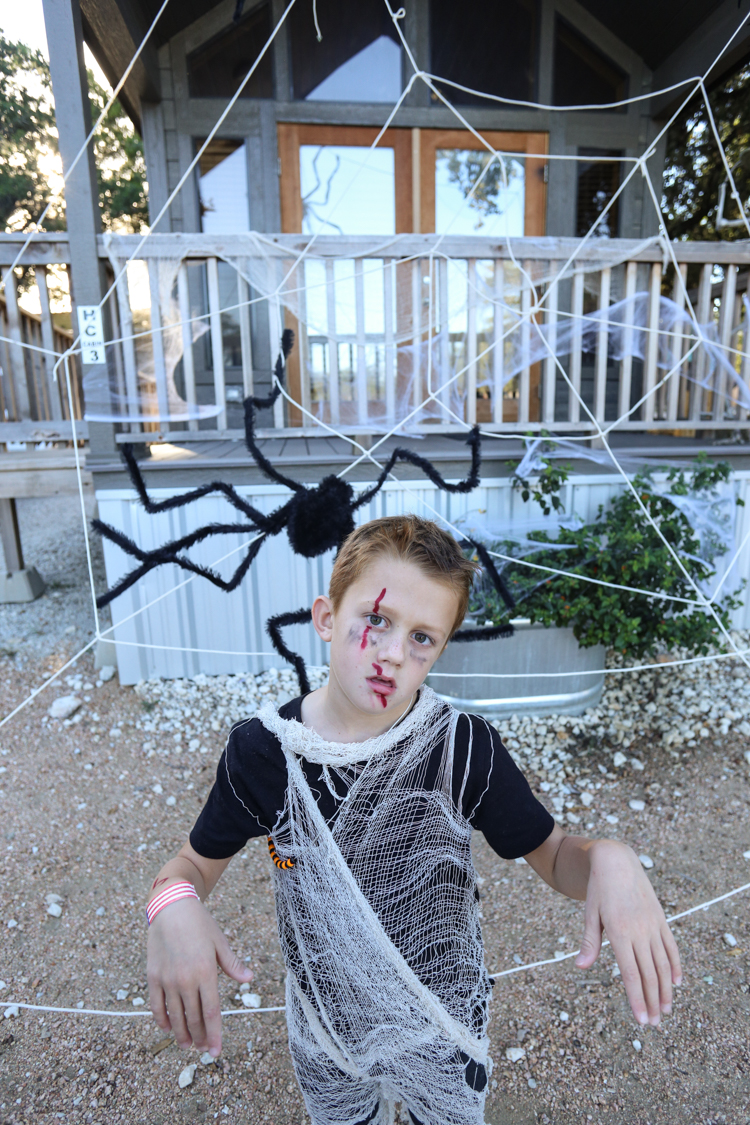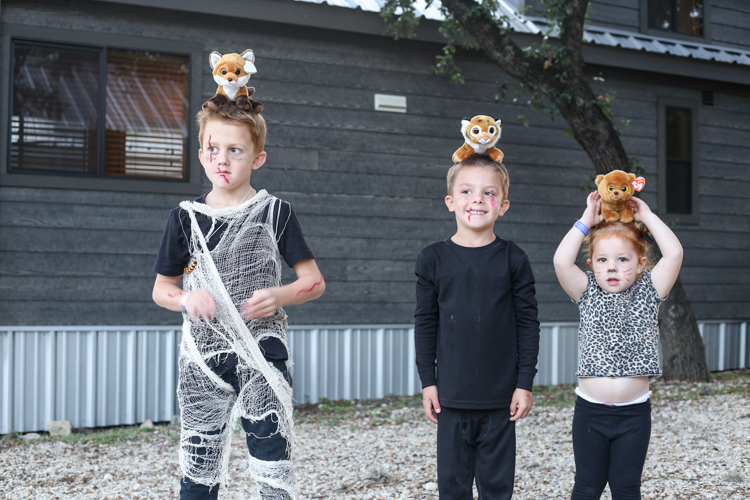 It's amazing how far a little eyeliner and lipstick go to making a Halloween costume feel legit. Even so, the kids were nervous to participate in the costume contest, so we sweetened the situation by offering to take them to choose a souvenir at the camp store when it was over. We had planned to do souvenirs anyway, and this way they didn't feel the pressure of wining a prize, because they could choose their own. They couldn't have been happier with their little stuffed toys, and it was fun as a parent to encourage them to play along.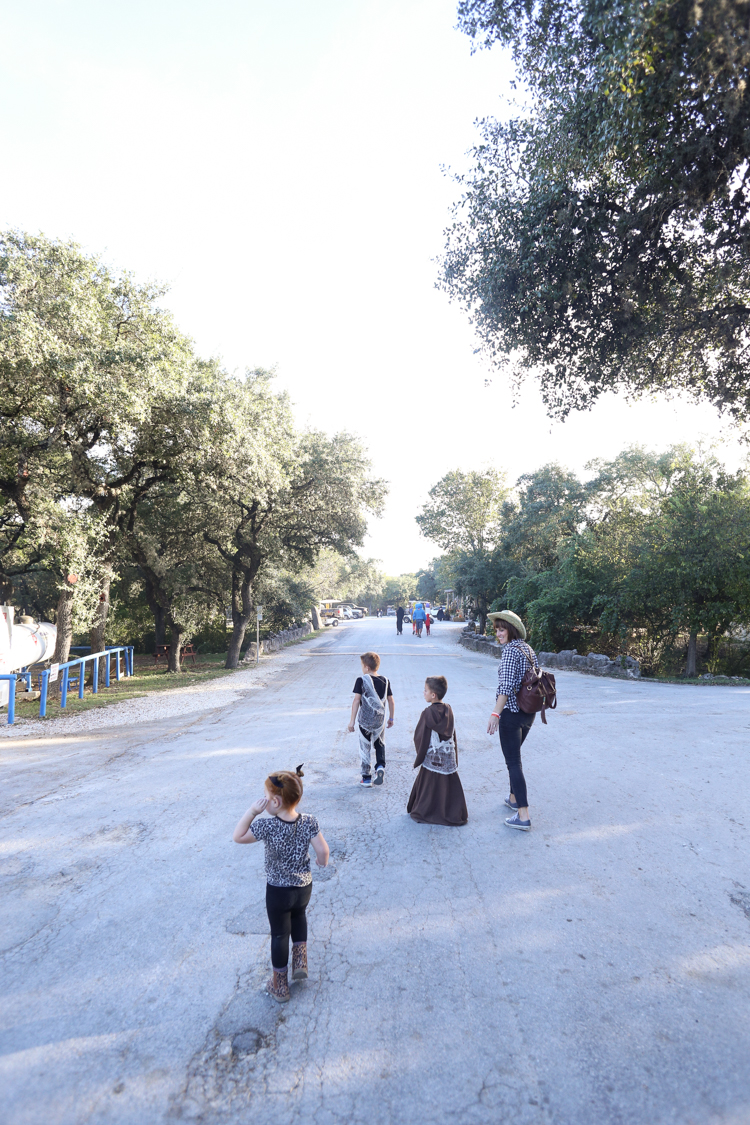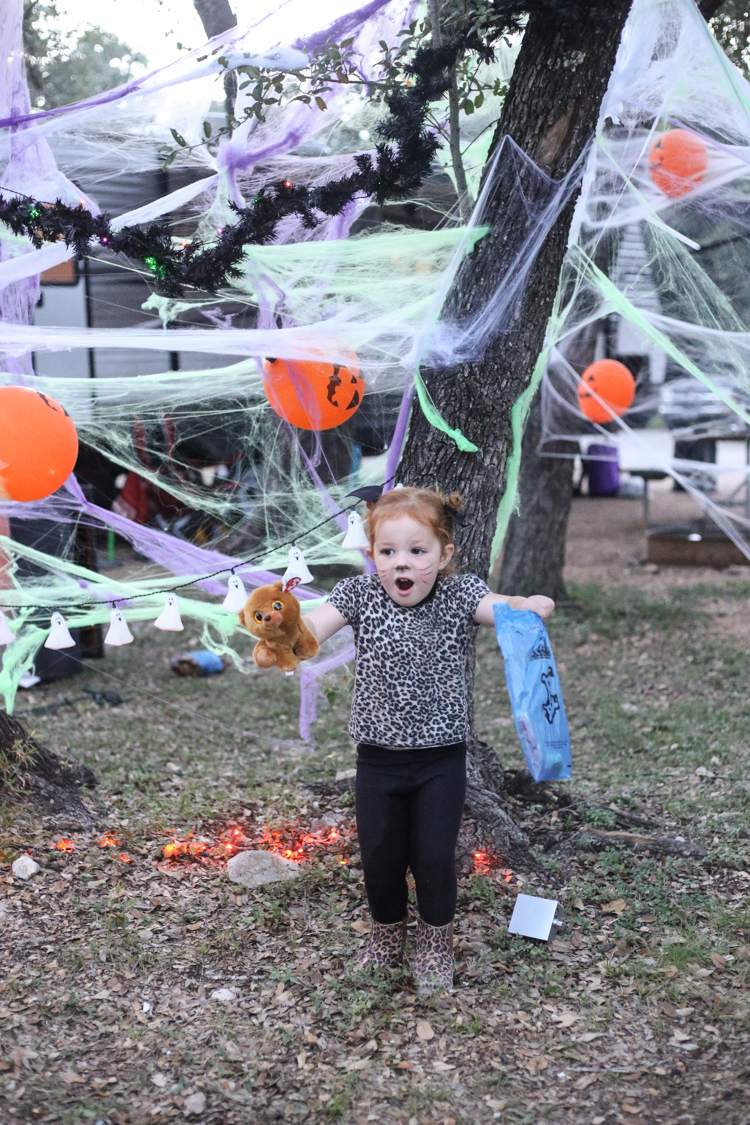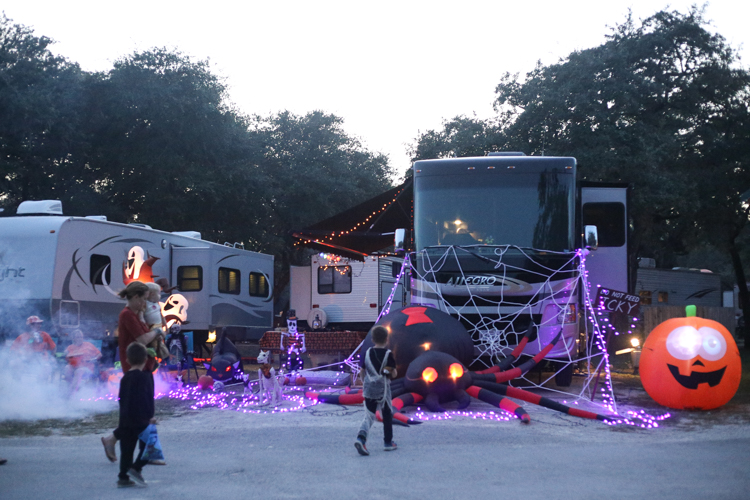 Trick-or-treating through the camp turned out to be as much fun as trick-or-treating through our own neighborhood! So many sites went all-out with their decorating and music and fun. The kids were thrilled to be running around gathering candy and saying "Happy Halloween!" to everyone.
Dave and I talked later about how so many of the camp-wide activities created a sense of community among the campers. We would see some of the same families, and chat with them at different events. The gathering areas felt friendly and comfortable. The kids played well with other kids. The whole day was a happy experience.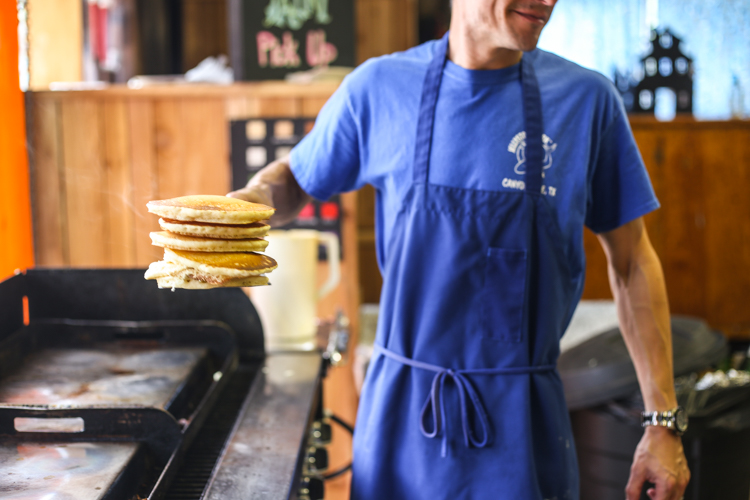 Sunday morning started with an all-you-can-eat pancake breakfast with fluffy, buttery cakes. Then we squeezed in one last hour of outdoor playtime before packing up and heading home. The camp playground was filled with friends and was the perfect place to climb, slide, and swing out some energy.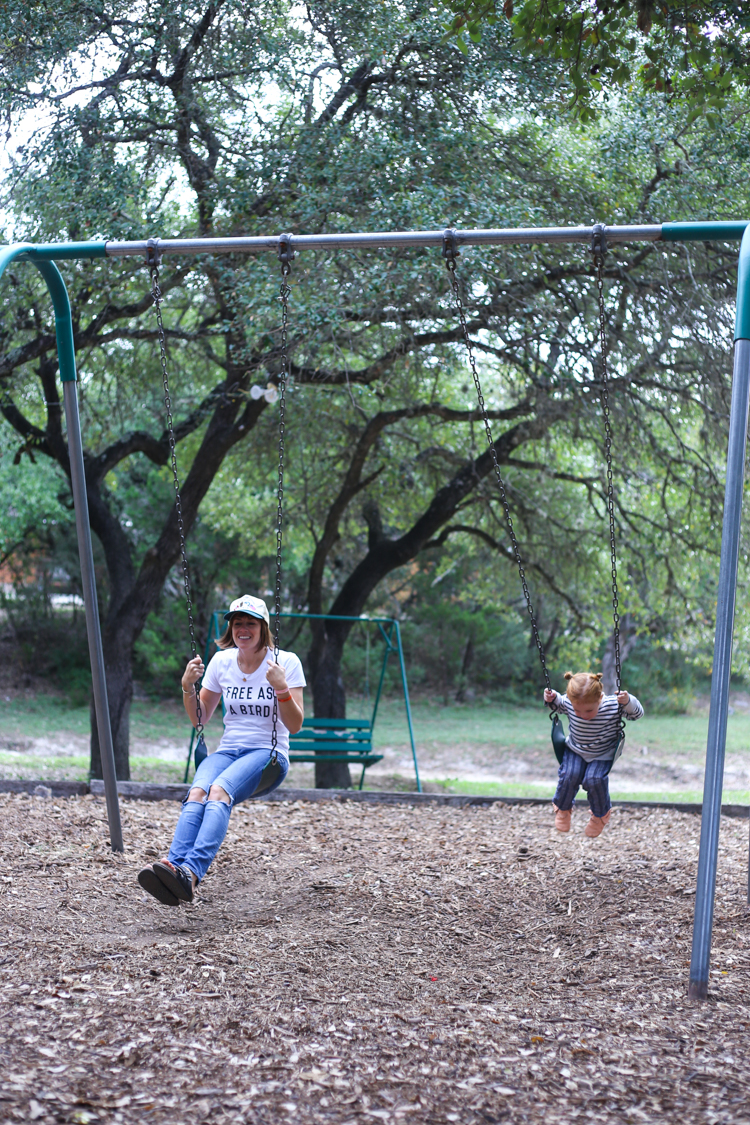 I love to play just as much as my kids do, but all too often their playground time is rest time for me. While they play I sit on the bench and take a mental break from the work of mothering, managing schedules, and worrying about household duties. On family weekends I somehow allow myself space from most of that worrying and am able to get into the game along with my kids. Maybe the simple act of calling it a "family weekend" changes my attitude and creates a positive expectation for quality time and togetherness. I need to play with them, to feel connected and to feel renewed. These simple experiences bind and unify us as a family, and are so precious.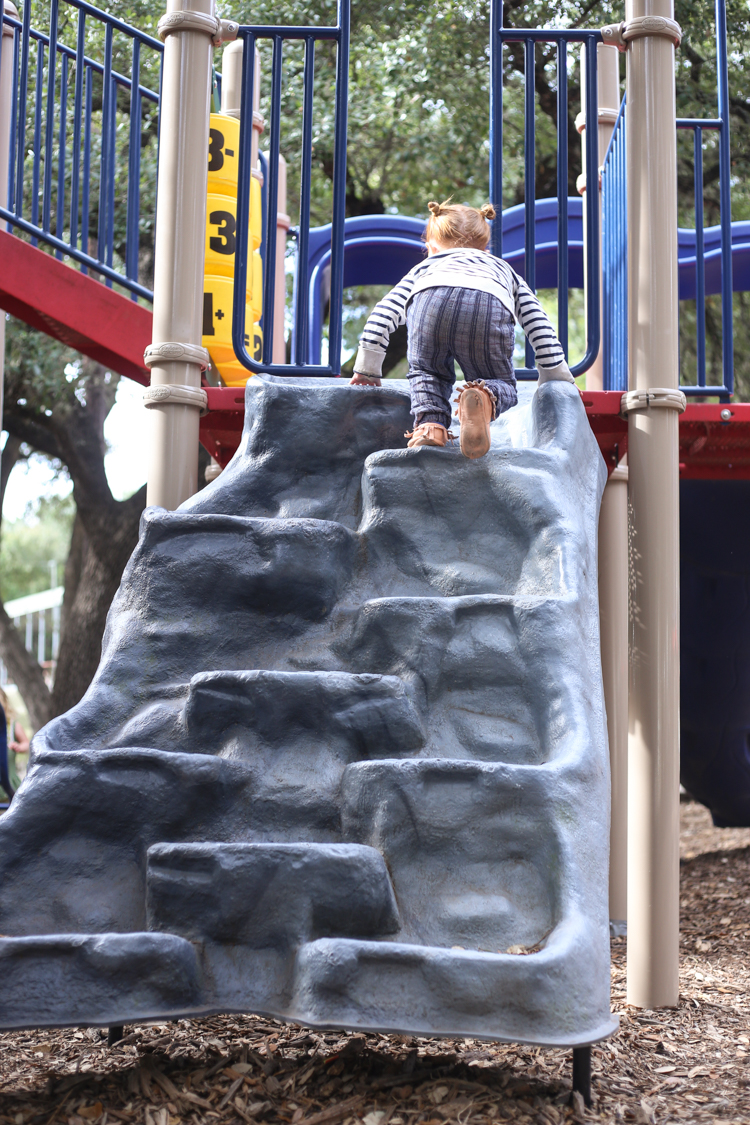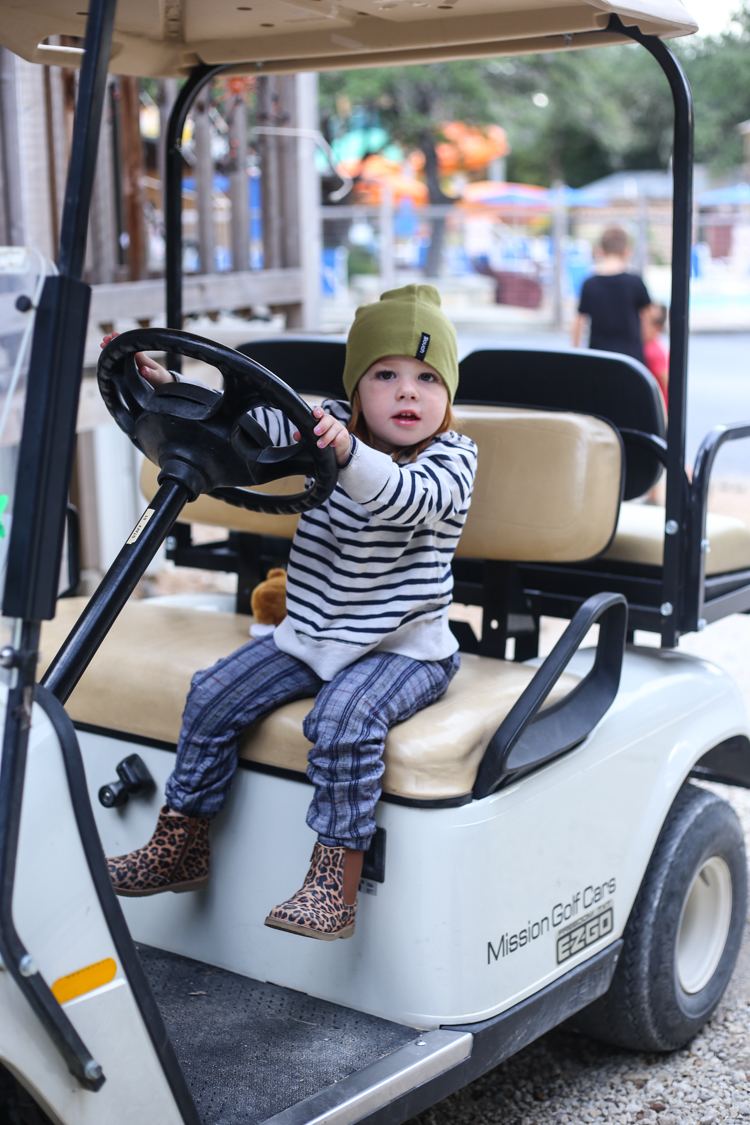 And with that we packed up and headed home. Everyone agreed we need to be back sometime soon, and no one could choose just one favorite part of the weekend.
Some highlights for me were that the park is close to home, so the drive felt easy. The activities were all planned for us to choose what felt fun without any extra work on our part. Everyone we met, from the staff to the other campers, was kind and sincere. There was lots of available outdoor free play time so we could connect with nature even though we weren't deep in the woods. The cabin was cozy and convenient for a quick visit.
I couldn't have expected a better time than we had together, playing and experiencing new things. The feeling of love and teamwork that we built together accompanied us home and we spent all of Sunday evening playing games around the kitchen table and laughing with each other. I can't wait to visit again sometime soon!
Created in partnership with Yogi Bear's Jellystone Park™ Hill Country. Yogi Bear's Jellystone Park™ Hill Country is owned by Northgate Resorts which also owns the Jellystone Park™ in Kerrville, Texas as well as other parks in Quarryville, PA, Hagerstown, MD, Luray, VA, Gardiner, NY, Lodi, CA, and Memphis, TN.