This series is sponsored by Baby Lock.  For over 40 years, Baby Lock has been dedicated to the love of sewing by creating machines for sewing, embroidery, quilting and serging – all with ease-of-use, high quality and a touch of elegance.

I am so excited to teach you everything I know about knit fabric! It's been my fabric of choice for as long as I have been sewing, and although I am no expert, I have learned a lot through experience. Today Miriam is teaching you all about cutting knit fabrics and giving away a starter set from Fiskars, so when you've chosen your material, you'll be ready to begin.
My mother's sewing room was equipped with a sewing machine and a serger, and stocked to the brim with every type of fabric imaginable. When, at age 23, I ventured in to make myself a tee shirt for a party (after not having sewn for years) I naturally pulled out a tee-shirt fabric, a knit! I was naive enough to not have any apprehensions at all about sewing with a stretchy fabric, and knew too little to realize that I needed to ensure the fabric stretched in the right direction. I was pretty proud of the simple, boxy tee I whipped up…until I tried to fit it over my shoulders and realized that I had sewn it with the stretch along the length, rather than around the circumference. There was no way it was going to fit! I ended up cutting a scoop down the center front and filling it in with the same fabric, this time stretching in the correct direction across the tee. I wore it happily to the party and even got a couple compliments!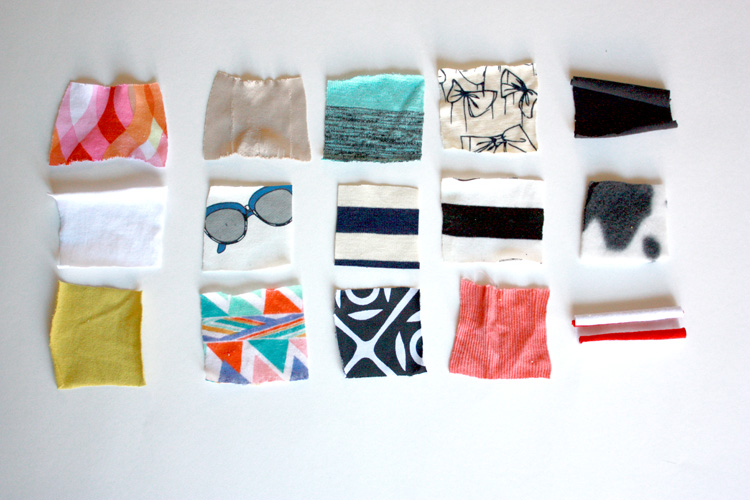 It feels good to make your own clothes. Clothes that fit just right, are the colors and patterns you like, and have every detail that you can dream up. Most of what both adults and children wear these days is made of knit fabric: tee shirts, sweat shirts, sweaters, leggings, jeggings, stretchy skirts and dresses. In this post, I'd like to help you make sense of some of the basic differences between the many different types of knit fabrics available, how to recognize what is what, and most importantly, how to choose the right knit for your project!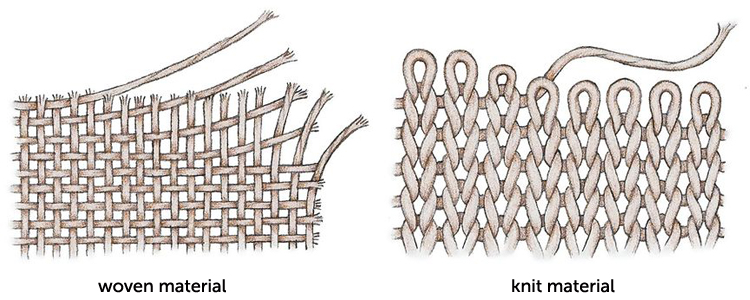 Let's start at the beginning: what is a knit fabric? Where woven fabrics (not stretchy) are made up of multiple straight threads going horizontally (weft) and vertically (warp) along the material. Knit fabrics (stretchy) are made up of one or more threads looping back and forth to form the fabric (images via). According to this article,  there are for major types of knit stitches, but I have never needed to know that in order to make great knit clothes. Each type of knit fabric can also be made of any number of combination of fibers (cotton, polyester, rayon, spandex, silk, wool, nylon) but I only occasionally pay attention to the content (sometimes I never even know!)  In Fabrics A to Z (my favorite  resource for fabric info) Dana goes through several specific types of knit fabrics, what they are made of, and how to sew them.  I won't cover all of those details today, so I highly recommend you add it to your sewing library.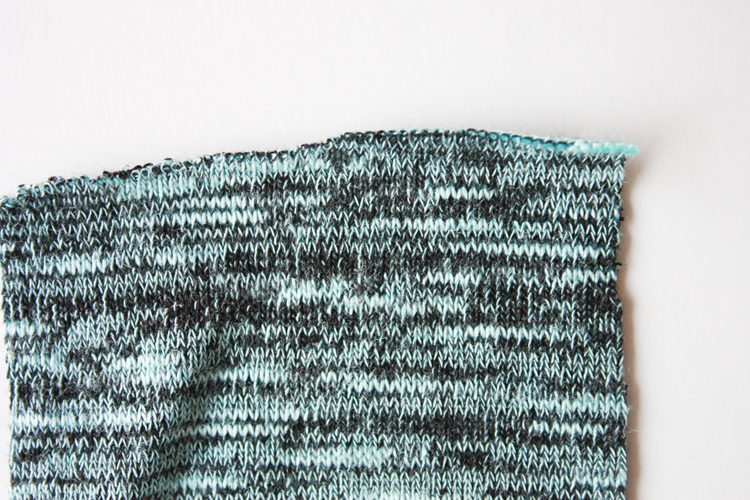 The two major categories of knit fabrics are jersey or single knits and interlock or double knits. Telling them apart is pretty simple. Jersey fabric and single knits have a right and wrong side, interlock is woven so both sides are right sides. The photo above shows the right side of a lightweight jersey knit from my stash. The little 'V' stitches that are visible indicate the "right" side of the fabric.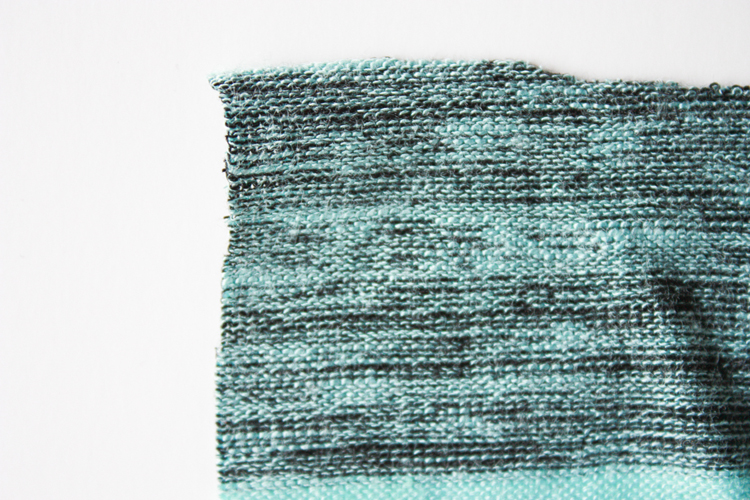 This is the flip side of the above fabric. The straight, horizontal stitches indicate that this is the "wrong" side of the jersey. I used to think that jersey knits were all less stretchy than interlocks, because cotton tees are jersey, and don't stretch much. That general principle isn't true, however. There are jersey knits that stretch a lot in all directions, and some that stretch very little in any direction! The fiber content will influence this somewhat, but so will the tightness of the weave, and the weight of the threads used.
I've heard it said that the ends of jersey will always curl, but I have some jersey knits that don't curl at all. Generally, though, because of the different stitches on the front and the back, the raw end of a jersey fabric will curl towards the right side of the material.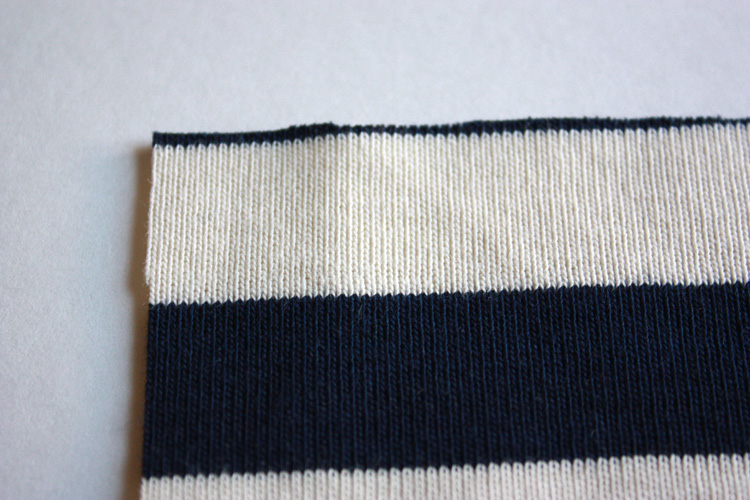 An interlock fabric will look the same on both sides. There will not be any visible 'V' or horizontal lines, just the same subtle ribbing on both sides. The photo above shows one side of this interlock, the photo below shows the other side.
Interlocks are known for being more stretchy than jersey. Again, it totally will depend on the content, weight, and weave of the particular interlock that you are using. Getting fabric in your hands is a critical part of this learning process! The more you feel and stretch knit fabrics, the better acquainted you will become with their different characteristics.
Since we're looking at the front and backs of some fabrics, I'll show you the front and back of four common knits: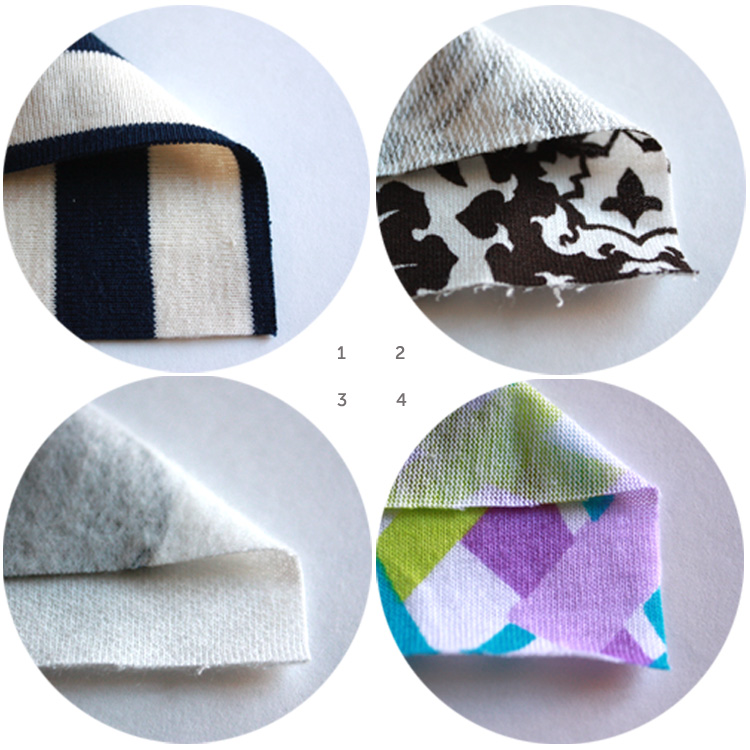 Sample 1 is the same striped interlock shown above. The stitches on the front and back are the same. Also notable is that the striped pattern shows on both sides. That shows that this is a yard-dyed material, rather than printed. You can use either side of this material as the right side.
Sample 2 is french terry. It's a single-knit fabric so the front and back are different. The front on french terry is smooth, and the back has loose loops. Think of a towel (which is terry cloth). You can think of french terry as feeling a little like a towel on the wrong side of the fabric. Also, notice that the pattern is printed on the material and only shows on the front.
Sample 3 is sweatshirt fleece. Again, it's a single-knit fabric with a smooth front. This time the back has a soft and fuzzy nap, making for perfect outerwear. You'll notice this fabric is also printed.
Sample 4 is jersey. Do you recognize the v's on the front and the horizontal stitches on the back? The pattern on this one shows through to the back, but just because the material is thin. This is also a printed knit.
Fun to start to recognize the differences, right? There's lots more where that came from!
To give you a good overview of the variety of knit fabrics, I'm going to walk you through some knits from my stash. I'll share the weave, stretch, weight and recovery of each, as well as a project for which it is well suited. I'll start with the lightest weight and move down through to the heaviest.
Feather Weight Jersey Sweater Knit: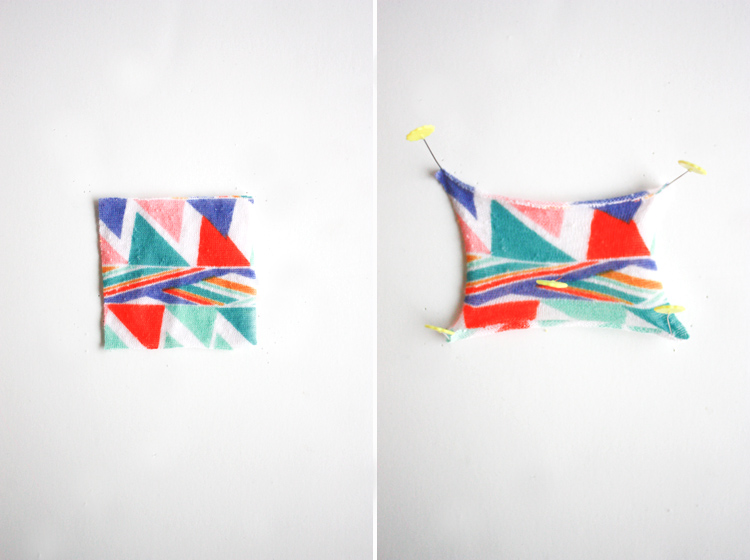 This fabric came from a tee shirt from Forever 21 that a friend handed down to me. I have no idea what it's content is, but it is so light weight it's almost sheer. It is a jersey, with a right and wrong side. The fabric only stretches horizontally, but stretches well. It also bounces right back to original shape after being stretched, and the ends don't roll.
Because of the light weight, breezy feel of this fabric, I used it on a summer tee shirt for Milo. The stretchiness allows him to move and play wildly (as is his way), and even after a long afternoon outside, the tee still holds it's shape.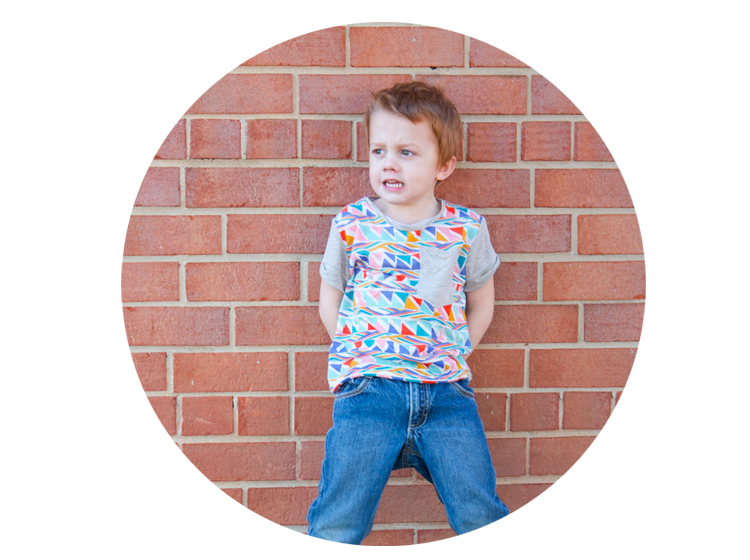 Light Weight Slinky Single Knit: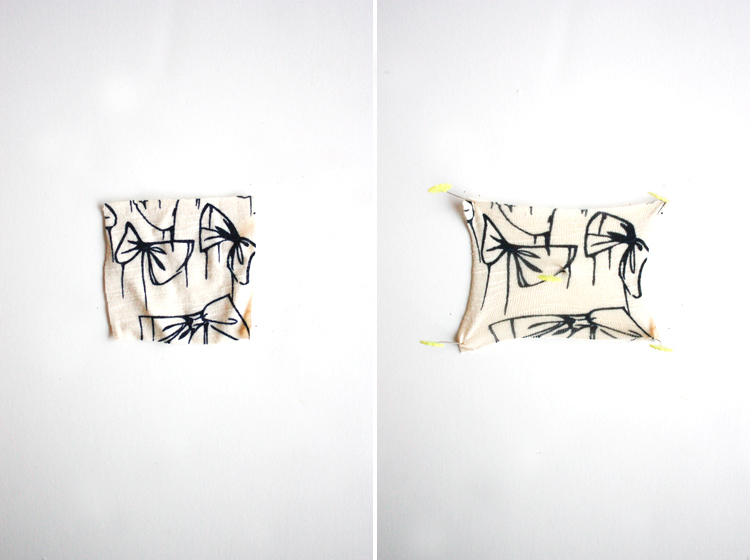 My mom picked this beauty up at JoAnn's last year sometime, and while I was home for the summer I begged a piece from her. It's super slinky and soft, light weight, and has pretty great four-way stretch. The recovery is great, which means I could use it for a tighter tee or dress without worrying about it stretching out and becoming baggy throughout the day. The ends of this fabric don't roll after stretching.
I haven't used this particular fabric yet, but I love the Poetry in Motion Tunic that Miriam made using a similar material. The slinky, drapey fabric looks awesome with all those cascades and ruffles.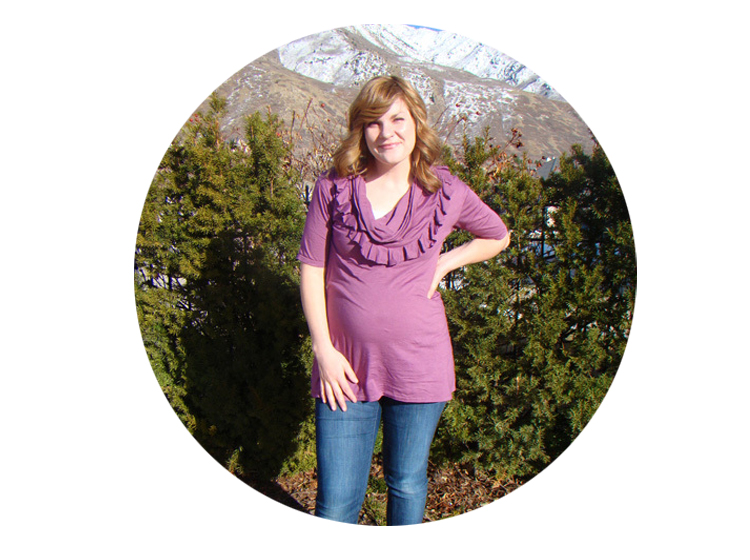 Spandex: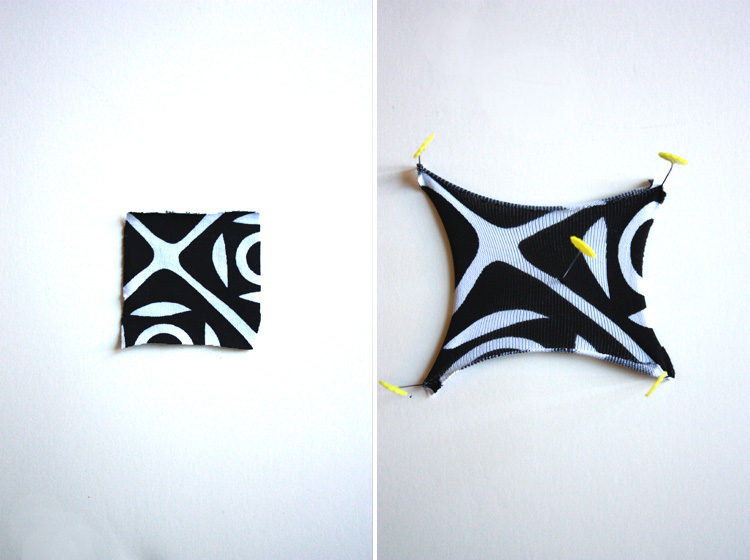 Spandex (or Lycra) is generally super duper stretchy in all four directions, and recovers as if it hadn't been stretched. It's amazing. These qualities make it perfect for activewear, dance wear, and swimsuits. The ends of spandex don't roll.
I used a thick, printed (meaning the back side was plain, not polka dotted) spandex for my ruffled tankini. The spandex I used was almost too heavy weight for the ruffles that I created. It would have probably looked better with a slightly lighter weight spandex. I loved the weight for the actual suit, though. It feels high quality.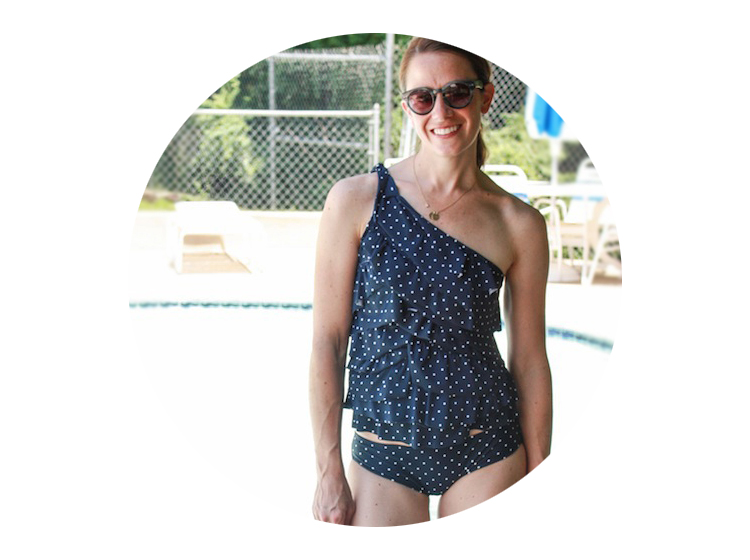 Medium Weight Jersey Knit: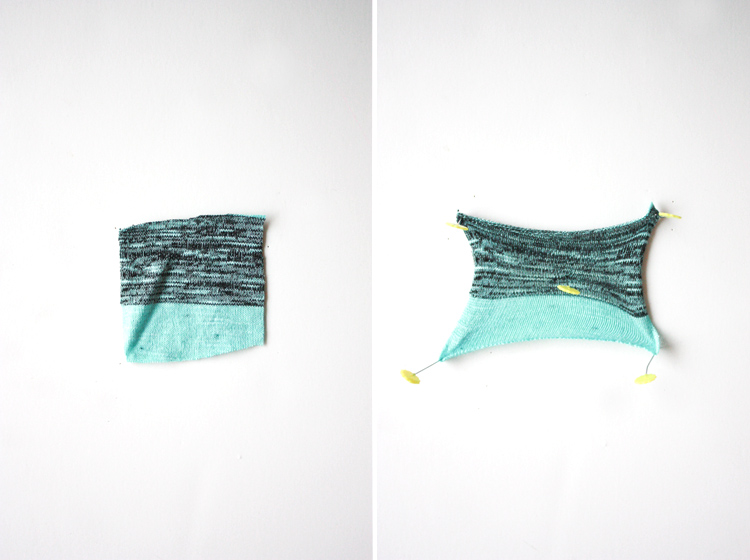 This fabric is just slightly heavier weight than the last, and a lot of the other characteristics are the same. It stretches well in both directions, and has good recovery. The ends of this fabric don't roll, but unravel to the first row.
Because it's slightly heavier, I wouldn't use it for a drapey top. It worked perfectly as a flowy maxi skirt, though! I made this one last summer and still wear it often.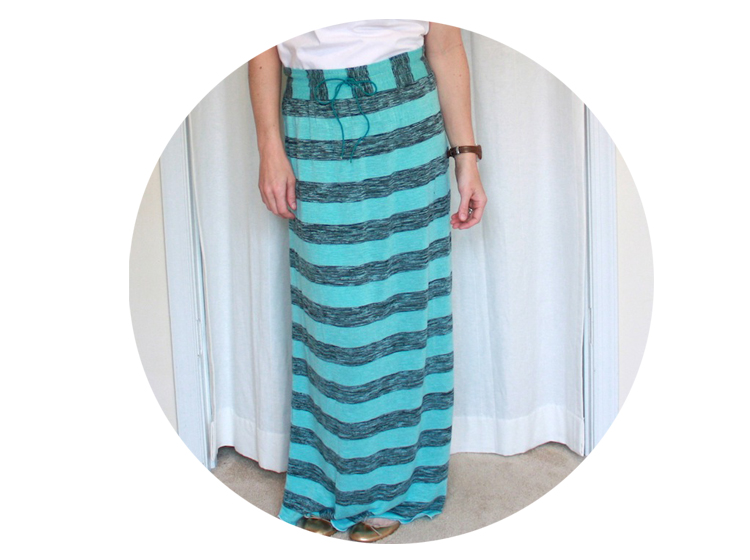 Light Weight Jersey Knit: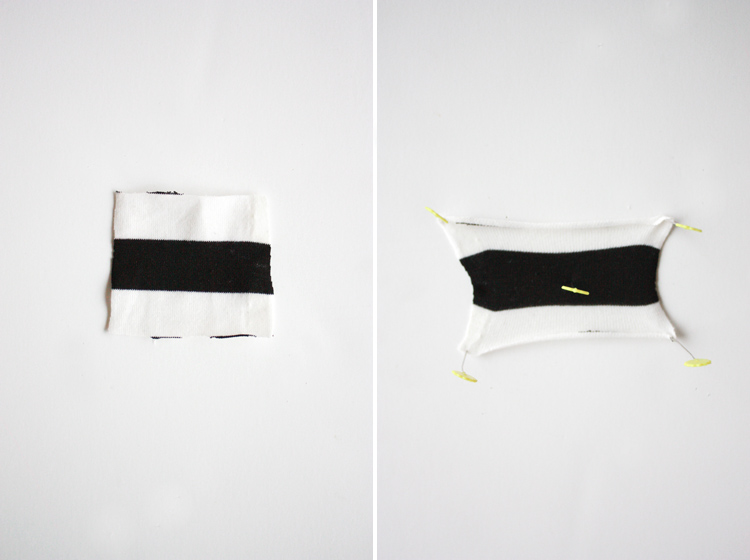 This fabric is light weight, and has good horizontal stretch but zero vertical stretch. That becomes really important when cutting your pattern. Everything will have to be lined up with the stretch along the stripes, or else cut large enough to fit without stretch. The recovery of this one isn't great. It will definitely be stretched out a bit at the end of the day and need a wash/dry cycle to recover it's shape. Even though it's jersey, the ends of this fabric roll minimally.
I used this stripe on the leggings of a little Olivia the Pig costume for the daughter of my friend Jen. The horizontal stretch let them fit well around her legs, and no vertical stretch was needed. The weight was perfect for a legging, like a thick tight beneath her dress. (The dress is made of a lightweight four-way stretch jersey knit like the one coming up next!)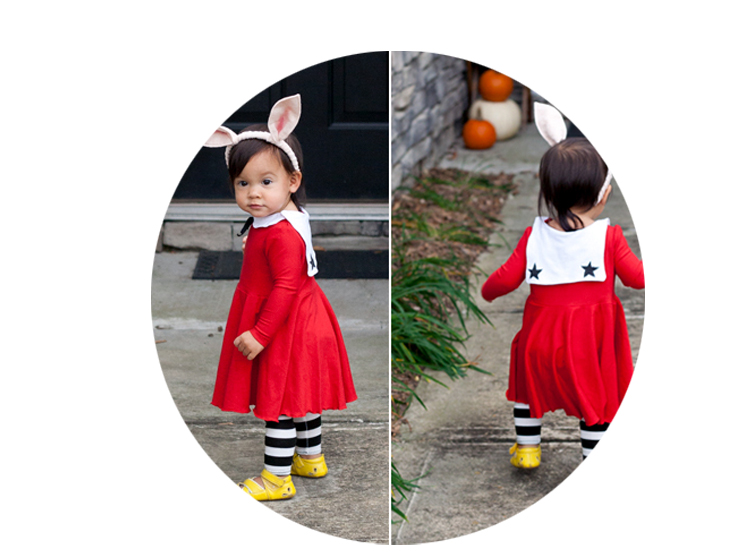 Lightweight Four-way Stretch Jersey Knit: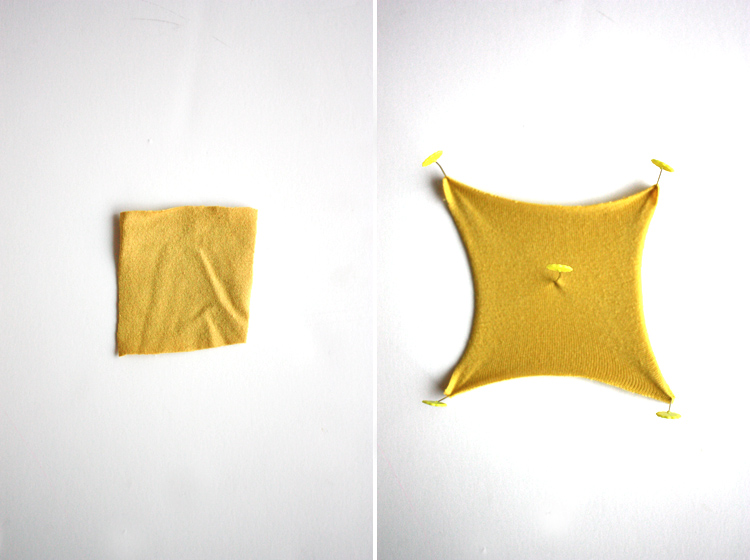 This lightweight jersey stretches well in all four directions, and recovers easily. It has a soft and drapey hand, and an almost-slippery texture. The ends of this fabric roll a lot.
Because of the drape and stretch, it was perfect for this tee-shirt dress (tutorial coming on Thursday!) It pulls on easily over my head, and even though the dress is cut straight down my body, I can move easily. Dreamy fabric.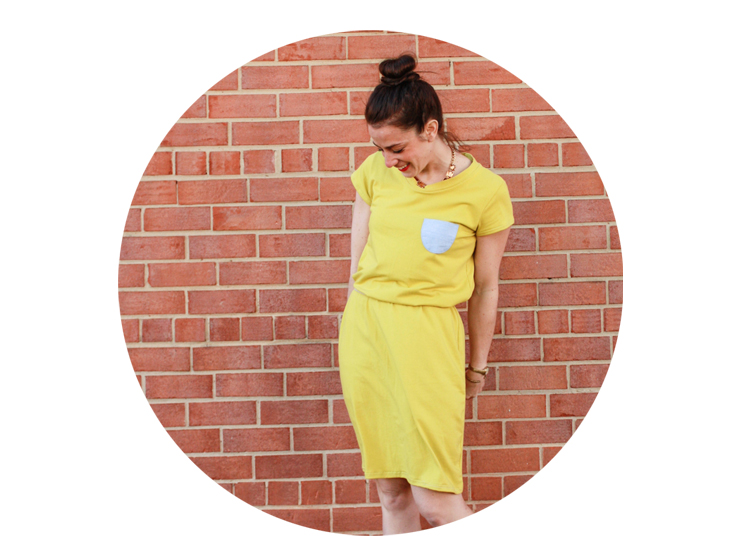 Lightweight Lining Interlock: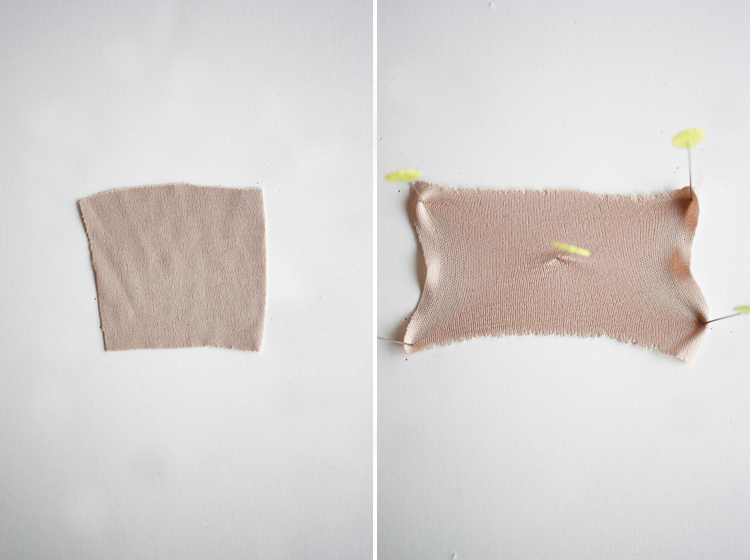 I found this material in the clearance bin of my local fabric store. I had no information about it except for that it was nude and stretched a little bit, which is just what I needed. Looking closely, I can see that it is an interlock knit. It stretches easily along the width of the fabric, but has a tough time recovering. It also runs when stretched to tightly. The ends don't roll, but do unravel a bit.
Even though it is clearly a cheaper quality material, it worked wonderfully as the lining for this lace-overlay dress. The lace had just a bit of stretch, too, so the two worked well together. I can fit it over my head, but inserted a zipper so that I won't run the lining by stretching it out.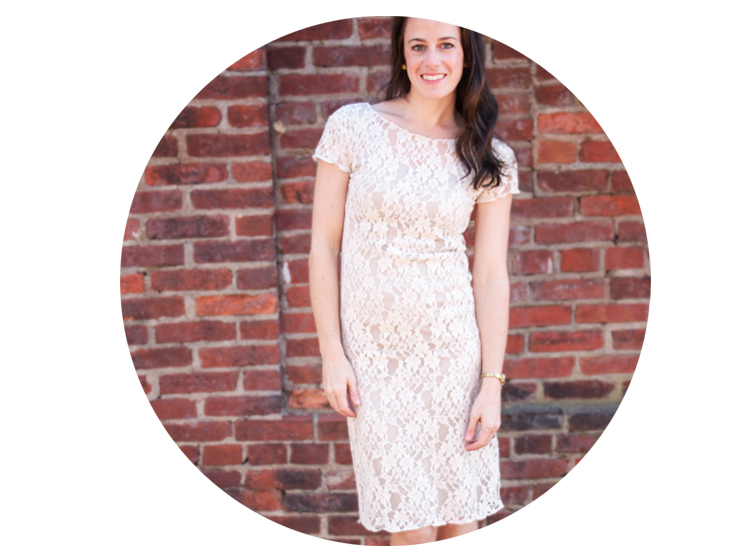 Lightweight Rib Knit: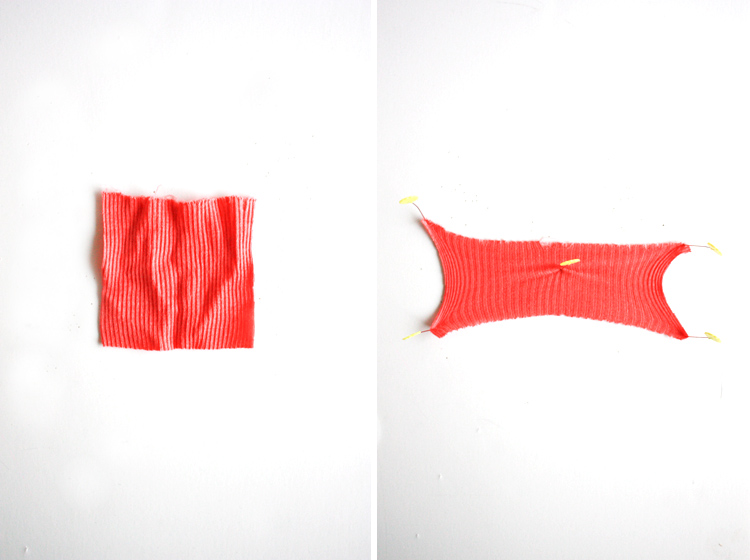 This rib knit stretches super duper wide across the ribs, and very little vertically. It recovers as if it hadn't been stretched. The ribs are the same on the back, just inverted. Because you can get so much horizontal stretch from a rib knit, often clothing made with them look tiny until you put them on! The ends don't roll at all.
I have a few rib knits in my stash and haven't used them for anything except for sleeve and hem bands. Miriam made this great Grandpa Sweater for her son with a rib knit, though, and it shows off the texture well.
Basic Tee Shirt Jersey: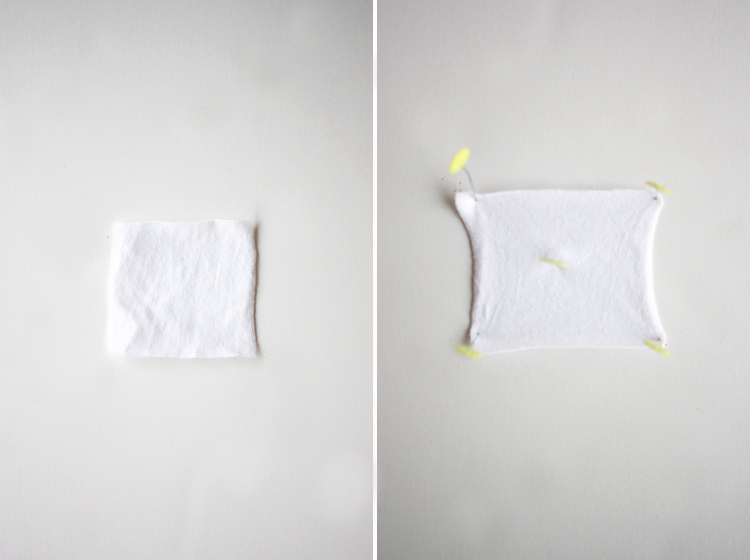 This plain jersey came from a basic white tee shirt. It barely stretches at all in any direction and is medium weight. Because it doesn't stretch much, it doesn't require much recovery. Even though this is jersey, it's stiff enough the ends do not roll very much, even after stretching.
Because of the minimal stretch of this knit, it is only suitable for looser-fitting projects. I used it for the front of this raglan tee for Milo, and it works great. I did ensure the neckline was wide enough to fit over his head without stretching, though, to make sure he could get it on!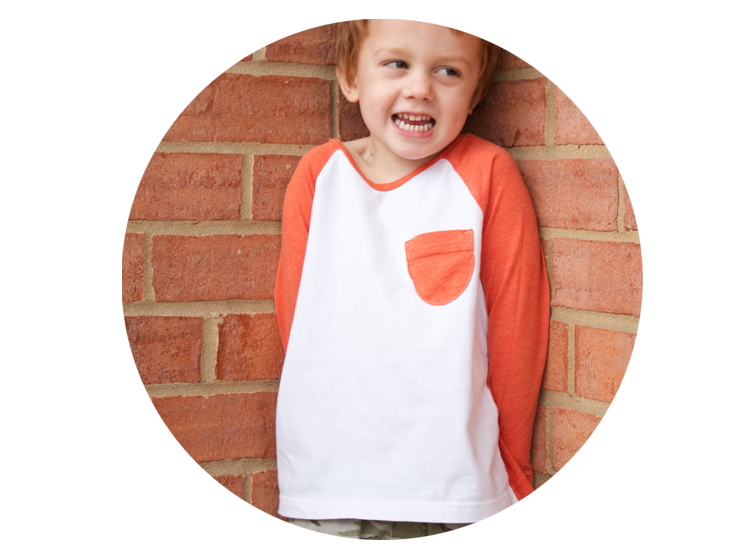 Medium Weight Four-Way Stretch Jersey: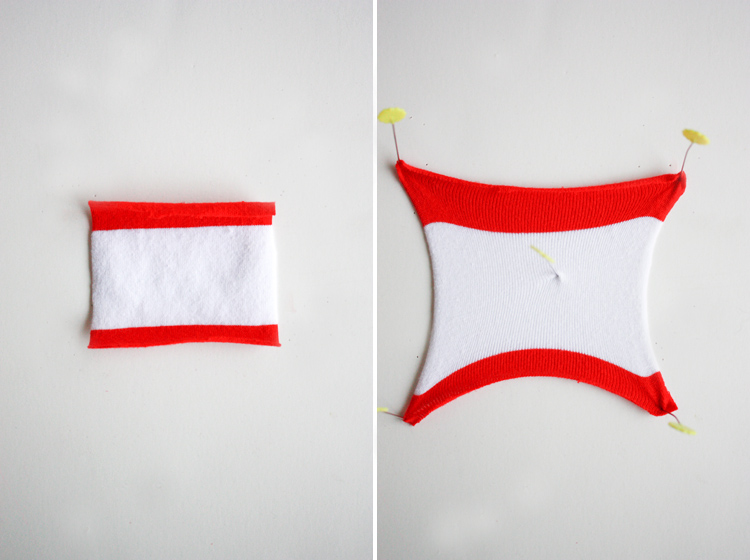 This fabric stretches minimally in both directions. The weight makes it more stable and less flowy than some of the samples above. It will work well for less-drapey projects. The ends on this fabric roll so much it would roll up into one long tube if you let it.
When I bought this knit, I intended to use it for a maxi dress. When I put the dress together the skirt stood straight out like a triangle! The fabric just wasn't light enough weight to drape well. So, I cut it off just above the knee and it became the Summer Chevron Dress. Now I test the drape of my knits by holding them up next to my body before choosing a dress design!
Medium Weight Interlock: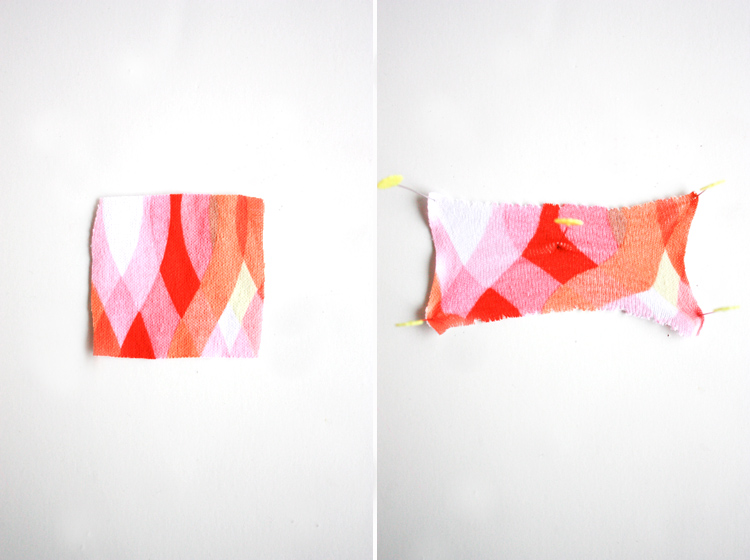 This interlock stretches well along the width, but doesn't recover very well. Because the edges don't roll, it will be easier to work with than some jerseys. The ends on this knit won't roll.
The weight and stretch make it a great fabric for a more structured dress pattern like this circle-skirt dress with a waistband that I made with a similar fabric in a different print (tutorial coming on Thursday!) The slight stiffness of the weight holds the circle skirt in pretty waves. The bodice of the dress is fitted, but not tight, so it won't require the recovery that a tighter dress might.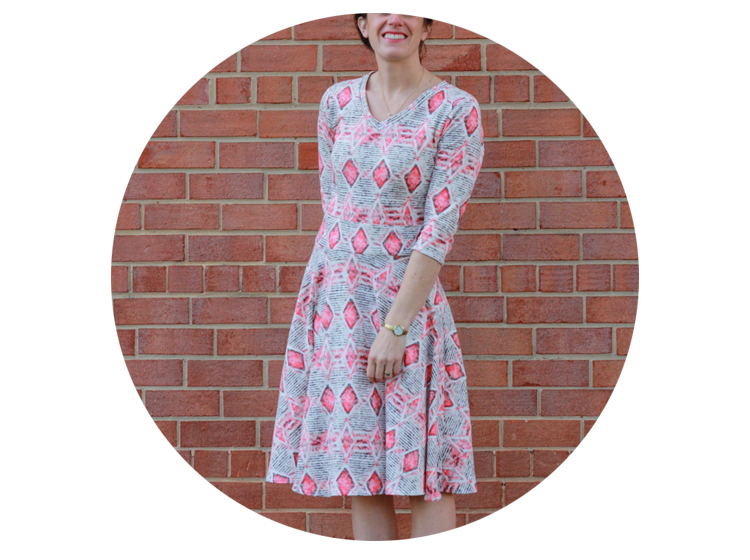 Medium Weight Double Knit: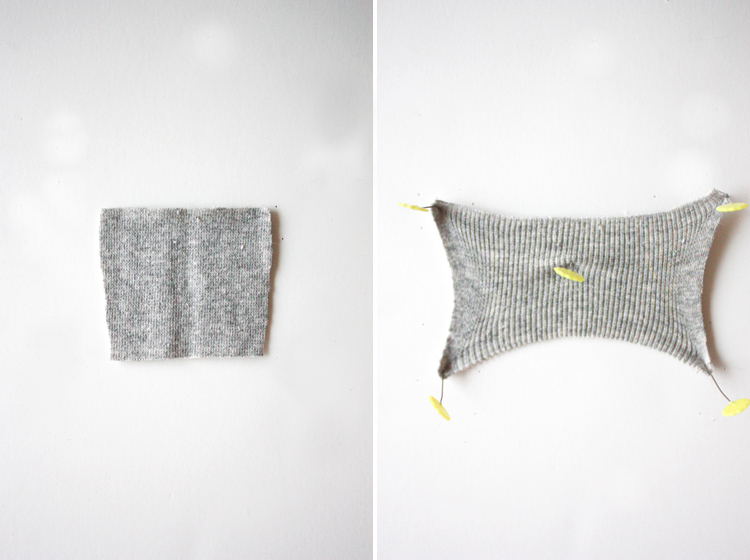 I received this material from someone who was destashing her sewing room. Both sides are the same, but I can tell it is a double knit because when it is stretched out I can see the ribs running vertically along both sides. It is nice and thick, stretches easily widthwise and pretty well vertically. It has okay recovery, but will definitely stretch out a little over the course of a day. The ends stay flat, even after stretching.
I loved the color and weight of this material for my silk-collar knit tee. The fabric is warm for a comfortable long-sleeved shirt. I love how the heavier weight keeps the shirt from looking too slouchy. I have some more and can't wait to make it into some sweatpants for the boys. It would also make a great fitted dress.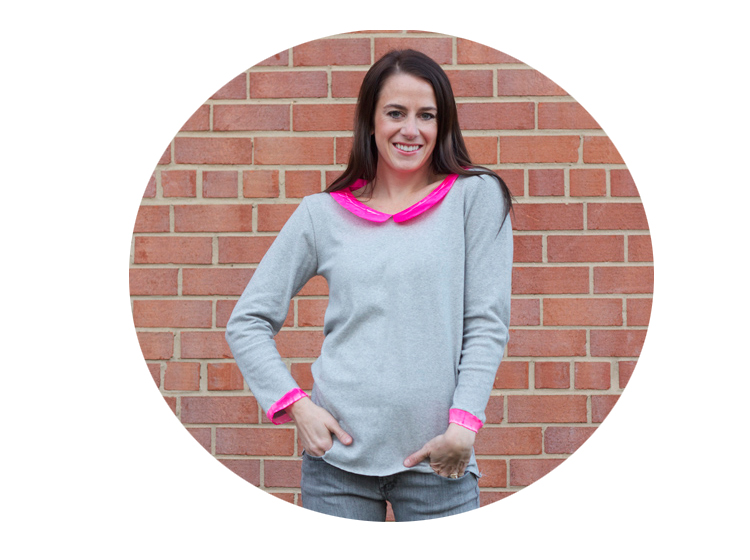 Medium Weight Sweatshirt Fleece: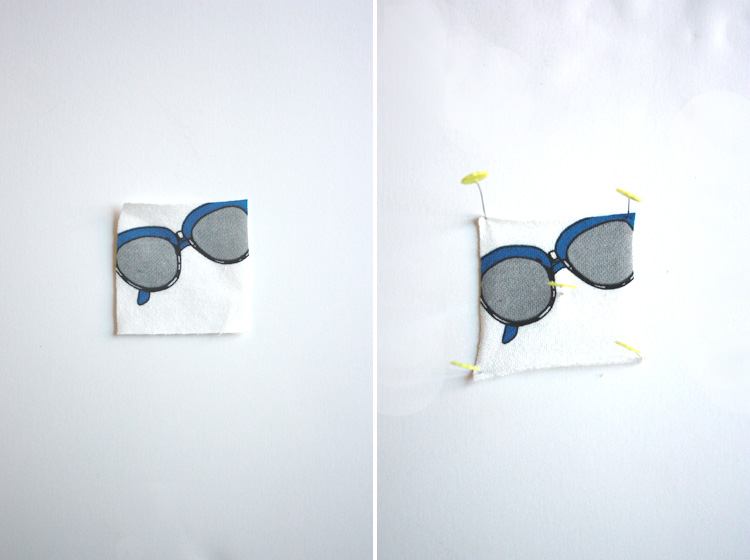 This sweatshirt fleece isn't very stretchy, but it is so comfortable! As I explained above, the front is smooth and the back is soft pile. Because of the minimal stretch, there isn't much room for recovery, but this sample did well. The ends don't roll.
One obvious use for sweatshirt fleece is for a sweatshirt! This little hoodie I made for Milo is light enough weight he can wear it under his coat without overheating, but it also works great as a stand-alone outer layer.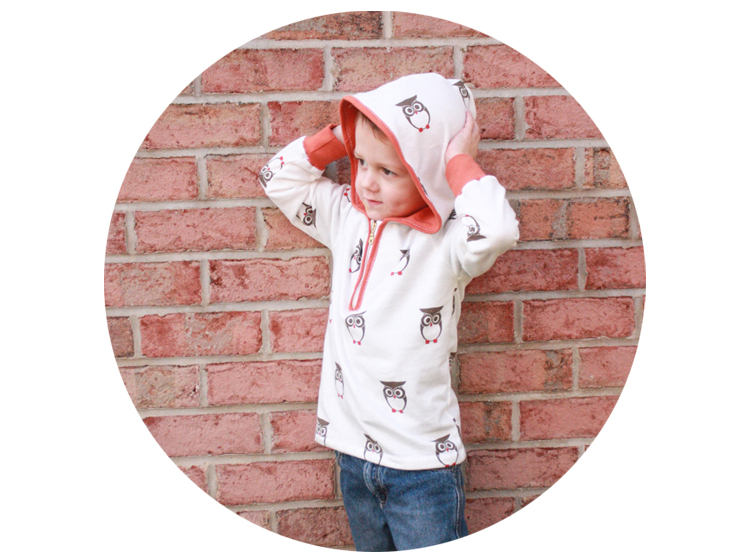 Medium Weight Polartec Fleece: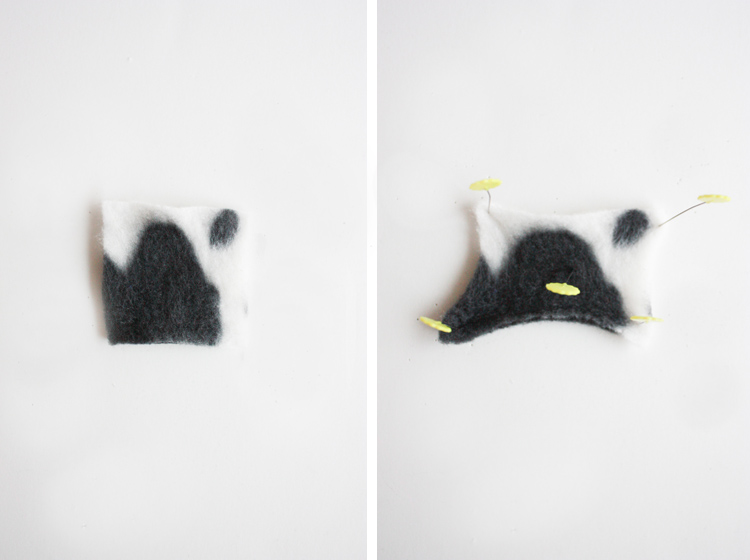 This thick fleece has a soft pile on both sides. Fleece stretches minimally in both directions, with more stretch across the width. The ends of this fabric will roll a little when stretched, but won't fray at all, which makes it really easy to work with.
Fleece works for all types of outerwear, and I loved using it for this dalmatian costume for Eliot. It was warm and comfortable, and he didn't have to wear a coat over it to trick-or-treat!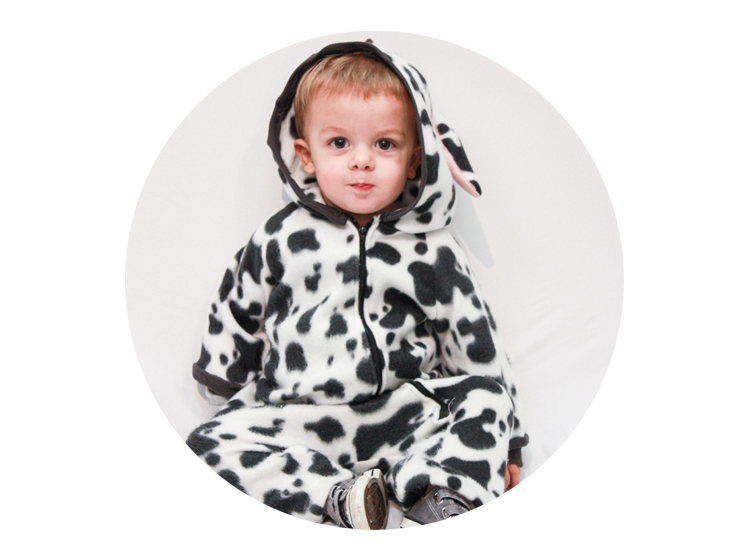 There are so many different knits, I could go on and on and still not hit on all of them. I hope the information and examples above give you an idea of how to judge the qualities of the knit fabrics you have or find in the store. Now that I am more familiar with knits, I often buy them online, but I am still surprised sometimes by the weights and stretch of some that I expected to be different. When possible, its always better to chose fabric in person so you can feel it with your hands.
Unfortunately, most fabric stores carry very few knits, and then only in basic colors. Online you can find a huge variety of types, weights, and patterns. Here are some of my favorite resources for buying knits online:
The Fabric Fairy: This site has a huge variety of types of knit and patterns. Megan does a great job curating her selection. In particular, the swimsuit fabric section is the best I've found. I've ordered several of my favorite knits from here (including the polka dot spandex on my swimsuit), and I am always impressed by the quality. The fabric information is also super detailed, so you can have a good idea what you are going to get! On Thursday you will have a chance to win $50.00 credit to The Fabric Fairy!
Nick of Time Textiles: This is a wholesale and discount fabric shop with a zillion knit options. The only problem is that some of them have a minimum order requirement of 70 yards. If you can find one you like that doesn't have the minimum, the fabrics are great. I've ordered from them a couple times.
Funkalicious Fabrics: The name fits, this Etsy shop stocks some pretty funky stuff. I've ordered from Victoria a couple times, and the fabrics have been great. However, there is not a whole lot of info about the fabrics themselves, so you may be surprised.
Girl Charlee: I haven't yet ordered from this site, but it has a vast selection and good prices.
In general, Etsy is a good place to look if you are searching for something specific (fox print velour? check.) Just make sure you include "knit fabric" in the search terms, and check "supplies" rather than "handmade".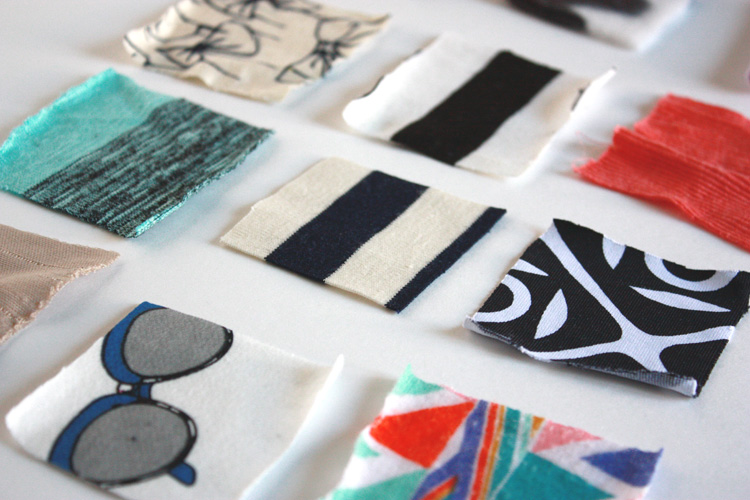 I hope you've learned a little something, and are excited to get your hands on some stretchy fabric!
Today Miriam is teaching all about how to cut knit fabric. The process is different from cutting wovens, so you'll want to head over and check it out. And don't miss out on the chance to win a Fiskars Starter Kit which includes: a 18 x 24″cutting mat, 45 mm rotary cutter, and 6″ x 24″ acrylic ruler on Mad Mim today!
Tomorrow I'll walk you through the process of creating a pattern from your favorite tee shirt. Miriam will teach you to draft your own pattern using your measurements! Then on Wednesday we'll get started sewing!