Hello there friends. I had a most wonderful Monday this week.
 I spent the morning adding to
my limited knowledge
of letterpress printing at
Pyramid Atlantic Art Center
. It was such a fulfilling, hands-on, creative and technical process. Aunt Missy and I learned to set the type (which basically means spelling out each little word with individual letters and spaces), learned about the big Vandercook presses they have, and dove into printing on one! I am hooked. Over the weekend, Dave helped me decide on a little something to print today at my lesson: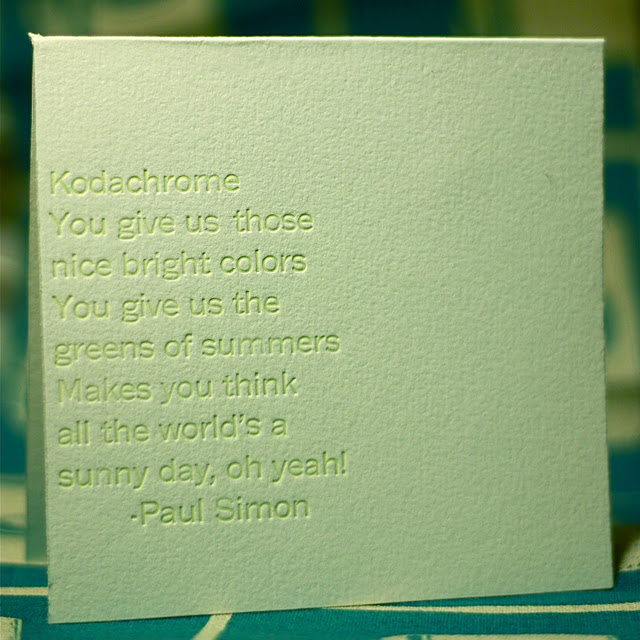 Don't you love
Paul Simon's Kodachrome
? It was the perfect mix of fun, thoughtful and versatile to print on a few cards to use for any occasion. And now I've got it playing in my head non-stop! On Wednesday I'll go back to finish up my letterpressed Valentines. Then, oh, the endless possibilities that await!
When I returned home from my lesson after lunch, the boys and I rolled out sugar cookies and cut about a hundred hearts to bake. Dave went off to school and Milo and I invited the neighbors over to frost cookies and play.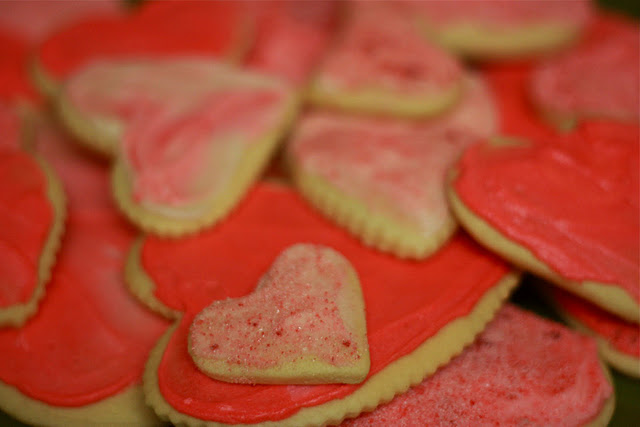 It all went smashingly until the Mister pooped on the carpet. It was my fault- I failed to put his undies back on after he sat on the potty literally seconds before the fateful accident! Nothing a warm bath and couple runs with the carpet shampooer couldn't fix!
Turns out I can cope with almost anything after a day of art and sugar;)