I have been busy preparing for the big sewing series coming up next week (yikes! I still have a ton to finish!) and pushed aside the idea to do a post reviewing last year. The more I thought about it, however, the more important it seemed for me to write it, and write it now. I'd be flushed into late-January after the upcoming two-week series. A week later I'd be headed to Alt Summit and on a girls' trip for my (gulp) thirtieth birthday. When I returned it would be February and I'd be moving forward, not looking back. Plus, I wanted to take one little minute (haha) to inventory of where my time has gone this last year so I can make any necessary adjustments for the future!I think now is the only good time!
So here it is, my year in review. I've divided my year into four types of projects: Made for Me, Made for Others, Made for Home, and Made to Eat.
Made for Me: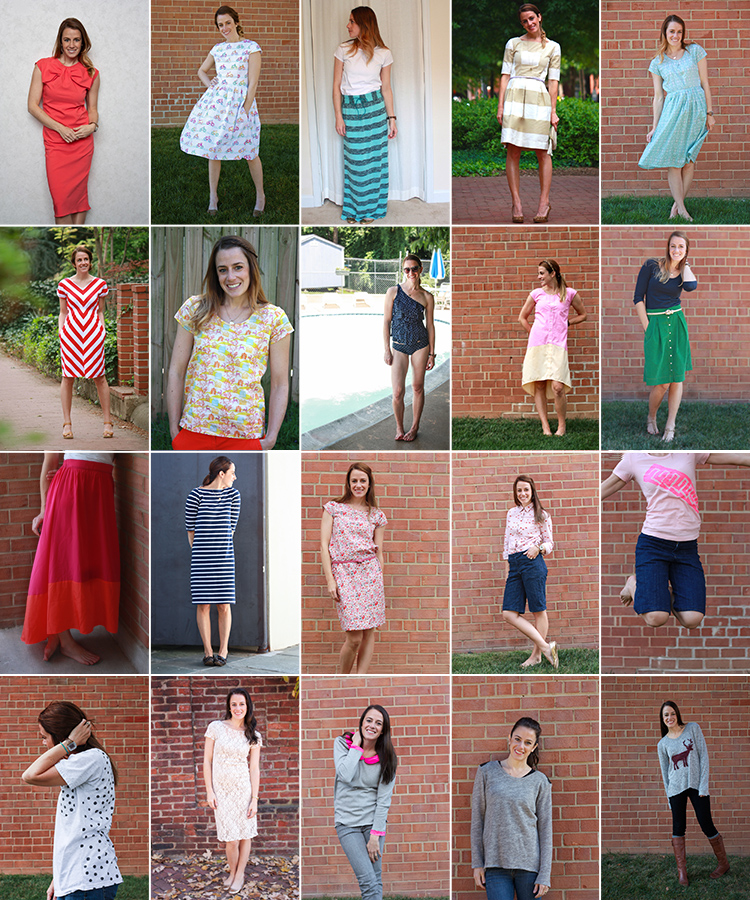 Big Bow Dress, Bicycle Dress, Striped Maxi Skirt, Stripes + Pleats Dress, Easter Dress, Summer Chevron Dress, Scout Tee, Ruffle Tankini. Color-Blocked Refashion. Kelly Skirt, Color Blocked Skirt Refashion, Nautical Striped Dress, Haberdashery, Maritime Shorts, Stenciled Tee, Polka Dot Tee, Lace Dress, Silk Antler Collar Top, Briar Sweater, Felted Reindeer Sweater.
Many of my personal sewing projects seem to blur together, so I really enjoyed going back through my posts to see the items that I've made this year, as opposed to years past. My skill level has improved dramatically as I've sewn and sewn (and sewn) both for myself and for others. That said, I still have so very much to learn! I really love sewing, and am excited to continue stretching myself. One thing I did differently this year was using patterns again rather than drafting and draping everything myself. Having some good friends who produce amazing women's patterns (looking at you Jen and Megan) has really helped me enjoy sewing from well-designed and well-made patterns. And it's so much less work!
Last year, I remember thinking I really needed more dresses to wear, and it looks like I solved that problem.  I made myself eight new dresses this year! The only one that I haven't worn much is that darn bicycle dress. I think it needs to be dyed before I feel like it is my style. Also, I gave my Summer Chevron dress away. Although I liked it, I tired of it quickly (and chevron in general). Everything else I've made this year has fit well into my sense of personal style, which I think I am getting better at recognizing.
In 2013, I'd like to focus on making more separates as opposed to dresses. I really want to get better at collars and buttons, so I'll probably be trying some button-up shirts. Also, I'd like to make myself a nice winter coat. It's likely that we will be thinking about another baby soon, so I may end up making a bunch of cool maternity wear later this year. We'll see how that goes.
Made for Others: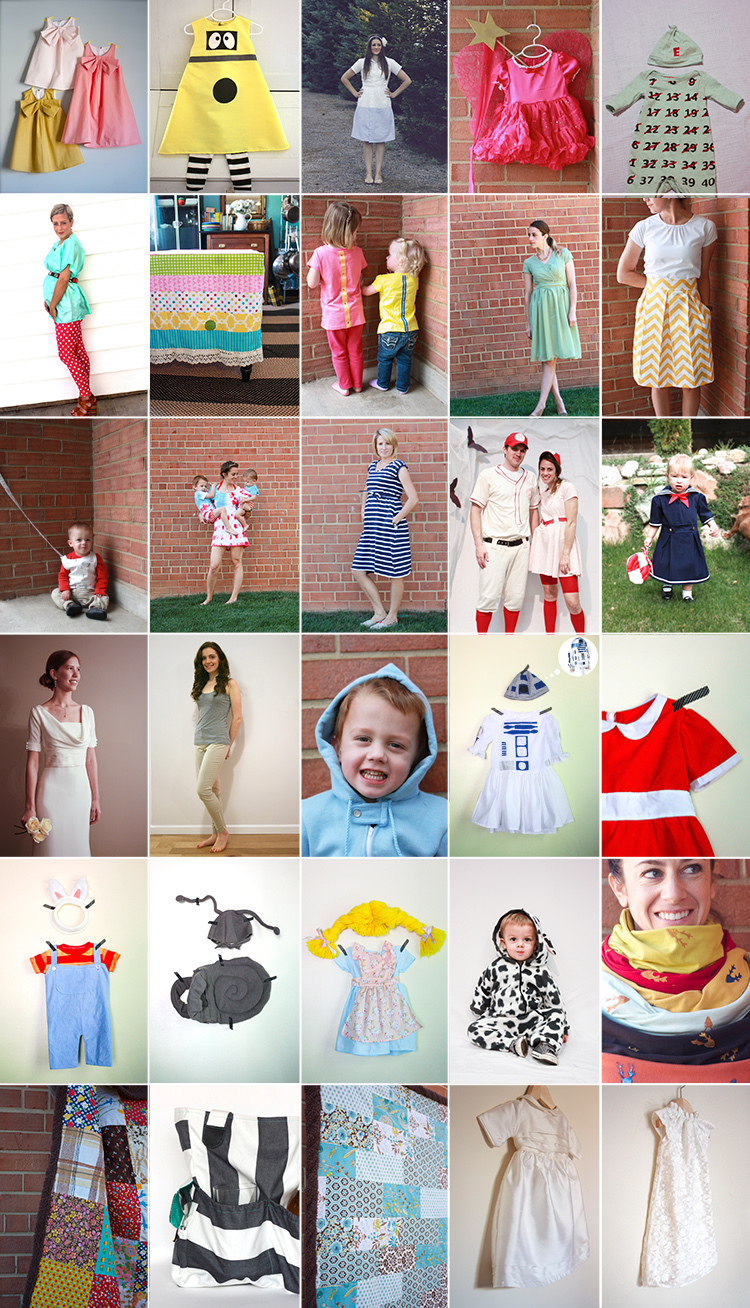 Big Bow Dresses, Plex Costume, Button Up Refashion Swap, Pinkalicious Costume, Maternity Countdown Romper, Maternity Outfit, Princess & the Pea Tablecloth, Faux Button Back Tees, Custom Bridesmaid Attire, Perfect Pleats Skirt, Toddler Harness, American Flag Tie Dye, Sailor Stripes Maternity Dress, A League of Their Own Costumes, Shirley Temple, Pleats and Cowl Wedding Gown, Trouser Refashion Swap, 30-Minute Hoodie Refashion, R2-D2, Orphan Annie, Max the Bunny, Simple Snail, Cabbage Patch Doll, Dalmatian, Reindeer Scarves, Vintage Block Quilt, Picnic Tote, Bricks Quilt, Pleated Baby Gown, Lace Baby Gown
In the beginning of 2012, I prioritized my life and decided to blog a little less. Interestingly, as I did so my custom orders increased.  I soon found myself just as busy as ever, but with sewing instead of blogging! And turns out it's much harder to turn down a sewing order than it is to turn down writing a blog post ("…moneymoneymoneymoney–money!" Sing along with me!) In addition to those pictured above, I made a LOT of bow dresses and Rockford Peach Costumes. I really loved making so many fun things for customers (mostly for little girls, sigh) I also wasn't great at managing my time, and got a little overwhelmed.
I learned this year that I really love the creative process of sewing for others, especially when I am able to design the project myself. When I took on so many consecutive orders, I ended up with months of consecutive deadlines. Deadlines both motivate me and totally stress me out. A couple months ago I took a break from accepting new orders (and then worked until November to finish those I had already committed to.) When the final order was sent I breathed a huge sigh of relief! I am learning to be more realistic about my time, and I am much happier.
For some reason, I have been trying to tell myself that sewing orders are my hobby, and so I should use my free time to complete them. 2013 will be a year in which I choose thoughtfully the custom orders I commit to. I really appreciate my customers and the opportunity to create things for others, and I need to treat custom orders as the job that they are.  I also need free time to unwind, read, hang out with Dave and sew for myself and my family (which is my hobby!) So when working on custom orders I will hire a sitter during daylight hours like a normal person instead of sewing all night. (Ahem, well, I might still sew all night, but I don't want to have to.)
I'd also like to sew more for my kids and even for Dave. I've made a few things for the boys in the last month, and they are so thrilled with them that I'm motivated to continue!
Made for Home: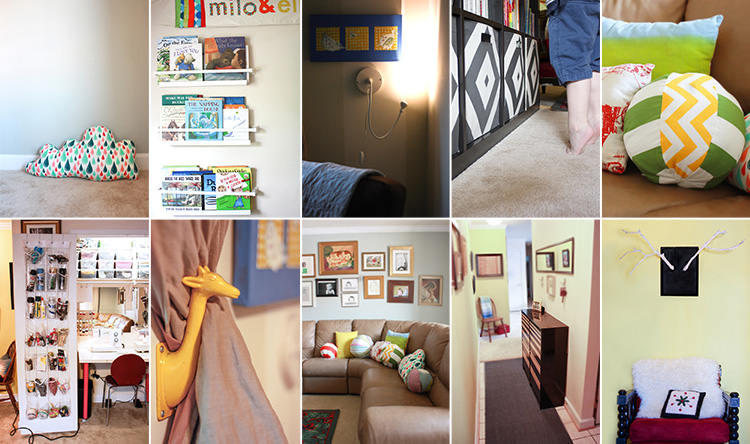 Rain Cloud Pillow, Ikea Hack Book Shelves, Ikea Hack Lamp, Geometric Toy Bins, Catch and Throw Pillows, My Sewing Closet, Giraffe Curtain Draw Backs, Gilded Gallery Wall, Ikea Hack Shoe Cabinets, Stick and Clay Wall Mount
September 2012 marked our third year living in this apartment. Most of the major arranging and decorating was finished long ago, so now I'm just tweaking things here and there. It's a fun stage! This year I tossed out most of my old pillows, made a few new ones, spent some time adding details to the boys' shared bedroom and organized our storage spaces a bit. Oh, and I added some faux antlers to the wall.
I am really happy in our apartment, tiny as it may be. There is something very homey and cozy about living in one place for a while (we moved five times in the first three years of marriage!)  In 2013 I'd like to focus a little bit on the details of the master bedroom and make it feel as thoughtfully designed as the rest of our space. It tends to be the dumping ground for everything that does't have a place somewhere else. Dave agreed to new paint (I'm thinking stark white!) and I'm on the lookout for some cool, teeny-tiny bedside tables. If you've seen some, send them my way!
Made to Eat: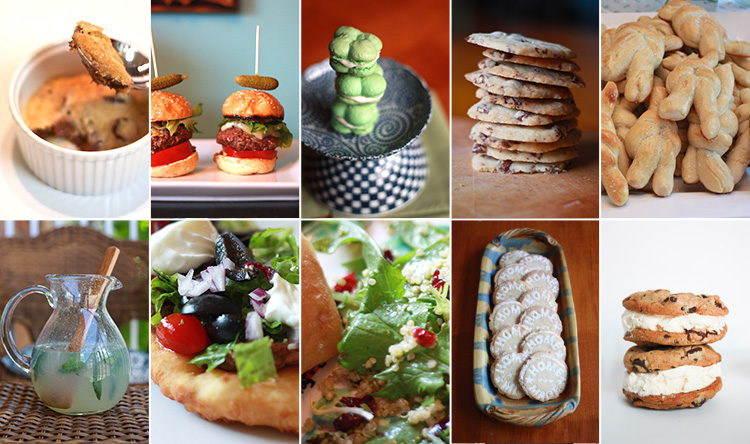 I spent a ton of time cooking this last year, but only posted a couple recipes (mostly cookies–go figure!) I think I posted less about food because I blogged more about sewing and posted my food photos on Instagram. Also, I discovered cookbooks. Seriously. I used to do a lot of inventing my meals myself and posting the recipes here. Now I'm cooking a lot more from original sources, and eating too fast to think about sharing.
I promise if I make something really amazing in 2013 that isn't straight from Smitten Kitchen (did you all buy the book yet?) I'll share it with you. I also have a really fun food series brainstormed that might make it's way on the blog sometime this year. I hope it does, because you will love it.
Other 2012 highlights:
*My first sewing pattern, the Big Bow Dress!! It was a huge project, and I am thrilled with the way the pattern turned out. I am hoping to release at least two new patterns in 2013. One in the spring, before Easter, and another before Fall. I am learning as I go and really want to ensure my patterns are professional quality, so each one takes some quality time.
*Three guest posts for designmom.com: Wool Felted Spring Chicks, Personalized Roasting Forks, French Braided Wreath. I also worked  with Gabby on costumes for an upcoming episode of Olive Us. I can't wait to see how they look on the screen! I hope to continue working with designmom and on other collaborations in 2013.
*Several fun daycations and vacations: Philly, Charlottesville, Sandy Pointe, Camping with Kids, Lake Powell, Hershey, PA, and NYC. In 2013 I see more of these happening. Lots more.
*A 10K and Two Triathlons: Bath County and Colonial Beach. I have my eye on a half-marathon in March 2013 but haven't signed up, yet. It's so cold outside!
*My first blogging conference: Sewing Summit 2012! This was amazing and I can't wait for next year.
And really, the best part of every day of 2012 was the part that doesn't show up here on the blog.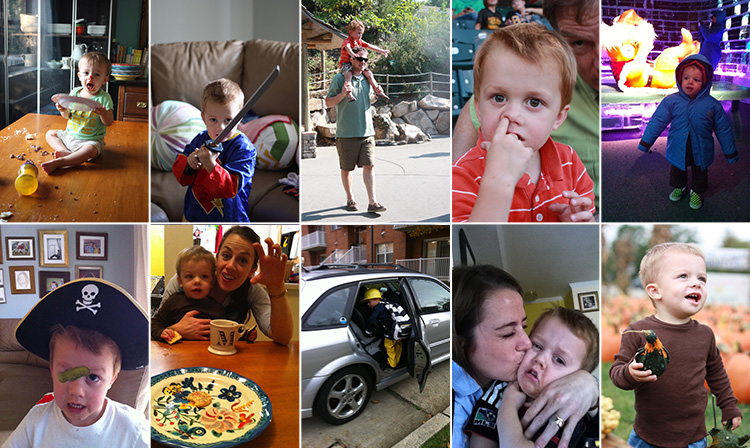 The messy, crazy, costume-filled life of telling stories, wiping noses, putting on and taking off shoes, shuttling to pre and play school, snuggling for stories, visiting local parks, collecting sticks, pretending to be animals, baking cookies, watching Netflix, singing "I Like to Move It, Move It…" as a lullaby, and watching my family grow older and cooler before my very eyes. I guess I would call these things Made for Memory, and they will always be the very most important, and most joyful part of my life.