Minimal Backyard Playsets
When we bought our home in Richmond a few years ago, we threw a quick, judgmental glance at the small, existing swing set in the backyard and determined to replace it with a bigger, more elaborate play set in time. Yet, the more time we spent at the house, the more we realized the virtues of a simple, minimal backyard playset!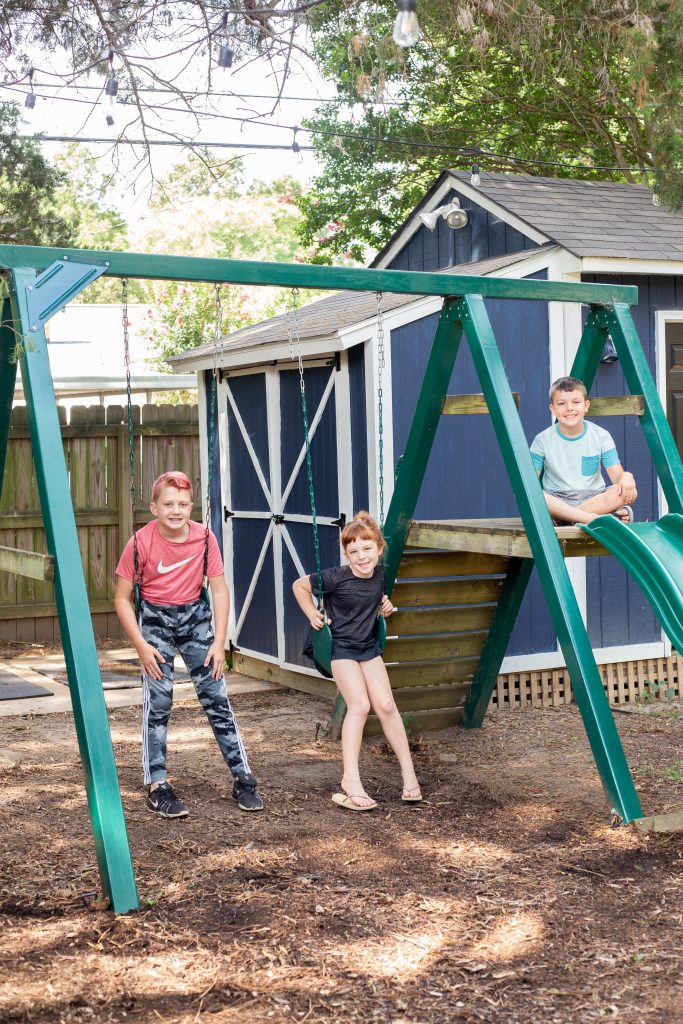 Our three kids could play easily between the two swing and slide, taking turns as needed. The metal set is super sturdy, is unaffected by weather. It takes up a small footprint, doesn't make a huge visual impact, and is exactly what the kids need. Even as the kids have gotten older (the oldest now 11) they all swing and slide regularly, often first thing in the morning in their pajamas! It's been a great example of how sometimes a little can be a lot.
This spring, when the playgrounds around the city closed, we were again so happy to have a swings in our own yard. And with schools uncertain or virtual in the fall, creating a minimal outdoor play area in your own yard will make it even easier for your kids to get out and play.
I've rounded up a couple, minimal backyard playsets that might be a perfect fit for your yard this fall.
This three-swing set is as minimal and functional as you can get! My kids love a hanging bar and rings, so that is a fun inclusion. It is also easy to customize with toddler swings if needed. (Up to 400 lbs, any age)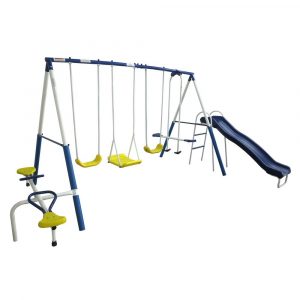 Swings + Slide + Teeter Totter
If we added anything to our own backyard playset, it would be a teeter totter. So I love this setup with swings, a simple slide, and a little teeter totter. (Meant for kids ages 3-8, up to 800 lbs)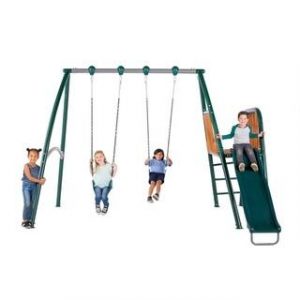 This swing and slide set is the closest I have found to our own swing + slide set. Reviews mention the swings being sturdy enough for adults, too! (Up to 400 lbs, any age)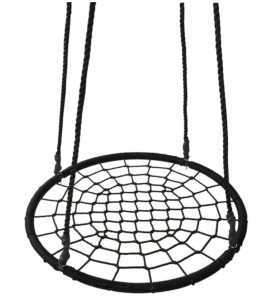 At the school playground, the platform swing like this one is one of the most popular stations! This one can be tied into an existing tree or bought with a free standing a-frame. I love that multiple kids can swing together, and it is also a perfect place to curl up and read. (Up to 700 lbs)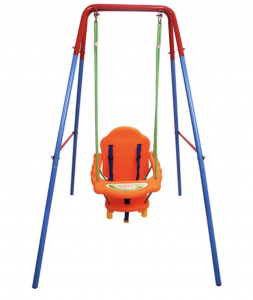 If your kids aren't old enough to swing independently, I love this simple outdoor toddler set! It has a tiny footprint, but gets the playing outside in the yard rather than just indoors. With the full back and straps it would be perfect from 6 mo-3-4 years. (Up to 55 lbs)