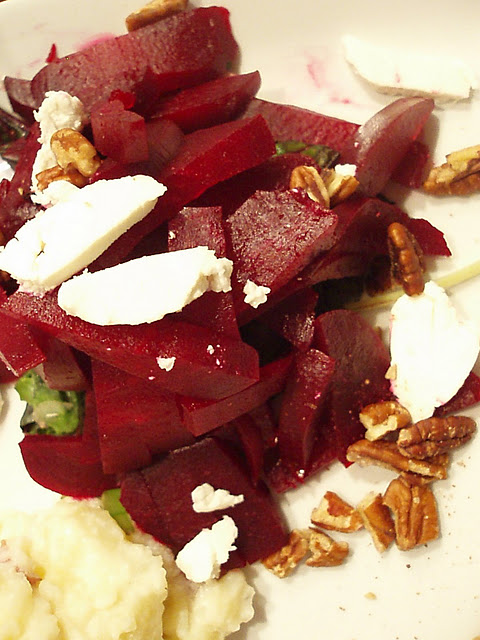 This time I roasted them and made a fantastic salad.
INGREDIENTS:
2-4 Red Beets (including the greens)-washed
1-2 cloves garlic-chopped
Butter
Chevre Goat Cheese
Pecans-chopped
S&P to taste
DIRECTIONS:
Preheat oven to 425.
Cut the greens from the beets leaving about 1/4 inch
Wash both beets and greens and place beets into a glass baking dish with about 1/2″ water
Cover baking dish (foil or a lid)
Roast in oven for 45-60 minutes
With about 10 minutes to go on the beets, chop greens into large sections
Melt about 1 tbsp butter in a saute pan and add chopped garlic
When garlic looks transparent (about 1 minute) add greens and grind a little salt & pepper
Saute greens until wilted and warm
Place on plates
Pull those beets out of the oven and be careful of the dark red beet juice
Using a knife, slice off the greens stem and peel skin-it will come away easily
Slice beets into long strips and place over greens on plates
Sprinkle chevre and pecans over the top and enjoy!