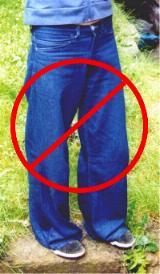 Last Night Dave and I had a fabulous dinner at the SL Country Club.
Actually, it was one of the most uncomfortable dinners that I've ever had! We went on the ticket of the family for whom I've nannied for 14 years. Neither of us had ever gone to the CC for anything other than a wedding reception, so we were unprepared. We had with us the tiny 8 week old mini dachshund that was going to be a surprise b-day gift for Dave's sister…who knew dogs weren't allowed inside?
We didn't know where to sit, in fact, it took about 10 minutes wandering through the halls before we even found the restaurant! The food was good, but we had no idea how to react to the hand written check: no tax, no total…um…the membership had 3 numbers…there were 4 boxes…ahhhh! On the way out, the manager tapped me on the shoulder, "Just as a reminder, levis aren't allowed in here. For the next time you visit."
Sorry sir, we didn't know. I don't think we'll visit again!