I recently returned home from a much-anticipated girl's trip to Europe where my sisters, mom, and I visited London, Paris, and Amsterdam. I am sharing about the trip in pieces by city, and will link them all together for the full itinerary once they're all posted. See my London recap HERE and Amsterdam HERE. When planning for our trip, my two sisters and I decided to divide up the itineraries between us. We each took one city and planned where to stay, where to eat, and what to do. 
The second city on our trip was Paris.
This was my city to plan, and I surfed some blogs and used google to dig up lesser-known favorite spots. We wondered how we would be able to feel like we got a good taste of Paris in just one day, and it actually turned out to be so wonderful. We did and saw and ate all the things we hoped for, and felt like we left with a great experience.
One of the keys to enjoying just one day in any city is to know upfront that you will not be able to do and see every little thing. So, live in the moment and really love the things you get to. It will feel like a perfect experience.
I relied on Jordan Ferney's experience with Paris as I planned, and ended up booking the same AirBnb she booked on one of her last trips. It was in the area of Le Marais, a cool, quiet area near the river across from Notre Dam. The space was beautiful, with huge windows looking out onto the street to the most magnificent Parisian views. (If you're headed to Paris soon, I recommend it! And, you can use this code for $40 off your booking there or at any other airbnb! Hip hip hooray!)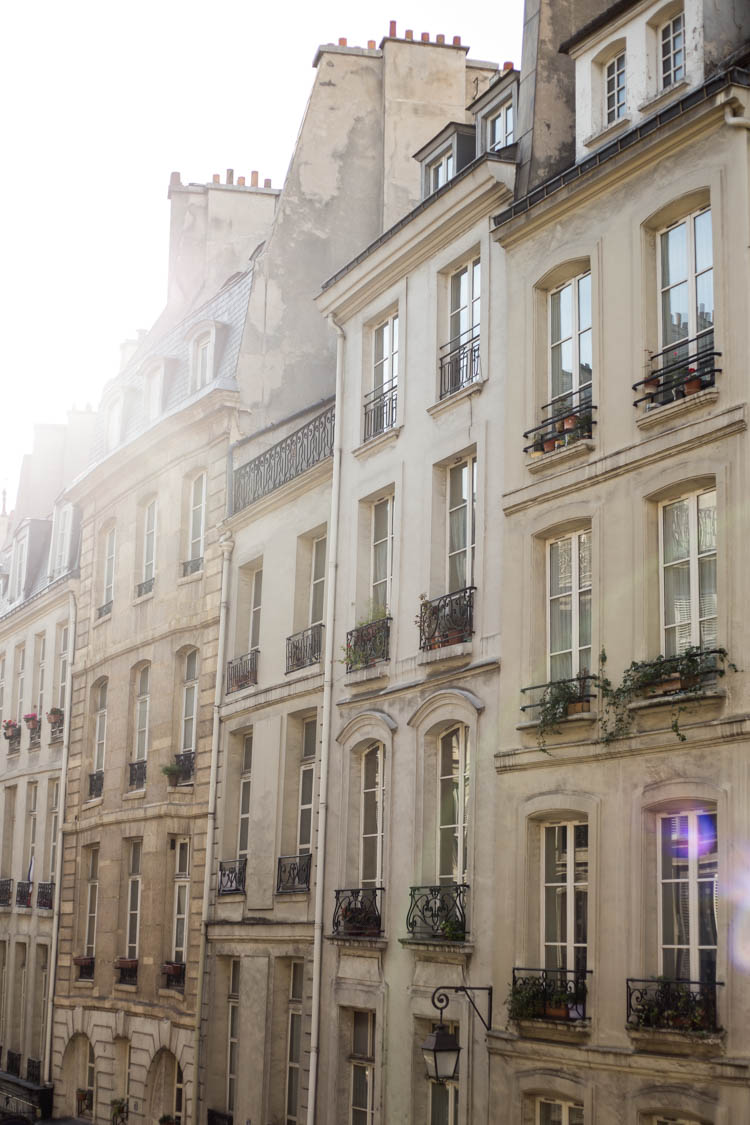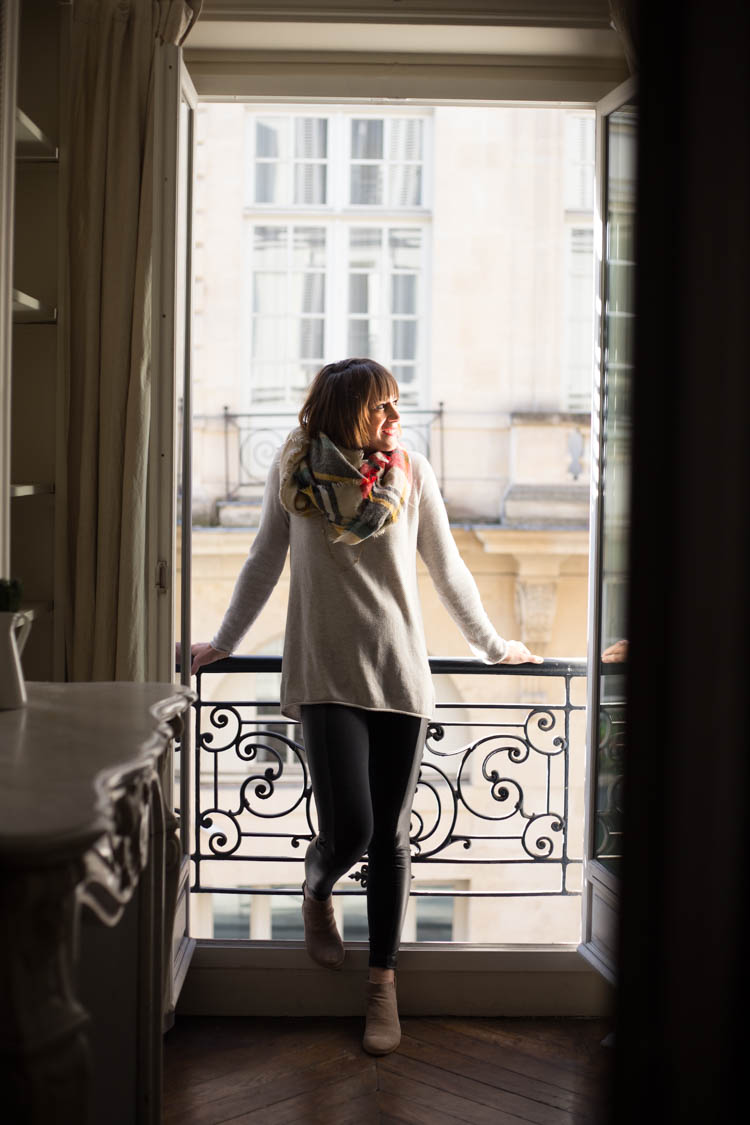 We arrived in Paris by train late at night, and after waiting in a long taxi line at the train station decided to try Uber. Voila! Five minutes later we were cruising in an Uber to our apartment. We dropped our bags and decided to grab a late-night falafel at LA Falafel, which has rave reviews and was only a couple blocks away.
Unfortunately, it was closed that night, so we ducked into a little falafel place across the street. It turned out to not be very amazing, but was a fun way to begin our time in France.
In the morning, I happened to get up at the same time as my sister and she convinced me to join her morning run in my pajamas and Van's sneakers. After three minutes out the door I wished I had brought my exercise clothes and shoes and had been doing morning runs with her every day! It is such an amazing experience to be awake in a new city before the bustle of the day. We ran a couple blocks down to the Seine, then along the river towards the Louvre.
My sister, who has spent a lot of time in Paris, knew the general layout of the city, so we crossed over and ran through the Tulerie Gardens, noticed the Muese L'Orangerie, and spotted the Eiffel Tower all before heading home, refreshed and already filled with Paris sights.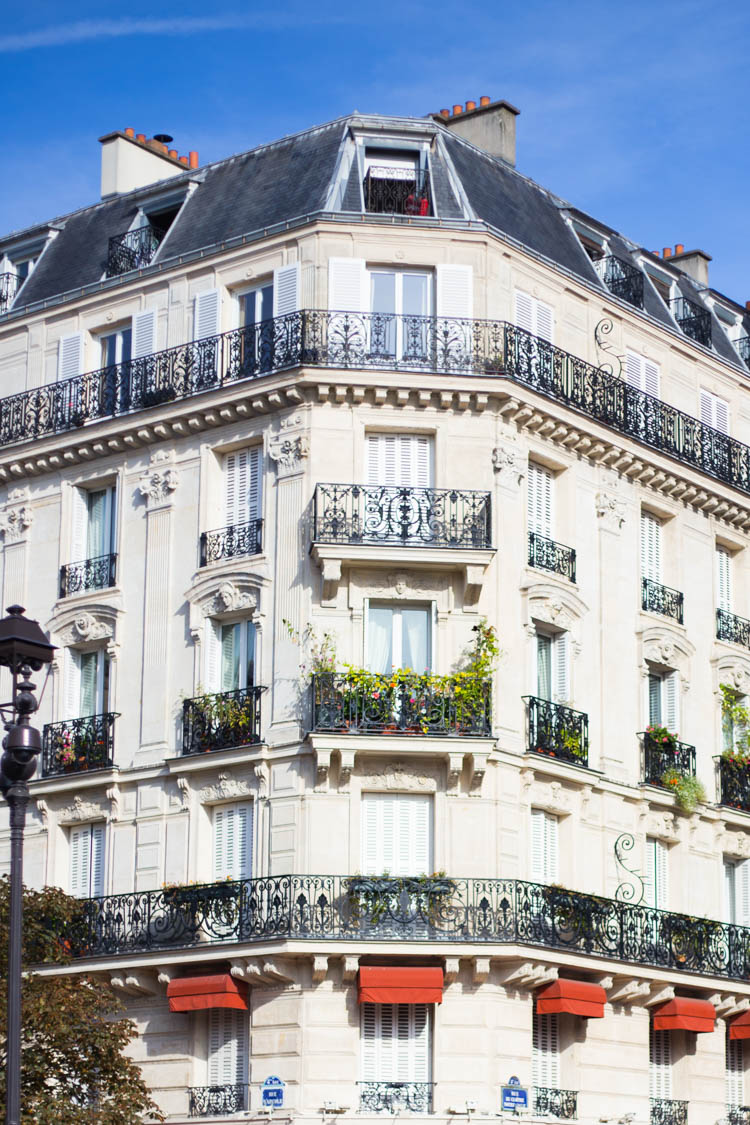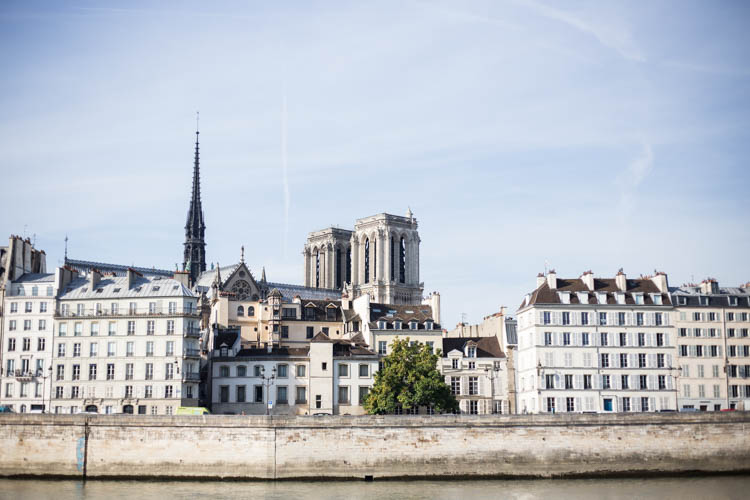 After getting dressed, we stopped in at a Pharmacie and asked for a recommendation for a nearby bakery. The pharmacist motioned to the boulangerie across the street, Le Petite Versailles du Marais. "It's famous!" he told us. What luck! I oohed and ahed over the pastries and tartes, before choosing a chocolate croissant, goat cheese quiche, and fresh orange juice–squeezed in front of me! And a baguette to tuck into my bag for later because I heard that's what the French do.  As you can imagine, everything was amazing.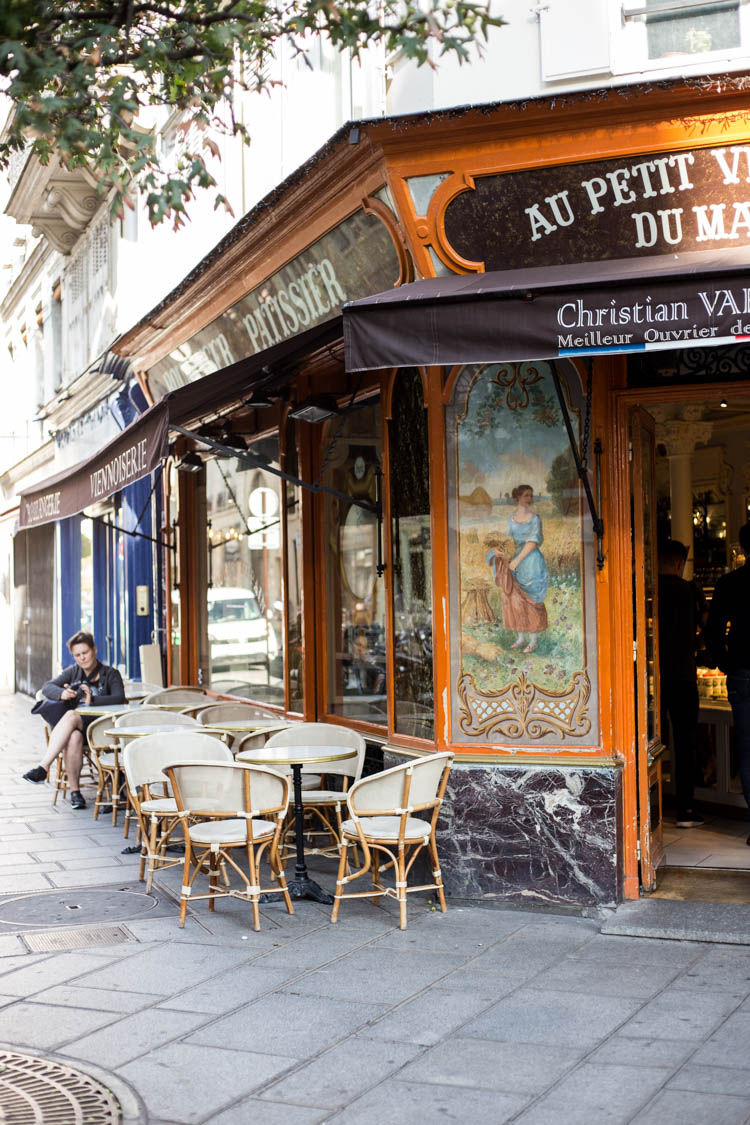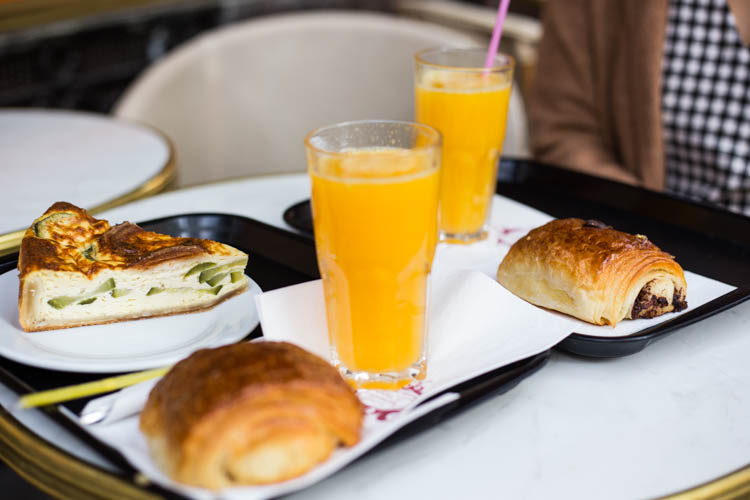 On our morning run, my sister and I had noticed a Velib rental bike station, and I remembered reading about how cool the system is. You can rent a bike for a day, parking it at stations throughout the city as you see the sights. We thought it would be a great way too cover a lot of ground and have a unique experience. It was the BEST!
The system is relatively easy to figure out. You insert your card, choose a day pass and a bike stall number, pull the bike out, then return it at any of the other stations throughout the city. We parked ours several times at different stations to walk around, and then just picked up another one when we were ready. Truly the best way to get around the city.
There is nothing like cruising on a bike along the Seine, past the museums, through the little neighborhoods of Paris. We used goggle maps to find our route from one place to the next, and use the bikes all day until almost dark. It was one of my favorite parts of the whole trip.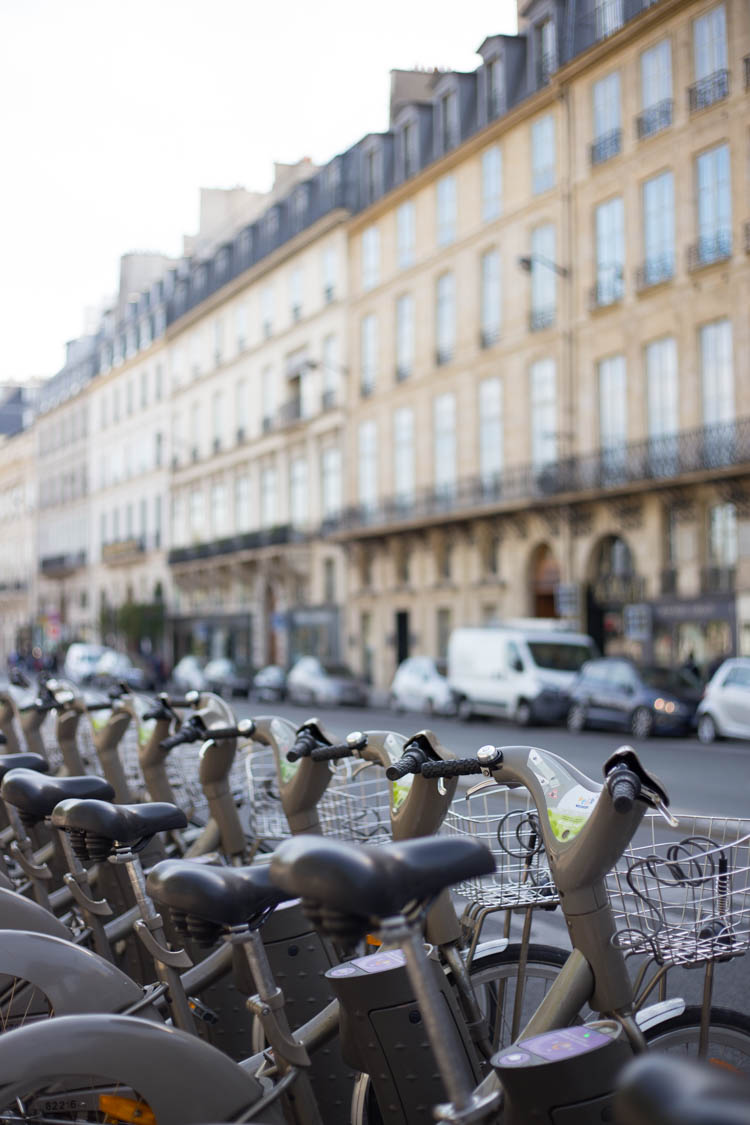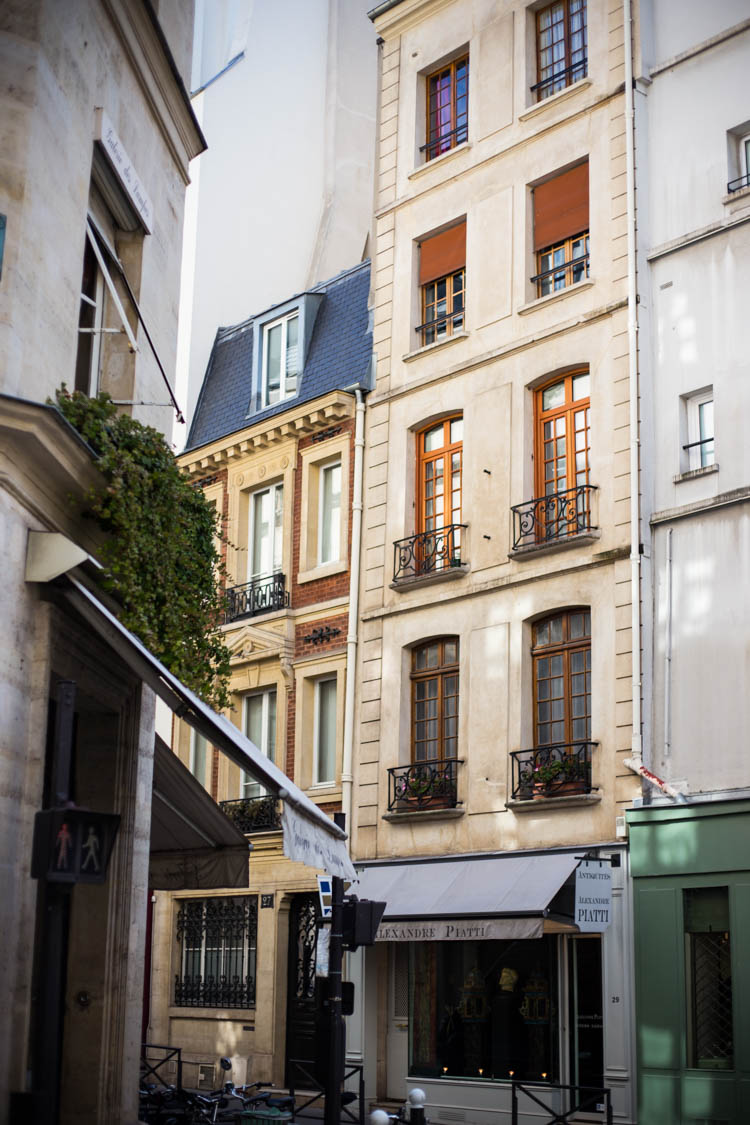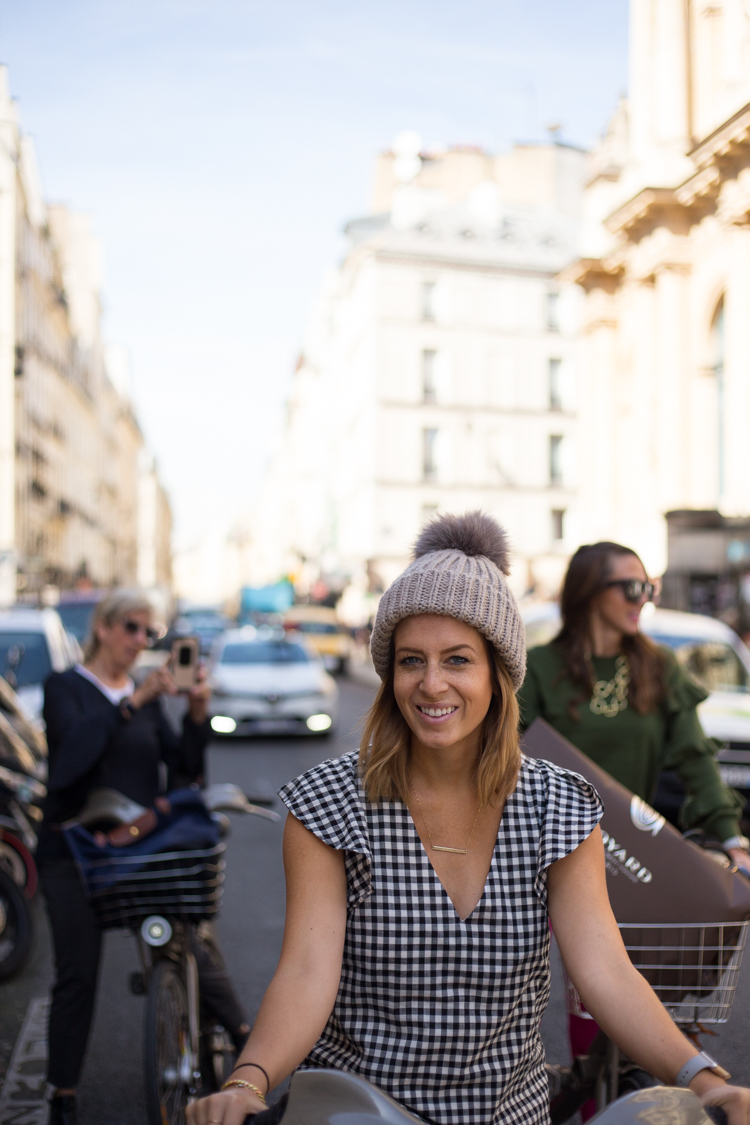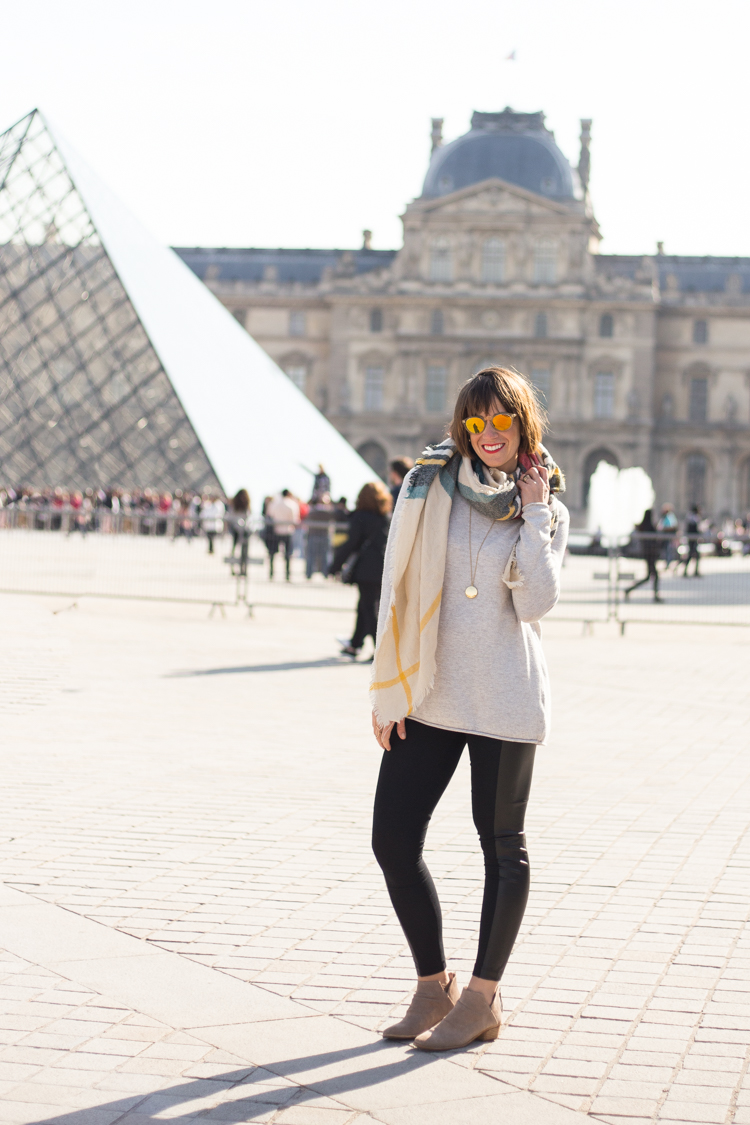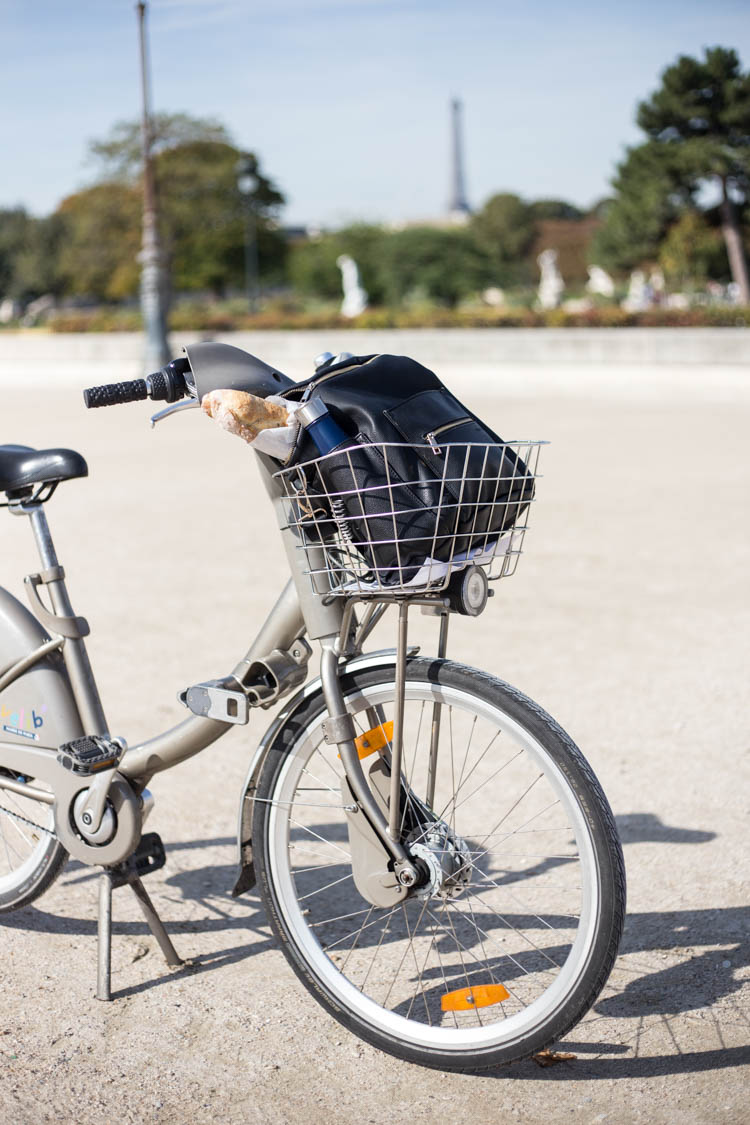 We rode the same route we had run in the morning. We stopped to take photos in front of the Louvre Pyramid, but skipped the museum itself, which would have felt overwhelming for just one day in the city. Instead, after wandering Tulerie Garden (walking the bikes, as riding isn't allowed) we locked them up and stepped into Musee L'Orangerie.
This tiny museum has only two large, oval rooms and a basement. Each of the two upstairs rooms house the largest works by Claude Monet, his Water Lilies, which are enormous and cover the entire walls. The light comes through the skylights and the whole scene is lovely and quiet. I have loved Monet as long as I've know of him, and these pieces are so beautiful. The museum is just small enough to not require a lot of time, and perfect for a really nice art experience without the crazy of a huge collection. I loved it.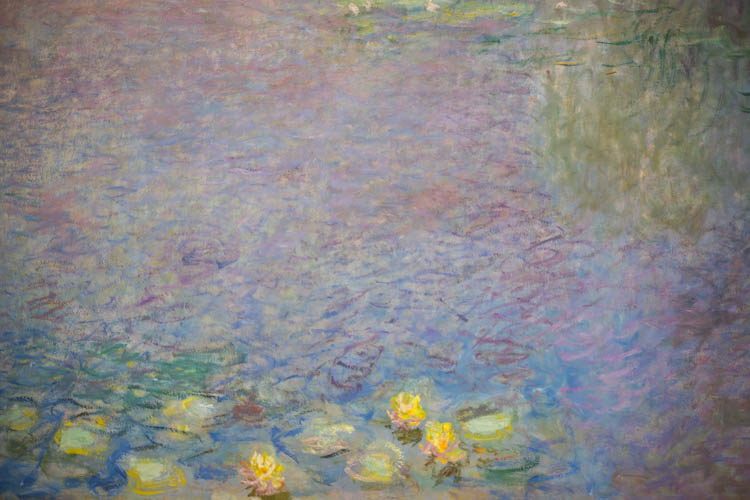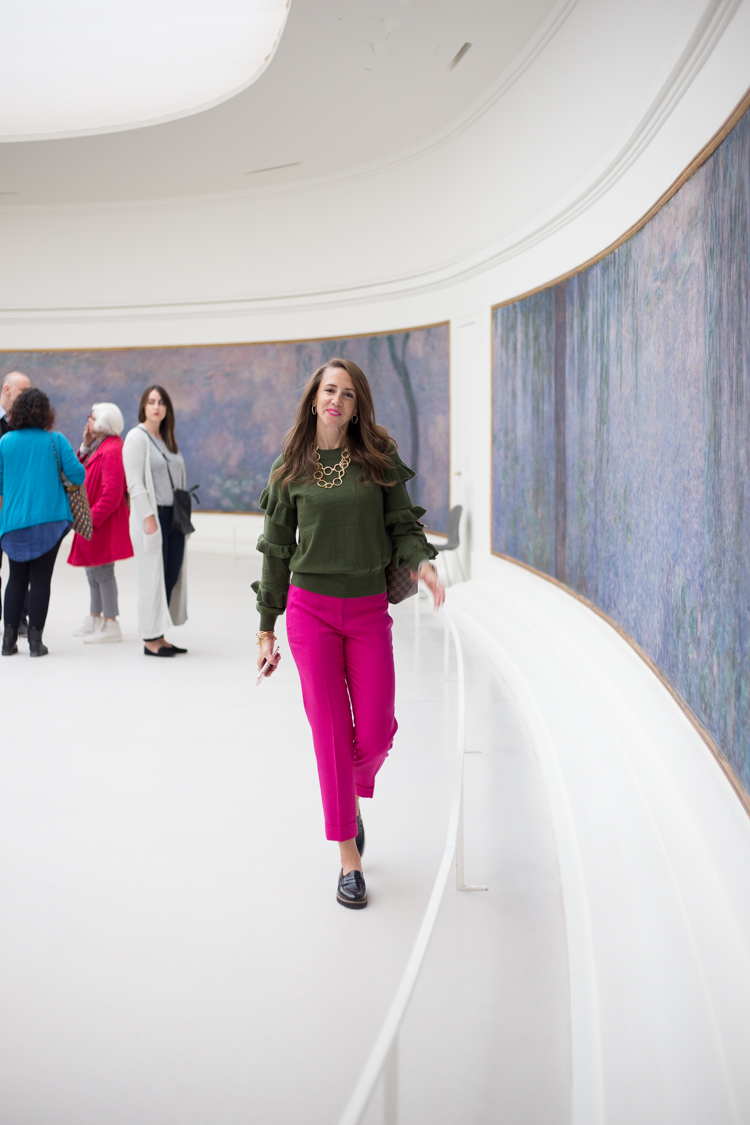 We cruised our bikes a little crazily through the Paris traffic, stopping at a few shops along the major shopping streets as we went. It felt a little like riding a bike down 5th Avenue in New York City which was both exhilarating and slightly terrifying, but we all survived!
It was only a short ride over to have lunch that came recommended from a friend. Galettes and crepes at Cafe Brizeh. Turns our Galettes are just savory crepes, and here they are both made Brittany style, with nutty buckwheat flour and salty butter. We arrived just in time for the lunch special (which ends at 3 pm) which included a savory galette, sweet crepe, and a sparkling apple cider for a fixed price. It was perfect.
The area was also nice for shopping and ducking into a few boutiques. I found a perfect black and white striped tee shirt at Petit Bateau, a shop that I loved for my babies, and it seemed like a practical Paris souvenir.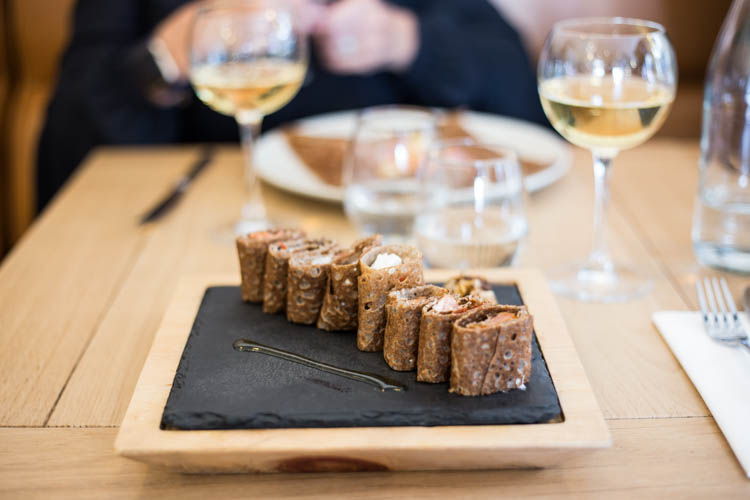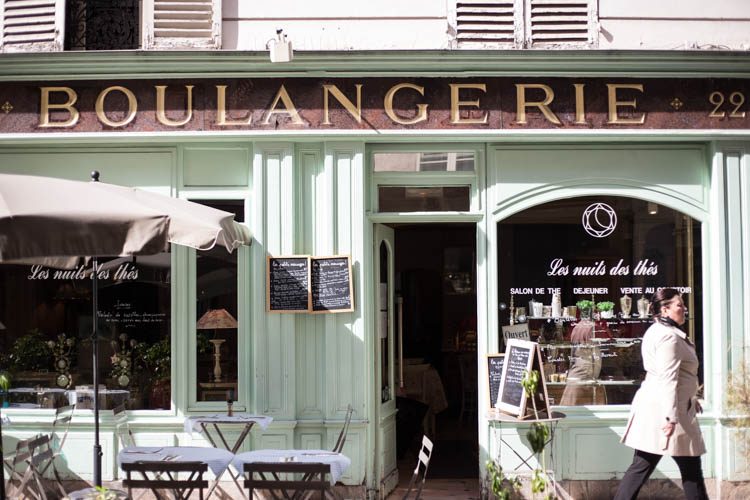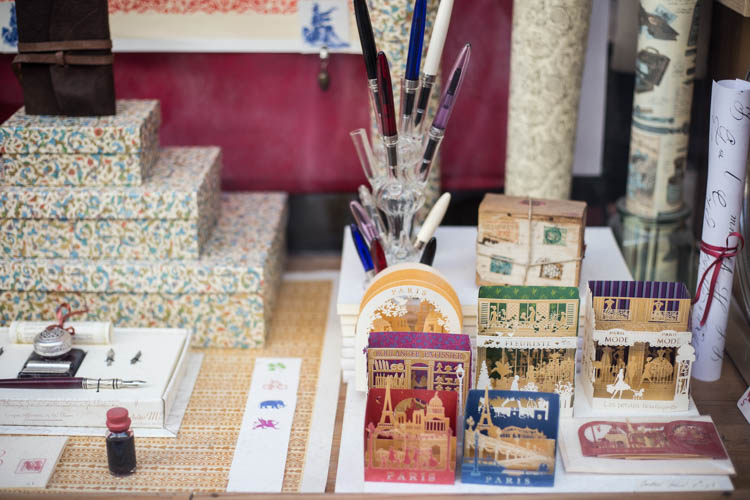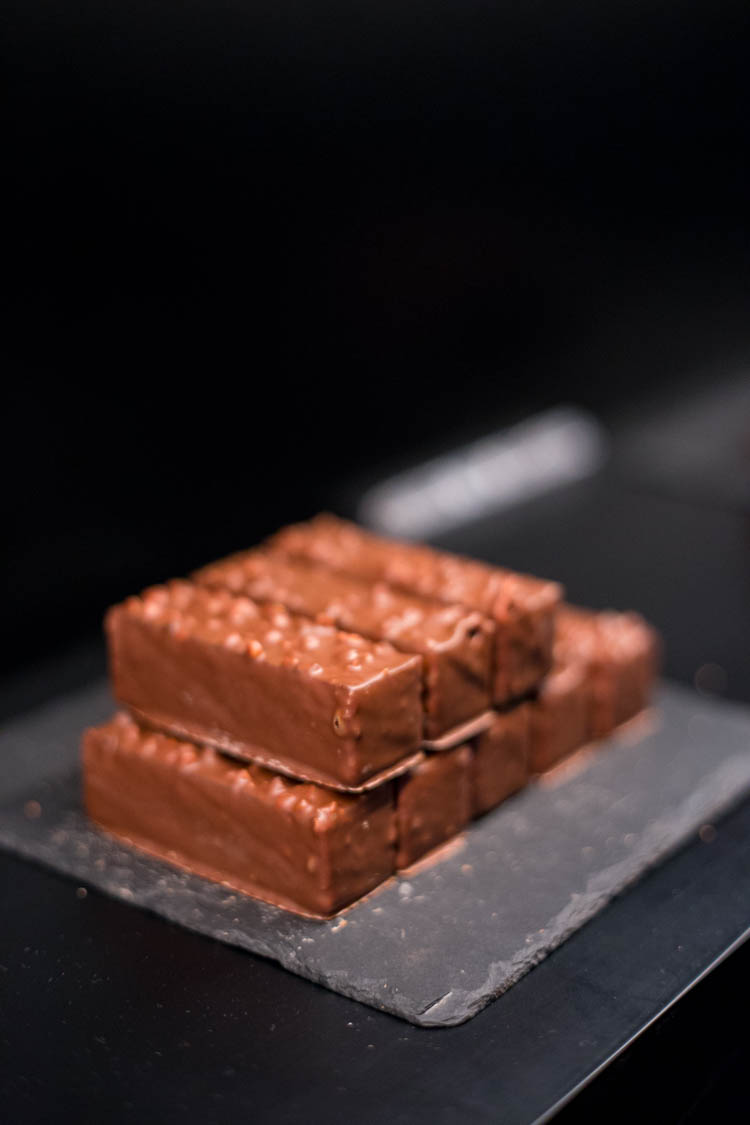 A few blocks from the cafe we stopped at Patrick Roger chocolate shop, which has been said to sell the most delicious truffles in the city. The shop was not what I expected! Cool, modern, and very minimal with such beautiful sweets. We each chose a few, and I got a single source bean bar to take home to Dave. I ate those chocolates one a day for the rest of the trip and they were really incredible. Tangy and unexpected.
Since we all had a few bags filling our baskets at that point, we headed towards the apartment and stopped at Notre Dame on the way. Again, short on time we opted to enjoy it from the outside this time, which is beautiful.
Once at the apartment we dropped bags and did a quick wardrobe change for our Eiffel Tower photos, and headed off again. My sister recommended heading to Troncadero Park, across the bridge from the Eiffel Tower itself, where there are great views, and less people. Sort of.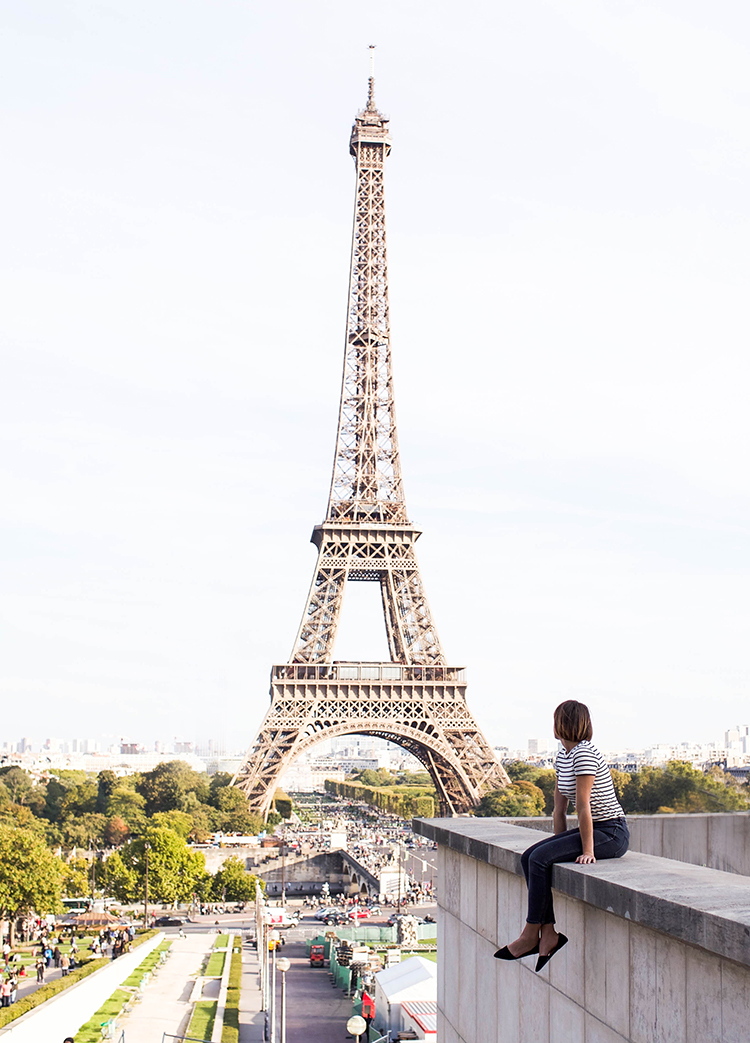 There turned out to be a fun party happening on the Troncadero steps, and a breakdance crew had brought music to pump while they performed. I will never forget dancing to "Despacito" with my sisters in the shadow of the Eiffel Tower. Such a fun memory.
We found a few fun spots for photos. The trick is finding somewhere where you look like you're not actually just in a crowd of people all trying to take photos looking like they're not in a crowd of people. Ha! We did okay, and these turned out really fun.
I had read about a fun fondue restaurant for dinner Le Refuge de Fondue, and so we parked the bikes and took a cab outside of town to the Sacré Coeur to take in the view before walking to dinner.
The Fondue is a price fixe including your choice of cheese or meat fondue, with a drink (served oddly in baby bottles) and a dessert. The building is small and quirky, with lots of college aged girls laughing and benches and tables pushed so closet together you have to climb on top of the table to get into your seat. Although it came highly recommended and had okay cheese fondue, I think this place is all about the experience. We probably wouldn't go back, but it was a fun place to try.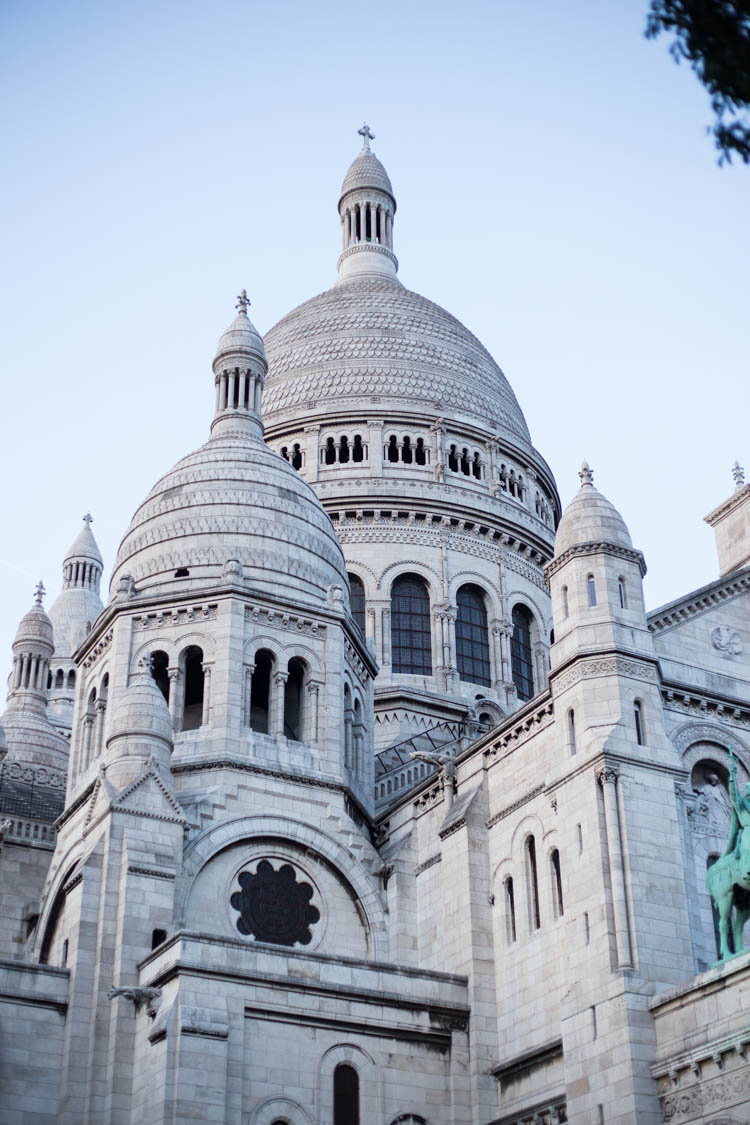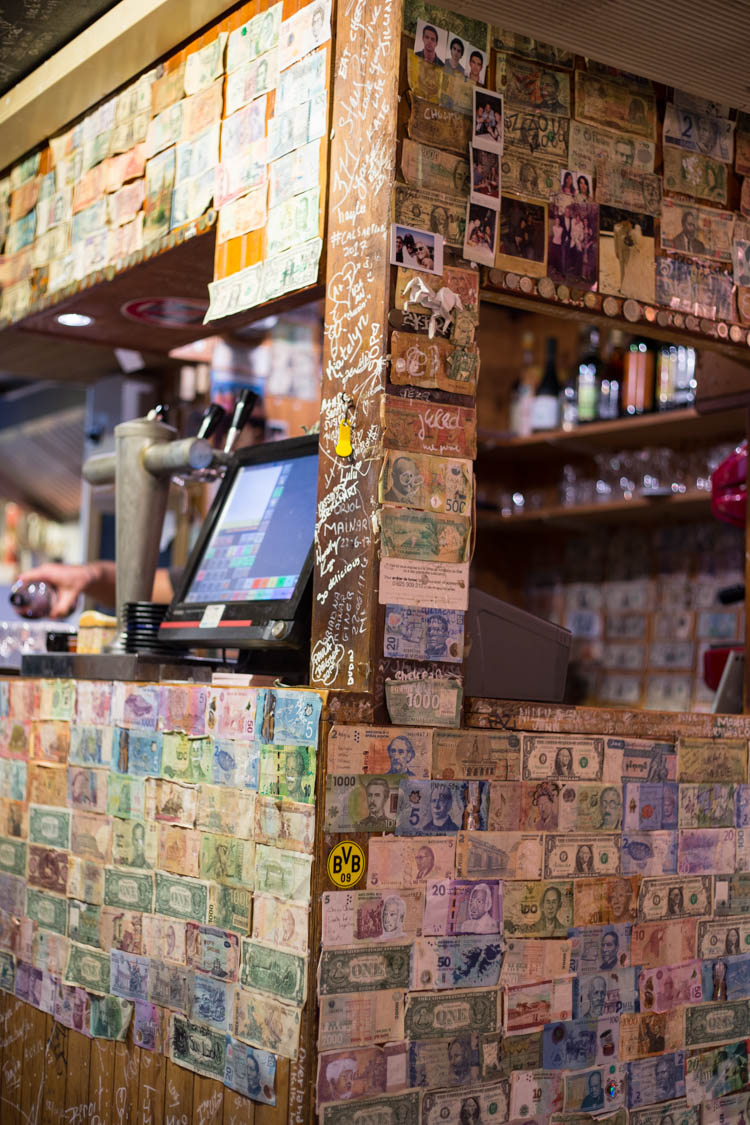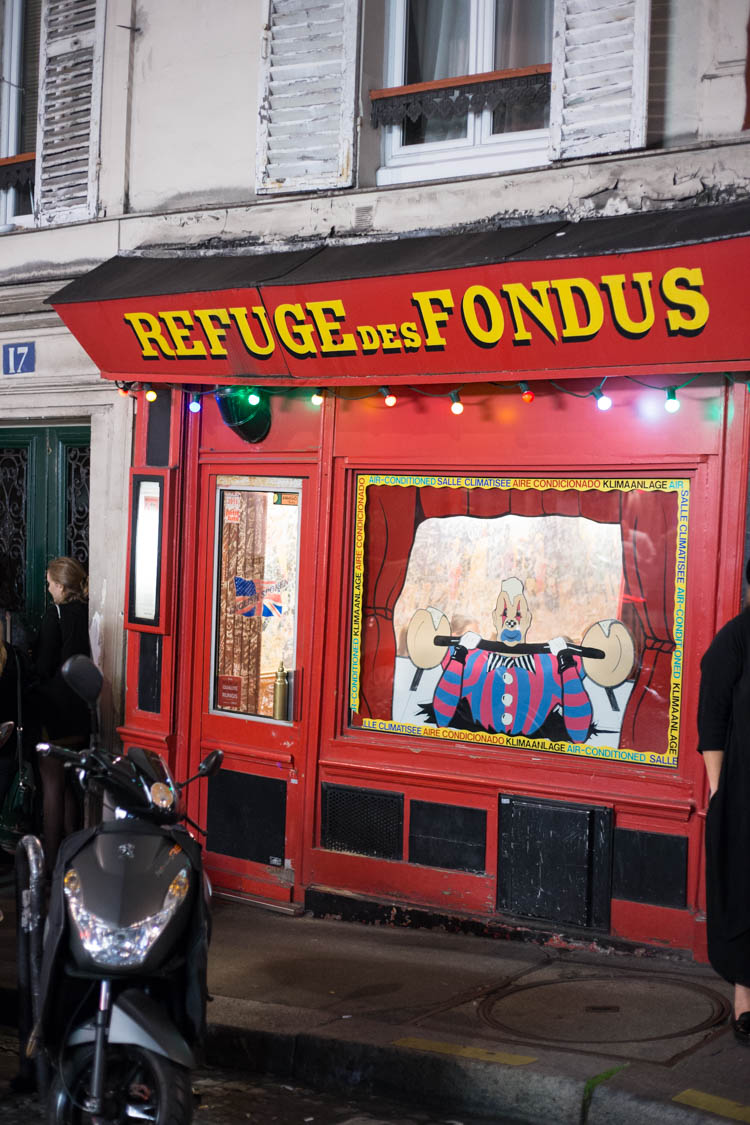 After dinner, we considered heading back towards the Eiffel Tower to see it glitter at night, and decided to leave that for the next trip because we were all thoroughly worn out from the incredible day. So, that is on our list for the next visit, in addition to getting some hot chocolate at Angelina's (we passed by several times and the lines were too long!) 
All in all our one day in Paris felt like more than enough time to soak in the sights, smells, and chocolate croissants of the city. It left us all satisfied, and at the same time excited to return soon.
SaveSave