I'm home from my two weeks of travel (Alt Summit Conference + Seattle Birthday Trip + Family time in SLC)  and barely getting myself back into the swing of things. I really missed my home and husband! It's great to be back.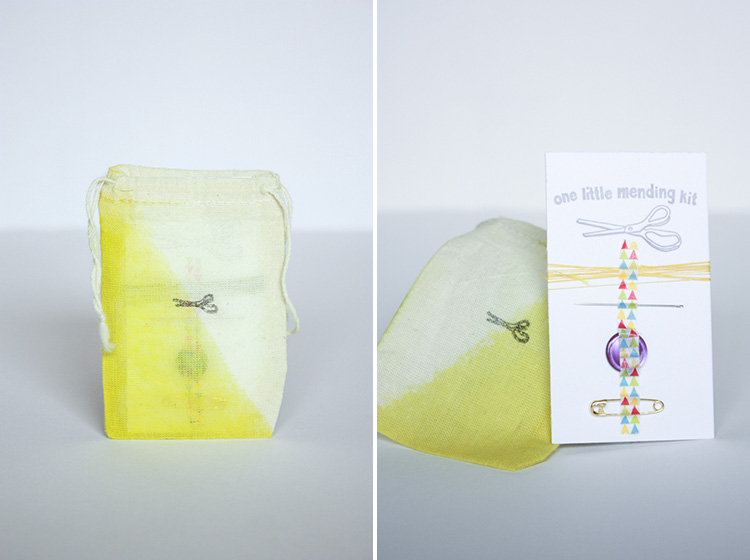 I've got a full recap of Alt Summit in the works, but right now I'm still processing and letting the glittery dust settle. I would love to share my handmade business cards with you today, though!
Business cards are kind of a big deal at Alt. Like, everyone's favorite accessory. When I was thinking of what to create, I kept coming back to the idea of a simple little mending kit, like the kind you get in a hotel room, but cuter. Because of the blog name One Little Minute, it was easy to play with the words and use the phrase " One Little Mending Kit" on the front, then include my information on the back.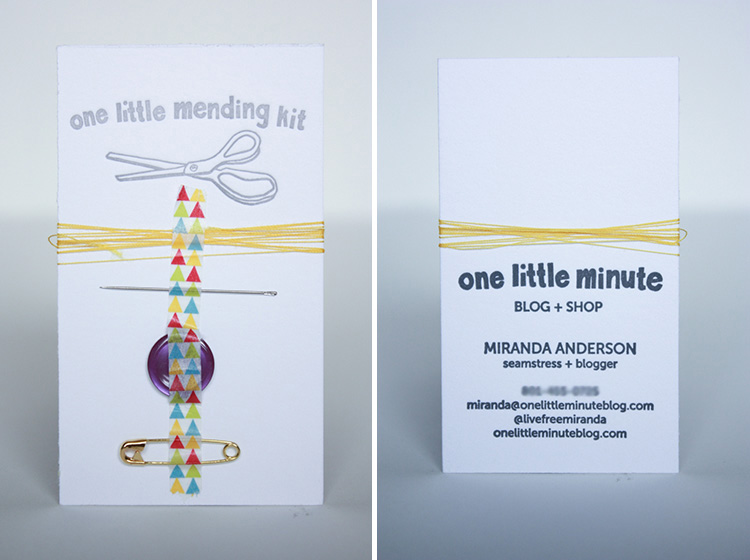 I letterpressed the cards with Missy in her little letterpress studio, and her press was a dream to work with! The cards are double-sided and so small, so there was a lot that could have gone wrong. Luckily, everything lined up beautifully and we printed about 400 cards (four at a time) in 3 hours. Once printed, I cut the sheet of four into individual cards with a standard paper cutter. Then came the fun part: assembly. Cue good movie and supportive husband.
Dave wrapped thread and I lined up the notions and taped. (Isn't that half-width triangle washi tape adorable?) It took two nights of movie-watching to finish the 200 cards that I planned on taking with me to Alt 2013. Turns out I should have stayed up a few more minutes to complete just a couple more, as I ran out on the last day. Lots of new friends!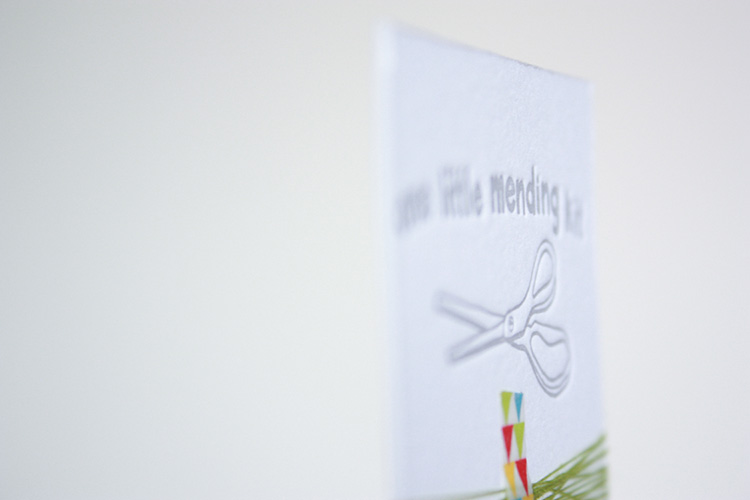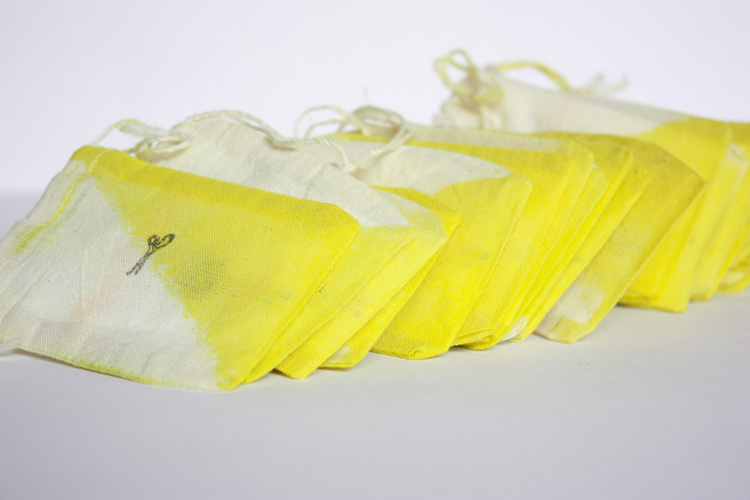 I found the muslin bags online and decided to dip dye them chartreuse at the last minute (like two days before I left.) I mixed a packet of idye in a glass bowl, dipped about 5-7 bags at a time, then placed them in a glass baking dish to set (okay, Dave did this part while I ran around crazy doing something else!). After rinsing them under the sink the next day, I had a vision of some awesome blogger walking down the street in a fabulous white coat with my business card in the pocket. When it started to rain (in my vision) the dye ran all down the coat, ruining it. I have no idea if that would even happen, but just to be sure I washed and dried the bags to completely set the color. Unfortunately, drying them balled them all up into a crinkled mess, so Dave and I ironed each bag flat before stamping.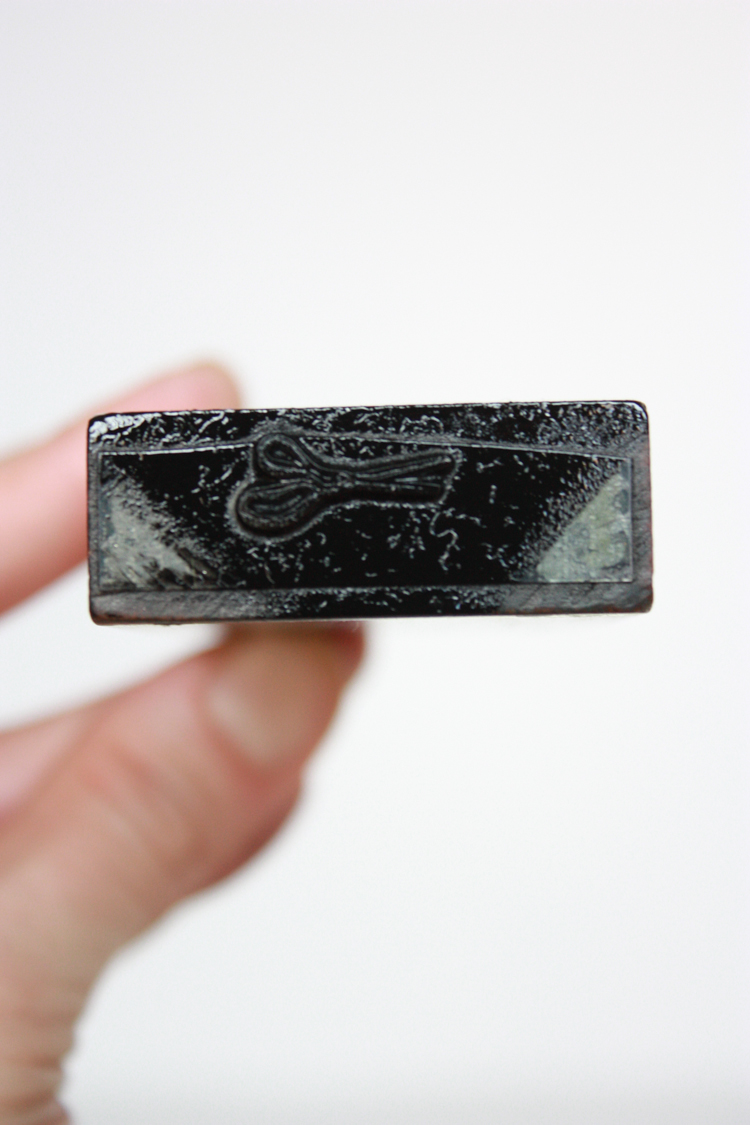 My good intentions to order a custom stamp got lost in the shuffle of preparations, so I was super excited to discover that a piece of my photopolymer plate ordered for the letterpress printing would actually function as a stamp when stuck onto a wood block! This discovery saved me some time and money, and also opened up this world of stamping possibilities with all of my old printing plates!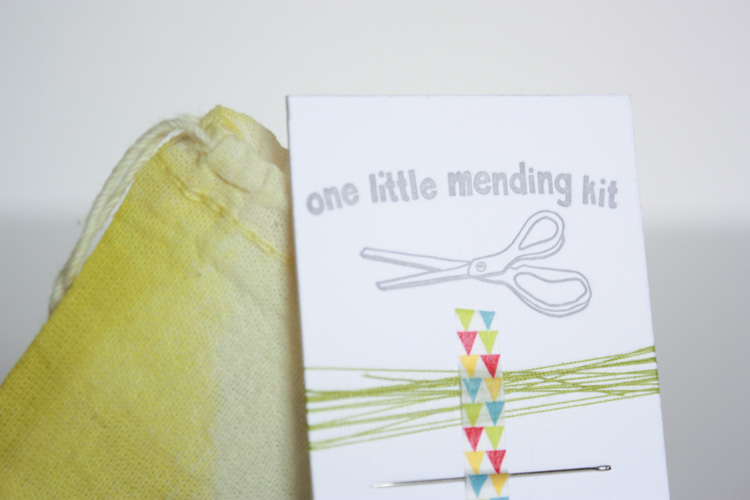 My "One Little Mending Kit" business cards were a lot of work, but they turned out exactly as I hoped and were a great reflection of who I am and what this blog is about.
To see some of the amazing business cards being flashed and passed this year at Alt, check out these roundups (can you spot mine in a couple of them?):
The Business Cards of Alt Summit 2013
(another) The Business Cards of Alt Summit 2013
Etsy Business Card Roundup + My Favorite Cards from Alt
Which Business Card Color Wins?