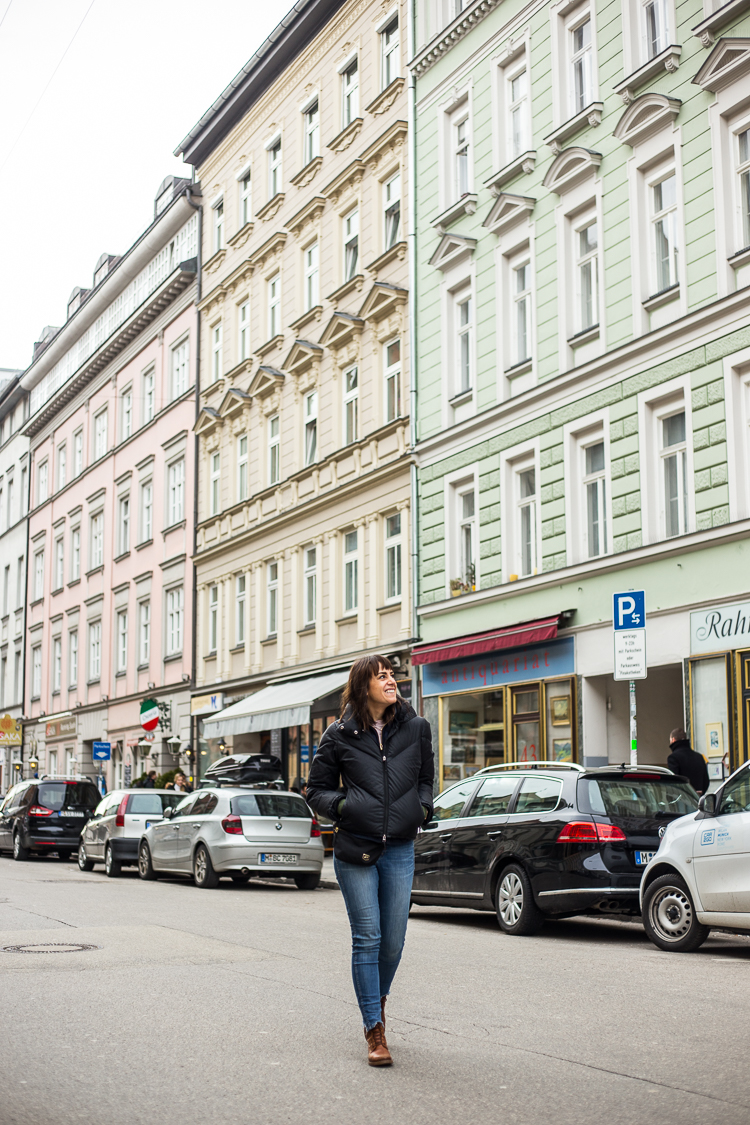 MUNICH
I celebrated my birthday with a week in Munich, Germany. Months ago I saw that Dave would be traveling for work, and I casually invited myself along. Thirty-six felt like an in-between age, and celebrating abroad would make it a little more notable. Plus, I am always up for an adventure. 
The last time I was in Germany was eighteen years ago! My mom and I spent weeks driving around Europe with little itinerary. We followed our whims, staying in towns that seemed to have more to offer, and stopping for pastries and to take pictures all along the way.
 My memories of Germany included a large Christmas Market in a small town. There had been fried pie dough balls, sprinkled in powdered sugar. We had also eaten warm coconut macaroons in a smaller town somewhere nearby. My memories were tied to food even then, as they still are now.
Needless to say, it was amazing to be back after so long. I loved the trip and would recommend Munich to anyone!
Places to See in Munich:
One thing I didn't understand is that Munich is part of Germany that has a greater identity with Bavaria. It was at one time in history an independent area with a series of monarchs. The history and culture are defined greatly by this Bavarian identity. In fact, a lot of things I associate with "Germany" are actually more truly characterized as "Bavarian" like beer, pretzels, and lederhosen.
Marienplatz
The center of Munich revolves around the historic square, Marienplatz (a "Platz" is a square.) As I wandered around the center throughout the week, I could orient myself by catching glimpses of the New Town Hall spires. Huge, gothic buttresses rising into the air. This building also has the Glockenspiel (giant cuckoo clock) on the facade.  Every day at 11 am and 12 pm the glockenspiel goes off and there is a little show you can watch with the characters in the clock.
There are plenty of shops and restaurants here. Mostly bigger-box type stores you would find in many cities around the world. It's a great place to get oriented and people watch.
We happened to be in town during a special time where some people perform a particular cultural dance. I shared pieces of it on Instagram and had several friends comment that it only happens every seven years, so we were lucky!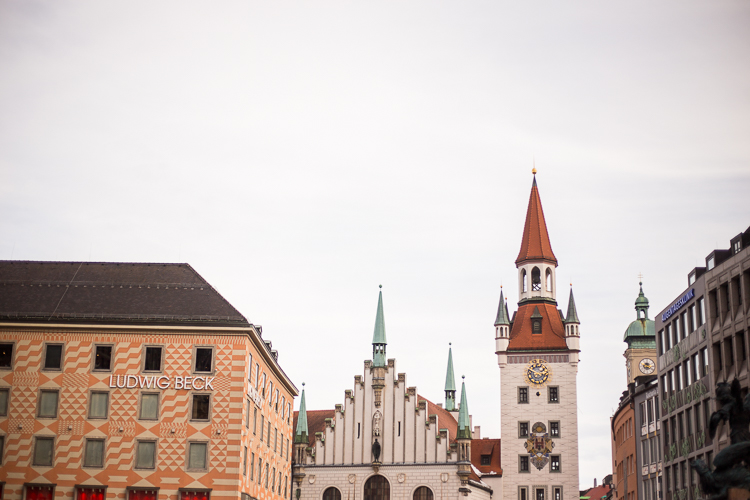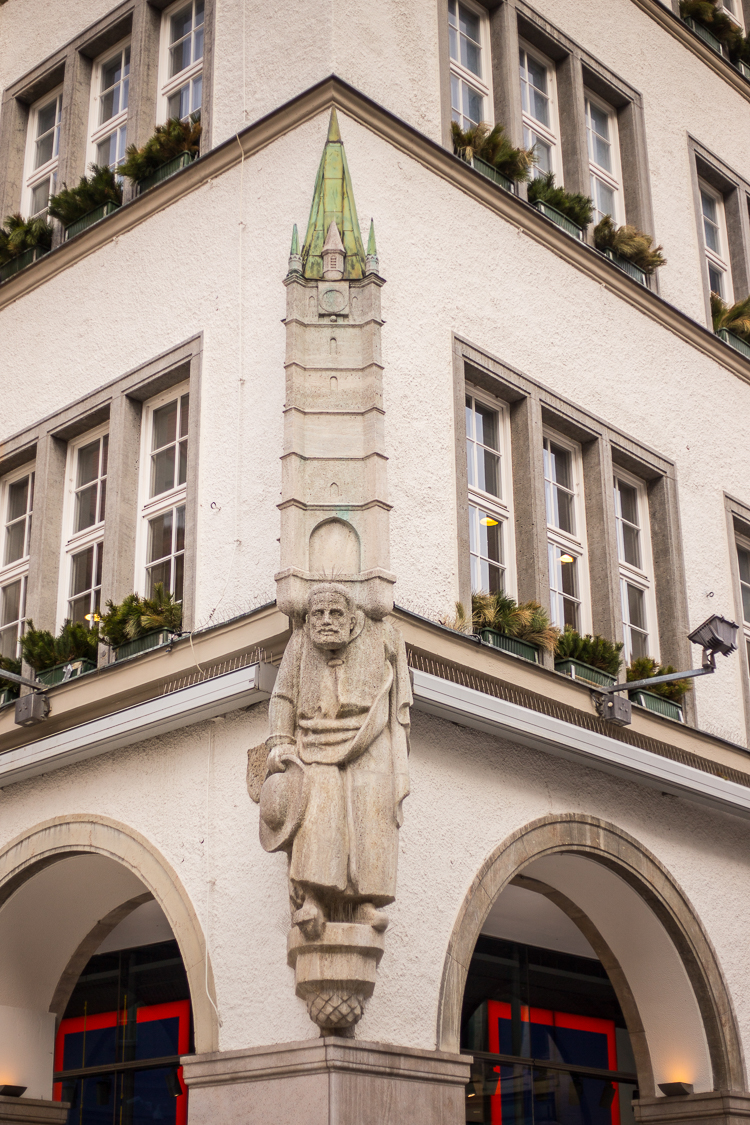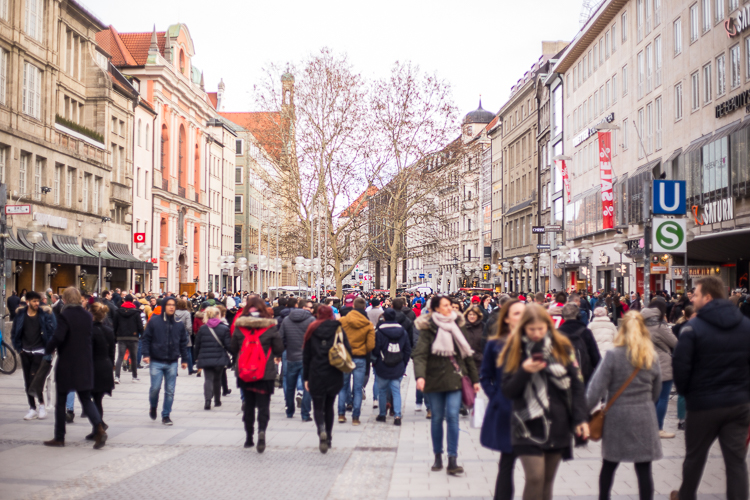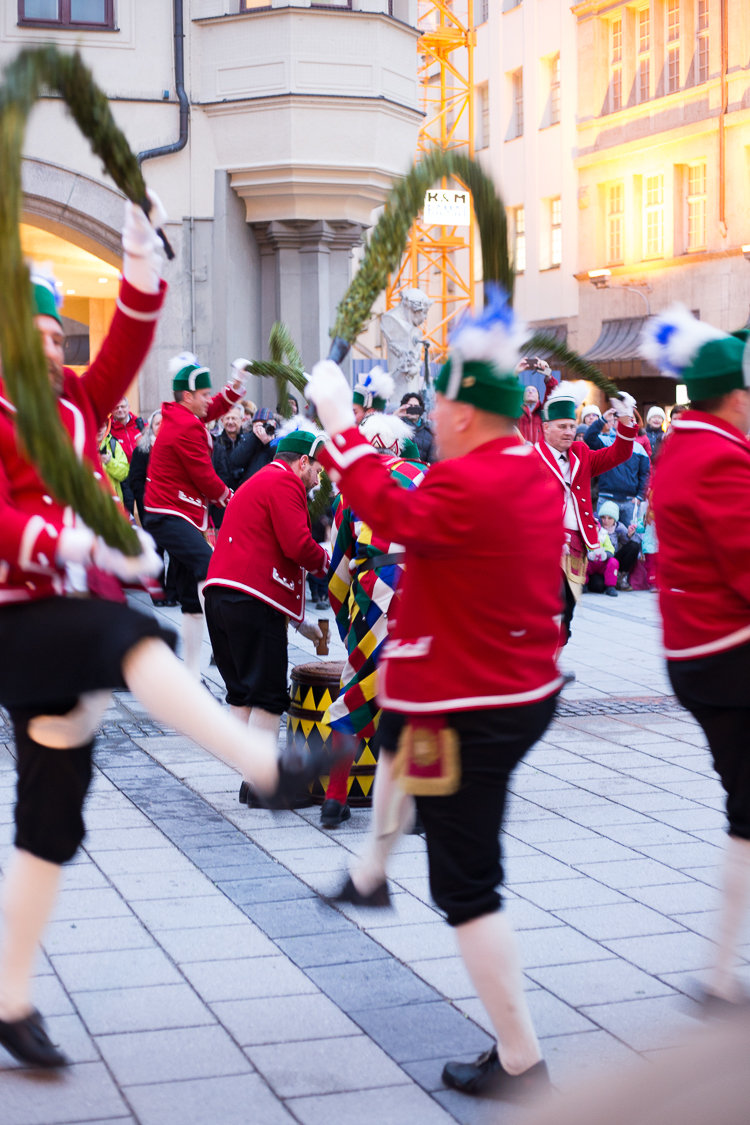 The Viktualienmarkt
Stalls of vendors selling fruit, cheeses, baked goods, and of course pretzels and beer. During the summer, I'm told the whole square is filled with people eating, and enjoying the sun. Even in the cold, on sunny days the tables were out and people absorbed the little glow. 
This area is just beyond the Marienplatz, and is really beautiful.
The center is easily explored on foot, which adds to the charm. Bicycle rentals would also be a good option. 
This is sort of like the Arc di Triomphe in Paris.  We happened to drive by on our way somewhere else. I don't know that it's a big enough sight to come see on its own.
Alta Pinoketek
This is a beautiful, classical art museum. Huge, with room after room of massive and diminutive works of art. I realize, when I wander art museums, how little I know of art history. Regardless, I enjoy absorbing the creative energy and always leave inspired.
Deuches Museum
reminded me of a smattering of Smithsonian Museum exhibits all under one roof. It's primary focus is Science and Technology. I loved the clock exhibit. The kites and hot air balloons. The children's area looked like a nice break for young kids.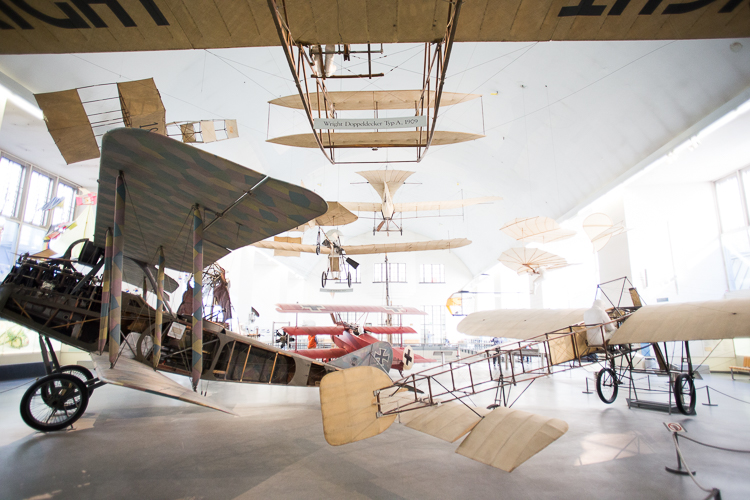 Residence
We didn't go but it's huge and elaborate. One of my friends, who lived in Munich, send me this information: The Munich Residence is the main palace of Bavaria.  It is a huge conglomeration of buildings and the tour takes forever, but there are a few really cool things to see inside, like the Antiquarium.  Right next to if is the Bavarian State Opera House and the National Theater.  It's also right next to Odeonsplatz, which has another cathedral (Theatinerkirche) and also Feldherrnhalle, a really pretty monument built by one of the Bavarian kings.  There's also quite a bit of Nazi history that happened in and around this area since this was where Hitler intended to make his home.
English Garden
English Garden is the biggest park in the city center, akin to Central Park in NYC. It is made up of several sprawling fields with a river running through. My friend said in the summertime the fields and river become an impromptu sunbathing and wading area. Half of the park is informally a nude sunbathing area. Another friend recommended eating at a biergarten while visiting the park in spring or summer. They were mostly closed when we visited in February.
The Eisbach River Wave
Positioned in the river, near a bridge that divides the city from the park, this popular man-made wave has become an icon for the city. Even in February there were multiple dedicated surfers out practicing. It was a super fun thing to watch for a while, and a perfect, easy stop on the way into the park. 
Pinakothek der Moderne
We didn't make it to this modern art museum on our visit, but it has rave reviews and is one of the largest modern art museums in the world. I'm penciling it in for my next trip!
Cathedrals
I didn't duck into many cathedrals on my trip, but a friend recommended the following: There are a ton of cathedrals you can find in Munich, just like in any European city.  I would recommend going to Asamkirche, Frauenkirche, and St. Peter Kirche.  Asamkirche is really unremarkable from the outside.  In fact, it's really easy to miss it if you're not looking close enough.  Inside it's one of the most incredible cathedrals I've ever seen.  Frauenkirche is really historic and unique to the city.  Lastly, St. Peter's has a tower you can climb to get a really fantastic view of the Glockenspiel, Marienplatz, Viktualienmarkt, and basically anywhere else in the city.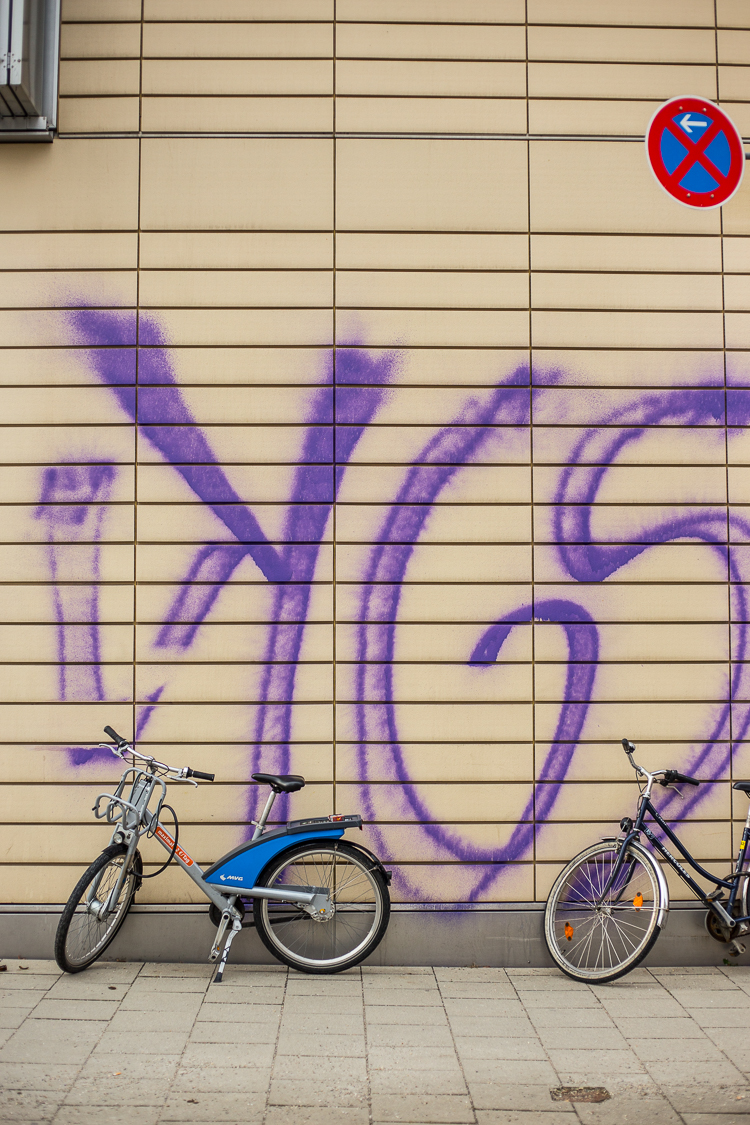 Where to Eat in Munich: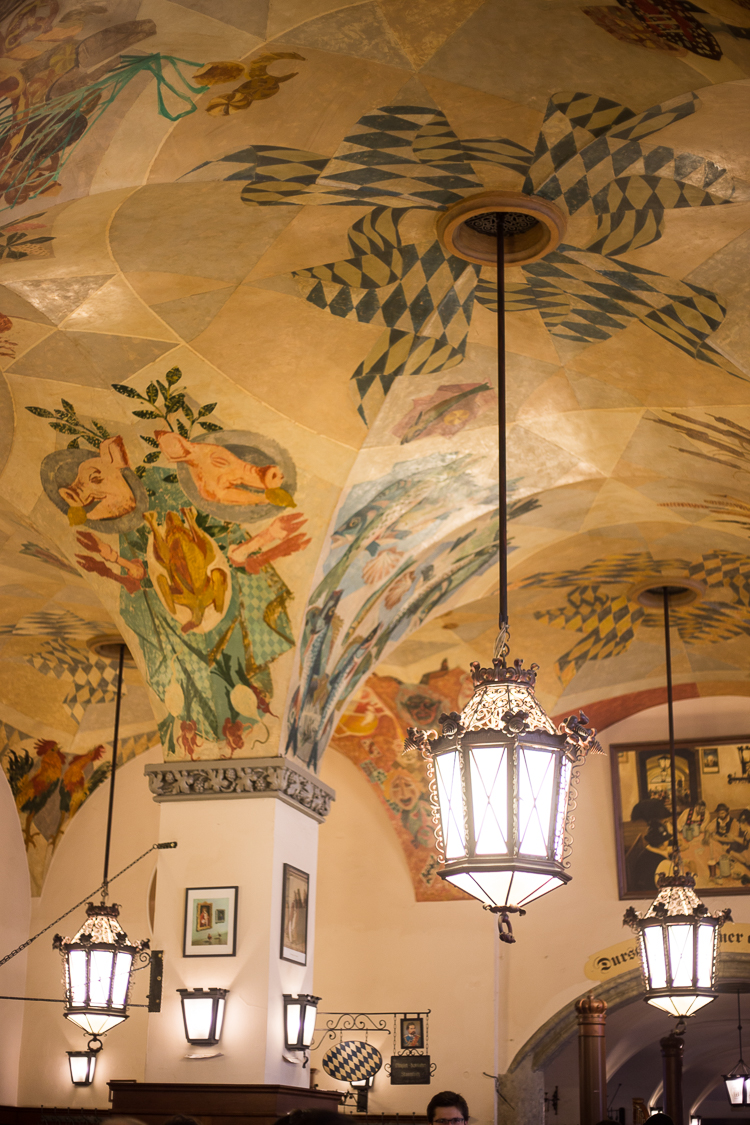 Hofbräu Haus
The classic beer house, complete with hand-painted, arched ceilings. The space is filled with picnic tables. Look for an open spot and take it! Maybe ask for an English menu? Order Obazda, have cash for a giant pretzel from the pretzel girls, and try the bratwurst with saurckaut. We loved the whole experience.  
Wirtshaus zur Brez ́n
Similar to Hofbräu Haus mentioned above, but less touristy and with a better price. We didn't make it to this one, but a friend and local recommended it (and the huge dessert plate!)
Klingelwirt
You'll need transportation to this out-of-the way local beer house. It's really good, organic and local food with a great atmosphere, classic Bavarian food, and easy dining. Really cool.
Tiny place off the beaten path owned by a mother-son duo. Great pasta. Intimate setting. Definitely make a reservation!
Doner Kebab
We ate one right around the corner from hofbrauhaus. It was delicious. Middle Eastern Gyro Meat in a pita. 
Hungriges Herz
Really amazing breakfast and lunch in a cool neighborhood near the center. My local friend Melissa brought me here and we shared bread pudding French toast and an egg and avocado sandwich. All amazing.
Cute, modern place for Belgian style frites in a really cool neighborhood. Order with meat on top for the full experience. 
Literaturhaus Cafe
Dessert and hot cocoa. Good vibes. 
Royal Healthy Slices
Really delicious sandwiches outside of the main center. This window-shop is owned by a mother and son from Georgia and the food is really amazing.
Viktualienmarkt
Such a great spot for pretzels, cheese, and meat. Build your own picnic!
Other recommendations: 
Manam for the best Thai food ever.  It is a hole in the wall, but totally worth it and not terribly far from the city center.
Burger House for really great burgers if you're in the mood for more familiar food.  Most burgers in Germany are terrible, but these are good, even compared to the American ones.
Indian food is usually pretty good in Munich, and you really can't go wrong with Italian places (just be careful what you order and stick with more basic things because they like to put tuna and other random seafood on a lot of things and it usually doesn't taste good or make sense.)
Tushita Teehaus for great Japanese vegan bowls and amazing tea.
Where to Browse in Munich:
It is no secret that I don't love shopping. Especially mindless shopping and impulsive, compulsive purchasing. One major exception to this generality is when I am on vacation. And it is not that I want to buy a lot of random things, I rarely bring home typical souvenirs. I do love the cultural and creative vibes of shops in cities where I don't live! I call the type of shopping I like to do "browsing". Browsing is where I completely release any expectation that I will buy something. In fact, I approach the whole endeavor with the idea that I will not be buying anything at all. Instead, the idea is that I can see and appreciate all of the beautiful things that people have created, without wanting to own them myself.
This is especially true for small boutiques and local shops. I think it is kind of silly to go to another city and shop in the same types of stores that exist where I live (although I did pick up a quick knee-length jacket from H&M on this trip to keep me warmer than the short jackets I had packed.) The browsing of local boutiques makes gives me a buzzy, inspired energy. I love seeing what trends and fashions and products exist in other places that I have never seen before. 
On this trip, thanks to my local friend Melissa, I found a couple areas and stores that I particularly loved and would highly recommend.
Okay friends, this place will blow your mind. It is a thoroughly beautiful industrial goods store, complete with kitchen, garden, personal care, bed and bath, incredible office supplies and even some apparel sections. Melissa introduced me on our walking tour of the city (where I bought the most lovely sewing pins) and I went back every day after just to absorb the vibes. Love it.
I loved this small felt shop, complete with hundreds of colors and a dozen thicknesses of wool and synthetic felt. They have a bunch of options for uses, and I picked some up for coasters and for making Bunny Ear headbands for the kids for Easter.
Ludwig Beck is a big department store that I didn't go in, but I loved their specialty yarn shop around the corner. Although I didn't buy anything, it was fun to browse and see all of the colors and styles. If I had wanted some traditional German trim, this would have been the place to find it.
Reichenbachstr. near Gartnerplatz
This is a really cool area, and on this particular street I was blown away by the level of darling boutiques. I went in one called Rocket that I loved, another next door. Across the street there was a vintage home goods store that I wanted to move into. I also loved wandering in Hay, which is a Danish brand, but the brick and mortar store is so good.
Museum Gift Shops
This is a quick shout out to the art and science museum gift shops! I love the curated gifts and funky products. I rarely buy things, but love seeing them.
This beautiful department store feels a lot like the basement of Harrods in London. It has a beautiful high-end deli, chocolate shop, house made tea and coffee. It was a really fun place to wander, and I brought a couple delicious chocolates home.
I'm sorry to be the bearer of good and bad news with this one. Arket is a newish brand by H&M, but is not yet available in the USA (even online!) The styles and price points are just above what I have come to expect from H&M, but the store also had some cool extras like home goods. I found Plum a couple cute outfits for her spring capsule wardrobe, and am already excited to see one in the USA someday.
Day Trips from Munich:
Our day trip this week was spent at Rothenburg ob de Tauber, which we loved! It deserved it's own post, which you can see right here. We highly, highly recommend it as a complementary trip to visiting Munich. It is away from the mountains, which we in turn saved for next time. But, after spending the week in the bustling city, this trip to a historic fairytale town was incredible.
Other day trips that were recommended that we didn't see this time are:
Neuschwanstein Castle
This is the most popular place that people visit.  If you only have a few days and really want to see this one, I suggest renting a car or doing a tour that hits this castle and Linderhof (a smaller but really amazing castle nearby).  You'll want to get tickets online beforehand.  You can only get them early (it has to be earlier than 72 hours before your visit).  There is another older castle right next to Neuschwanstein which you can also go see and a Bavarian Kings museum, but it might be a little castle overload for one day.  The castle is up a hill quite a bit.  Bring some decent shoes for this one, unless you want to chance that the bus is open (only during good weather) or pay for a horse cart ride up the hill.  One more recommendation for this spot – there is a really great little kiosk outside this restaurant up the hill near the castle (directly below it, actually) and they sell Quarkballchen.  They are delicious little donut holes made fresh on the spot.  I always make everyone buy some and they typically only buy one small pack of three and then they always end up coming back for more.  They're so tasty.
Nuremburg
There are a lot of museums and different things you can do in Nuremburg.  Sort of close to Rothenburg, so it would be possible to do in the same day.
Konigsee/Berchtesgarden/Eagles Nest
Konigsee is a gorgeous lake in the mountains with a really vibrant blue/green color and really is fantastic during the changing colors of fall.  Do the boat tour, but be warned that they stop running at 5pm every day and may not always be reliable with hours, so maybe do this one in the morning or around lunchtime if you want to get in.  The boat tour takes you to a few different spots on the lake, all really different and nice to wander around in.  Berchtesgarden/Eagles Nest is Hitler's mountaintop confidential hideout.  Small, but really interesting with amazing views since you're at the top of the mountain.  And as with most places that attract tourists or even just locals, there is a biergarten to eat and drink at.  These two locations are maybe 10 minutes from eachother, thus why I list them together.  They're both worthwhile.  If you really want to make a day of it, you can also go over to the salt mines in Hallein (maybe 20 minutes from Berchtesgarden and Konigsee).  It may sound super boring, but it's actually really fun and interesting and there is also a celtic village on the property you can explore.
Dachau 
I don't recommend this to everyone.  Anyone interested in history and especially WW2 should see it.  Super emotionally sensitive people should avoid it.  When we first went it was January and so cold and it really does have a chilling effect to think about what they went through.  There is a large informational "museum" section that could take hours to get through.  There are lots of other things to see on the grounds though, so save some time.  There is a replica of a bunkhouse, several memorials, a gas chamber, the old furnace room, and another building they used for political prisoners before the idea of the concentration camp was really created.  You can get here by bus.
Salzburg
Old town is so charming and beautiful and it's a must-see, especially if you have a soft spot for the Sound of Music.  There's a really good Sound of Music tour from there you can do also if that's your style.  The other great thing about going to Salzburg is that during the drive or train ride, you get a really great view of the Alps. Also in town you can visit the Hohensalzburg Fortress. It is a castle on a hill in the middle of old town Salzburg.  Salzburg is only about an hour and a half drive from Munich or three hours by train.  The castle is really fun to walk around in.  You can hike up to it or pay to take the Festungsbahn up the side of the hill.
Herrenchiemsee Castle
A castle built by the same king who built Neuschwanstein and Linderhof.  It's meant to be an exact replica of the Palace of Versailles but was never fully finished.  So you can see the part that is complete and it really is just like Versailles.  This one is fun because it's out on a little island in the middle of Chiemsee (a large lake between Munich and Salzburg).  You have to take a ferry to get to this island, but it can also take you to one of the other islands where you can have a lunch or dinner or something.
Garmisch-Partenkirchen
Cute ski town in the Alps.  Traffic is crazy getting in and out, maybe take a train.  It's sort of like what Midway is trying to be like, if that makes sense.  We love bringing people there.  We also love eating at Colloseo pizza.  Great pizza and some of the best service.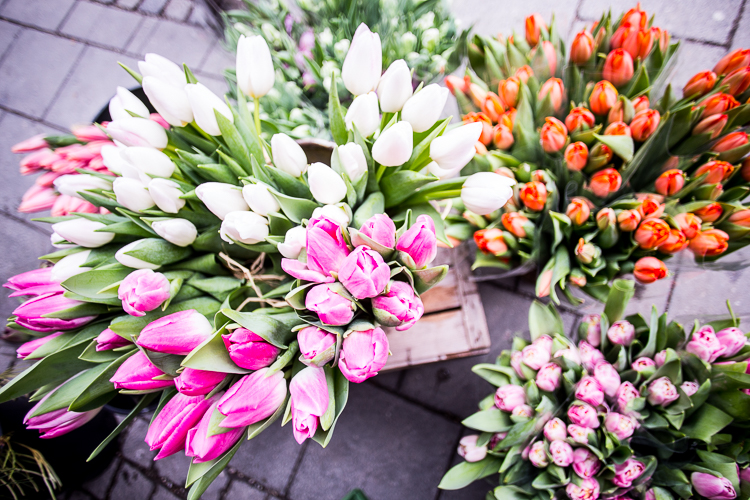 Conclusion
Our week in Munich was incredible and I would recommend it to anyone. We didn't try to see and do everything there is. Instead, really took our time to enjoy where we ended up. I loved spending time with new friends, with Dave, as well as lots of time alone to think and be inspired.
Let me know if you have any other recommendations for a trip to Munich! Leave them in the comments for my next trip!