Hello 2020. Hello distance learning!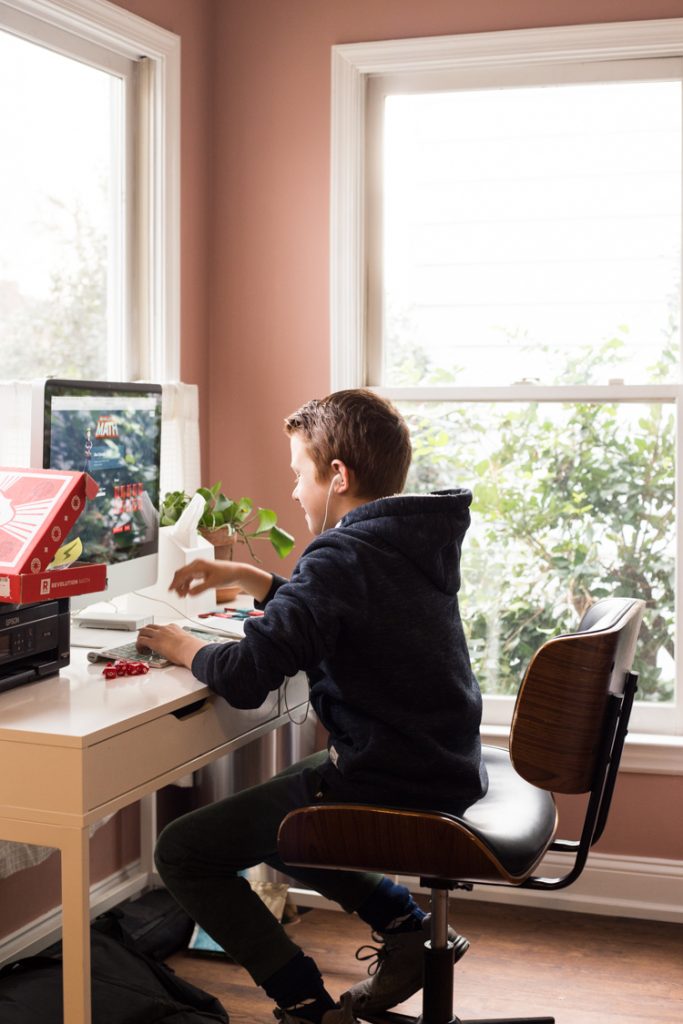 The last six weeks have been a crash course in home-based education, and I am so grateful for the abundance of incredible resources that are available. That said, there are an ABUNDANCE, like, millions of options, and it can be overwhelming. I wanted to share the handful of online learning programs that our family has or is currently using regularly as part of our at-home learning.
Screens vs No Screens
Before I share, I want to quickly address the topic of screen vs no screen learning. In my opinion, both have a solid place in our home curriculum. Not only do I want my kids to be proficient in online navigation, as children of the 21st century, but I also love using digital learning as a natural replacement for some of the screen time my kids crave anyway.
At our house, we distinguish between "learning screen time" and "free screen time" with both available every day. My kids know that "learning screen time" includes any of the apps and programs below, including reading, math, science, and educational videos. They have some of this assigned from their teachers, and some of it is just for (educational) fun!
In addition to Learning Screen Time, they get a little Free Screen Time each day, which they normally use to play video games or watch shows. I believe that kids are always learning–so even during Free Screen Time, they are picking up on things (hello hand-eye-coordination from Mario Kart!) It has been a nice balance for us to embrace both types of digital experiences during this distance learning time.
Our Favorite Online Learning Programs
Here are a handful of our favorite online learning programs. Many of them have a subscription or membership option, which I have willingly invested in as tools for our home education. Many are also offering free trial memberships right now, and I've listed those below, where applicable. There are millions of education options, and these are just the few that my own kids have used and really love.
Kindergarten-1st Grade
These beginning grades are so foundational for reading and writing, I have really focused on finding and investing in programs that my 6-year-old beginning reader wants to play and use.
ABC Mouse (First month free)
I love the huge variation of games, activities, and learning in ABC Mouse, and how it guides the student along a personal learning path. Plum plays for 20-30 minutes a day, and is always really engaged. I love that she looks forward to learning and working on her reading and understanding.
Homer (First month free)
We signed up for Homer a long time ago, and it is still one of our favorites. There is a specific reading program, and a more general learning. She loves both.
Hooked On Phonics (try it for $1)
I recently signed up for this program, which includes an app and physical books. I love the combination of the two that go together. I think diversifying the reading learning is important, and having a few different programs and games for Plum to choose from each day helps her feel in control of her own learning journey.
This #1 app has millions of learning lessons for teaching math basics PreK-2nd grade. The free version offers lots of options, and the full unlocked program offers even more features. So far, we're using the free version, but if Plum keeps loving it we will upgrade soon.
My older boys use Kahn Academy at school, and his app is made by the same creators. This age-appropriate younger sister (or brother) version is adorable– and free.
2nd-5th Grade
Adventure Academy (First month free)
When my boys saw how much fun Plum was having with ABC Mouse, they asked if they could have a profile too! Adventure Academy is the big-brother (or sister) version. It combines some of the things my kids love about video games (earning prizes, challenges, etc) and the learning aspect. I love that one learning path naturally covers math, science, and reading, and that I can track their individual progress.
My boys both use this program at school, and ask for it as part of their regular Learning Screen Time. To be honest, I don't know much about coding myself, but I do know that digital skills are super helpful and marketable in the real world. So if they love it, I love them playing it!
Milo (11-years-old) loved Prodigy Math so much that he asked for a home subscription for his 8th birthday (when he had been using it at school!) We signed him up then, and have been using it ever since. Both of my boys love learning their math while they play this video-game-style program
All Elementary Ages
Who doesn't love National Geographic? My kids love supplementing their Digital Learning with cool earth and animal videos.
My kids have all loved PBS Kids since before they went to preschool. Even as they're getting older, they still hop on and watch videos, play games, and enjoy the uplifting characters and stories. It's a classic.
Conclusion
As we continue our at-home education this year, I am super grateful to have access to these dynamic and interactive online learning programs. I hope some of them are helpful to you as you navigate your distance learning, too! Rather than feeling overwhelmed by the millions of available options, choose a couple that look good to you and dive in and start USING THEM! Not every program works for every kid, and with some free trials and a little experimentation I'm sure you will find some that are just right for you.
If you have any additional favorites, feel free to drop them in the comments for others to check out!