In most ways, I can't remember much about my life before marriage, and am certain that this journey has been the best, most thrilling, terrifying, character building, and overall joyful part of my life thus far. And we're only beginning. Our kids are still young, our life is still changing, and our relationship continues to grow, develop, and strengthen with every passing year.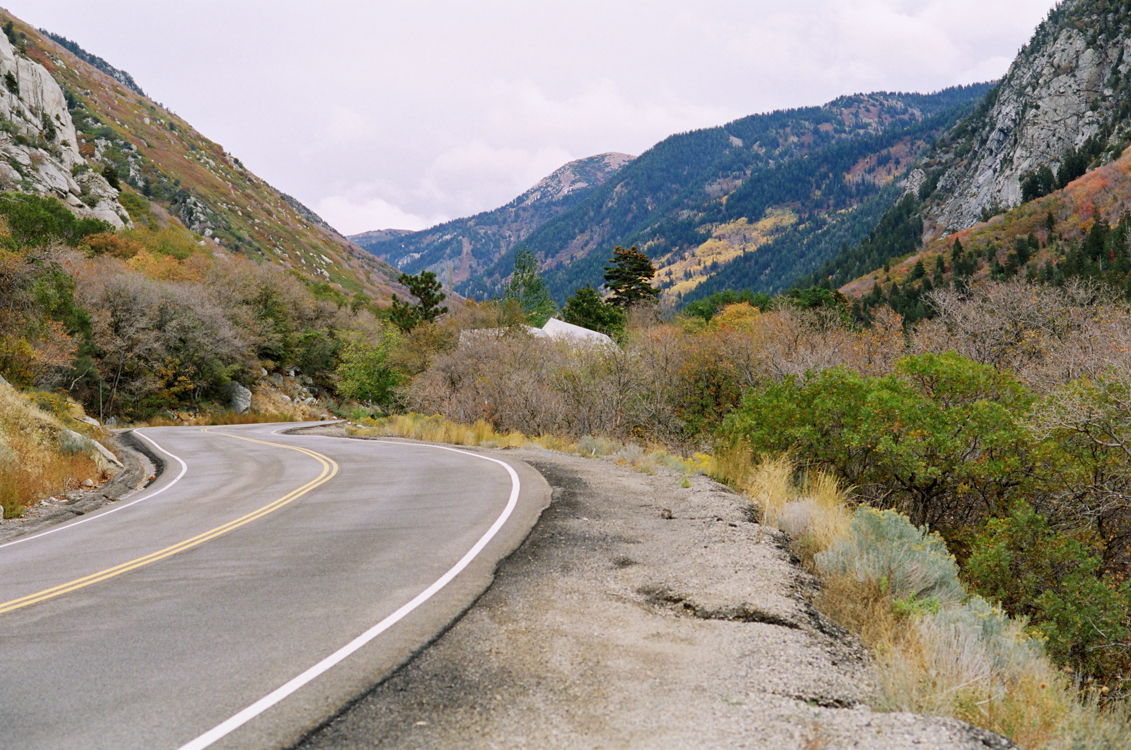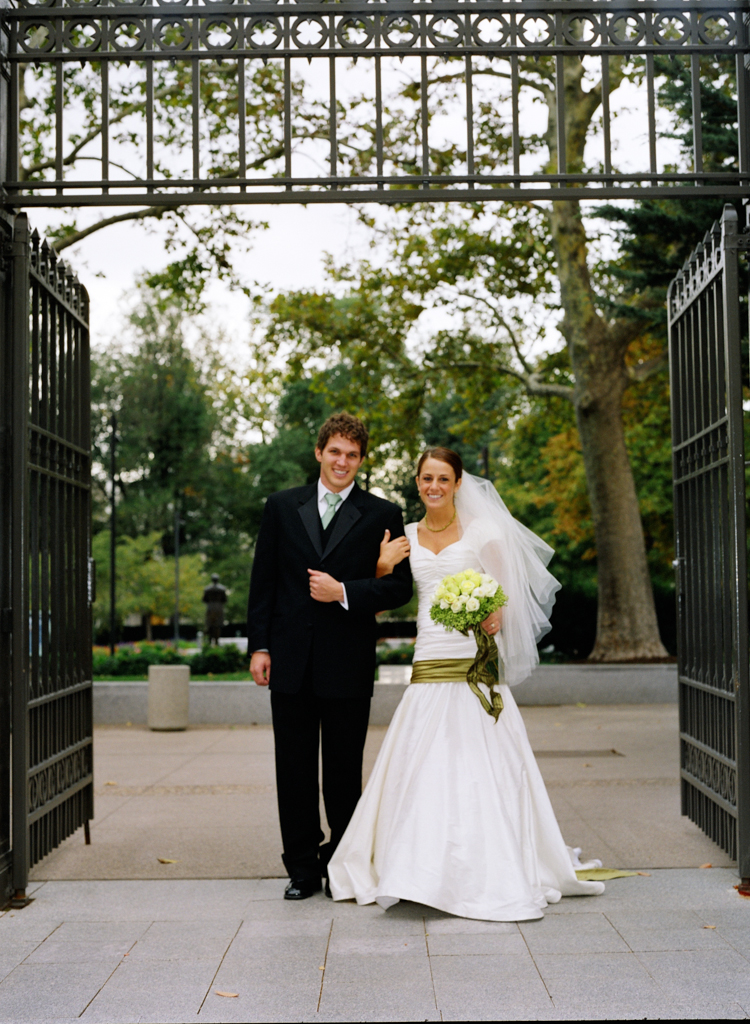 Dave started this blog for me when we had been married for about 6 months, and I realized that I have never shared photos of our wedding here!
Today I'm going to take a little walk down memory lane as I reflect on the day we promised to love, support, and choose each other for the rest of our lives, and the rest of eternity. There isn't much I'd change about our wedding and it's accompanying celebration. It still feels like the most fun party we've ever been to!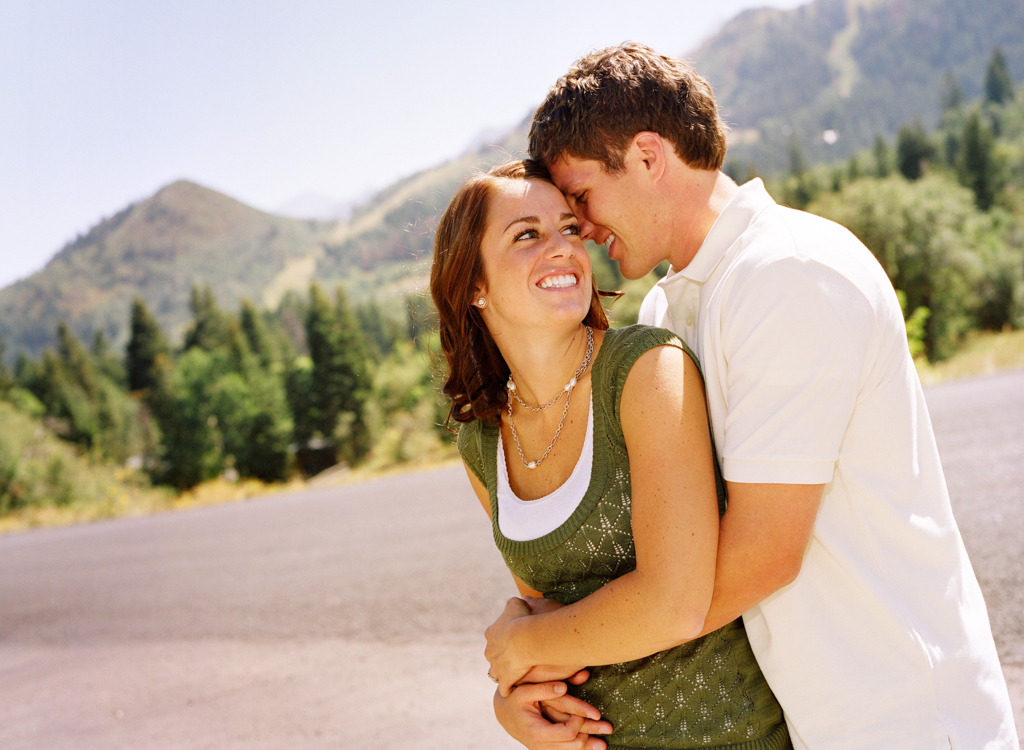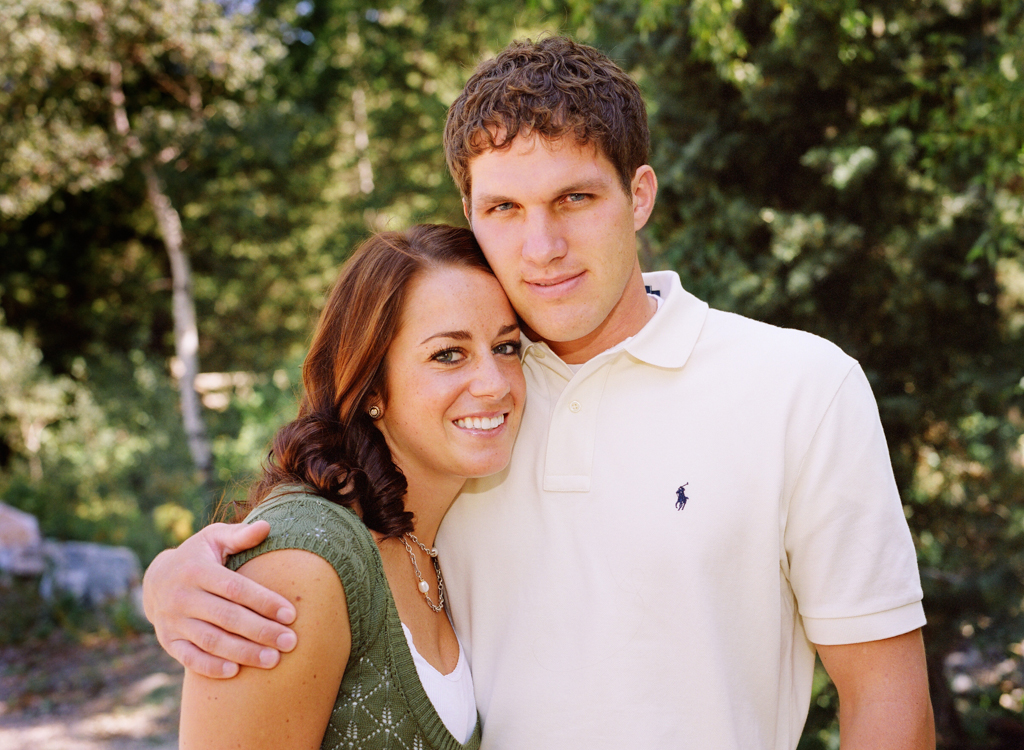 I can't believe these baby faces! Dave and I met when he was 26 and I was 23. On our first date I recognized in him all of the qualities I had always hoped for in my husband, and was ready to seal the deal. During that date, he opened a fortune cookie that had the fortune "You will be happy in marriage." I took it from him to save and–unbeknownst to him–planned to one day frame it on the wall with one of our future wedding photos. Which reminds me, I still need to dig it up and do that! Our relationship was always easy and seamless. I didn't question his feelings for me, and he knew I cared for him equally. After about six weeks of dating, we went to my friend's wedding in Mexico and the question seemed to be when we would be married, not if.
He proposed to me on the saddle of Mount Timpanogos as the sun began to rise on August 5th, 2006, and we planned to get married two months later on October 5th. The whirlwind of wedding planning was exhilarating for me, and everything came together without much trouble. I had a clear idea of wanting our celebration to feel like a party, bring in good food, good music, and have everyone who came feel our love for them and each other.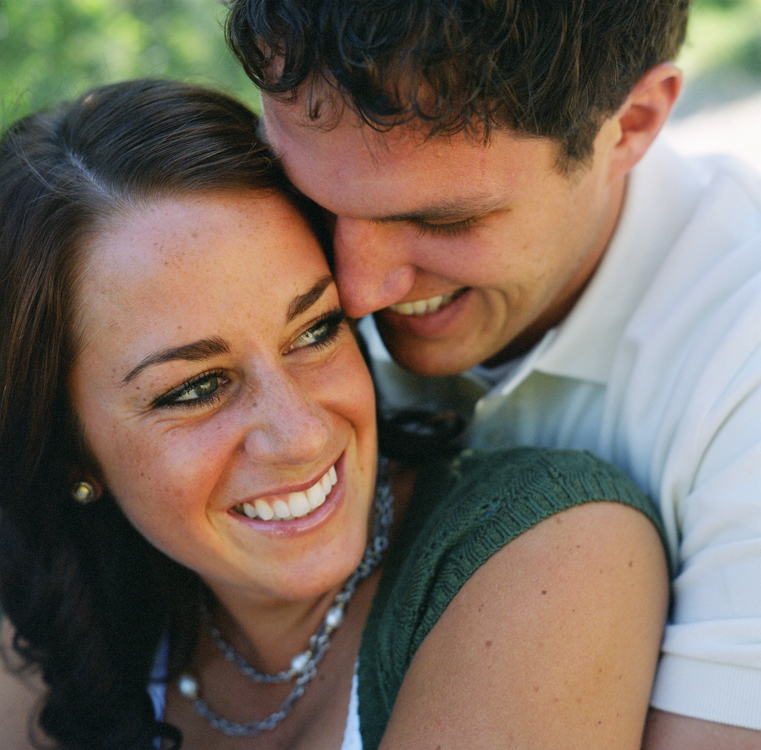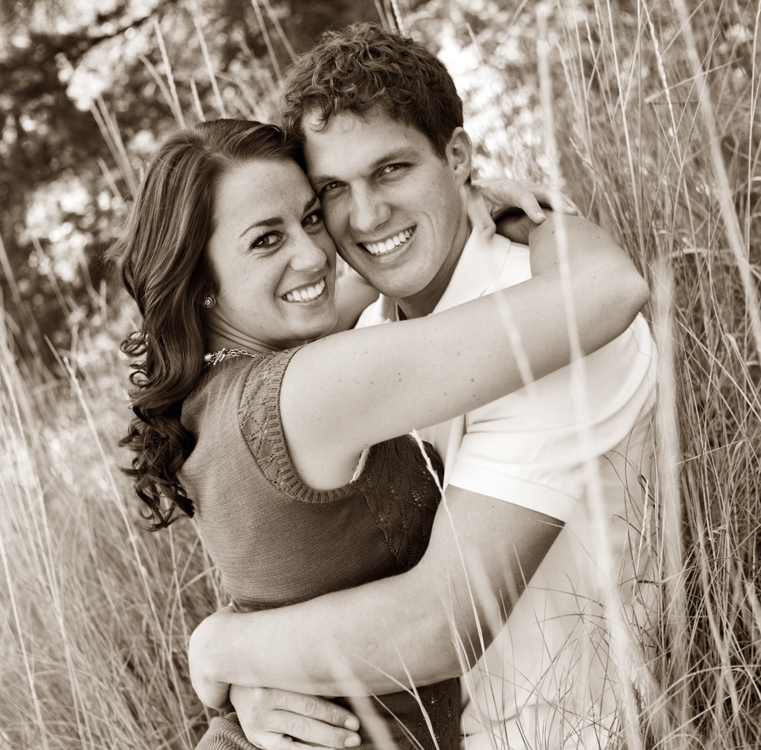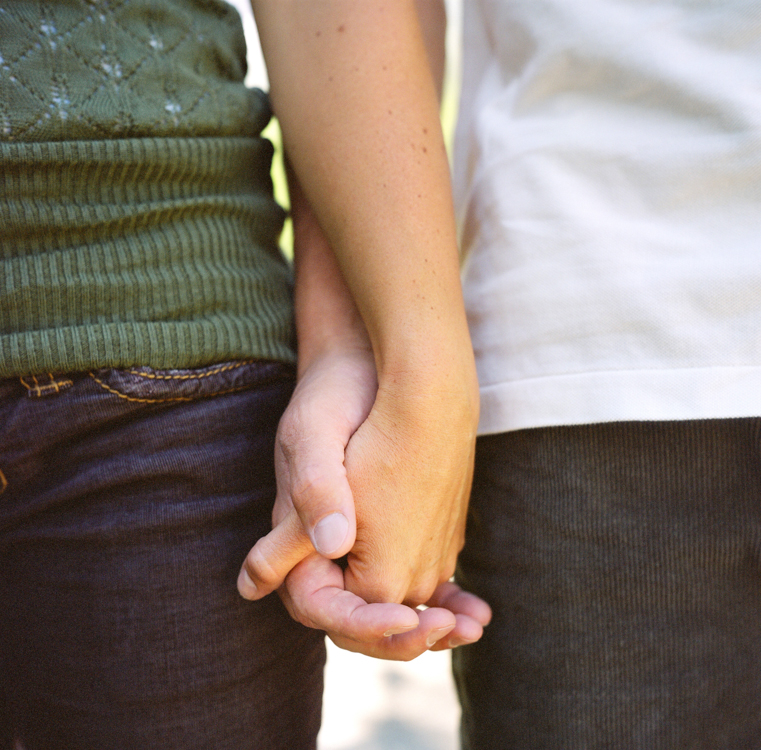 We took our engagement pictures at Sundance Resort when the leaves were changing and the air was just getting brisk. It was a beautiful time of year.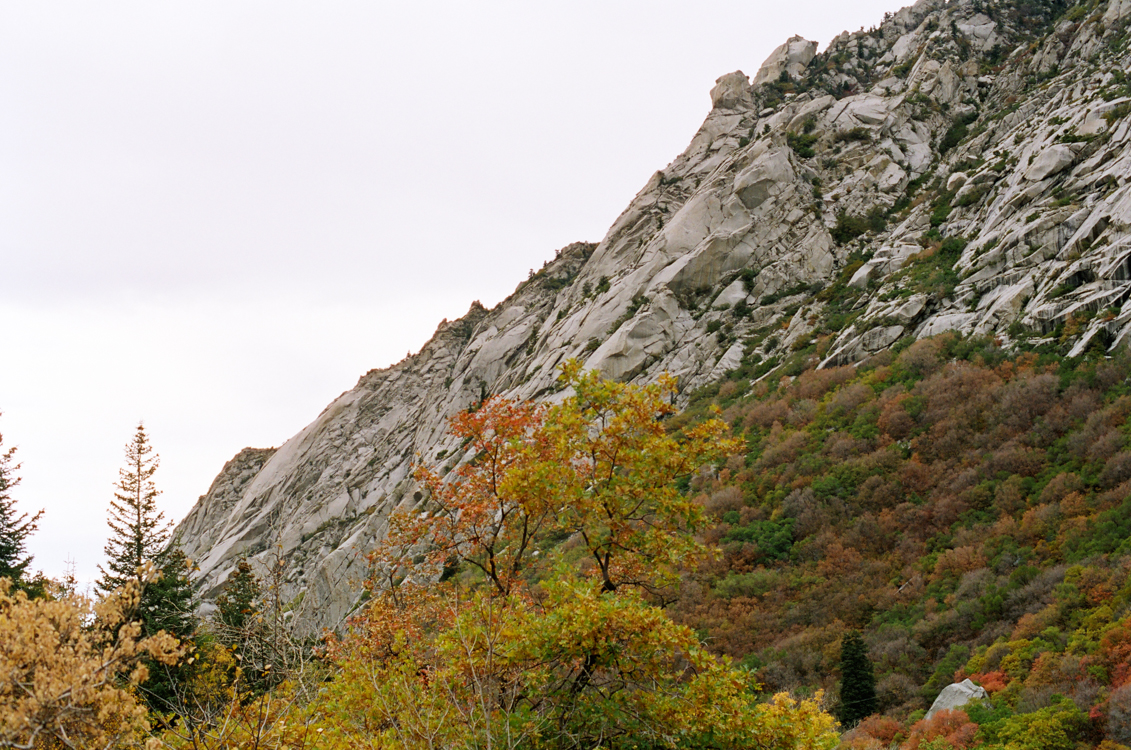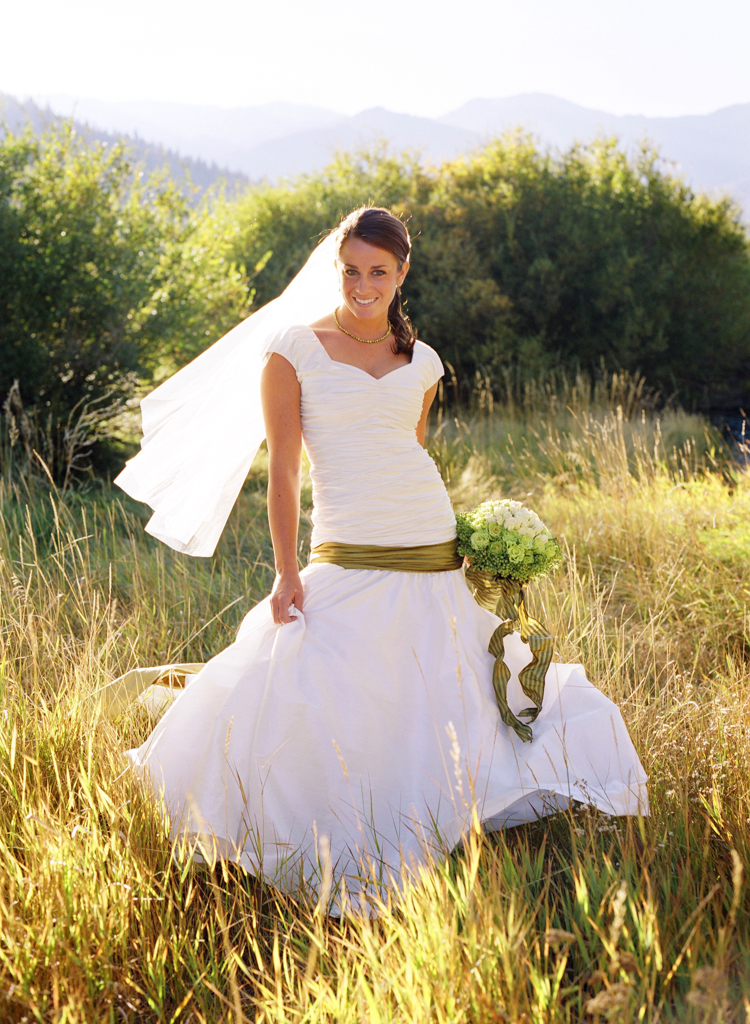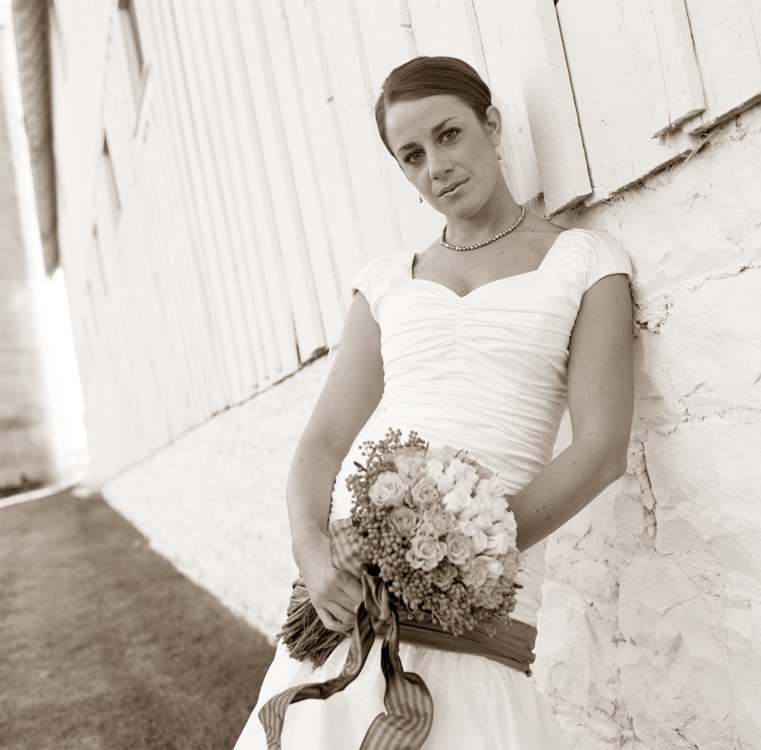 I briefly considered sewing my own wedding dress (at the time I was engaged I had just made my first one for a good friend), instead I decided to design it myself and have a talented local seamstress complete the work. I brought together a few magazine images and mashed them up. I knew I wanted full ruching on the bodice and a drop-waist skirt with a long sash. The sweetheart neckline was a fun change from a scoop neck, and I didn't want buttons, so I added simple knots up the zipper line.
I wore green freshwater pearls, which now seems like an odd choice, but at the time I was set on it. I didn't want my hair to look fussy, so I pulled it into a low ponytail and added the simple comb veil that my older sister had worn.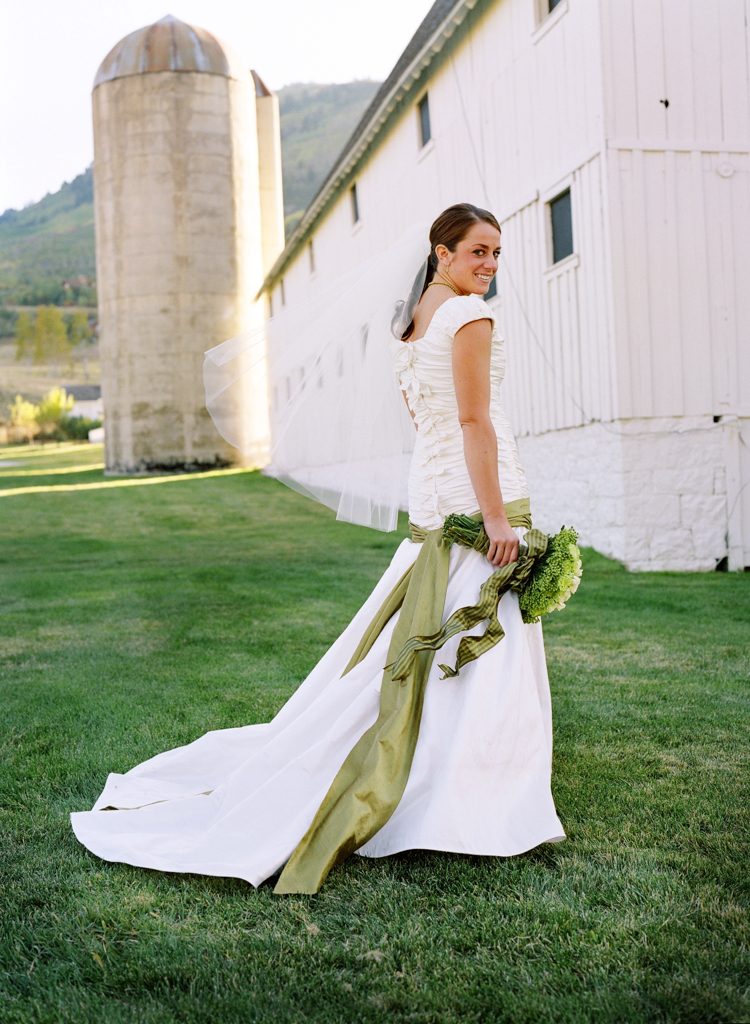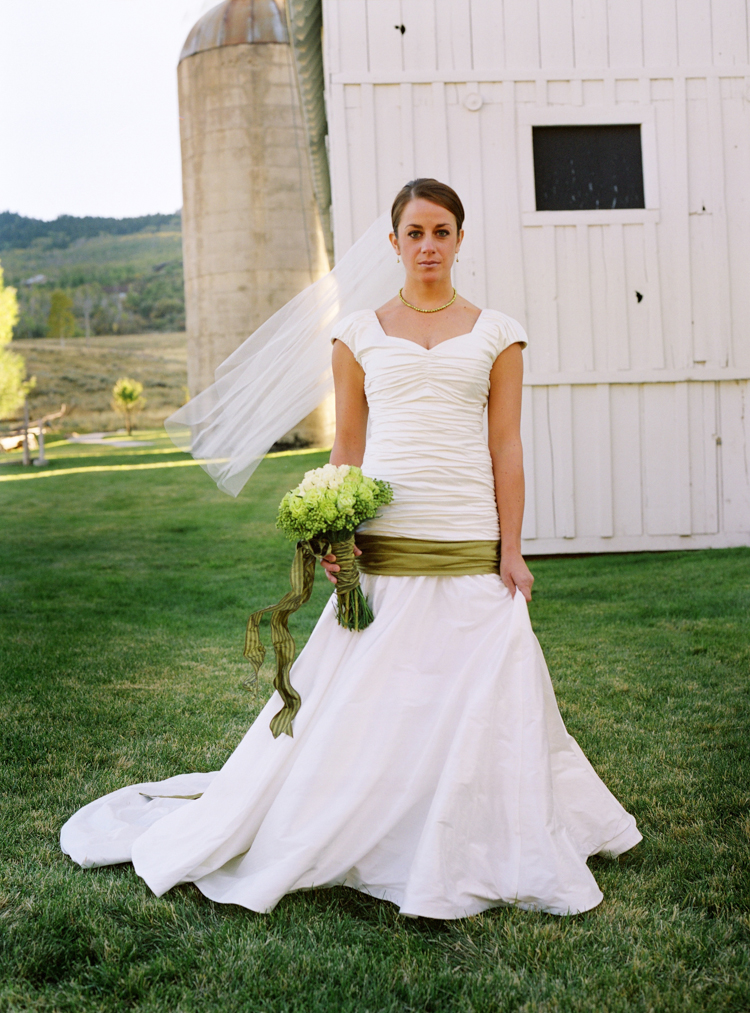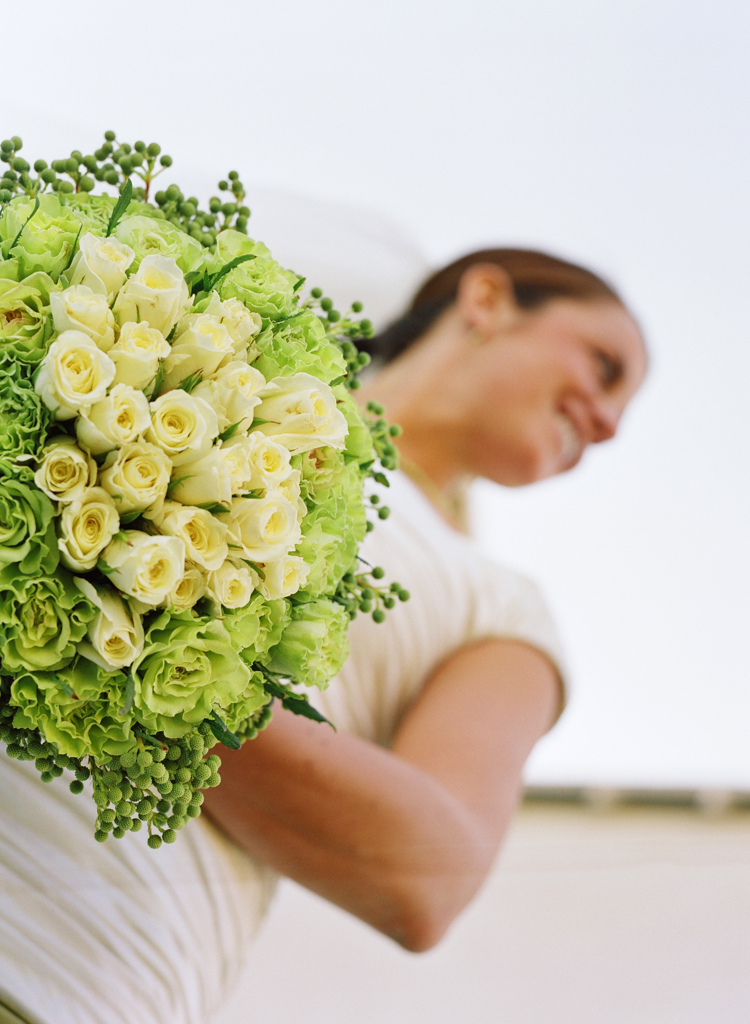 My mom arranged all of the flowers for our wedding, including my bouquet of cream and green roses.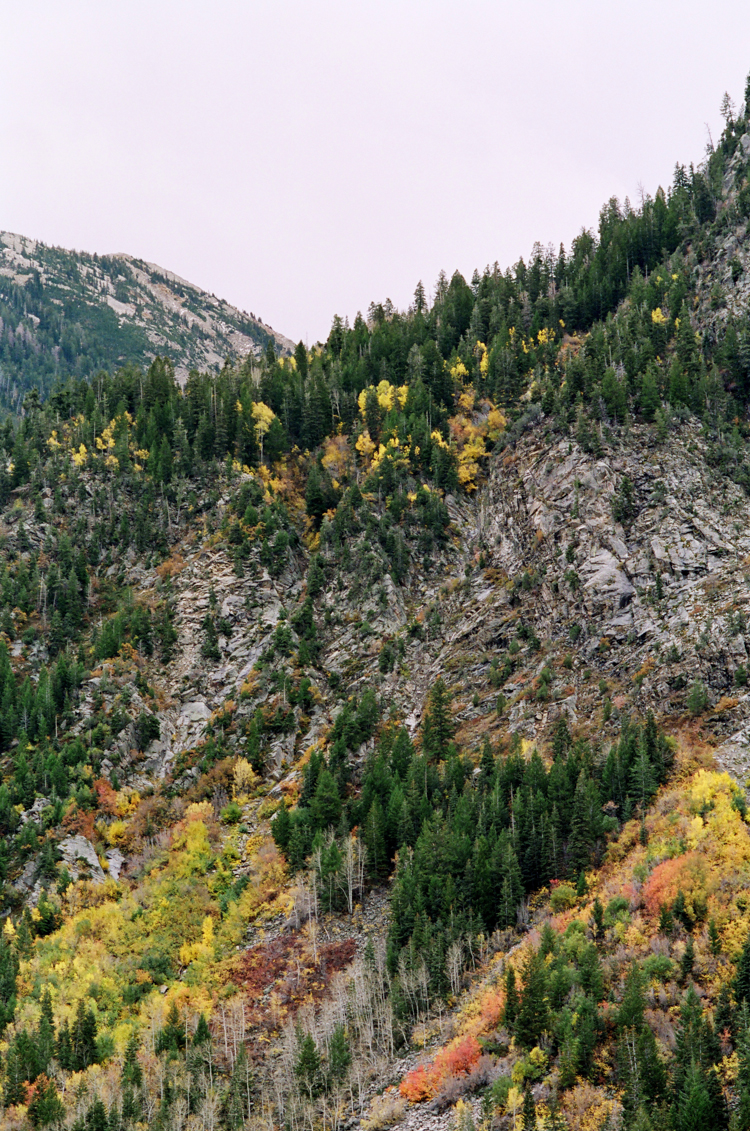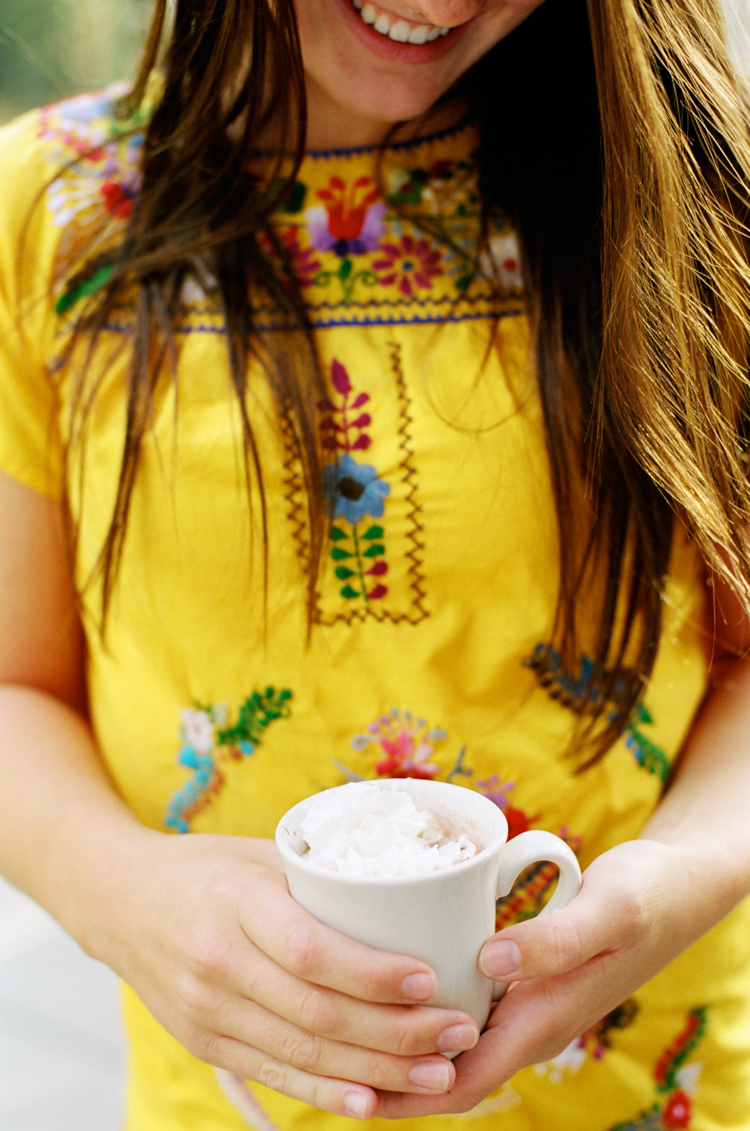 The night before our wedding day, we hosted close friends and family up at Snowbird resort for a dinner. We began with hot chocolate on the patio while everyone arrived and mingled, then ate Mexican food, shared stories, and finished the evening with a piñata. It was a fun, low-key event, and brought our family and friends together up in the mountains, which was a perfect way to begin the party!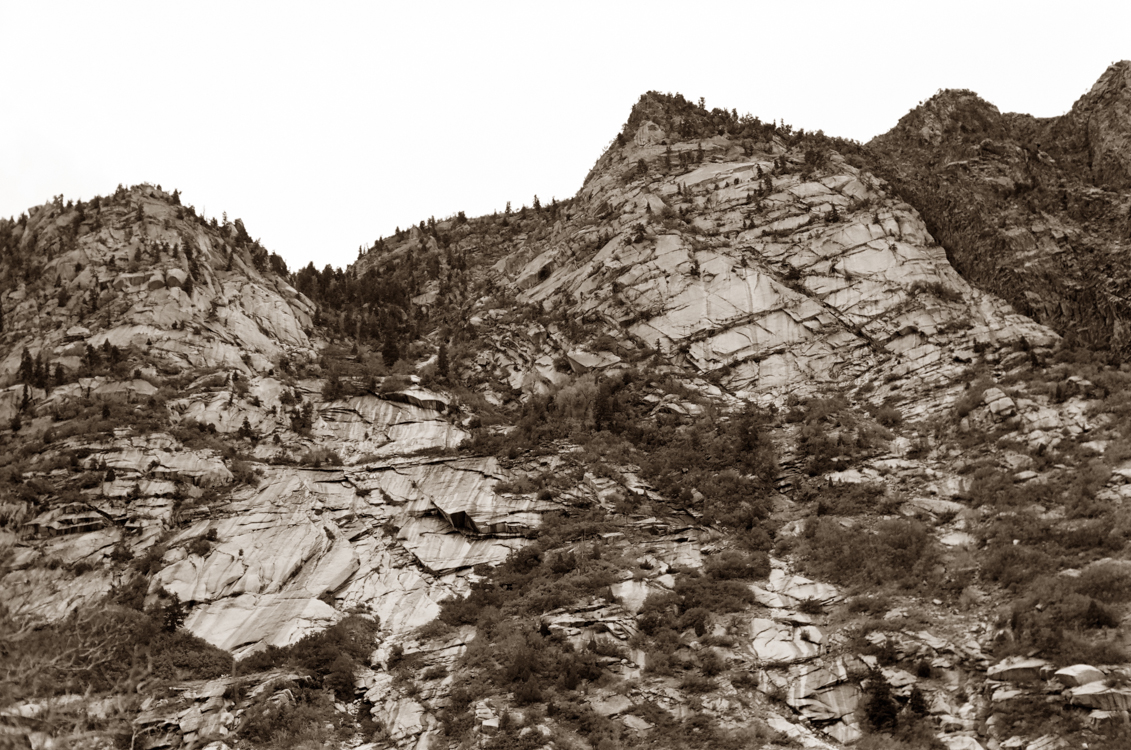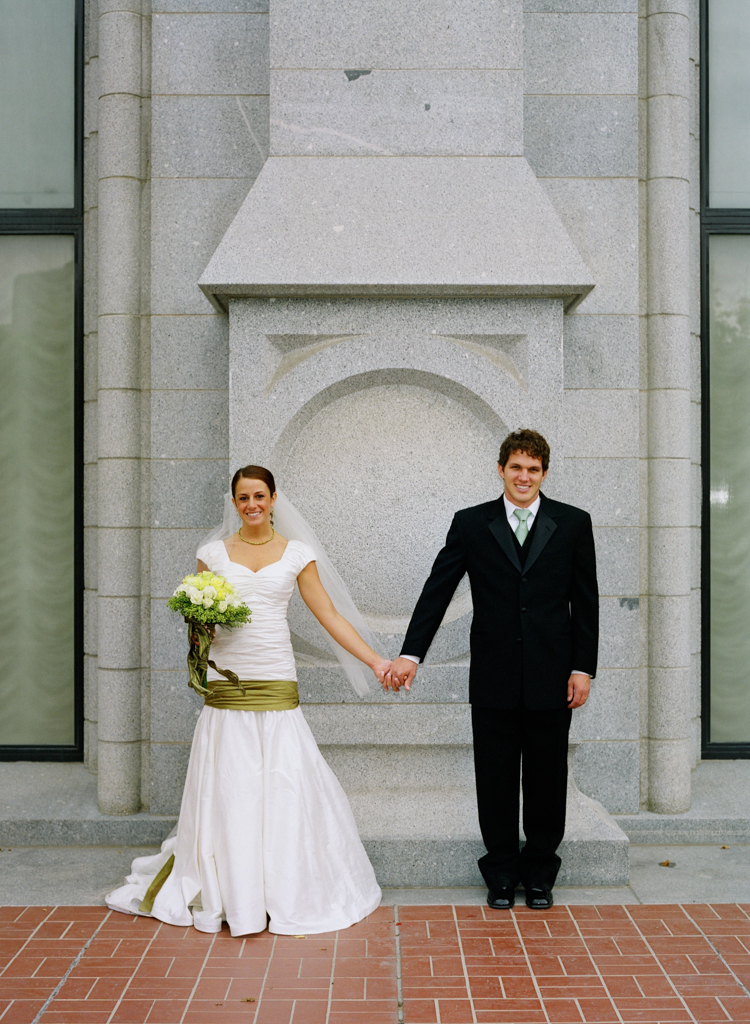 Dave and I were married and sealed in the Salt Lake Temple. We covenanted with each other and God to give ourselves to each other and walk in His path. I couldn't have known then the strength that this sealing covenant and our eternal commitment to each other would have during times of heartache and trial. In the times that we couldn't figure out why our prayers didn't seem to be answered in the way we hoped, or the goals we were striving for seemed always out of reach, we have found comfort and hope in the knowledge that whatever obstacles we face here on earth, we will face them together. And whatever isn't resolved here on earth, will be resolved in the hereafter.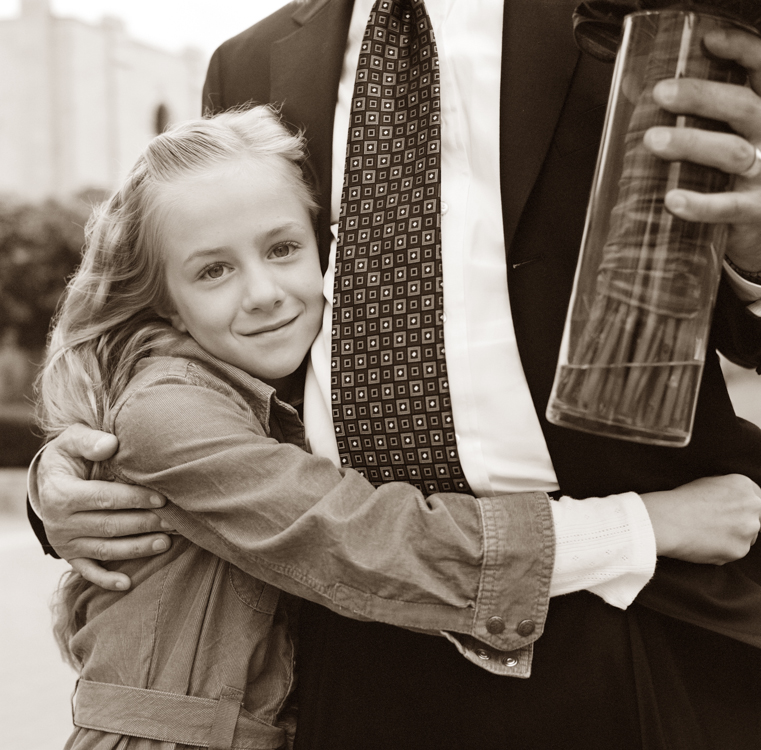 This littlest sister of mine is now an eighteen-year-old Senior in High School!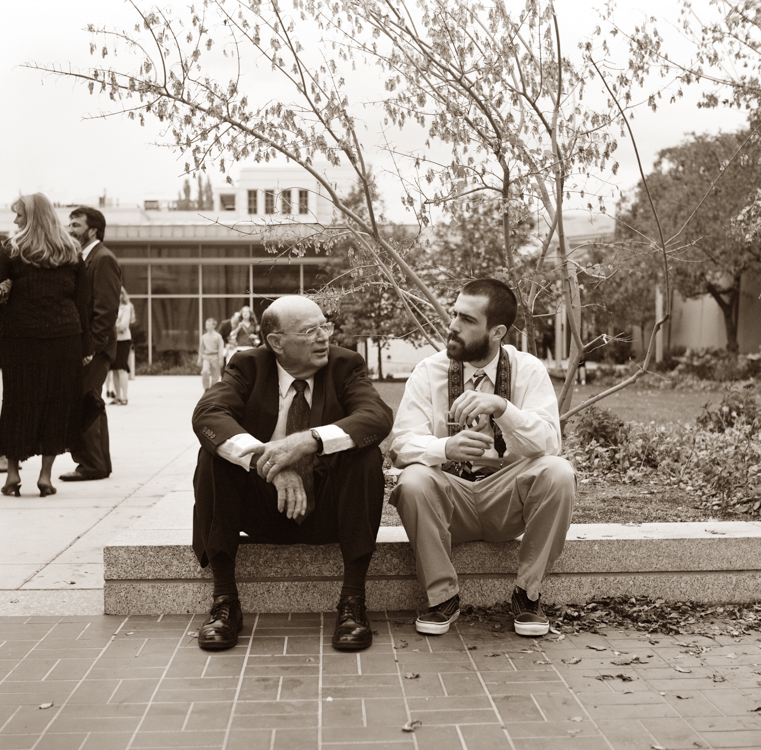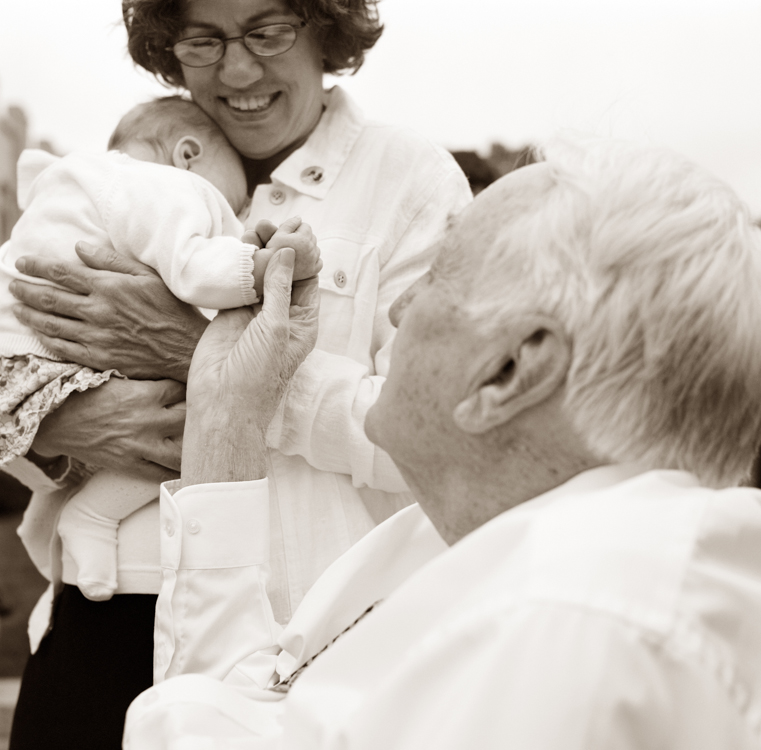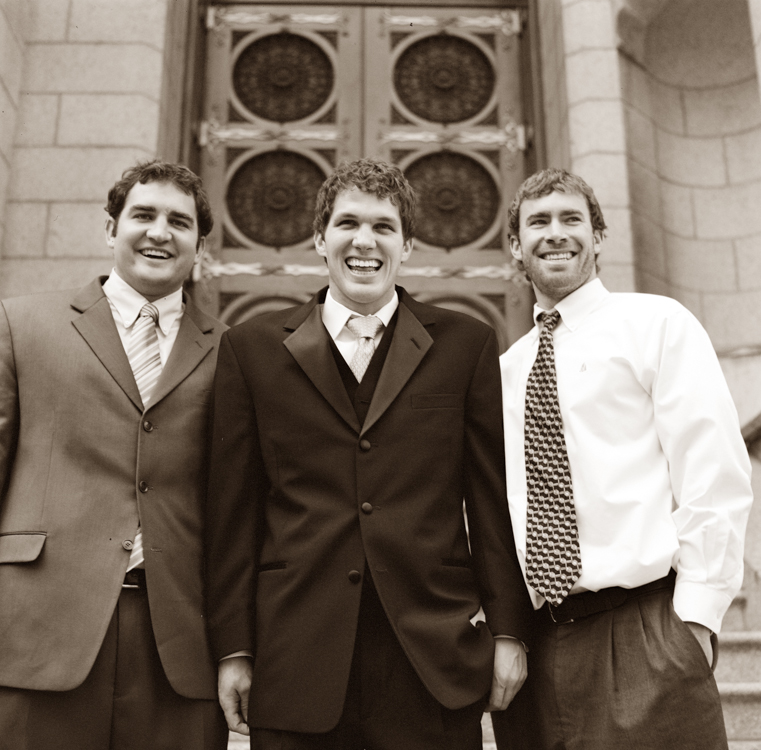 Our family and good friends joined us inside the temple for the ceremony, and those who couldn't, or didn't fit waited outside for us to emerge as husband and wife! We spent a couple hours capturing smiles and kisses, and documenting this perfect moment before heading home to celebrate.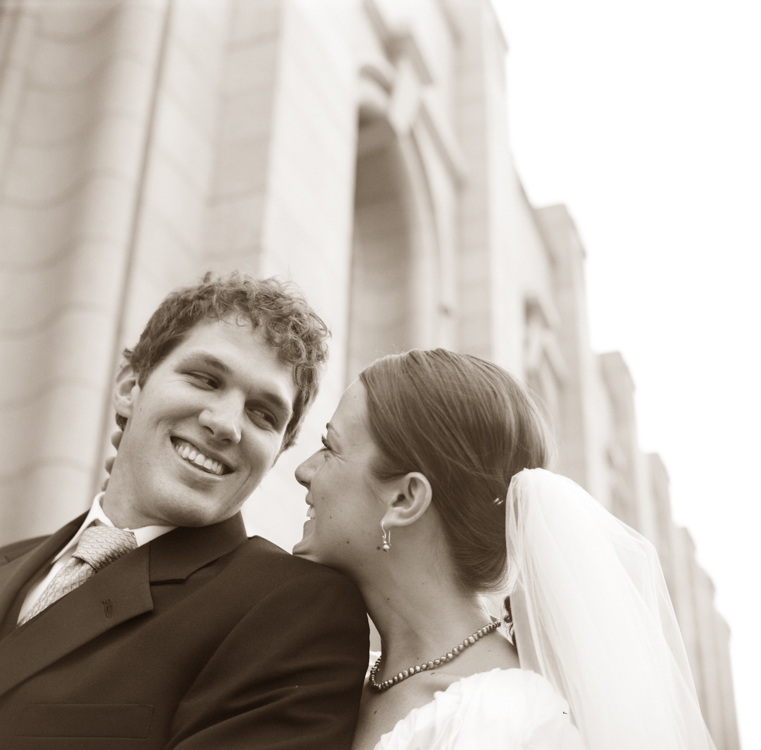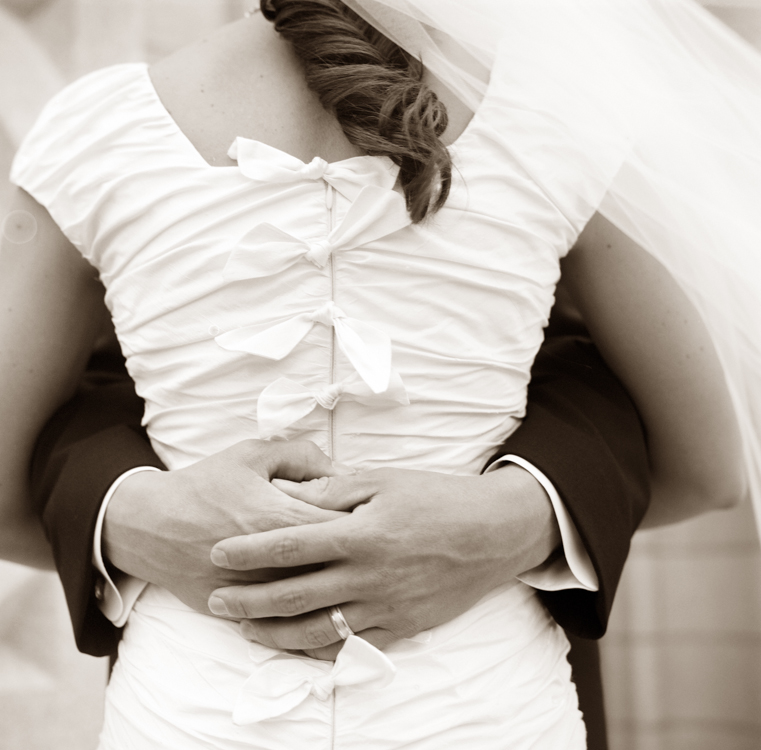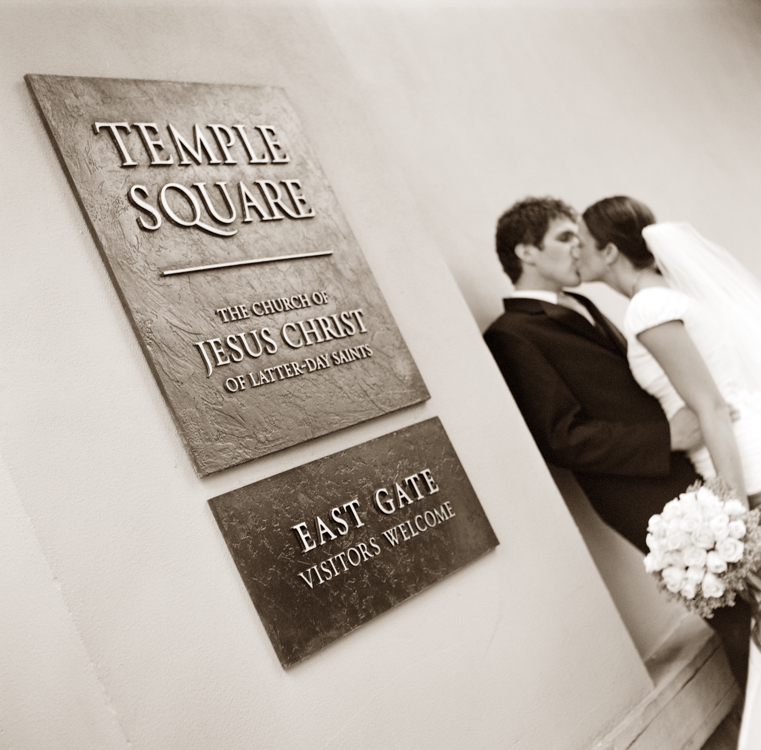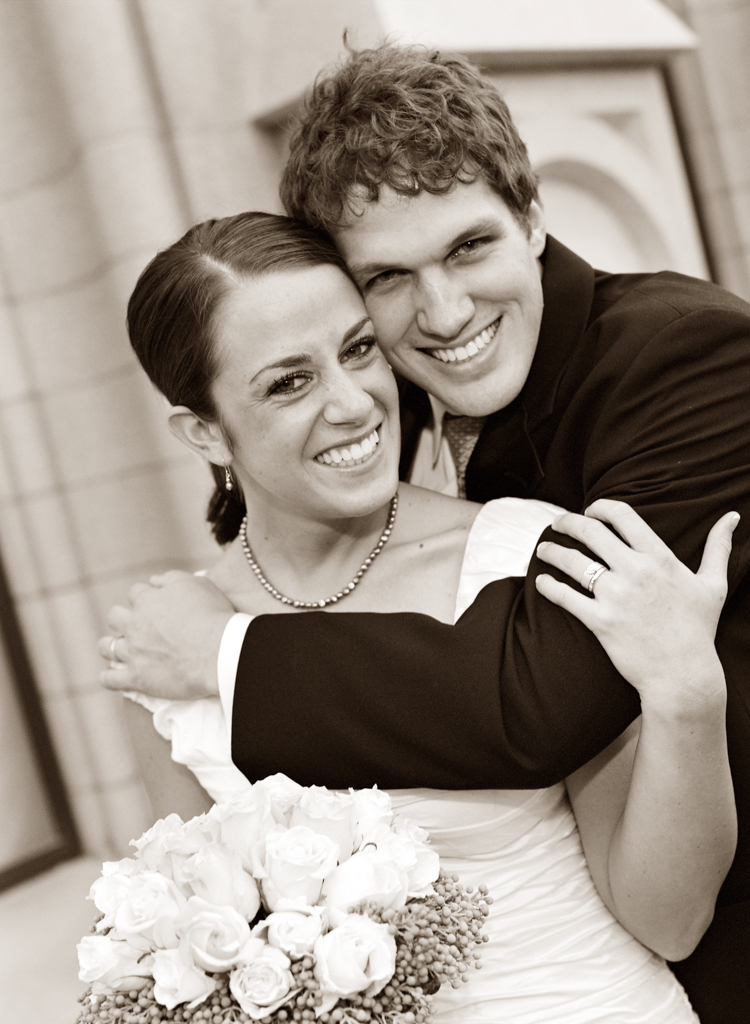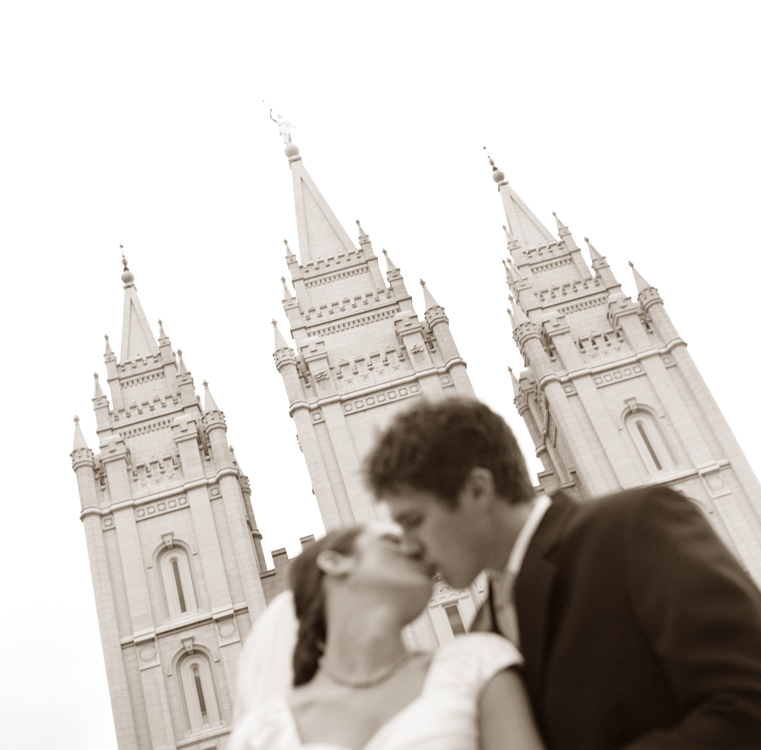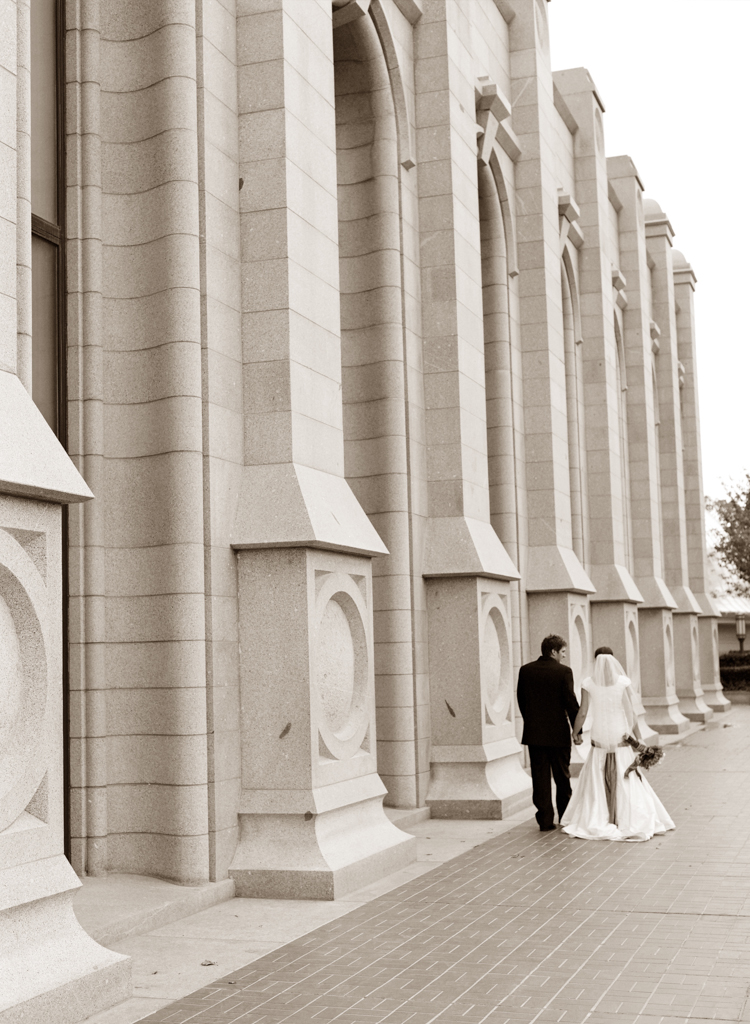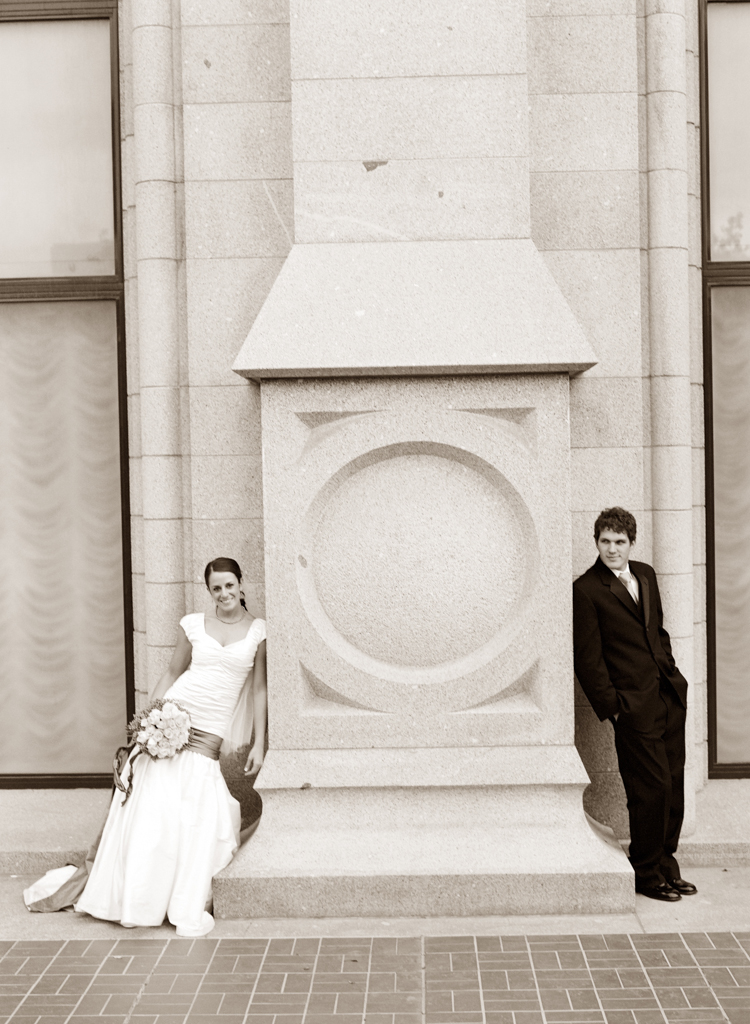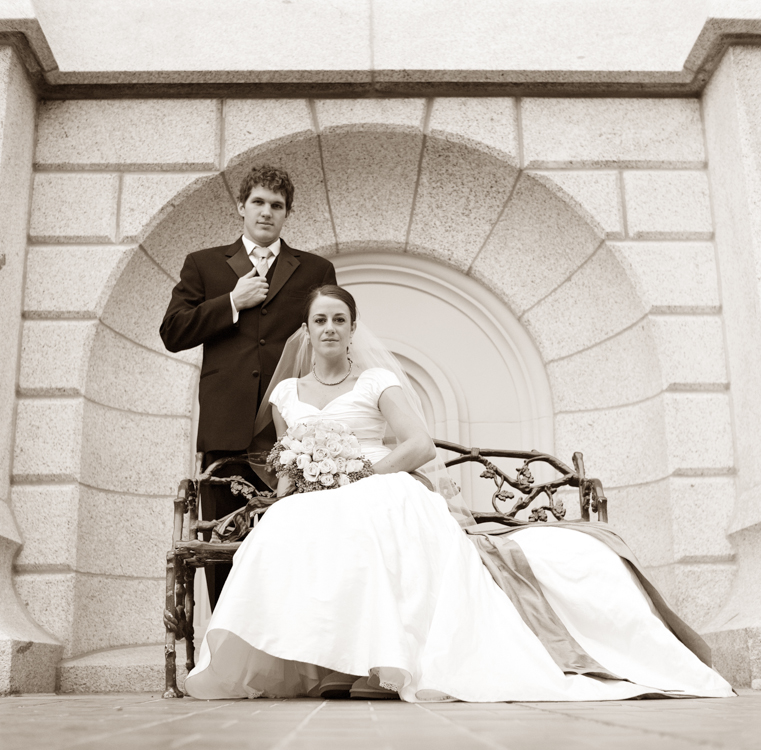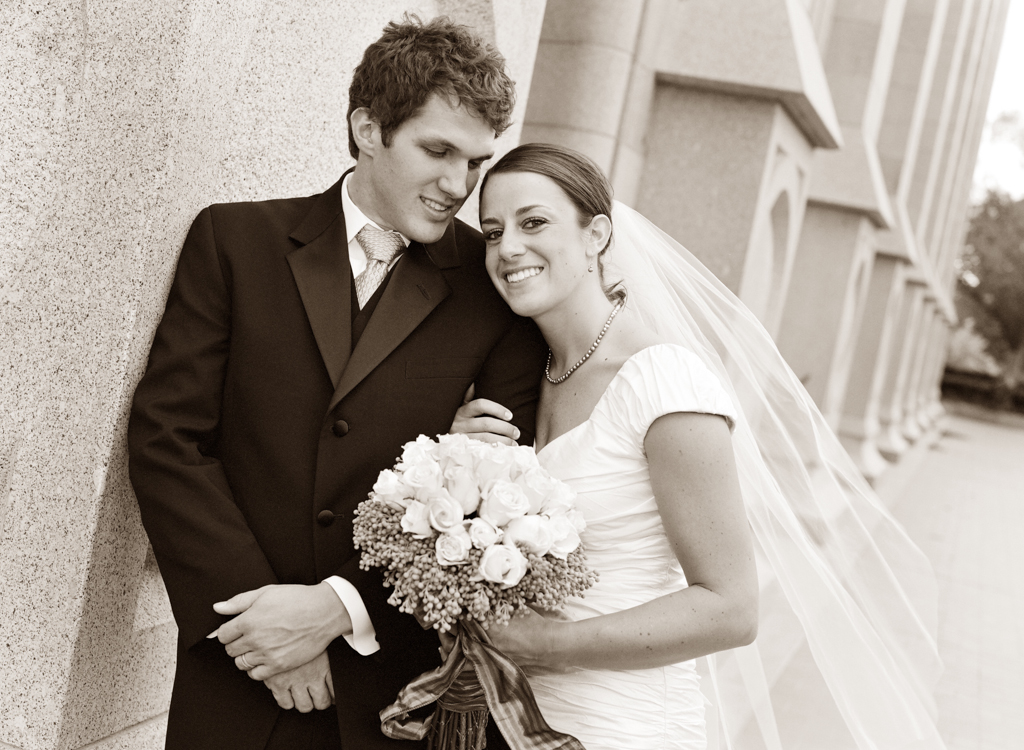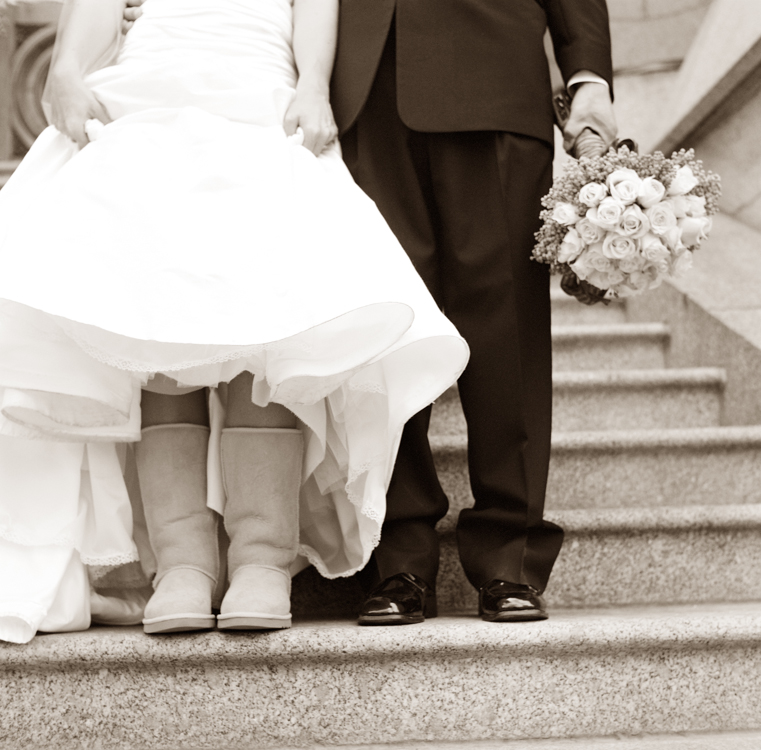 I don't have many things I'd change about my wedding, but doing it again I'd probably wear some pretty nude heels rather than sheepskin boots! My feet did stay warm though!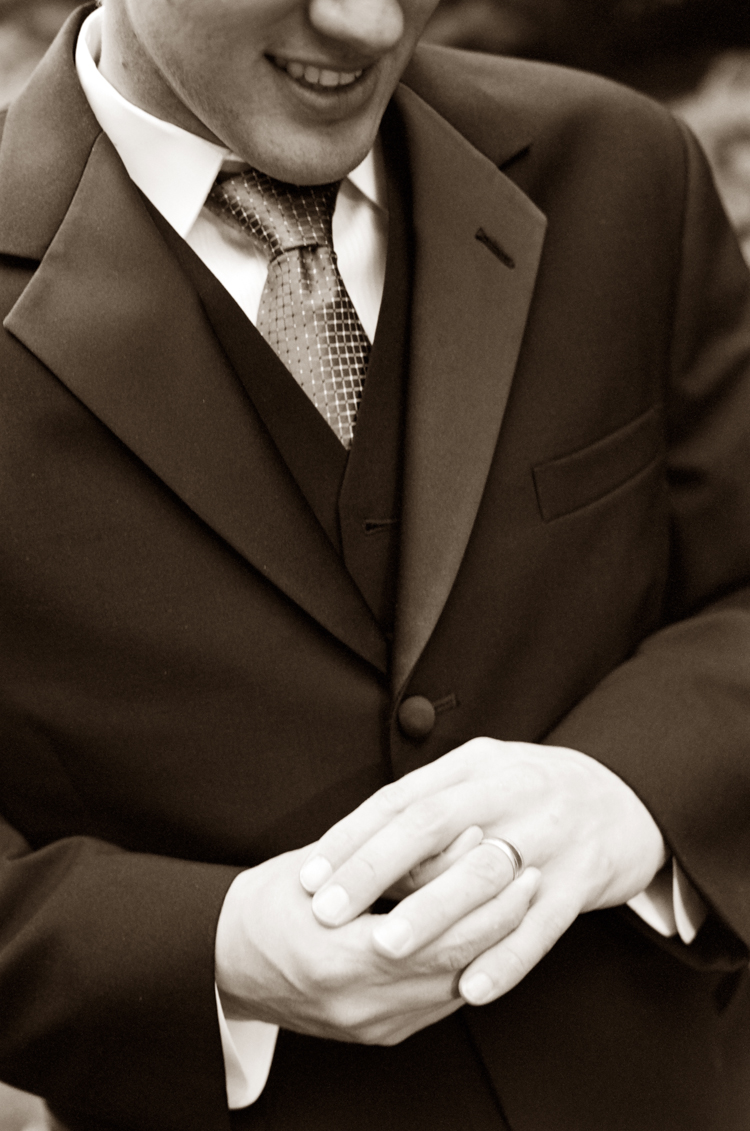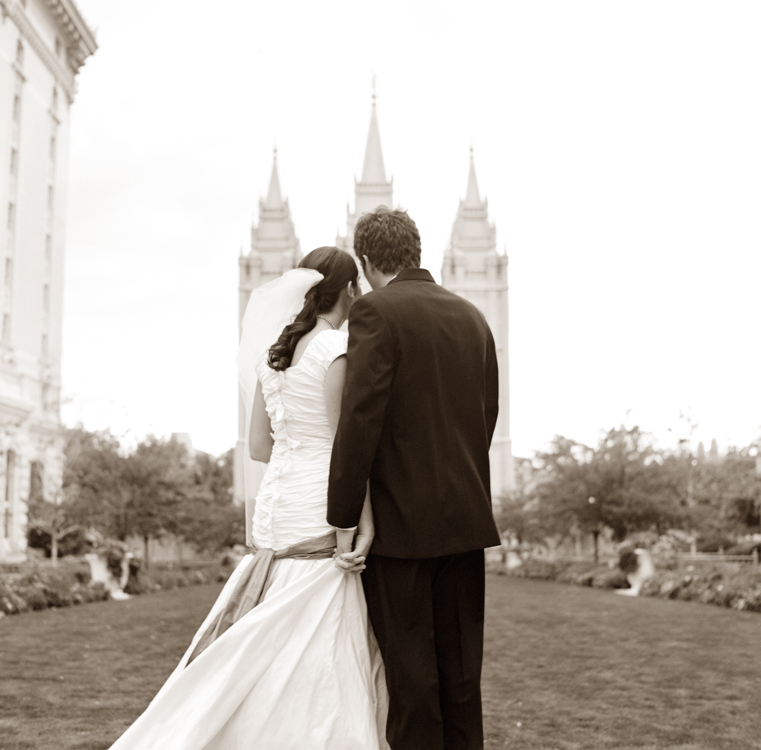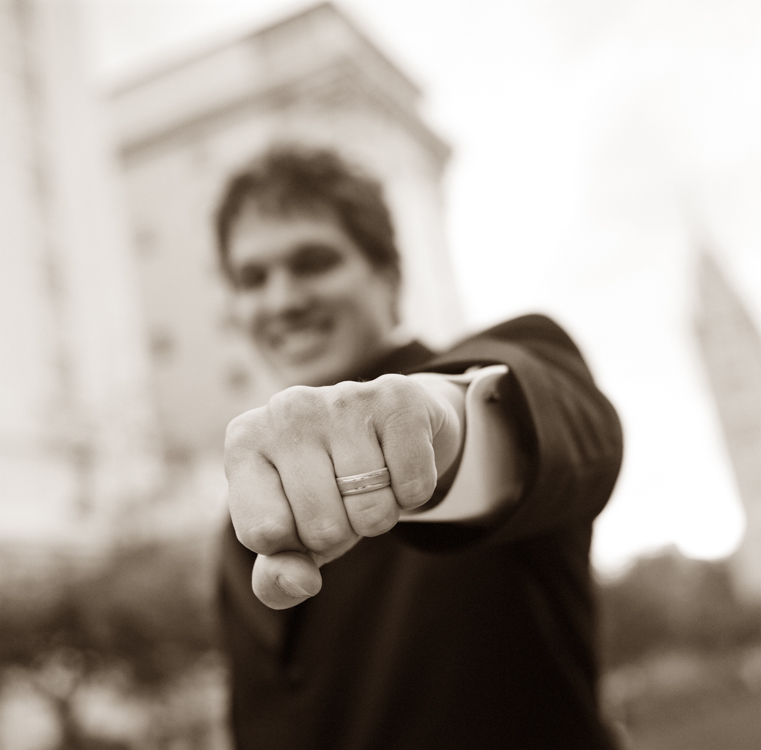 I had always wanted an outdoor reception, which was one of the reasons we choose to get married so fast in October, so we could beat the cold and snow of the Utah winter. At the beginning of the summer my parents had just started renovating their backyard to include a pool, and I told them I wanted to have the reception there! So, while I choose a caterer, designed my invitations and guestbook, ordered flowers and hired a band, my mom coordinated the construction teams. They filled the pool with water the night before the reception! It turned out beautifully.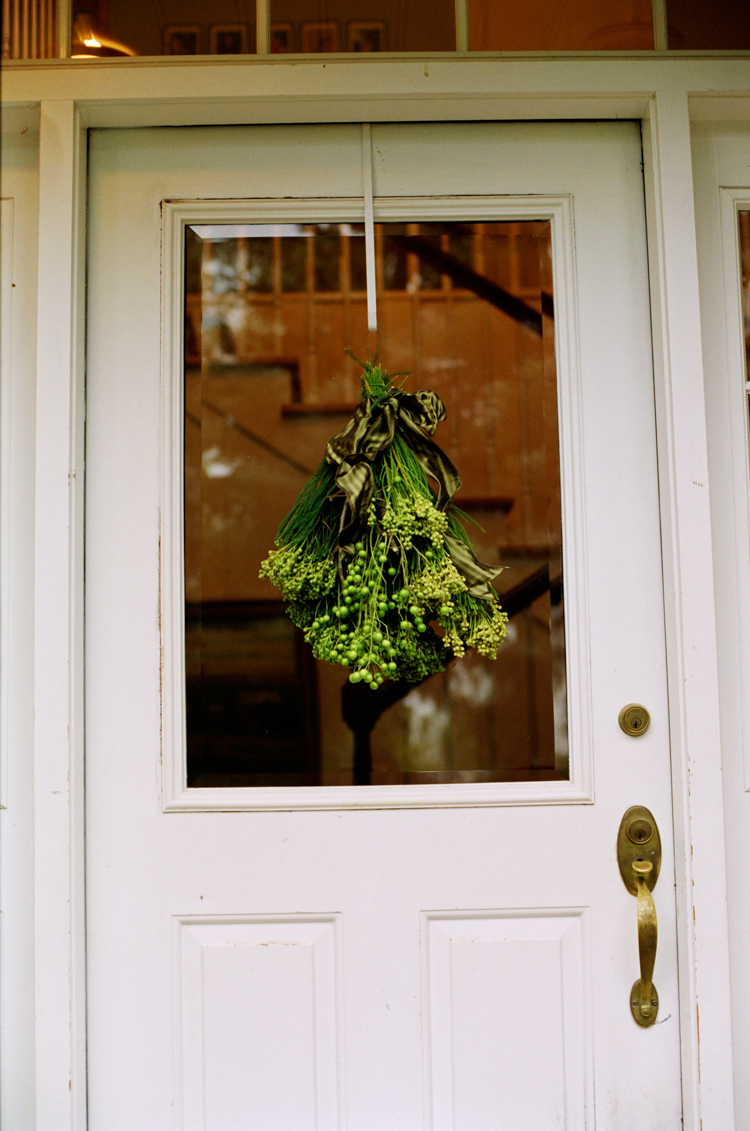 The beat up old front door of my parents house.
Everyone was directed to enter the yard around the side, but this door is so nostalgic for me. I'm glad it was captured.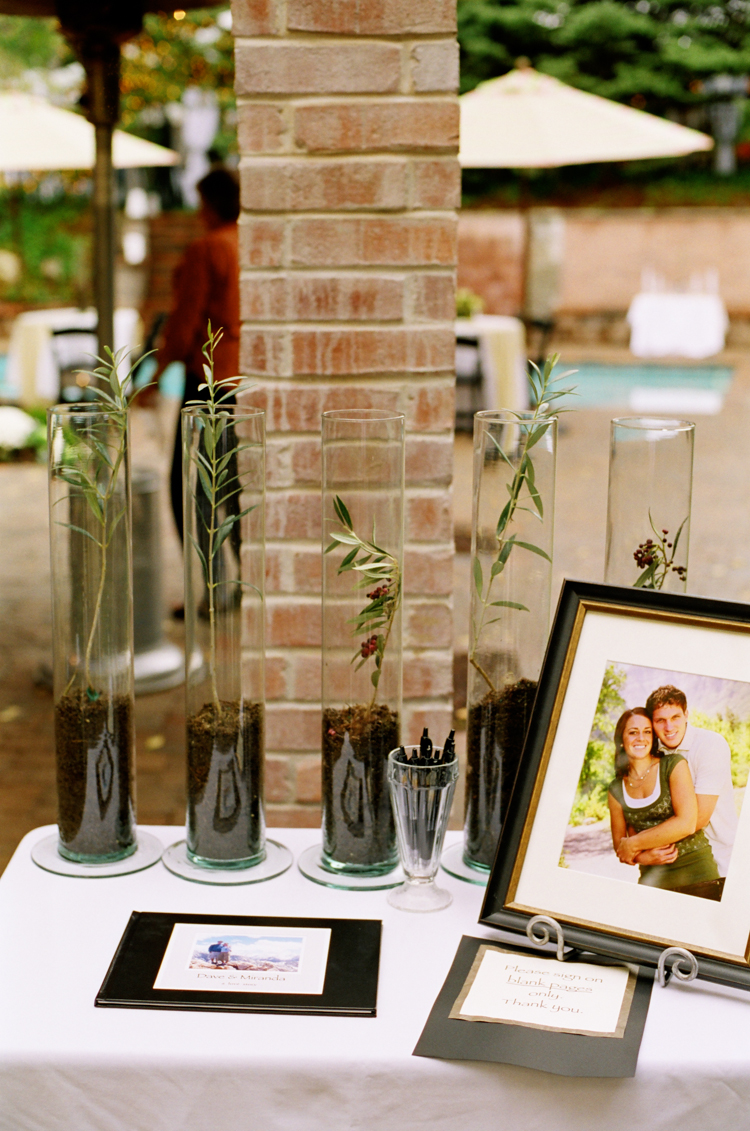 I designed our wedding invitation with olive branches around the edges, and wanted to incorporate that into the wedding. I ended up ordering olive saplings from a company in California and planting them into tall glass hurricanes. I loved the look of the leaves and branches, as well as the natural look of them actually being planted.
For the florals to accompany the saplings, my mom used all types of greenery, cream and green roses, and dark artichokes for the centerpieces.
I decided to make the floating letter 'A' the night before the wedding around 10pm. Dave and I ran to Home Depot and bought a piece of blue foam. I drew the outline of the cursive 'A' that was on our invitation, and my dad cut it out with a jigsaw. We spent the next hour or two stapling and hot glueing lemon leaves to the top! The blue of the foam ended up being perfect, because it disappeared in the blue of the pool when it was floating. Nothing like a last-second DIY for a wedding, right?! Good to know some things about me never change.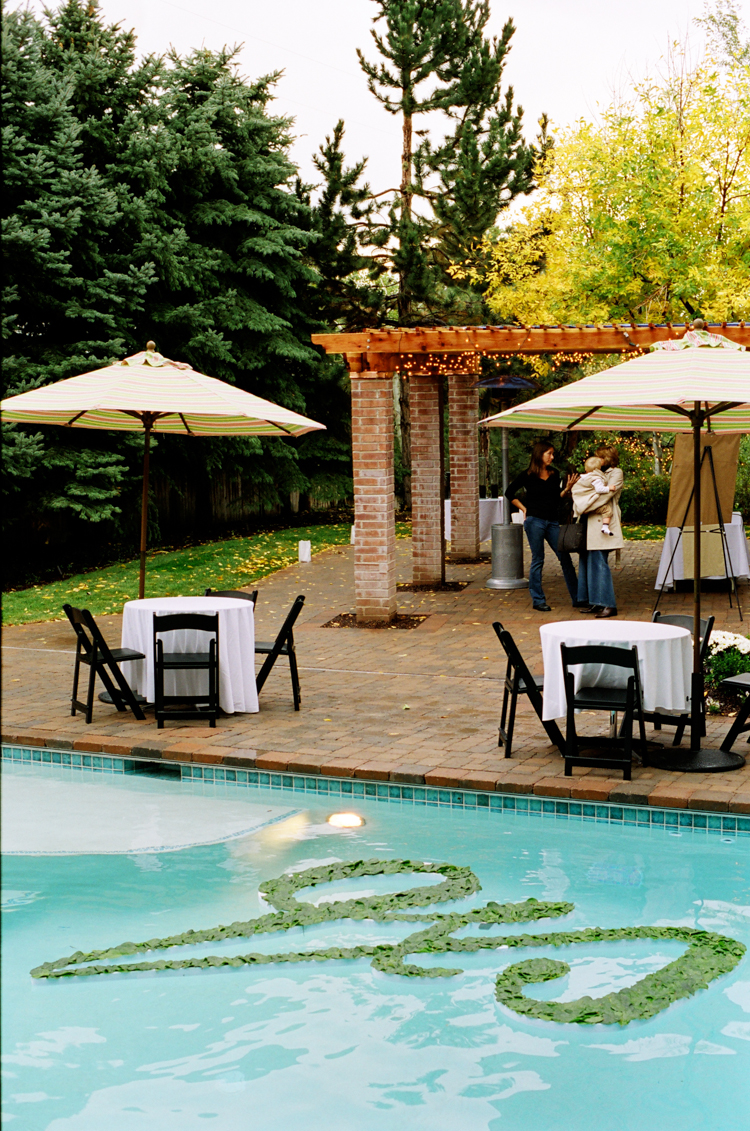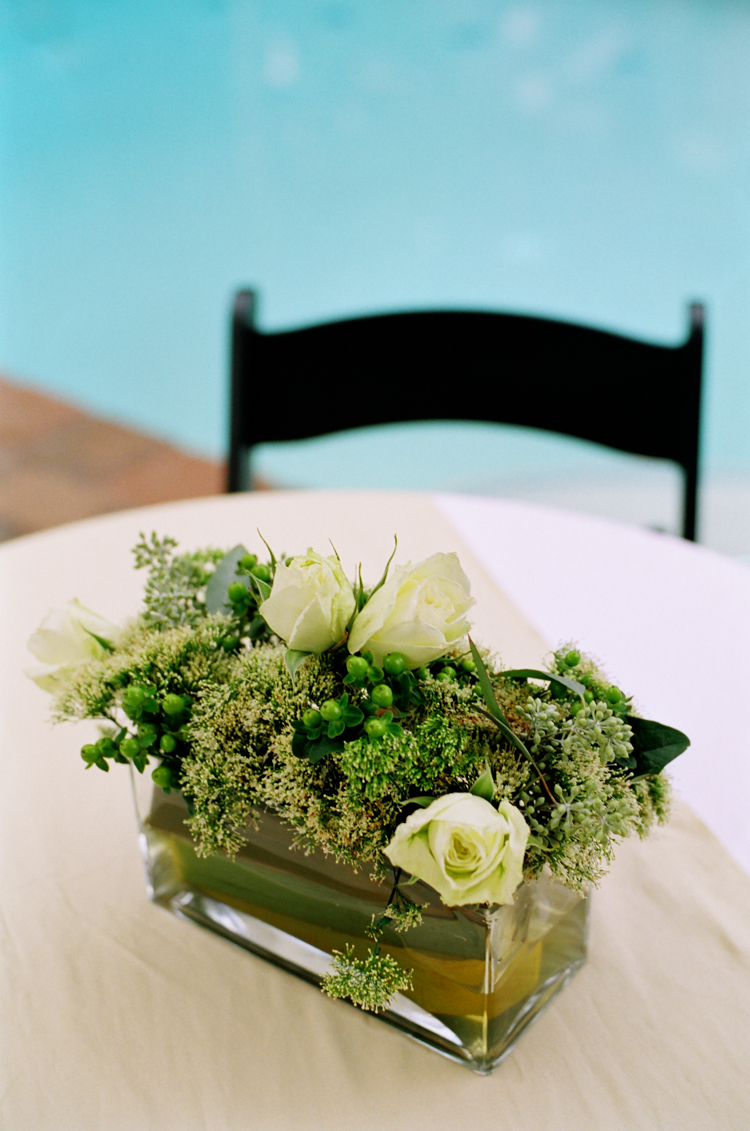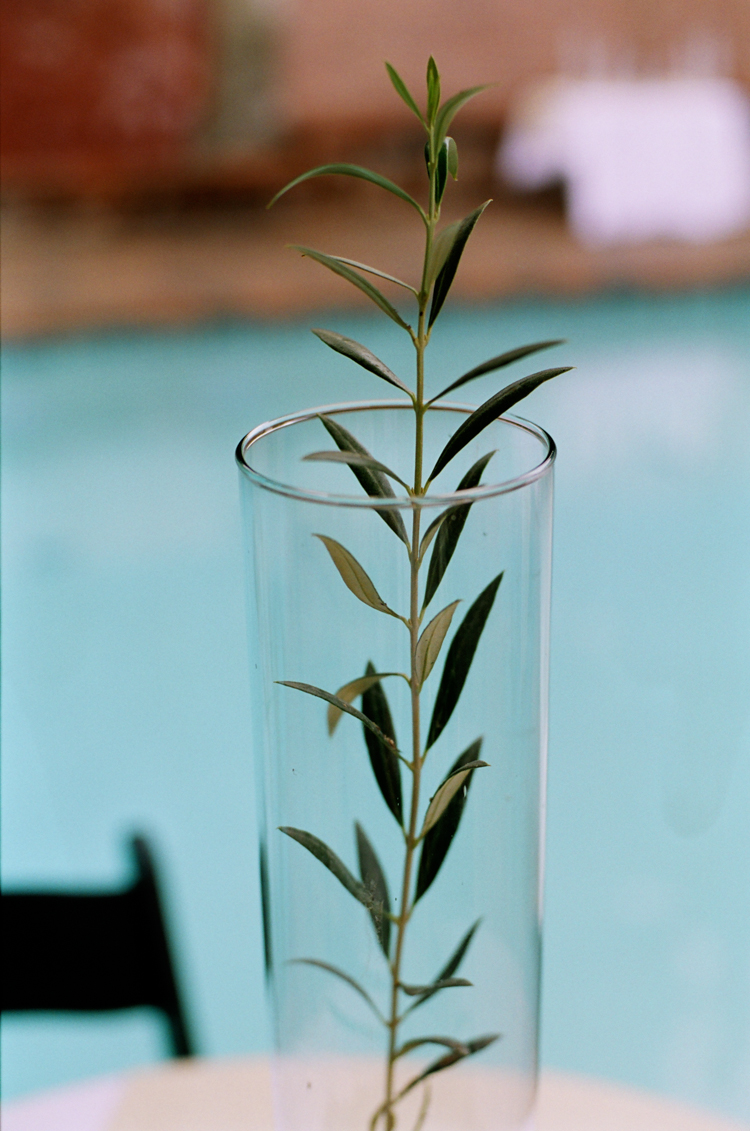 My parents yard is divided into a lower yard and an upper yard. In the lower the guests entered, signed the guest book, could watch a video montage, and grab a drink. Then they headed up the stairs to the upper yard where we had one large tent with tables and chairs for eating, a raised stage for the band, and a huge dance floor. My favorite part of weddings is the dancing, so we made sure it played a major role in ours!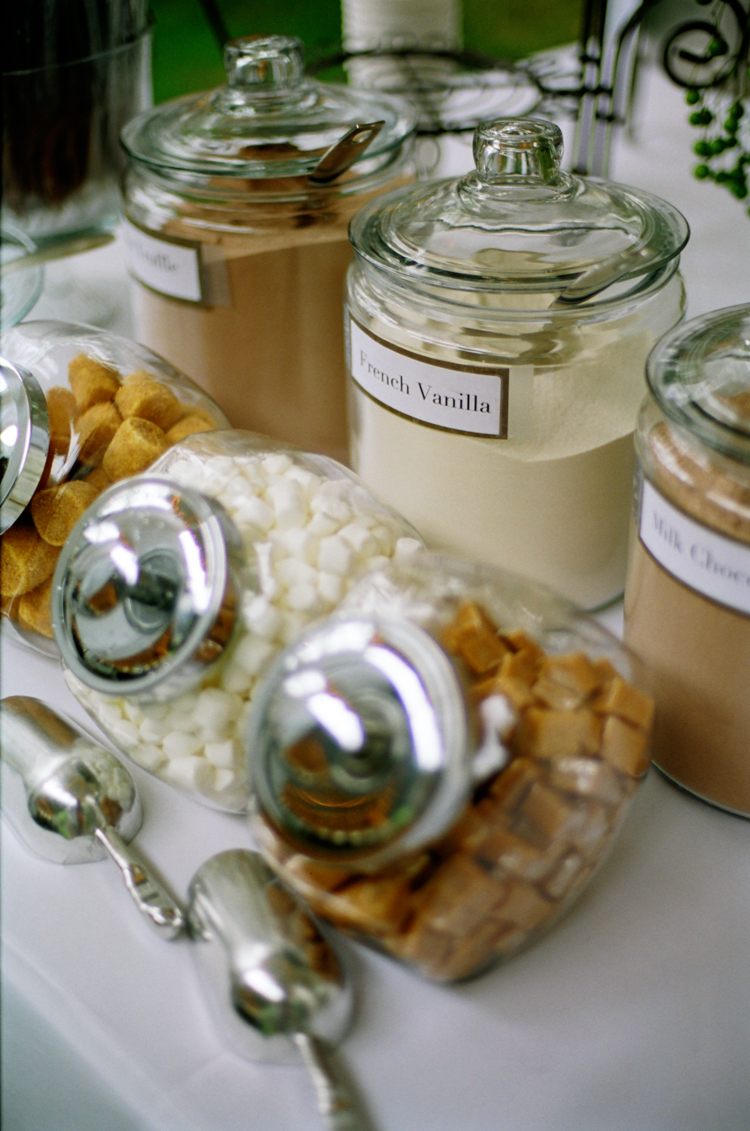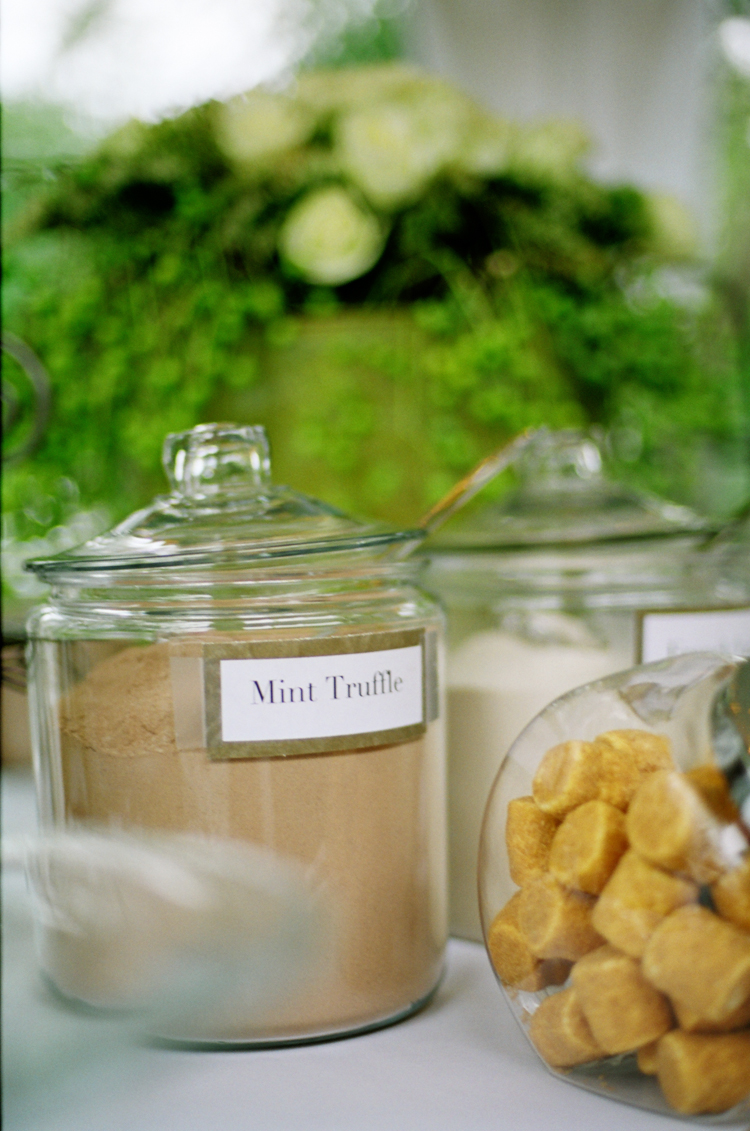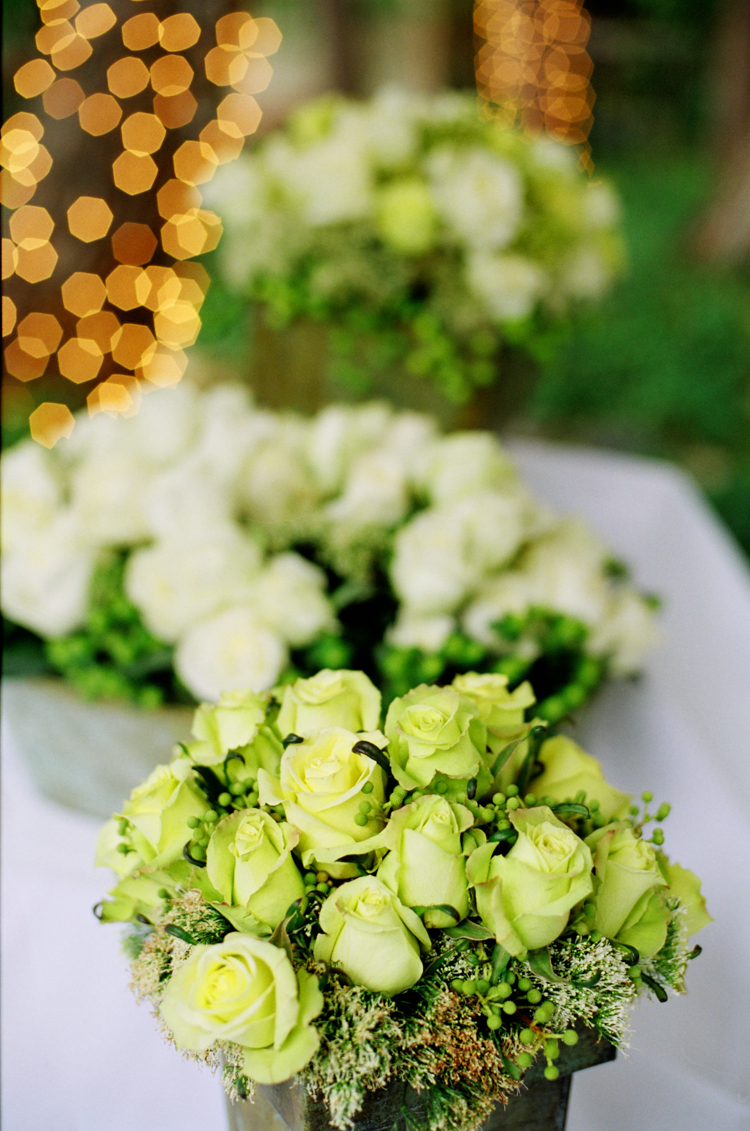 There were also three smaller tents for food. One was filled with fixings of a hot cocoa bar, with two large urns of hot water and then different options for cocoa and toppings. We also had miniature pumpkin tarts for dessert. Another food table had an assortment of salads, and the third was a sandwich station where Sugarhouse BBQ company was making pulled pork or hot turkey sandwiches to order.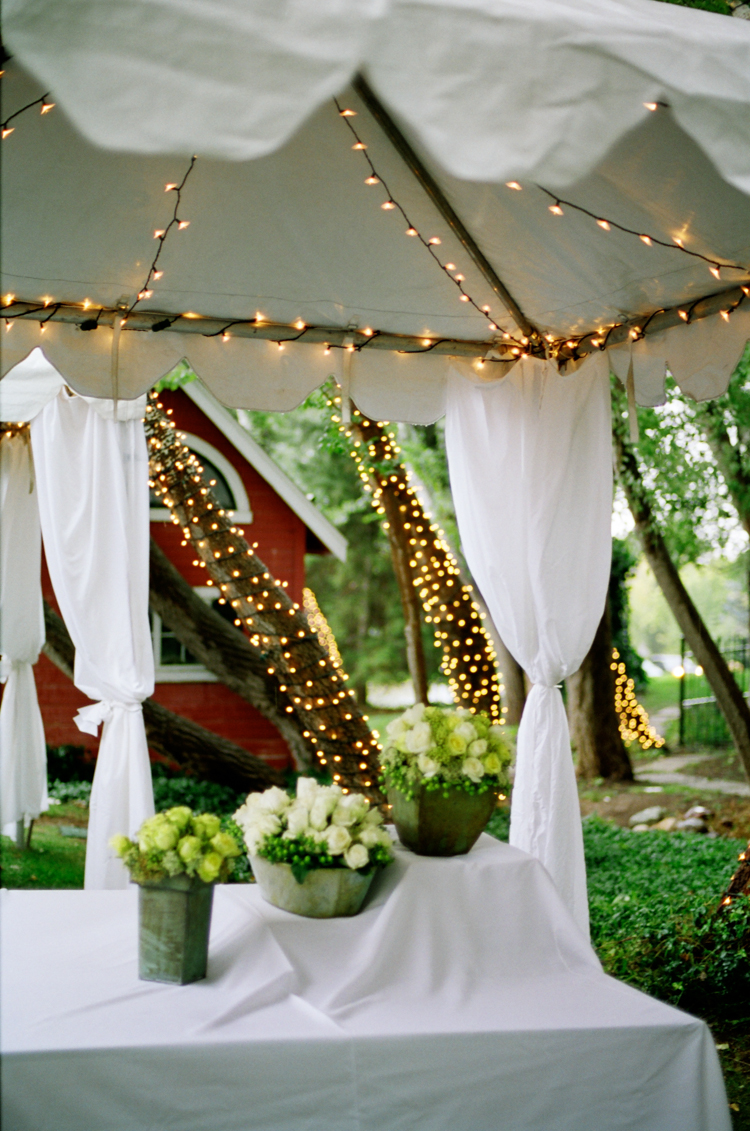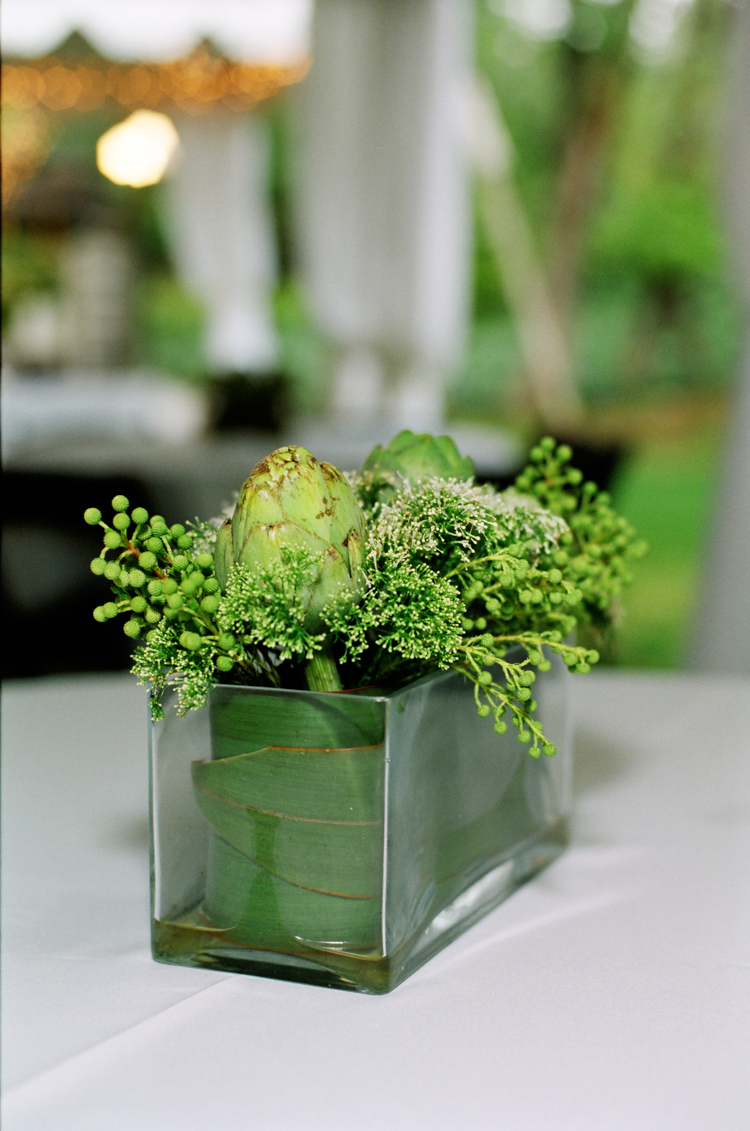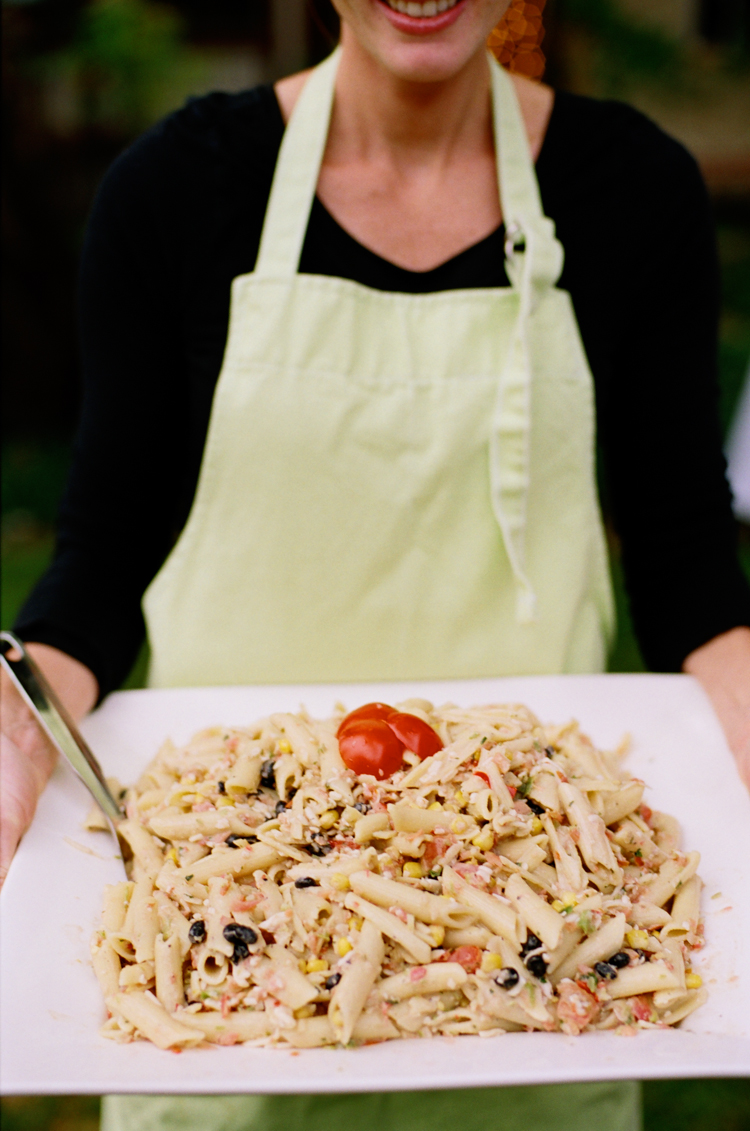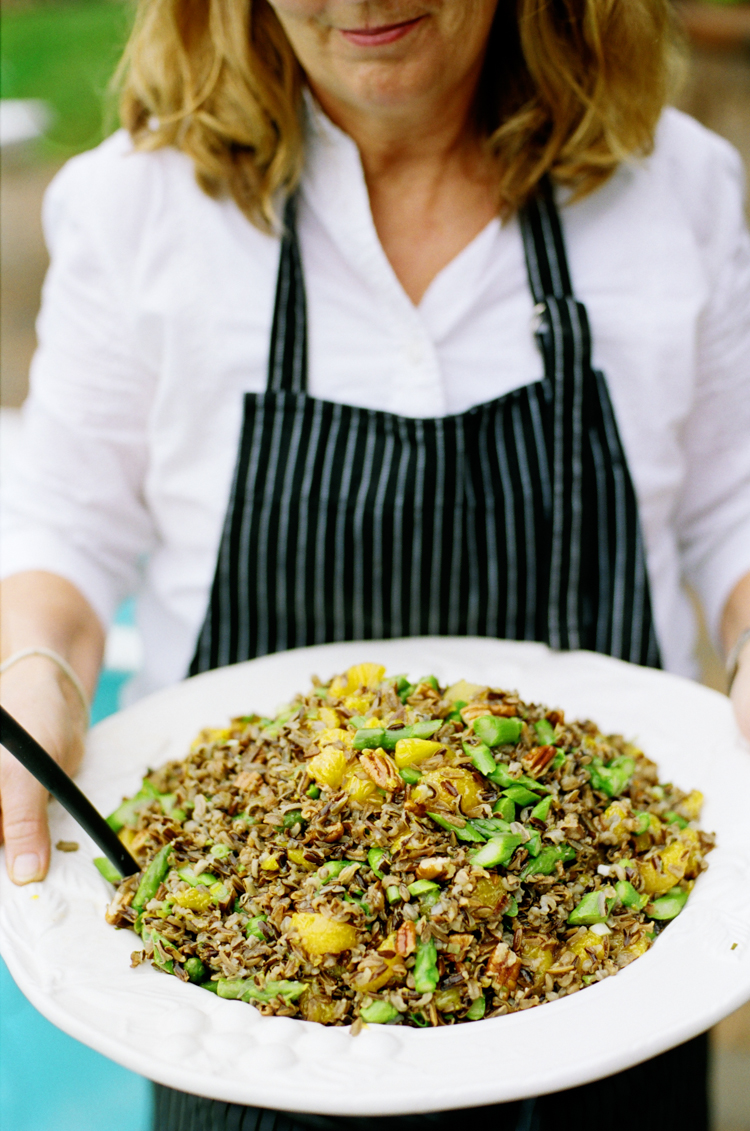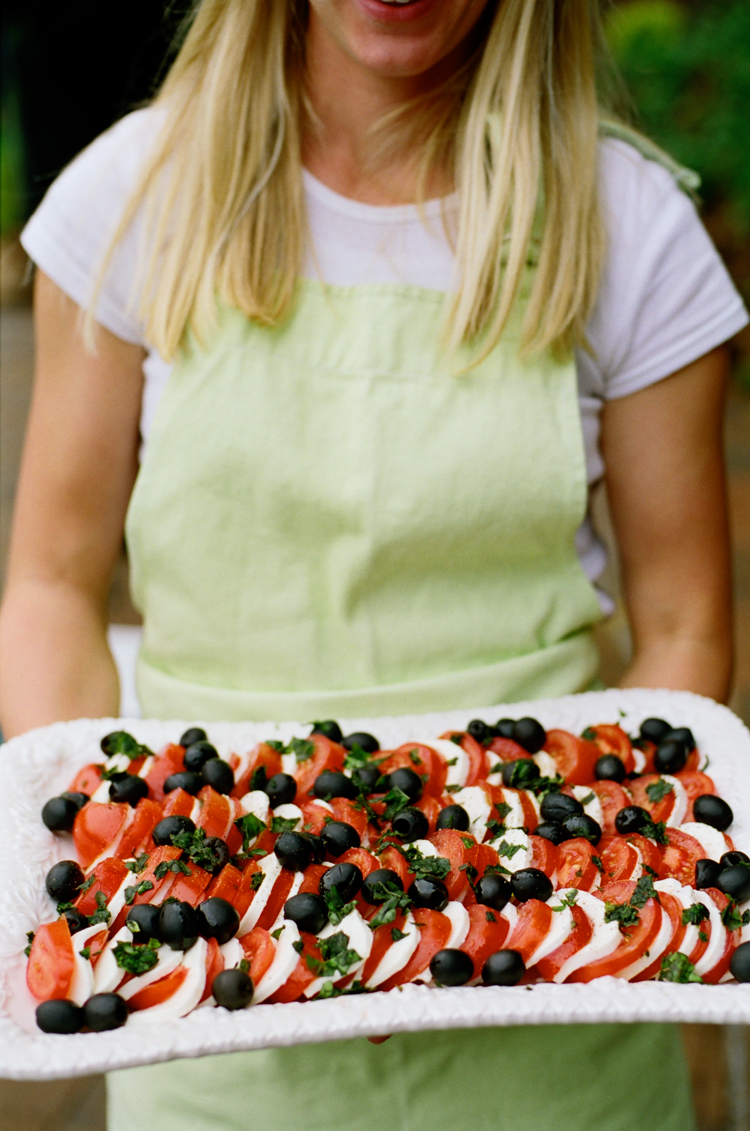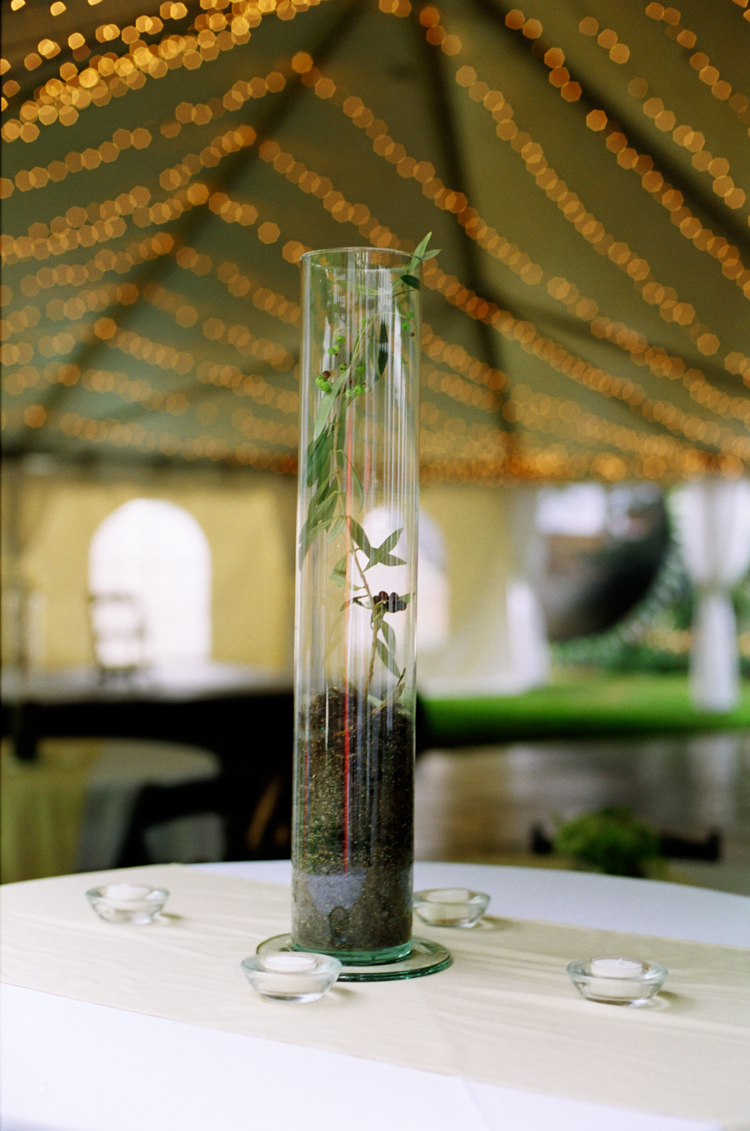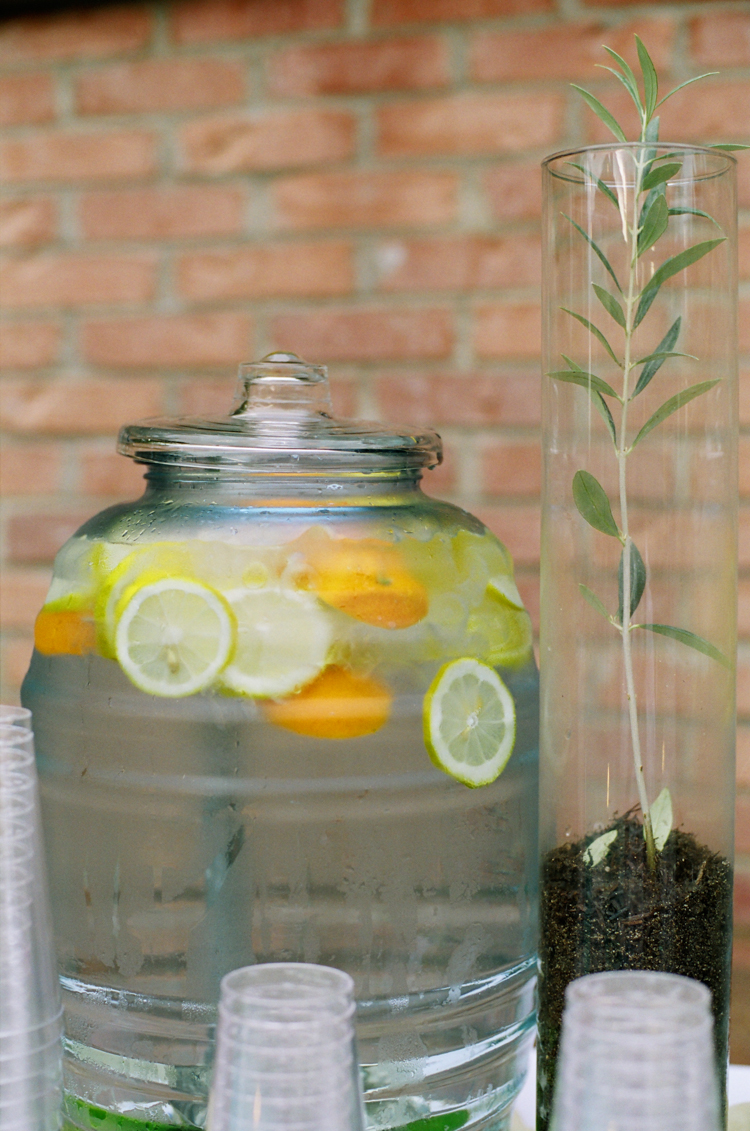 Once people made it up to the dance floor, there was little turning back. The band was happy and lively, and the night felt warmer moving a little bit. Dave and I danced our first dance to "It's a Wonderful World," which was also the song Dave had played on the CD player he hauled up the mountain in his backpack to set the mood for his proposal.
We also did a traditional father's dance, and I get emotional thinking about dancing as a bride with my dad. I grew up dancing with him in my socks on the kitchen floor, and loving listening to him sing along to his favorite songs. He was a musician who played his way through college, and serenaded us on campouts. I loved dancing with my dad, and still love dancing because of my dad.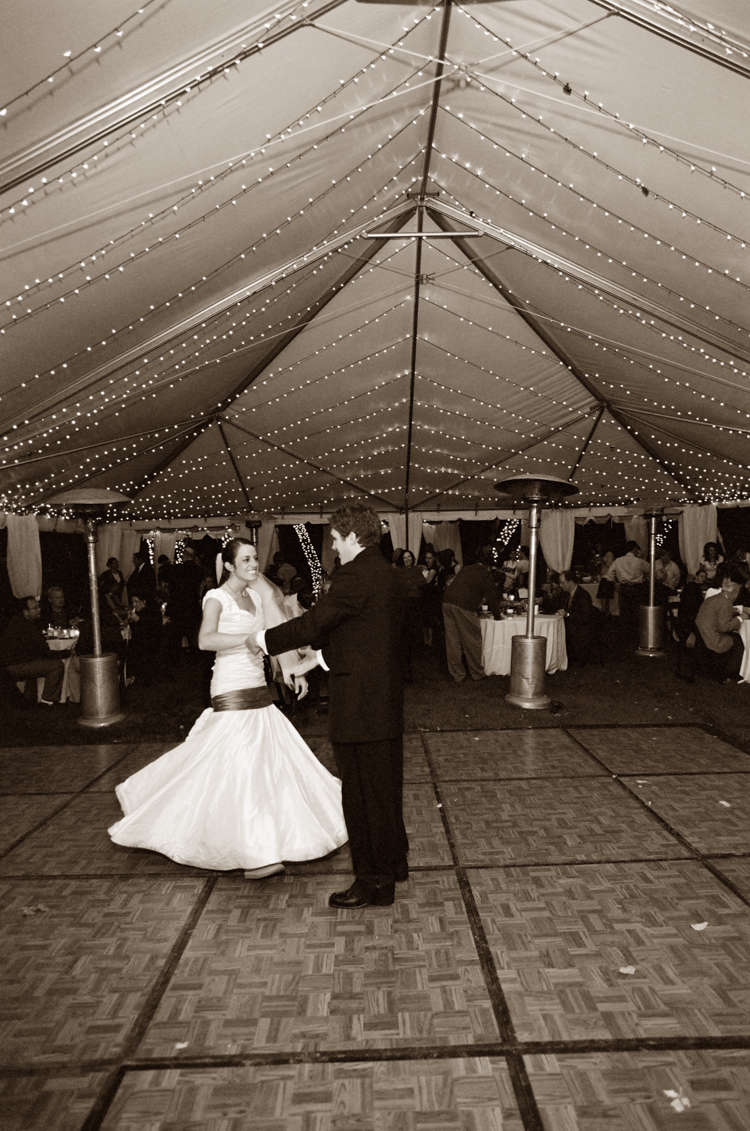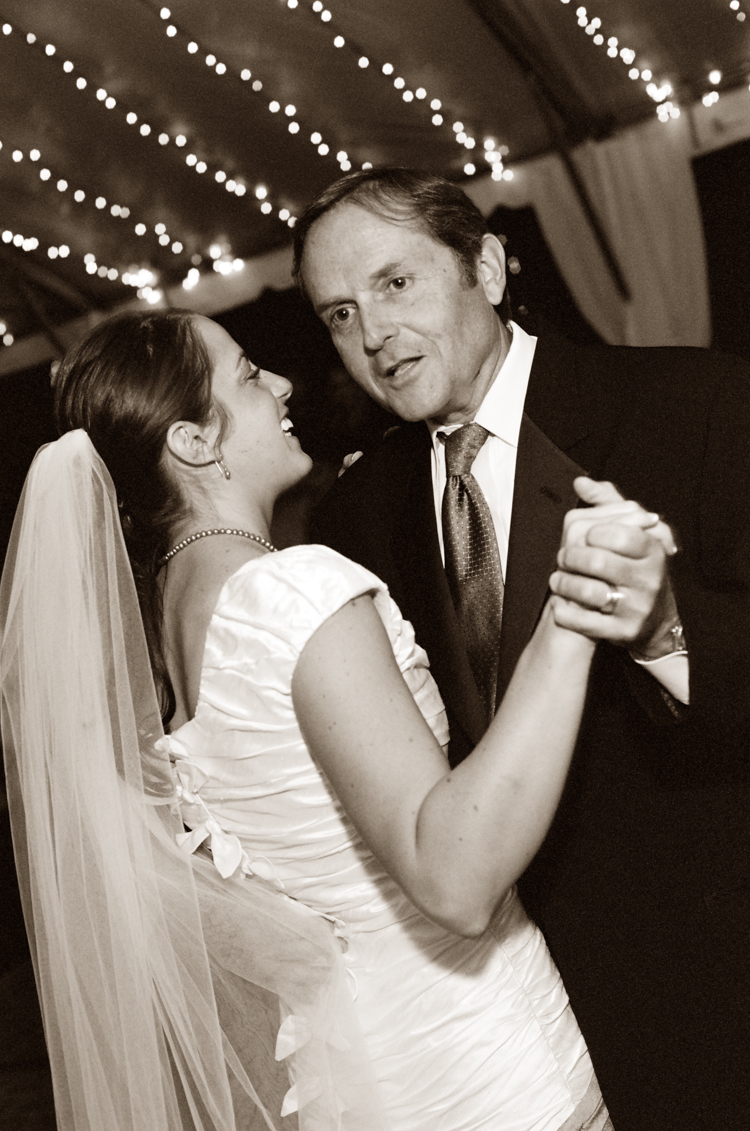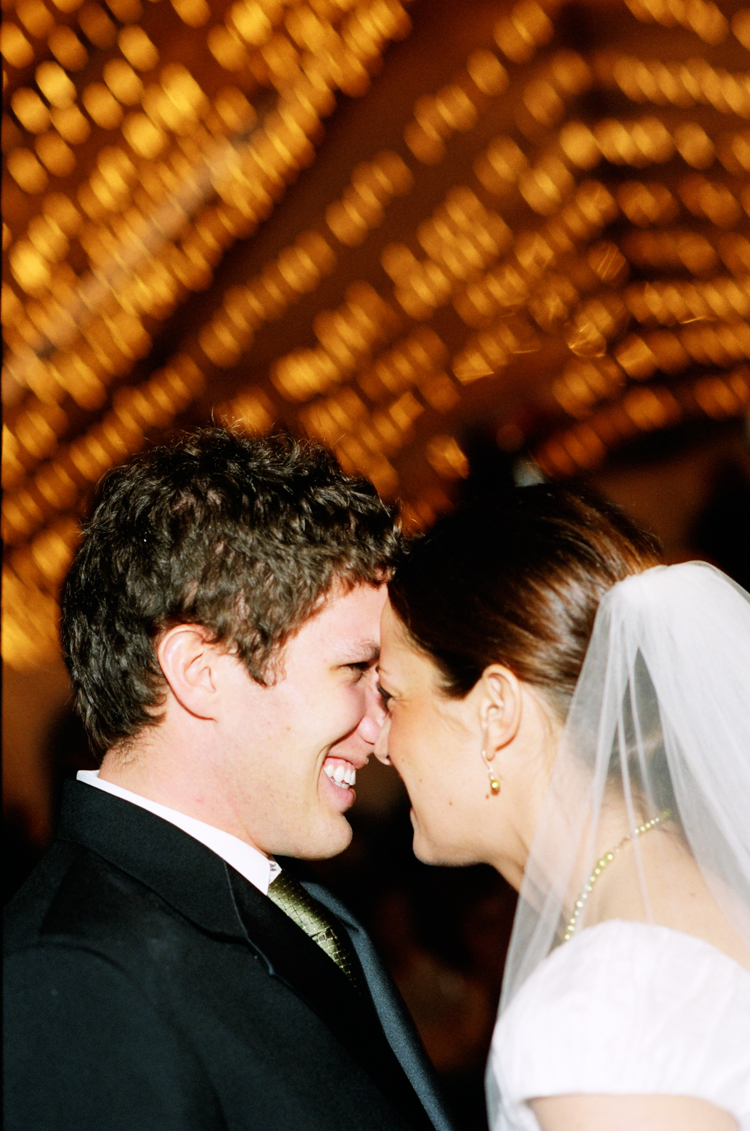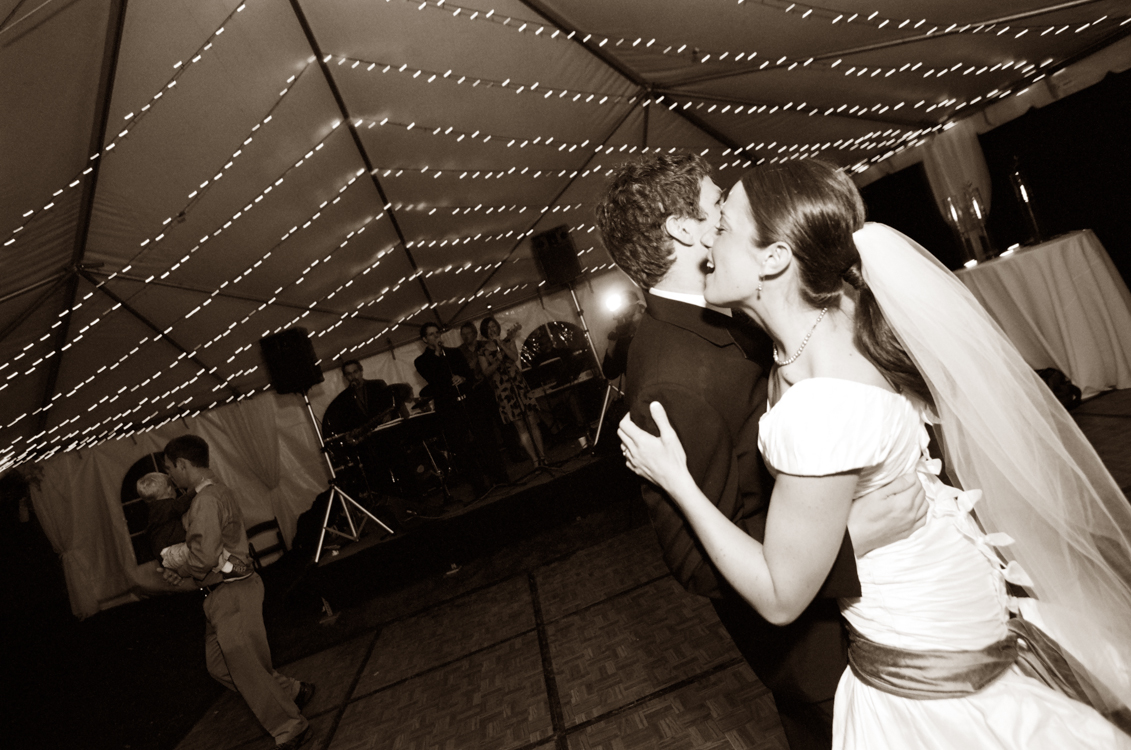 We spun and shimmied, twisted and bunny hopped. The enthusiasm was contagious, and we were so happy.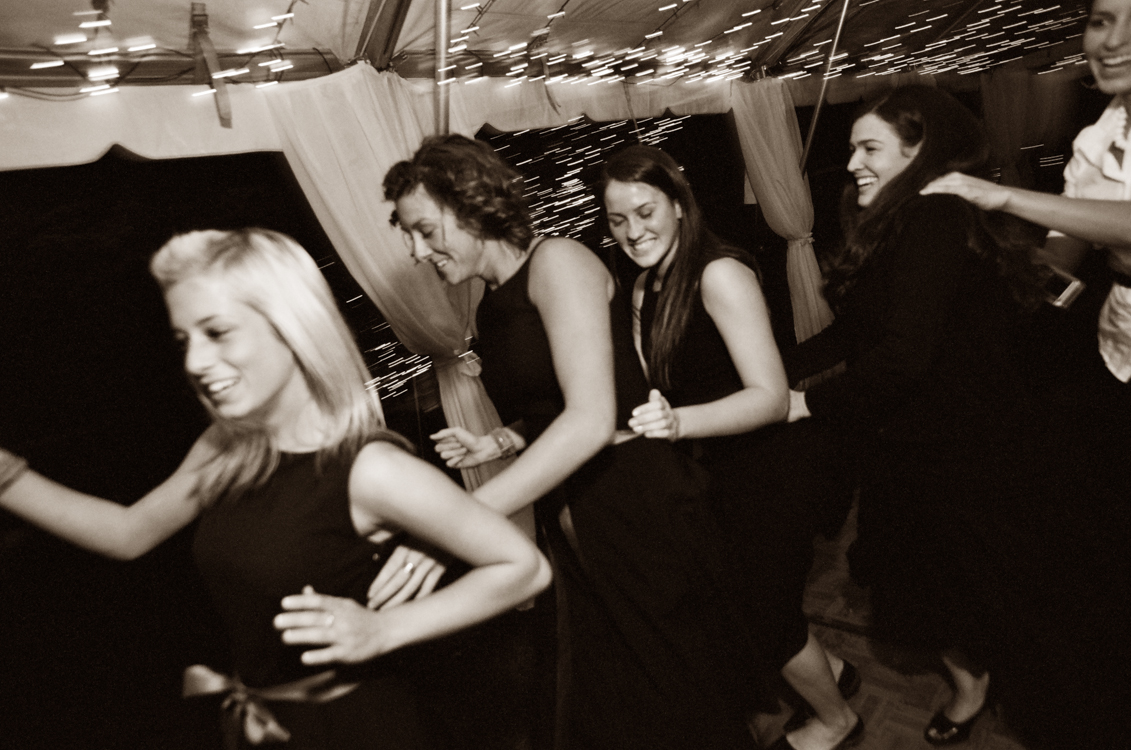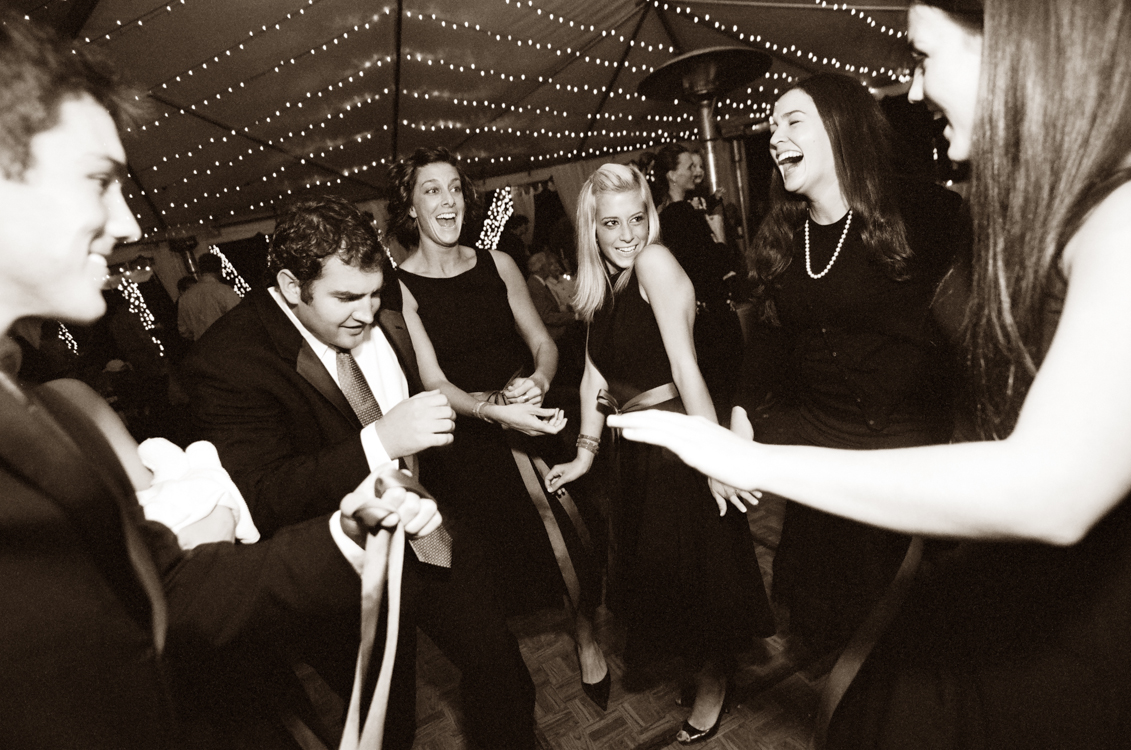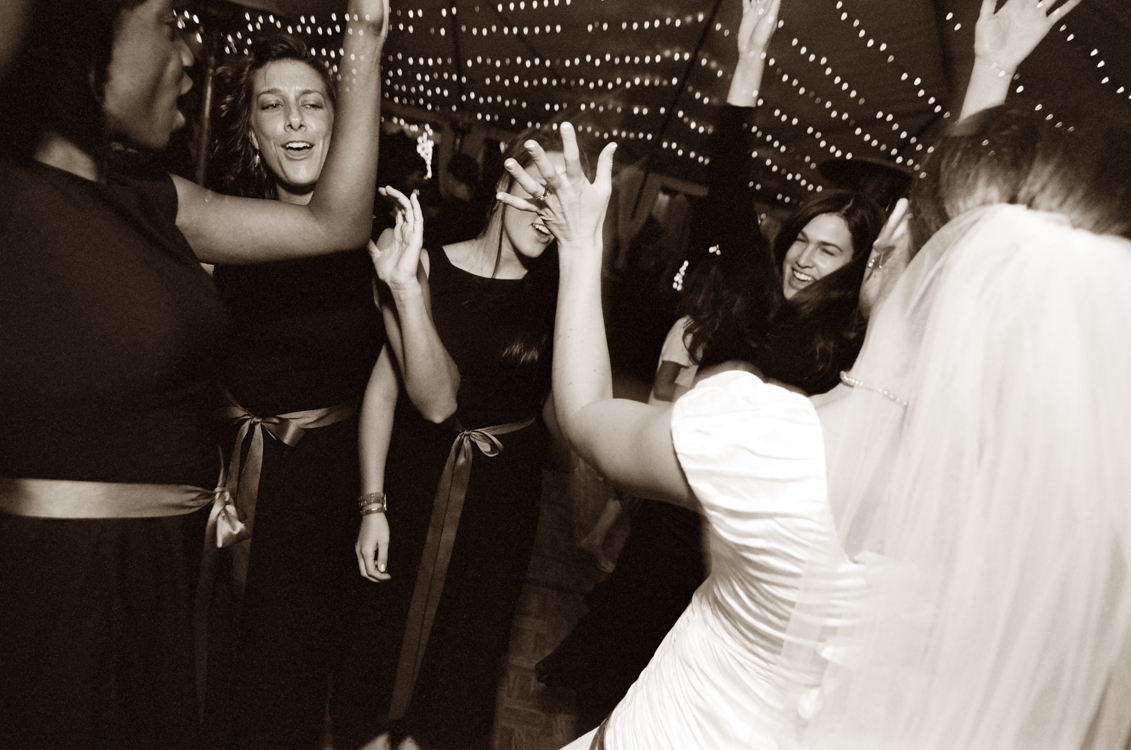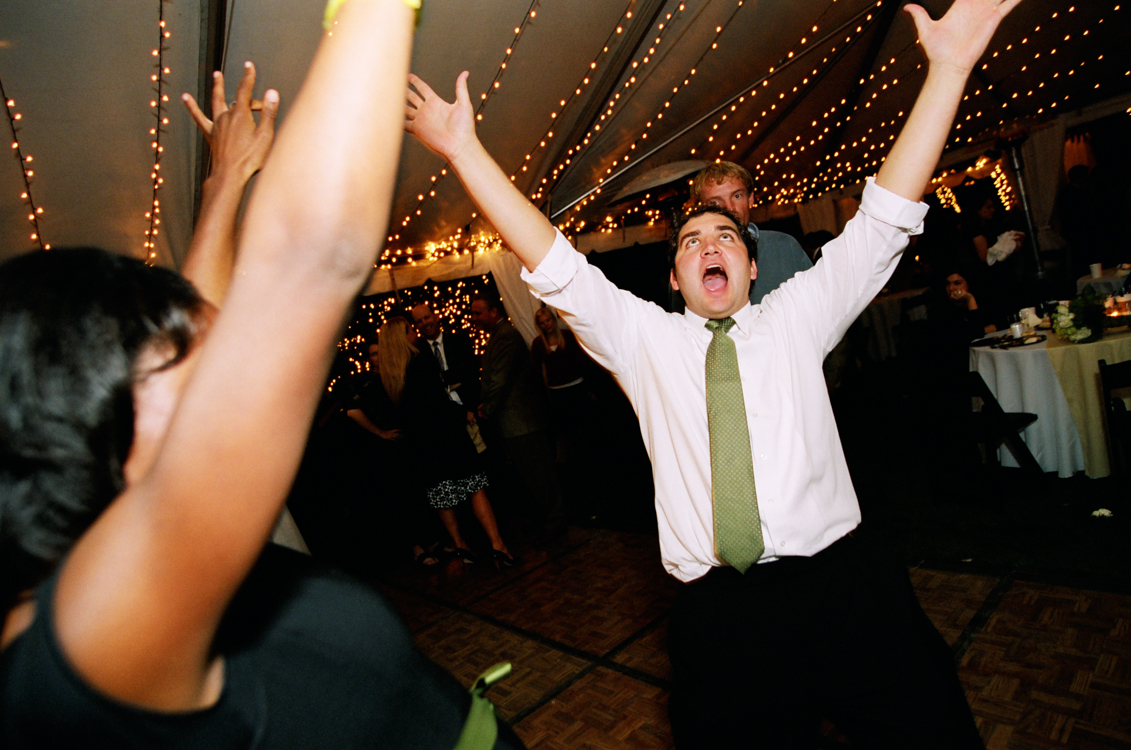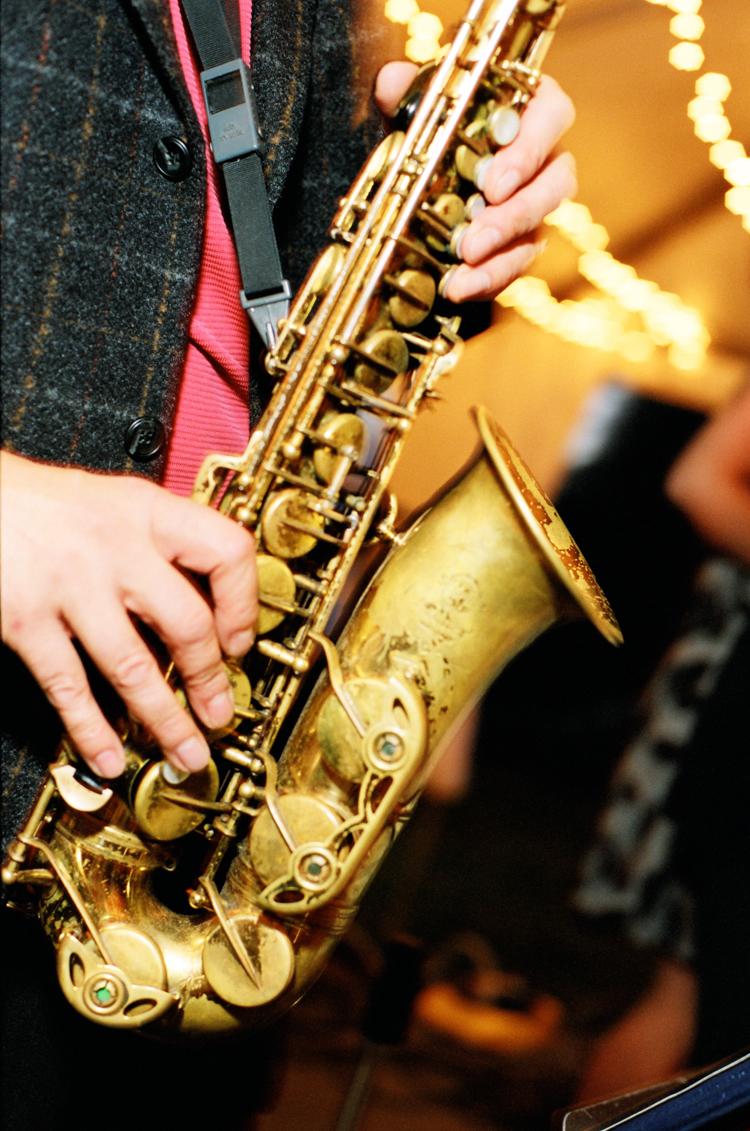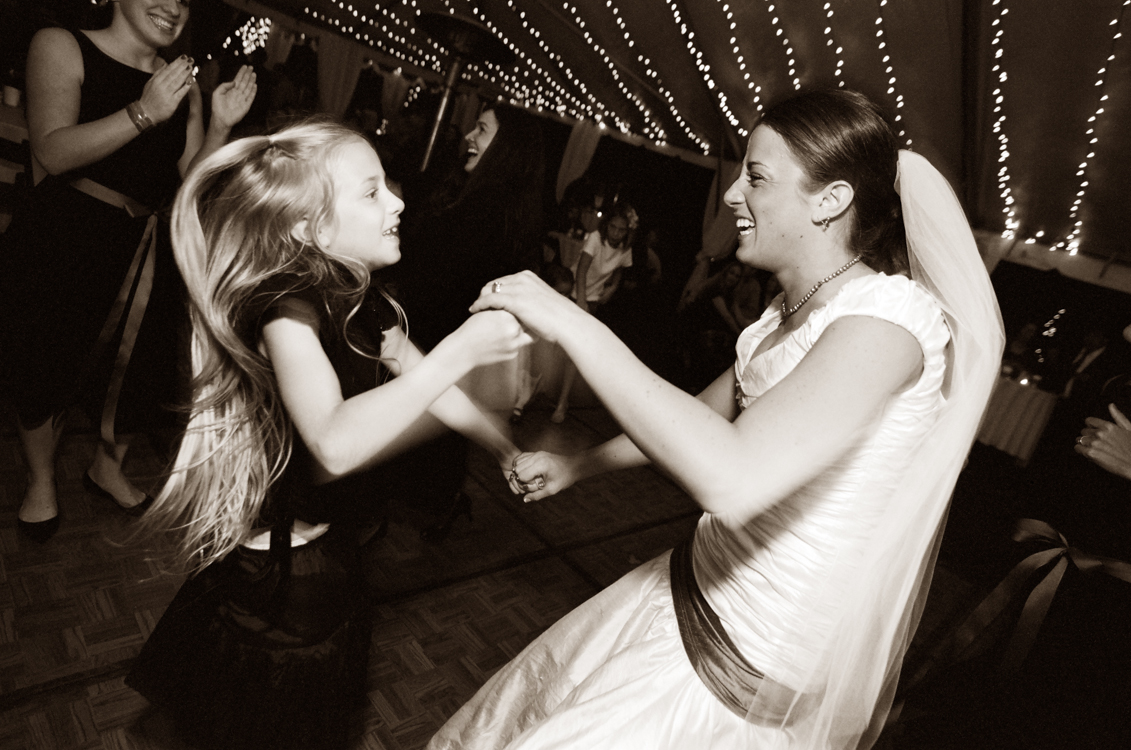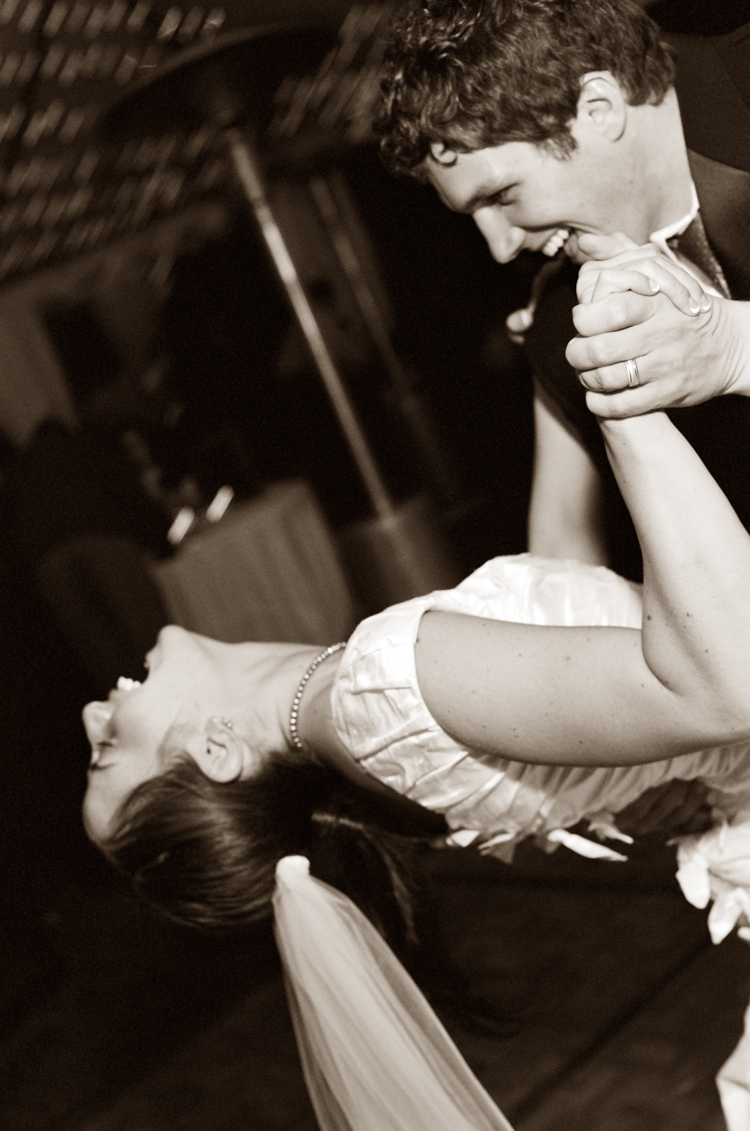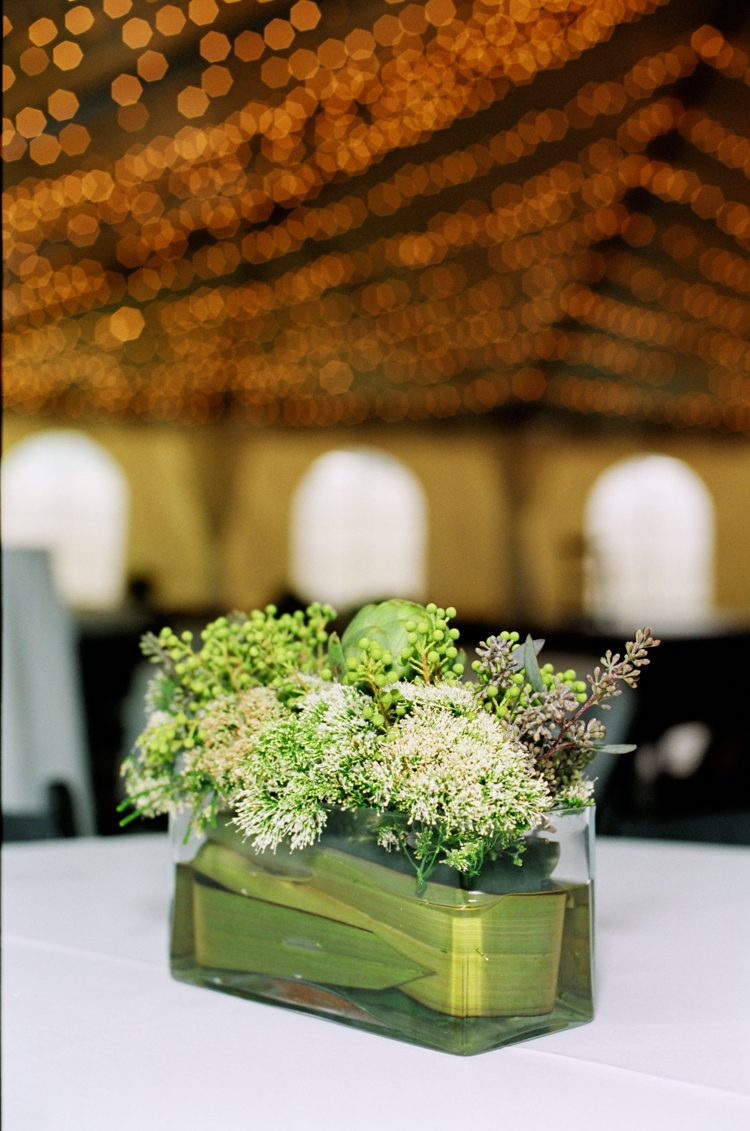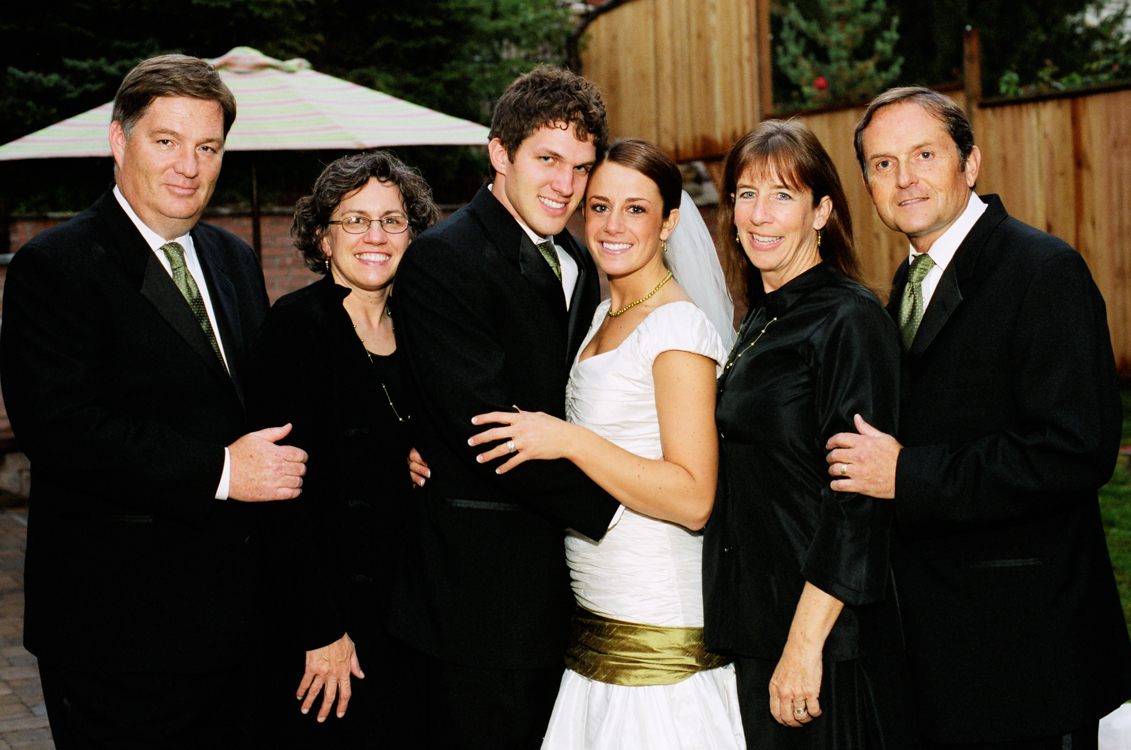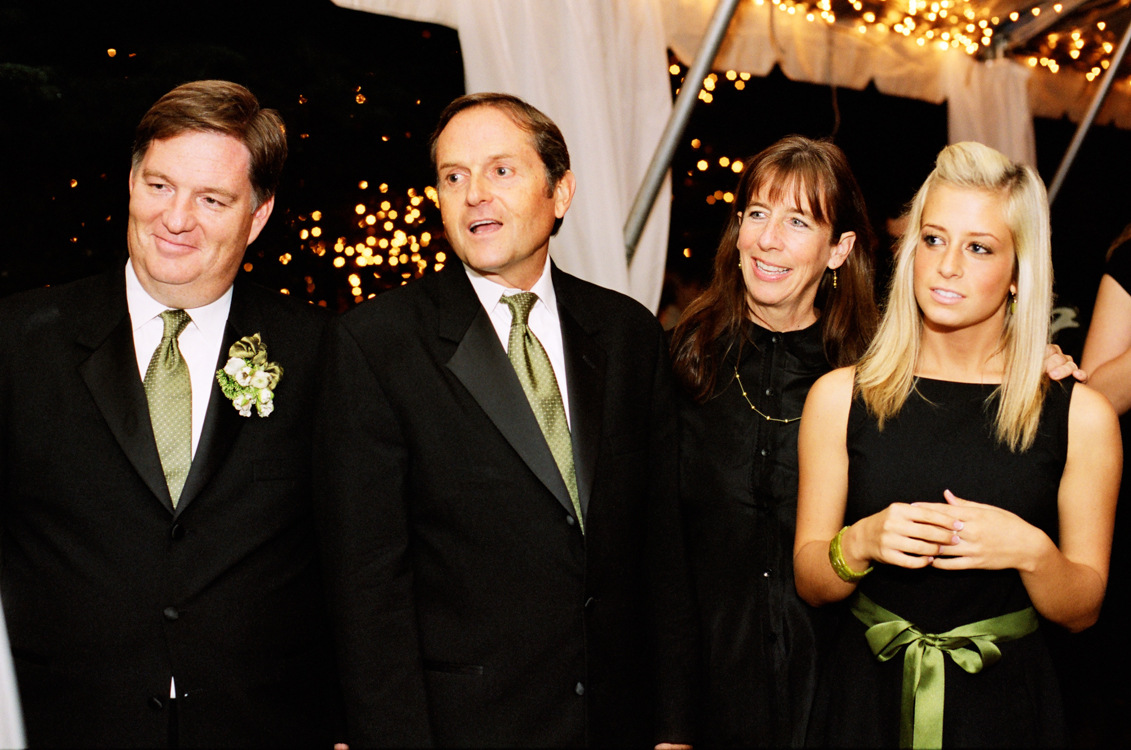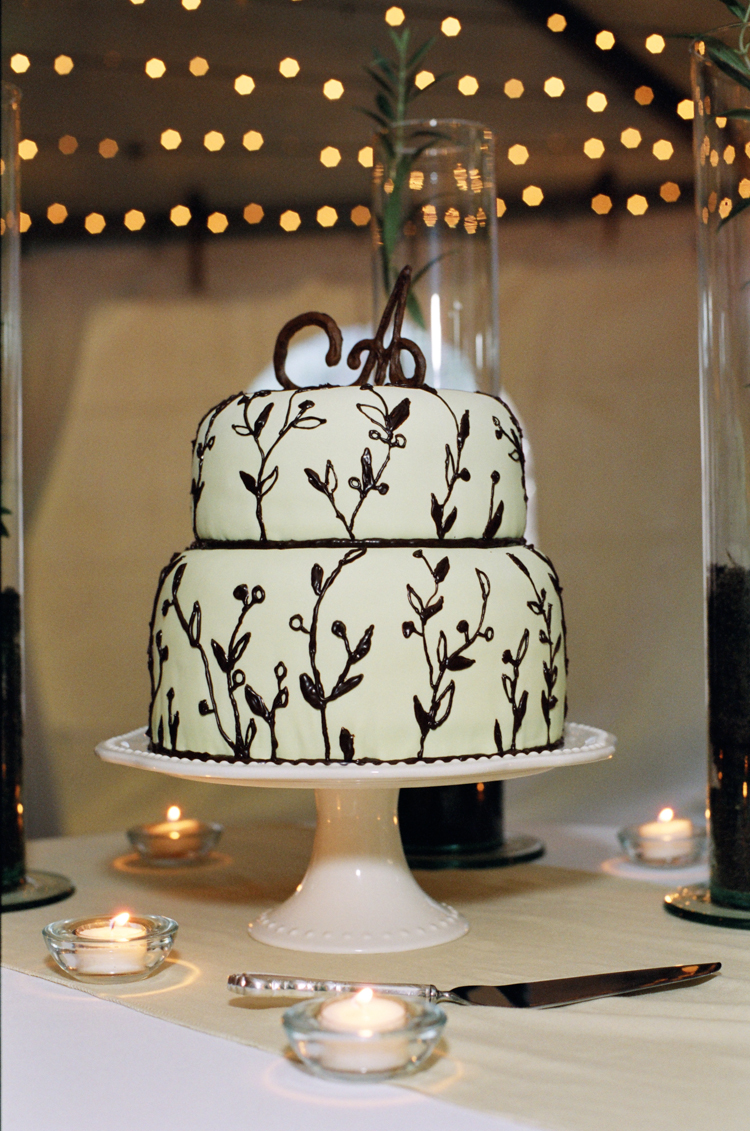 After we had gotten all of our dancing out, we cut our cake, kissed again, and called it a night.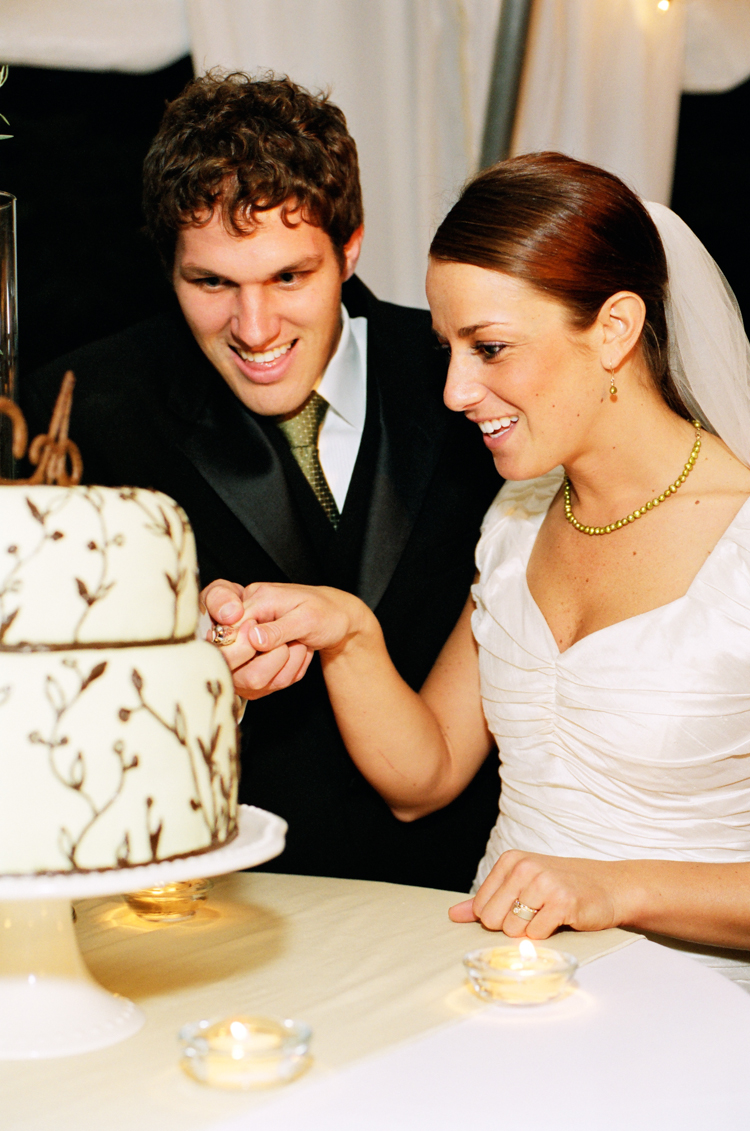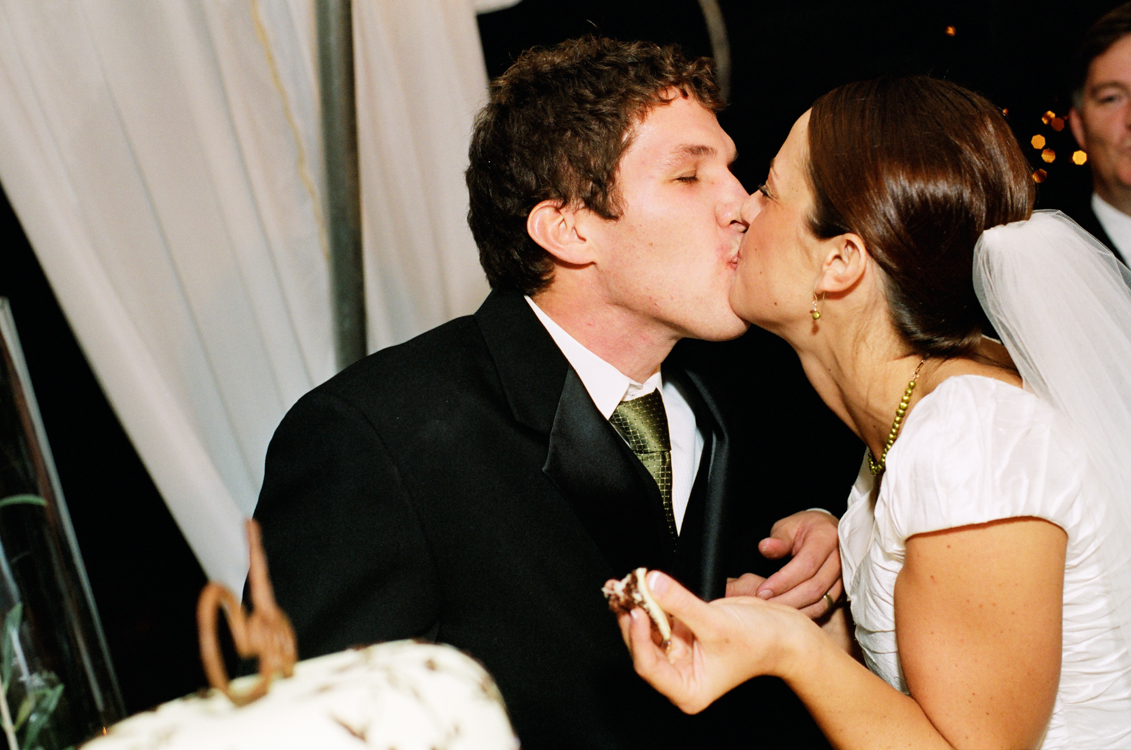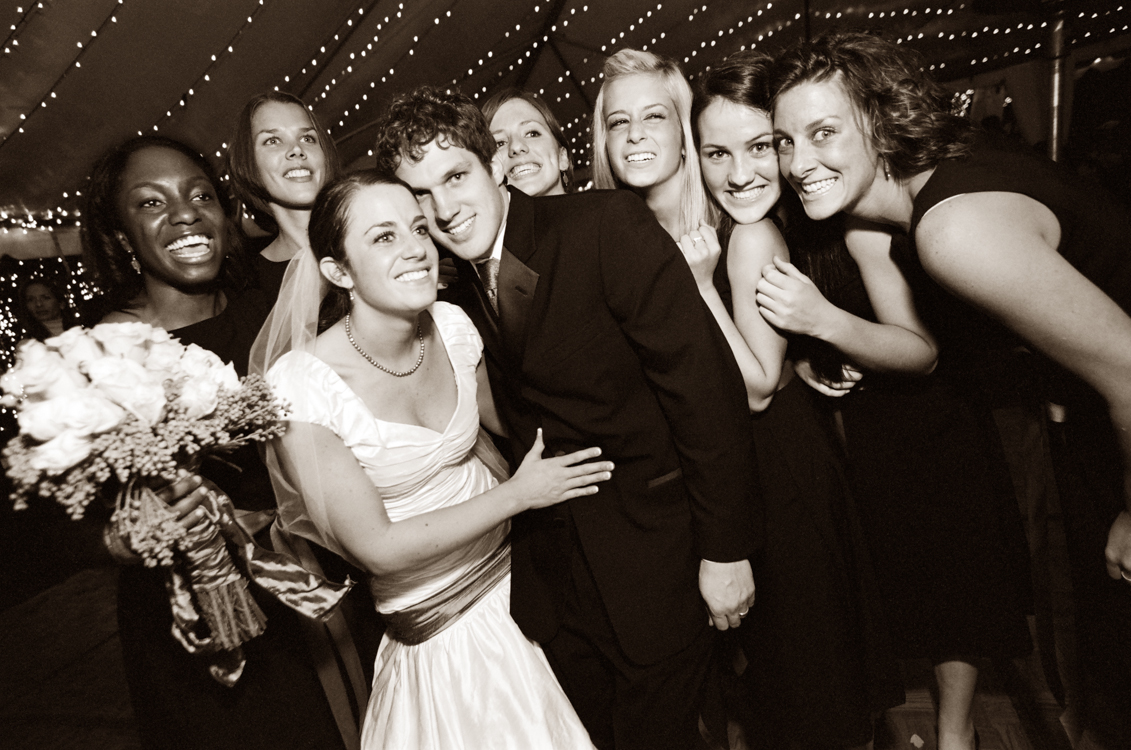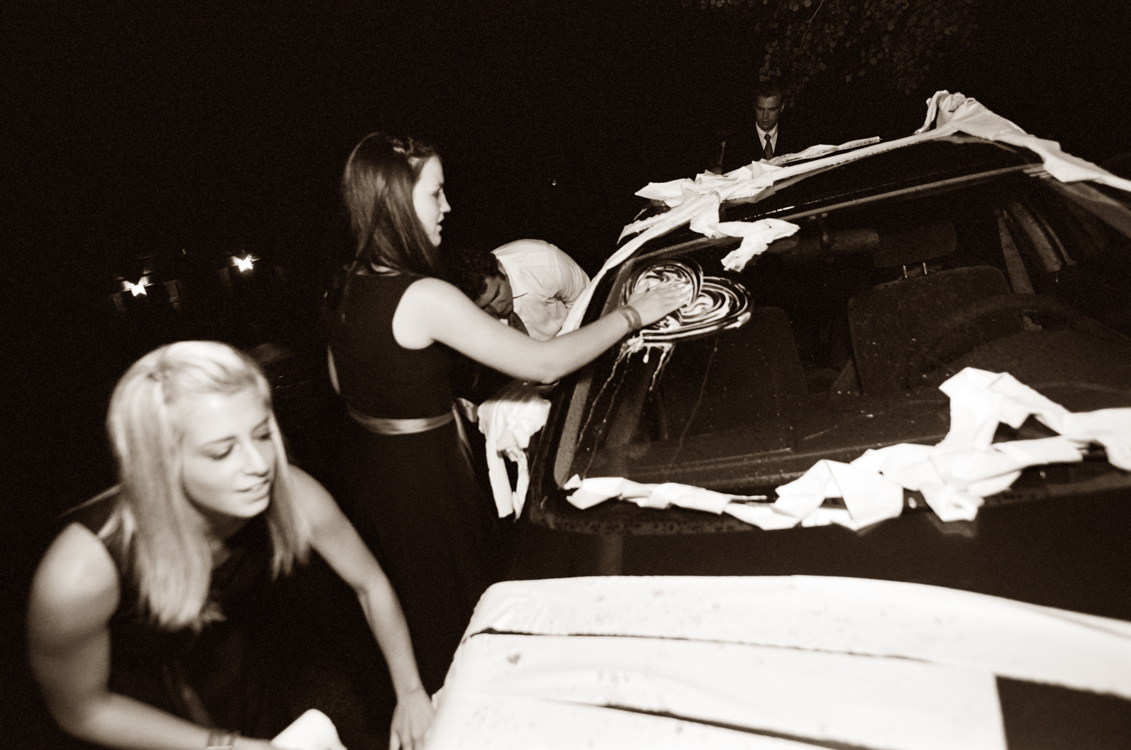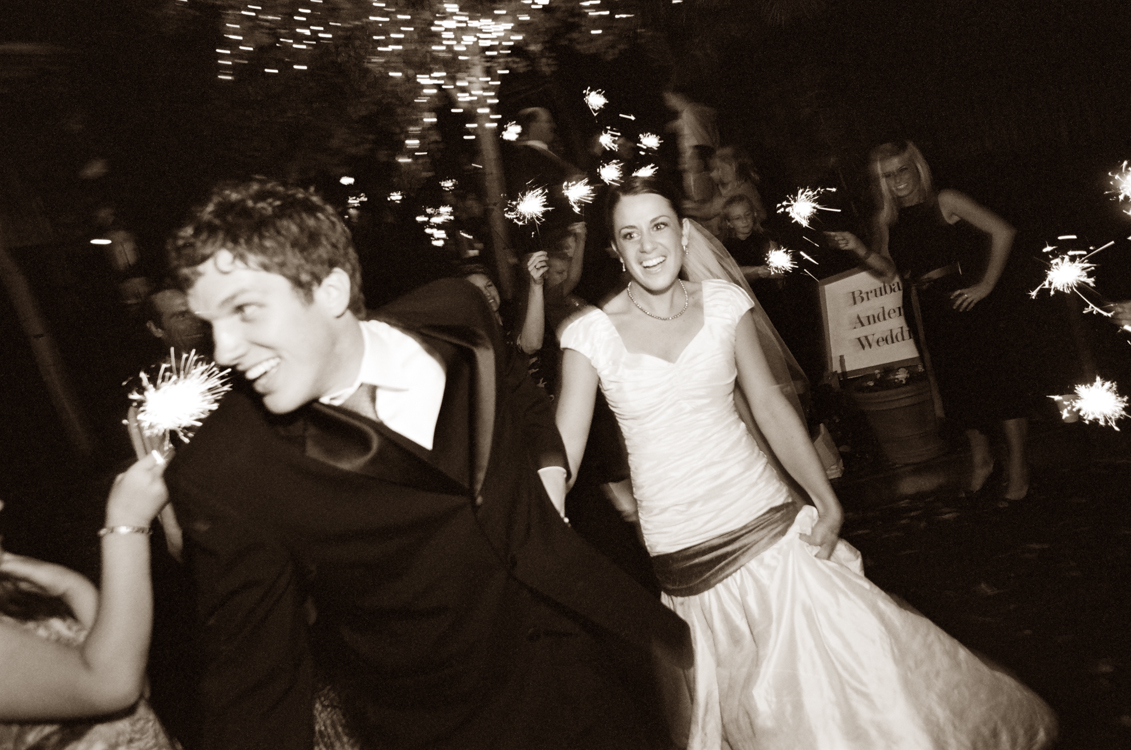 My heart is happy remembering this day that began the rest of my life. Binding myself to Dave through marriage has made me a stronger and better person. We rely on each other for wisdom, perspective, a shoulder to cry on, and a hand to hold.
I know the happiness I've found in my marriage isn't by chance, but by choice as we make a concerted effort every day to take care of each other's needs, and recognize the divine nature and goodness within each other. We can't always make each other perfectly happy, and in a lot of ways it's unfair to expect that of each other. We can make sure we always choose each other, support each other, and love each other in our imperfections. When life has gotten tough, we first look to the other for help. Our relationship is a sounding board and a safety net. I love Dave so deeply because of the life we've built together and the trials that have refined ourselves and our relationship.
I look forward with hope and excitement for the rest of our lives and eternity together.
All of these beautiful photos were taken by our photographer Jonathan Canlas, who shoots exclusively in film and continues to do really incredible work.
SaveSave