It takes a lot of work and thought to pull a room together and actually finish the job. Our house is in varying stages of "finished" and I decided a few months ago to focus exclusively on one room at a time so I could measure the progress I made, rather than spreading the work thin throughout the house.
It feels so good to have finished the boys room completely. With the constellation ceiling, Hudson Bay blanket, vintage knot posters, mexican blankets, and basic metal, wood, and canvas elements, it's a fun outdoors inspired boys room that they'll be able to enjoy for years.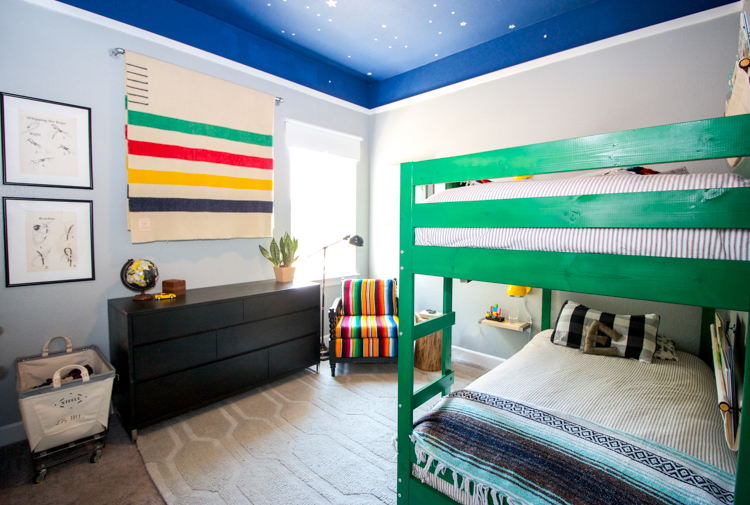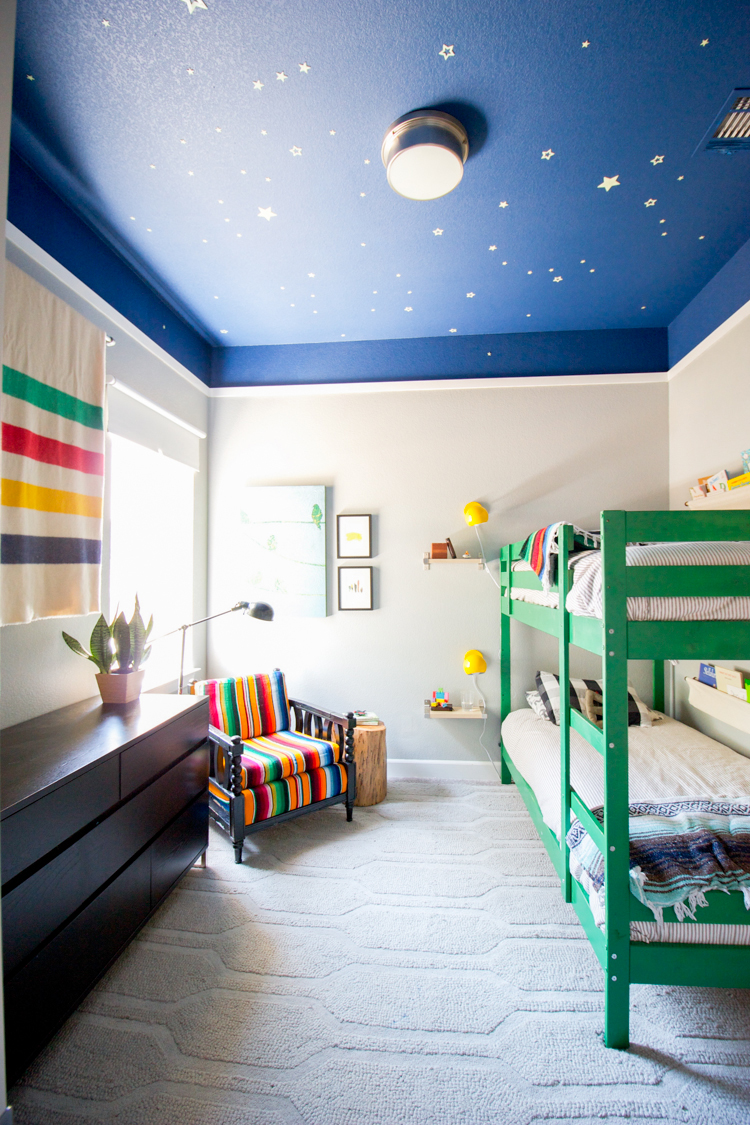 The motivation I needed to finish designing, collecting, and do the work in here was inspired by Sherwin-Williams. I met their team at Alt Summit this year and wanted to collaborate, so when they told me to choose a project and some paint colors, I was inspired to get busy. They sponsored this project with their gorgeous paint, and I was thrilled to have the fire lit under me to get it done. Read on for more photos and details about all the sources.
Because our ceilings are so high (10′), but the room isn't huge, the proportions felt a little off. Bringing down the ceiling onto the walls 12″ helped to make it feel cozy and comfortable. I had never painted a ceiling before, and it was a workout, but not terribly difficult. The Emerald Interior Paint I used has a primer included, and after one nice coat I was finished.
I planned on just one accent wall in the slightly darker grey than the previous light gray builder's grade flat paint. After painting one wall and seeing how amazing the quality looked, I couldn't stop. One gallon of Harmony paint covered all of the walls in this room gorgeously. It's amazing also that it's low VOC and  odor-reducing (which will come in really handy with two little boys in this room!)
Of course, painting the walls and bringing down the ceiling meant I needed to add a high trim molding to separate the blue from the grey. It turned out to be surprisingly simple to add molding, although it was a huge workout. I grabbed some basic trim from Home Depot, borrowed my neighbor's chop saw, and figured it out! The clean separation adds so much depth and interest to the room.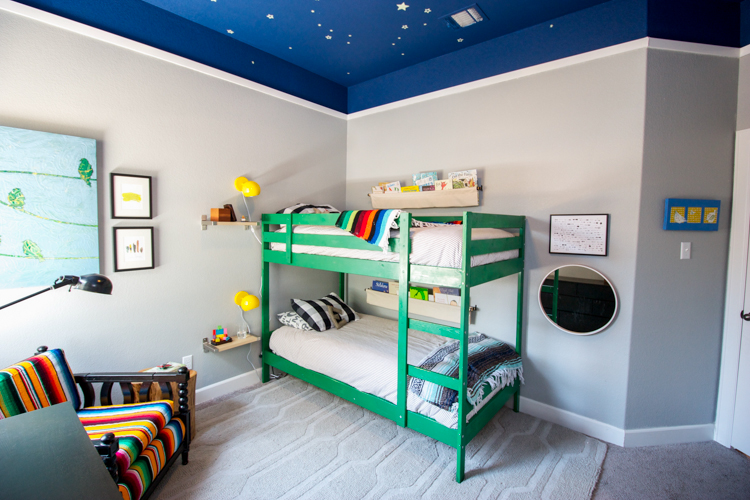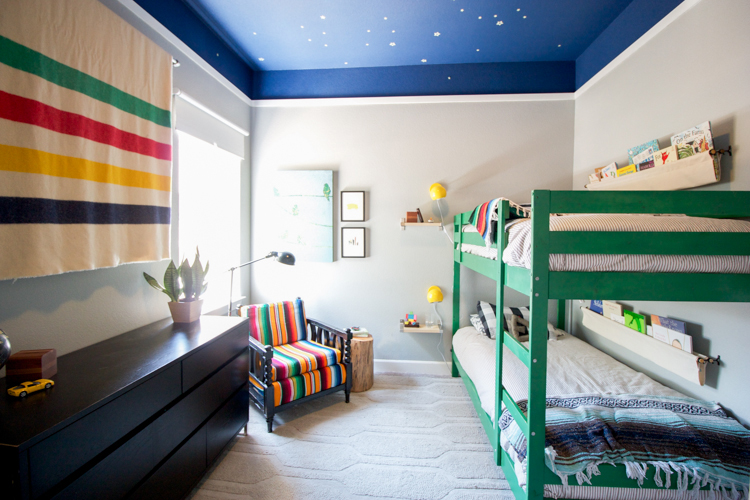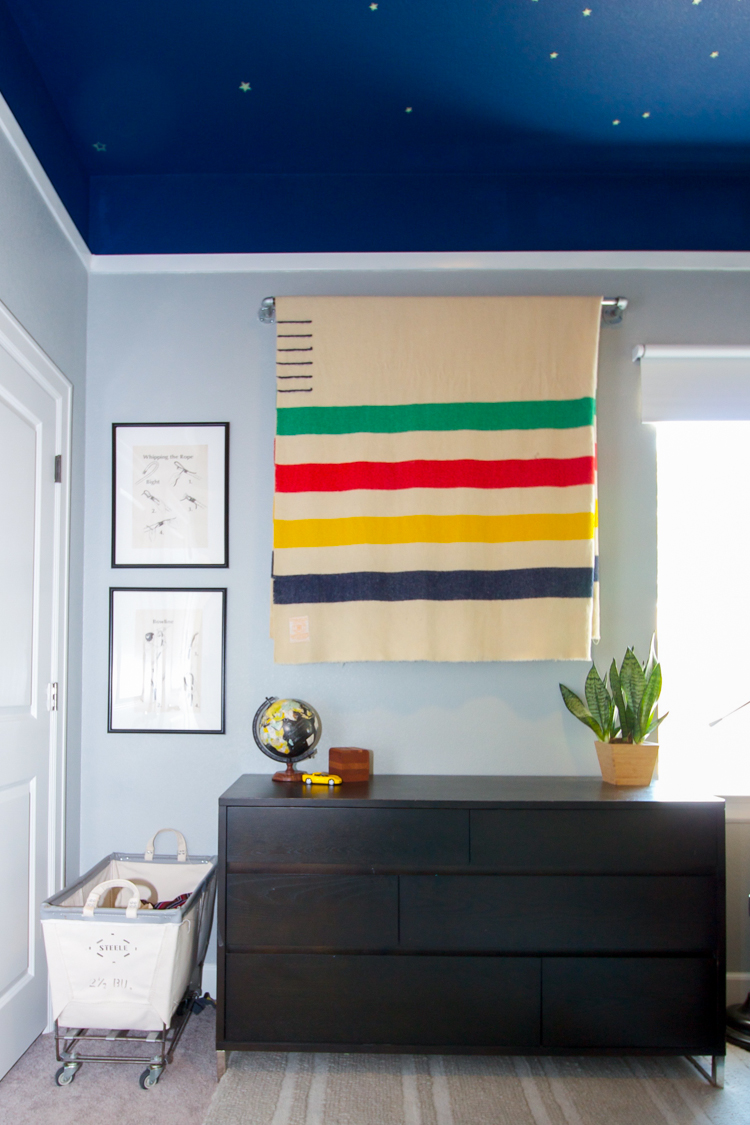 The overall vibe for the room began when I spotted this favorite pin, and searched eBay for a Hudson Bay Point Blanket. I ended up finding two classic blankets, one Hudson Bay that's hanging here on a simple metal rod I put together with piping from Home Depot, and the other is Pendleton and we use it as a throw in the living room. Dave thought it was funny for me to be buying 100% wool blankets for a room in hot hot Texas, but I love the classic, outdoor feeling of them. See my other inspiration pins for this room here.
The blanket set the overall tone and color scheme for the room. The Steele Canvas industrial laundry basket was from our old house and is perfect in here, and I continued collecting from there.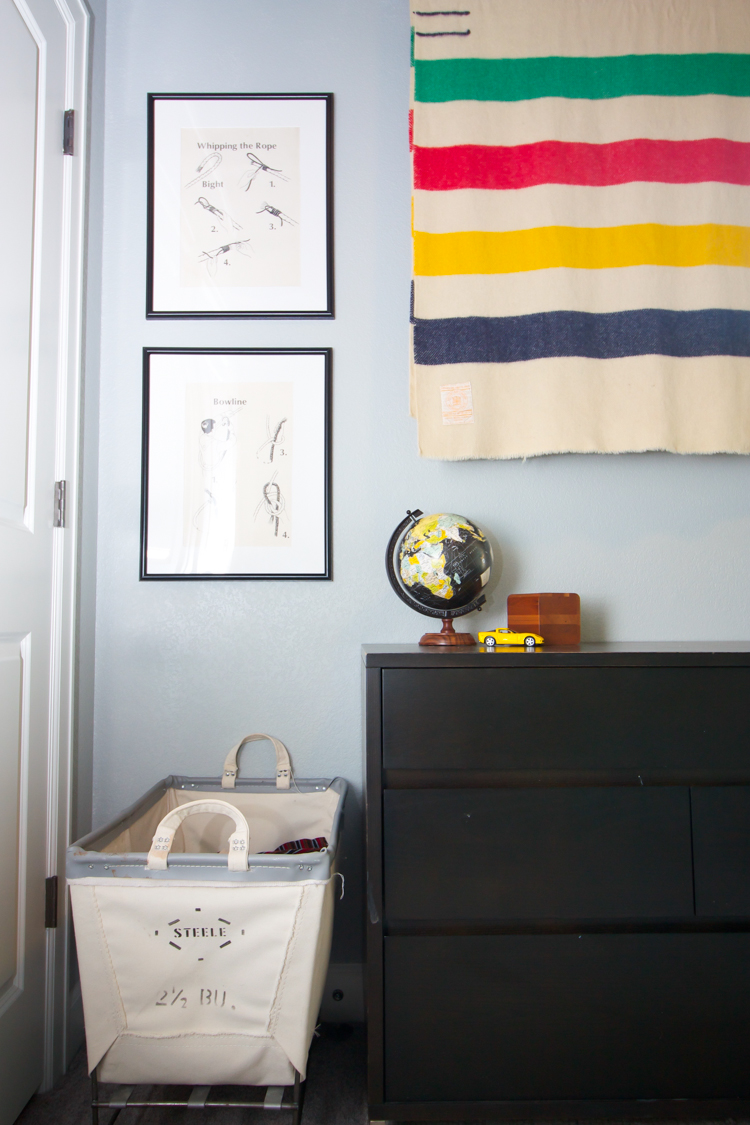 A good friend found these vintage knot posters at an estate sale, and sent them to me. Because they're odd sizes I took two years to get around to framing and hanging them. I bought standard frames then cut the mattes myself to fit. They're kind of hard to see in the photos, but are really fun old step-by-step graphics.
The dresser was a West Elm Outlet find. I went down with a tape measure and and this dresser in mind, and it was right there, for a huge discount. My friends all tell me I have great shopping karma, and I think it's true. It helps that I usually know exactly what I want…and the universe provides!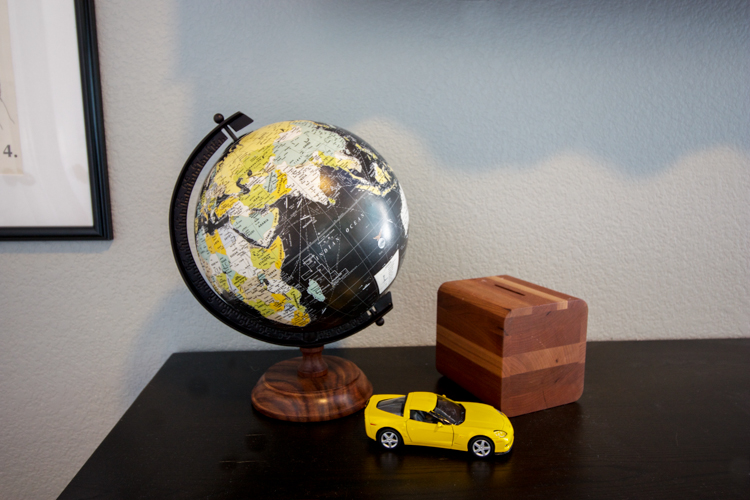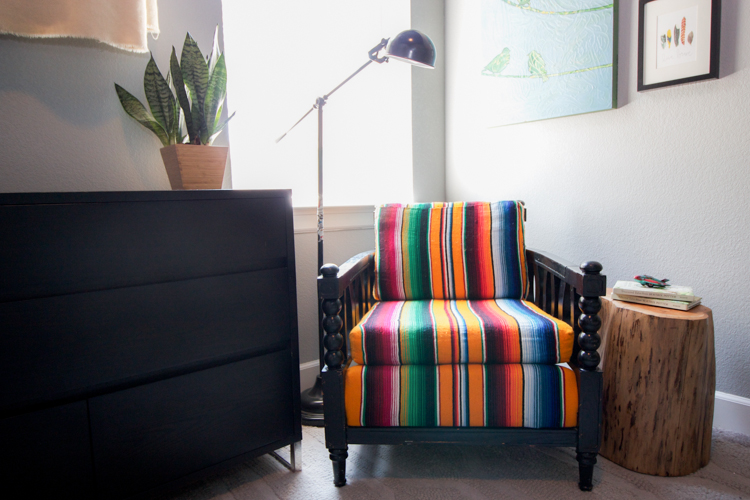 This chair has been in my life longer than any of my kids, and I love it almost as much! Originally I found it while thrifting and fell in love with the shape. It's been upholstered three times, and this is definitely my favorite (and hopefully the final rendition.) I picked up the sarape blankets in New Mexico last summer for this specific project, upholstered it myself, and love it even more now.
The art next to the chair was collected over the years. I bought the big bird painting when Dave and I first moved from Salt Lake. I wasn't yet expecting Milo, but fell in love with it and thought it would work well in a nursery. The feather print was given to me by my friend Angie of Yellow Bungalow Shop and I love the "Live Brave Little Chief" sentiment. Above that I hung this letterpress print I made for my Alt Summit media kit a few years ago. It's the James Taylor lyrics " Never grow up, never slow down, never grow old, never ever die young."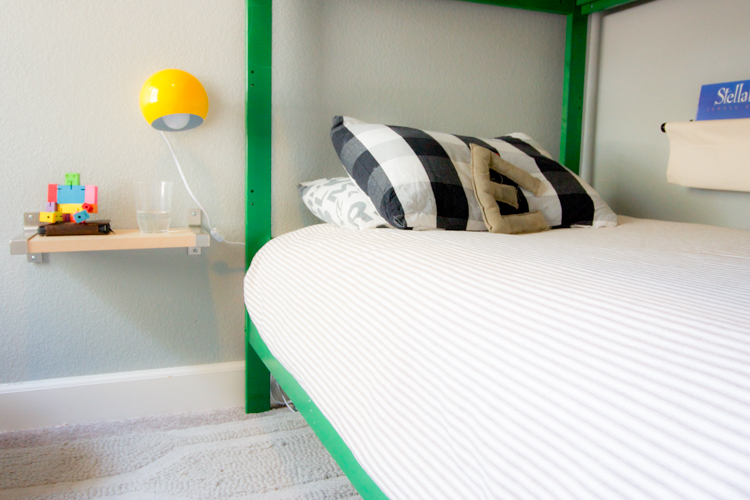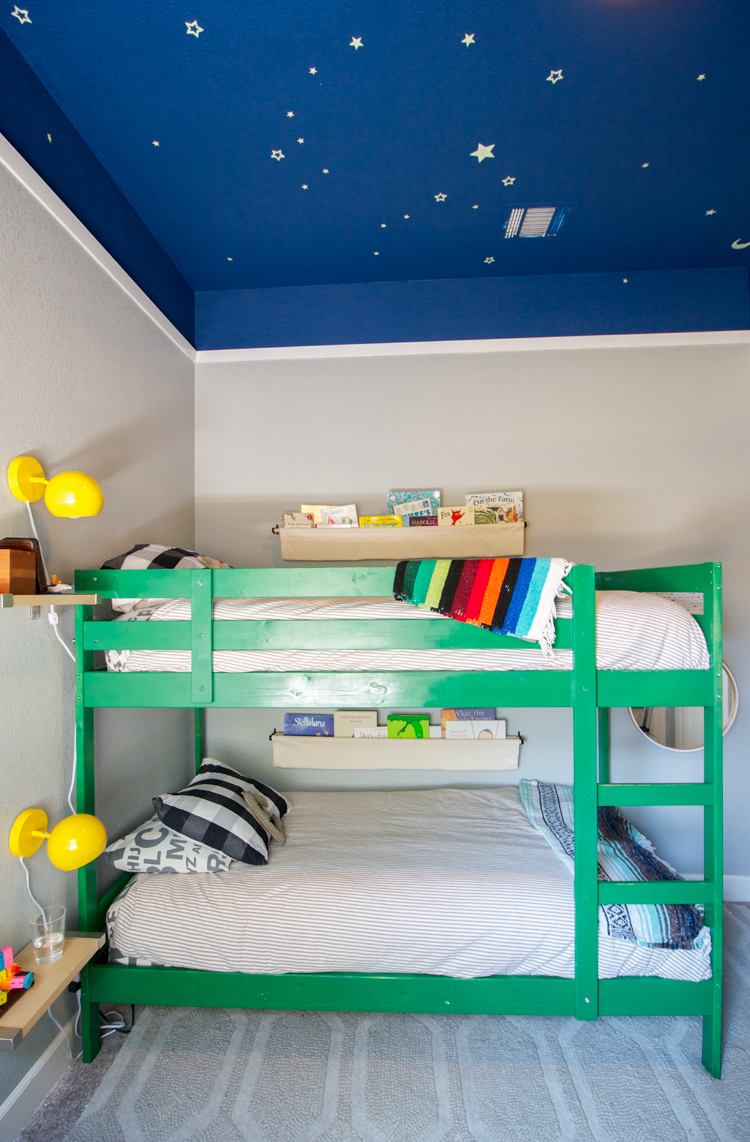 We've been huge fans of these bunk beds that I spray painted green before we assembled them. The boys are happy to finally have somewhere to put their toys and water next to them at night. I thought floating shelves would be a great way to give them each some ownership over their space, and light for them to read themselves to sleep with favorites they pull from their book slings.
I used two duvet covers (one expensive, on inexpensive) to combine to make their matching set. They also are so proud of the buffalo check pillow cases they've made themselves!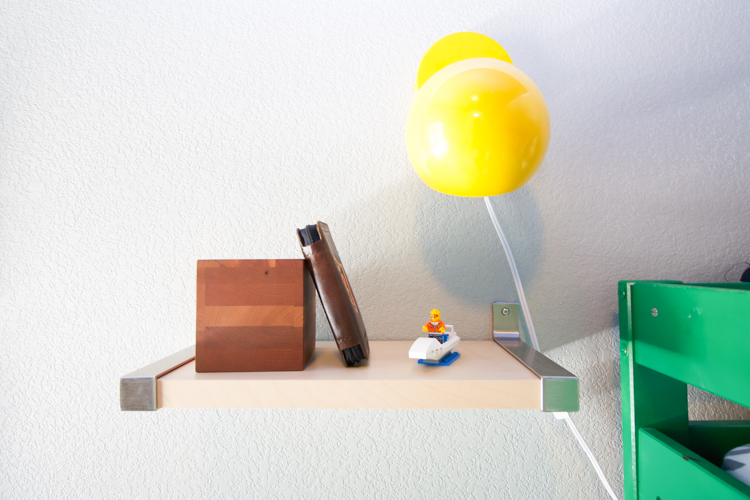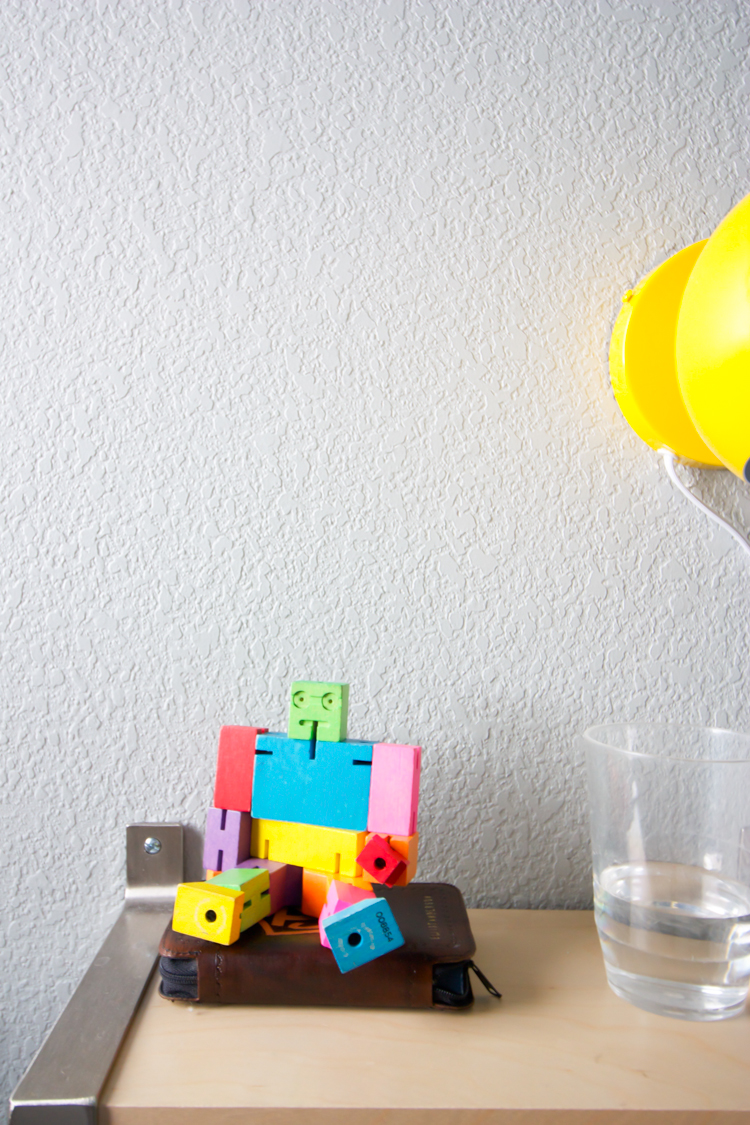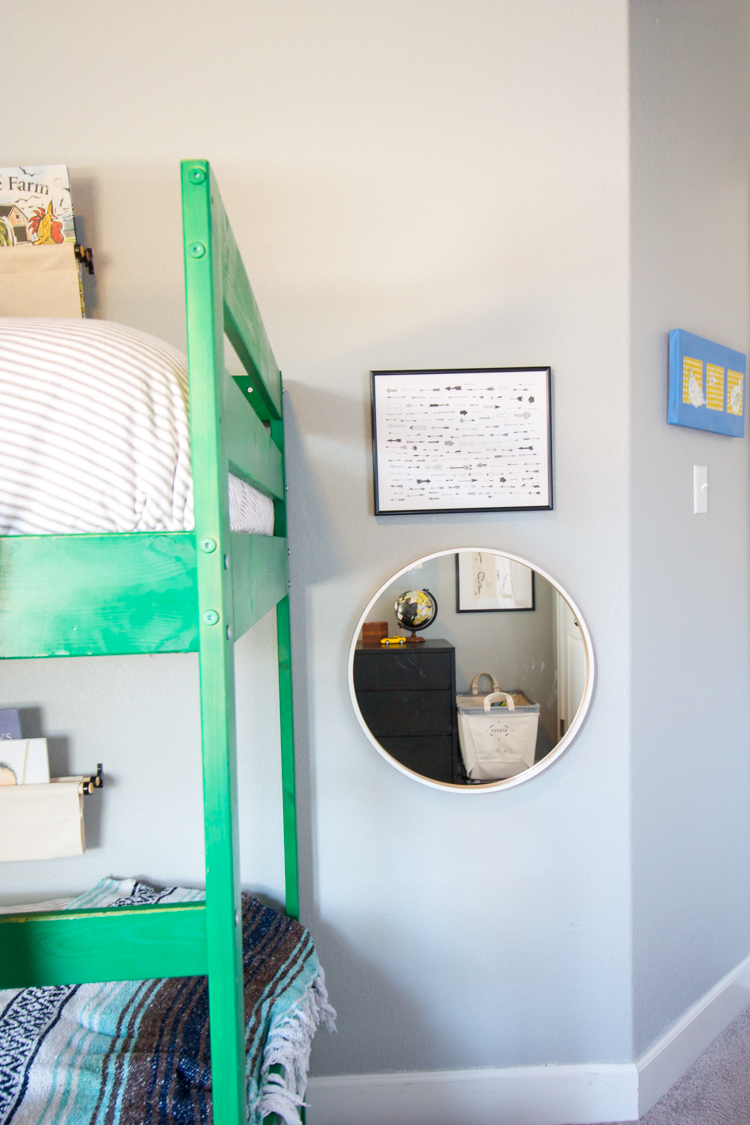 Adding a mirror at their height makes their getting ready for the day fun, and they love to check themselves out and see how their bedhead looks! I loved this simple one and considered DIYing some rope to the top of it, but turns out I like it as is best.
That arrow print was letterpressed by Sycamore Street Press and is so cool.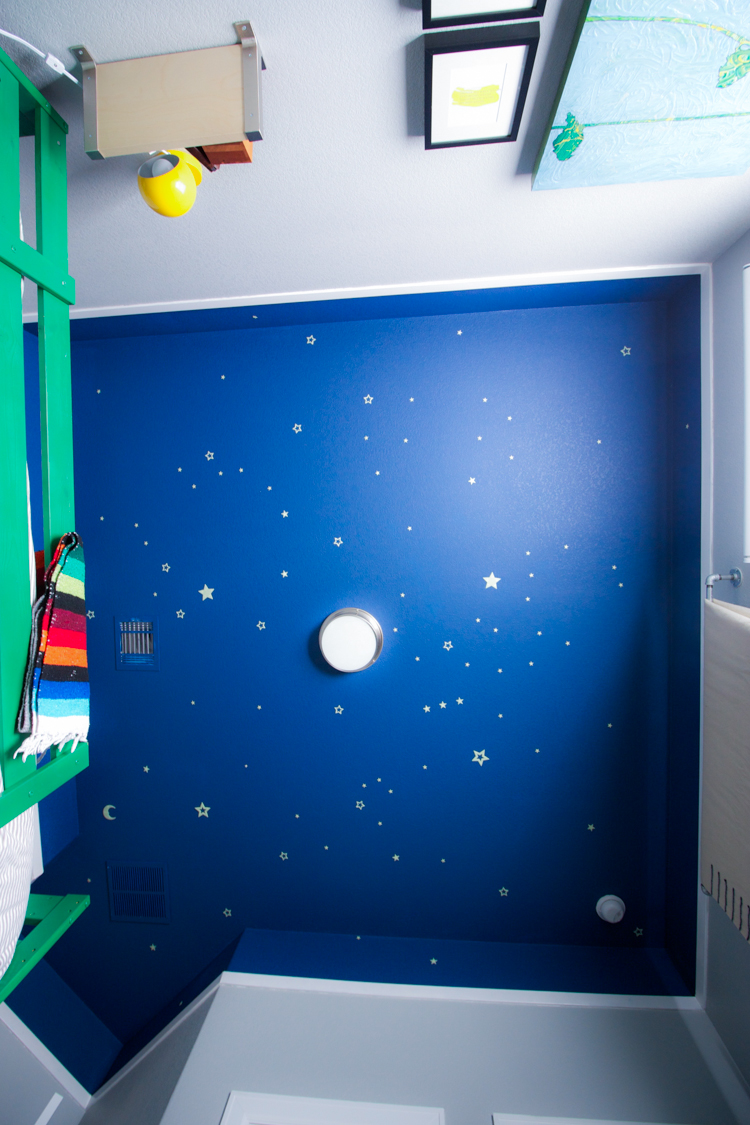 The constellation ceiling seals the deal of this outdoor inspired boys room. I had the stars up before I painted, and the impact wasn't there. Now that the ceiling is dark, the stars really pop both during the day and of course at night when they glow.
I stayed as true as I could reasonably to the winter sky constellations, because I love Orion. I used to wake up for school early when it was still dark, and Orion was always right over my car in my parent's driveway. I think he was the first constellation that I could easily identify (even before the big and little dippers.) It has been fun to lay in here for a few minutes at night and show the boys the constellations, then see how they are starting to recognize them outside, too.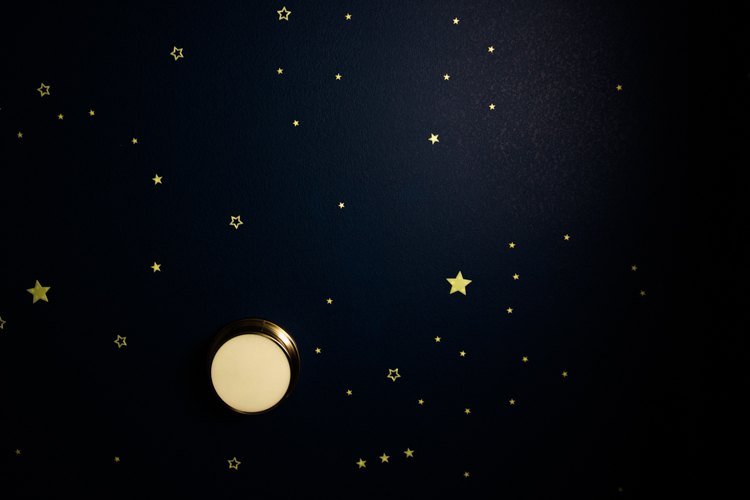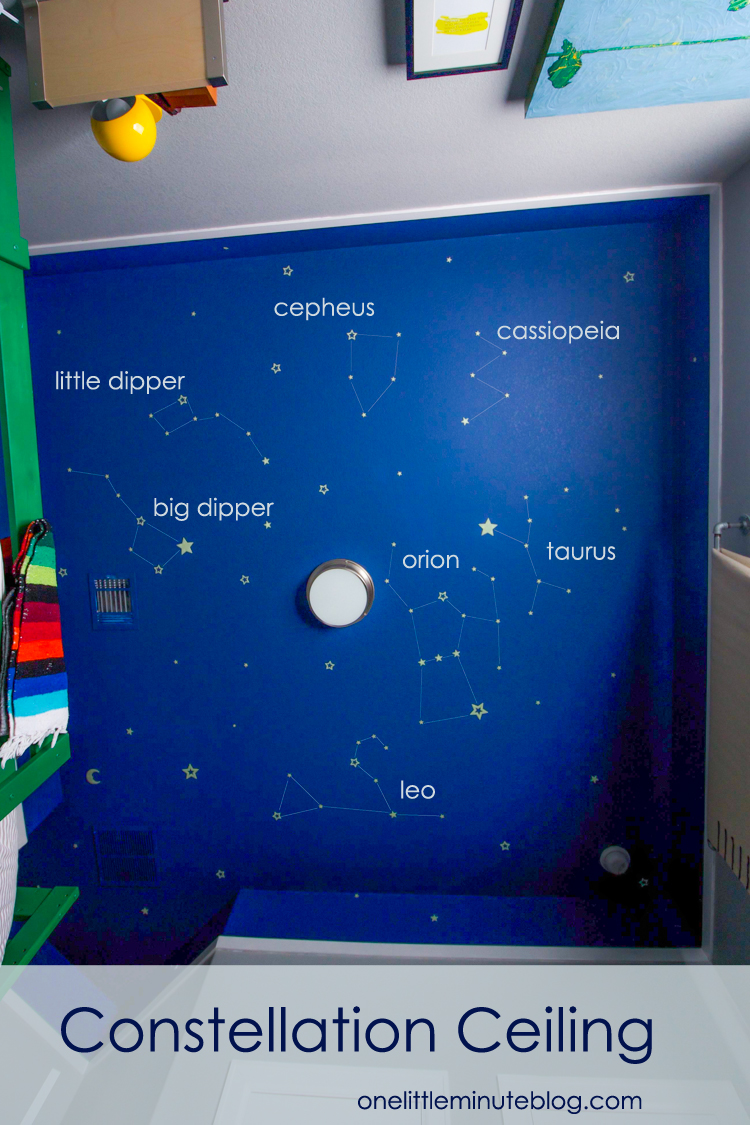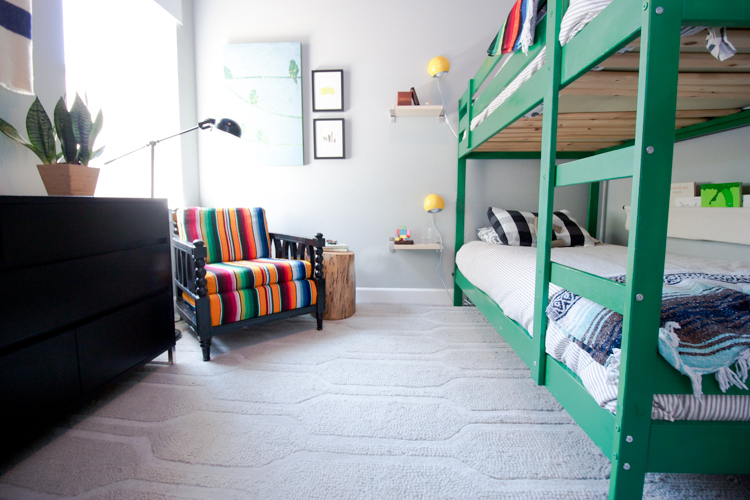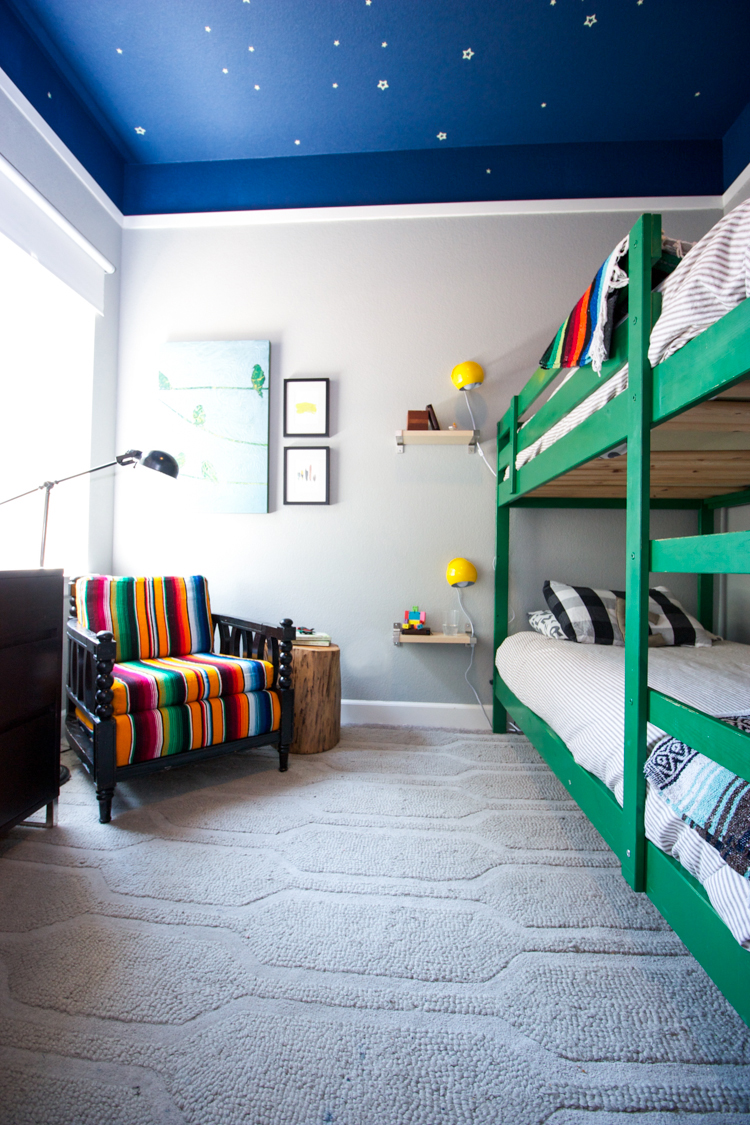 It all came together and feels just right. I love having a space that feels like it fits the kids' needs, fits our style, fit our budget, and feels like home. Now I can't wait to choose my next space to finish!
Sources:
ceiling Paint, c/o Sherwin Williams Emerald SW 6524 Commodore in Flat
wall Paint, c/o Sherwin Williams SW 7658 Gray Clouds in Eg-Shel
Hudson Bay blanket, ebay
dresser, West Elm (no longer available)
honeycomb rug, West Elm
industrial laundry cart, Steele Canvas
Knot Art, vintage
black globe, Pottery Barn (no longer available, similar)
wooden coin bank,  BDJ craftworks
plant+wooden pot, ikea
chair, vintage upholstered with Mexican sarape
stump side table, West Elm
floor lamp, Pottery Barn (no longer available)
bunk beds, IKEA painted with Meadow Green Rustoleum spray paint from Home Depot
ticking stripe duvets, Restoration Hardware
alphabet sheets, Restoration Hardware (no longer available)
floating bedside tables, IKEA
eyeball sconces, Urban Outfitters
book slings, Blue House Joys
round mirror, IKEA
ceiling light fixture, Home Depot