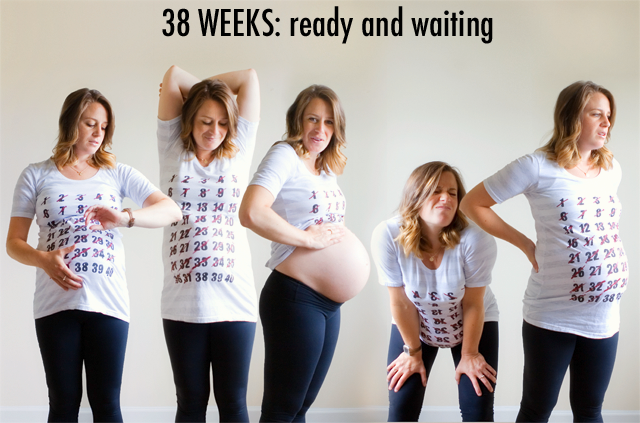 I know it's the weekend…but *just in case* Eliot decides to make a debut, I wanted to have this posted so I don't have to revist pregnancy I'm not behind once he arrives:)
These were taken last Saturday. 38 weeks. I was feeling the aches and pains of the end of the road, and explaining them to
Emily
, who doesn't yet have children. At one point I had her feel my belly, right up in front of my ribcage where Eliot tends to stick his tush. She was all, "So, where are your ribs?" and I tell her "Back here, sort of under his body…" and she calls me a "woman warrior" and says that I should be given an award or something for all of my sacrifice…and then I remembered that I do get one. It's a baby:)
For the most part, things are just rolling along nicely. Milo and I are hitting up the park/splash park/pool scene every day, and Dave is hitting the BAR review books. I satisfied my burger and fry craving at
Shake Shack
, Pork Enchilada craving at
Cafe Rio
, and didn't satisfy my
Banana Cremie
craving, because they don't sell them East of Texas (but don't worry, I
emailed Brian
, and hopefully he'll get on that)!
And, I ran into a couple blog readers this weekend. Erin and Christie, thank you so much for saying "hello", it totally made my day(s)!!
Here's to hoping for the finale of
Project Baby
…the photo shoot with child in arms. But more likely, we'll have at least one more week of red paint.