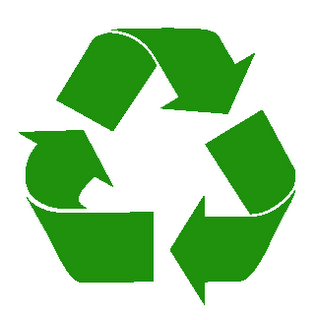 A friend asked me what sort of things my husband and I do to Reduce, Reuse and Recycle. "Going Green" is a big, broad, idealistic term and can be daunting if you try to flip life upside down in order to save the planet! I recommend a more moderate approach of taking a look at life, recognizing things that you could manage changing, and then taking small steps weekly or monthly to reduce your carbon footprint. Here are some of the things we do, and some that we are gearing up to begin:
REDUCE:
For my husband and me, this is the most important category. If we reduce our consumption, we will be responsible for much less waste. We unplug appliances when not using them and use Energy Star for those that stay plugged in. We turn off lights and water, and share the shower. We wash clothes on warm or cold, and timed dry. We ride our bikes or walk to work and school. We avoid wasted time shopping, wasted money, wasted energy in production of products, wasted packaging materials, and waste…when the things break down and we throw them away by trying to only buy what we really need- always evaluating what we already have that would work. When we have to buy something new, we try to buy products made with recycled materials or renewable resources, preferably sold in local stores (although I'm still a sucker for Williams-Sonoma.) Also, we try to buy high quality goods that will last for a long time, even if they cost more. That way we're only buying them once. It is liberating to not have to answer to passing fashion trends and whims- my "chic in 2008" isn't the new, but the renewed.
REUSE:
We use cloth napkins and cotton rags in the kitchen-no paper goods here except for our Seventh Generation TP and trash bags! We take cloth bags to the store and say "No, thank you" to paper and plastic. I have nice plastic plates, cups and cutlery for picnics and informal affairs where paper would be the norm, but I don't mind washing dishes a bit! We use Ziploc bags sparingly and have both glass and plastic food storage containers in which to pack leftovers and lunches. We both have great klean kanteen bottles that we use for water-no plastic bottles! When we do need something, we try first to buy it used. And let me clarify, I enjoy nice things. I'm not talking old, dirty, broken down used, but the nice things that someone else is no longer in need of. Craigslist is my first resort as I like being able to pick things up from my area. I also will search for needed items at goodwill, in consignment stores and in the classifieds. Some items are a project…but I'm up for it, so it works for me. You have to decide what will work for you.
RECYCLE:
Of course, we place all glass and plastic bottles, cardboard, paper and aluminum packaging into the recycle bin to be hauled away weekly. Recycle for us is also a way to take the things we have and use them differently. I recycle old fabric from clothes and linens into pillows, cushions and new clothes. We have two granite slabs that were handed down from my mom. In our old house they were a bookshelf and a bedside table, in this house they are an entry table and a project surface. I have been working on a chair I like to call "the good bones chair" for about a month. I bought it at Goodwill, stripped, disassembled, sanded, primed, and painted it and now I'm ready to reupholster. From someone else's grandma's home to ours.
We also try to buy products made in the USA or Europe where we can assume human rights were maintained, use all biodegradable soaps and cleaning agents, eat whole, unprocessed foods from mostly local sources.
There is an initial transition period away from the corporate, made in china, fluff around the edges of life, use and abuse, instant gratification mentality. Just like anything, practice makes perfect, and we have found life to be much more simple and satisfying. Of course, we aren't perfect by any means, but we're trying and we feel good about how we live.
Projects yet to tackle:
Composting- I've got a mentor, I just need time to get set up with a system
Alternative Energy-no solar or wind power on this house, yet…
Grow My Own-No, I sadly do not yet have a garden, just one darling cilantro plant on the window sill