About two months ago I began a big project. A formal outfit for an incredible woman who is nominated for a Service to America award for outstanding public service. This outfit is unique in that it needed to be designed and tailored with several specific wheelchair modifications, as
Sue Ellen
is paraplegic.
I visited her in her home and we discussed, drafted and dreamed up the perfect outfit. She was not particular on many points, but was absolute on one: purple pants. She loves purple, and explained that it's a little signature of hers. Purple pants it is! I shopped for fabric, brought back samples and in the second visit the materials were decided, the measurements taken and the project initiated. Three weeks ago I did a fitting, and we made a few modifications. Saturday I did a final fitting and breathed a sigh of relief as everything fit perfectly!! Today I finish hems. Tomorrow she retires. Wednesday she rolls down the red carpet. Want a peek?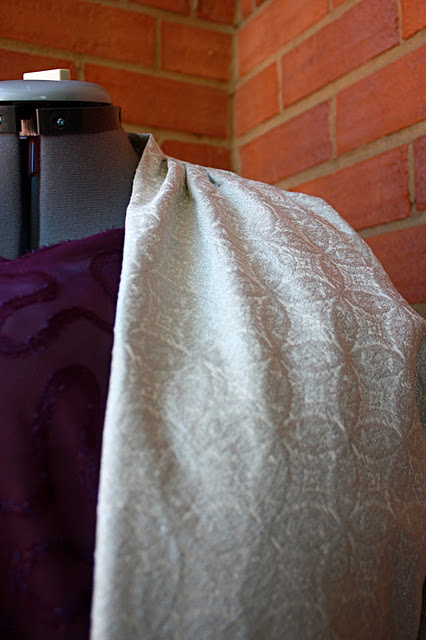 I loved the idea of doing some cascading pleats down the front of the silver brocade jacket. It's a fun, simple and elegant detail.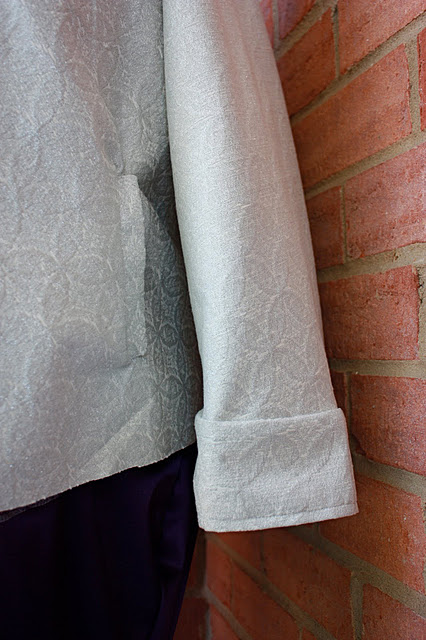 The sleeves needed a little length after the first fitting, so I added cuffs. I think they finish the sleeve well
(the jacket is yet unhemmed in this photo.)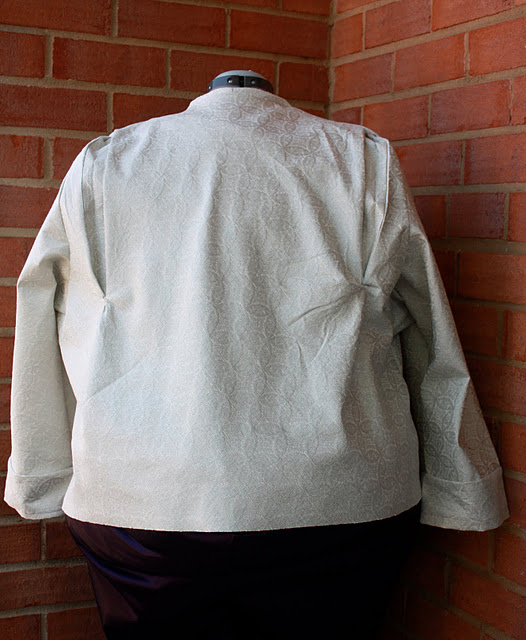 One of the big changes we made after the first fitting was adding these pleats in the back of the jacket, near the shoulders. They add about four inches of mobility for pushing the wheelchair.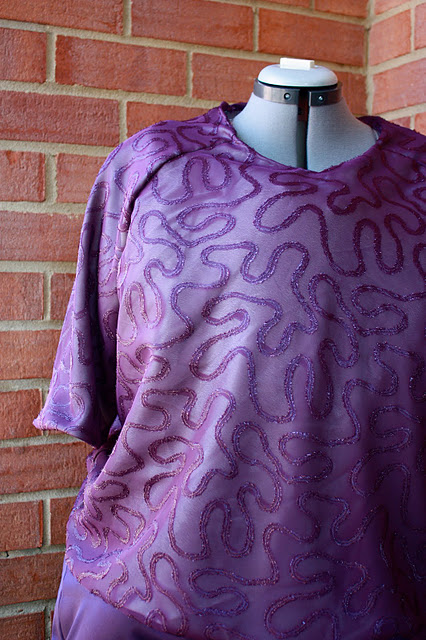 The shirt is one layer of this cool purple sparkle with a layer of silver stretch satin beneath. It is slinky and comfortable. And, cutting raglan sleeves added that extra mobility. Sue Ellen LOVES the fabric on this top, and looks awesome in it!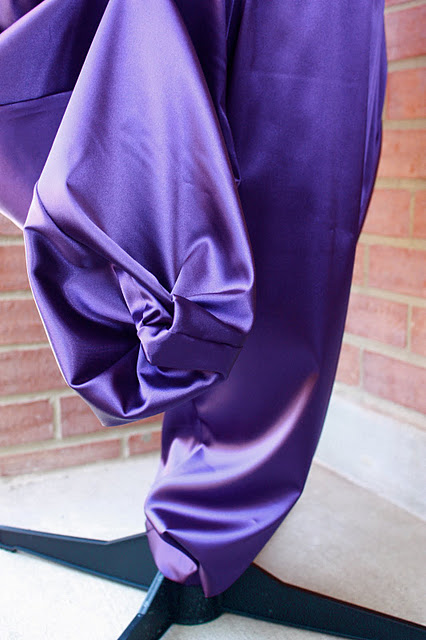 The purple pants!! I used this great, deep plum stretch satin and made some simple slacks with an elastic waistband. Easy to pull on, no pockets of other stuff to get smashed against the wheelchair. The right leg is about ten inches shorter due to an amputation, so I finished it off with a pooling seam, rather than make them full length and have her tie a knot, which how most people deal with pants and amputation. That or a safety pin. I thought this a little more elegant.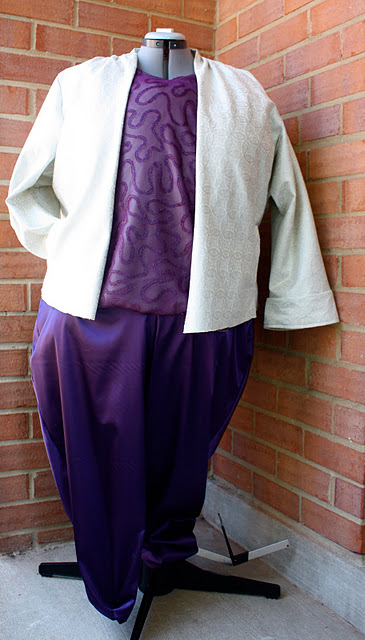 The jacket is equipped with easily accessible pockets for stashing ID, cell and keys. It also has some hidden snaps that will fasten up the front for a bit more formality. I think it turned out great. Pretty, age appropriate, formal and unique…all with purple pants! I am happy that she loves it, and wish her the best at the award ceremony on Wednesday! If they ask, she can say she's wearing "Miranda" 😉