Download the Rockford Peach Costume Pattern
RIGHT HERE
!!
This Rockford Peach Costume has received so much love, thank you! I have now made the Rockford Peach Costume Pattern (called the
Little League Dress
) available in a fully photographed, step-by-step PDF pattern sizes 12-18m-8! Also included with the pattern is a set of printable patch designs for iron-on transfer and appliqué onto the costume, and an Option B bodice to transform the vintage baseball uniform into a simple, classic, button-front play dress. Click through above to see all of the pattern details and to purchase.
Original Post 10/2012:
How are your costumes coming? Only two days until our debut at the
Truckerboo
, and then later that night at a trunk-or-treat! I'm working away at Milo and Eliot's attire, which is far more simple than the other costumes I've made this year.
I was so excited when a customer from last spring (who I made an
Olivia birthday costume
for) emailed and asked if I would do another custom costume for her. When she mentioned that she was hoping for her daughter to be a
Rockford Peach
from
A League of Their Own
for Halloween this year, I immediately knew this would be a fun, different project.
Fun fact: When I was in the beginning stages of labor with Milo, the midwife told me to wait at home a few more hours to make sure contractions continued. So, at about 2 am Dave and I were up, waiting, and decided to watch a movie. We had just checked A League of Their Own out from the local library, so that was our film of choice! Random, huh? I have a special tie to it, now, so this costume was even more fun to make!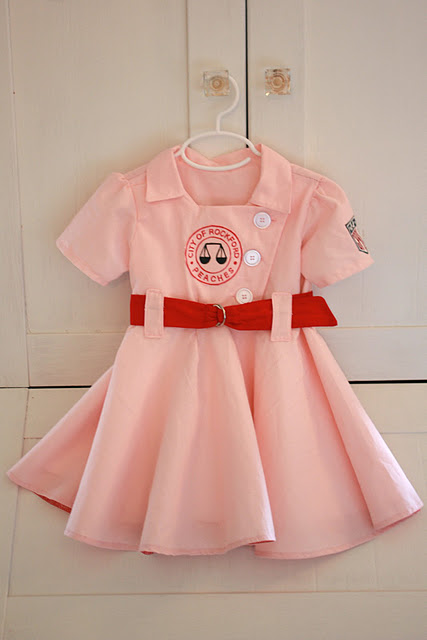 I studied some images of the Rockford Peach uniform, and then came up with my own pattern for it. I am thrilled with how it turned out. The pointed collar, diagonal buttoned bodice and wide belt loops make it a recognizable costume. I love the circle skirt and barely puffed sleeves for a little girl.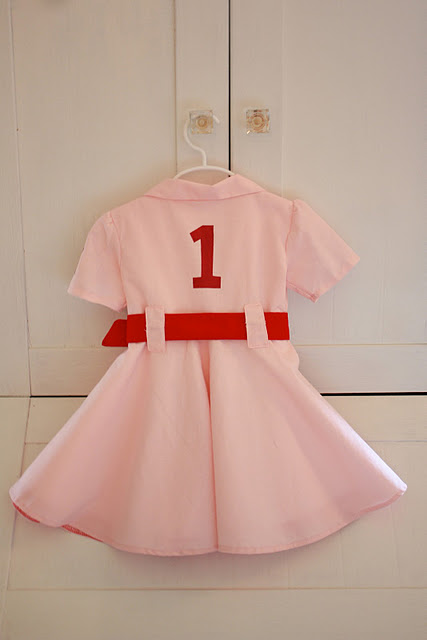 The customer requested #1 because it's her lucky number. With a little
freezer paper
, putting the number on the back was no sweat!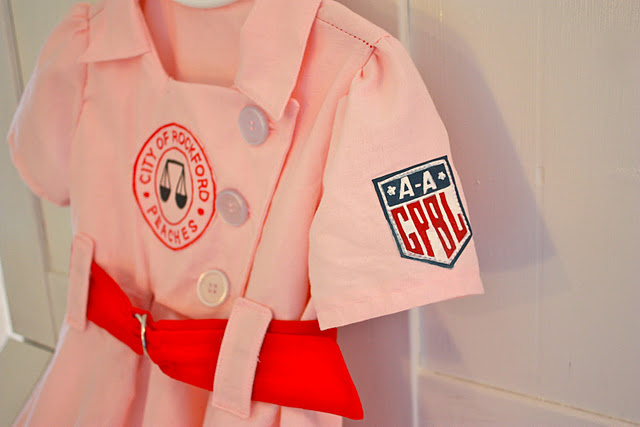 I thought I'd put forth a genuine attempt at accuracy on the labels. I used freezer-paper stencil, and fabric markers to get the logos as close as possible to real. They look great, right? I thought it was such a sign of the times (1940's) that the league was called the "All American Girl Professional Baseball League." There's no way it would have that "girl" in there these days!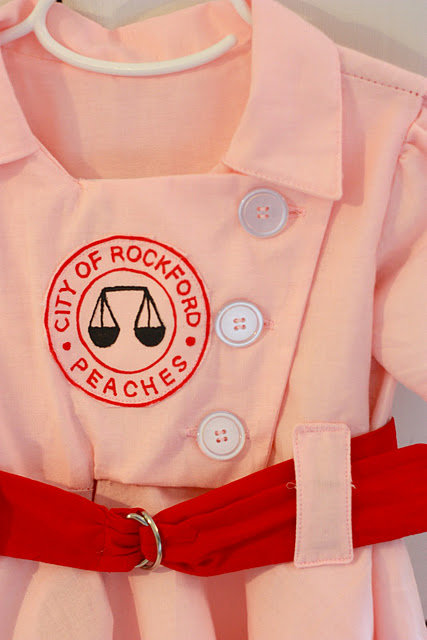 I don't remember the last time I put buttons on something. Well, actually button holes. I had to get out my trusty manual to remember how to use my automatic buttonhole foot to make sure the buttons would fit! It was great practice, and gave me some confidence to attempt something buttoned in the future:)
I may have tried it on Milo to make sure it fit. It did:)
I can't wait to finish my own costumes next!