Running on Vacation
I'll be the first to admit that vacation is normally a break from everything, including exercise. However my sister convinced me last year that running on vacation was actually one way to really add to the overall experience of a new city, and I have completely agreed. Here are some reasons running (or walking) first thing in the morning on a vacation can elevate your entire exprience!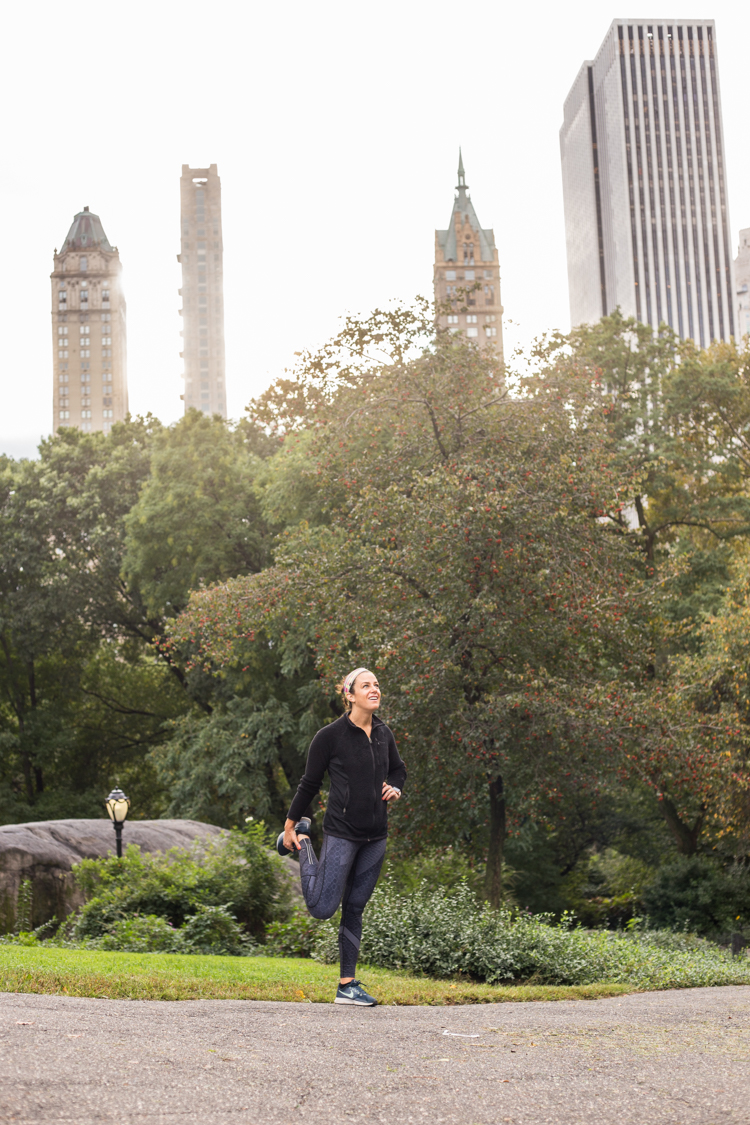 See The City Quickly
The first reason I love to go on a run around the city center first thing in the morning on vacation is that I get a lay of the land quickly and easily. In most major cities, a lot of the main attractions and sights are concentrated into one area, and going on a quick job through that part of town without any pressure to stop and sight-see can create a familiarity that makes the area even easier to visit later in the day with plans to stop, visit, and take pictures.
One of the first times I went on an early morning vacation run with my older sister was in Paris. We ran along the Seine, past The Louvre, through the Tuileries Garden and L'Orangerie, and back. I was wide eyed with wonder seeing all of these gorgeous places before the crowds were out. It helped us decided what we wanted to come back to that afternoon, and the things we didn't revisit I had at least SEEN!

Boost Your Energy
While I love to exercise regularly at home, I haven't traditionally been big on exercise on vacation. What I have noticed as I have started regularly running on vacation is that my overall energy for the day is higher. As I get up and out to explore first thing, I am able to come back, get ready and shower, and feel excited and motivated to go see things and visit new places.
Even if the purpose of vacation is the relaxation, getting an early morning run in helps me come back and relax more easily for the rest of the day!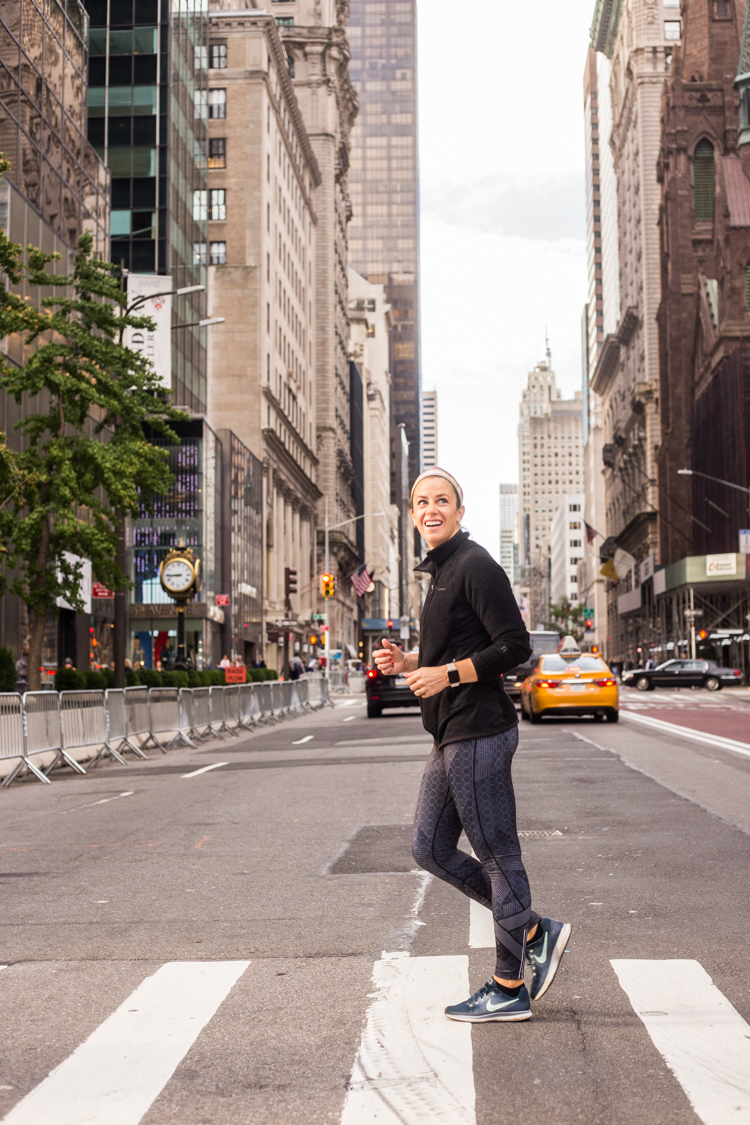 No Equipment Required
One of the things I have always loved about running is that it is SO EASY! No gym pass or special equipment required. I can pack one pair of running shoes and ball up my exercise clothes into a tiny ball and still pack everything else I need to for the trip.
The boost of energy and thrill of discovering a new place on foot as a local makes packing my running things a no-brainer, and I really love being able to get up and get out.
While I'm sharing, I should mention that my very favorite running pants are light as a feather and still so supportive and amazing. They are BioskinFit  Compression running tights (in this pattern), and I love them. The ankle zippers help get them on and off easily, and once I am running I barely notice them. No adjusting or pulling up needed as I make my way through the city.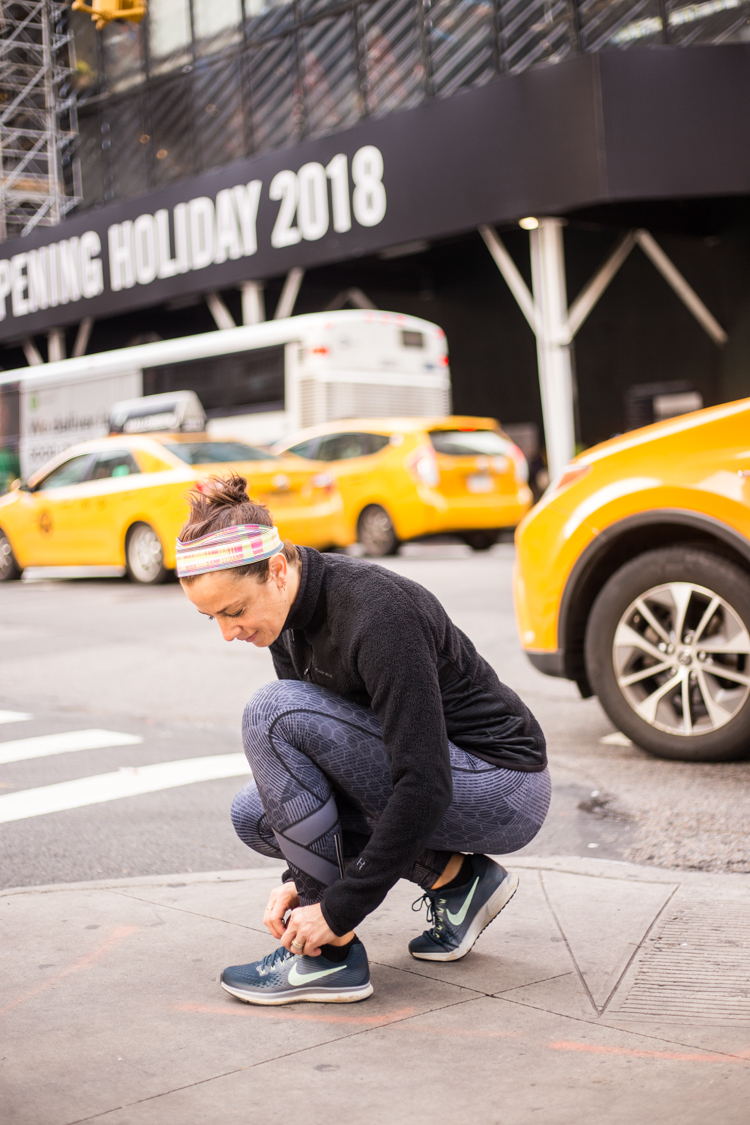 Great Conversation
I also have always loved the conversations that happen when I run with friends or my sisters, and especially when my running on vacation involves another person, we get that special time to chat. Even twenty to thirty minutes of uninterrupted conversation can be hard to come by with the bustle of vacation. I love getting a chance to really dig into a topic and share ideas while on a run.
On a recent trip to NYC, Dave and I ran around Central Park, through Times Square, and chatted about our life, the kids, and big goals for the new year. We stopped for a bacon, egg, and cheese sandwich at a deli, and started each day with this combination of seeing the city, boosting our energy, and connecting all at the same time.
Conclusion
Even if you are not a runner, getting out to see the city on a brisk walk before the day really begins can be an amazing way to reap all of these same benefits. I highly recommend it!