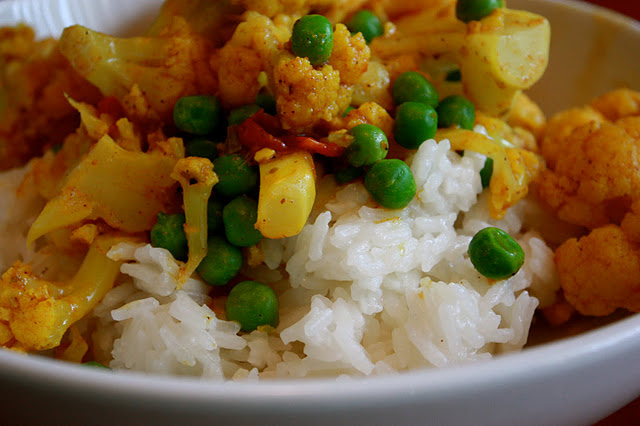 Oh, back to life and laundry and grocery shopping. Dave made this curry one night before our trip, and I'd like to have a little right now. But, since I haven't yet actually gone grocery shopping post-vaca, I'll have to do with a bowl of mini-wheats and a blog post about the curry:) It was simple, flavorful, and healthful. It will make you full if you are not careful…tee hee hee. Enjoy!
Braised Cauliflower Curry
(from Mark Bittman's How to Cook Everything, page 555)
2 Tbs butter
1 tsp minced garlic
1 tbs minced fresh ginger
1 tbs salt
1 tbs fresh ground pepper
1 Tbs all-purpose curry powder OR
1/2 tbs ground turmeric
1/4 tbs cayenne
1/2 tbs ground cinnamon
pinch freshly grated nutmeg
1 tbs ground coriander
1 tbs ground cumin
1 head cauliflower, trimmed and broken into florets
1 cup cored, seeded, and chopped tomatoes
1/2 cup water
1 1/2 cup frozen peas
Melt butter in large, deep skillet and turn heat to medium. Add garlic and ginger. Cook, stirring, until garlic starts to color, about 5 minutes. Add the salt and spices and cook, stirring, until aromatic. Add the cauliflower florets, tomatoes and water. Stir, cover, and let simmer on medium low until cauliflower is almost tender, about 10 minutes, stirring about every 3. Add peas and adjust the seasoning, then finish cooking until cauliflower is tender. Serve over rice.