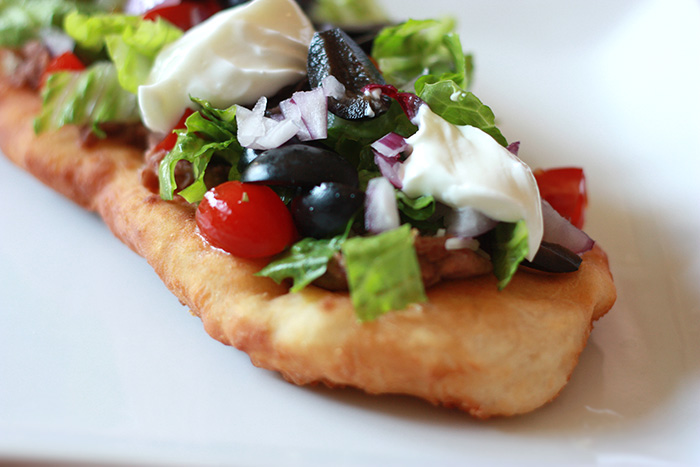 We've mostly been eating sandwiches, cold pasta salads, and the occasional wrap so far this summer. I love the ease of packing a little picnic to the pool and hanging out with the boys until just before nap time. They get good and tired, then bedtime seems a lot smoother. I could really eat fresh bread, cheese, fruit and raw veggies for every meal. Okay, and some salami. I adore salami…(this picnic was my ideal meal). But sometimes I guess I really should cook something. It's amazing how differently I feel about food in the summer! The lighter, fresher, and simpler, the better.
A couple weeks ago I thought I'd branch out and try something new, so on a Sunday evening I made Navajo Tacos. They hit the spot! Even in the summertime that chewy, barely salty fry bread tasted amazing, and it was fun to pile them high with crisp, cold veggies. Rather than the ground beef (traditionally I guess it'd be buffalo) I just spread on a thick layer of fat free refried beans before adding the toppings. This is a great, flexible meal, because you can really add whatever you want to the top! It's the fry bread that is so key. The recipe I used was great, so I'll share it here.
Navajo Taco Fry Bread
(adapted from All Recipes)
2.5 cups flour
1 teaspoon baking powder
1 teaspoon salt
1 cup milk
4 cups canola oil for frying
Mix dry ingredients together, then add the milk. Mix until combined. Dump onto a floured surface and knead for 5 minutes, adding flour as needed to keep from sticking. Roll into a ball and let rest for 5 minutes. While the dough is resting, put the oil up about 1.5″ in a heavyweight pan. Heat on medium until 365 degrees (I didn't use a thermometer, just kept it on Medium.) Break off handfulls of dough and flattent into discs. I used an oval pan, so mine were sort of long ovals. Cut one or two slits in the center of the disc and place carefully into the hot oil. Turn once after about 30 seconds, when the dough puffs up and turns brown. Remove once finished and drain on paper towels. Pile with vegetables and enjoy!
We used: fat free refried beans, shredded lettuce, diced red onion, sliced grape tomatoes, sliced black olives, and plain greek yogurt (instead of sour cream)
random side story: Years ago I backpacked with family and friends into Havasupi in the Grand Canyon. Once down at our campsite we decided to pool our food and cook communally. Later that day, while we played at the incredible waterfalls, someone stole our entire bag of food! Each of us had some random trail mix and granola bars stuffed into our bags, but the actual food was gone. Now, this was over 10 years ago, so I might have made this next part up, but I think I remember that we hiked into town and all ate Navajo Tacos in the one small eatery in the tribe's town. I remember feeling like it was the best thing I had ever eaten… I hope it's a real memory, because it's one of my favorites!
What is your favorite thing to eat in the summer? Does anyone else almost completely avoid the stove like me?