Discovering Shakshouka
Sometime last year I noticed Shakshouka on the menu at one of my favorite local restaurants (Little Nickel). The spicy, hearty tomato stew complimented by perfectly poached eggs made me swoon. I finished the meal feeling inspired and satisfied.
Soon after, I noticed frozen Shakshouka in the freezer section of Trader Joe's and realized that this dish must be having a moment! I tried the from-freezer-to-table version and it was delicious. It also gave me the idea to make my own Shakshouka base at home to freeze for quick, hearty, and healthy lunches on my afternoons working from home.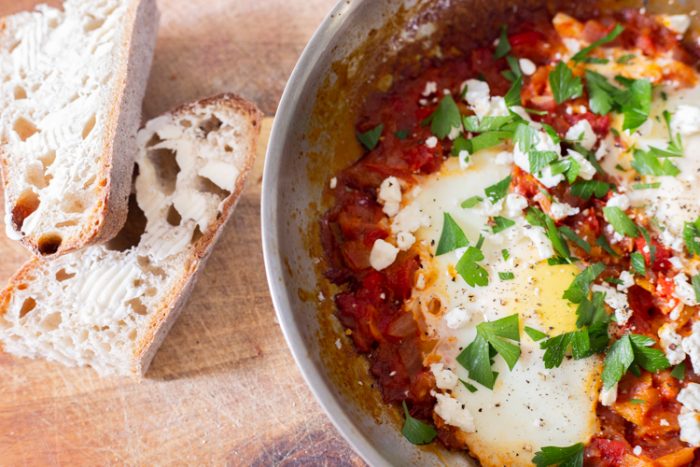 Make Ahead Freezer Portions
This was the end of the summer and the abundance of available farm-fresh tomatoes, garlic, and peppers only fueled my excitement over making big batches of this dish to enjoy all winter long. (And, once my freeze-ahead stash is gone, I can remake it using canned tomatoes for a similarly fresh flavor.)
With a little trial and error I came up with a simple, make ahead recipe that I have used to make four-five servings of Shakshouka base that I freeze into muffin tins. Then, when I'm ready to make the egg dish fresh (with backyard eggs of course!), I pull out three muffin tins of base, add a little water and let it simmer into stew, then proceed with the recipe as if I had made the whole thing fresh. It's super easy, quick, and delicious.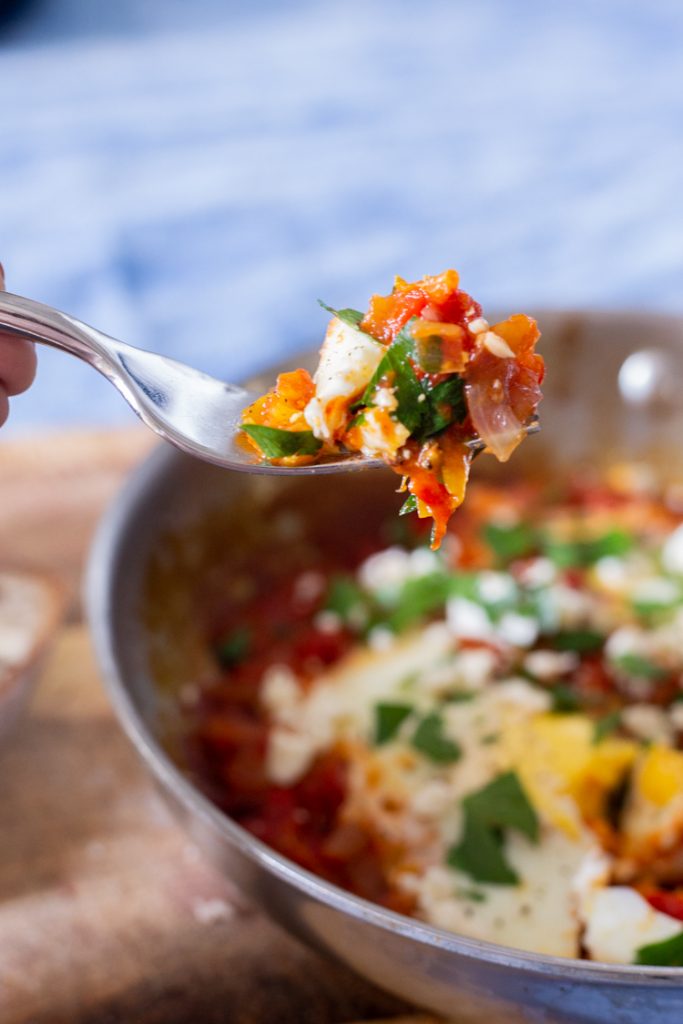 Healthy, Hearty Homemade Lunch
I'm always in the market for a healthy, hearty homemade lunch to eat while my kids are all at school and help me maintain energy for running errands, doing projects, and working creatively. Shakshouka nails all of my requirements, being easy to make-ahead, mostly plant based and low-carb (dipping bread optional!) and way more interesting than another turkey sandwich.
I sprinkle a little tangy feta on top as well as some fresh parsley from my backyard herb garden, and call it a meal.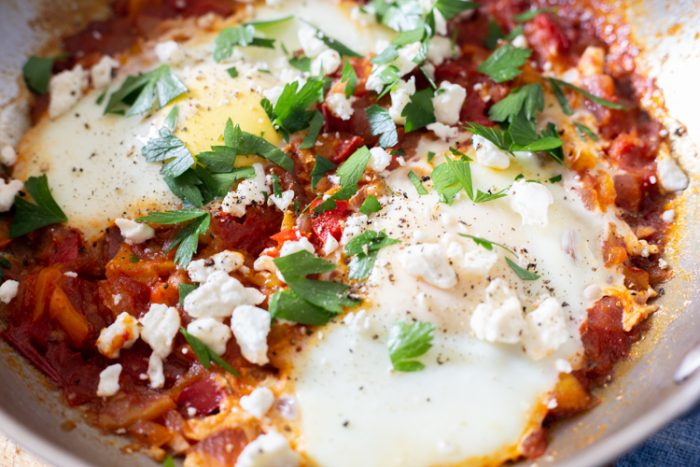 Simple Make-Ahead Shakshouka
Ingredients
2 Tablespoons Olive Oil
1 yellow onion, minced
1 Teaspoon minced fresh garlic
1 bell pepper, diced
3 cups fresh tomatoes, diced (or 1 can stewed tomatoes)
1 teaspoon cumin
1 teaspoon smoked paprika
1 teaspoon dried oregano
1/2 teaspoon red chili flakes
salt and fresh ground pepper to taste
2 eggs per serving
fresh feta & parsley for finishing
Takes ,
serves 2.
Instructions
Heat heavy saucepan over medium heat. Add olive oil, onion, garlic, and spices. Cook until translucent and fragrant.
Add peppers and tomatoes. Cook until soft, then turn down heat and simmer for 10 minutes. Let cool. Transfer mixture to a blender and pulse lightly until mostly uniform.
Spoon the stew into silicone muffin tins or a metal muffin pan and freeze until firm. Once firm, Shakshouka muffins may be transferred into a freezer-safe box or bag for easy storing.
To prepare hot, single-serving dish, transfer 2-3 muffins to a small stainless steel pan over medium heat. Add 1/2 cup of water and cover until frozen stew softens.
Once stew is bubbly, make a small hole and add eggs, one at a time into the stew. Cover to poach, about 3-4 minutes.
When eggs are poached to desired firmness, remove from heat, salt and pepper to taste, and sprinkle with feta and parsley.
Serve immediately with optional (but encouraged) crusty bread for dipping.