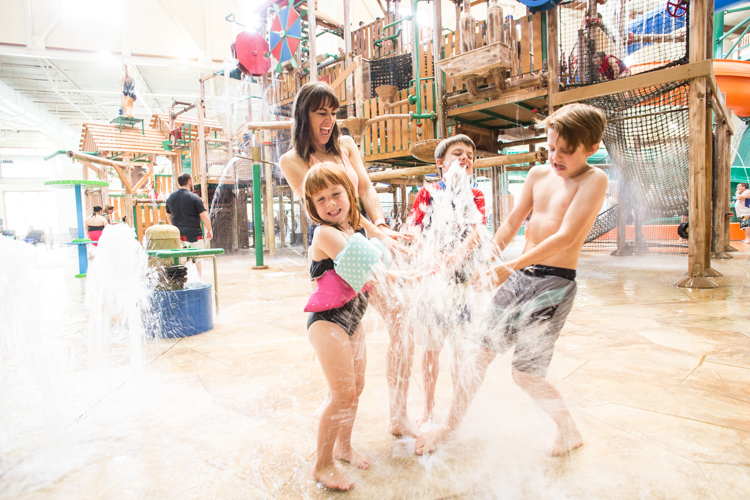 Tips For Summer Family Fun From Great Wolf Lodge
A couple weeks ago our family spent a couple days at Great Wolf Lodge, hosted by the company to experience their new Summer Camp-In programming. It was an incredible family fun weekend, and I loved not only seeing the endless options for family-friendly entertainment that Great Wolf Lodge offers, but also gleaning some tips we can use to make all of our summer family fun experiences a little more intentional and meaningful.
This trip felt like a real introduction to summer–even though we spent most of our time inside! Great Wolf Lodge is such a great example of a company that is thoughtfully creating a background for families with kids of all ages can have meaningful interactions. We had never been to Great Wolf Lodge, although I had heard about it for years from friends. I was thrilled to have an opportunity to check it out, and we have already begun planing our next visit.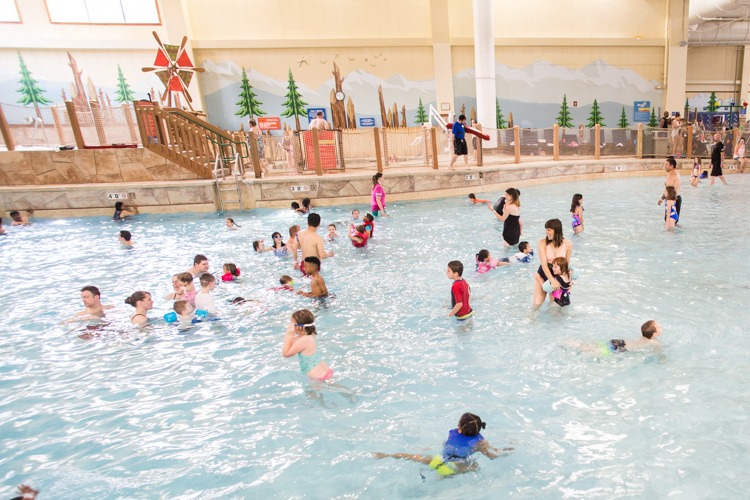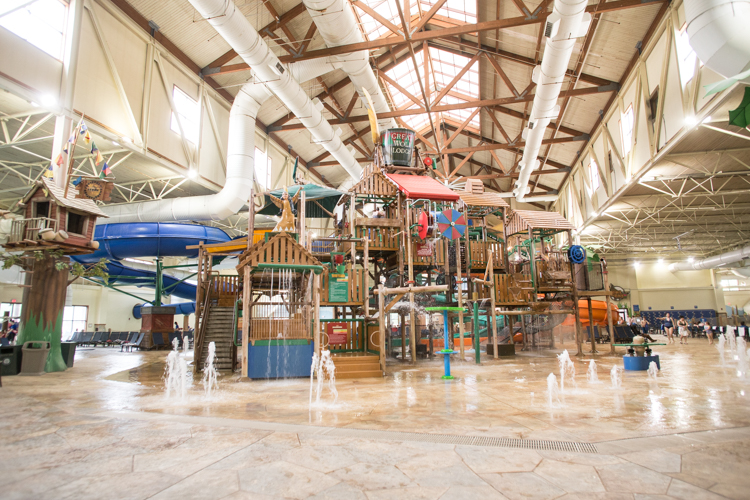 1. Choose Family-Focused Activities
Upon arrival to the huge, lodge-themed resort, we were immediately struck by how family focused the entire experience was. Every detail is tailored to families with thoughtful touches like an arts and crafts table just within the doors where kids can work on a small project while mom and dad check-in.
Then there is the massive water park, with slides, sections, and snacks for all ages. Our whole family had an amazing time playing together, then taking a break on the lazy river or eating pizza while we watched the brave souls take on the wave rider.
Beyond that our kids played MagiQuest (an interactive wizard game that had them running between three floors to collect treasures for their "quest"), won tickets in the arcade, played mini-golf in the sunshine, and climbed on the ropes course. After dinner we could meet in the lobby to listen to story time that is led by the Great Wolf Lodge leaders, and then watch a movie together in our room.
Great Wolf Lodge is also adding some summer-specific activities for their Camp-In season, where the whole resort will be designed to give guests a summer camp feel. Camp crafts, s'mores and bbq in the restaurant, and earning merit badges are all part of the new program that will launch after Memorial Day.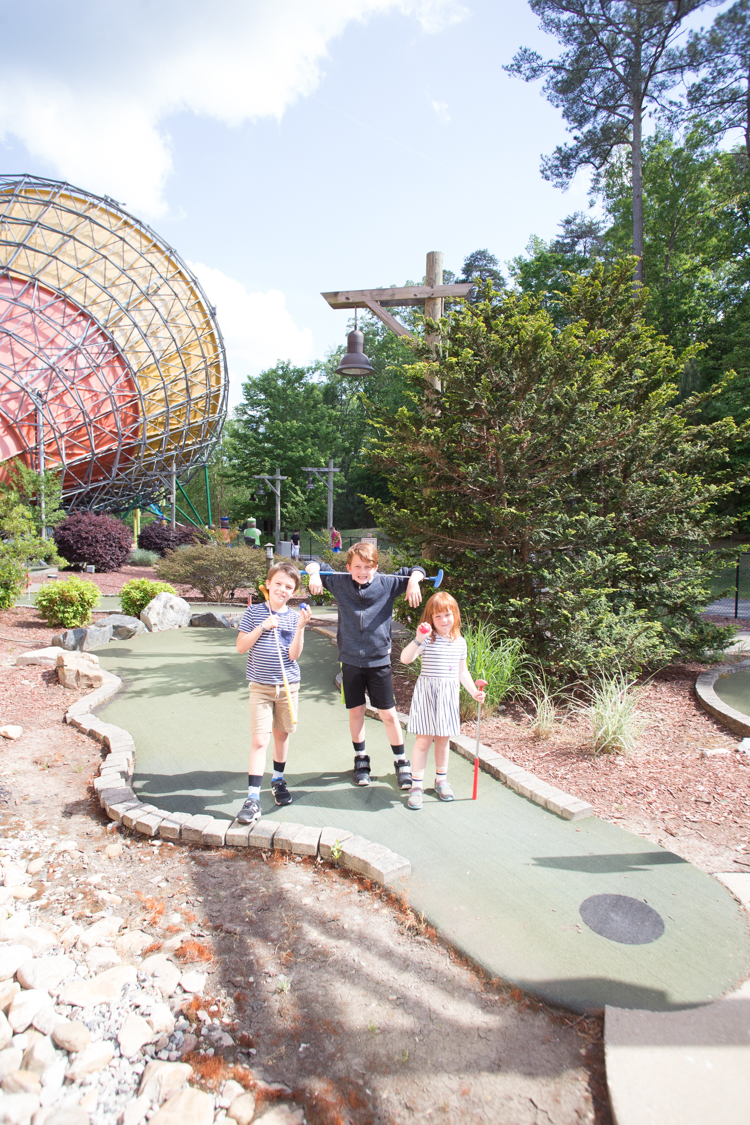 Our weekend experience reminded me that focusing on family-friendly activities helps keep everyone engaged and excited. Kids are thrilled to be thought of and included, and when the activities are deliberately chosen to fit their development, skill, and interest level, they are so much more likely to participate happily.
Sometimes we get so consumed getting through the to-do list that we forget to consider what the kids might enjoy. This trip reminded me that family friendly activities can be simple and still so fun. Some I want to include on our summer list are: riding bikes to get ice cream, hitting up the neighborhood pool with some dive toys, taking a picnic to the river, playing twister on the back porch, and tie-dying tee shirts for the fourth of July.
Remembering what I loved as a kid helps me shift my focus back to what they might enjoy, and how to approach our summertime activities with a more family-friendly approach.
2. Simple Details Add So Much
The second thing I really loved about the time we spent at Great Wolf Lodge was the attention to detail! Of course, this is their job–to create a complete experience for the guests. And they do it well!
The rooms are clean and cute, with a couple summer camp themed rooms available for this summer months that have mini teepees and camp pendants. Super fun details to make the stay just a little elevated. I loved the small details.
We also were invited to enjoy a sampling of the summertime menu, and the food theme was so good! S'mores with camp decor, a crawfish boil that made my jaw drop.
Being surrounded by such fun details reminded me how simple it can be to add a little touch to make the experience just a bit more magical. Choosing a theme can help with focus on creating a memorable experience. I want to use this lesson to choose a couple fun summertime details I can add to our home and life to elevate the summer experience we have at home.
Maybe keeping sidewalk chalk on the front porch for spontaneous drawing time, or stocking paper umbrellas in the pantry for some fun tropical smoothies at snack time. Preparing with a few fun details ahead of time can make the summer family fun feel easy and unfussy while still being very intentional.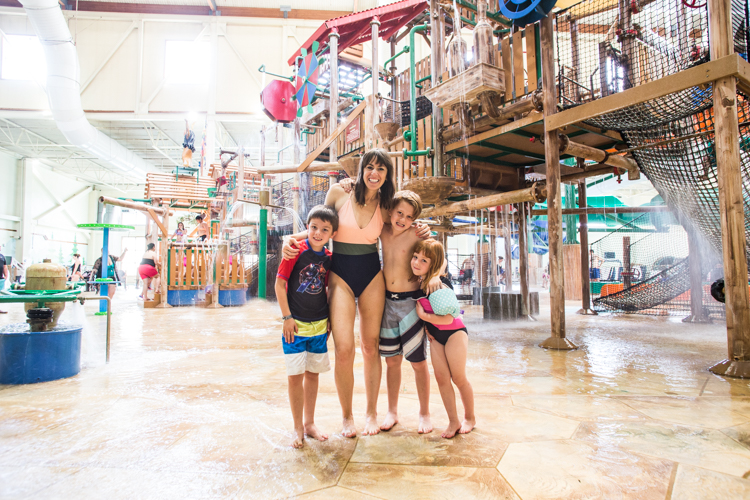 3. Spending Undistracted Time Together Matters
Beyond the activities and the details, just BEING TOGETHER for a few days with no other plan except to enjoy each other's company was the biggest advantage of our escape to Great Wolf Lodge. I loved the way vacation creates that insulation against the outside world and "real life" with to-dos and errands and work emails. We desperately needed a few days of vacation and just two days at Great Wolf Lodge was so fun and renewing for us.
It reminded me how important that time can be. Heading to your nearest Great Wolf Lodge will definitely do it for you. And on the weeks I am not actually away, I can still create that undistracted time to spend with the kids and Dave.
I'm still brainstorming just how this will work this summer, but I am thinking of choosing one day each week that I am 100% there with the kids for whatever adventure we plan. It could be be an all-day activity like a trip to the zoo, or a day-hike. Or, something smaller like a walk to the market for lunch or a day of games in the yard.
Just setting time aside intentionally to leave my to-do list, leave my phone, leave my work for a day will help preserve our family togetherness and that feeling of being together. Getting to know each other, and creating memories together.
Quality time is one of our most precious commodities, and choosing to use it in meaningful activities with our kids is always a good idea.
Conclusion
While we're excited to head back to Great Wolf Lodge later this summer, in the meantime I am going to implement some of the lessons I picked up on during our recent stay:
Plan Family Friendly Activities
Focus On A Couple Small Details
Set Aside Distraction-Free Time Together
With these simple tips, our summertime is sure to be more meaningful and intentional than before. I would love to hear how you approach the summertime with your kids. And, if you've ever visited a nearby Great Wolf Lodge! Let me know in the comments!