This Sweet Potato Grain Bowl is a go-to recipe for me and my family. Chock full of protein and nutrients, this bowl can flex to most dietary preferences. My kids LOVE adding their own toppings and how they can personalize it every time for their own tastes.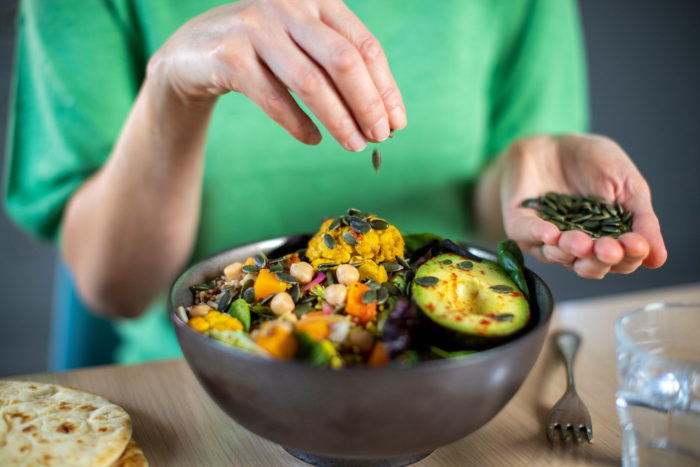 Here are the basics:
Sweet Potato Grain Bowl
1 bag farro
1 box chicken or veggie stock
2 sweet potatoes
olive oil
kosher salt
Toppings, could include: avocado, olives, hummus, greens, fresh tomatoes, pickled onions, feta cheese, chick peas, fresh cucumber, cilantro
Takes ,
serves four to six people.
Preheat oven to 400.
Peel and cut sweet potatoes into 1-1.5″cubes.
Toss potatoes in a bowl with a glue of olive oil and pinch of kosher salt.
Add potatoes to a foil-lined baking sheet and roast for 25 minutes or until tender and browned.
While potatoes cook, heat chicken or veggie stock in a saucepan over medium heat until it boils.
Add 8 oz bag of farro and lower heat to a simmer. Cover and cook for 10 minutes.
Once potatoes and farro are done, add a little farro to the bottom of a bowl.Top with a scoop of roasted potatoes and spoonfuls of all of the other toppings you've chosen. Enjoy!
I make these power bowls for dinners often in our Minimal Meal Plan rotation. I also like to keep the extra farro and sweet potatoes in the fridge to throw together a quick, healthy lunch for myself at home or to take to work. It is simple and packed with nutrition. Let me know if you try it!