I am so excited to share that I have been working on a new branch of my business for the past couple months, and the Live Free Creative Podcast is live today! Wahoo!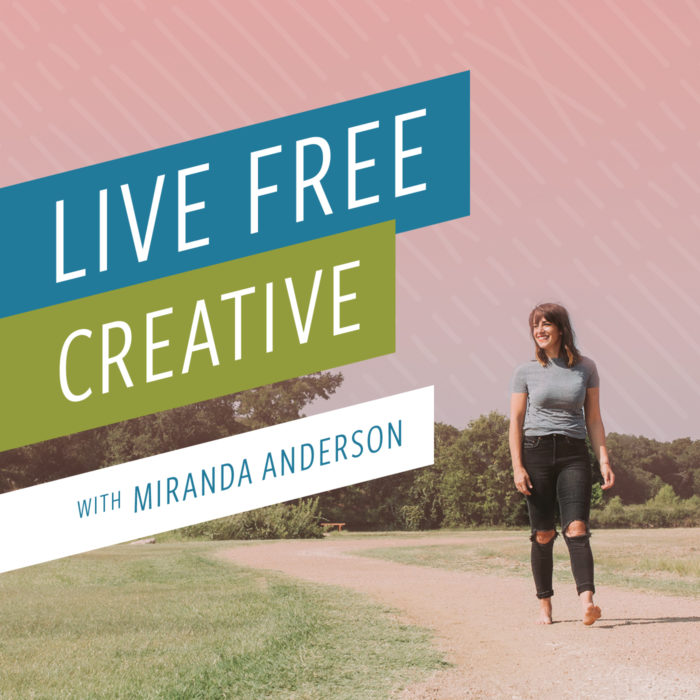 What is a podcast?
If you aren't sure what a podcast is, let me introduce you. Podcasts are free, on-demand audio shows. There are hundreds and hundreds of different styles and categories of podcasts from serial-type mystery thrillers to daily news updates and more.
Shows vary in length, style, and type. I listen to about 4-5 a week, and I "subscribe" to my favorites, which means that their latest episode is automatically downloaded onto my phone each week, so I can listen.
One reason I really like podcasts is that because a show is audio-only, I am able to listen while I am doing other things. I listen a lot when I am running, in the car, washing dishes or doing laundry, or just to wind down at the end of the day while I rest.
No matter what your interest, there is sure to be a podcast that will be right for you. And if you are here on my site I imagine that you will be interested in the Live Free Creative Podcast!
How do I listen to a podcast?
You can listen to a podcast on your phone, computer, tablet, or even through a Google Home or Amazon Alexa. Basically however you listen to digital media.
Most smart phones come pre-loaded with some sort of podcast listening app. The iPhone has a built-in Podcast App, which is where a lot of people start. It works well enough, but there are also a bunch of other options. My personal preference is listening through Overcast, which is also a free app that has a couple additional features, like listening in 1.25 or 1.75 speed. (I almost never listen at normal speed!)
To get started:
Open or download a podcast listening app
Search for a show you want to listen to (might I suggest Live Free Creative?)
Press Subscribe to add a podcast to your library
Search other category charts and discover new favorites
Press play, and enjoy!
Live Free Creative Podcast
I have been thinking about starting a podcast for over a year. In fact, Dave suggested it as another way for me to share all of the ideas and lessons that I endeavor to share on this blog, instagram, and my other social channels.
My podcast is primarily a solo show, which means each episode is me talking about a particular topic idea and giving some advice or sharing an experience. I may have some guests on the show in the future, but to get started I wanted to get some topics and ideas out there.
The purpose of my show is to help you feel a little more free to live the life you want. I will be sharing ideas and inspiration for a creative, adventurous, and intentional lifestyle. The topics I have recorded for the first few episodes include: Why NOW Is The Right Time, Managing Energy Instead of Time, How to Make Friends As An Adult, and Our Year of No Shopping.
Right now, I have about 60 topic ideas in a spreadsheet ranging from minimalism tips and ideas, to travel and adventure, optimism and gratitude, and updates about our home renovation journey.
I have already really loved sitting down to talk though some of my favorite ideas with you, as I have recorded the first few episodes, and I hope you really love it too,
How You Can Support the Podcast
I am so grateful to have a really wonderful support system of followers, friends and family. If you are wondering where to start to help me get this podcast baby off the ground, let me share the top 3 things you can do!
SUBSCRIBE AND LISTEN! Of course, the very most important piece of supporting this new venture is to enjoy it! Subscribe so my episodes are downloaded to your phone and ready for you to listen to on your next run or road trip.
Share with a friend. Never underestimate the importance of a personal recommendation. My friend Alison always says "Sharing is Caring" and it is true that when you tell your friends about the podcast, it will continue to reach more people!
Leave a Review on iTunes. Although there are a bunch of different systems through which a podcast can be shared, iTunes is still the golden standard, and when you leave a review there not only does it help other people know what to expect, it also boosts the podcast up in the search, so it is more easily discovered by new listeners! Your review makes a huge impact!
My Favorite Podcasts
Now that you will be a podcast pro, you will want to subscribe and listen to Live Free Creative, and you will also find yourself looking for MORE amazing shows to listen to so you can be learning more and more during your boring commute or while you're raking the yard.
I shared some of my favorite podcasts for personal development here.
And I am working on a list of some of my very favorite kids shows that we listen to in the car with my kids! Look for that soon.
Conclusion
That's it! I hope this podcast introduction has been helpful as you try to keep up with one of the internet's most quickly growing media sharing platforms. So many of my very favorite bloggers, authors, and media personalities have begun podcasts recently, and I am sure more and more will be jumping in as the train moves forward.
Thank you, as always, for your support and love as I spread my message of creativity, freedom, and adventure. I can't wait to be a voice in your head!